Cozy Up with Keto Butternut Squash Soup in the Crockpot
Need a comforting low-carb soup for fall? Try keto butternut squash soup!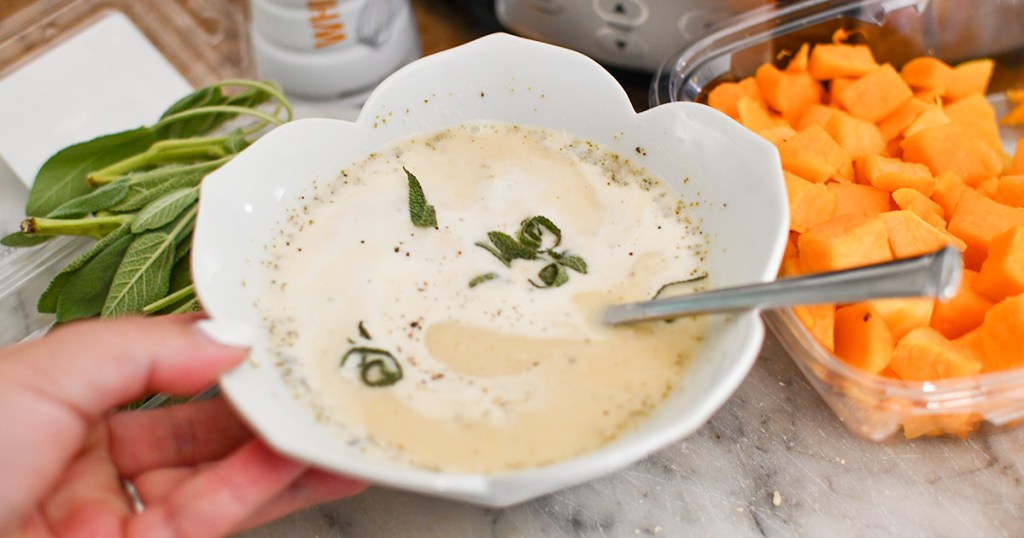 This delicious one-pot soup brings in all the cozy fall feelings in a flavorful soup that is easy to make using the slow cooker. Once the veggies are tender, you can go in with an immersion hand blender and added cream to create a rich filling soup.
Yes! In moderation, butternut squash can fit into your keto lifestyle! It's loaded with health benefits like fiber, vitamin A, and disease-fighting antioxidants! That said, in this recipe, I am cutting back the squash and adding a bit of cauliflower instead to cut the carbs, and adding fats like heavy cream and olive oil.
If you're not careful, too much butternut squash could kick you out of ketosis, but a small amount to get some yummy flavor will be fine!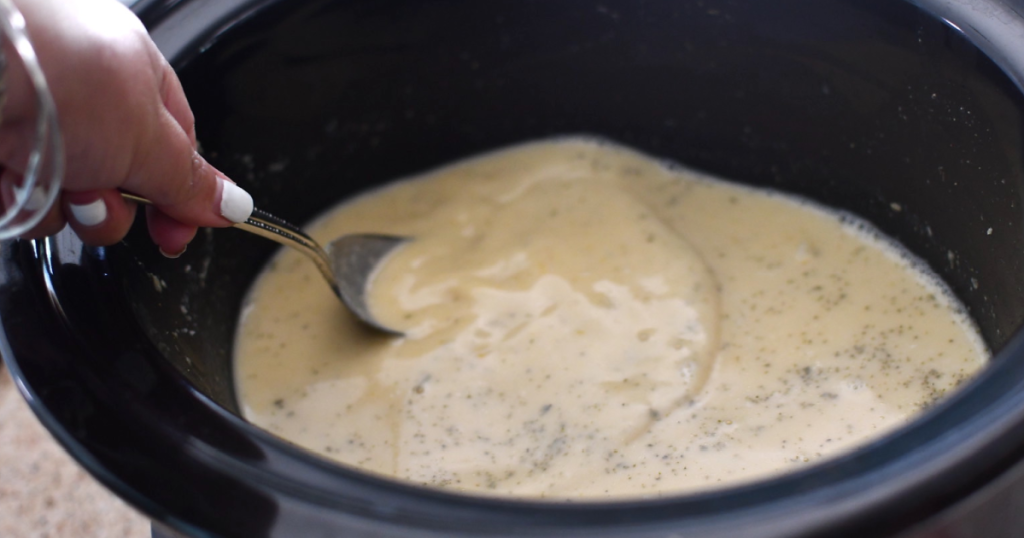 Tips for making keto butternut squash soup in the Crockpot:
This soup as written is very light and brothy. If you wanted to thicken and bulk it up further, I think adding shredded cheese, cream cheese, and shredded chicken would be yummy additions. My teammate Emily simmered hers on the stove for an extra 30 minutes to thicken her soup as another idea.
I bought some prechopped butternut squash at the store to save time. You can do that or just grab a small squash and chop it. You won't use all of it in this recipe, so feel free to freeze butternut squash in cubes and use it for next time. Or you can use frozen butternut squash if you'd like!
Don't have an immersion blender? No worries! Just transfer your mixture to a blender or food processor instead and purée it there!
You can definitely make this as a quick stovetop soup recipe instead. If I were to make it there, I would sauté and brown the veggies in the olive oil first, add the seasonings, add broth, and simmer until the veggies are tender. From there, purée and enjoy.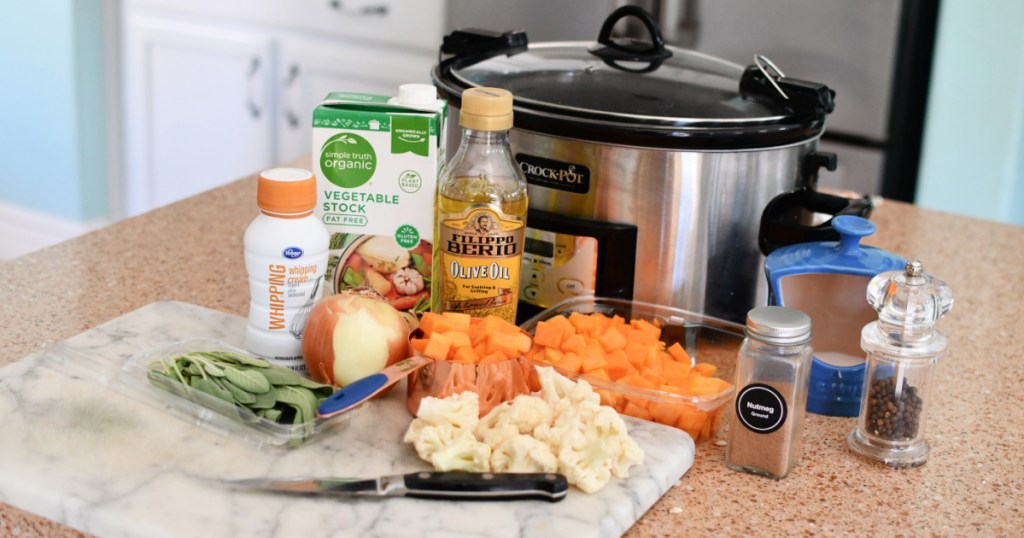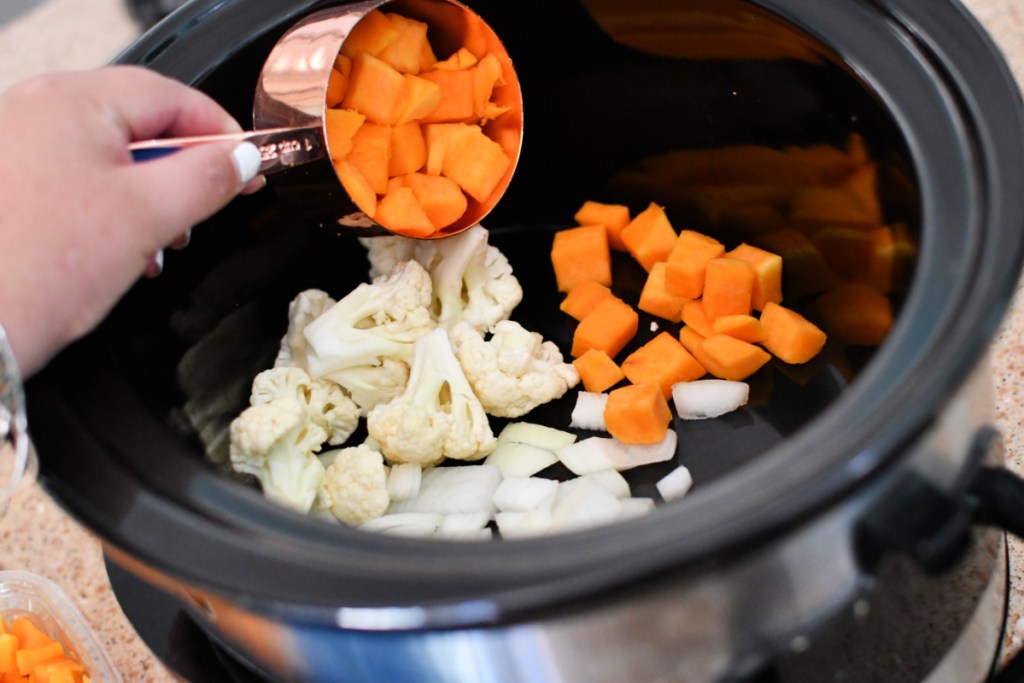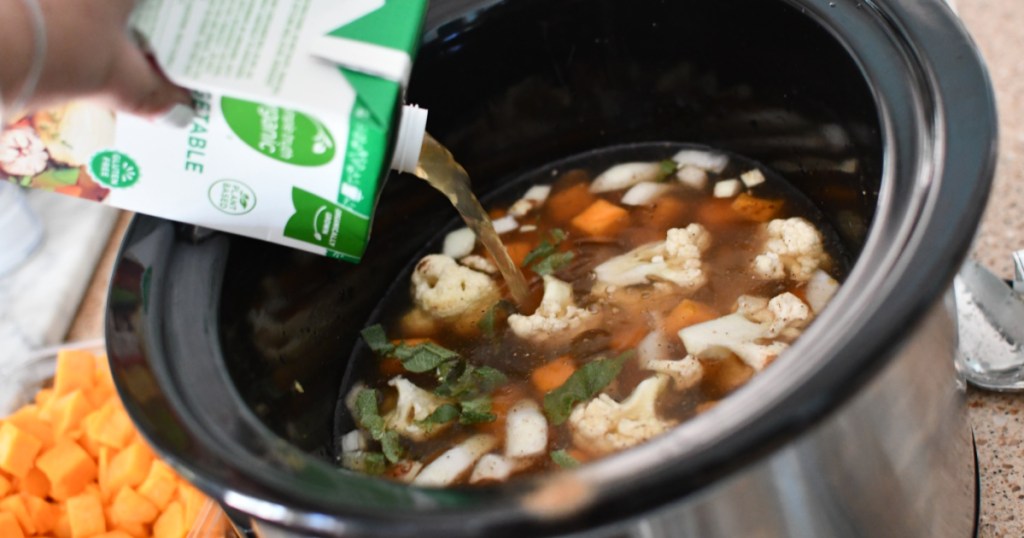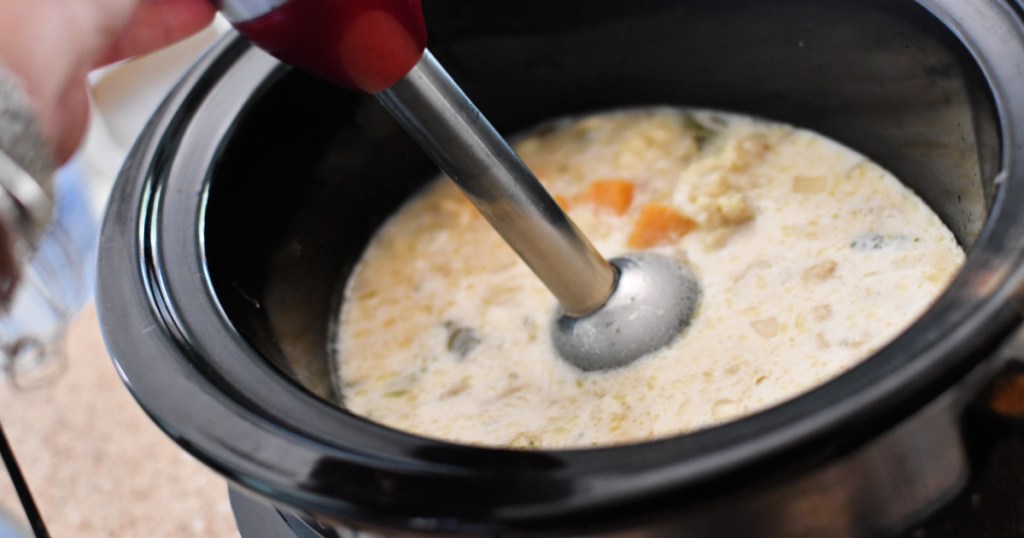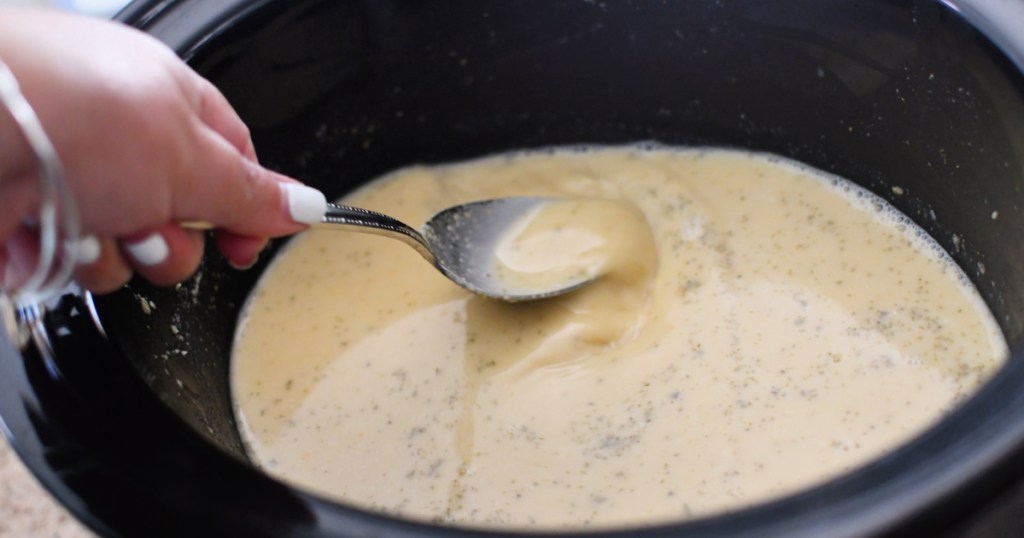 ---
Print
Crockpot Keto Butternut Squash Soup
yield: 6 SERVINGS
prep time: 10 MINUTES
cook time: 8 HOURS
total time: 8 HOURS 10 MINUTES
Creamy butternut squash soup featuring sage and nutmeg as a cozy slow cooker recipe perfect for fall.
Directions
1
Place the chopped squash, cauliflower, and onion in the slow cooker. Toss with olive oil, garlic powder, ginger, nutmeg, salt, pepper, and fresh sage leaves.
2
Add the vegetable broth. Close the slow cooker lid. Cook on HIGH for about 3-4 hours until the veggies are cooked and tender or on LOW for 6-8 hours.
3
Use a stick blender to purée the veggies and also add in the cream until all is smooth. Season with salt and pepper to taste. Serve warm and enjoy!
Nutrition Information
Yield: 5 cups, Serving Size: 1 cup
Amount Per Serving: 120 Calories | 8.9g Fat | 9.5g Total Carbs | 2.2g Fiber | 3.6g Sugar | 1.9g Protein | 7.3g Net Carbs
---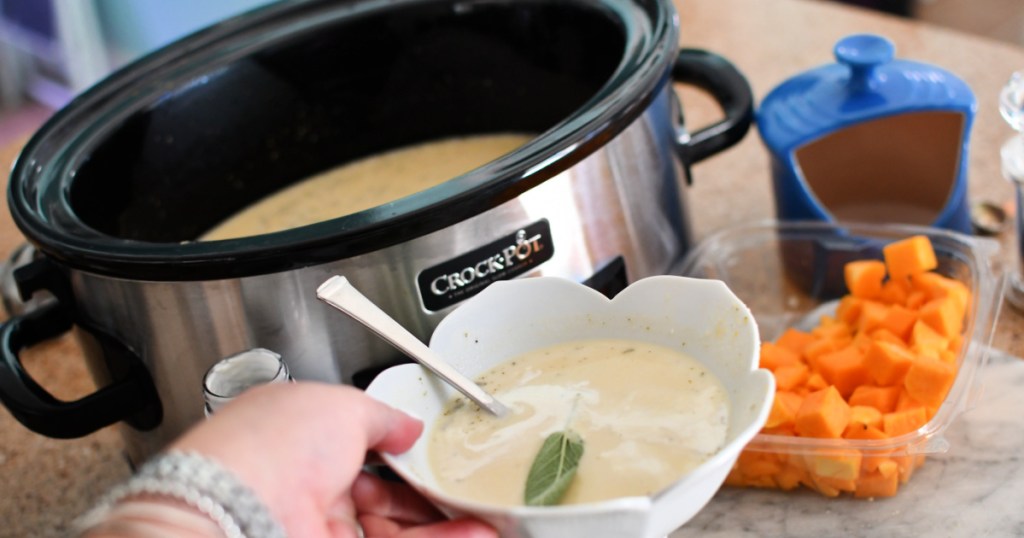 What a great fall-inspired soup!
I loved that there was just one dish to clean at the end and the results are yummy. I enjoyed a warm bowl as a light lunch and it was great. I am especially a fan of the sage and nutmeg flavors as it's a great combo. Enjoy!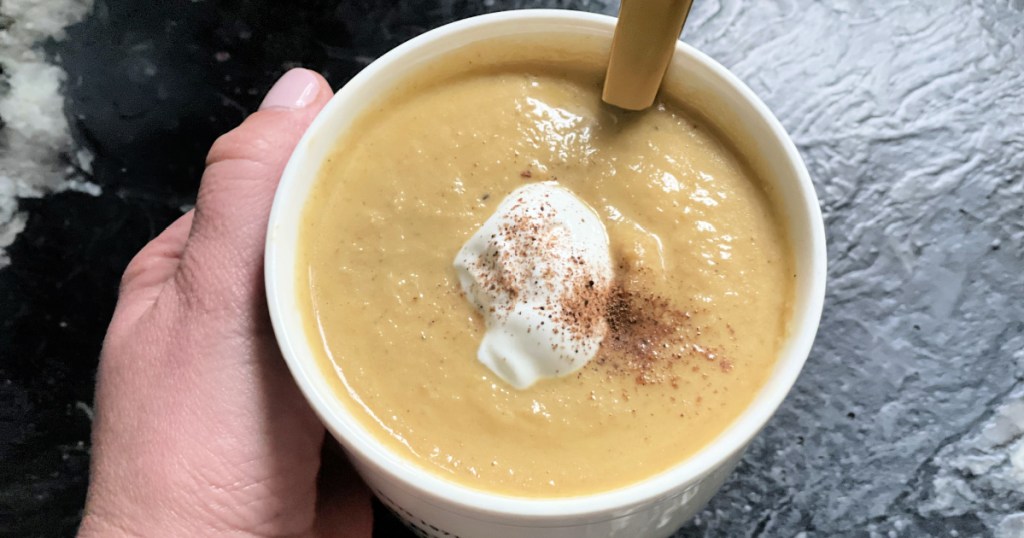 Check out what my teammate Emily had to say after making this soup:
"Nothing screams Fall like butternut squash soup! I'm so happy to have a keto version! This is the kind of soup that you put in a big mug so you can curl up on the couch wrapped up in a blanket while you sip it. I love that it's a lighter soup that you can pair with a salad or keto sandwich to make a full meal. I enjoyed topping my soup with sour cream."
---