Best Homemade Keto Pecan Pie Recipe
Your family will love this keto pecan pie this holiday season (or any time of the year)!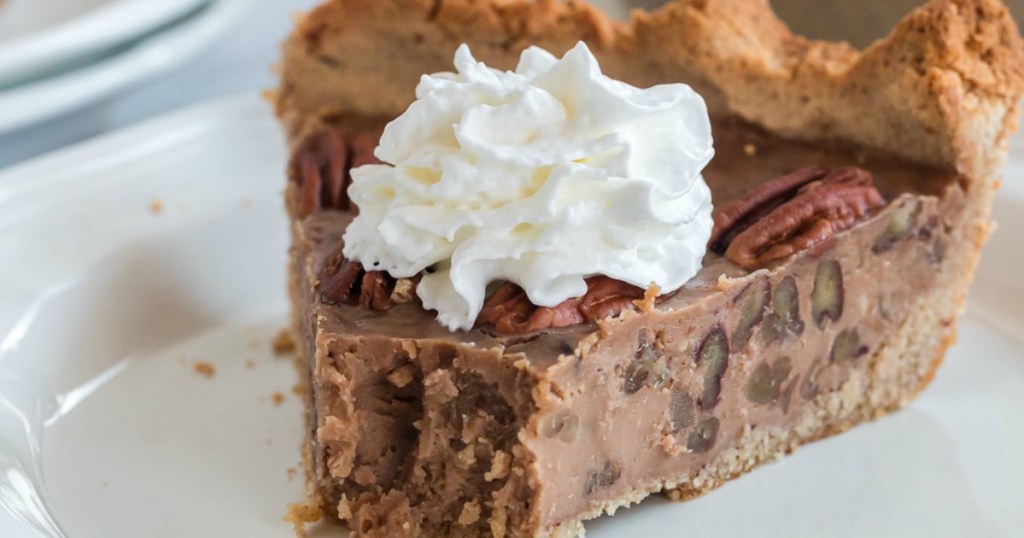 We've made the classic pecan pie KETO-FRIENDLY!
A pecan pie without all the sugar and carbs?! I served this up last year and no one believed it was keto. It's THAT good.
During the holiday season, I love serving pecan pie. It's rich and delicious but usually filled with an endless amount of sugar. Well, now I can still add the pecan pie to the dessert table without any guilt. This keto pecan pie comes in at only 4.2 net carbs per serving.
From the candied pecans (yup, those are keto too!) to the buttery flaky crust, it's seriously just like heaven in a pie pan.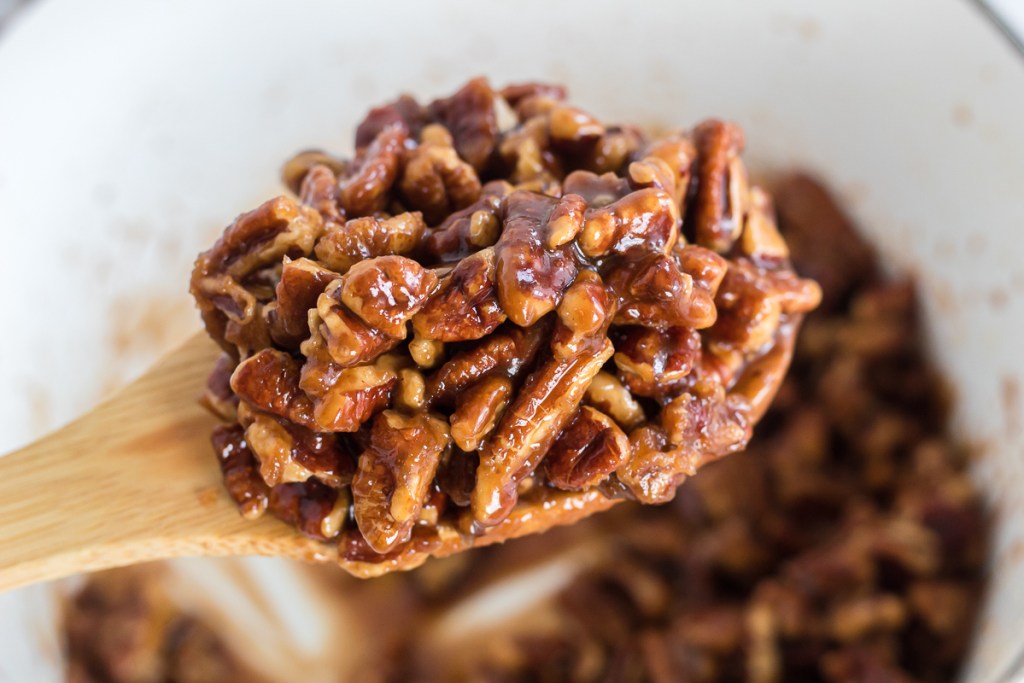 Tips for making the best keto pecan pie:
A lot of pecan pie recipes have you put the pecans into the pie crust and then pour the caramel sauce over them. I instead opted to boil the pecans in the butter sauce to make sure the pecans were well combined with all of that sweet goodness.
If you're like me and love baking pies, go ahead and make the investment in a pie crust shield. There is nothing worse than having that perfect pie with a burnt crust.
How can you tell if your keto pecan pie is done? You will want the center to give you a little jiggle but still be stable (kind of like the consistency of JELLO). If you pull your pie out and it gives you the wavy movement, you will need to bake for a little longer.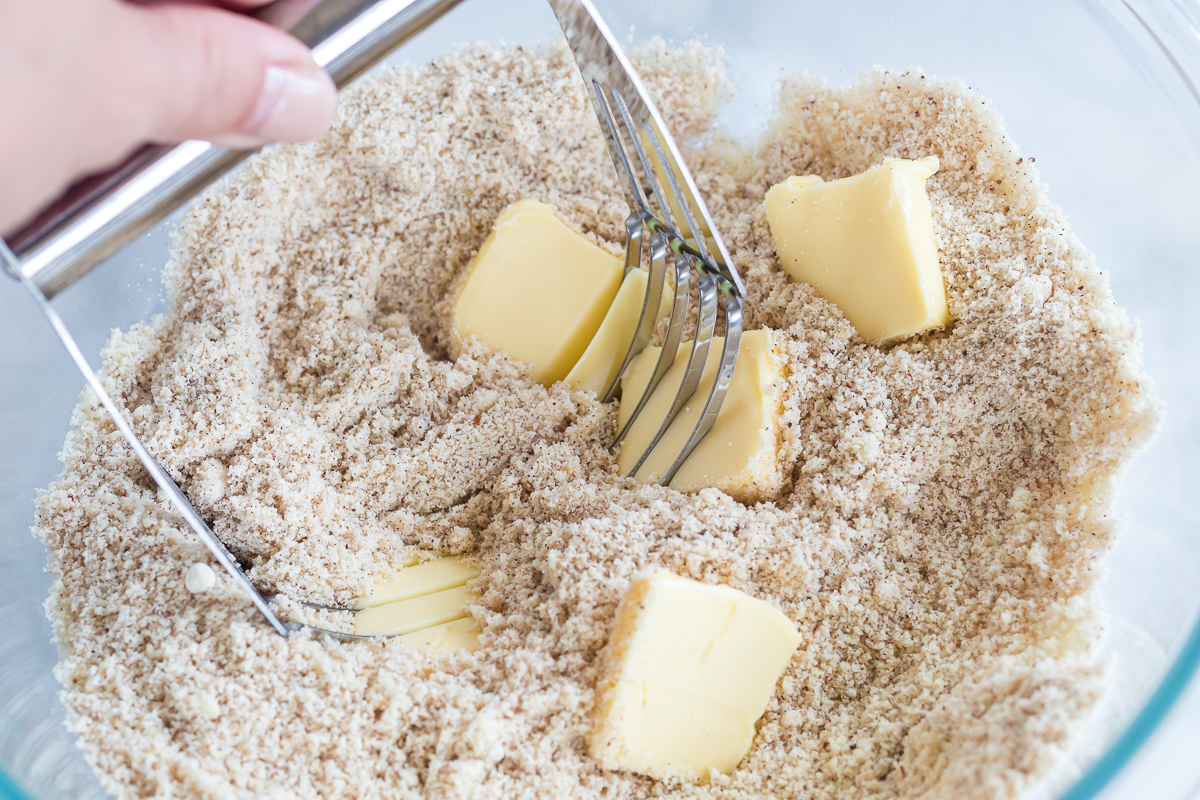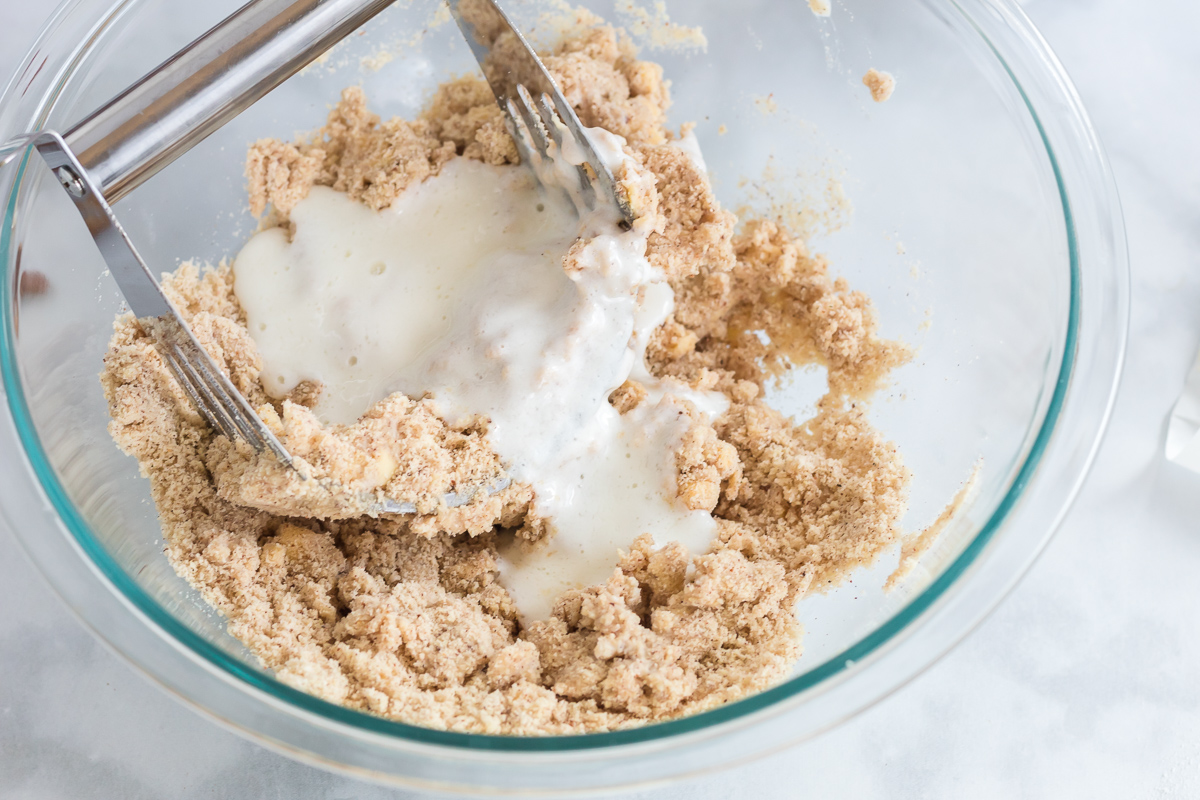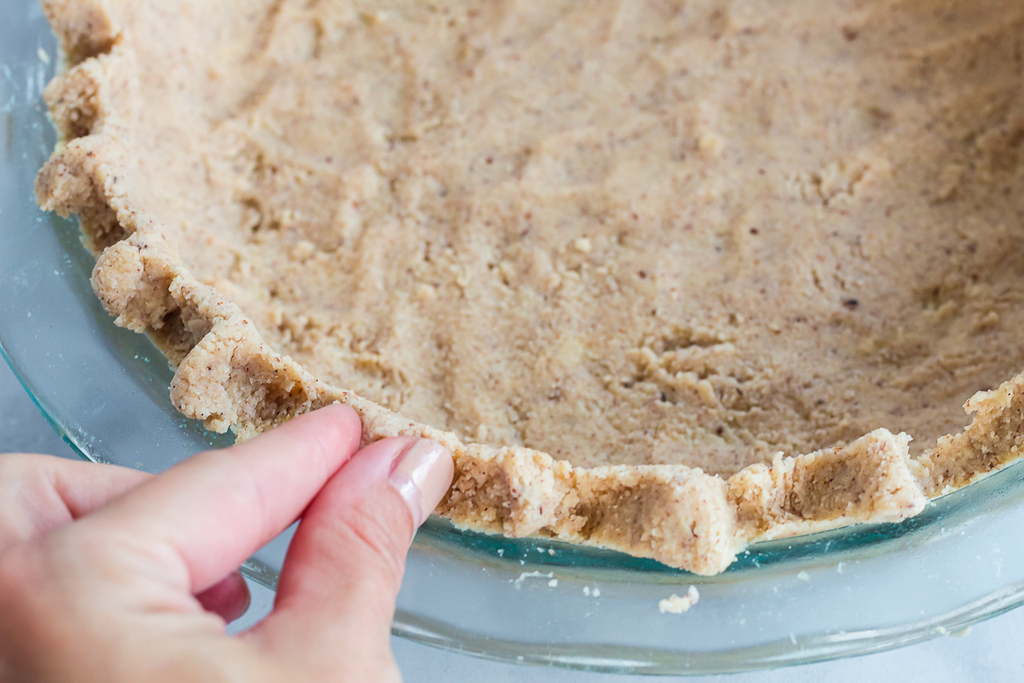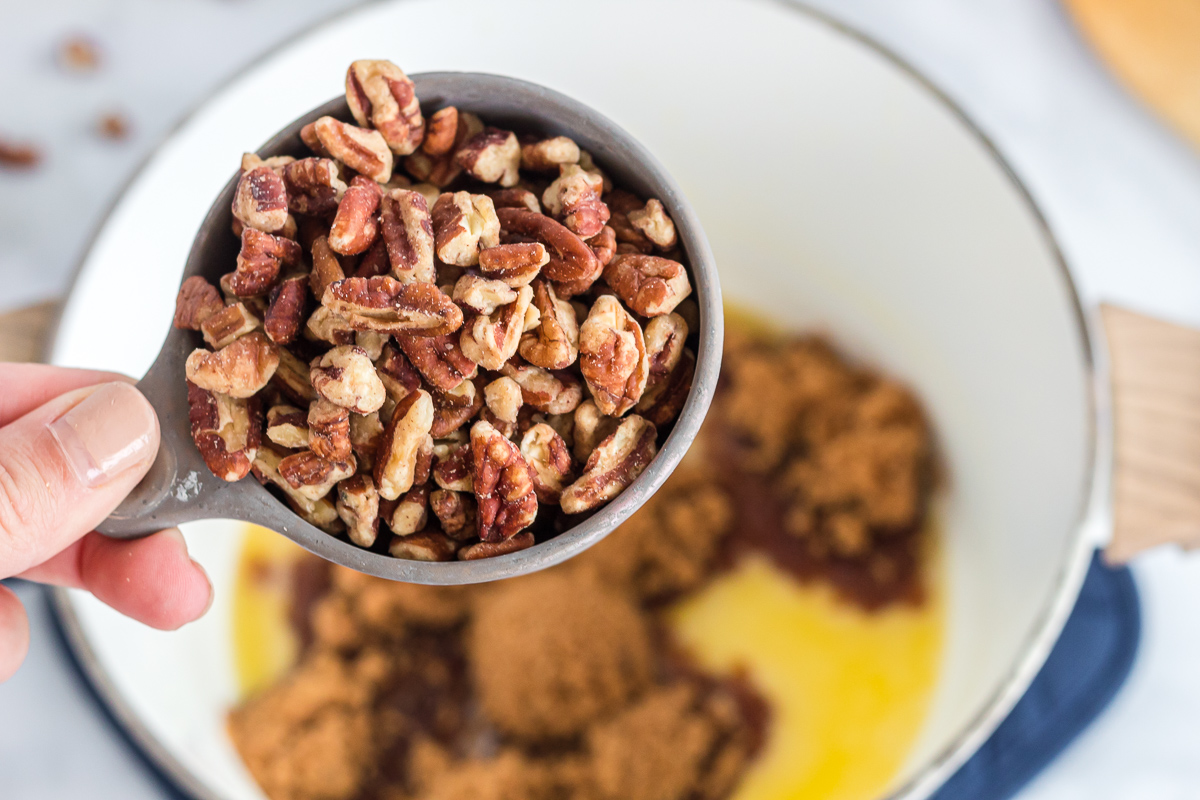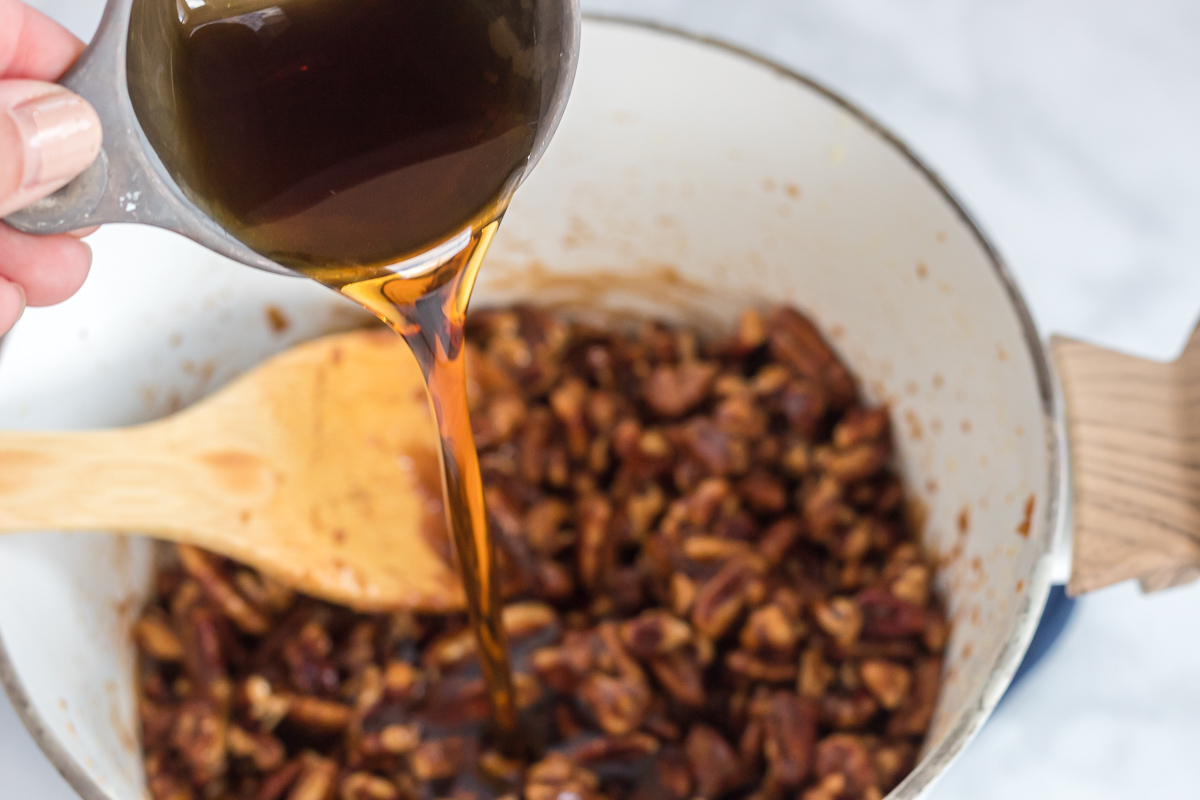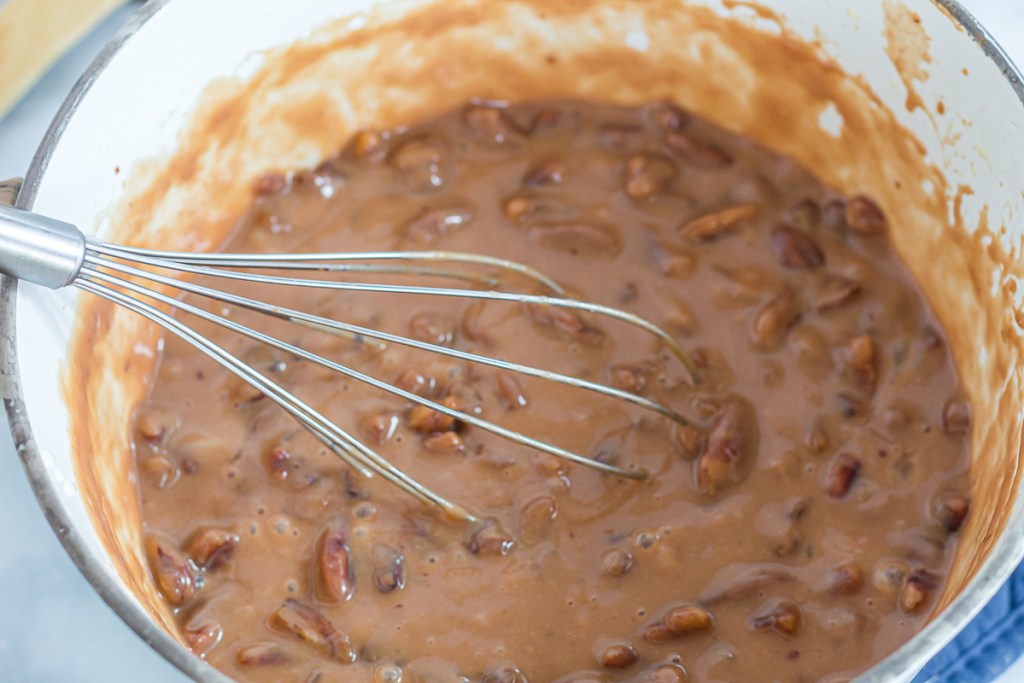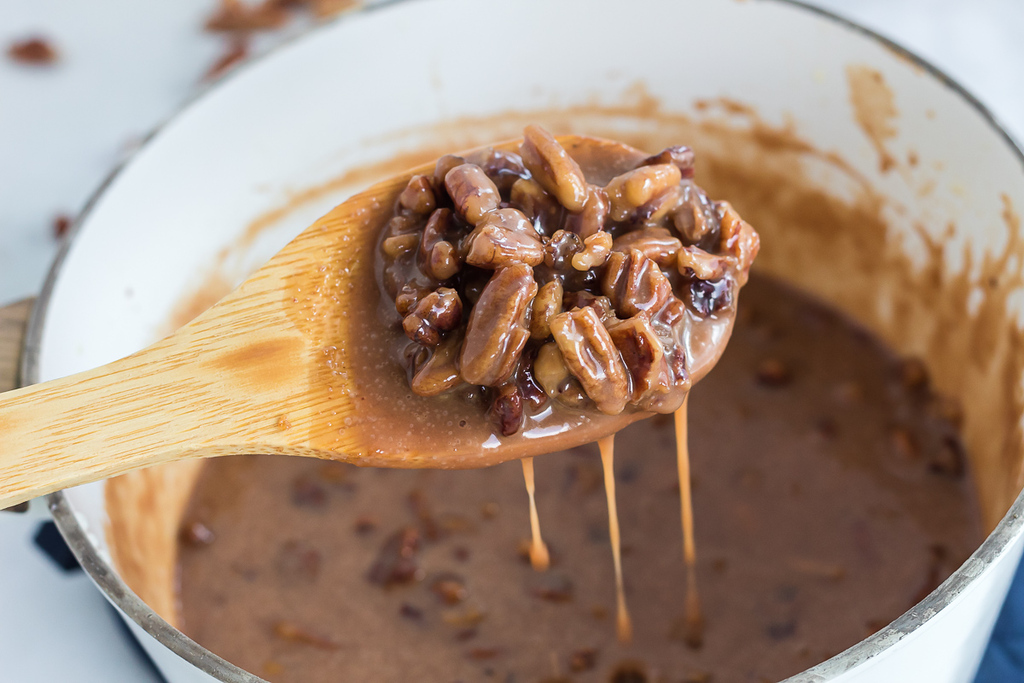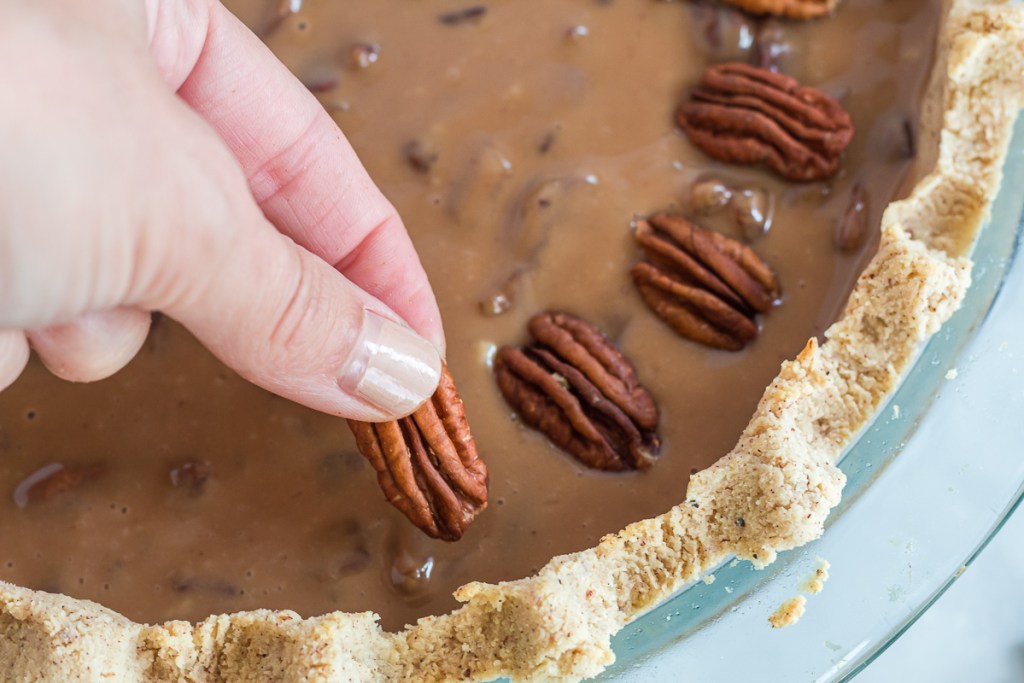 ---
yield: 8 SERVINGS
prep time: 1 HOUR 30 MINUTES
cook time: 40 MINUTES
total time: 2 HOURS 10 MINUTES
Decadent classic pecan pie but with keto-friendly sweeteners and an almond flour crust.
Ingredients
Pie crust:
1 teaspoon baking powder
1 teaspoon cinnamon
1/2 teaspoon nutmeg
5 tablespoons butter, chilled, cut into cubes
2 egg whites
3 tablespoons cold water
2 tablespoons sour cream
Pie Filling:
4 tablespoons butter
1 1/2 cup heavy whipping cream
2 eggs
Directions
1
To make the crust:
In a large bowl, whisk together almond and coconut flours, baking powder, nutmeg, and cinnamon. Add cold butter cubes. Using a pastry blender or two forks or your fingers, cut it into your flour making sure the butter is mixed throughout and a coarse, crumbly texture.
2
In a small bowl, whisk together egg whites, cold water, and sour cream. Slowly add liquids to your flour mixture and mix together to form a ball of dough.
3
Once a ball of dough is formed, wrap in plastic wrap and chill dough for 1 hour. The dough is better to work with when chilled.
4
Preheat oven to 350 degrees and grease a 9" pie pan OR line it with parchment paper. Remove dough from the plastic wrap, place the dough ball in the pie pan, and spread out covering the bottom and sides. You should have enough to pinch the sides some. Prick the crust with a fork, and bake in the oven for 15 minutes.
5
To make the pie filling:
In a medium saucepan over medium heat, add butter, Swerve brown sweetener, and pecans. Let Swerve dissolve into the butter for about 5 minutes stirring occasionally.
6
Add in keto maple syrup and heavy whipping cream and bring to a boil for 15-20 minutes. This will start the caramelization process. Stir occasionally to prevent scorching.
7
Once your filling has thickened, remove from heat and let cool for 15 minutes before adding the eggs. This is a very important part. You do NOT want the filling to be boiling, but you still want it to be warm. Add 2 eggs into your filling and whisk fast to mix the eggs into the filling.
8
Pour filling into the pie crust and bake on the BOTTOM rack of the oven for 40-50 minutes, checking part way through to ensure crust or pie top are not browning too quickly. You do not want your pie filling to be wavy, but rather a little jiggly with an overall solid form. After baking, remove pie from the oven and let cool to room temperature before serving.
9
You can add extra pecans for garnish and/or homemade whipped cream. Enjoy!
Nutrition Information
Yield: 8 slices, Serving Size: 1 slice
Amount Per Serving: 668 Calories | 66.5g Fat | 25.1g Total Carbs | 9.8g Fiber | 2.7g Sugar | 11.1g Sugar Alcohol | 10.8g Protein | 4.2g Net Carbs
---
Don't be alarmed by the high total carb count!
Fiber and erythritol (the main ingredient in Swerve) do not affect blood sugar in the same way that regular carbs do, so we've subtracted them from the total carb count. You'll see that the net carbs are much lower once you remove the sugar alcohols and fiber.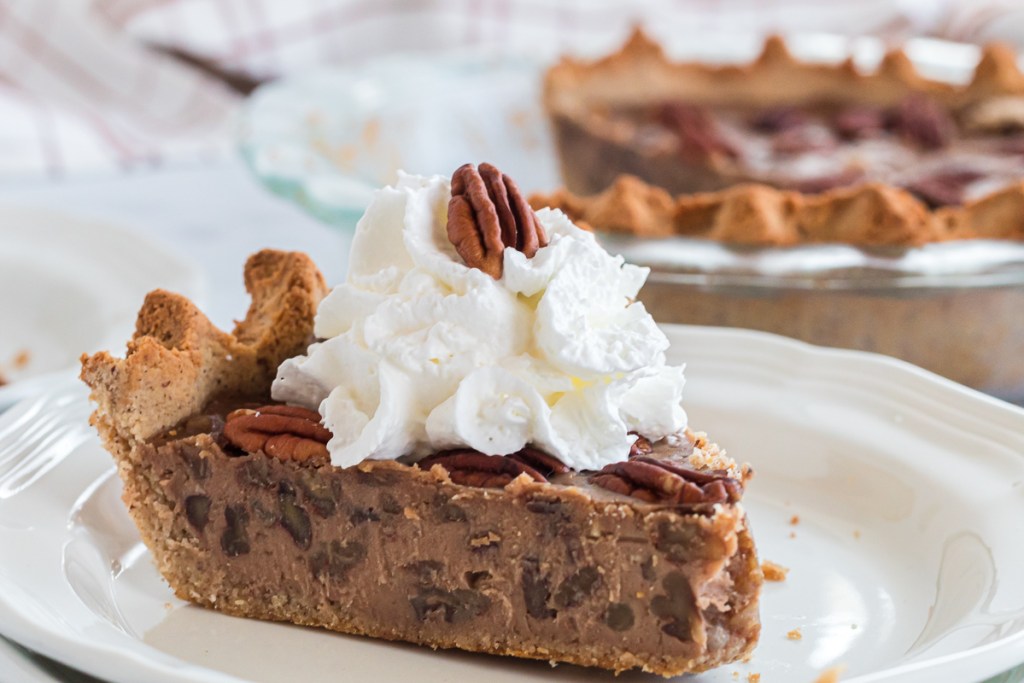 Hope you enjoy this as much as I do!

It's so nice to have a keto version of this classic holiday pie! You might even want to make two because this keto pecan pie will not last long among a crowd of cheerful dessert eaters. Enjoy!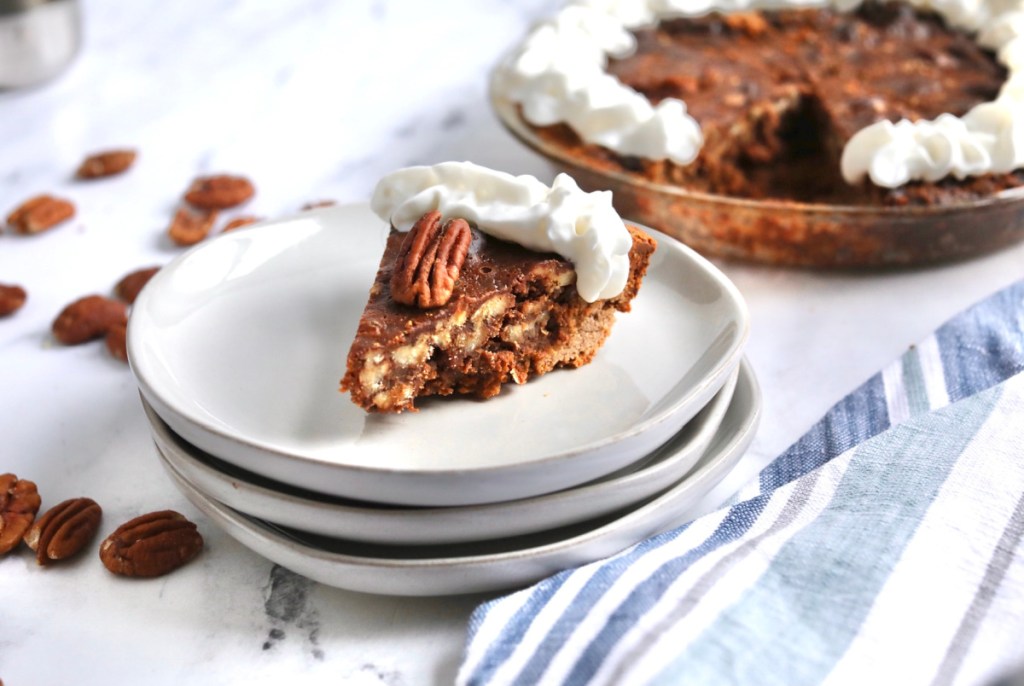 My Hip sidekick Jenna had this to say about the keto pecan pie:
"I grew up having pecan pie often as it's my dad's absolute favorite. I hadn't had it in years, but have fond memories of watching it being made and then enjoying it with my family! This did not disappoint! It's got the full pecan pie flavor and consistency. I am definitely sending this recipe to my family to try!"
---
Looking for another holiday pie? Be sure to make our easy keto pumpkin pie!