Easy Keto Eggnog That's Better Than Store-Bought
This easy low-carb keto eggnog will have you feeling festive!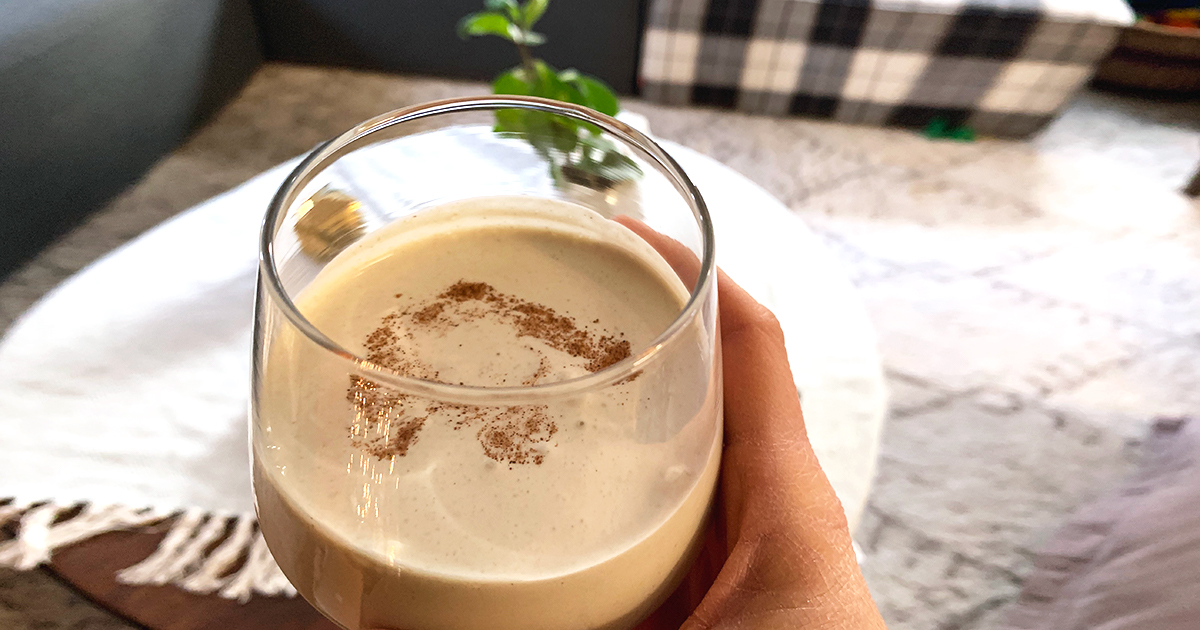 With or without booze, this lusciously thick, made-from-scratch nog is a boss!
I honestly originally thought making homemade eggnog that's also low-carb would be a real chore. Guess what? This easy keto eggnog recipe is anything but – and it's better than anything I've had from a store!
The cooling and chilling steps take time, but the actual active process of making it is literally about 20 minutes. YAY!
You may be thinking, what the heck is eggnog anyway? It's a drink made from a mixture of beaten eggs, cream, and flavorings, occasionally with alcohol.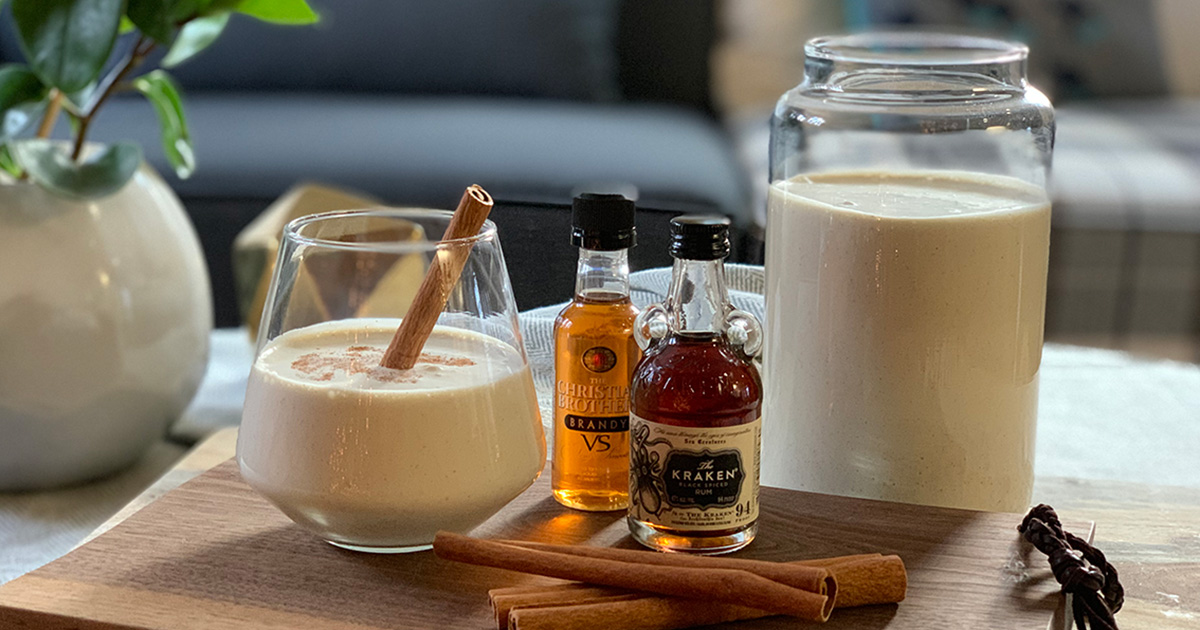 Hip recipe tips for this easy low-carb keto eggnog:
I used Califia Farms Coconut Almond Blend when making this recipe (also what the nutritional information is based on). It very well may be my all-time favorite nut milk since it has only 45 calories, 4g fat, 1g carb, 1g fiber, 1g protein, and 0g sugar per 8 oz serving. That's 0 net carbs! Yahoo!
Remember that you never want your yolk/milk mixture to heat over 170 degrees given that the yolks may overcook and curdle. Yuck! If this happens, you may be able to save the mixture by straining it through a sieve or cheesecloth. Play it safe and remove your mixture from the heat as soon as it reaches 165 degrees. All things considered, if you don't already own a cooking thermometer, I'm digging this affordable digital option by ThermoPro.
This recipe makes fairly thick eggnog, but, if you prefer a thinner consistency, you can give your cream less whip or cut your eggnog with extra nut milk per individual serving as desired.
---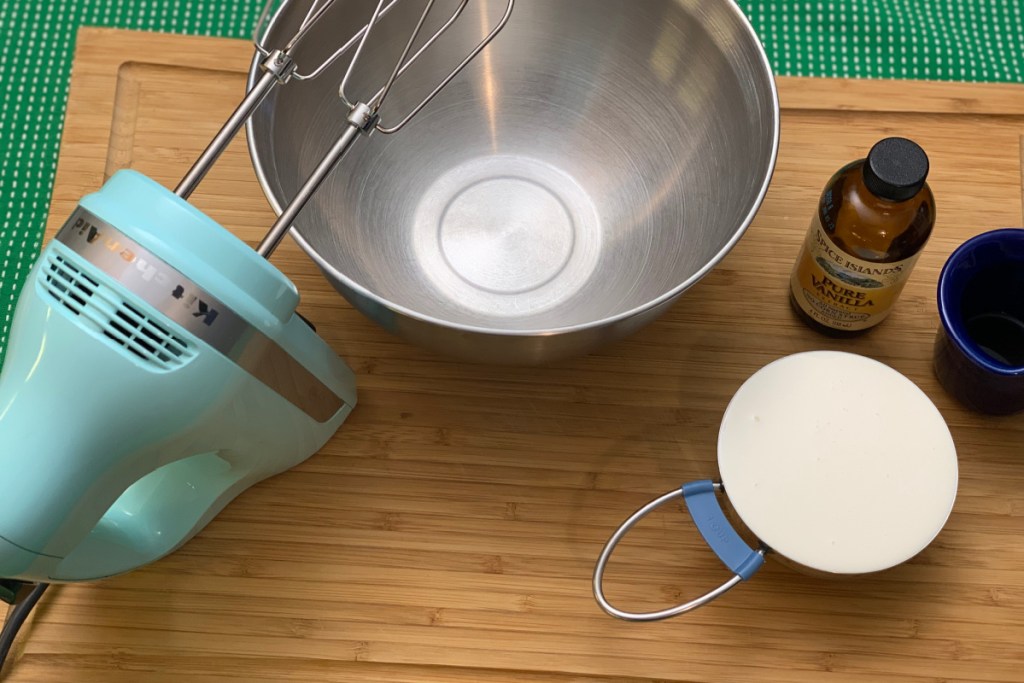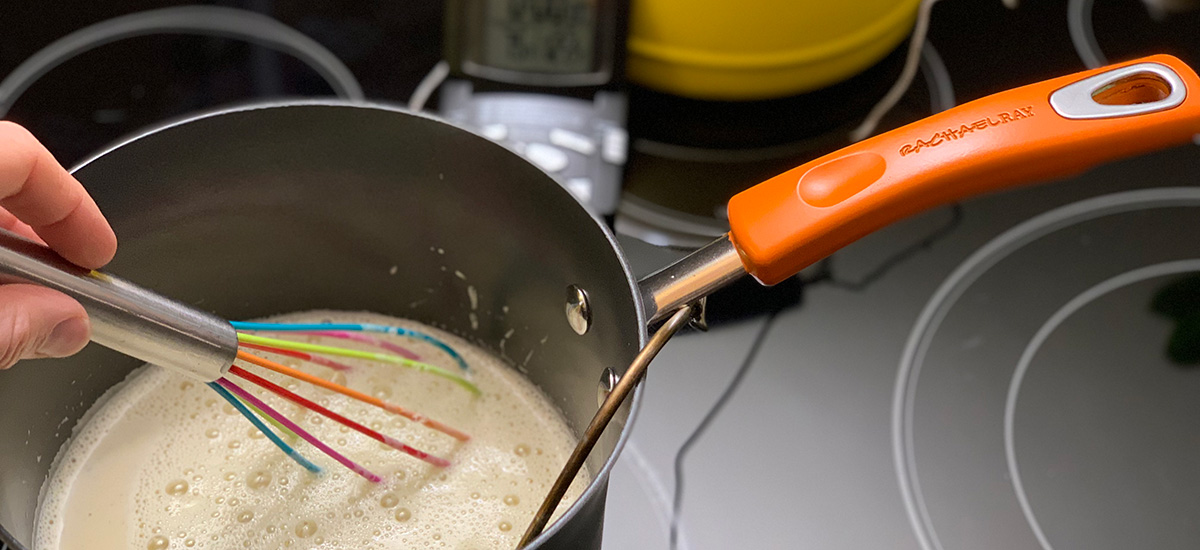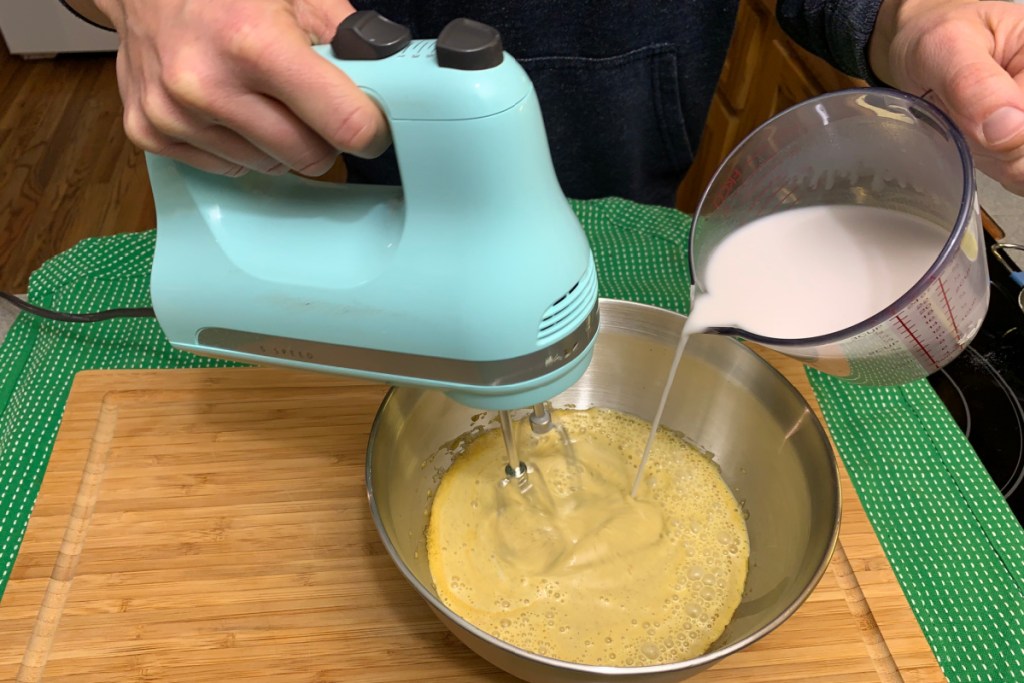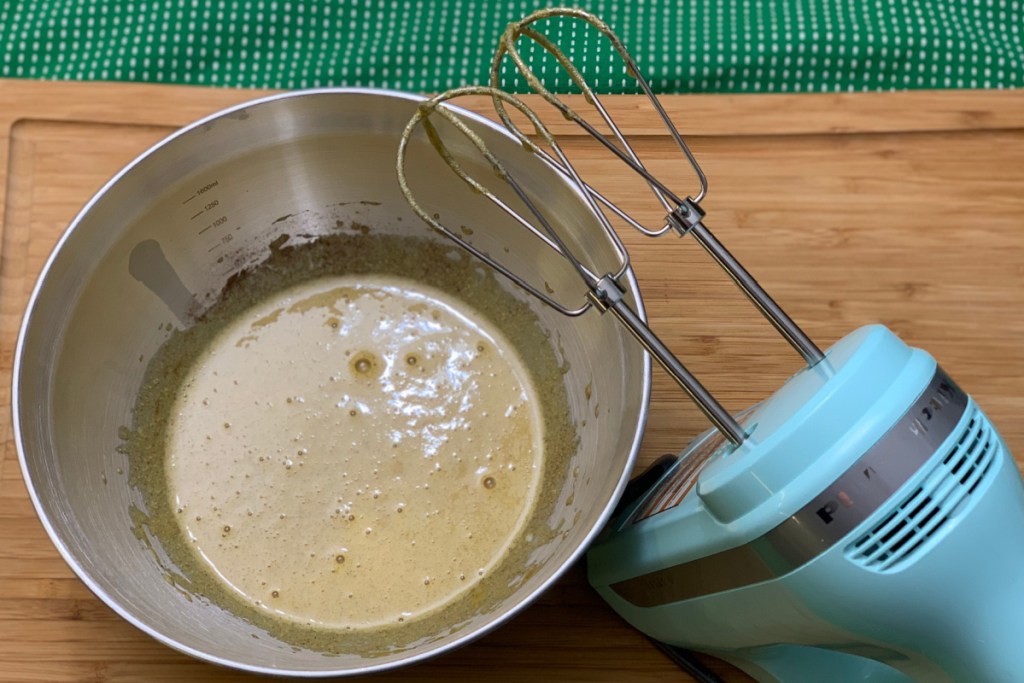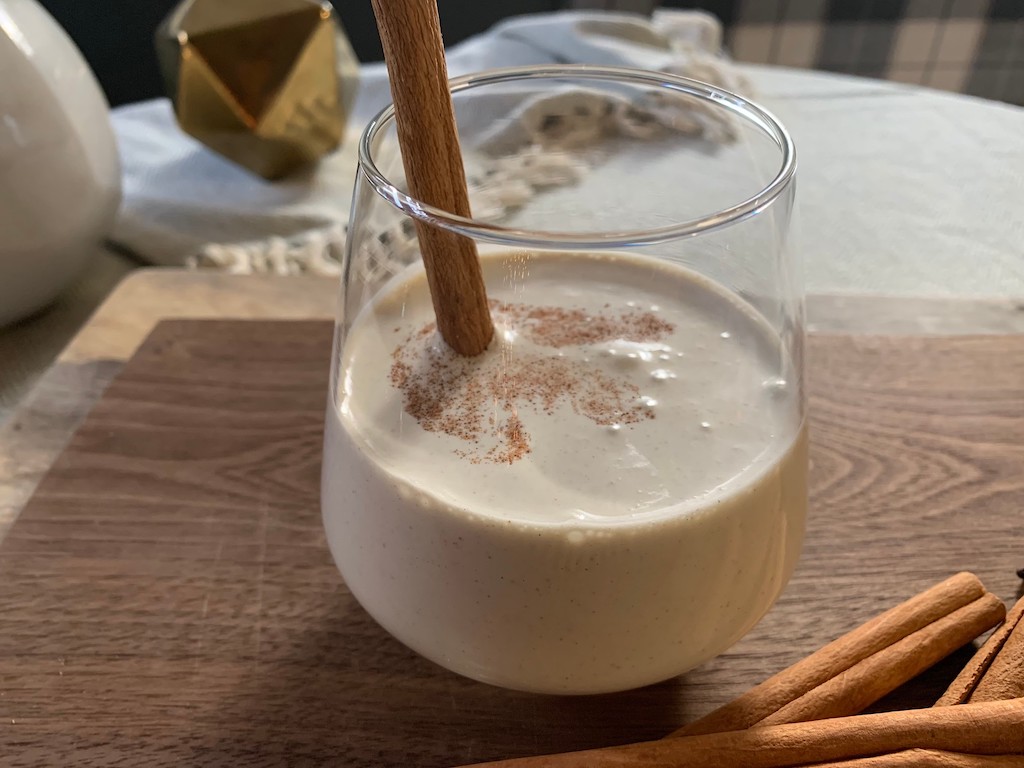 ---
yield: 8 SERVINGS
prep time: 5 MINUTES
cook time: 15 MINUTES
total time: 20 MINUTES
This easy, low-carb keto eggnog is thick and delicious with or without alcohol!
Ingredients
8 egg yolks
1/2 teaspoon ground cinnamon
1/2 teaspoon pumpkin pie spice
1/4 teaspoon ground nutmeg
2/3 cup heavy whipping cream
2 teaspoons pure vanilla extract
Directions
1
In a medium mixing bowl, using an electric hand mixer, beat egg yolks together with erythritol, cinnamon, pumpkin pie spice, and nutmeg. While mixing at low speed, slowly add nut milk. Increase speed to medium, allowing the mixture to thoroughly combine.
2
Pour the mixture into a medium pot. Place a cooking thermometer in the pot so that you can keep a close eye on the temperature. Over medium/low heat, using a wire or silicone whisk, continuously stir the mixture. It will thicken a bit as the temperature increases.
3
Immediately remove from heat once the thermometer reads 160-165 degrees. (Do not let it get to 170 degrees as this may cause your egg yolks to curdle.) You should notice that the mixture is now thick enough to lightly coat the back of a spoon.
4
Allow cooling at room temperature for about an hour. (Some separation during cooling may occur, just give it a stir.) Place in an airtight container to chill in the fridge for another couple of hours or overnight.
5
Once your egg/milk mixture has finished chilling, it's time to whip the cream. Using an electric hand mixer or stand mixer, combine heavy whipping cream with vanilla extract. Beat on medium/high until soft peaks form. Do not over-beat.
6
Slowly pour the egg/milk mixture into the bowl with the whipped cream. Gently whisk the whipped cream into the egg mixture until fully combined.
7
Transfer mixture to a sealed pitcher or storage container. When chilled, the cream may rise to the top, so give it a soft shake or gently stir just before serving. Serve immediately or store in the refrigerator for up to three days.
8
If desired, spike with your favorite liquor. Eggnog is most commonly accompanied by rum, brandy, or bourbon. If you're feeling fancy, garnish your glass with a cinnamon stick and a sprinkle of nutmeg! Enjoy!
Nutrition Information
Yield: 8 servings, Serving Size: 1/2 cup
Amount Per Serving: 144 Calories | 13.4g Fat | 2.5g Total Carbs | 0.4g Fiber | 0.3g Sugar | 0.3g Sugar Alcohol | 3.6g Protein | 1.7g Net Carbs
---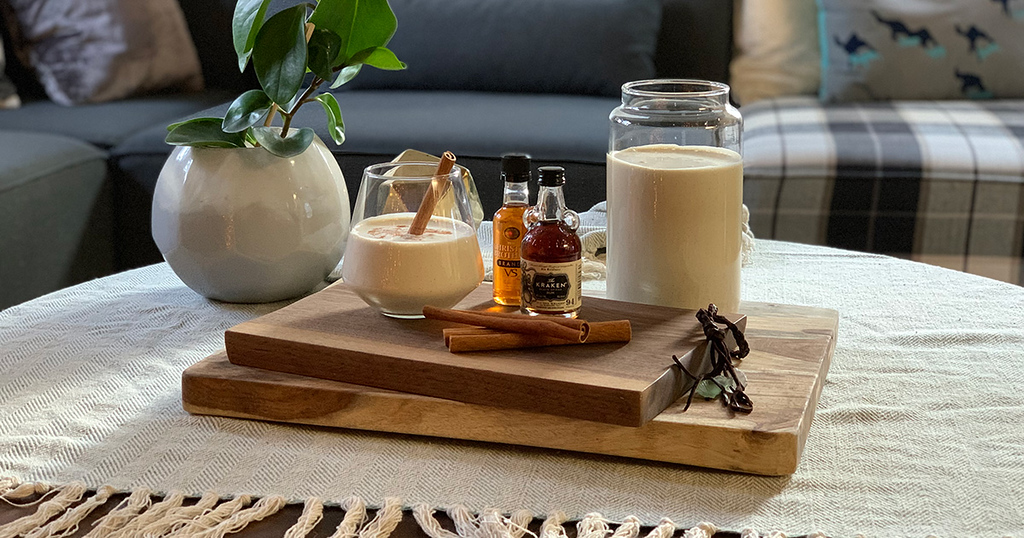 Here are 5 fun eggnog facts that you probably didn't know:
1) The word "eggnog" is believed to be derived from the word "noggin," a small wooden mug the drink was served in.
2) Americans are estimated to drink more than 135 million pounds of this sweet beverage each year. Dang! That's a lot of eggnog!
3) George Washington apparently crafted his own super boozy eggnog recipe that included 1 pint of brandy, ½ pint rye whiskey, ½ pint Jamaican rum, and ¼ pint sherry. George himself shared the recipe in a publication of the Farmer's Almanac. Not a bad way to win over some followers!
4) In 2014, Starbucks decided to remove the beloved Eggnog Latte from their menu. As a result, furious nog-lovin' customers revolted with angry letters, nasty phone calls, and brutal social media posts. Because of the uproar, Starbucks quickly placed it back on the menu and made a public apology. (Starbucks, don't mess with people over the holidays!)
5) December 24 is National Eggnog Day, so make sure to kick back and enjoy a glass on Christmas Eve.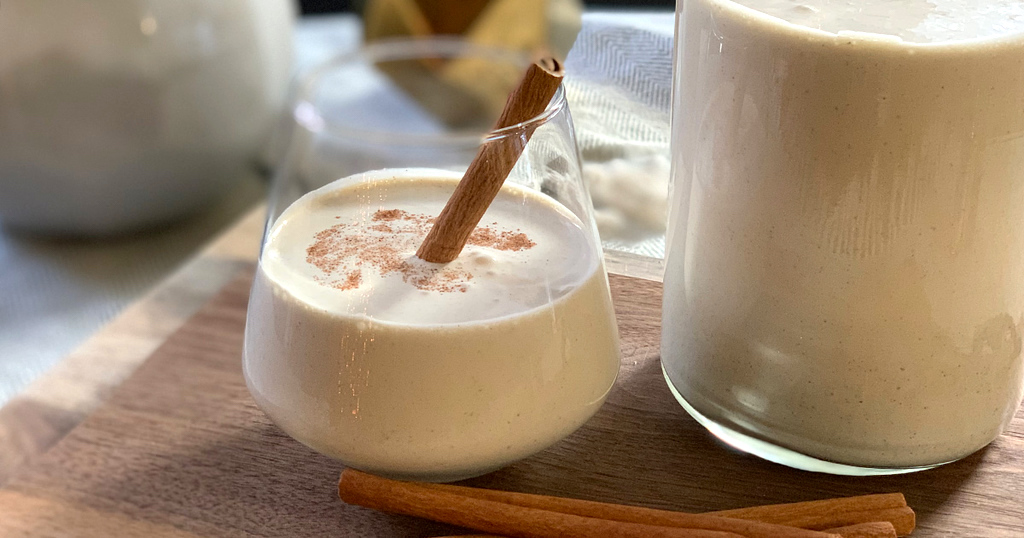 ---
Want another Christmas treat? Try this Keto Christmas Tree Pull-Apart Cheesy Garlic Breadsticks!