The Best Keto Granola Recipe – It's Crunchy & Sweet!
It's so easy to make your own keto granola at home!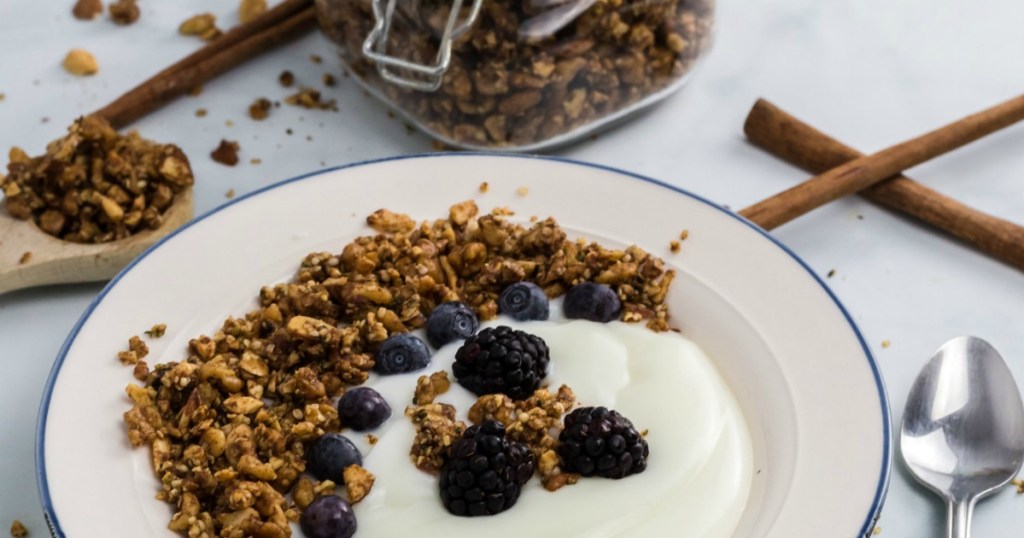 This keto granola is really simply the best!
Keto granola is surprisingly easy to make, and I personally like it even better than the high-carb granola you can buy at the store! Better yet, it will save your wallet, especially when you can purchase the components for this granola in bulk and make a big batch to eat throughout the week.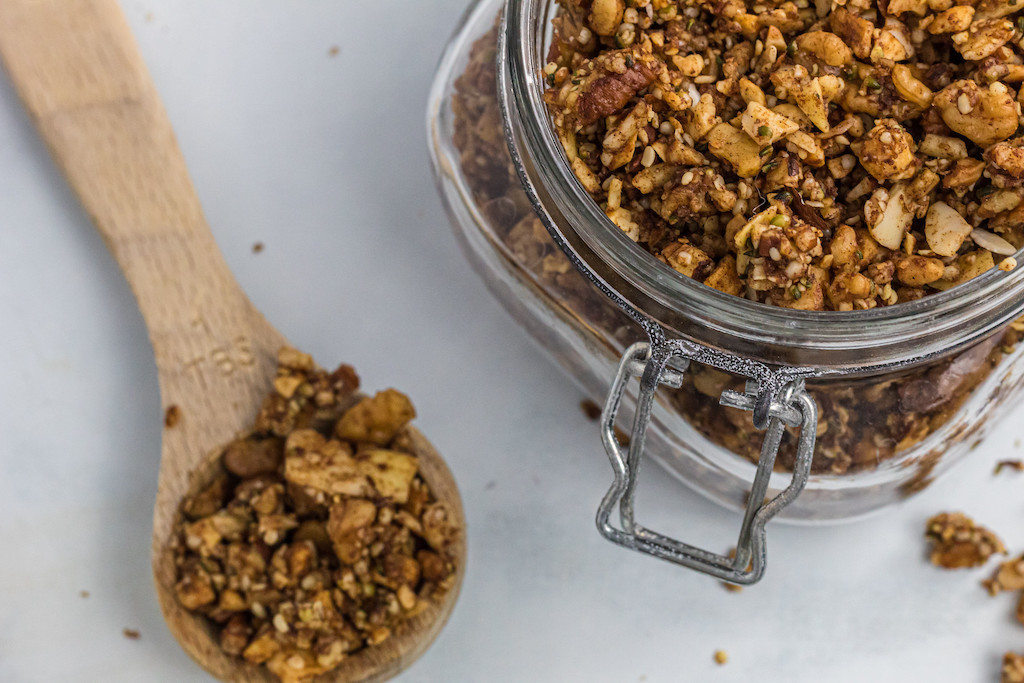 Our keto granola recipe is packed with flavor, sweetness, and the best part – that wonderful crunch us keto eaters often crave! This sugar-free granola can even be used as a replacement for cereal. Just serve it with unsweetened almond milk. You could also serve it with low-carb yogurt. Yum!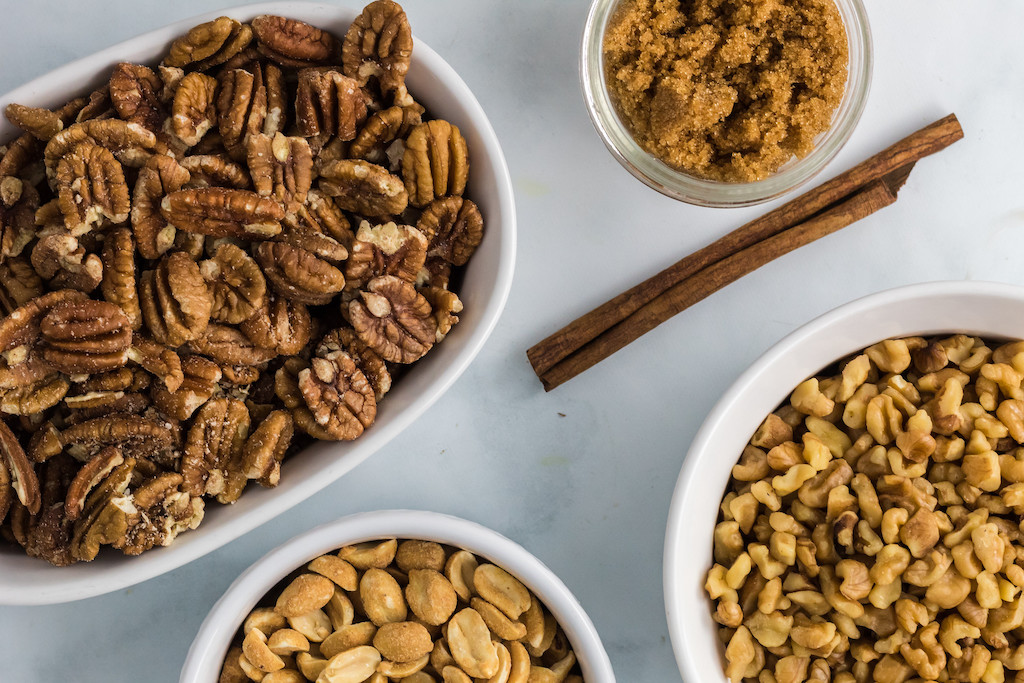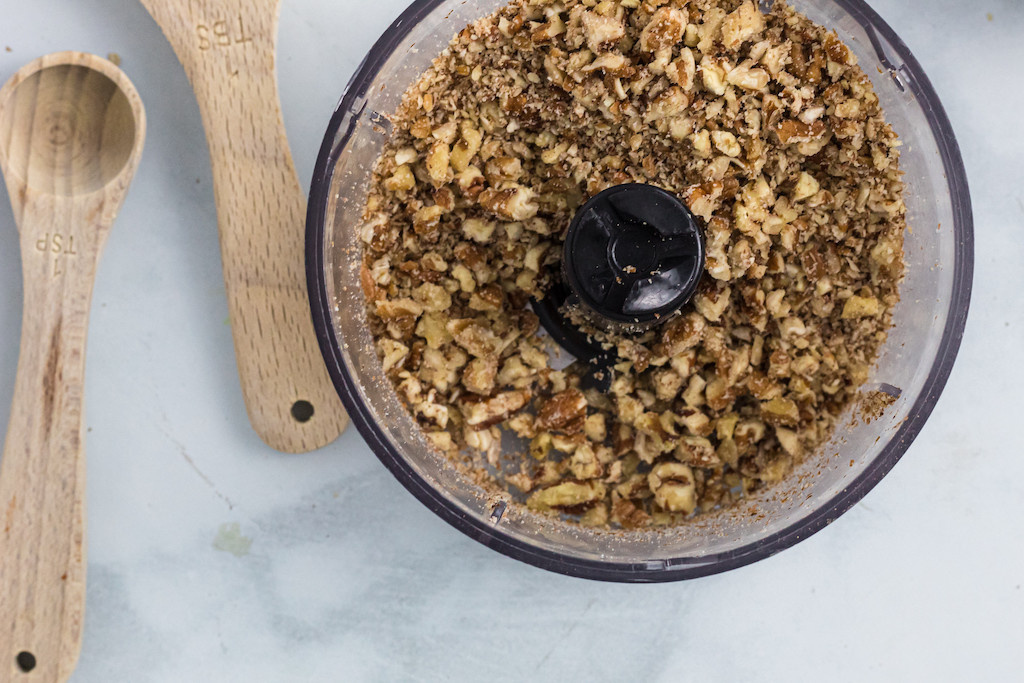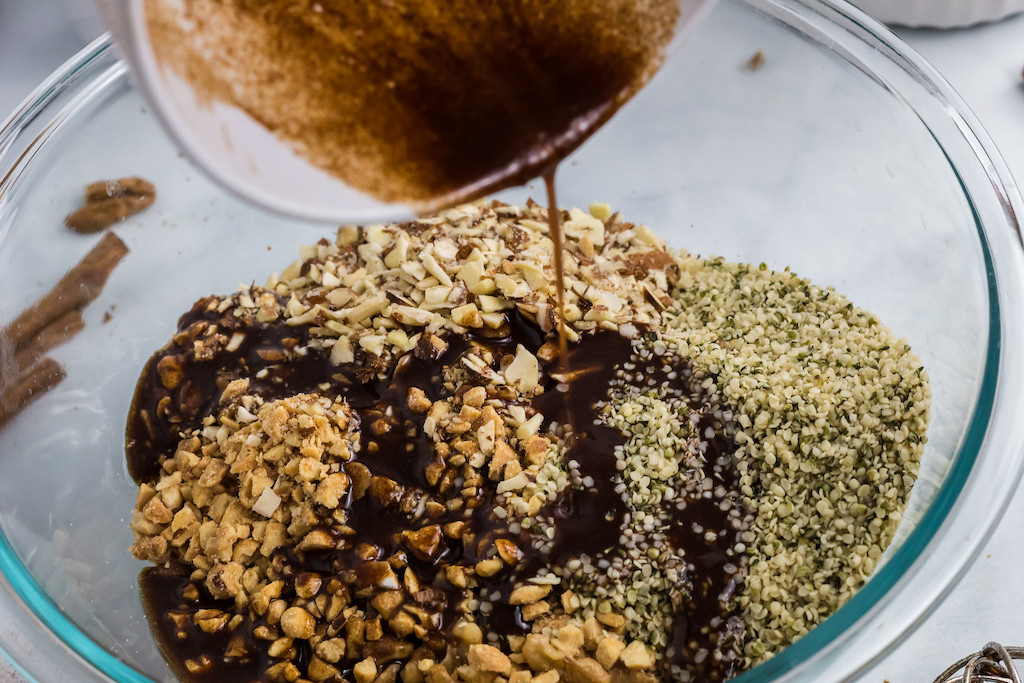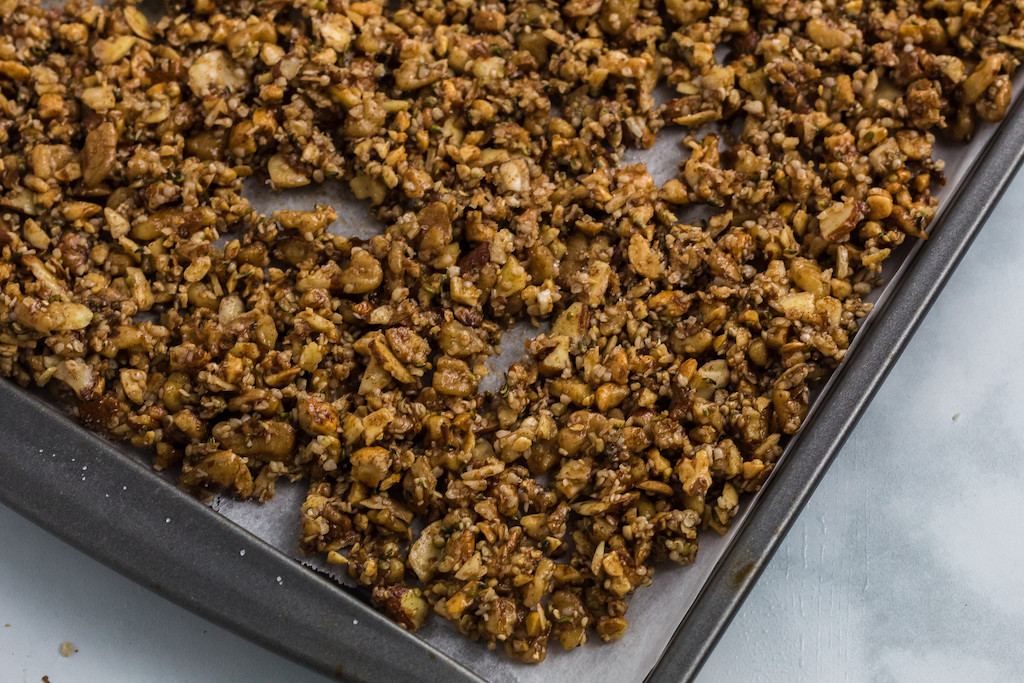 ---
yield: 10 SERVINGS
prep time: 10 MINUTES
cook time: 20 MINUTES
total time: 30 MINUTES
Sugar-free keto granola that's packed with flavor, sweetness, and crunch!
Ingredients
2 tablespoons melted butter
2 teaspoons cinnamon
1 tablespoon vanilla extract
Directions
1
Preheat oven to 325 degrees. Line a baking sheet with parchment paper and set aside.
2
If you have whole nuts, you can add them to a food processor and chop them up. For granola, you want smaller-sized pieces. If you purchased chopped nuts and they are small enough pieces, you can bypass this step.
3
In a large bowl, mix together the chopped pecans, almonds, walnuts, hemp hearts, and cashews.
4
In a separate smaller bowl, whisk together melted butter, cinnamon, keto maple syrup, vanilla extract, and brown keto sweetener.
5
Pour the sweetened butter mixture over the nuts and stir. Spread coated mixture over a baking sheet, and bake in the oven for 15 to 18 minutes. Start checking the granola at 15 minutes to make sure it doesn't burn.
6
Let the granola cool before storing it in a sealed container. It will stay fresh for 2 weeks.
7
Enjoy as cereal with almond milk, on top of low carb yogurt, sprinkled on keto-friendly ice cream, or just as a snack!
Nutrition Information
Yield: 2 1/2 cups, Serving Size: 1/4 cup
Amount Per Serving: 221 Calories | 19.7g Fat | 8.1g Total Carbs | 3.5g Fiber | 1.2g Sugar | 1.2g Sugar Alcohol | 6g Protein | 3.5g Net Carbs
---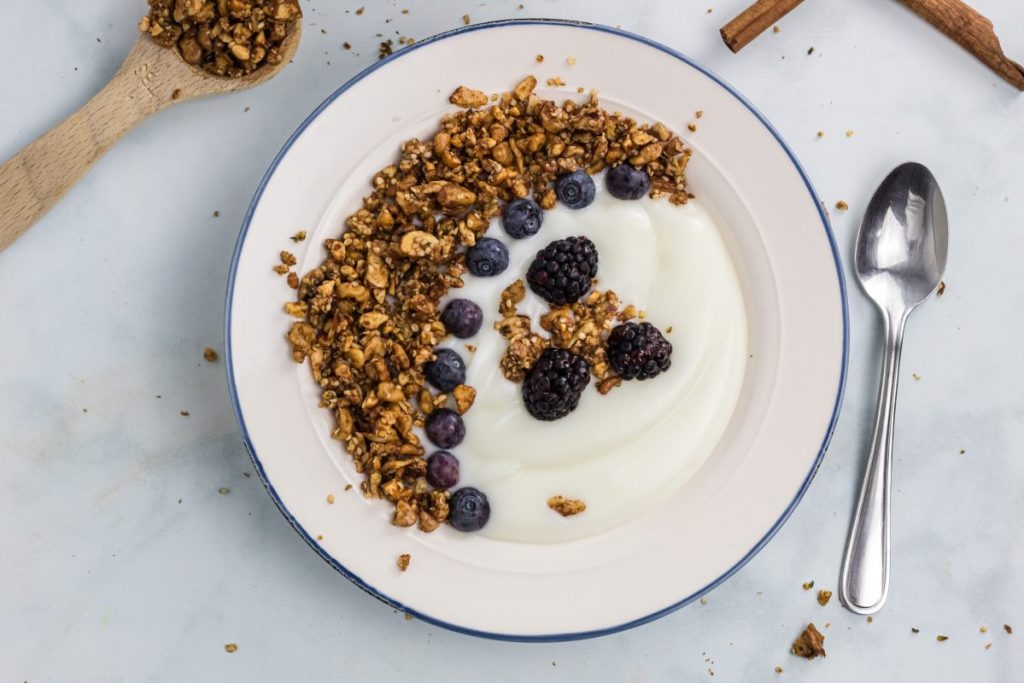 Tips for making the best keto granola:
I recommend buying nuts in bulk to get the best price on your ingredients. Costco and Sam's Club are both great options for buying larger quantities of nuts at great prices. You can use nuts in so many keto-friendly recipes (like these keto copycat KIND bars) or just for snacking! Plus, you can freeze what you don't use for later use.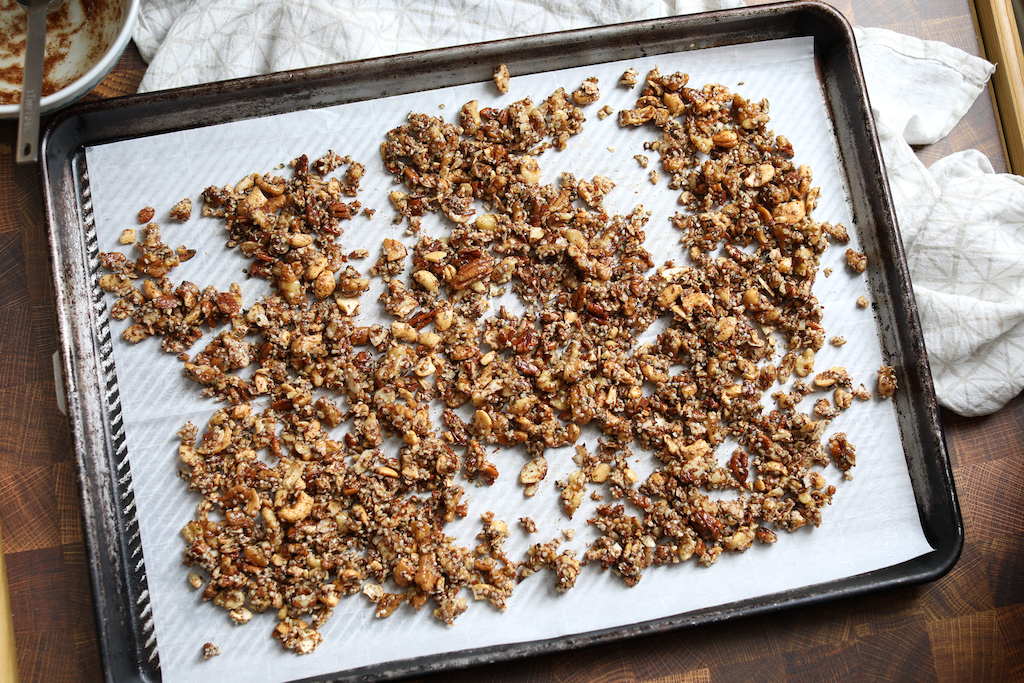 You won't be able to stop munching on this tasty granola!
This keto granola hits the spot—even my non-keto-eating family loved it! My kiddos love sprinkling it over their yogurt and it can even be a crunchy topping for keto ice cream, too. The possibilities are endless!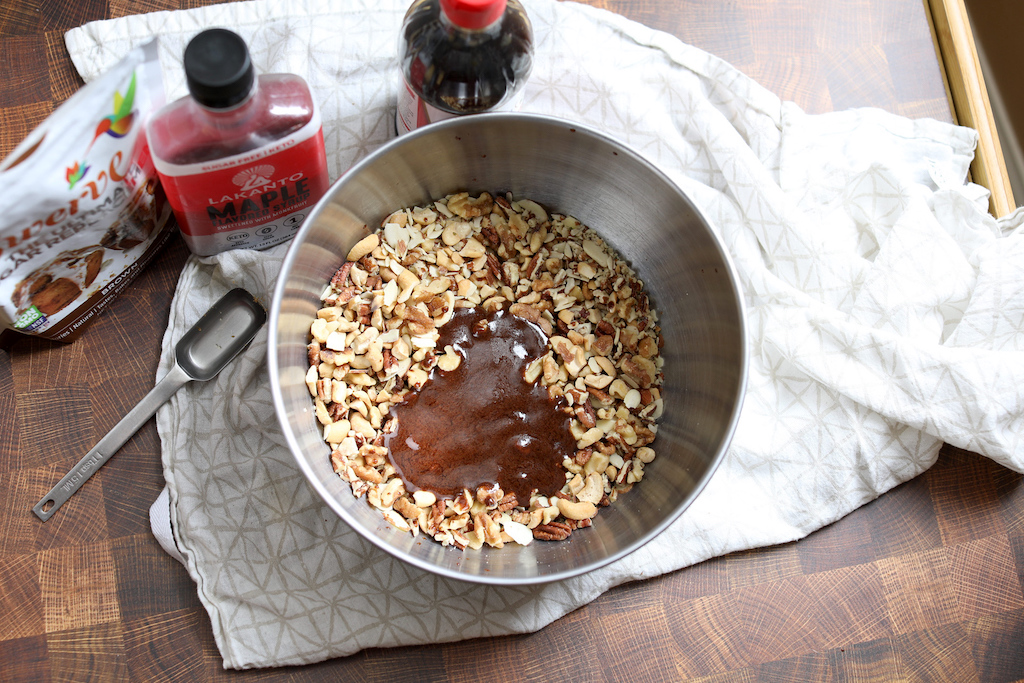 Here's what my Hip sidekick, Sara, had to say about this keto granola recipe:
"This keto granola is super simple and quick to whip up and smells so incredible when baking which is totally my kind of recipe! My first time making it I baked it too long, so I would recommend checking it at 10 minutes and checking every couple of minutes after until the edges are slightly golden – for me, 17 minutes was perfect the second time around.
I wouldn't classify this recipe as granola but more like delicious sweet mixed nuts! Even my kiddos can't get enough of it which makes it an all-around perfect snack for home, lunches, or on the go!"
---
Looking for another keto-friendly snack? Try out Keto Oatmeal Cookies!