These Keto Cheeseburger Muffins Are a Crowd-Pleaser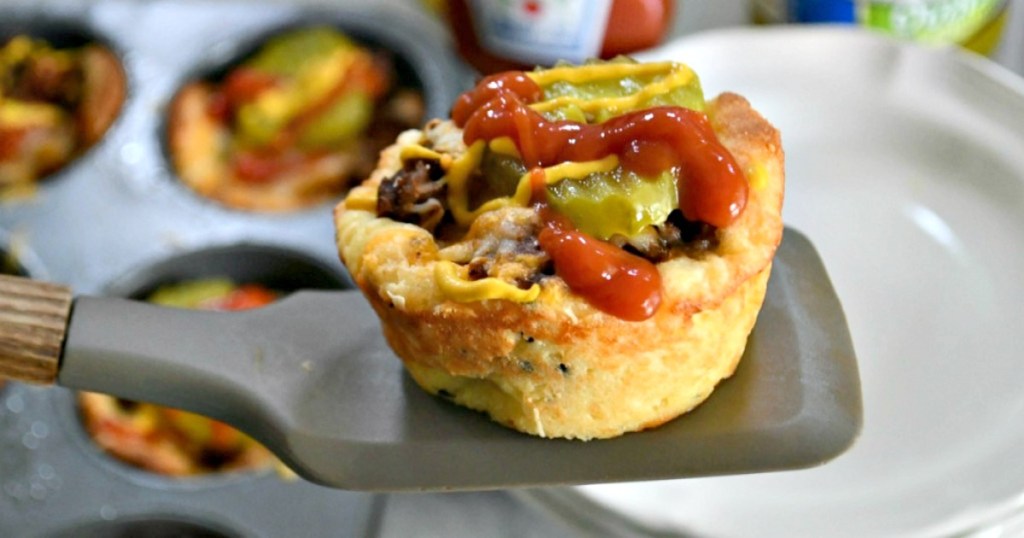 Love cheeseburgers but miss the bread?
You've gotta check out these YUMMY keto cheeseburger muffins that taste so similar to a real cheeseburger and bun! They're so fun to make and serve at your next cookout or for game day, and they remind me of cheeseburger sliders but in a bread-like, delicious muffin!
This recipe is fast and easy to make, similar to our breakfast sausage muffins that have ground sausage – except for with these, you'll use ground beef and any of your favorite keto-friendly burger toppings!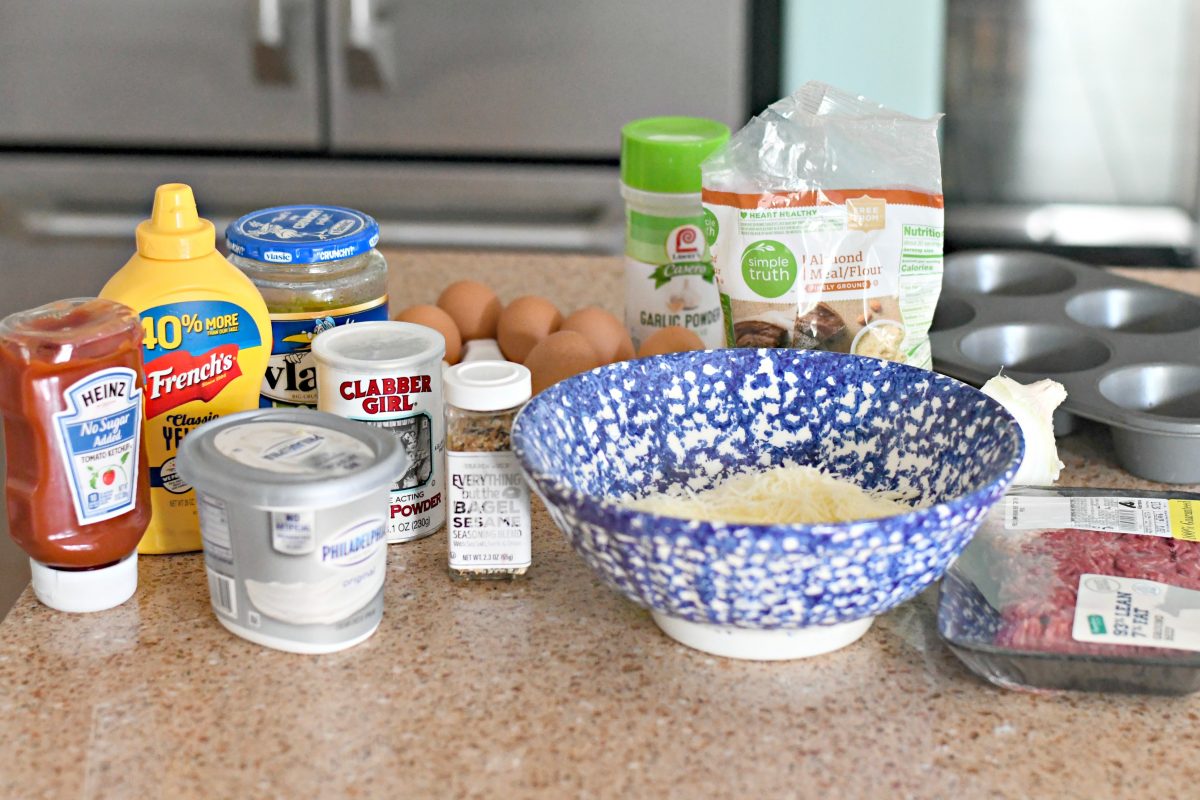 The secret to the bread in these keto muffins is Fat Head dough!
Fat Head dough is such a game-changer for adapting recipe ideas to fit into a keto lifestyle, because of its versatility and appealing taste/texture. It's so similar to real bread, and it uses just a few ingredients.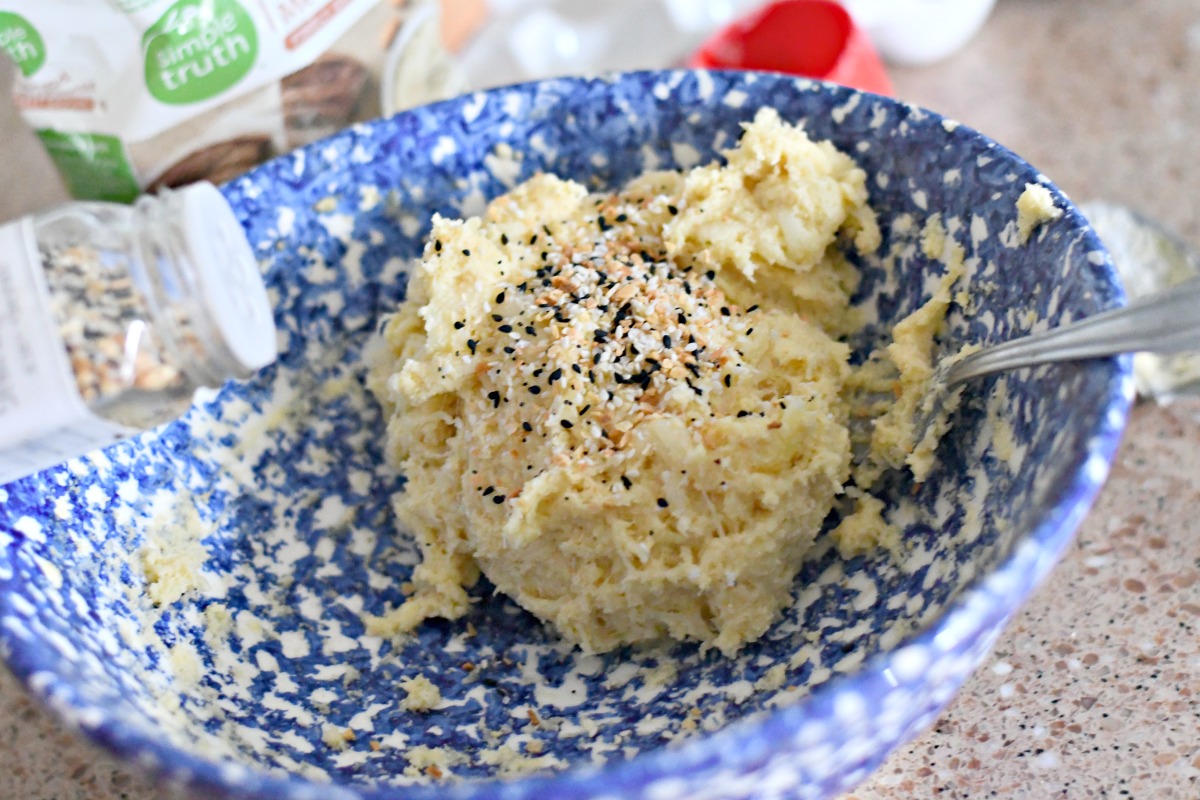 Fat Head dough is so easy to make, too!
The process is mainly melting cheese and almond flour in the microwave, adding an egg, and mixing everything together. This type of dough is sticky, but the more you stir, the more pliable it becomes. (I find it helpful to also store the dough in the fridge for a few minutes while making the filling for your muffins.) While you can season your Fat Head dough any way you'd like, I used Everything But the Bagel seasoning (it was so YUM).
We've used this dough in low-carb recipes like Pizza, Taco Stuffed Breadsticks, and Keto Pigs in a Blanket, and today we're going all out CHEESEBURGER mode!
My super easy process for creating these cheeseburger muffins:
After the dough is made, I cooked the filling on the stove using ground beef and some chopped onion.
I formed six balls from the dough using my hands and flattened them to fit in a jumbo 6-muffin tin. Then I filled the muffins evenly with ground beef mixture, topped with cheese, and baked in the oven. Finally, I added our favorite burger toppings and keto-friendly condiments after baking to serve.
Hip Tip: Dough too sticky? Use oil on your hands and grease the pan well with oil before baking to avoid sticking. I use coconut oil.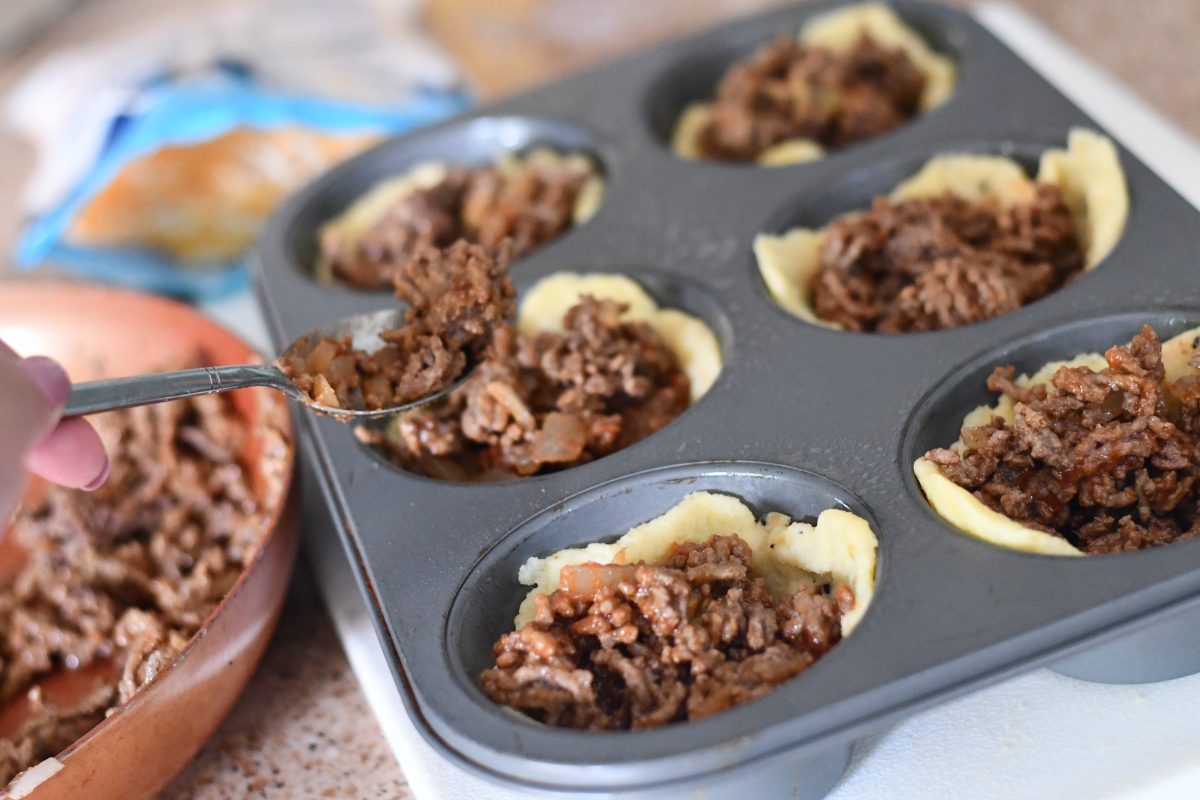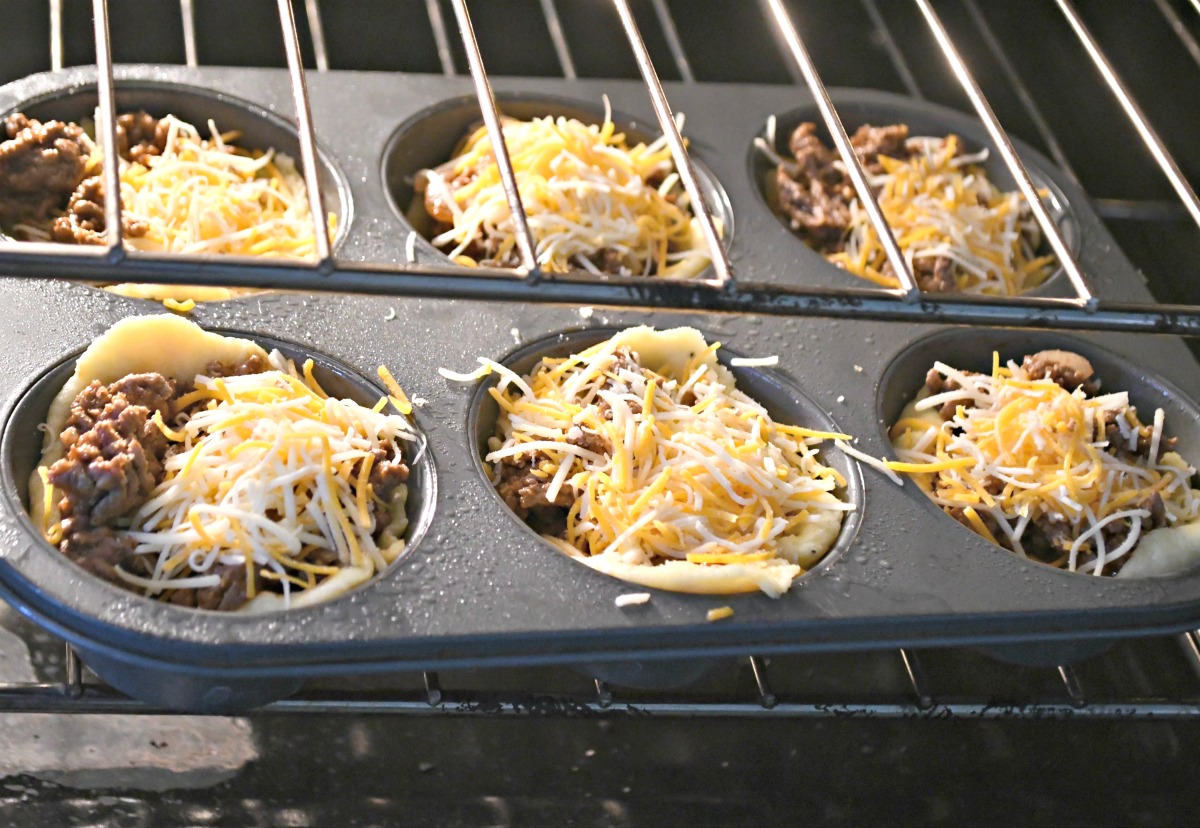 ---
Print
Keto Cheeseburger Muffins
yield: 6 SERVINGS
prep time: 25 MINUTES
cook time: 12 MINUTES
total time: 37 MINUTES
This muffin cup filled with ground beef, cheese, and burger toppings makes for a delicious appetizer or filling keto meal.
Ingredients
For the Fathead Dough:
3/4 cup almond flour
1 teaspoon baking powder
1 3/4 cups shredded mozzarella cheese
2 tablespoons cream cheese
1 egg
1 teaspoon Everything But the Bagel Seasoning
For the Filling:
1 pound ground beef
1/4 cup chopped onion
2 tablespoon no sugar added ketchup
1 tablespoon mustard
1/4 teaspoon of salt (or to taste)
1/4 teaspoon pepper
1/2 teaspoon garlic powder
6 tablespoons shredded cheddar cheese
other keto-friendly burger toppings, as desired
Directions
1
Preheat oven to 400 degrees.
2
In a microwave-safe mixing bowl, combine almond flour, baking powder mozzarella cheese, and cream cheese. Melt in the microwave for one minute. Stir and then cook for an additional 30 seconds in the microwave. Mix in egg, salt, and Italian seasoning, and stir. Keep stirring unit mixture forms a dough, and form into a ball. Place in the fridge for a few minutes if it's very sticky.
3
On the stove, crumble ground beef and onions together and cook through. Season with salt, pepper, and garlic powder. Stir in mustard and no sugar added ketchup.
4
Generously grease a 6-cup muffin tin. Divide the dough into 6 sections, and roll each into a ball. Flatten each ball using your hand and place inside each muffin cup. Fill each tin with the meat mixture. Sprinkle shredded cheese on top of each muffin. Bake in the oven for 12-13 minutes until the dough is cooked and slightly brown.
5
Serve warm with keto friendly toppings as desired. Enjoy!
Nutrition Information
Yield: 6 muffins, Serving Size: 1 muffin
Amount Per Serving: 434 Calories | 31g Fat | 5g Total Carbs | 2g Fiber | 33g Protein | 3g Net Carbs
---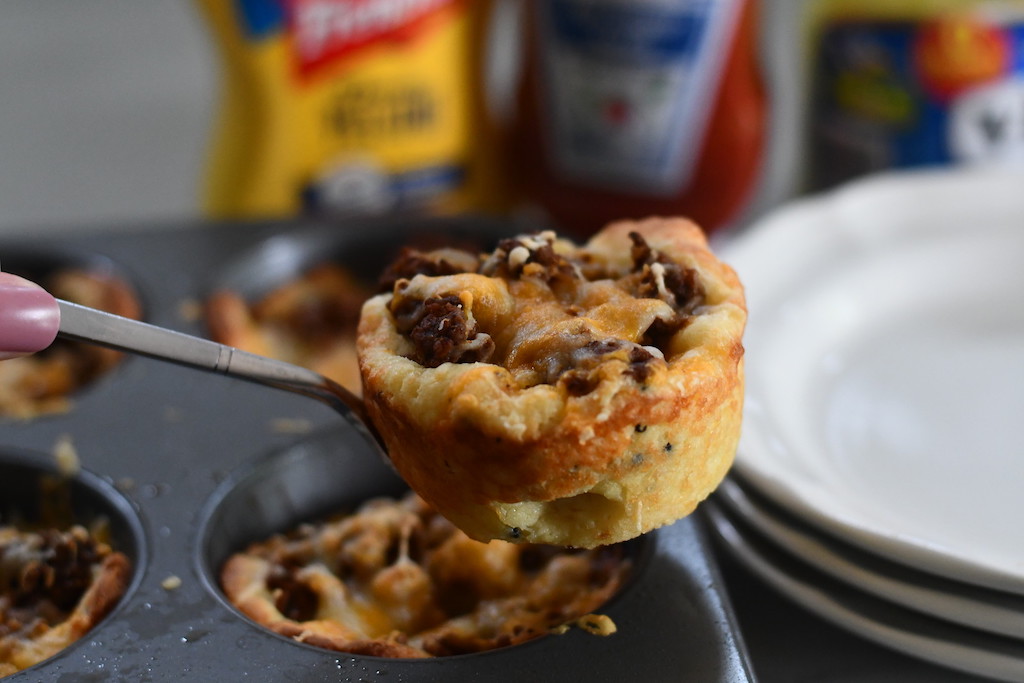 So melty and satisfying!
I love it when the dough has a nice brown texture around the edges like this, and it's so tasty with the meat and cheese combination. These are pretty rich and filling too, and they were so easy to prepare. Make these for your hungry crowd, and you'll have a lot of smiling faces!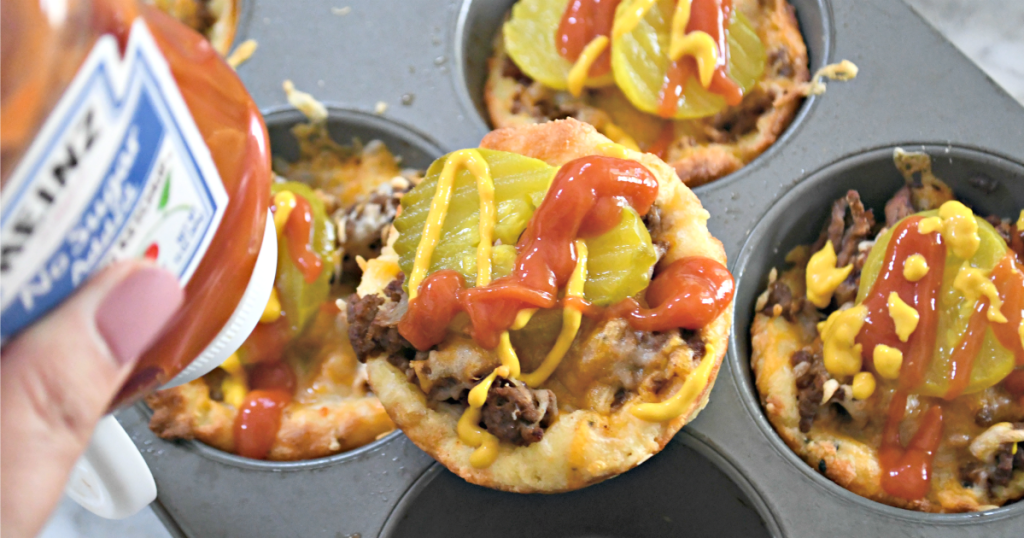 ---