Keto Tex Mex Hamburger Casserole | Easy Dinner Idea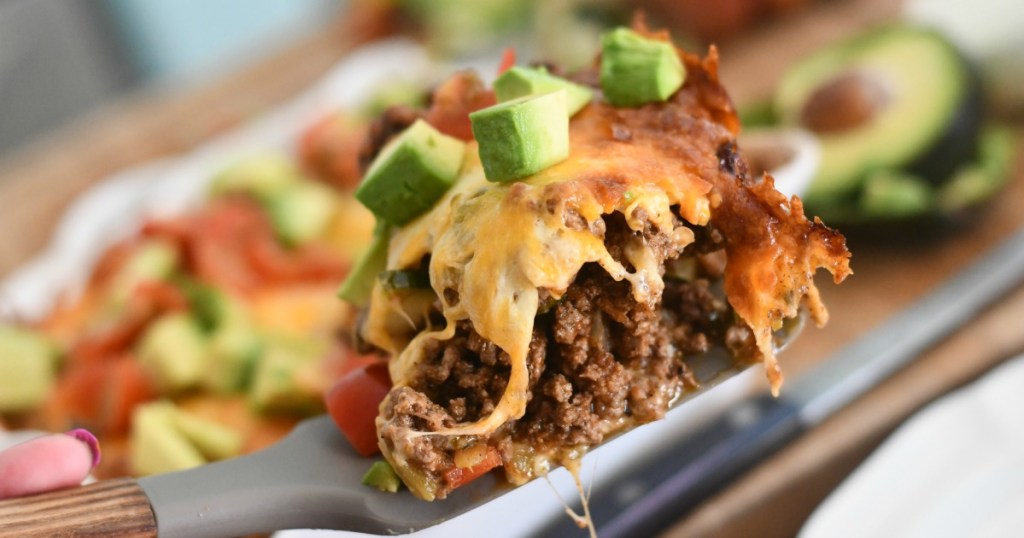 Need an easy casserole the entire family will love?
No need to give up delicious hamburger casseroles when living a keto lifestyle! Just check out this cheesy keto Tex Mex inspired hamburger casserole recipe featuring chipotle salsa and lots of bold flavors that make it stand out as a hearty and yummy dinner idea. My family LOVED this meal, and I enjoyed how easy it was to create!
Love these simple and tasty keto ingredients!
We're using the typical taco night ingredients with ground beef and cheese, except I chose a salsa made with chipotle peppers, which has a smoky/tangy flavor and is a nice change of pace. You could always add a couple of chipotle peppers in adobo sauce to a jar of salsa you may already have on hand to get a similar taste!
The salsa combined with an assortment of seasonings like garlic, cumin, chili powder, and paprika give this casserole lots of flavor! I also threw in a chopped zucchini as a veggie and really enjoyed it in this dish.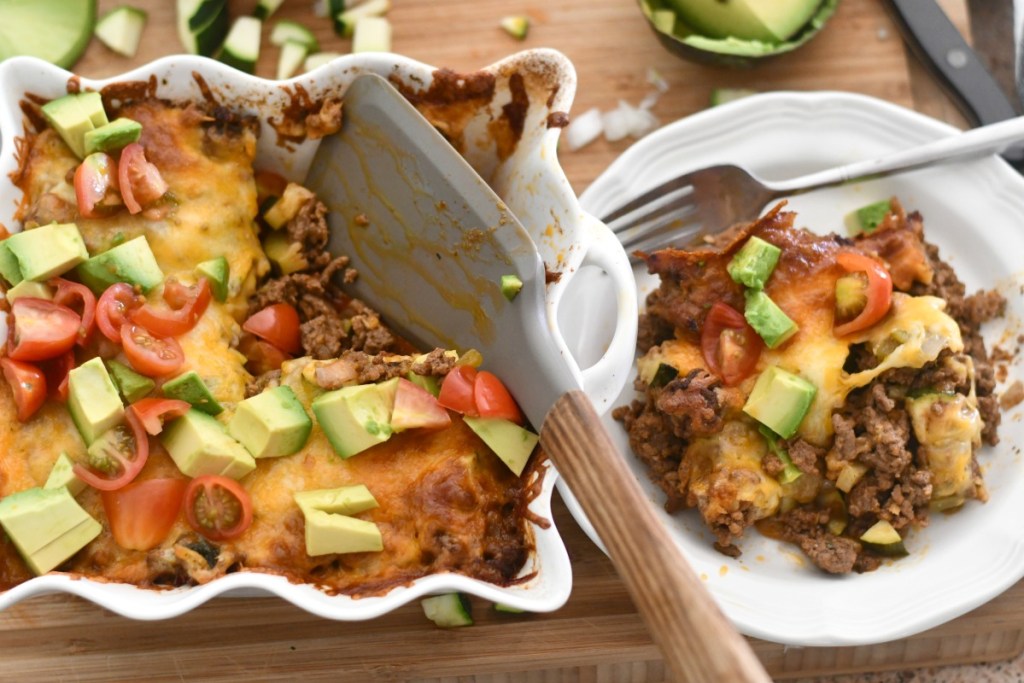 As far as the process goes, we're going to cook the ground beef on the stove, season it, and mix in the salsa and zucchini. That mixture gets poured into a square casserole dish, and it's then topped with green chiles and lots of cheese. Once it's bubbly and melted, you'll top with any extras desired, like avocado and tomato.
---
Print
Keto Tex Mex Hamburger Casserole
yield: 4 SERVINGS
prep time: 20 MINUTES
cook time: 20 MINUTES
total time: 40 MINUTES
A hearty, satisfying casserole featuring cheesy ground beef and chipotle salsa for lots of Tex Mex flavor!
Ingredients
For the Casserole:
1 1/2 pounds ground beef
1/4 cup diced onion
2 teaspoons chili powder
1 teaspoon paprika
1 teaspoon garlic powder
1 teaspoon ground cumin
1/4 teaspoon salt
1/4 teaspoon black pepper
pinch of ground cloves
1 medium zucchini, chopped
8 oz. chipotle chile salsa (in a jar)
2 oz. green chiles (from a can)
6 oz. shredded Mexican blend cheese
Optional Toppings:
diced avocado
diced tomatoes
Directions
1
Preheat oven to 400 degrees.
2
On the stove, heat a skillet to medium heat and cook ground beef with onion until no longer pink. Drain grease if needed.
3
Mix seasonings together in a small dish and pour over meat. Stir to coat ground beef.
4
Add chopped zucchini and chipotle salsa, and let simmer for a couple minutes.
5
Transfer contents to a square casserole dish. Top with green chiles and shredded cheese. Place inside oven for 15-20 minutes until cheese is melted and bubbly. Garnish with freshly chopped tomato and avocado.
Additional Notes
Toppings are not included in nutritional calculations.
Nutrition Information
Yield: 4 servings, Serving Size: 1/4 of casserole
Amount Per Serving: 665 Calories | 43g Fat | 10g Total Carbs | 1g Fiber | 53g Protein | 9g Net Carbs
---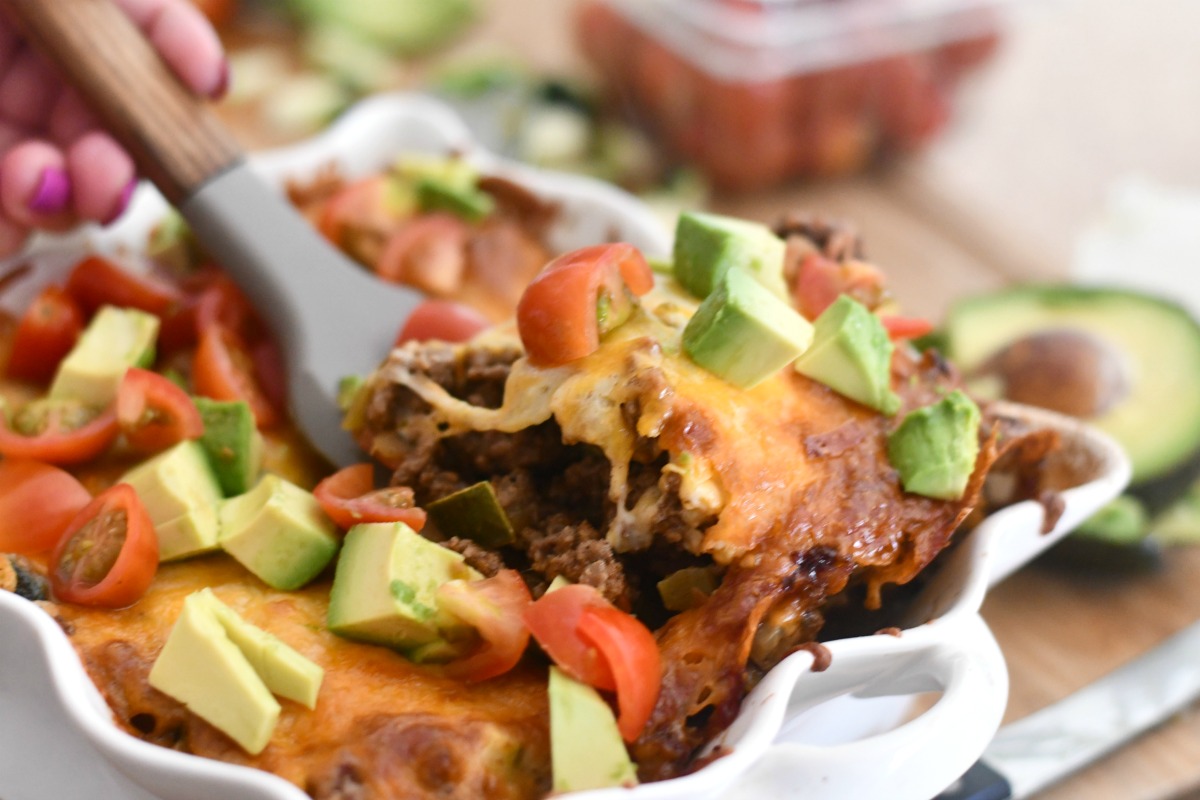 Dig into this cheesy, meaty casserole, pronto!
This casserole is a very generous portion that I think you'll find to be super satisfying and hearty. My husband was a big fan of this dinner, and if you happen to have leftovers, they reheat well. You can store this in the fridge in a covered container for up to 3-4 days.
For a larger family, feel free to double recipe and bake in a larger 9×13 casserole dish.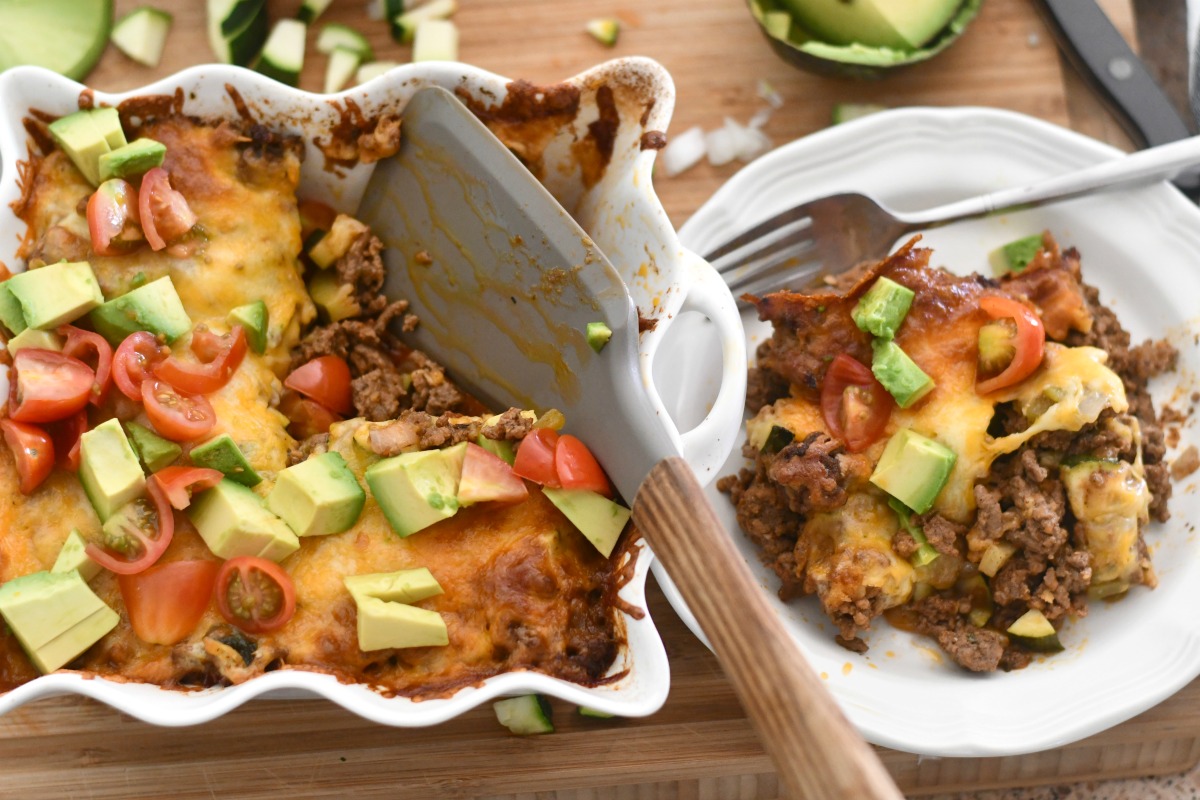 ---
Make these easy keto ground beef enchiladas!