Cauliflower Keto Potato Salad—My New Favorite Summertime Recipe!
This cauliflower keto potato salad is the perfect side dish!
This keto potato salad will be a hit at your next BBQ!
As you likely know, cauliflower is a super successful potato swap in many low-carb recipes. It has a versatile, mild flavor that blends beautifully with other recipe ingredients. With this in mind, I whipped up a batch of keto potato salad for the perfect keto-friendly side dish. As expected, it was a hit!
According to Wikipedia, traditional potato salad is known to have originated in Germany and was later brought by German and European immigrants during the 19th century. This side dish is a staple at most summer cookouts and get-togethers, and has been typically non-keto friendly… until now!
Our cauliflower swap will have you thinking you're eating the real thing, it's not only flavorful it's oh so low carb.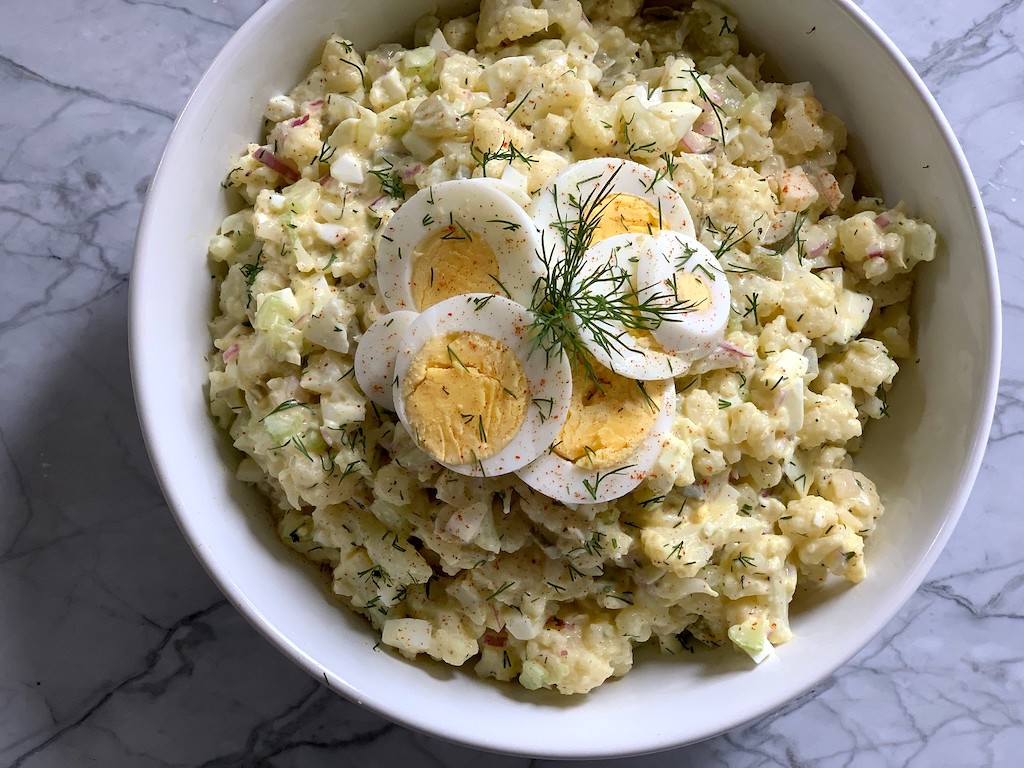 Hip tips for making the best cauliflower keto potato salad:
Be sure to cook the cauliflower long enough that the texture resembles a cooked potato. For this particular recipe, we're going more for soft-tender than crisp-tender.
Fun idea: Serve this keto no-potato salad as a one-bowl meal by adding 2 cups of chopped rotisserie chicken. YUM!
Dress it up with crumbled bacon or heat it up by swapping pickled jalapeños for the chopped dill pickles.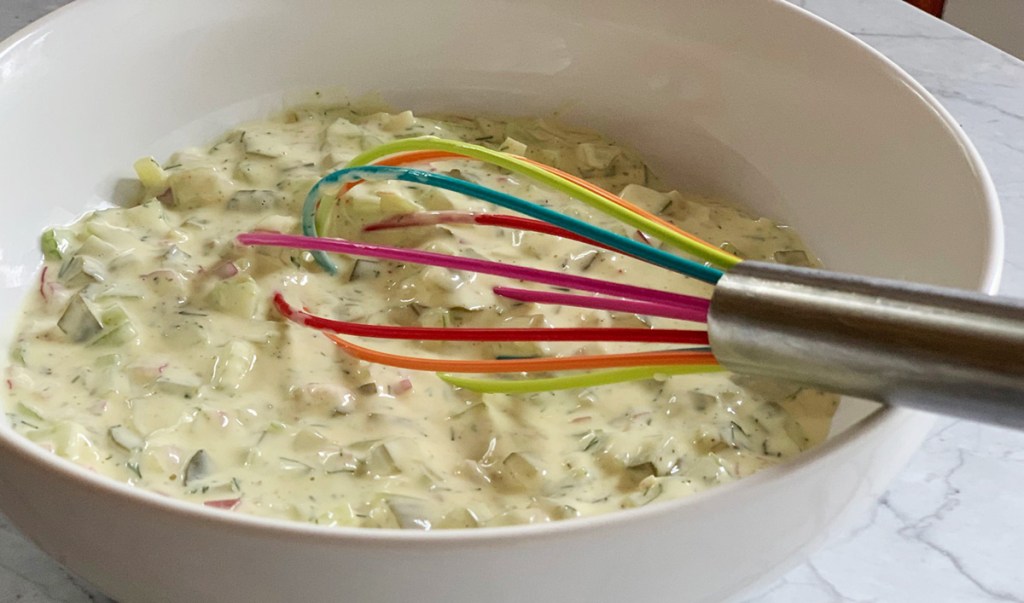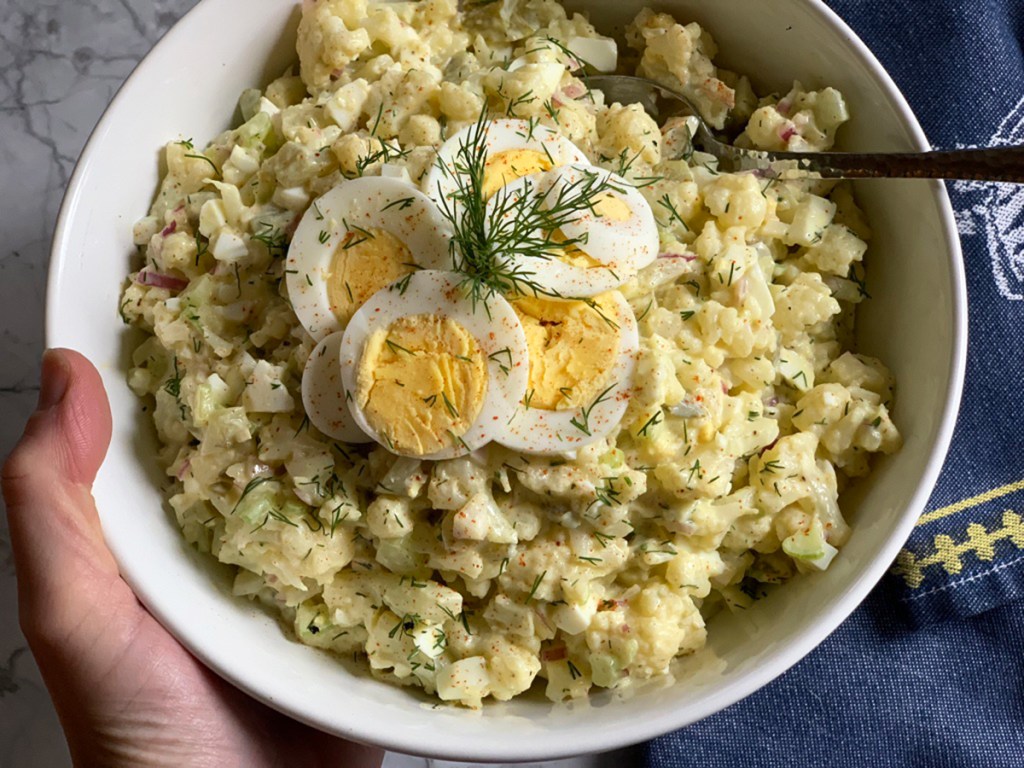 ---
Print
Cauliflower Potato Salad
yield: 8 SERVINGS
prep time: 20 MINUTES
cook time: 10 MINUTES
total time: 30 MINUTES
This low-carb mock potato salad featuring cauliflower is sure to be a hit at your next BBQ!
Ingredients
1 medium head cauliflower (or approx. 1 pound florets)
1/3 cup finely chopped celery
1/3 cup finely chopped red onion
1/3 cup roughly chopped dill pickle
1 tablespoon dill pickle juice
1 teaspoon prepared yellow mustard
5 hardboiled eggs, peeled
sea salt to taste
fresh ground pepper to taste
paprika, optional for garnish
Directions
1
Chop the cauliflower into small, 1/2-inch florets. Steam until tender, about 8 minutes. Place in a colander to dry out. Set aside.
2
In a medium or large bowl, mix the celery, onion, dill pickle, pickle juice, mayonnaise, mustard, dill weed, and celery salt until combined. Add the cauliflower florets, and toss until well coated.
3
Chop 4 of the hardboiled eggs. Fold the chopped eggs into the salad. Add salt & pepper to taste.
4
Slice the remaining egg. Garnish salad with sliced egg, dill weed, and paprika. Enjoy!
Additional Notes
This salad will keep in the refrigerator for about 4 days. Stir well before serving.
Nutrition Information
Yield: 8 servings, Serving Size: heaping 1/2 cup
Amount Per Serving: 167 Calories | 14.1g Fat | 5.2g Total Carbs | 1.8g Fiber | 2.3g Sugar | 5.6g Protein | 3.4g Net Carbs
---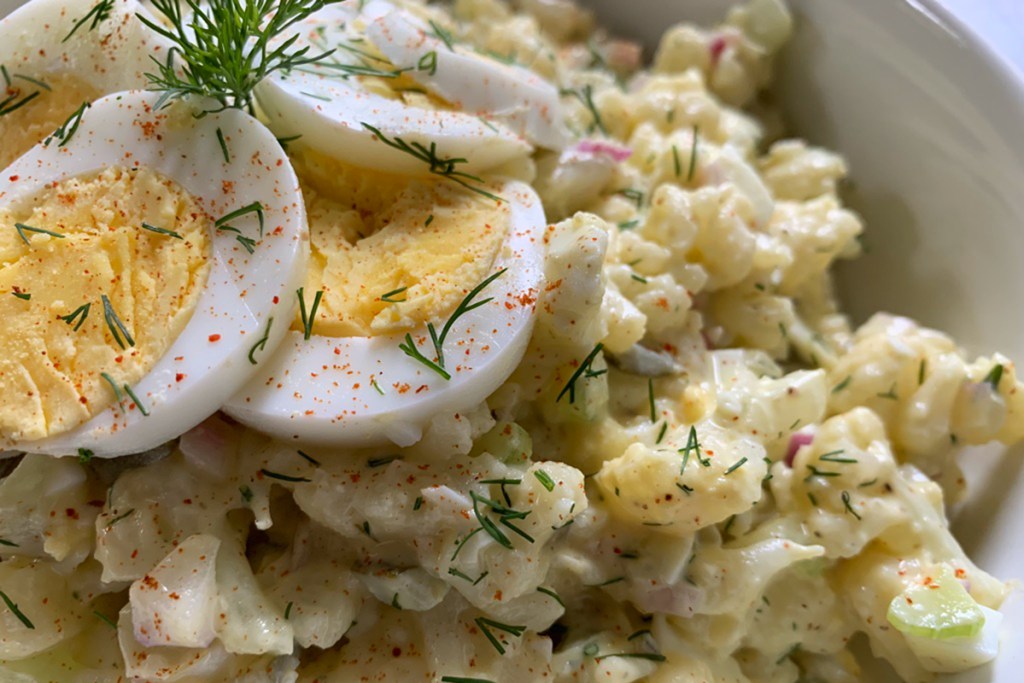 A really good keto salad is a must-have summertime dish!
This creamy and zesty low-carb cauliflower no-potato salad will be your new go-to for sunny weather potlucks. My non-keto family members really enjoyed it as well. We all agree that it's super delicious and couldn't care less about the missing potatoes.
My dear cauliflower, you did it again! Woohoo!
---
For another classic favorite, check out my low-carb coleslaw recipe!