My New Addiction: ChocZero's Limited Edition Keto Coconut Spread
I currently can't stop putting ChocZero's keto coconut spread on everything.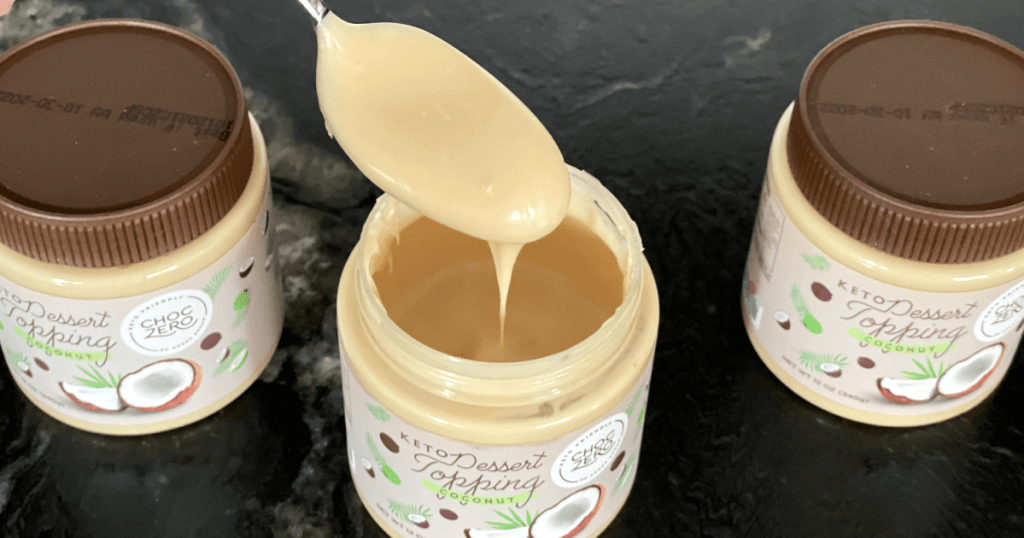 ChocZero is pure genius when it comes to tasty keto treats!
This limited edition keto coconut spread is SO good! I don't even know how ChocZero comes up with all of their brilliant ideas for new treats for us keto folks, but everything they create tastes like it's been crafted from magic. Keto or not, everyone will fall for this spread.
For starters, it tastes like creamy coconut heaven. The texture is thinner than peanut butter which makes it perfect to drizzle on everything from keto ice cream to brownies to waffles.
Don't just take my word for it. Here's what Collin had to say about this keto coconut spread:
"I know, I know… you're thinking why would I need this coconut spread in my life. Same for me, that's literally why it sat in my pantry for OVER a month. Oops! 😬 Until one day, well – it was that wonderful time of the month and I needed something sweet in my mouth STAT.
I was out of ChocZero chocolates, but saw this coconut spread that I had completely forgotten about. I decided to give it a try and wholly molly mamma olly – I know that doesn't make sense, but my experience was far too amazing to use words that make sense. 😆 This stuff is SOOOO good. It's the perfect amount of sweetness with no weird aftertaste. It's sweet, creamy, and delicious.
I ate a few spoonfuls and was so content in life. The next day I slathered it all over my keto waffles – oh my, so much better than syrup, and the day after that I mixed peanut butter with the coconut spread and I was like peanut butter cups who?! 🤣
This stuff is AMAZING!! Go buy some and thank me later! 🙌"
---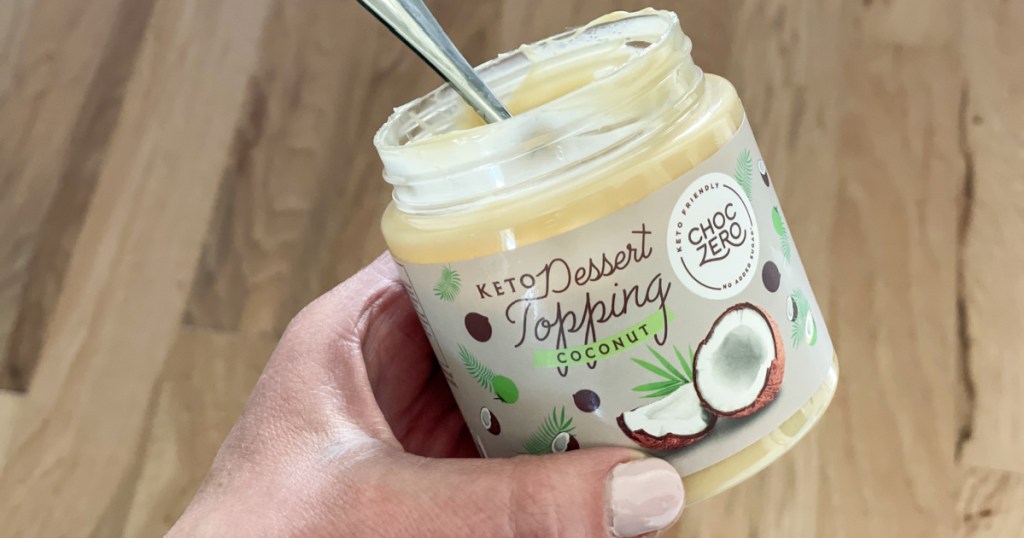 There really aren't any other products out there like this coconut dessert topping. Even taking into account non-keto items, I couldn't find anything similar. This is also a limited edition item, so better take advantage and enjoy it while you can! 🏃🏻‍♀️
I also think this would make a great gift for those coconut fanatics in your life, and it's the perfect time to stock up for the holidays by using our exclusive promo code HIP2KETO to get 10% off your order!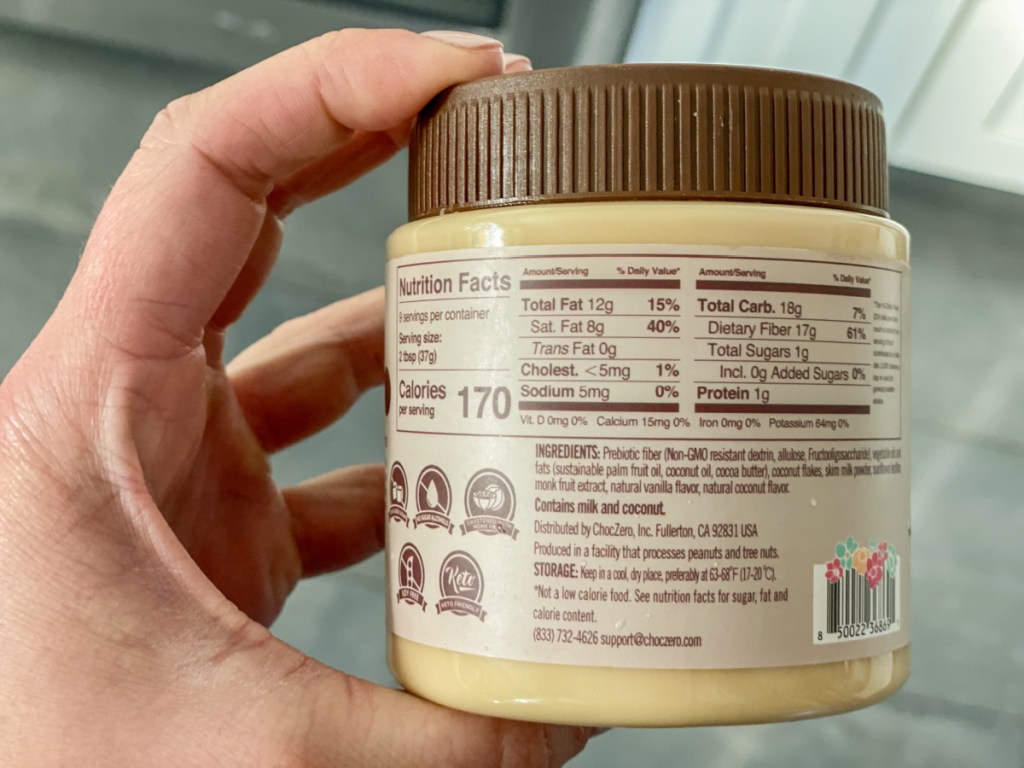 Serving Size: 2 tablespoons | 170 Calories | 12g Fat | 18g Total Carbs | 17g Fiber | 1g Sugar | 1g Protein | 1g Net Carbs
Ingredients: Prebiotic fiber (non-GMO resistant dextrin, allulose, Fructooligosaccharide), vegetable oils and fats (sustainable palm fruit oil, coconut oil, cocoa butter), coconut flakes, skim milk powder, sunflower lecithin, monk fruit extract, natural vanilla flavor, natural coconut flavor.
---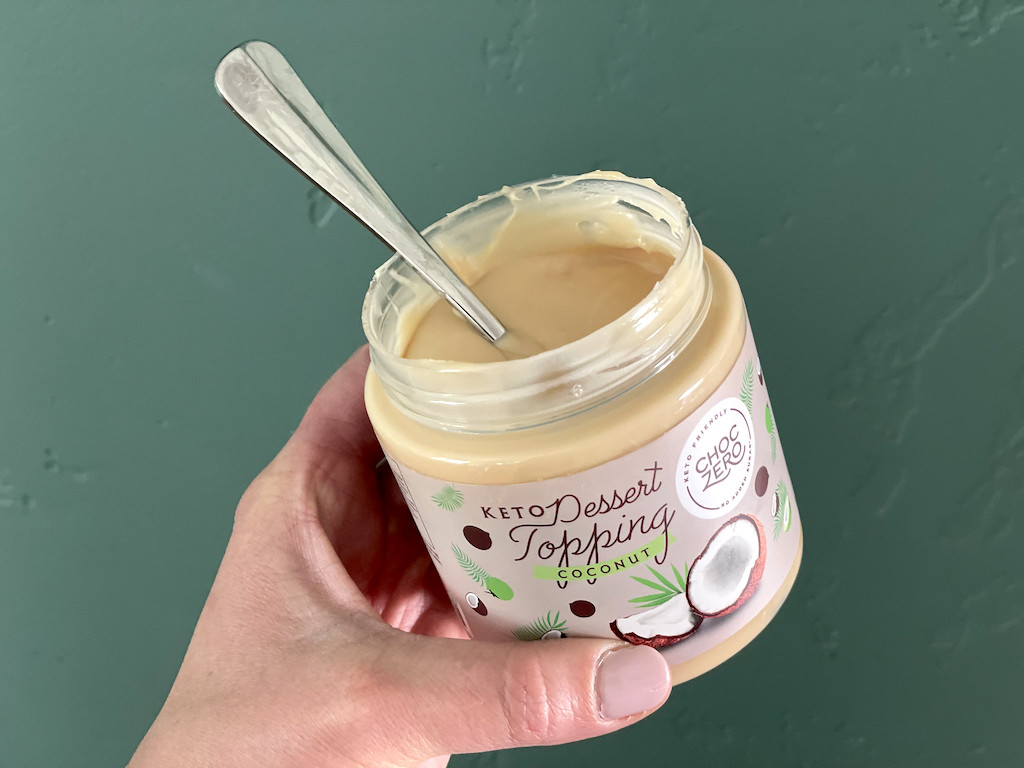 Why do we love ChocZero SO much?
ChocZero uses monk fruit to sweeten their delicious keto treats, so no weird aftertaste like what you can get from sugar alcohols. They also used allulose, which is another low-calorie sugar alternative, to add to that sweetness and in my opinion, allulose tastes very much like real sugar.
Note that this keto coconut spread does contain fructooligosaccharides (FOS), which can cause gastrointestinal issues for some people. But don't let this Mary Poppins-like word scare you! Fructooligosaccharides are indigestible fibers that taste sweet without adding a lot of calories and also keep blood sugars stable.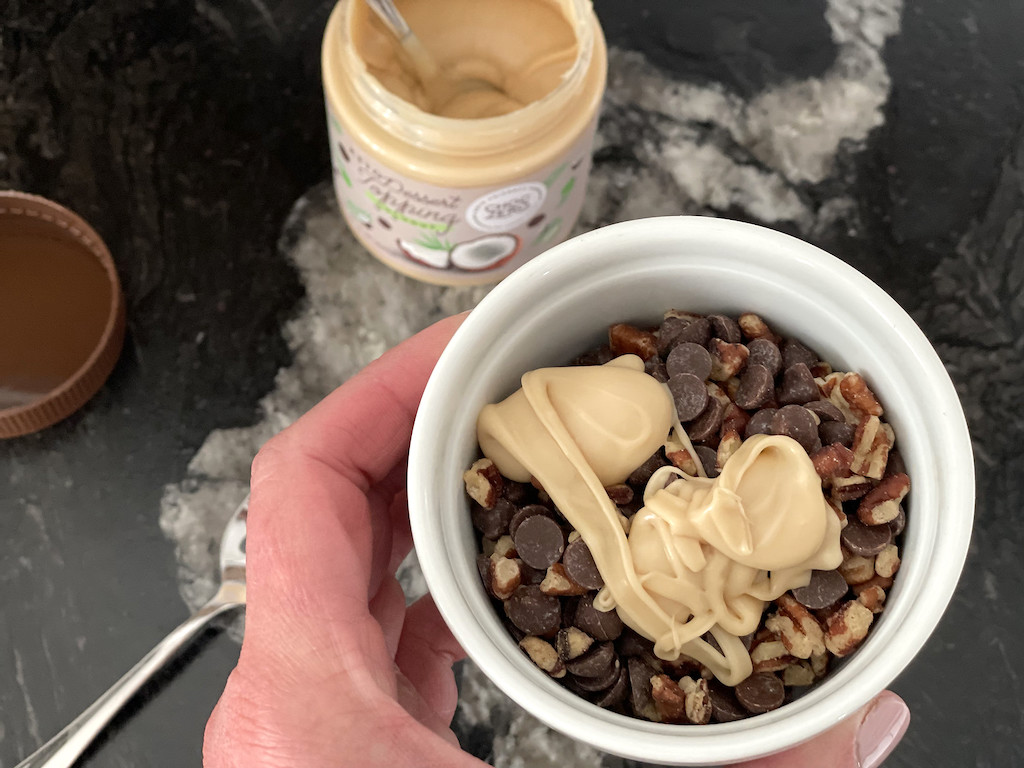 The possibilities are endless with this spread! Of course, you can eat it by the spoonful or smear it on a piece of keto bread. I drizzled it over a mixture of chopped pecans and ChocZero no-sugar-added Chocolate Chips and it was YUM!
I made a simple version of no-bake cookies by mixing together 2 tablespoons each of chopped pecans, sliced almonds, unsweetened shredded coconut, and keto chocolate chips with about 3 to 4 tablespoons of ChocZero's Keto Coconut Spread. I dolloped about 4 "cookies" onto some parchment paper and popped them in the freezer to harden. I enjoyed them with my morning coffee and they were so, so good!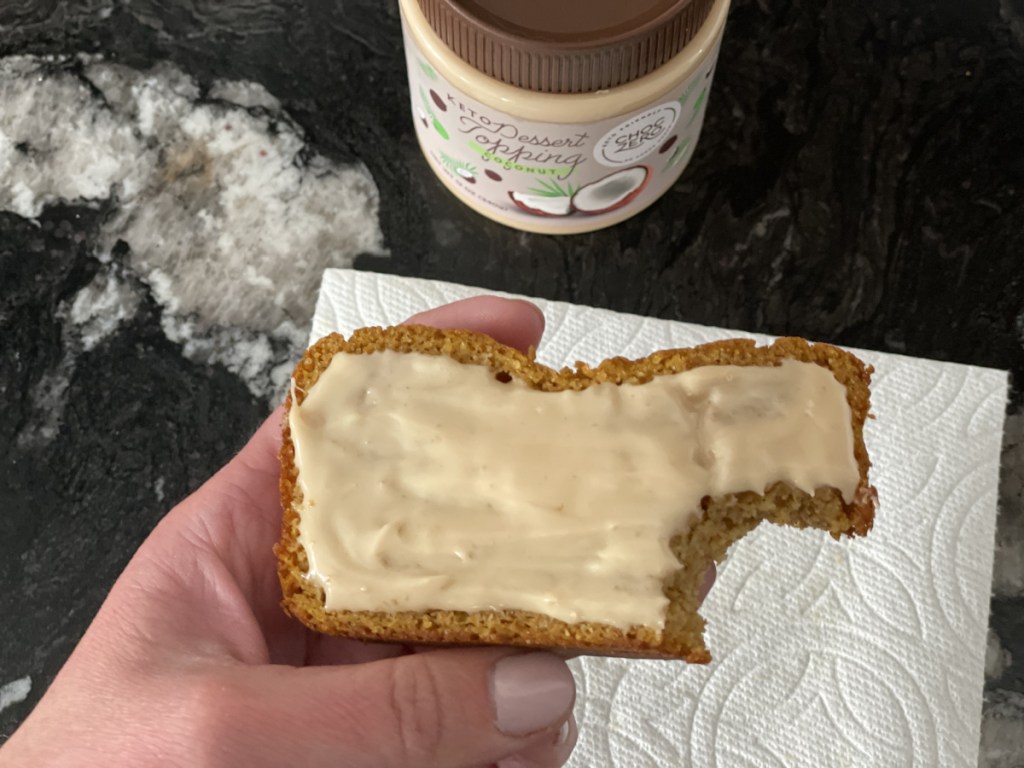 Can't wait to try some for yourself? Don't forget to use our exclusive ChocZero promo code!
ChocZero Keto Coconut Spread $8.99
Use our promo code HIP2KETO for 10% off
Final cost is just $8.09!
Standard shipping starts at $5.99 or stock up on multiple items to get free shipping on orders over $34.99!
Check out this awesome bundle deal!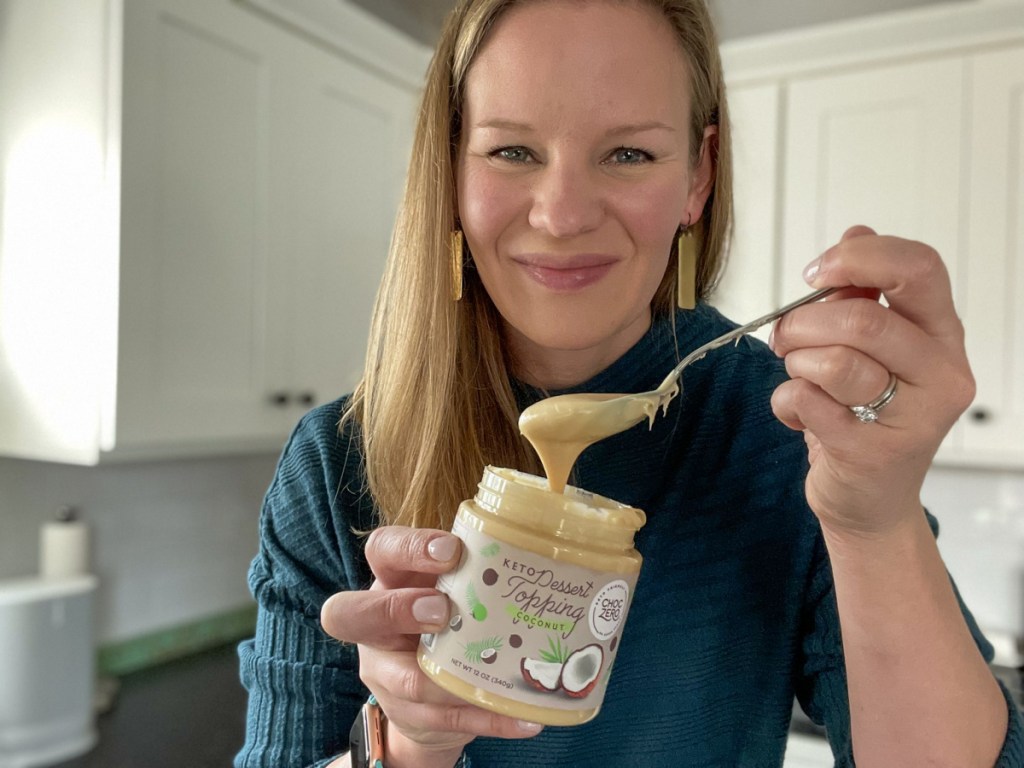 Have you tried ChocZero's Keto Coconut Topping yet?
---
The goodness doesn't end there… you've got to try their Keto Cookie Spread next!