ChocZero's Keto Cookie Butter Spread is Here… Grab a Spoon & Dig In!
The ultimate sweet snacking treat is here in the form of scoopable keto cookie spread.
Cookie spreads are as fabulously delicious as they sound so imagine our delight when we heard our friends at ChocZero made a keto cookie spread! 🤤
It tastes like a sweet cookie with the texture of peanut butter. To further describe the taste, think of a flavor marriage between a cinnamon shortbread cookie and a gingersnap with a hint of creamy caramel. Perfection!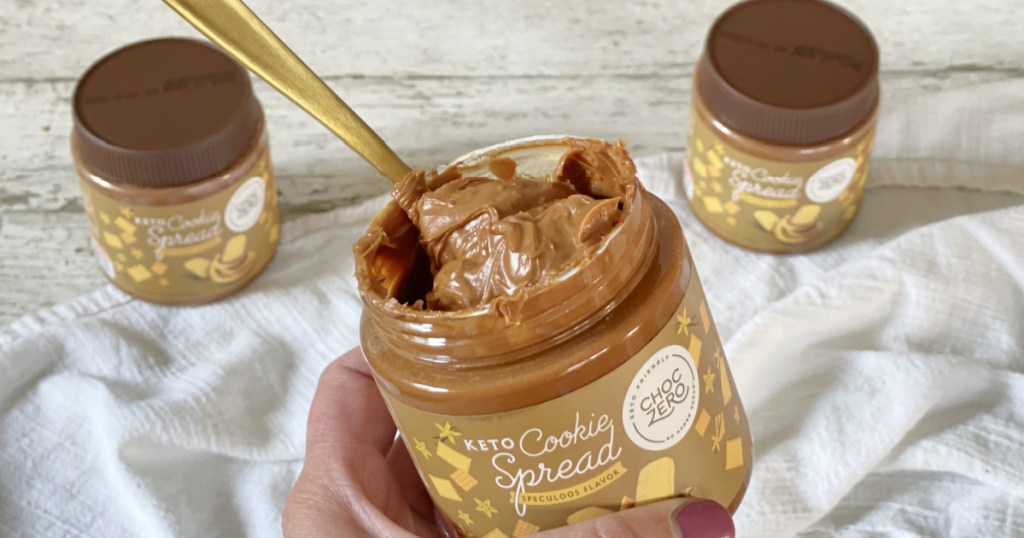 If you aren't familiar with cookie spread or cookie butter, the most notable one is Trader Joe's Speculoos Cookie Butter — it has a cult-like following. Another popular brand is Biscoff with its own take on cookie butter.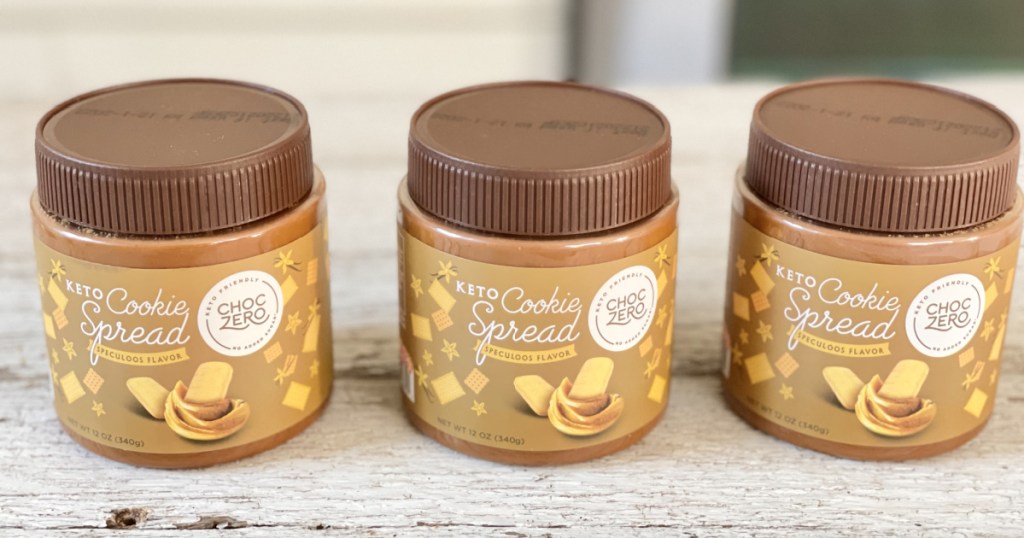 But the caveat of regular cookie spreads is that they are packed full of carbs and sugar. For example, the Trader Joe's version has 16g of carbs, 0g of fiber, and 10g of sugar in 2 tablespoons. In comparison, the ChocZero Keto Cookie Spread has 10g of carbs, 7g of fiber, and 2g of sugar, so only 3g of net carbs per 2 tablespoons. 🤯
Check out the full nutrition information below…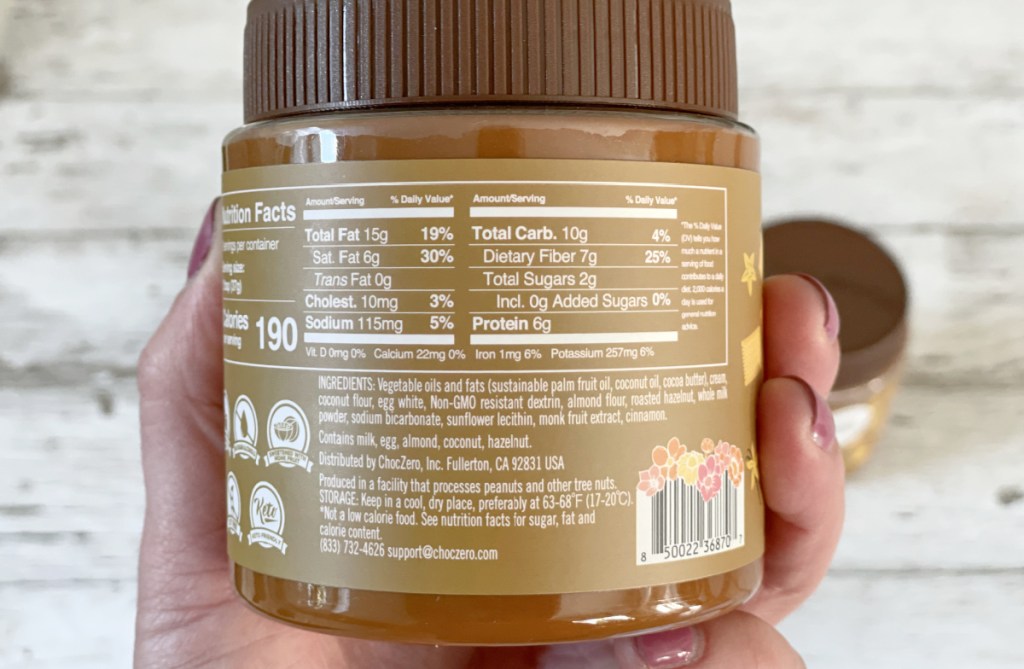 Serving Size: 2 tablespoons | 190 Calories | 15g Fat | 10g Total Carbs | 7g Fiber | 2g Sugar | 6g Protein | 3g Net Carbs
Ingredients: Vegetable oils and fats (sustainable palm fruit oil, coconut oil, cocoa butter), cream, coconut flour, egg white, Non-GMO resistant dextrin, almond flour, roasted hazelnut, whole milk powder, sodium bicarbonate, sunflower lecithin, monk fruit extract, cinnamon.
---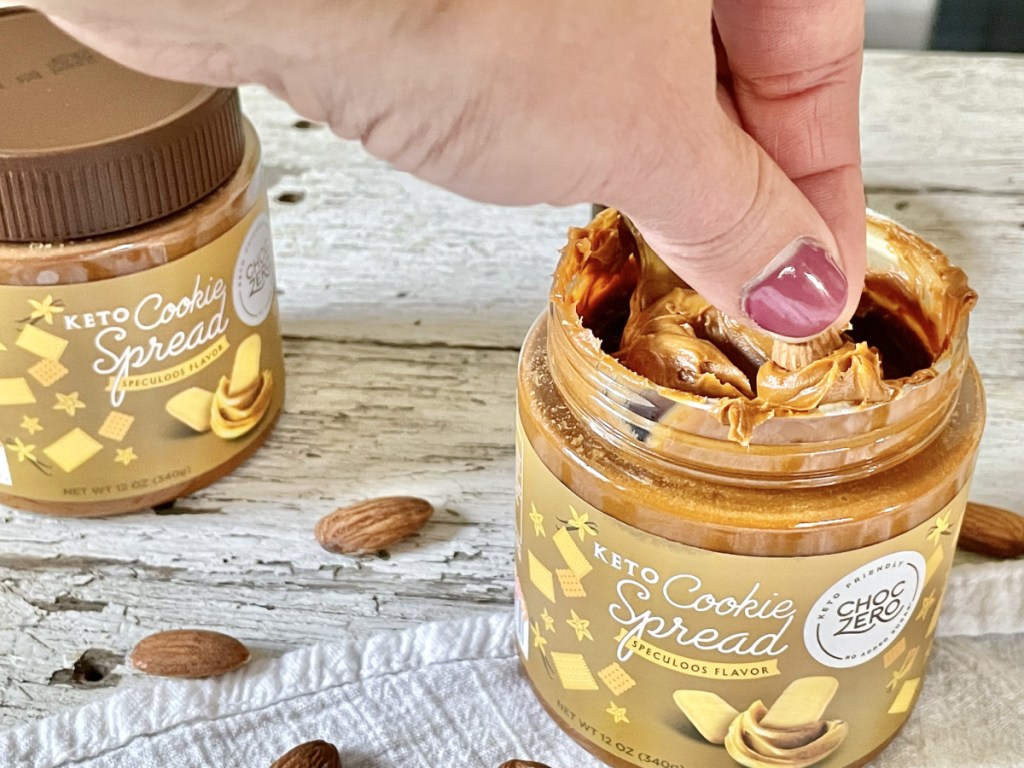 How does ChocZero do it?
ChocZero actually made their own cookies out of coconut and almond flour for this cookie spread, without any sugar alcohols in fact! Like all of their products, they used monk fruit to sweeten this spread, so there's no strange cooling aftertaste.
The fiber in the spread comes from Non-GMO resistant dextrin, while some of their other spreads use Fructooligosaccharide (FOS) fiber. FOS fiber can cause upset stomach in some people, so it's nice that this spread uses a different fiber source that might be better tolerated.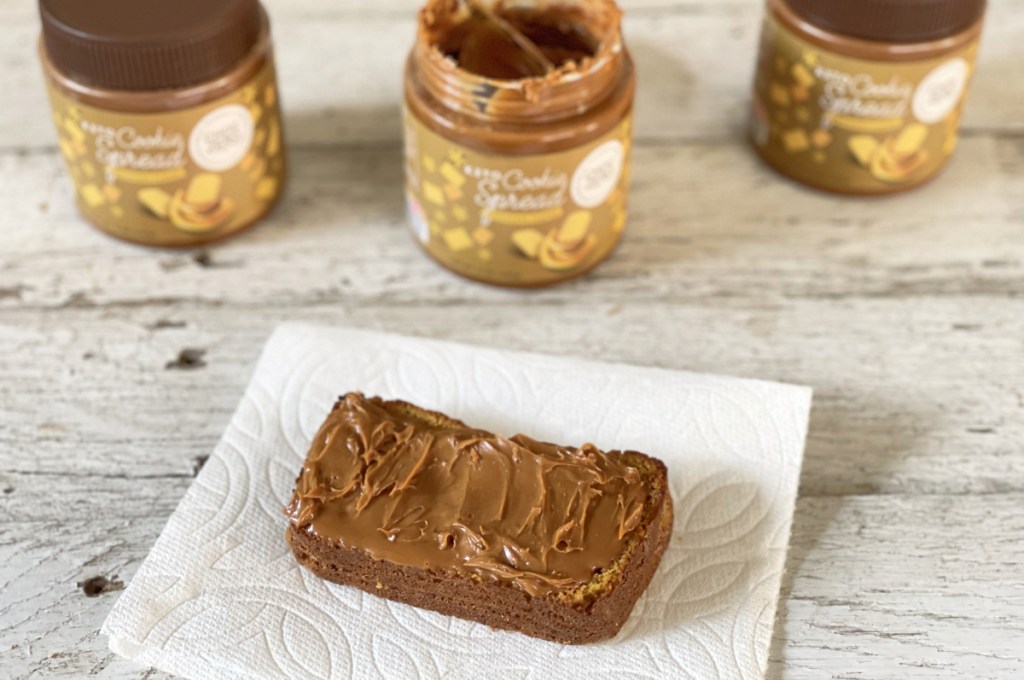 This keto cookie spread is so new, there aren't any reviews yet on the magical mixture!
I wish I could share my spoonful through the screen with you, but the taste is just too good not to be enjoyed firsthand. You can eat this by the spoonful, dip keto cookies, berries, or almonds in it, spread it on toasted keto bread (like I did), or try baking with it. Basically, you can use it on everything!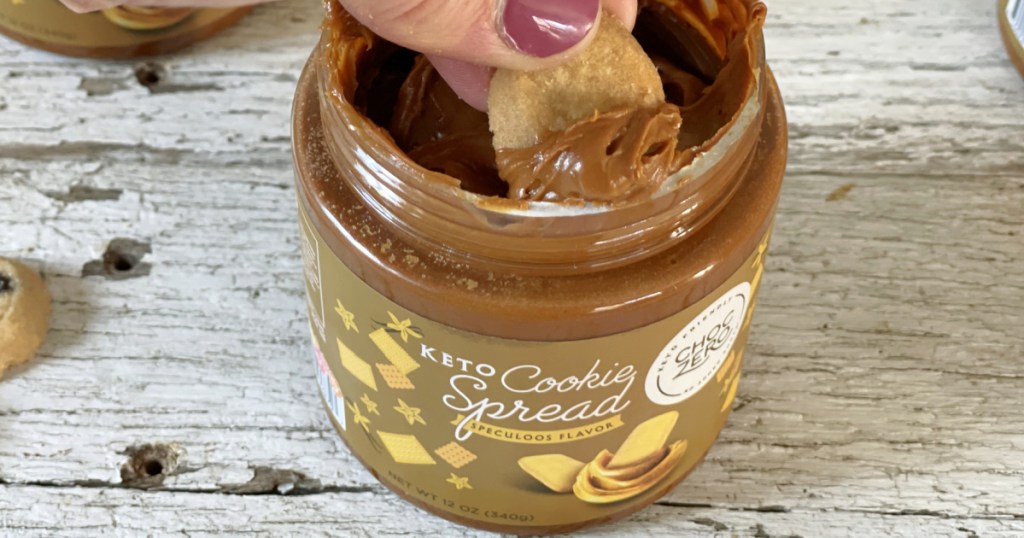 So if you're ready to try it out for yourself, use our exclusive promo code HIP2KETO to score 10% off your entire purchase. And you should probably order more than one jar of this keto cookie spread because if we know anything about new releases from ChocZero, they get gobbled up almost instantly!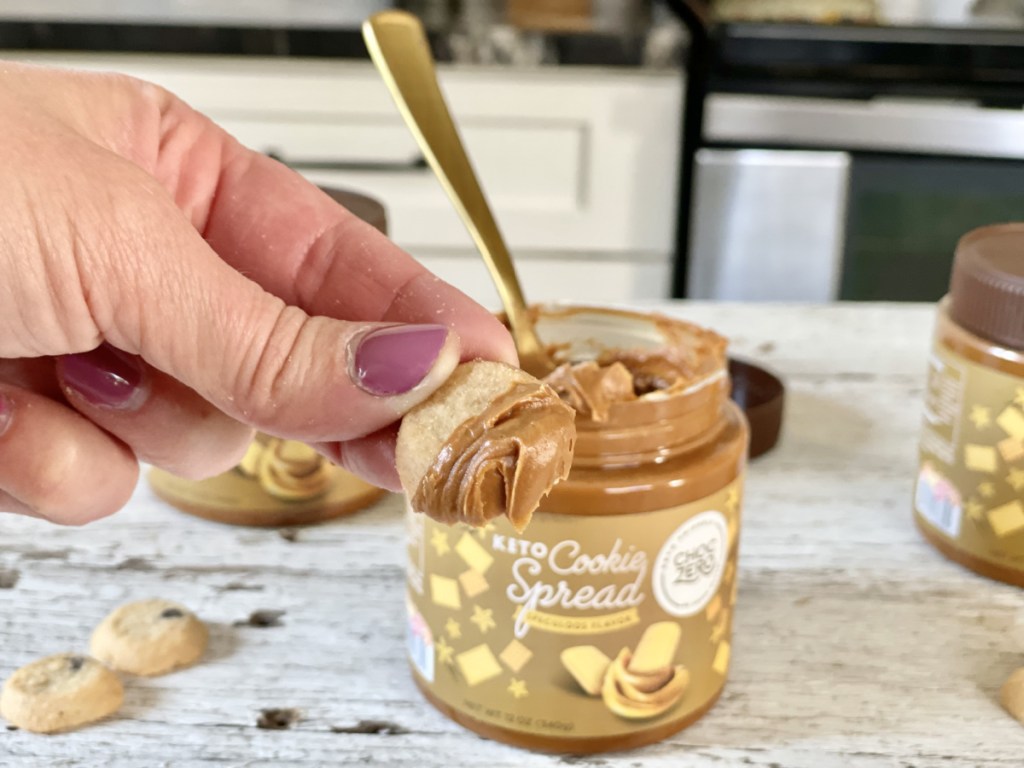 ChocZero Keto Cookie Spead $7.49
Use our promo code HIP2KETO for 10% off
Final cost is just $6.74!
Standard shipping starts at $5.99 or stock up on multiple products to score free shipping on orders over $34.99!
---
"First of all, ChocZero is out of this world in everything they make…but this spread…THIS SPREAD, YOU GUYS! It's my favorite one yet! It is so buttery smooth and delicious, it's unreal to me that it's keto. If you buy anything from them, make sure you try this new addition ASAP!"
---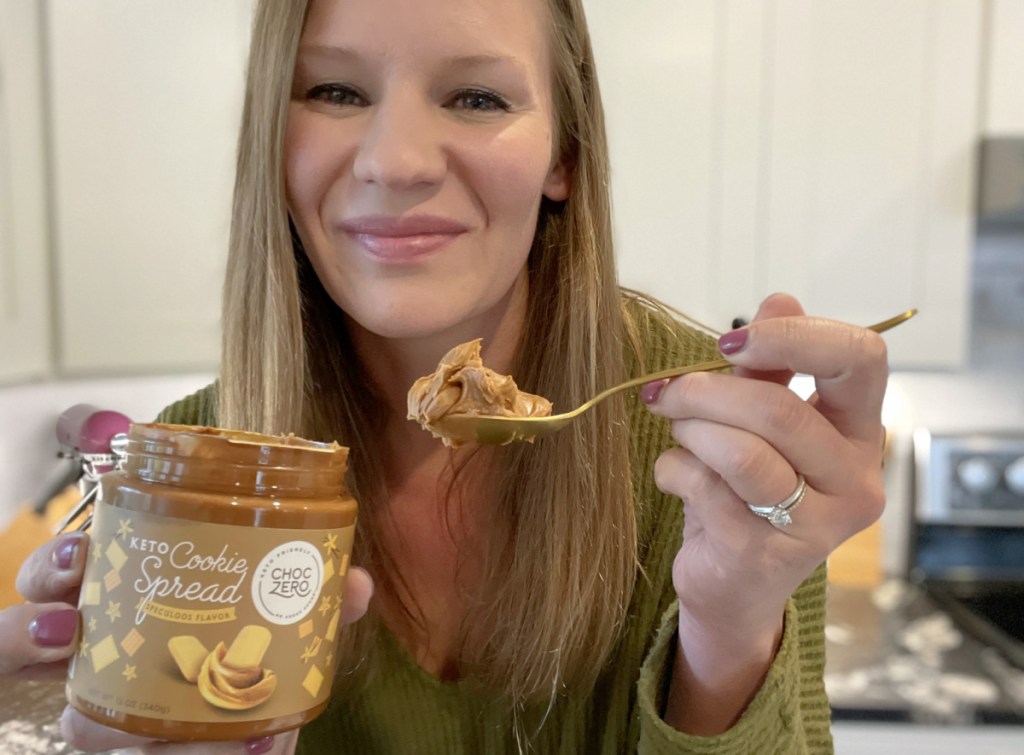 Have you tried the new ChocZero Keto Cookie Spread yet? Did you eat it by the spoonful too? We couldn't resist! 😄
---
Need keto candy recommendations? Here's why we love ChocZero's Peanut Butter Cups!