Easy 3-Ingredient Keto Mason Jar Ice Cream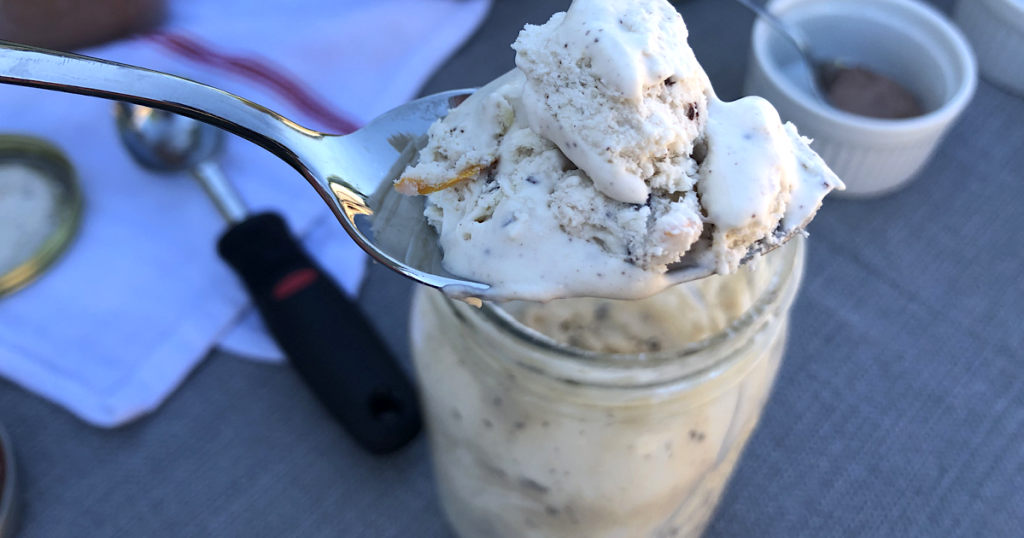 Ready to make keto mason jar ice cream at home?!
Bet you didn't even know that was possible! It's seriously so easy and absolutely amazing! Who knew you could make keto mason jar ice cream without an ice cream maker? Yep, all you need is a mason jar, heavy whipping cream, vanilla, and a keto sweetener.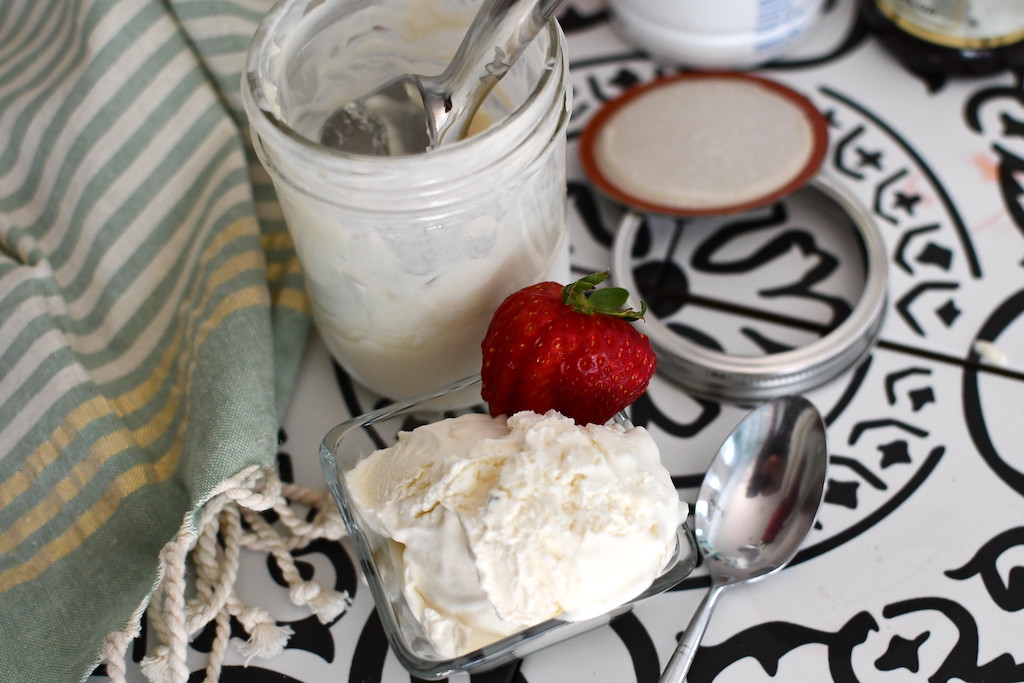 The best part is that this dessert recipe is very easy to customize with your favorite flavors. The vanilla base recipe requires just three main ingredients and then you can get creative with add-ins. Bonus is that it also happens to be a great arm workout. 💪 Get your whole family involved in making keto ice cream at home! So fun!
All you do is shake it!
To make this keto ice cream, you place all the ingredients in a quart-size (32-ounce) Mason jar, shake it for five minutes, and then place it in the freezer. All that shaking will eventually result in a rich and creamy keto ice cream. The ice cream will take anywhere from two to four hours to freeze, depending on your freezer and if you have any add-ins.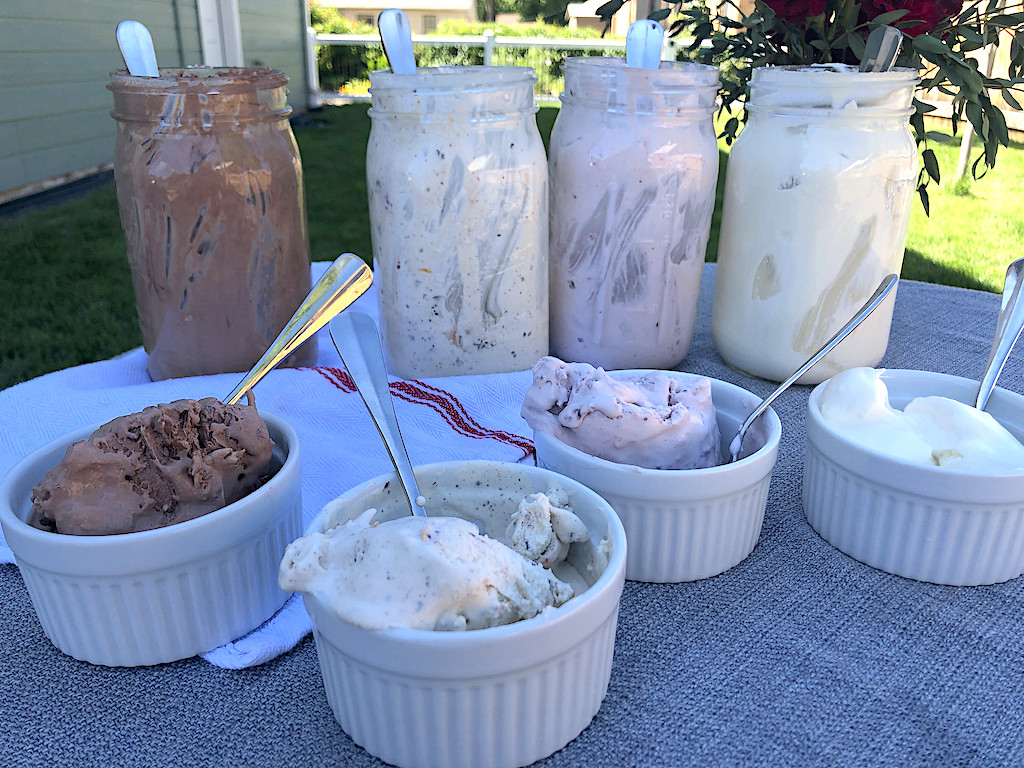 And the flavor combinations are endless! Try adding in berries, nuts, cocoa powder, keto cookies, or any other keto toppings such as a sugar-free caramel sauce.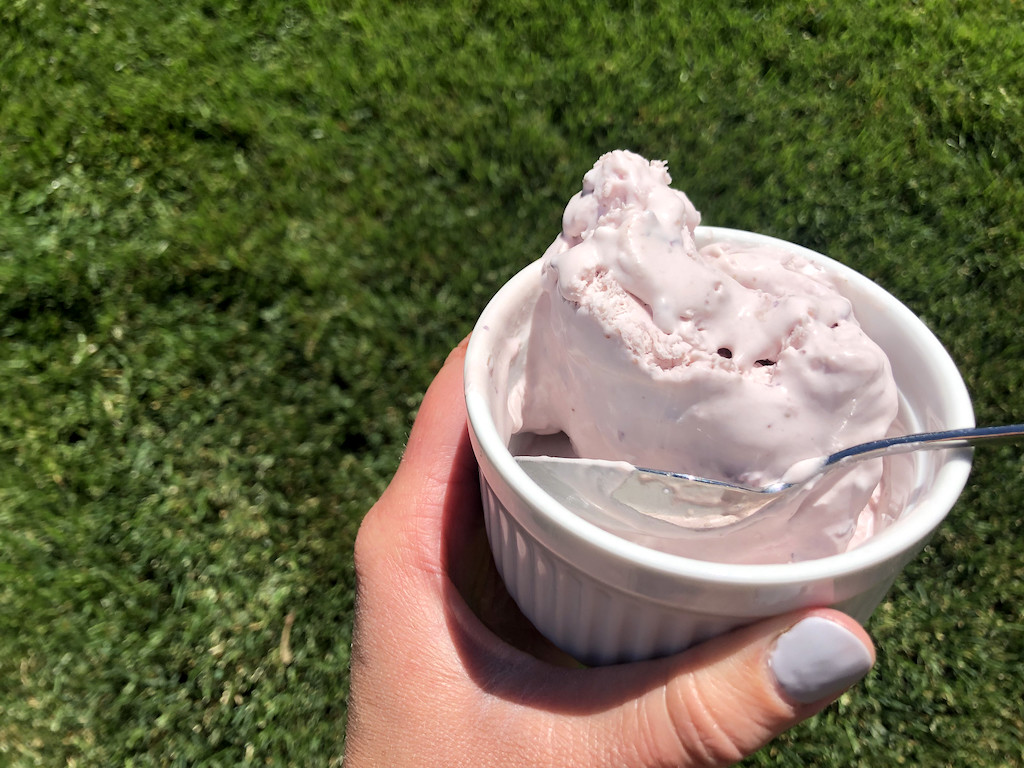 For this recipe, we experimented with several flavor combinations that all use the vanilla recipe with the following additions.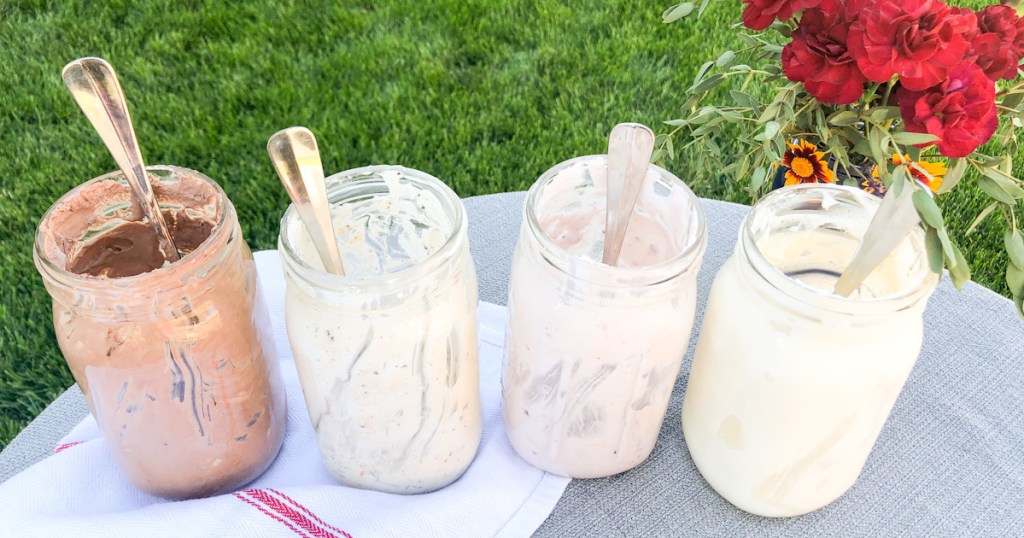 Tips for making the best keto ice cream in a mason jar:
To make this recipe keto, we swapped traditional sugar for a keto-friendly sweetener. Ice cream is one of those recipes that's very EASY to make keto-friendly because all you have to do is switch out sugar to a keto-approved sweetener. We used Swerve confectioner's keto sweetener for this recipe, as it dissolves better and it works great here! Check out our guide to keto sweeteners for more information.
Shake the mason jar for a full 5 minutes! Set a timer if you need to as this step is very important! Shaking the ice cream ensures that the cream doubles in size and results in a creamy ice cream texture. You can opt to instead use a mixer, just be careful not to over mix it as you might end up with butter.
Plan for freezing time. You will need about 2 to 4 hours for the ice cream to freeze (it's worth the wait)!
Let the ice cream sit on the counter for a few minutes before you scoop it. The ice cream is pretty hard right out of the freezer. We don't recommend running a glass jar under warm water as this can crack the jar. But if using a plastic mason jar, you should be fine to run it under warm water.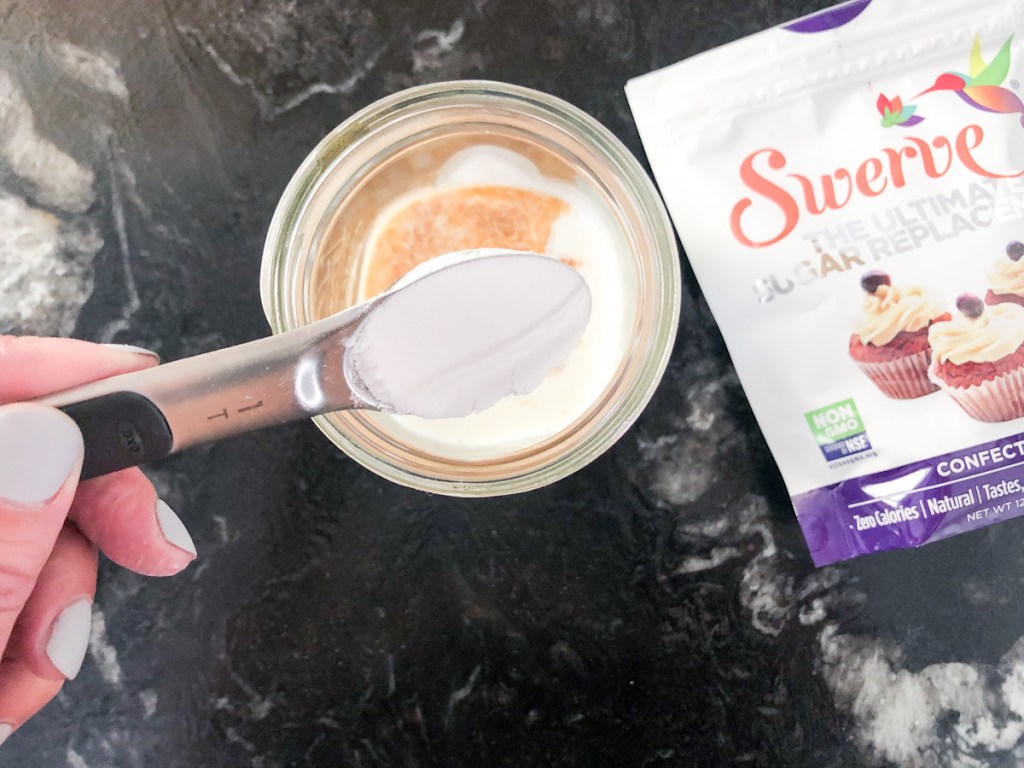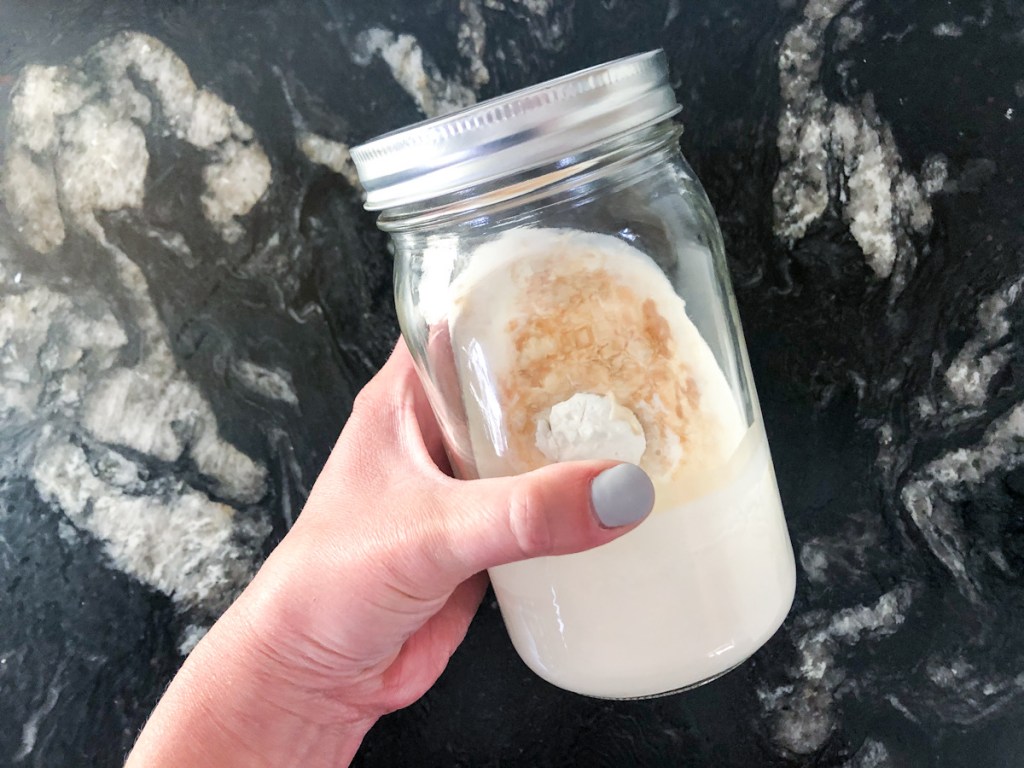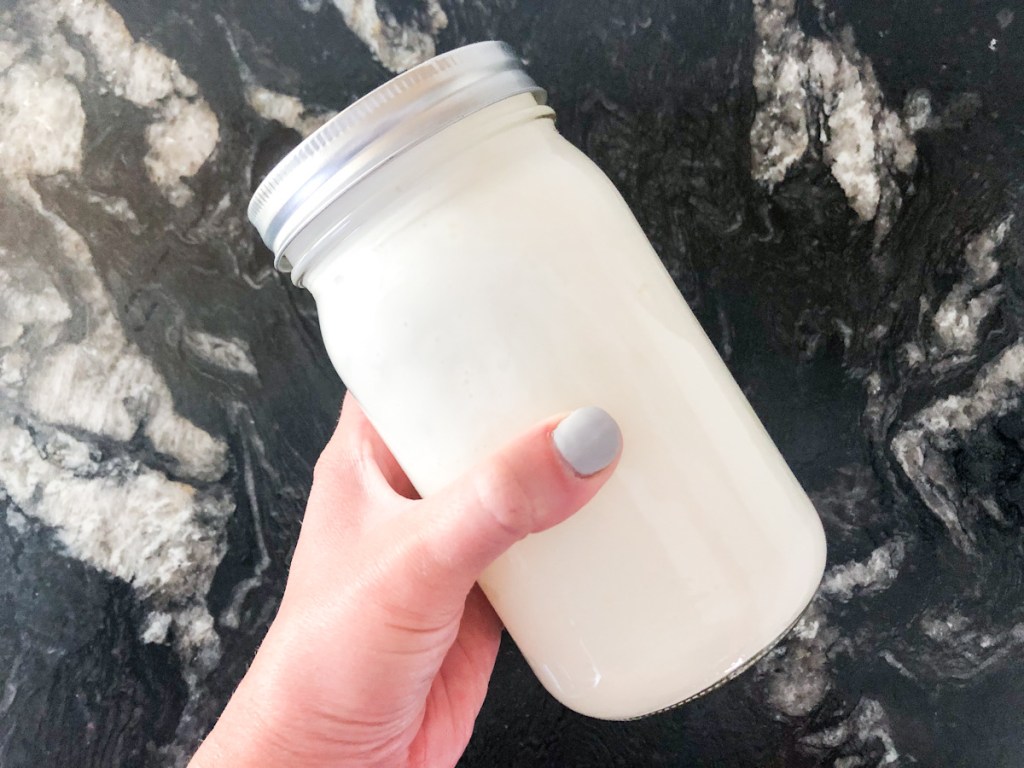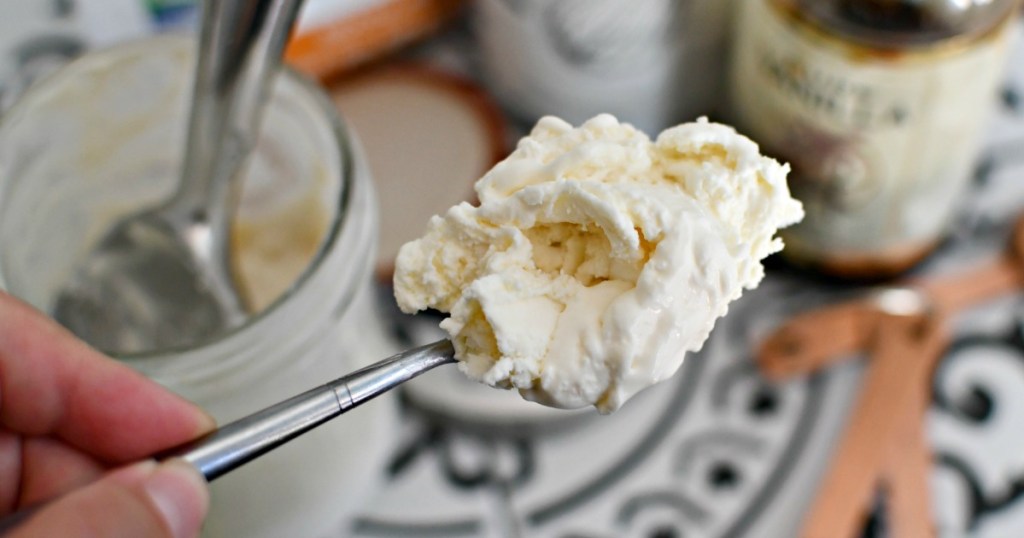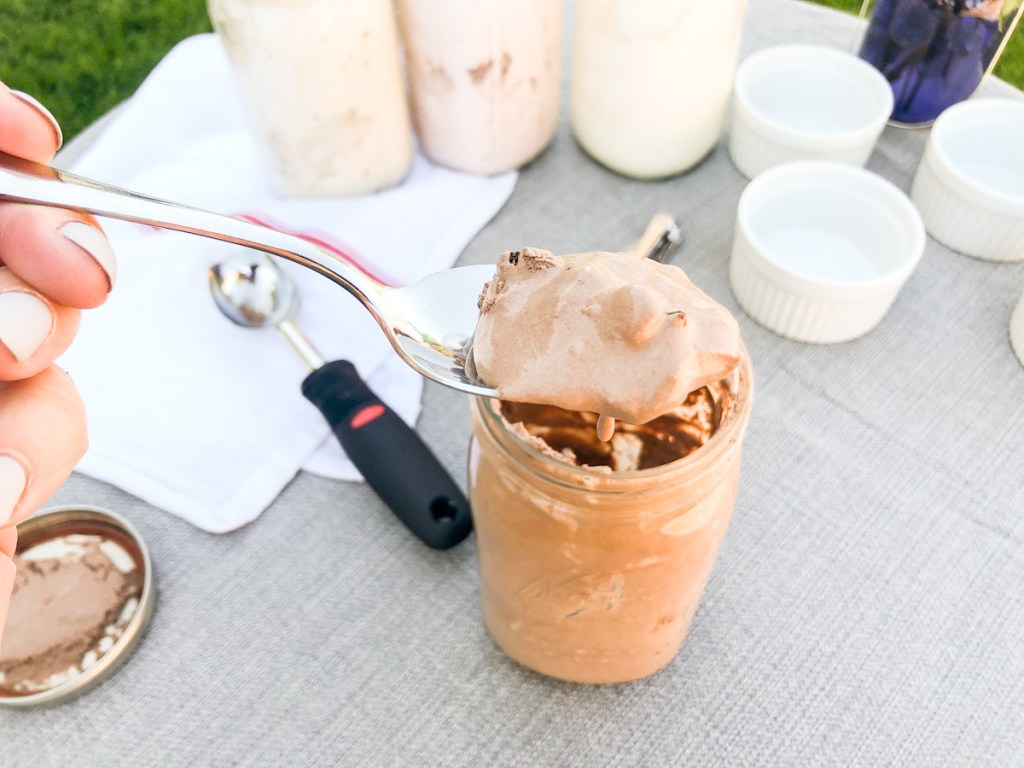 ---
Print
Keto Ice Cream in a Mason Jar
yield: 4 SERVINGS
prep time: 10 MINUTES
total time: 10 MINUTES
Easily shake up this creamy keto ice cream for a delicious treat at home.
Ingredients
Ice Cream Base:
1 cup heavy whipping cream
1 teaspoon vanilla extract
Cocoa Coconut (optional add-ins):
2 tablespoons cocoa powder
2 tablespoons chopped pecans
Chocolate Orange (optional add-ins):
1 tablespoon fresh orange zest
Bright Berry (optional add-ins):
1/4 cup frozen berries, smashed into purée with fork
Directions
1
Add heavy whipping cream, vanilla, and sweetener to a mason jar. Add in any additional add-in flavorings. Secure lid tightly.
2
Shake jar vigorously for about 5 minutes until liquid doubles in size.
3
Place in the freezer for about 2-4 hours until frozen. If you have any "heavy" add-ins like pecans or chocolate chunks, you might want to check the ice cream after an hour or two and stir it to prevent the add-ins from all settling at the bottom.
Nutrition Information
Yield: 2 cups, Serving Size: 1/2 cup
Amount Per Serving: 208 Calories | 21.6g Fat | 5.1g Total Carbs | 0g Fiber | 1.8g Sugar | 3.4g Sugar Alcohol | 1.7g Protein | 1.7g Net Carbs
Nutrition information is with 1.5 tablespoons Swerve confectioner's sweetener.
Nutrition Information with add-ins for Cocoa Coconut:
254 Calories, 7.7g Total Carbs, 1.7g Fiber, 2.1g Sugar, 3.4g Sugar Alcohol, 2.7g Net Carbs, 26.1g Fat, 2.7g Protein
Nutrition Information with add-ins for Chocolate Orange:
249 Calories, 8g Total Carbs, 1.7g Fiber, 1.8g Sugar, 3.9g Sugar Alcohol, 2.4g Net Carbs, 25.4g Fat, 2.7g Protein
Nutrition Information with add-ins for Bright Berry:
214 Calories, 6.5g Total Carbs, 0.4g Fiber, 2.6g Sugar, 3.4g Sugar alcohol, 2.7g Net Carbs, 21.7g Fat, 1.8g Protein
---
We love making this yummy and easy keto ice cream!
This rich dessert doesn't even taste like it's sugar-free or keto-approved. It's a nice treat to help you stay on track when you're craving ice cream!
The clever mason jar method is also a pretty handy trick and even easier than using an actual ice cream maker.
My Hip sidekick Jen tired out this keto ice cream and here's what she had to say:
"This sweet treat is wonderful and so good on a hot day! It's super creamy and you can make any kind with your add-ins! I made a cordial cherry and it was over the top delicious! This recipe is so EASY, you could make it between running the kids to activities. Then, by the time they are done, it will be frozen and ready. My family could not taste the difference between this and regular ice cream!"
**Jen added 1/2 cup fresh blueberries to one batch and a 1/2 cup of frozen cherries with a quarter of a Lily's chocolate bar to the other.
---
Make this incredible Wendy's Inspired Keto Chocolate Frosty next!