Make Keto Scotch Eggs in the Air Fryer
Here's how to make Scotch eggs for a savory low carb breakfast.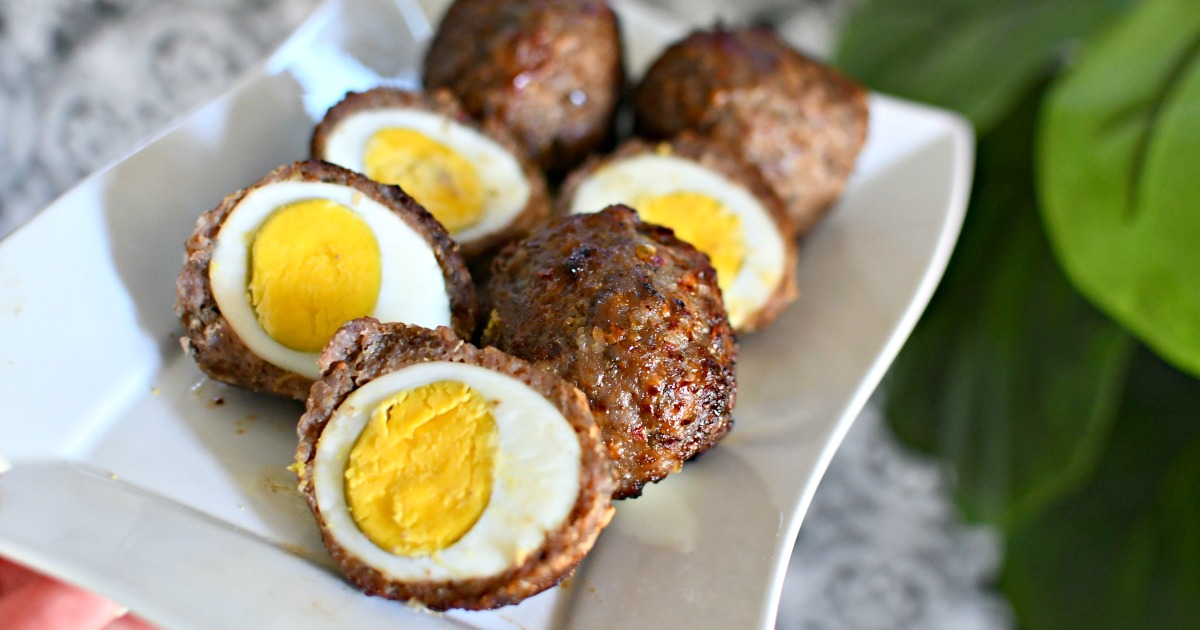 Ever heard of Scotch eggs?
Scotch eggs are hard-boiled eggs covered in sausage. They're so easy to make whether you enjoy them first thing in the morning or as a delicious way to switch things up at dinner time. So if you're in the mood for a different spin to prepare a sausage and egg breakfast that's perfectly keto, you've gotta try these!
Fun Fact: According to EdinburghTourist.com, Scotch eggs are a food that has origins in London, and were named not because of being Scottish, but because the process of mincing the sausage was called scotching.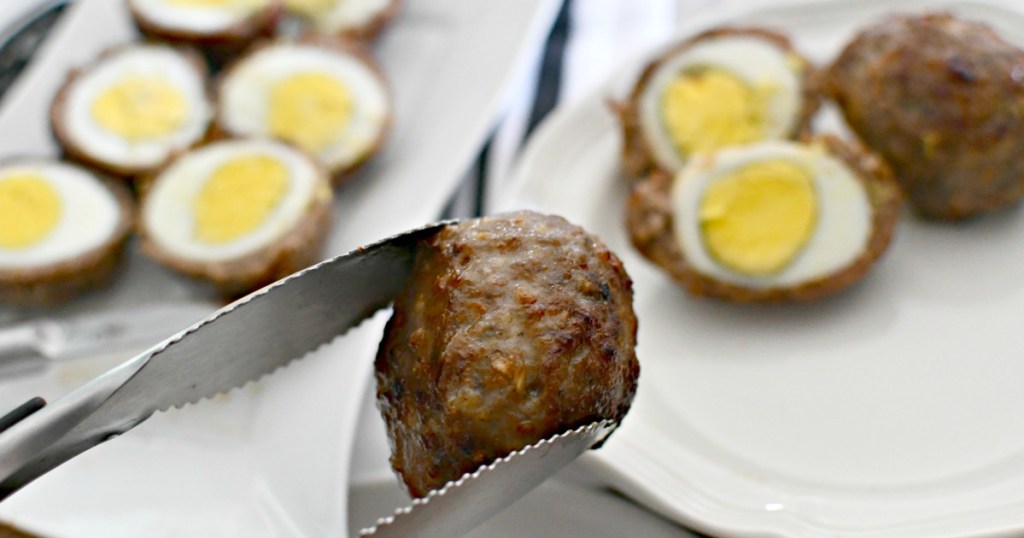 Traditionally, Scotch eggs are fried with breadcrumbs, but today we're going to make a super simplified version using the air fryer and just a few keto-friendly ingredients you may already have on hand!
In case you haven't heard, I'm obsessed with air fryer cooking, especially for keto, and air fryer Scotch eggs are just another great example of why!
I love air frying eggs instead of boiling them, and this is the first step in this easy process.
I start out by hard "boiling" eggs in the air fryer. Then I use the sausage mixture and coat the peeled eggs with it. Those will go back in the air fryer, and the result is a satisfying meat-covered hard-boiled egg to eat for breakfast… or really any hour of the day! They would make a yummy high in fat, low in carbs snack, or as part of a yummy keto meal.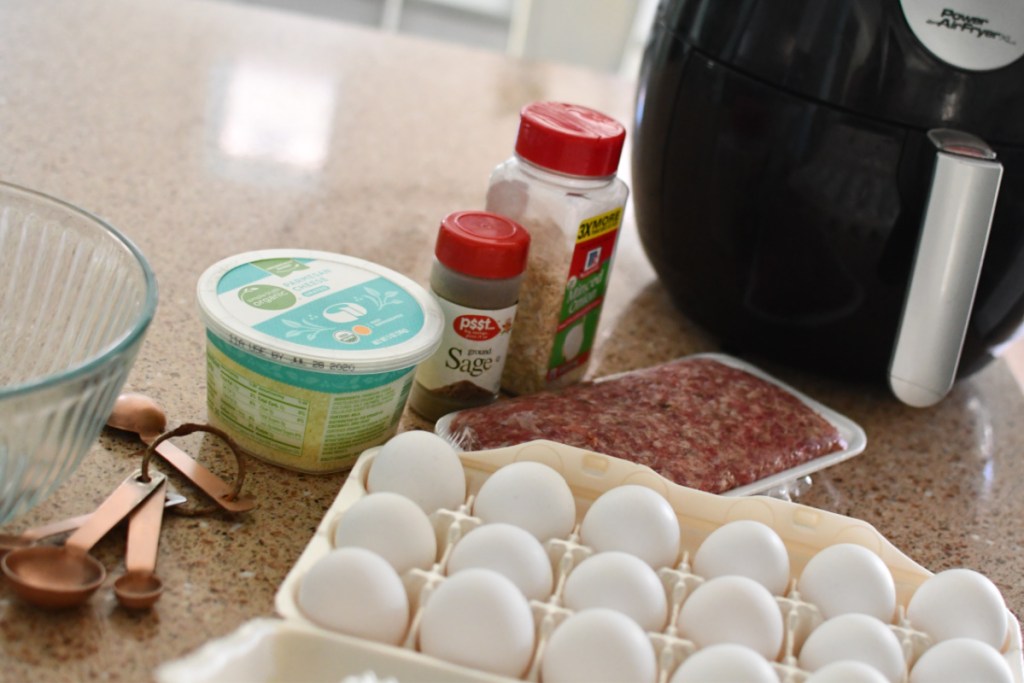 Tips for making the best keto Scotch eggs:
Try to use 8 medium eggs, or consider dividing the mixture into 7 Scotch eggs instead of 8. On a couple of mine, the sausage shrank or the egg expanded, and it came a little undone.
I enjoy cooking Scotch Eggs using the air fryer, however, they can be done in the oven instead. Place the sausage-covered eggs on a baking sheet and bake at 375 degrees for about 25-28 minutes until the sausage is cooked through.
Sausage does have lots of flavor on its own and can be seasoned as desired. This could be a great way to use up any fresh herbs from the fridge and make it your own.
This makes a great prep-ahead meal! Just compile the Scotch eggs ahead of time and cook a few as desired by reheating them in the microwave or air fryer for a couple of minutes.
If you want extra crispiness, try adding a light almond flour coating to the outside of the sausage covered egg before air frying.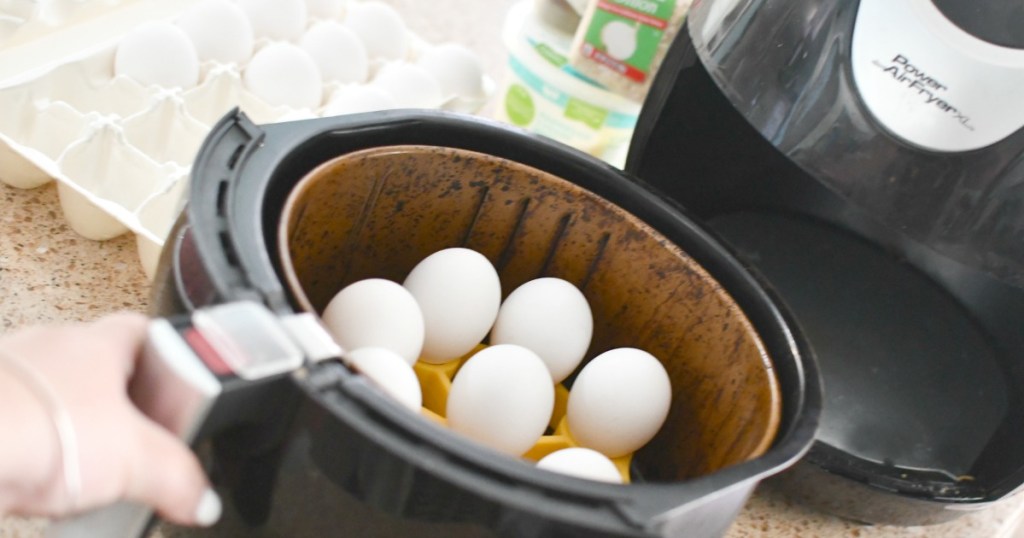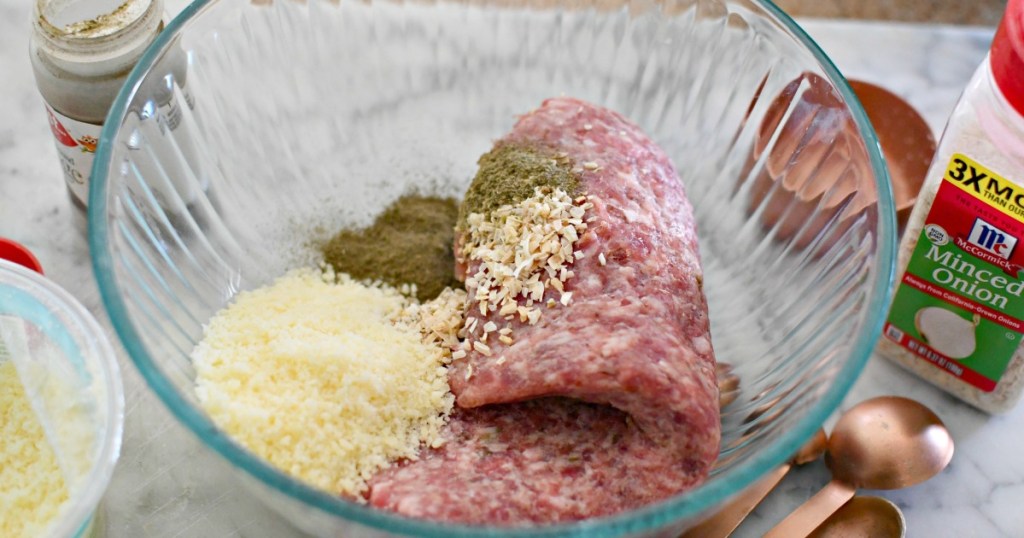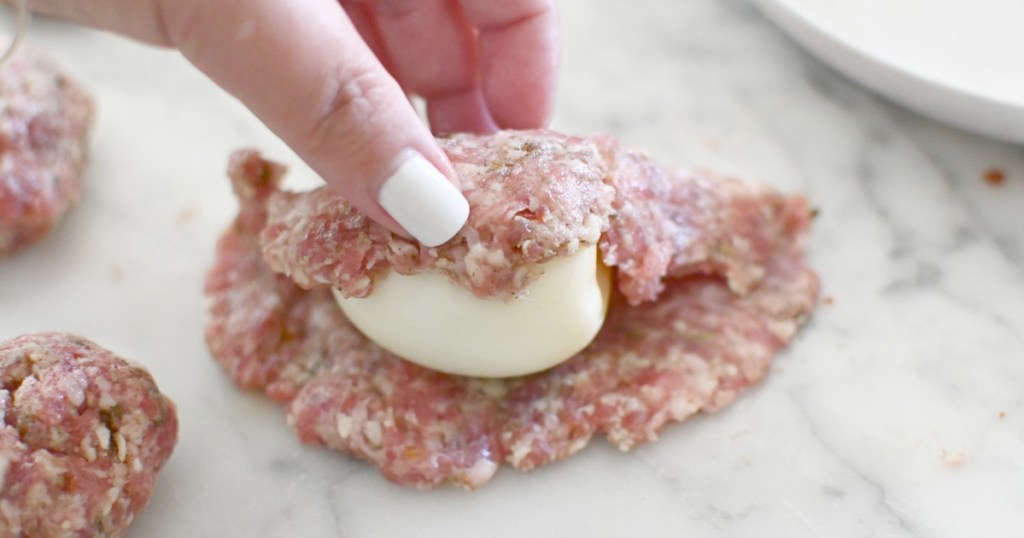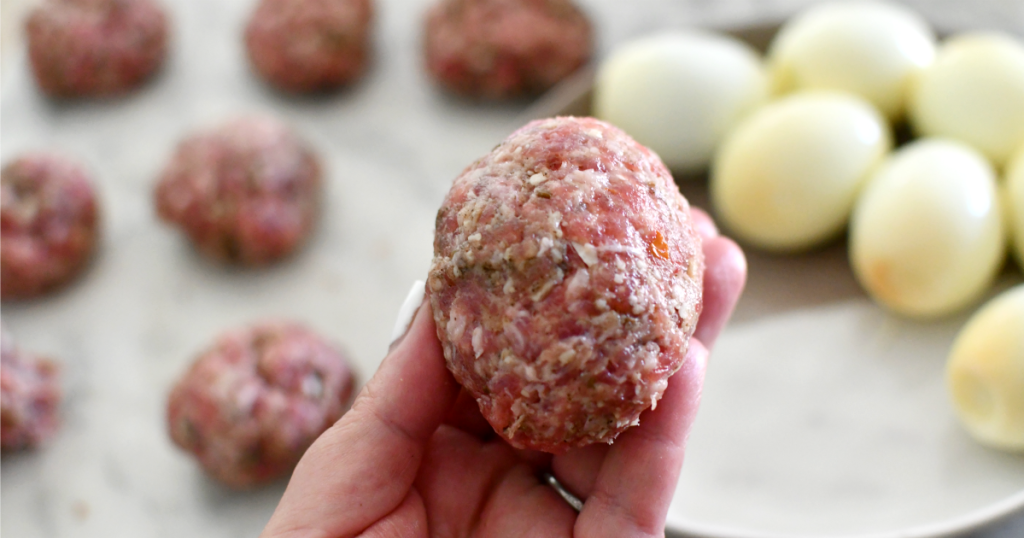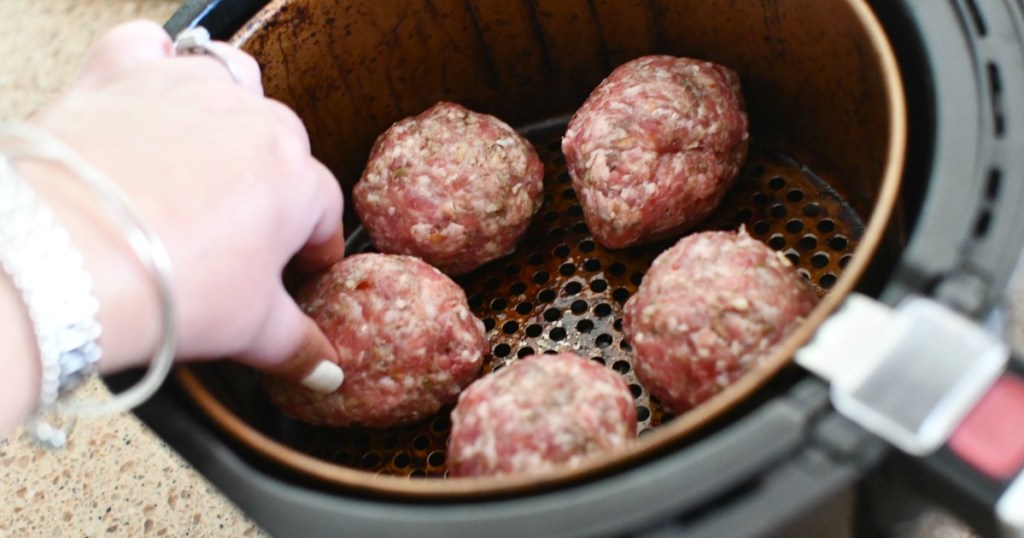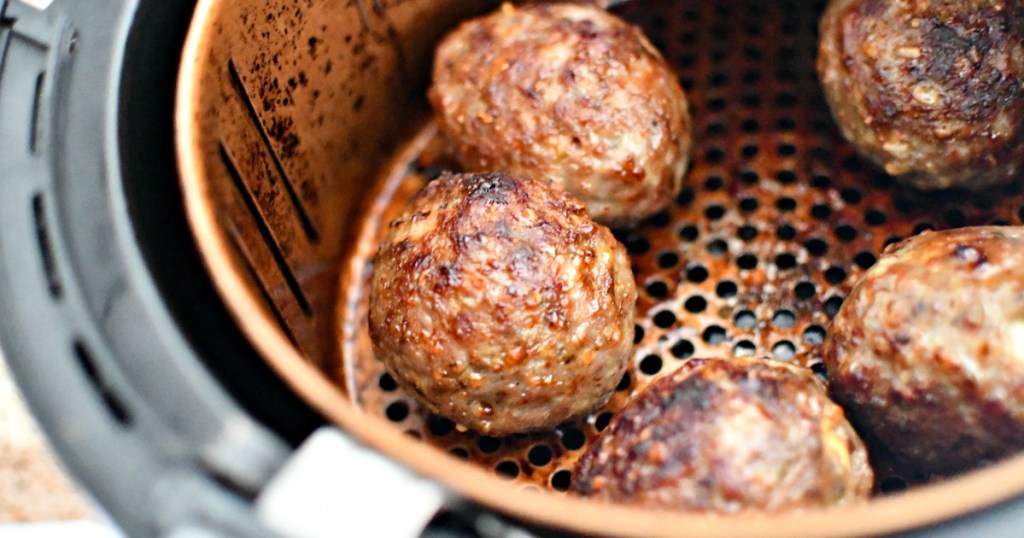 ---
yield: 8 SERVINGS
prep time: 20 MINUTES
cook time: 28 MINUTES
total time: 48 MINUTES
Flavorful sausage covered hard-boiled eggs cooked up using the air fryer.
Ingredients
8 medium eggs (or 5-7 large eggs)
1 pound ground sausage
2 teaspoons ground sage
1 tablespoon dried onion flakes
1/3 cup grated parmesan cheese
Directions
1
Place eggs into the air fryer using an egg insert and set it to 16 minutes at 260 degrees. When done, rinse the eggs in cold water and peel shells from the hard-boiled eggs.
2
In a mixing bowl, combine the sausage, sage, onion flakes, and parmesan cheese. Mix well.
3
Divide the sausage mixture into 8 balls. Flatten each ball with your palm, and then place a cooked egg in the middle. Use your hands to evenly cover the eggs with sausage.
4
Grease the air fryer with oil, and then place half of the eggs in. If you have a larger air fryer, you may be able to cook them all at once, or just cook them in batches. Do not crowd them.
5
Cook for 11 minutes at 390 degrees, or until the desired doneness. Remove Scotch eggs from the air fryer and cut them in half to serve.
6
Alternative Oven Directions:
Place the sausage-covered eggs on a baking sheet and bake at 375 degrees for about 25-28 minutes until the sausage is cooked through.
Nutrition Information
Yield: 8 Scotch eggs, Serving Size: 1 Scotch egg
Amount Per Serving: 254 Calories | 20.3g Fat | 1g Total Carbs | 0.1g Fiber | 0.4g Sugar | 15.6g Protein | 0.9g Net Carbs
---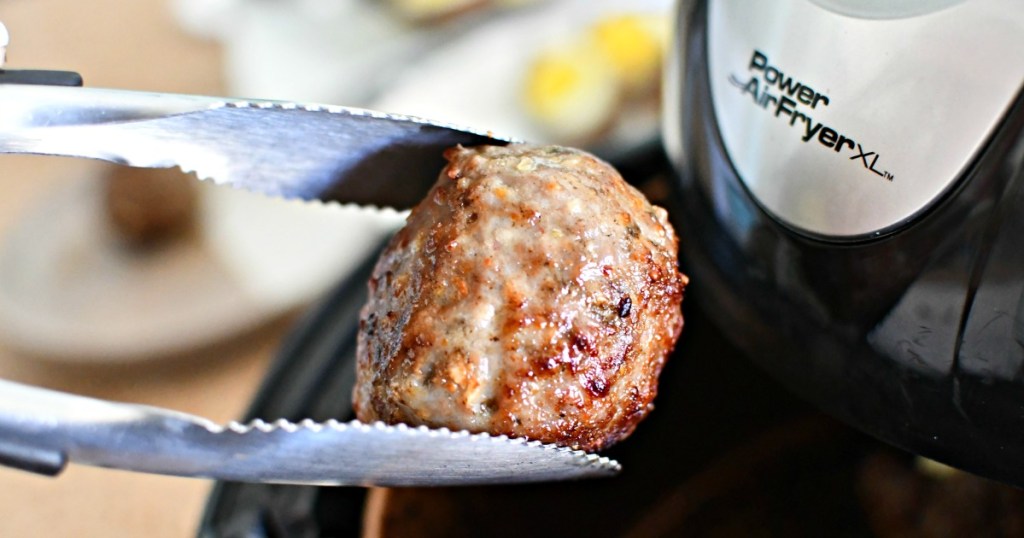 My husband especially loved them as he's a sausage-for-breakfast-everyday kind of guy. They have lots of flavors and are super hearty and filling. I made a batch and stored them in a covered container for him to reheat during the week for breakfast. So yum, and just 1g of carbs each!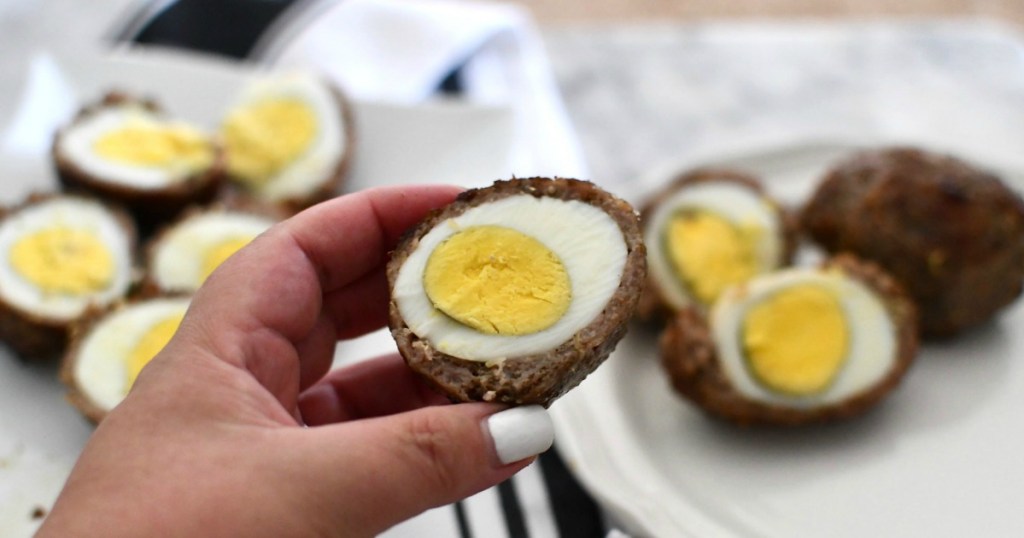 My team member Jenna gave this recipe a test, and here's what she said:
"Scotch Eggs are one of my favorite foods in the whole world! I have only ever had them at restaurants and I can't believe how easy they are to make! And in an air fryer? I am going to be making these as a regular breakfast around here! They have the classic Scotch Egg flavor and I love how easy these were to make keto-friendly!"
---
Sausage fans will also love these yummy keto sausage breakfast muffins!