Easy Keto Scalloped "Potatoes" (You'll Never Guess Our Secret Ingredient)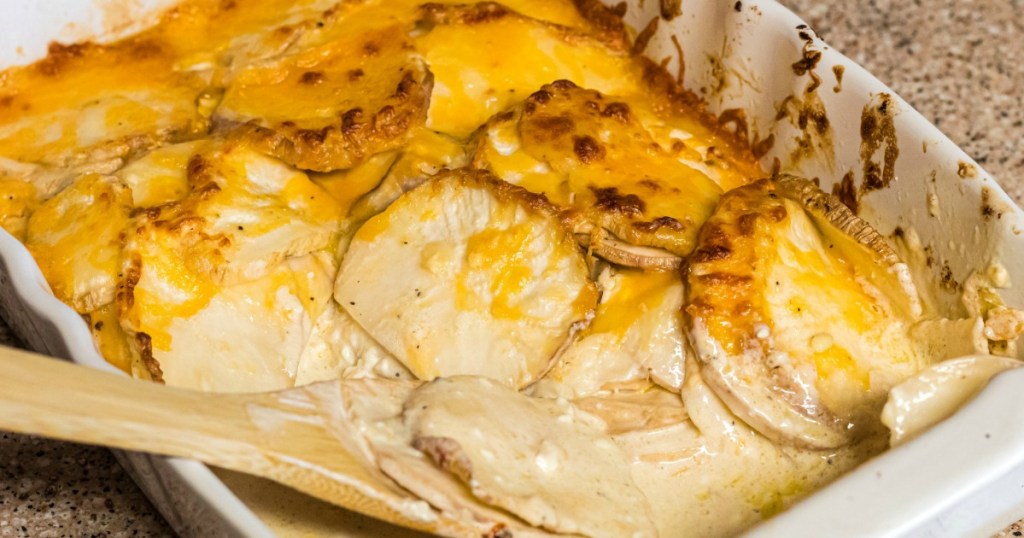 Missing potatoes since you've gone keto?
If you're looking for a rich and creamy keto-friendly side dish that is similar to cheesy carb-filled scalloped potatoes, then we have just the recipe for you! Our easy keto scalloped "potatoes" are so good, your entire family will love them and they'll never believe they're low carb.

So how did we do it? With turnips, of course!
For this recipe, we went with turnips instead of potatoes because of their similarities to potatoes – but with a much, much lower carb count. You could have a little over four servings of turnips and still come out with fewer carbs than one serving of potatoes!
Potato substitutes are one of our favorite swaps to explore at Hip2Keto, as we've made fries with jicama, sweet "potato" fries with rutabega, mashed "potatoes" with cauliflower, and loaded baked "potatoes" with radishes! While potatoes do have more protein and fewer grams of sugar, they are still so carb-heavy that they're sure to knock you right out of ketosis.
Check out the nutrition comparing potatoes and turnips:
Cooked Plain Potatoes
Serving Size 1/2 Cup | 67.1 Calories | .1g Fat | 15.6g Total Carbs | 1.6g Fiber | .7g Sugar | 1.3g Protein | 14g Net Carbs
---
Cooked Plain Turnips
Serving Size 1/2 Cup | 18.2 Calories | .1g Fat | 4.2g Total Carbs | 1.2g Fiber | 2.5g Sugar | .6g Protein | 3g Net Carbs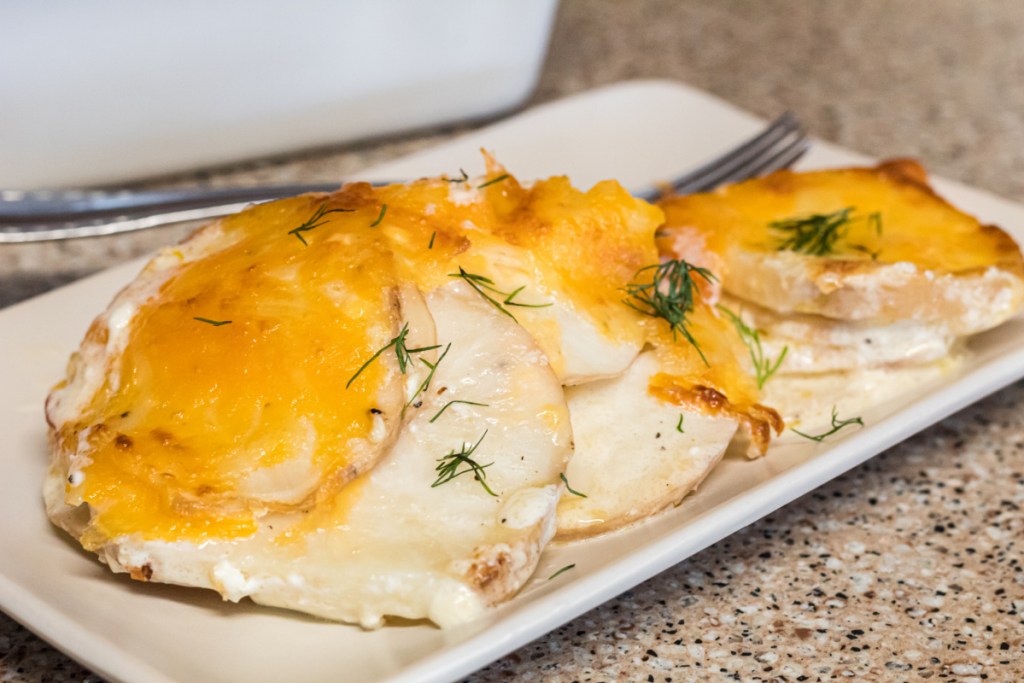 Tips for making the best keto scalloped "potatoes":
I can't evenly slice vegetables for the life of me so I rely on my mandoline to get the job done. It makes thinly slicing veggies so much easier!
The thinner the sliced turnips are, the softer texture you will get. If you're cutting the turnips thicker, then I would recommend you baking for at least an hour.
If you like a crispy breadcrumb topping as I do, add some crushed pork rinds to the top before you pop the dish into the oven.
Want to bulk up this dish to make it a meal? Try adding in cubed ham or shredded chicken for extra protein and heartiness.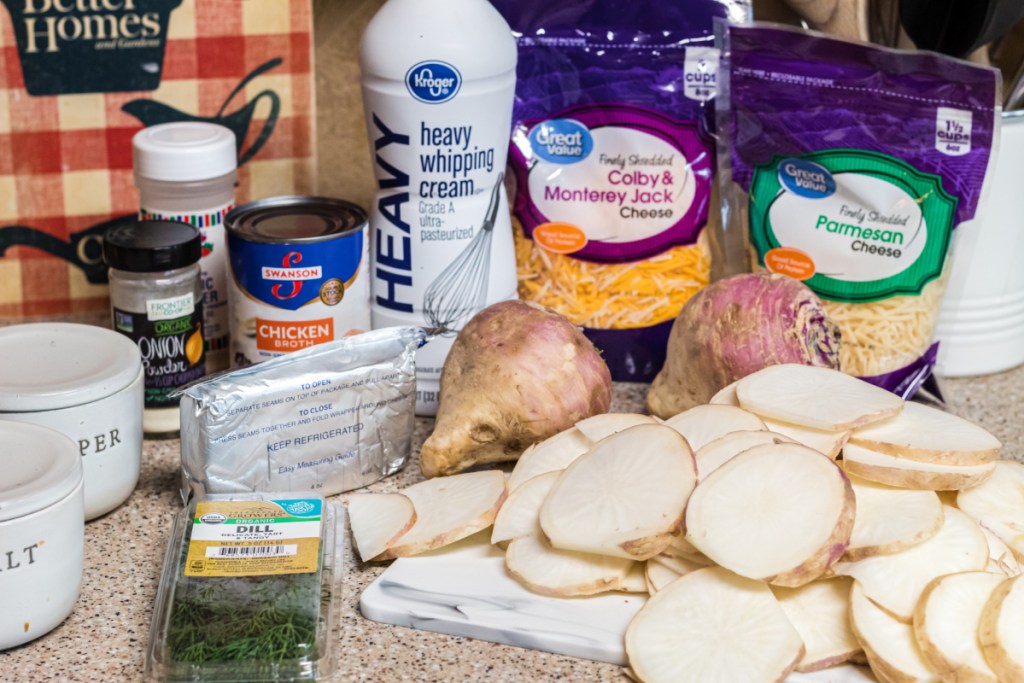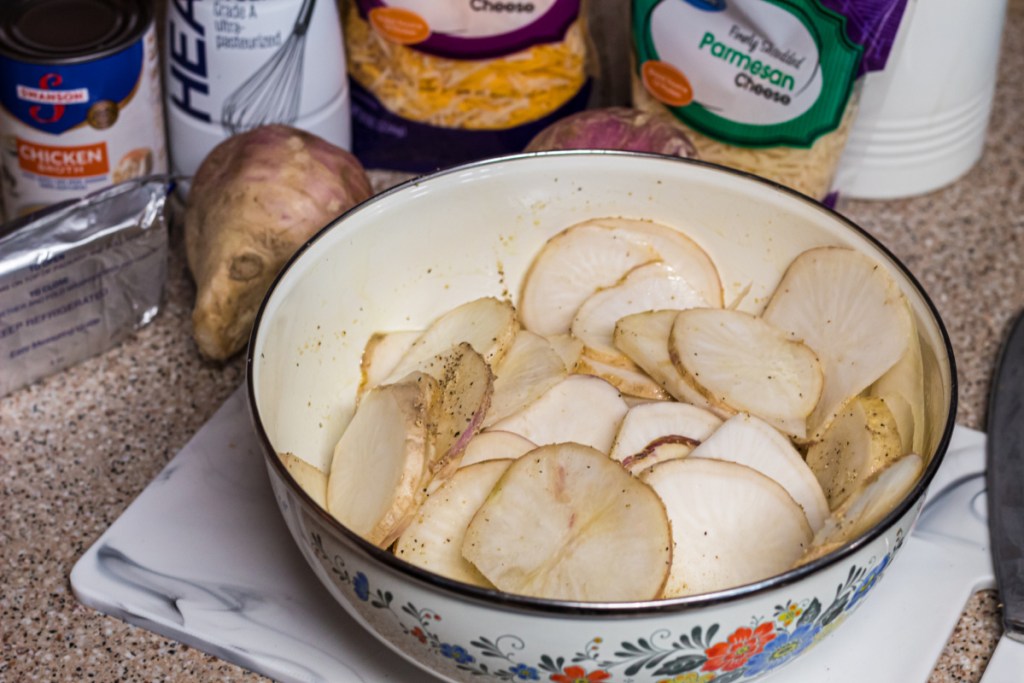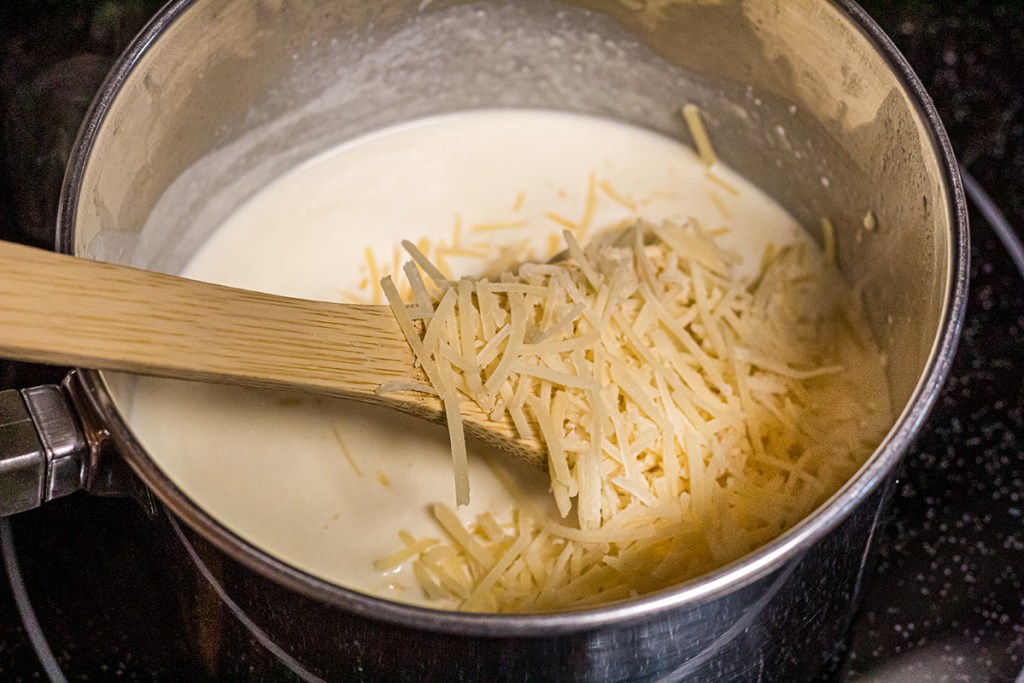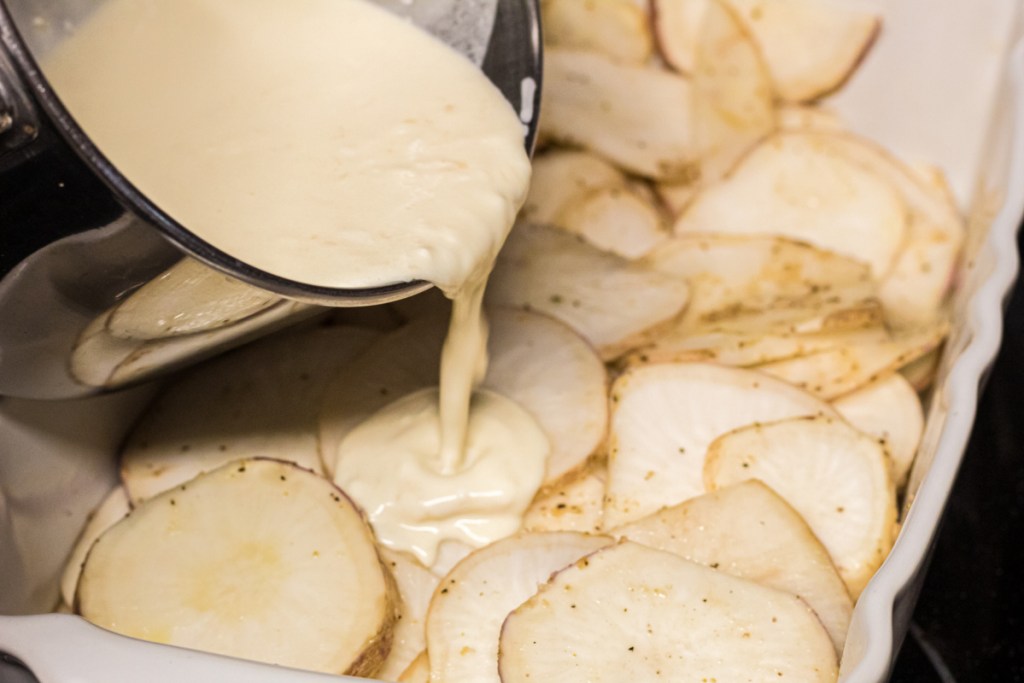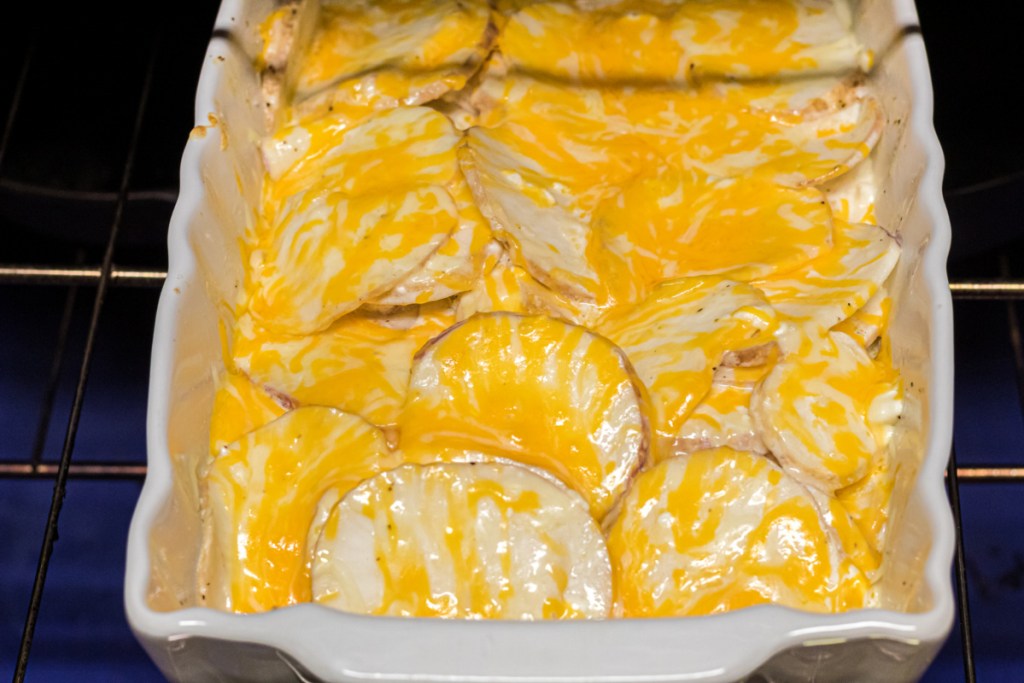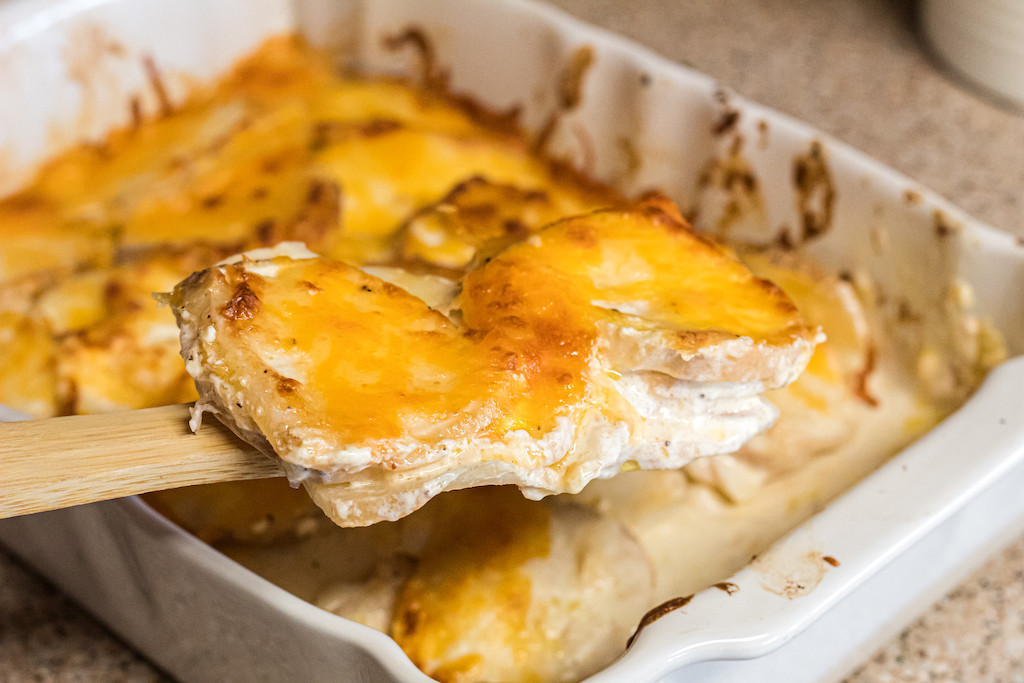 ---
Print
Keto Scalloped Potatoes
yield: 6 SERVINGS
prep time: 20 MINUTES
cook time: 45 MINUTES
total time: 1 HOUR 5 MINUTES
Layers of thinly sliced turnips cook in a creamy sauce and get topped with a generous helping of shredded cheese.
Ingredients
3 cups of sliced turnips
2 tablespoons olive oil
1/2 teaspoon salt
1/2 teaspoon pepper
1 teaspoon garlic powder
1 teaspoon onion powder
2 tablespoons butter
2 oz. cream cheese
1/2 cup chicken broth
1/2 cup shredded parmesan cheese
1/2 cup heavy cream
1 cup shredded Monterey jack cheese
1 tablespoon fresh dill (optional)
Directions
1
Preheat oven to 375 degrees. Spray a 9"x13" baking pan with cooking spray and set aside.
2
Thinly slice turnips with a knife or mandoline. In a large bowl, add sliced turnips, olive oil, salt, pepper, garlic powder, and onion powder. Toss turnips making sure all slices are coated.
3
In a saucepan, add butter, cream cheese, chicken broth, heavy cream, and shredded parmesan cheese over low-medium heat. Let the sauce simmer for 5 minutes.
4
Add coated turnips to the 9"x13" dish. Pour cream sauce over turnips. Top turnips with shredded Monterey Jack cheese.
5
Bake in the oven for 40-45 minutes. Cover the dish with foil if the cheese topping starts to brown too quickly.
6
Serve with fresh dill. Enjoy!
Nutrition Information
Yield: 6, Serving Size: 1
Amount Per Serving: 255 Calories | 21.6g Fat | 7.6g Total Carbs | 1.4g Fiber | 8.9g Protein | 6.2 Net Carbs
---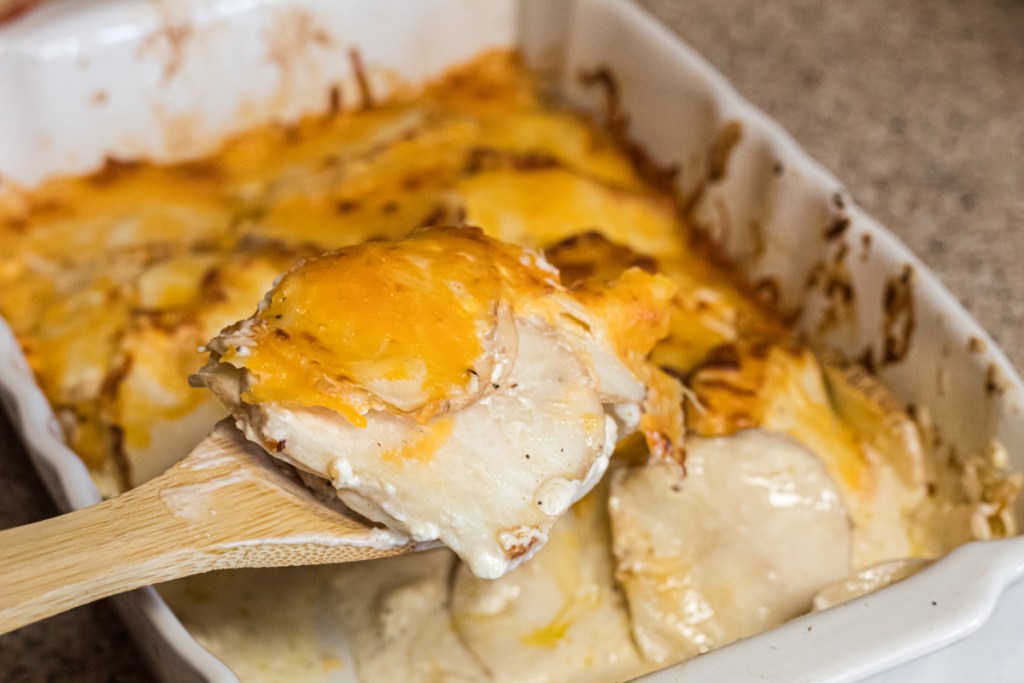 These keto scalloped "potatoes" are amazing!
My husband and kiddos were actually fooled when I served this dish. Since they thought they were eating traditional scalloped potatoes, I've decided to call them faux-tatoes! I almost didn't tell them that they were in fact eating turnips, but I caved and they were pleasantly surprised. I hope your family has the same reaction!
Our scalloped turnip copycat tastes just as good as potatoes while keeping your carbs in check!
My Hip sidekick Jenna tried out this recipe and here's what she thought!
"This is such a unique recipe and I was so excited to make it. I had all of the kids try it, and not a single one could tell it wasn't made with potatoes. Once I told them it wasn't potatoes two of the three refused to eat anymore, but that's okay because that left more for me and my daughter.
My daughter is a radish fanatic, and she often snacks on turnips, too. She couldn't believe they took on such a mild flavor. The strong turnip "bite" was gone and it was just like a potato dish!"
---
Try keto-friendly mashed cauliflower instead of carb-heavy mashed potatoes!