Keto Loaded Radishes – With Bacon and Cheese!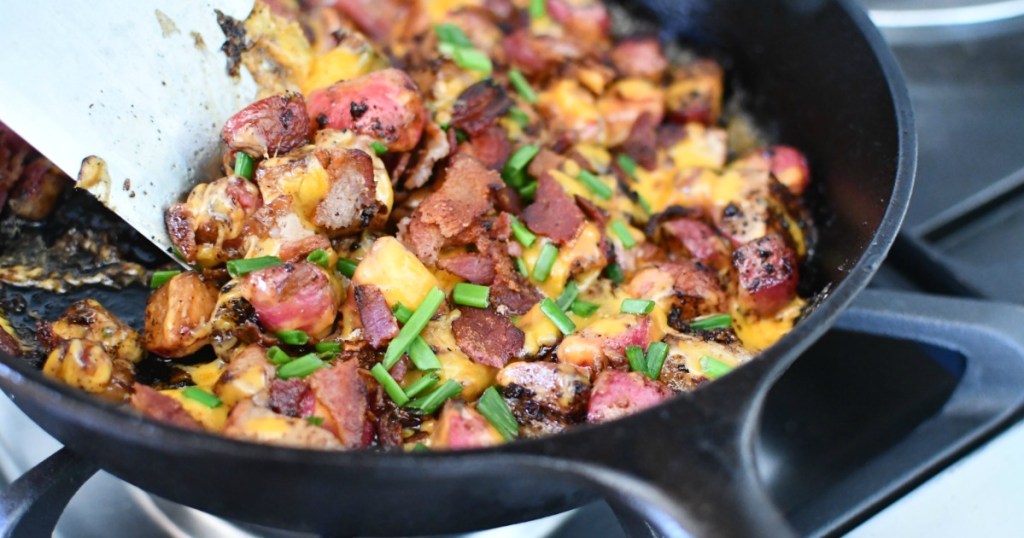 Does a side dish loaded with bacon and cheese sound good?!
If you miss eating high-carb potatoes, you've gotta try pan frying some radishes! It's an easy idea I've been obsessed with ever since I made breakfast radishes to put in these yummy bacon and egg burritos.
It's so interesting how cooked radishes taste nothing like raw radishes, and pan frying them is a fantastic way to go!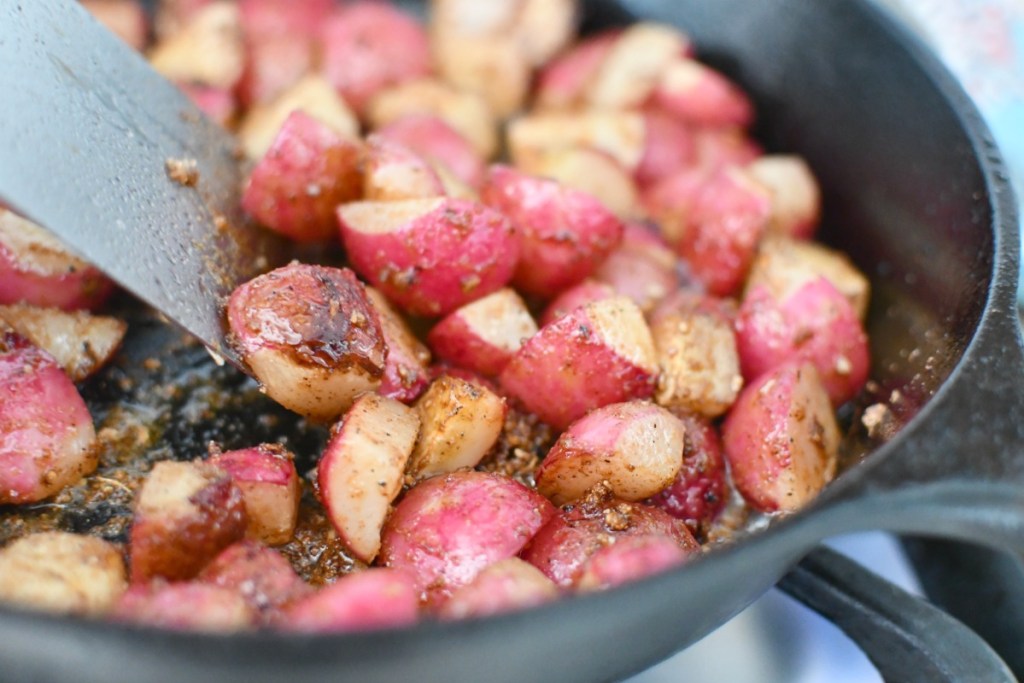 In this radish recipe, we are pan frying them in a little bacon grease until tender, then topping them with cheddar cheese, bacon, and chives. I love how the radishes get caramelized and the texture and taste is so delish!
These would be a great accompaniment for anything on the grill, like steak, chicken, or fish.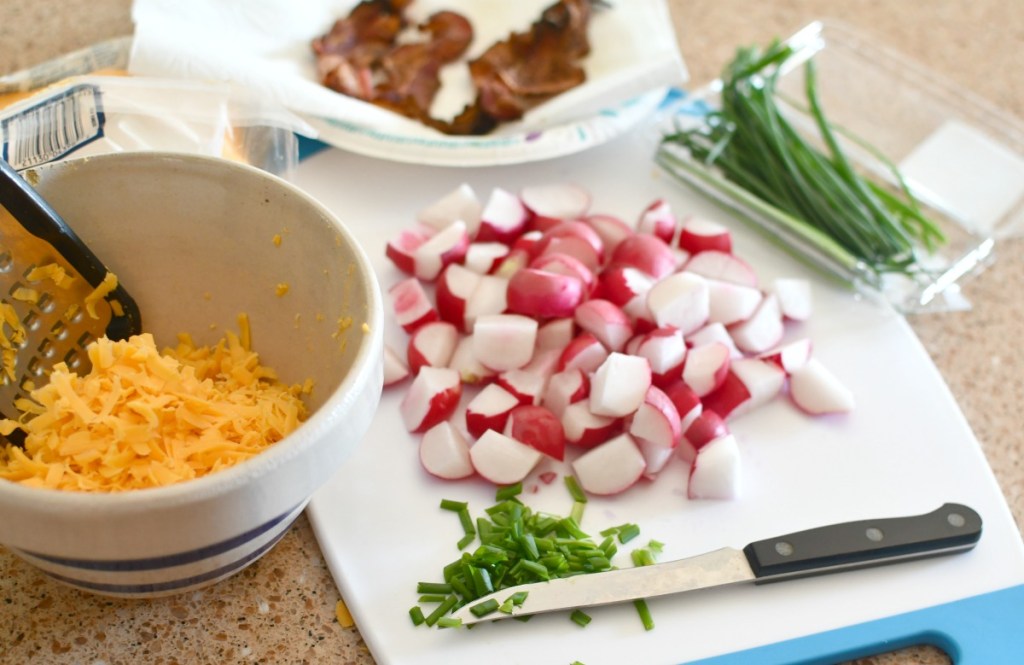 Hip Recipe Tips:
I'm using a 10 inch cast iron skillet, and love how it does an excellent job of caramelizing the outsides of the radishes for awesome texture.
Cook your bacon in the skillet first to make this a simple one-skillet dish! Reserve a tablespoon of the bacon grease in the pan to cook the radishes – because bacon grease is oh so TASTY!
I'm using freshly grated sharp cheddar cheese because I love how it melts. You could possibly pick another type of cheese if desired, or the pre-shredded.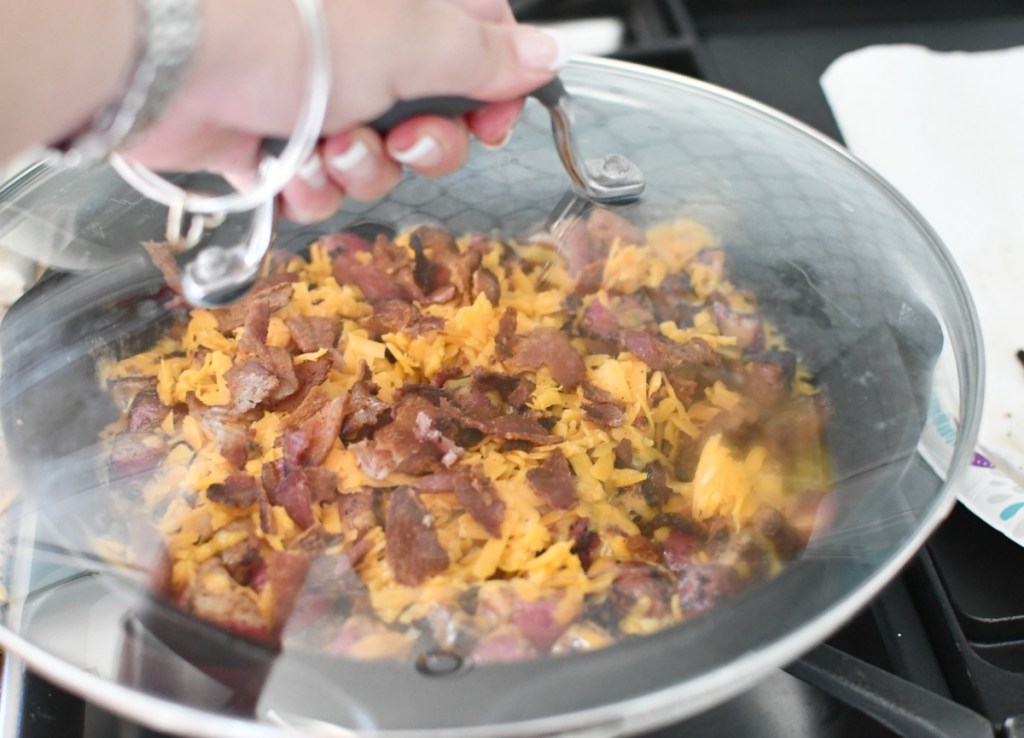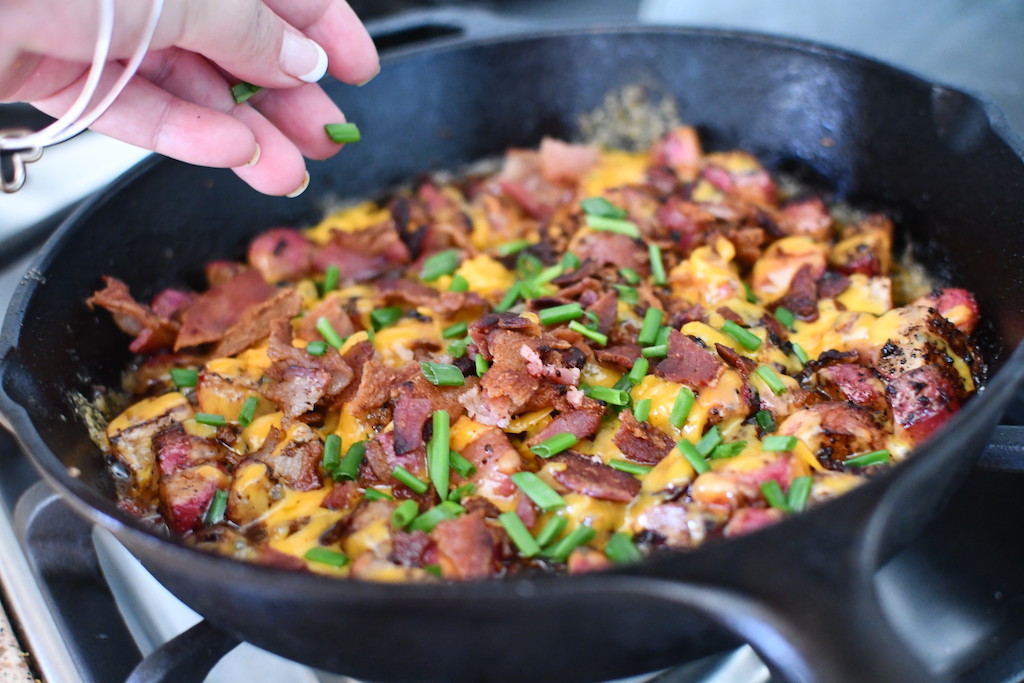 ---
Print
Keto Loaded Radishes
yield: 4 SERVINGS
prep time: 10 MINUTES
cook time: 20 MINUTES
total time: 30 MINUTES
Tender pieces of caramelized radishes pan fried in a skillet, topped with cheese, bacon and chives.
Ingredients
4 slices bacon
1.25 pounds fresh radishes, cut in halves or quarters if large
1 teaspoon garlic powder
1/2 teaspoon dried minced onion
1/2 teaspoon paprika
1/2 teaspoon salt
1/8 teaspoon pepper
1 1/2 cups shredded sharp cheddar cheese
2 tablespoons chopped chives
optional topping ideas: ranch dressing drizzle or dollop of sour cream
Directions
1
Add bacon to a skillet on the stove and cook until crisp and brown. Transfer cooked bacon to a paper towel to drain, and then chop into small pieces. Reserve a tablespoon of bacon grease in the pan.
2
Heat skillet with bacon grease to medium/high heat. Add radishes, and season them with garlic powder, minced onion, paprika, salt, and pepper. Stir and let sauté for about 15-18 minutes until the radishes become caramelized and tender.
3
Reduce heat to low, then add the cheese and bacon over the top. Place a lid over the skillet for a minute until the cheese melts. Top with chopped chives.
4
Serve radishes warm, and drizzle with a teaspoon of ranch dressing or sour cream as an optional topping.
Nutrition Information
Yield: 4, Serving Size: 3/4 cups loaded radishes
Amount Per Serving: 201 Calories | 14g Fat | 7g Total Carbs | 3g Fiber | 12g Protein | 4g Net Carbs
---
Turns out loaded radishes are awesome!
As far as vegetable side dishes go, this one tastes so great and is a frugal recipe idea, too. Radishes are only .99 per pound at my store and this is such a great way to prepare them. I really think your family will love them- enjoy!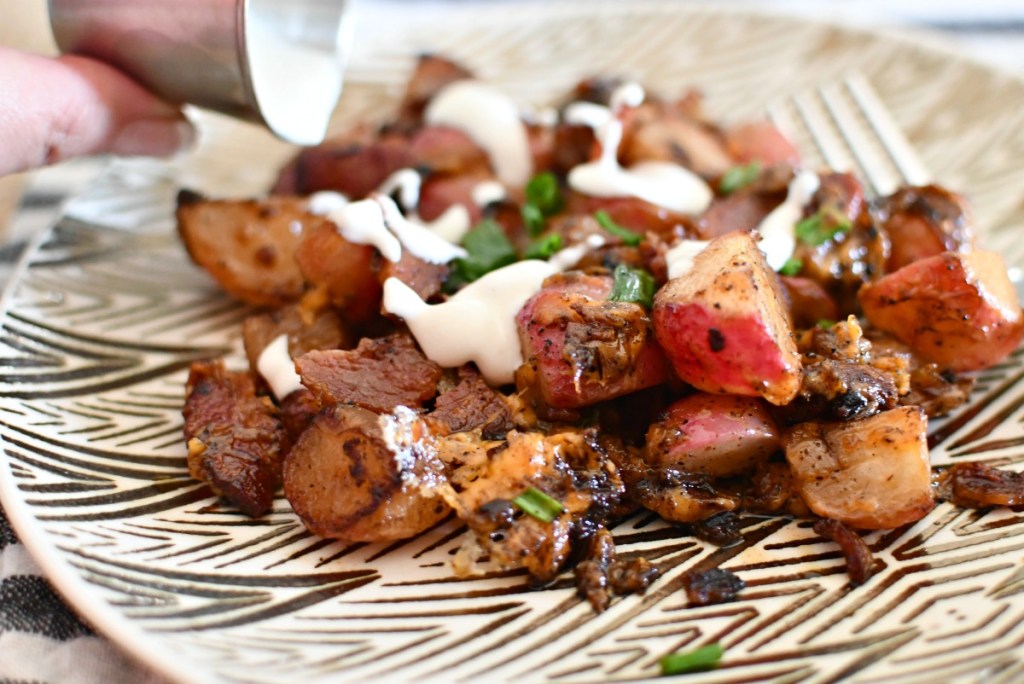 ---
Here's how to take care of your cast iron skillet to make it last!