This Raspberry Cheesecake Keto Ice Cream is to Die For!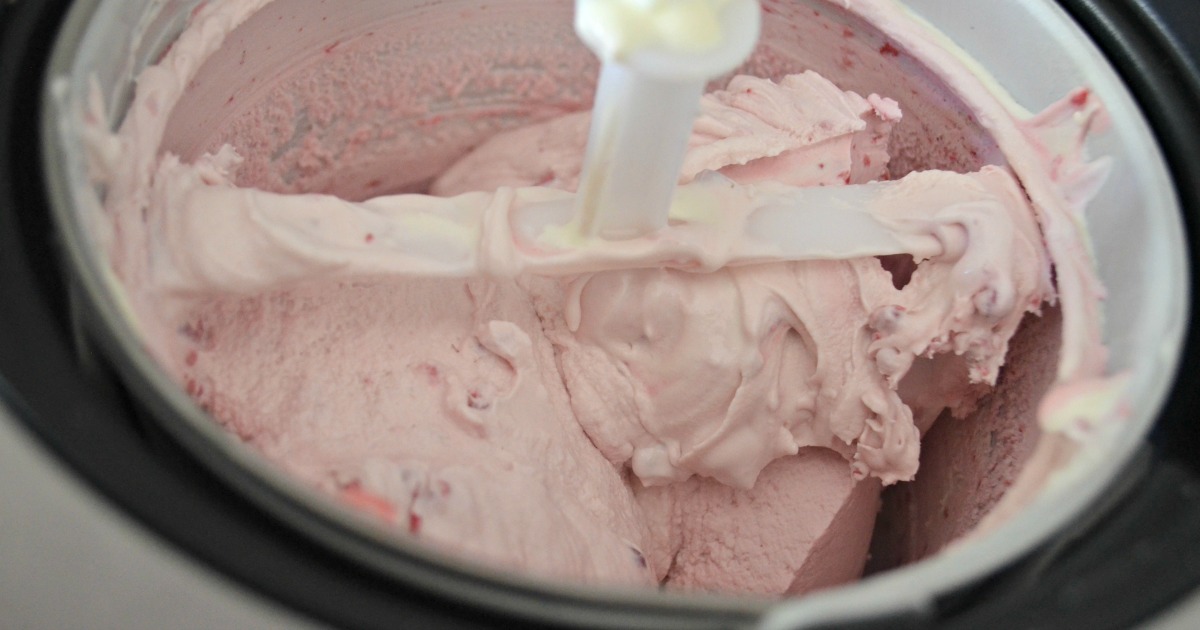 Love ice cream?
Enjoy a sweet treat while sticking to keto-based nutrition with this rich and creamy raspberry cheesecake ice cream made in an ice cream maker! It creates such a dense and delicious ice cream that rivals any store-bought brand. Plus, it's so much easier and appealing to have control of the ingredients when you're eating low carb!
Keto ice cream is a breeze to make!
There are a few key items I'm recommending for this recipe and here's why:
Ice cream maker: To make legit creamy, airy ice cream, an ice cream maker is key. I love my Whynter 2.1 qt ice cream maker because it's a cinch to use. There's no salt or ice involved, and it has a built-in compressor that makes ice cream in less than an hour! (Mine was frozen in about 40 minutes.) Collin's obsessed with hers, too!
Sugar substitute: I've been on a Swerve kick lately because it tastes so close to real sugar. In this recipe, I actually used the Swerve confectioners variety, because my family says granulated is a little too grainy. Use your favorite and check out this post we published on The Best Keto Diet Sweeteners (AND Sugar Recipe Conversion Guide).
Hip Tip: You can powder your own sweetener. Just measure the amount of sweetener you need for the recipe and then pulse in a processor or blender prior to adding it to your other ingredients.
Vegetable Glycerin: This ingredient is completely optional, especially if you plan on enjoying your ice cream the same day. Sometimes homemade ice cream can become hard when left in the freezer overnight. Personally, it's fine if just left out to defrost for a while and still tastes great. That said, if you'd like to try a stabilizer, I tested the vegetable glycerin method by adding a tablespoon to the ice cream mixture and it does stay creamier. Also, I think the cream cheese helps!
---
Print
Raspberry Cheesecake Keto Ice Cream
yield: 8 SERVINGS
prep time: 10 MINUTES
cook time: 30 MINUTES
total time: 40 MINUTES
Indulge in this rich & creamy keto ice cream when craving a sweet treat!
Ingredients
8 oz. cream cheese, softened
3/4 cup Swerve
1 1/2 cups heavy cream
1/2 cup unsweetened almond milk
1 teaspoon vanilla extract
5 oz. fresh raspberries
1 tablespoon Swerve
1 tablespoon vegetable glycerin (optional)
Directions
1
In a mixing bowl, cream together Swerve and cream cheese.
2
Add heavy cream, almond milk, vanilla, and vegetable glycerin (optional). Mix well.
3
Pour mixture into an ice cream maker and freeze according to machine's instructions.
4
In a small bowl, mash raspberries and sweeten with swerve.
5
Toward the end of freeze time, add raspberry puree mixture to ice cream.
6
Serve ice cream once frozen. If firmer ice cream is desired to scoop, place in freezer for about 60 minutes.
Nutrition Information
Yield: 8 servings, Serving Size: 1 serving
Amount Per Serving: 262 Calories | 27g Fat | 4g Total Carbs | 1g Fiber | 3g Protein | 3g Net Carbs
---
What an easy process!
All I had to do was mix up these ingredients using a hand mixer and mashed in some sweetened raspberries! There's no cooking on the stove first, and the ice cream turned out perfect! It's honestly so fun to watch the ice cream maker work its magic. YUM!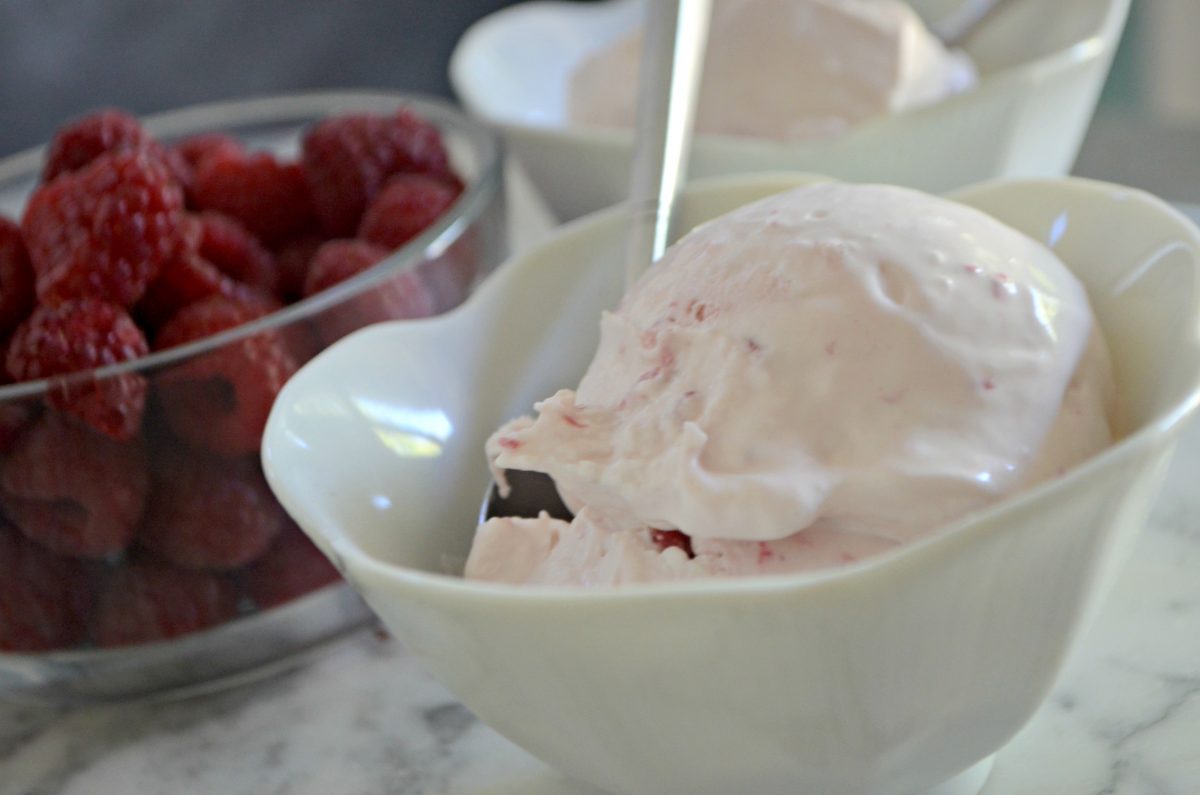 My son said this was, "the best ice cream ever!"
Sometimes kids can be tough critics (especially of keto-friendly desserts), but this recipe turned out absolutely incredible and refreshing! It genuinely tastes like a dense, rich, frozen cheesecake! My family raved about it, and I know yours will, too!
---