Low-Carb Strawberry Cheesecake Popsicles
Keto strawberry cheesecake popsicles are the best refreshing treat!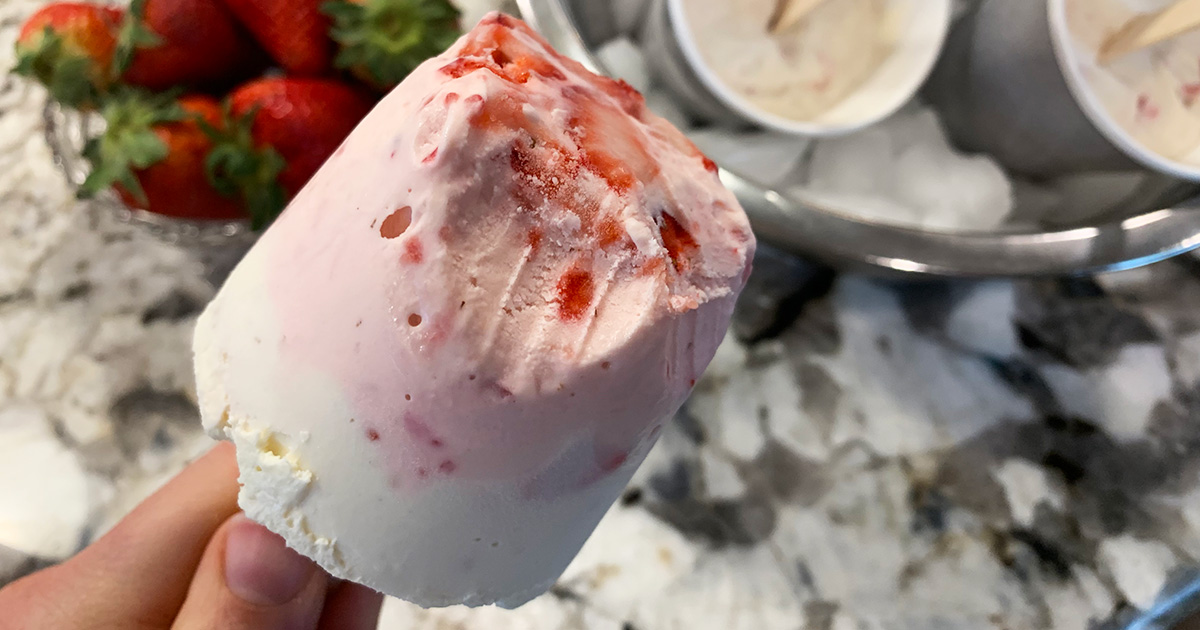 Attention, cheesecake fans!
Celebrate sunny weather with these lusciously satisfying strawberry cheesecake popsicles! Enjoy all the flavors of cheesecake with every creamy, dreamy bite. And not only are these low-carb cheesecake popsicles delicious, but they are also simple to make. Summer never tasted better!
For more sweet treats like this, be sure to bookmark our keto dessert recipes page.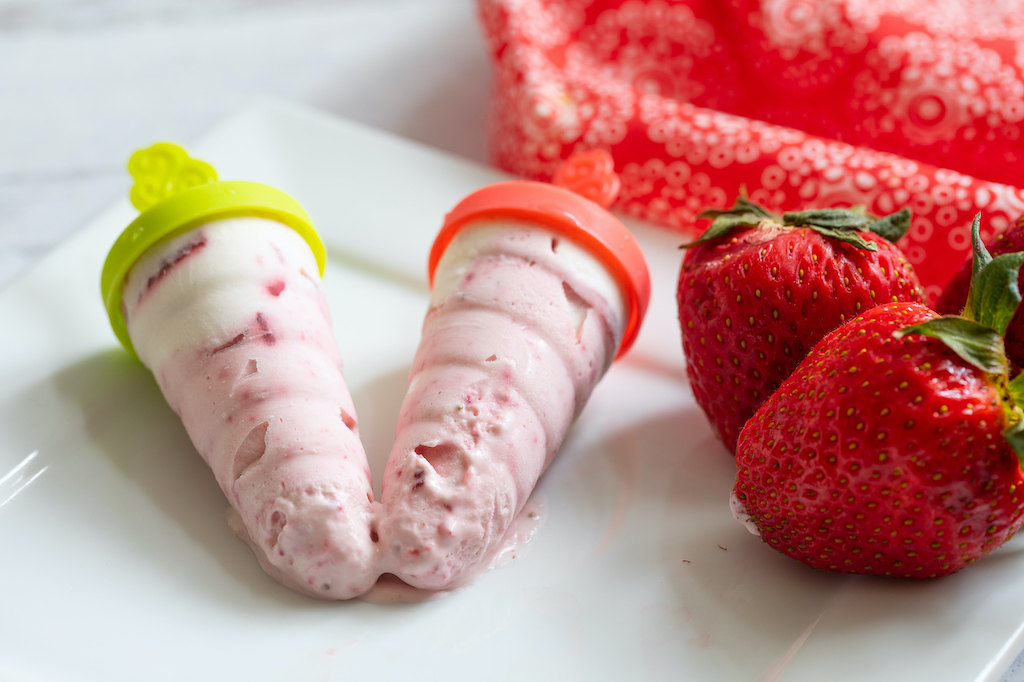 The batter is bowl-lickin' good!
Oh, my! The first time I made these keto strawberry cheesecake popsicles, I debated just eating the batter and skipping the popsicles altogether! 😆 It's THAT good! But trust me, once frozen, every frosty bite literally melts into cheesecake heaven in your mouth.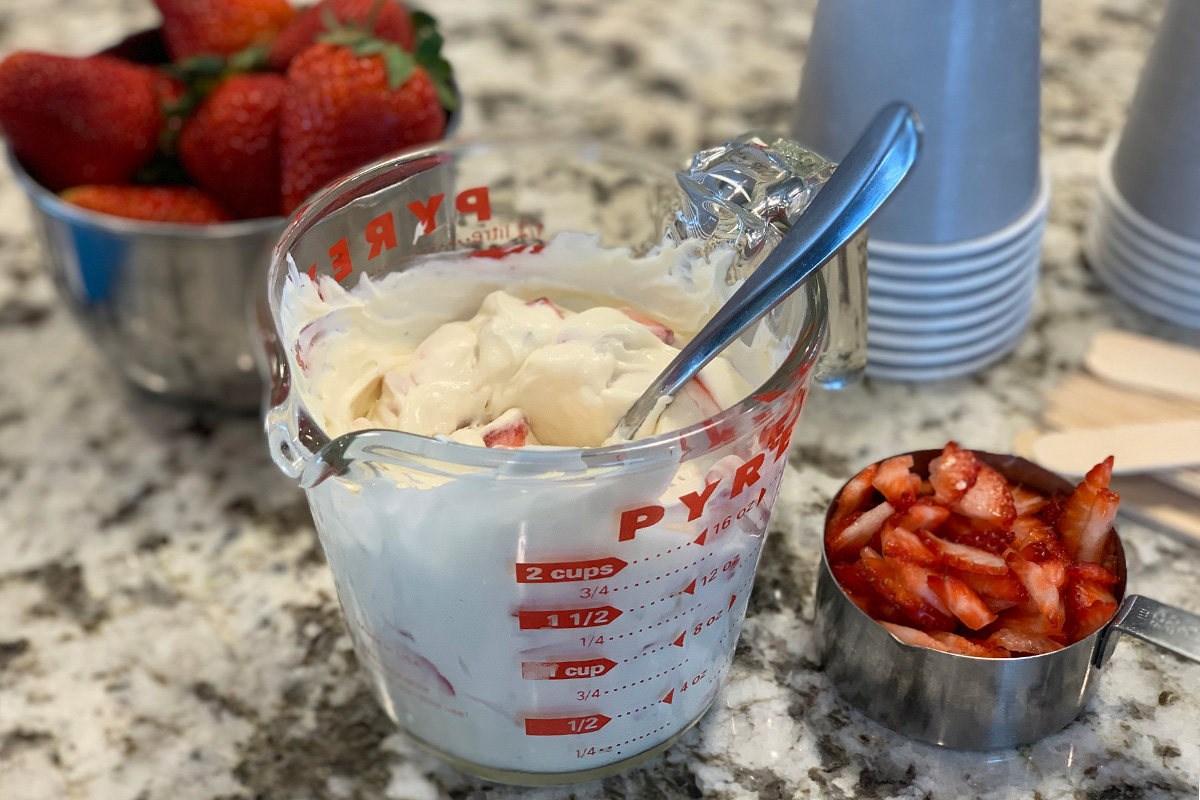 Hip recipe tips for making these strawberry cheesecake popsicles:
Trim down your macros by dividing them into six servings rather than four (you can check out this set of popsicle molds that's meant for six popsicles).
Swap or skip the berries if you'd like! Try out this recipe with raspberries or blackberries as another alternative. The sweetened cheesecake filling is scrumptious on its own if you want to avoid any of the sugars from the fruit.
Let it thaw—I definitely think these pops are best when they've had a chance to soften a bit before eating. Just set the Dixie cup on the counter for 5-10 minutes, then dig in!
I keep extra Dixie cups on hand for leftovers. Sometimes I only eat half, and then I slip the leftover popsicle into a dixie cup, pop it back in the freezer, and save it for later.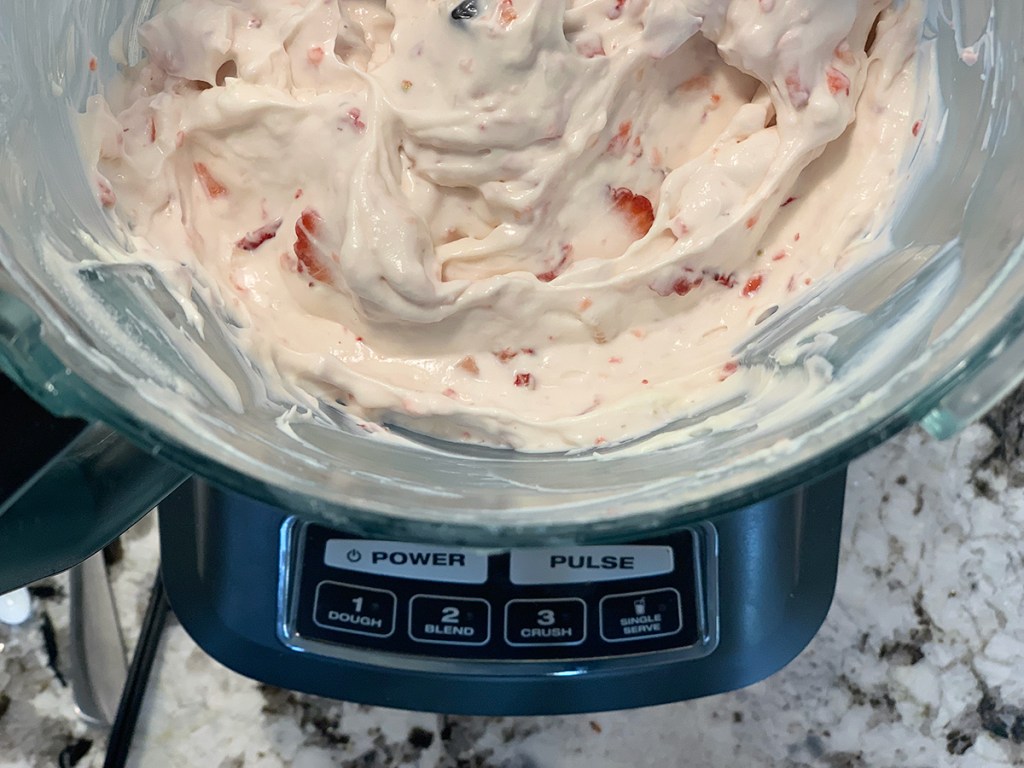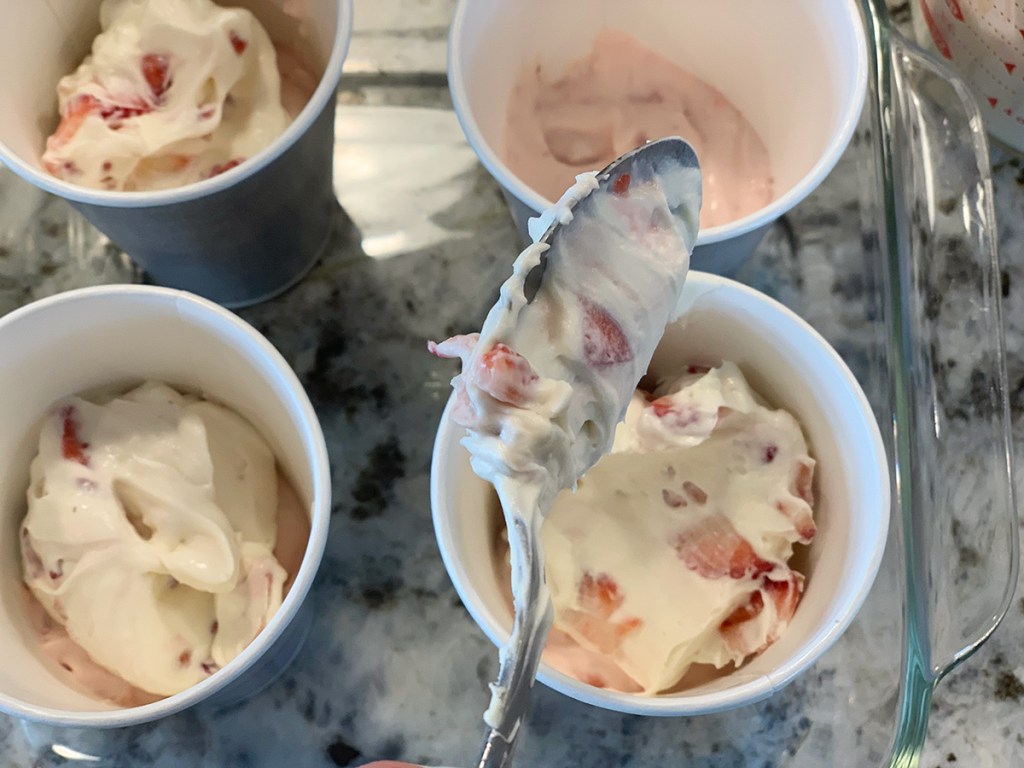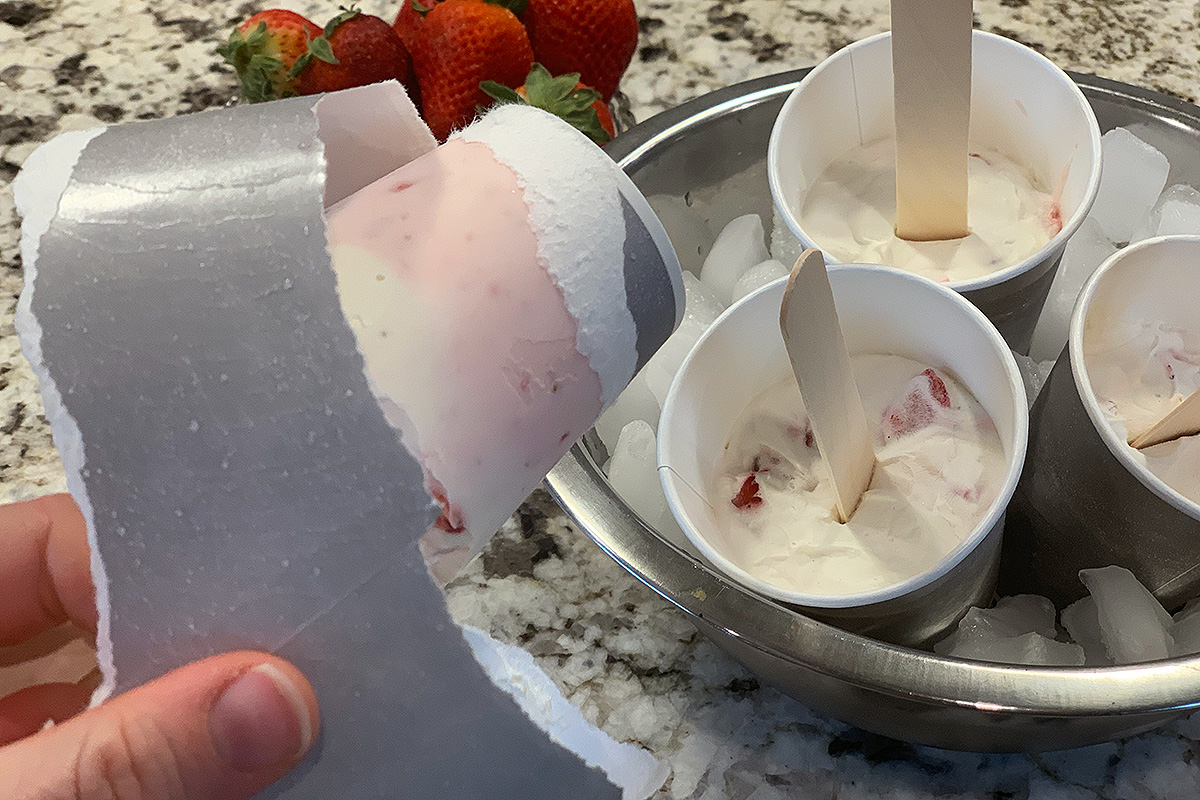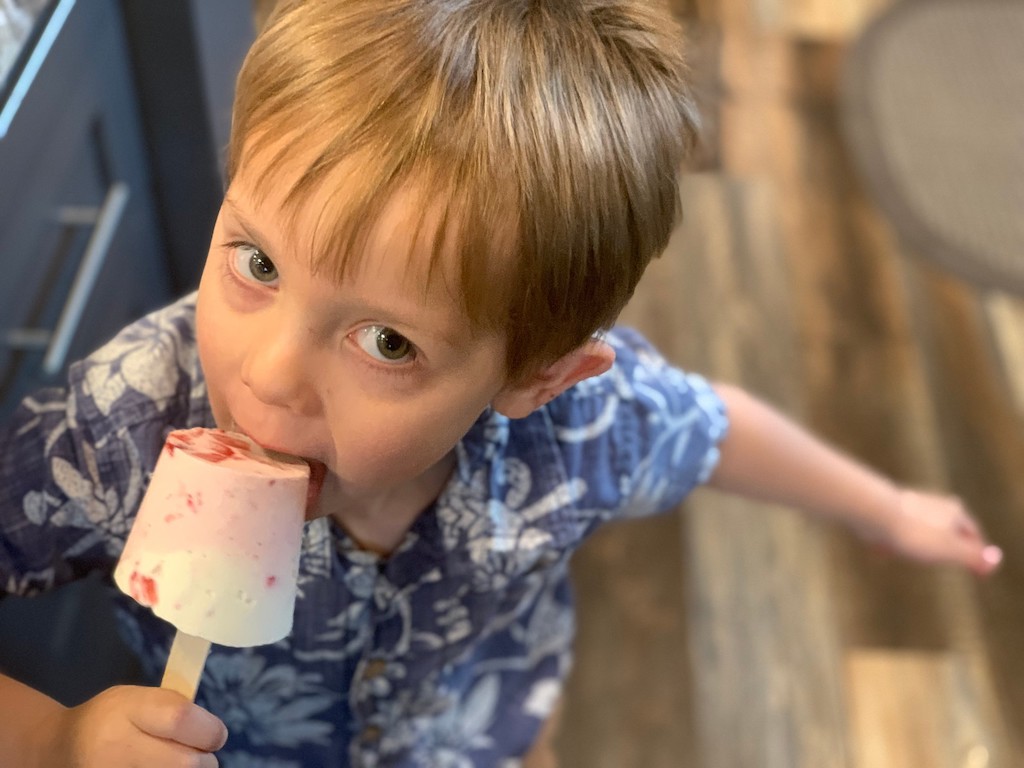 ---
Print
Low-Carb Strawberry Cheesecake Popsicles
yield: 4 SERVINGS
prep time: 15 MINUTES
total time: 15 MINUTES
Popsicles have never been so satisfying! (Please note that the recipe requires an additional 4+ hours for freezing before popsicles are ready to eat.)
Ingredients
For the recipe:
1 cup heavy whipping cream
8 oz. block cream cheese, softened (1 cup)
1 teaspoon vanilla extract
1/2 cup confectioners erythritol (or less if you don't like it quite so sweet))
1 cup strawberries, quartered and thinly sliced, divided
plus 2 tablespoons strawberries, quartered and thinly sliced, *optional for garnish
Additional items needed:
Directions
1
Using a blender or food processor, whip heavy cream until soft peaks form (careful not to over-blend, or it will turn to butter). Then add cream cheese (I break it up into several chunks when adding to the blender), vanilla extract, and erythritol. Blend until combined.
2
Scoop about two-thirds of the mixture out of the blender and into a bowl. Gently fold 1/2 cup of the strawberries into the cheesecake mixture that you removed. Set aside.
3
Add the remaining 1/2 cup strawberries into the blender with the leftover mixture. Pulse until it starts to turn pink, but not so long that you no longer see bits of strawberry (you want to see light pink with flecks of strawberry pieces). Set aside.
4
Arrange Dixie cups in a small square pan/container to make transporting to the freezer easy OR grab your popsicle molds. For an extra pretty popsicle, divide the optional 2 tablespoons of strawberries pieces between each cup's bottom. This step is not necessary, but I love the added color that it brings to the top of each popsicle.
5
Add the pink mixture from the blender into the dixie cups, followed by the white cheesecake/strawberry batter. Tap each cup to help level out the batter. Place in the freezer for 30 minutes, then add popsicle sticks to the center of each cup.
6
Freeze for at least 4 hours or until frozen through. When ready to eat, tear off the Dixie cup and enjoy! For best results, I recommend eating the frozen popsicles within one month. Be sure to place in a sealed container or in a freezer-friendly storage bag.
Nutrition Information
Yield: 4 servings, Serving Size: 1 popsicle
Amount Per Serving: 419 Calories | 41.1g Fat | 26.5g Total Carbs | 0.9g Fiber | 6.3g Sugar | 18.5g Sugar Alcohol | 5.5g Protein | 7.2g Net Carbs
---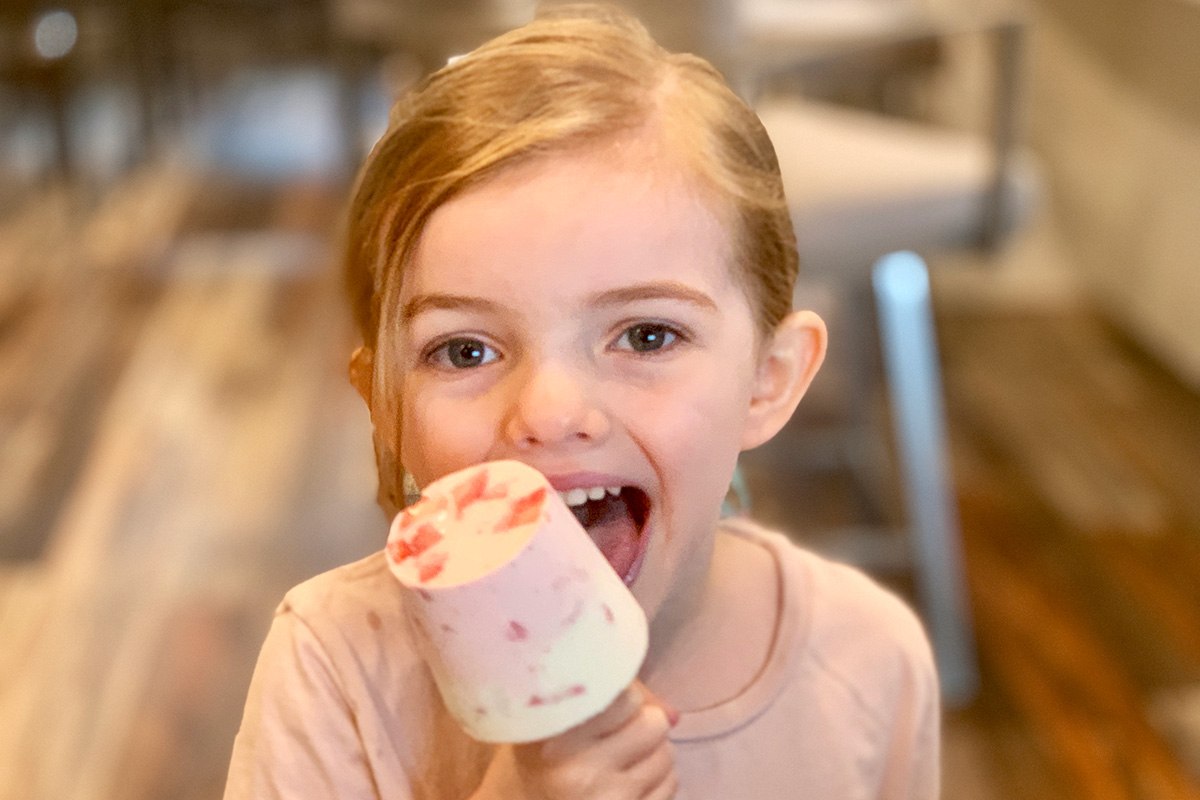 Kids love them, too!
Even my picky kiddos enjoy these yummy cheesecake popsicles. Another fun idea is using mini dixie cups and 4 1/2″ popsicle sticks to make half-serving popsicles. Perfect for the kiddos! Moreover, GREAT for portion control!!
---