Make-Ahead Keto Breakfast Burritos (Easy Freezer Meal Prep Idea!)
These keto freezer breakfast burritos are perfect to have on hand for busy mornings!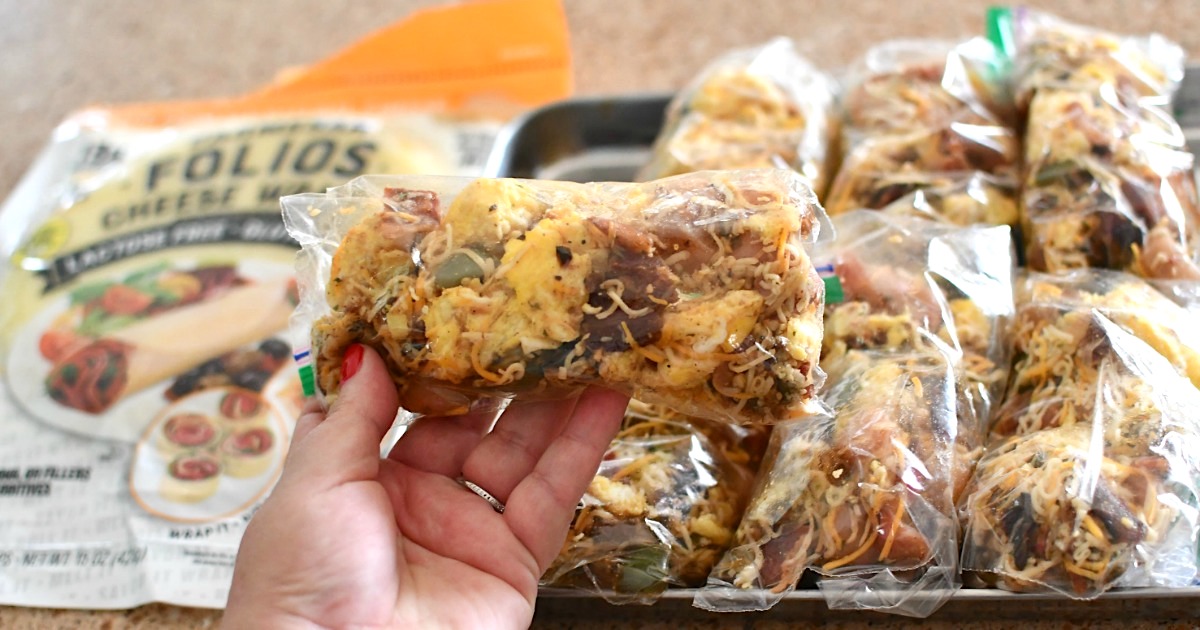 Craving a breakfast burrito?
It's easy to make a few keto swaps in order to create a killer bacon, egg, and "potato" breakfast burrito! I personally love hearty, filling, and simple keto breakfast ideas. With that said, I'm also sharing a clever way to meal prep make-ahead freezer breakfast burritos!
The secret is to make freezer pouches with burrito filling using sandwich bags!
Then, when you're ready to enjoy, you'll re-heat the contents in the microwave and wrap up the burrito filling using a keto-friendly wrap, such as Folios or Crepini wraps, for an awesome burrito experience!
No more reheating soggy burritos using this genius method, I promise!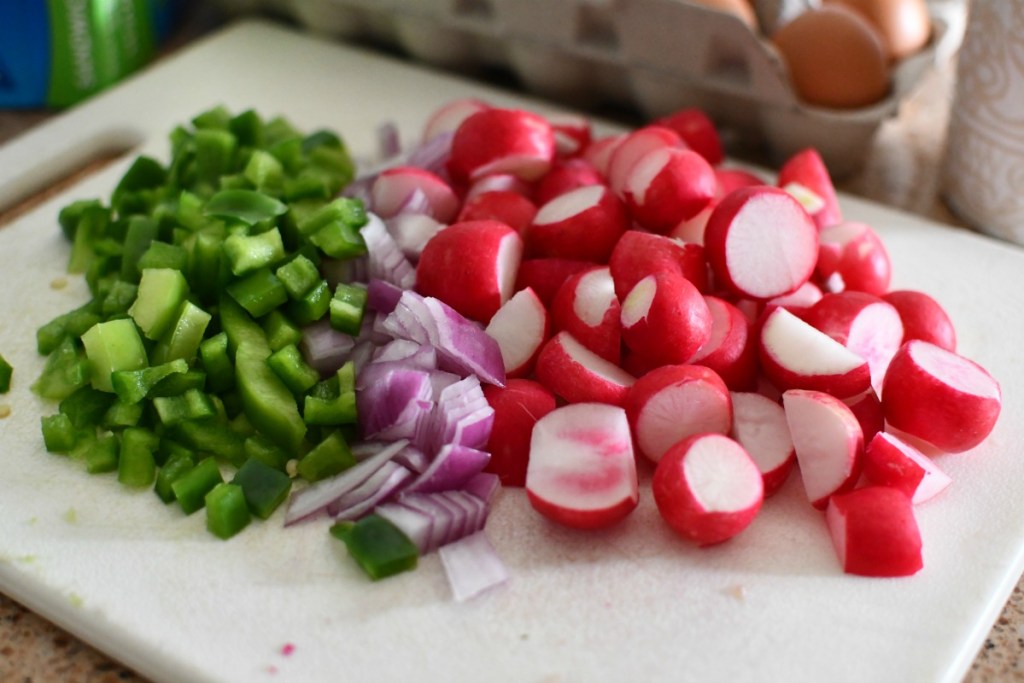 Hip tips for making the best keto breakfast burritos:
Yep, radishes make a perfect swap for starchy potatoes! In fact, once pan-roasted, they DO NOT taste like radishes AT ALL! This is the best keto discovery since fathead pizza dough! The breakfast radishes with diced onions and bell peppers are AMAZING and so easy to make.
I suggest cooking the scrambled eggs slightly underdone because the reheating process will cook them further.
I used a pound of bacon, but you could always substitute with breakfast sausage instead.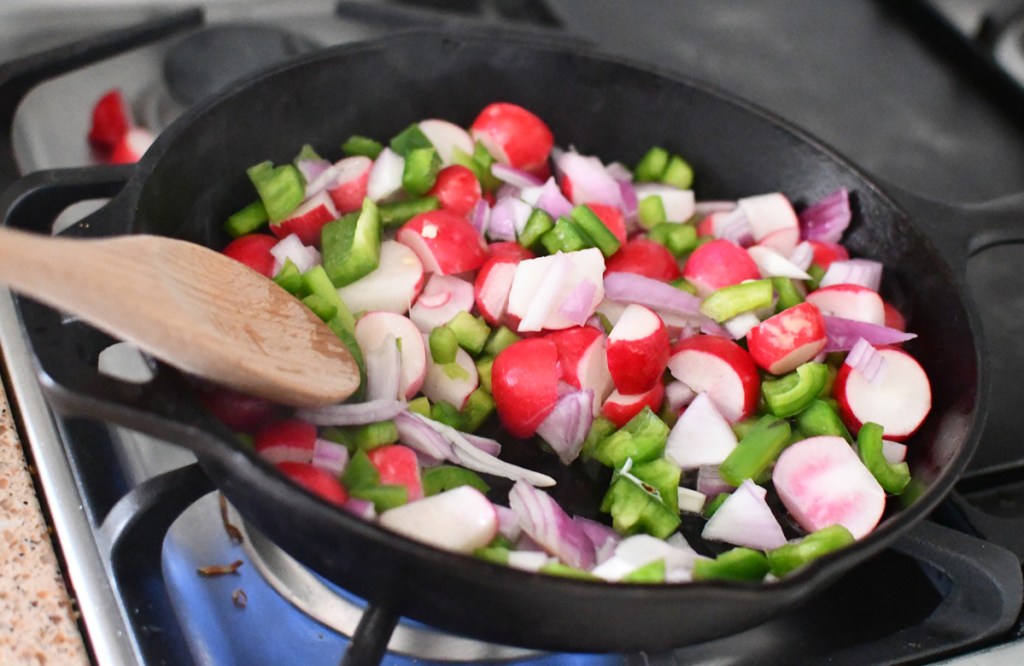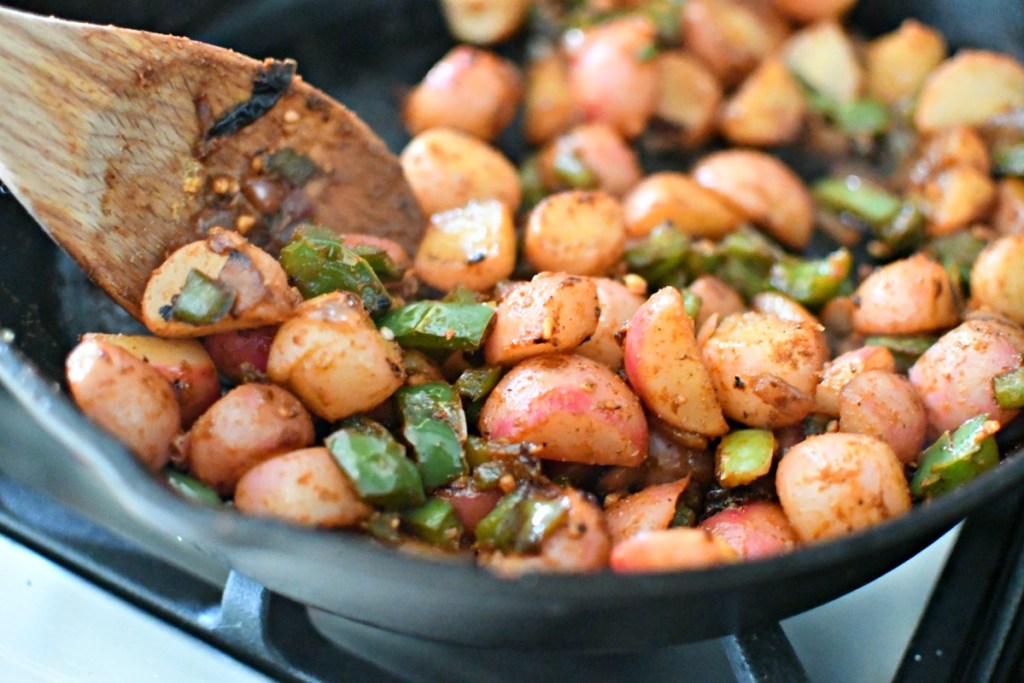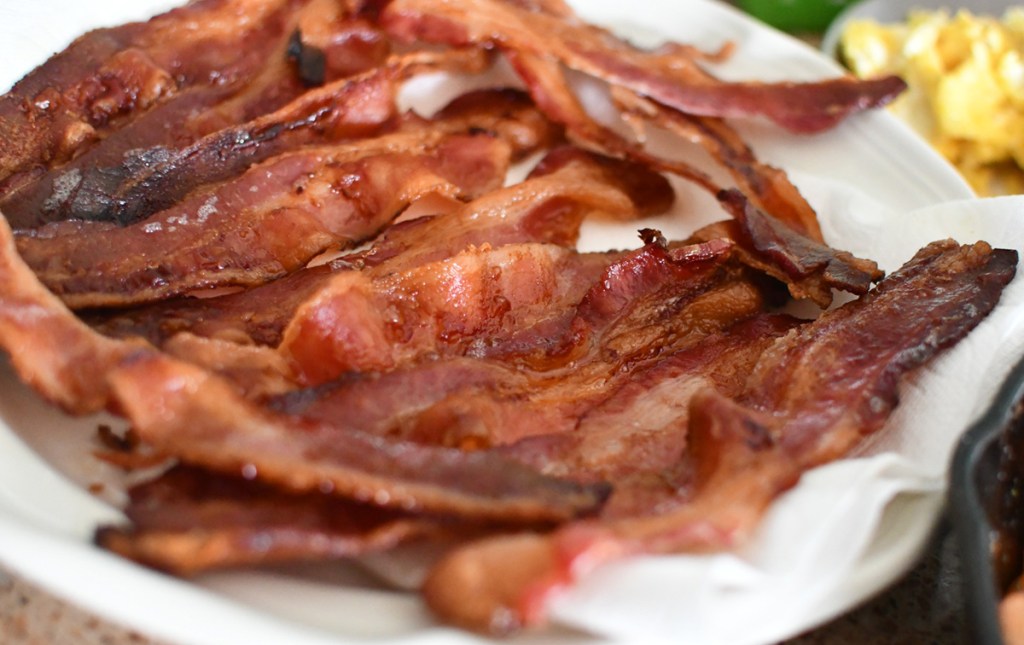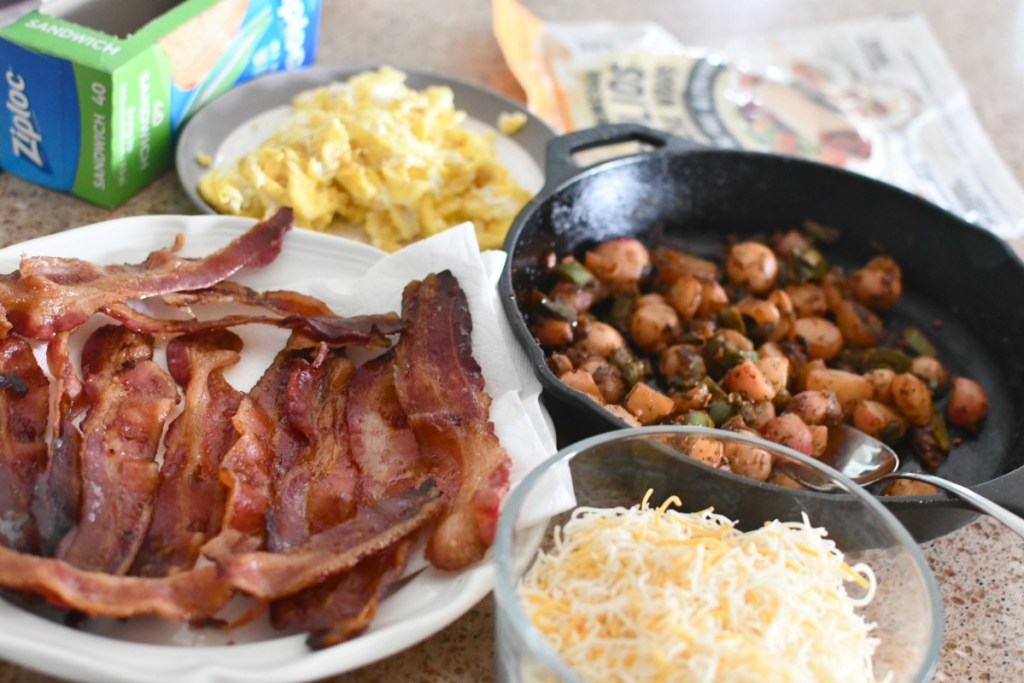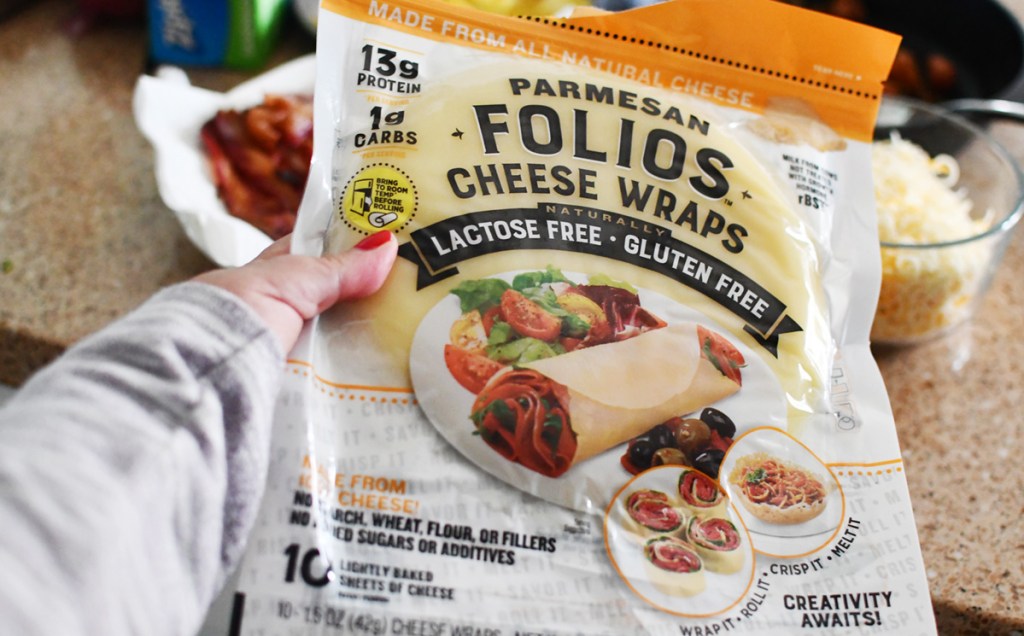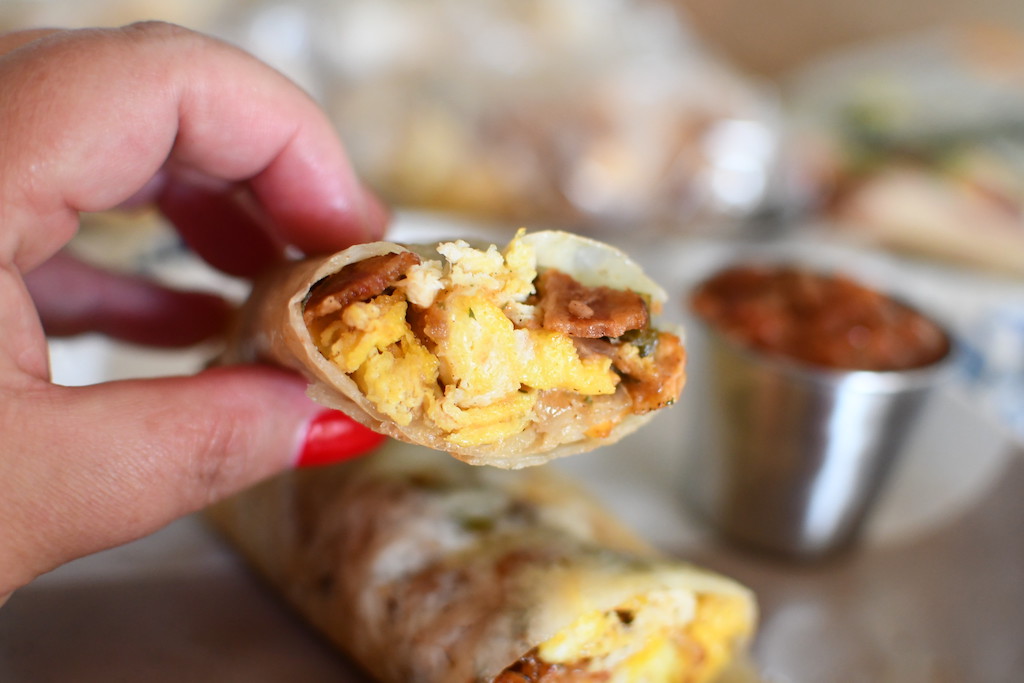 ---
Print
Keto Freezer Breakfast Burritos
yield: 7 SERVINGS
prep time: 15 MINUTES
cook time: 30 MINUTES
total time: 45 MINUTES
These hearty breakfast burrito pouches are filled with bacon, cheese, eggs, and seasoned radish breakfast "potatoes".
Ingredients
1 pound bacon
1 pound radishes, quartered
2 tablespoon olive oil
1 green bell pepper, diced
1/4 cup red onion, diced
2 garlic cloves, minced
1/2 teaspoon ground paprika
1/2 teaspoon onion powder
1/4 teaspoon salt, or to taste
1/8 teaspoon pepper
6 eggs
2 cups Mexican blend shredded cheddar cheese
7 keto wraps for serving (such as Folios)
Directions
2
Heat skillet to medium heat and add olive oil. Add onion, bell pepper, radishes, and garlic, and stir to combine using a wooden spoon or spatula. Season with paprika, onion powder, salt, and pepper. Let the radishes brown and caramelize for about ten minutes until tender. Once cooked, remove from heat and let cool.
3
Whisk eggs in a bowl and scramble them in another skillet on the stove. Season with a pinch of salt & pepper. Undercook them just slightly, so they won't be overcooked when re-heating later.
4
Once all breakfast filling ingredients are cool, mix the radishes, bacon, eggs, and cheese together in the skillet. Divide evenly into 7 freezer sandwich bags, about 1 cup of filling per baggy. Seal bags and store in the freezer for up to 3 months.
5
To compile a keto burrito from frozen pouch:
Remove the contents from one bag and place it on a microwaveable plate or bowl. Microwave for 2 minutes and set aside. Place a Folio cheese wrap on another plate on top of it's included piece of parchment paper. Microwave for 90 seconds. Immediately remove the wrap from paper and roll-up your burrito contents while the cheese is still warm and soft. The wrap's texture may get a little crispy as it cools, but it's still so GOOD!
Nutrition Information
Yield: 7 burrito pouches, Serving Size: 1 burrito, including Folio cheese wrap
Amount Per Serving: 512 Calories | 40.1g Fat | 8.2g Total Carbs | 3g Fiber | 3.2g Sugar | 0g Sugar Alcohol | 26.7g Protein | 5.2g Net Carbs
---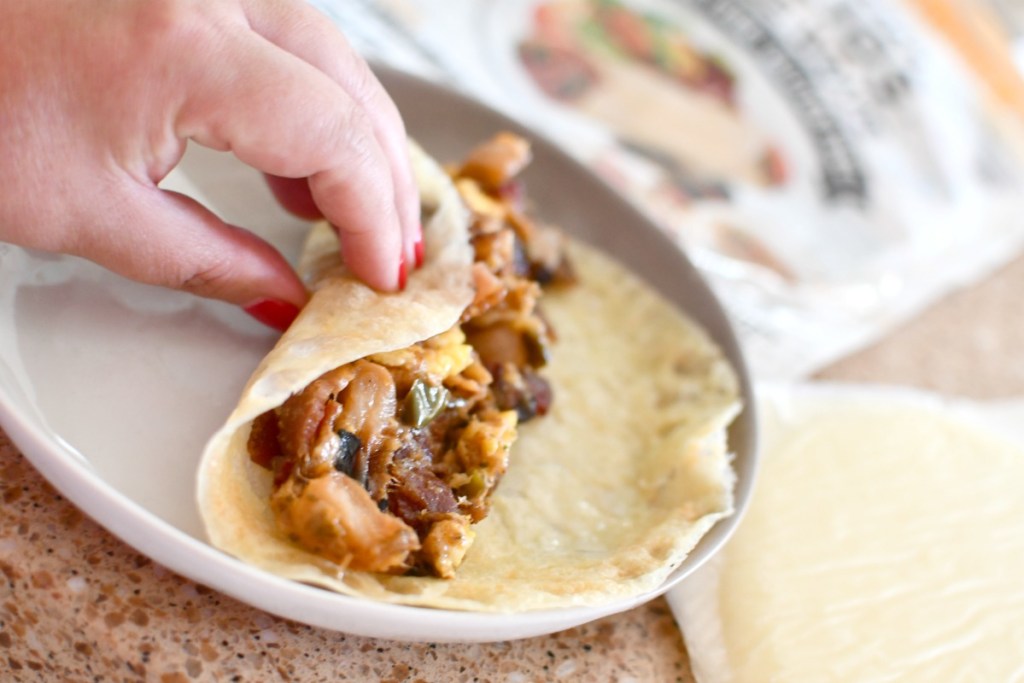 Nothing like warm and cheesy homemade freezer breakfast burritos in the morning or truly any time of the day!
The bacon, egg, and cheese combo is perfect and so are the magical breakfast potatoes, I mean radishes! Consider pairing with a little bit of salsa or hot sauce for an over-the-top yummy breakfast! These are seriously so flavorful and delicious. Such a smart way to make sure you have keto breakfast covered for the week, too – Enjoy!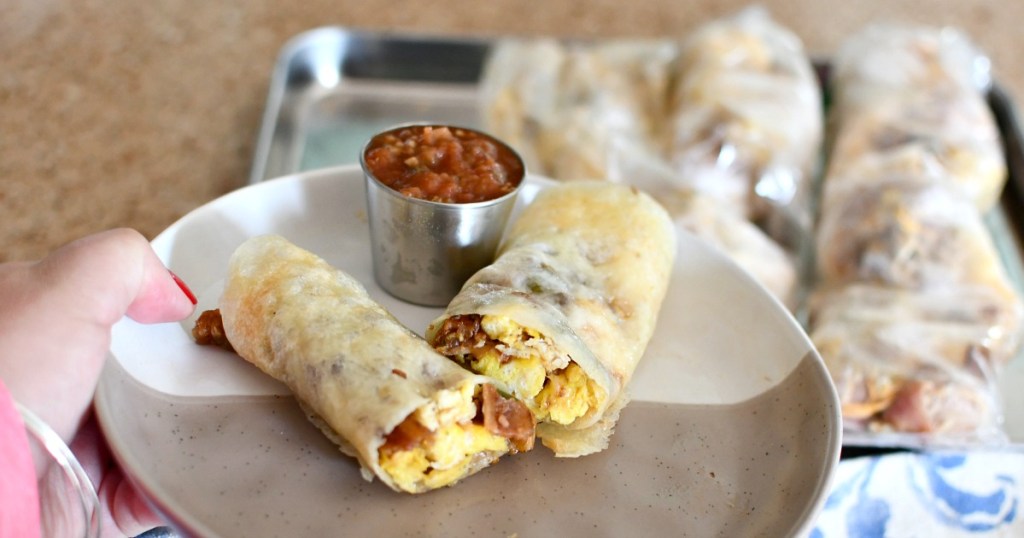 ---
Check out these keto breakfast sausage muffins for another easy keto breakfast idea!