Brie Just Got a Big Upgrade – Meet Whipped Brie w/ Keto Jam!
We whipped keto brie cheese until light and airy and topped with keto jam for a sweet & savory appetizer idea!
What better way to use ChocZero's Keto Grape Jam than with keto brie cheese!
Brie cheese is already amazing on its own, but cut off the rind and whip it up until it's light and airy. oh my, I didn't know it was possible to make brie even more delicious. The texture is similar to whipped butter but much, much creamier. Top it with ChocZero's Keto Grape Jam and the sweet, creamy, savory flavor combo will make you want to eat all of the whipped brie!
Disclaimer: The ChocZero Grape Jam, along with their other jam flavors, are currently OOS as they undergo a rebranding of their jam jars. We recommend checking out their keto orange marmalade as a substitute for a sweet topping in this appetizer recipe. Also, be sure to bookmark this recipe for later so you can try it with any of their keto jams when they return in May!
We also have a homemade keto berry jam recipe right here for ya!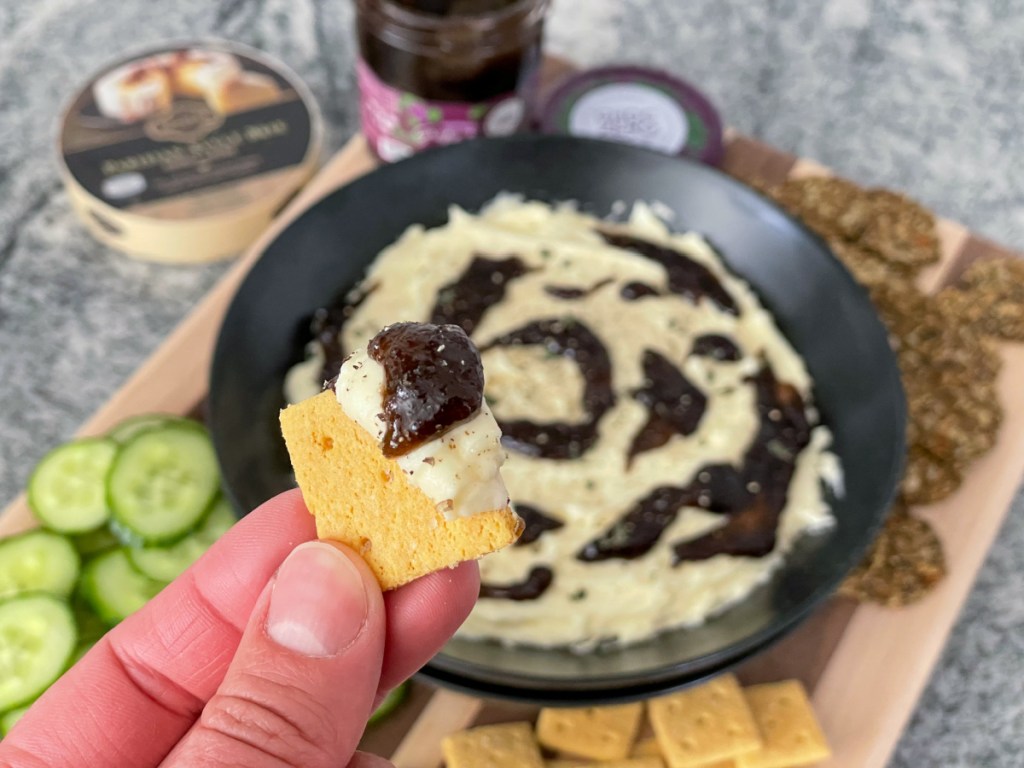 Is brie cheese keto?
Yes, brie cheese is keto! I'd be in trouble if it wasn't. Brie has 0 to 2 grams of carbs per 1 ounce serving. It depends on the brand you get, so try to find one that has 0 grams of carbs per serving to help keep your carbs as low as possible. This recipe has 2.7 grams of total carbs per serving and 0.6 grams of net carbs. The carbs are from dietary fiber in the monk fruit used to sweeten ChocZero's Keto Grape Jam.
Check out our keto baked brie recipe for another yummy way to enjoy brie on the keto diet!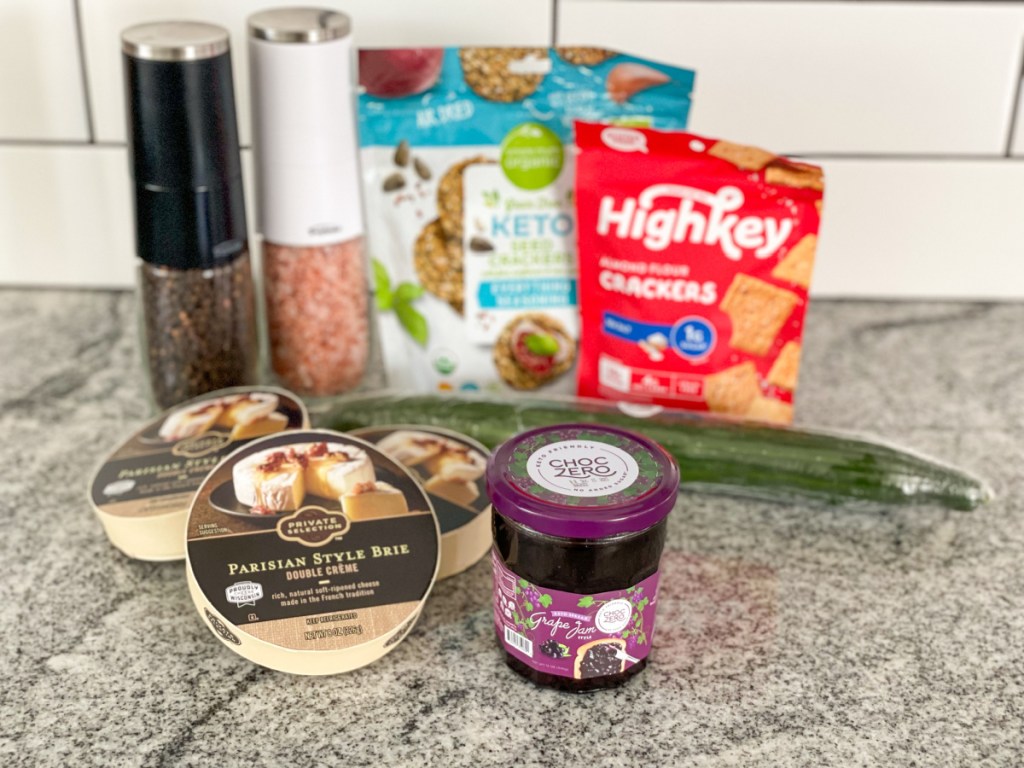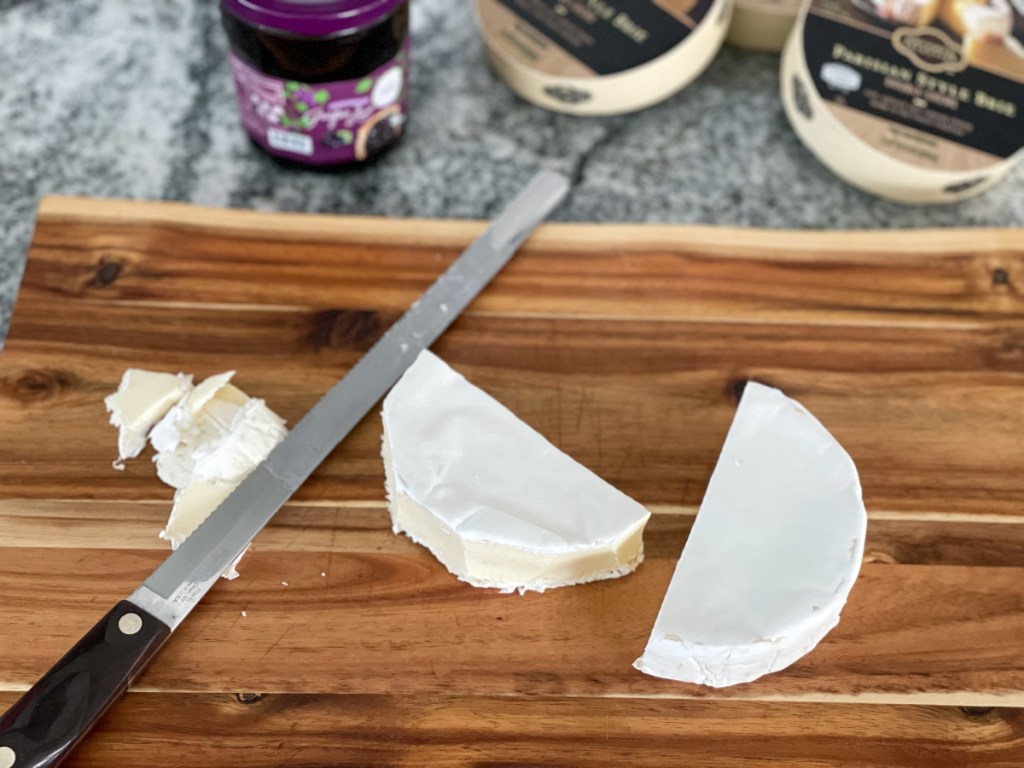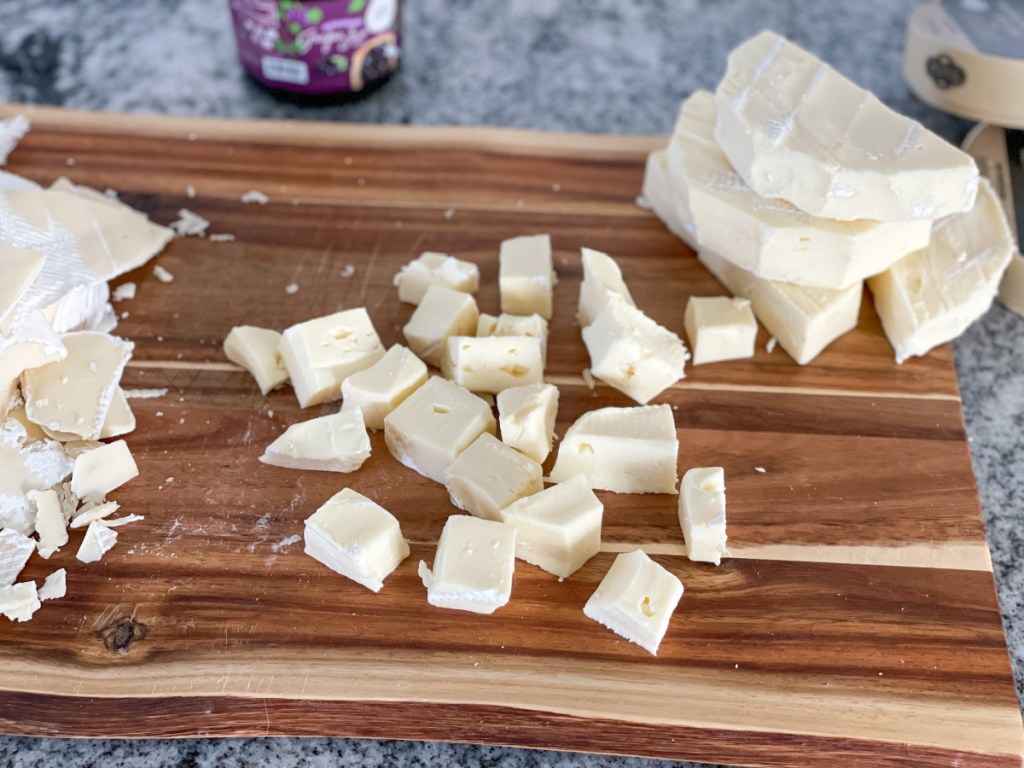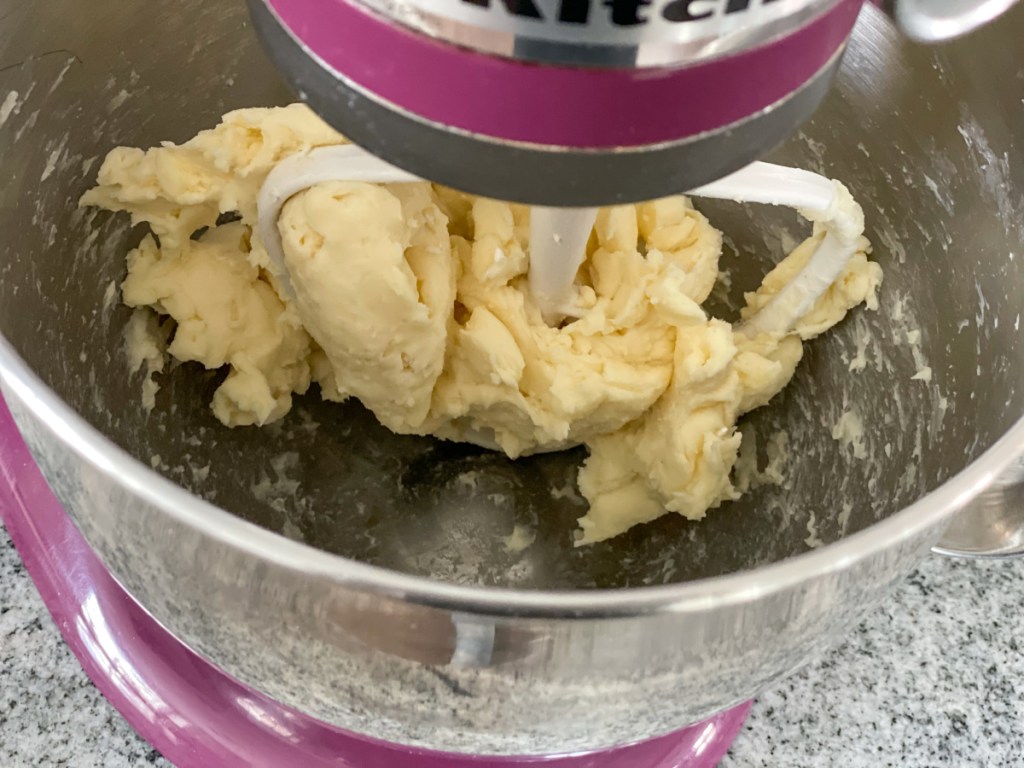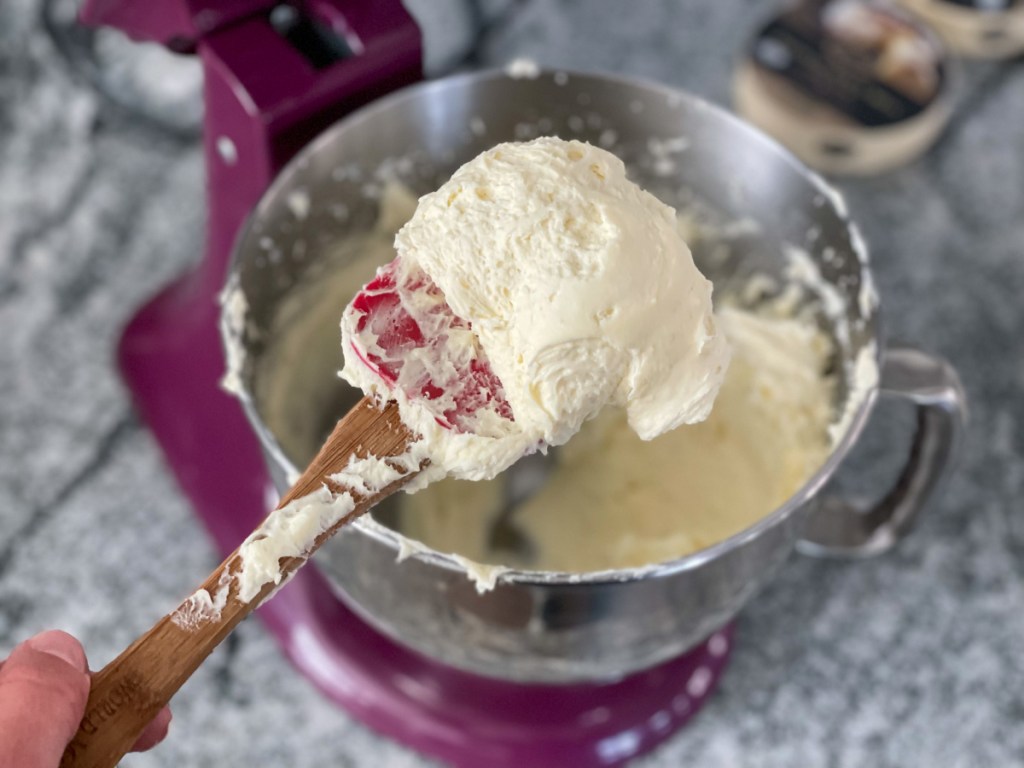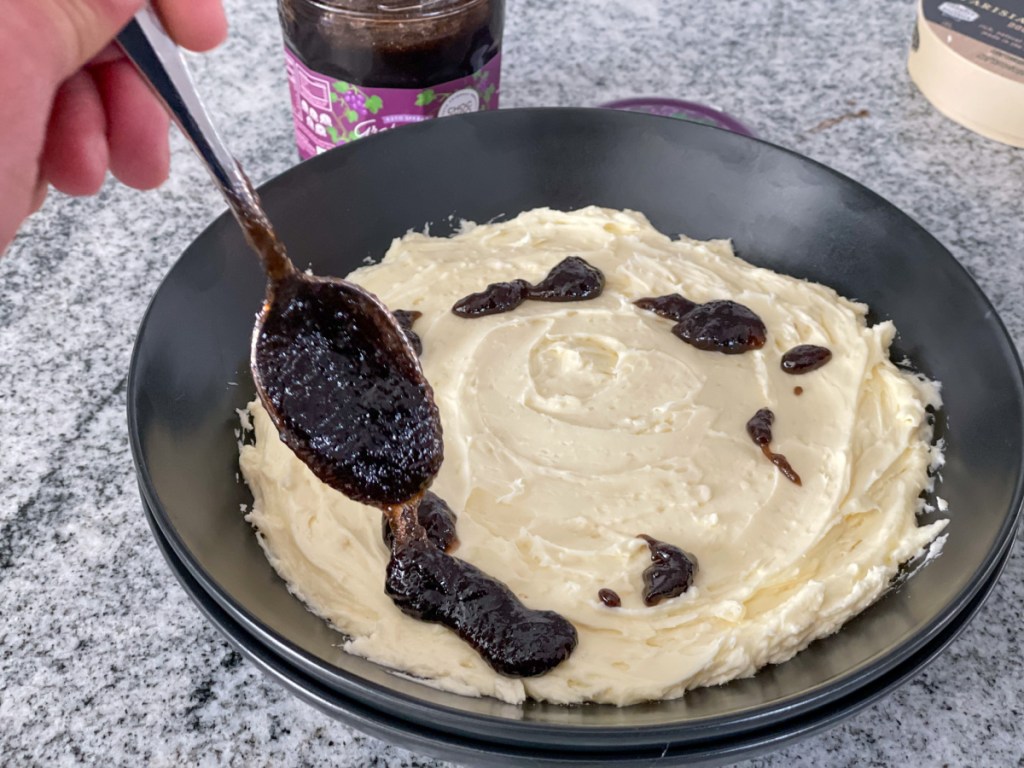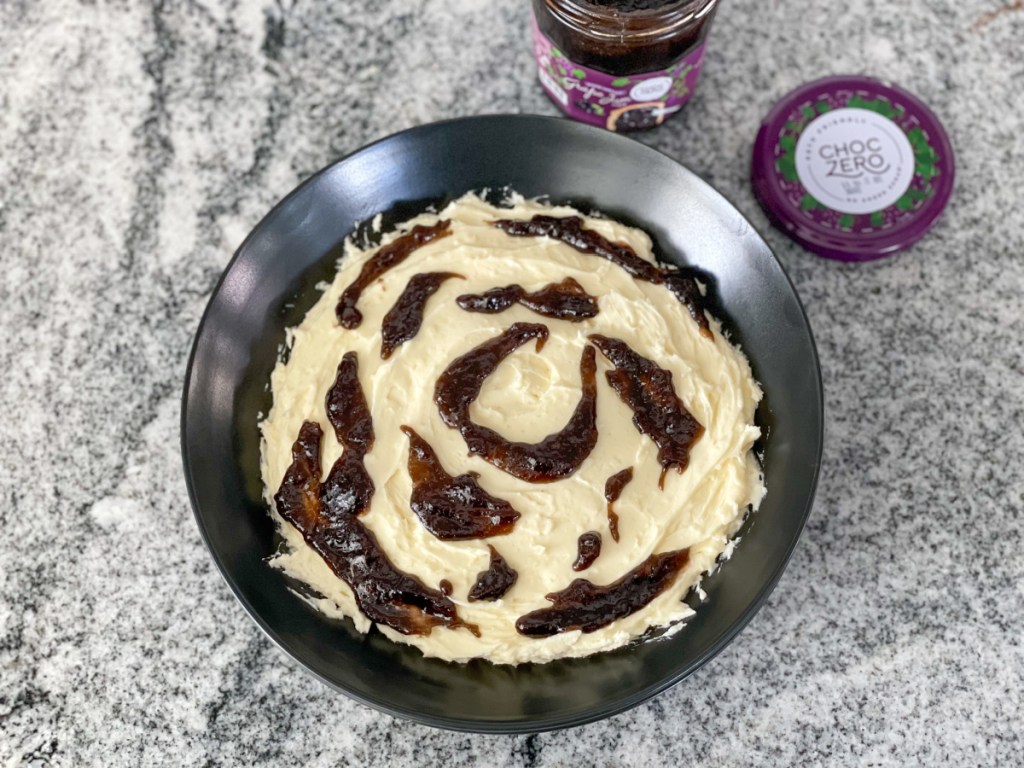 ---
Print
Whipped Keto Brie with Jam
yield: 10 SERVINGS
prep time: 45 MINUTES
total time: 45 MINUTES
Whipped creamy brie cheese topped with Keto Jam to create the ultimate appetizer.
Ingredients
3- 8 oz. packages of brie cheese
1/3 cup ChocZero Keto Grape Jam (or other fruity jam)
1 teaspoon sea salt
1/2 teaspoon fresh cracked pepper
fresh thyme or rosemary, optional
keto crackers or sliced vegetables for dipping
Directions
1
Cut the rind off the brie cheese and then cut into cubes. Let sit at room temperature for 30 minutes to soften.
2
Using the paddle attachment on a stand mixer, whip the brie cheese on high for 10 minutes, scraping down the edges as needed.
3
Once the brie is light and airy (similar to whipped butter), transfer to a serving dish or bowl and top with dollops of ChocZero Keto Grape Jam. Sprinkle with salt and pepper. Add fresh thyme or rosemary if desired.
4
Serve immediately with keto crackers and/or chopped vegetables. Add more grape jam as needed. Enjoy!
Nutrition Information
Yield: 1 servings, Serving Size: 1/4 cup
Amount Per Serving: 251 Calories | 21.9g Fat | 2.7g Total Carbs | 2.2g Fiber | 0.5g Sugar | 9.7g Protein | 0.6g Net Carbs
---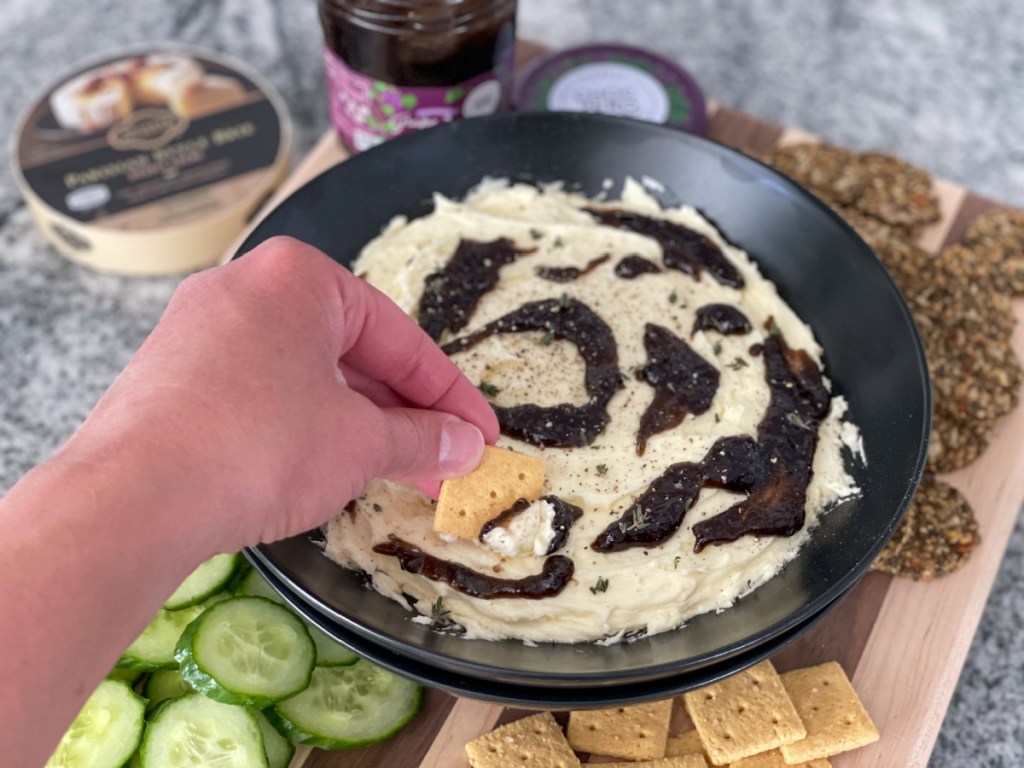 Tips for making the best whipped keto brie with fruity jam:
You need to get three 8-ounce packages of brie for this recipe. If you try to use less, it's hard for your mixer to whip it up.
A stand mixer with a paddle attachment works best for whipping the brie but you can use an electric hand mixer with the whisk attachment or a food processor. If using an electric hand mixer, make sure the brie is really soft. You might want to let it sit out for an hour before whipping. A food processor works great as well, it's just messier to clean up afterward. 😂
It does take about 10 minutes in the stand mixer for the brie to get fully whipped to a light, airy texture. Set a timer and turn the mixer on high. Make sure you scrape down the edges three or four times.
It's easier to cut the rind off the brie if it's chilled right out of the fridge.
Another tip to make cutting the rind off easier, is to cut the round in half first. Then cut off the sides, followed by the top and bottom. And yes, it's sad to waste the rind. Do your best to get as much of the rind off as possible. A serrated knife works best.
We LOVE the selection of ChocZero keto jams and are anxiously awaiting their return! In the meantime, try our easy keto jam recipe as a fruity topping to this creamy cheesy dip.
If you have leftovers, store them covered in the fridge and then let the whipped brie come to room temperature before enjoying.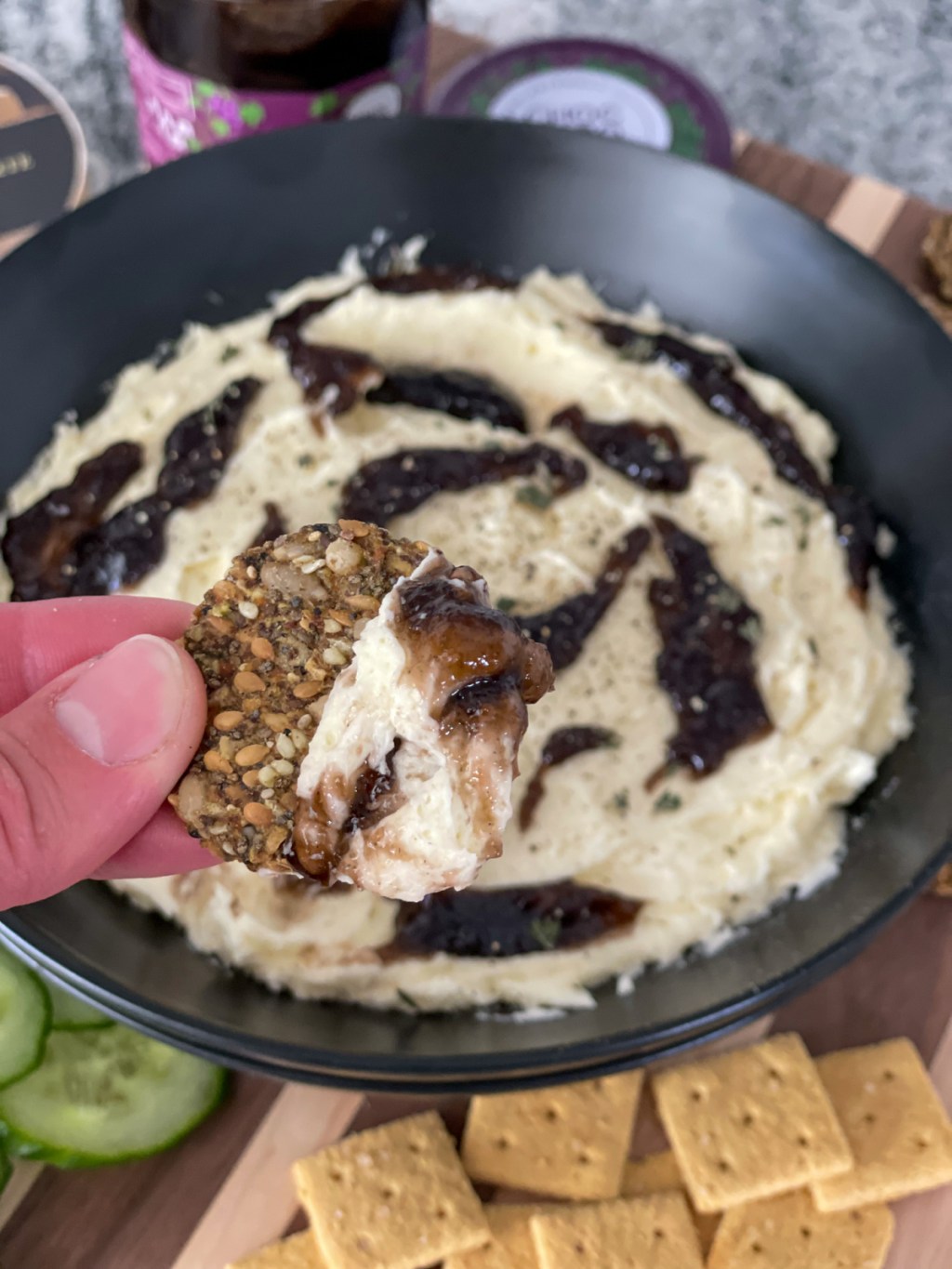 What to eat with brie on a keto diet:
Brie pairs beautifully with so many keto foods. This whipped keto brie is perfect on its own. I bought keto seed crackers from Kroger and High Key keto crackers on Amazon, though you could try our keto crackers recipe for this dip, too. I spotted these keto seed crackers on Amazon with awesome reviews if you don't have a Kroger in your area! I also sliced up an English cucumber to dip in it, and the cucumbers were actually my favorite with it!
Use this whipped keto brie with ChocZero's Keto Grape Jam on fathead dough to make a flatbread appetizer. I also think you could top baked chicken with it. It'd also be yummy to make a grilled whipped brie sandwich with keto bread.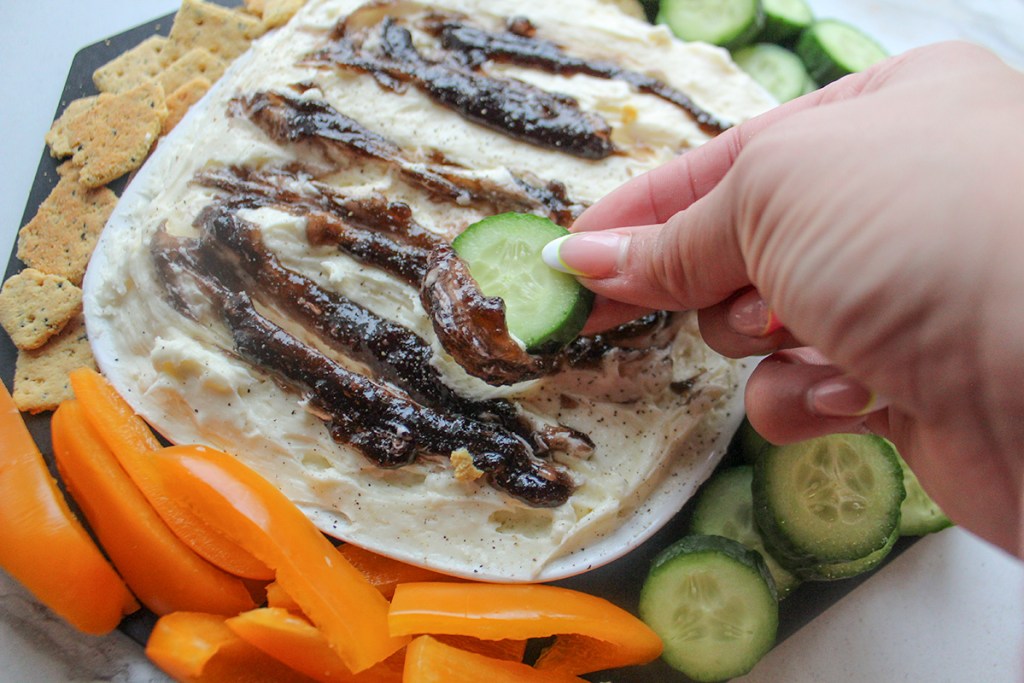 Here's what my Hip sidekick Rachel thought of this whipped keto brie with jam:
"Hello taste buds! The sweet and savory combo of this recipe is incredible. The keto grape jam tastes just like regular grape jam! It is so good, and a great snack to bring to gatherings or to have ready when your hungry kids get home from school. I will DEFINITELY be making this again!"
---
Looking for more tasty appetizers, try these easy keto pizza roll-ups!