This Easy Homemade Almond Milk Tastes So Much Better Than Store-Bought!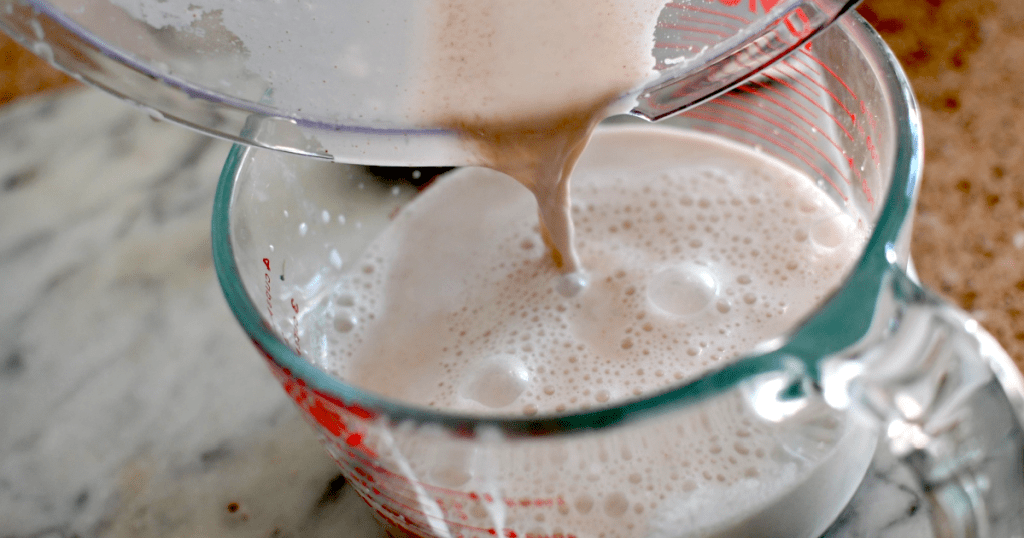 Curious about how to make almond milk?
If so, you've come to the right place because I'm sharing an easy and delicious recipe for homemade almond milk. I've been wanting to try making almond milk for a while and am happy to report that making keto-friendly homemade almond milk from raw almonds is actually so simple to do, and the results are uber delicious.
If you like to use almond milk in your coffee, smoothies, or perhaps in your keto cereal, this recipe will yield smooth, creamy chilled almond milk that's a great non-dairy option and is a very versatile milk to use in numerous keto recipes!
Note: When we refer to "raw" almonds, we mean the pasteurized ones at the store that are labeled as raw and safe to eat. Here's a great resource from Bluediamond.com on the difference between raw vs. natural almonds!
Why should you make homemade keto almond milk?
One of the main reasons this idea is so appealing is because your milk will essentially be more "almond-y" and is so much cleaner, along with a better-tasting result. According to Thrillist.com, the average storebought almond milk could be typically made with just 2% almonds and is mostly water and added fillers, gums, and emulsifiers to make it shelf-stable. 😱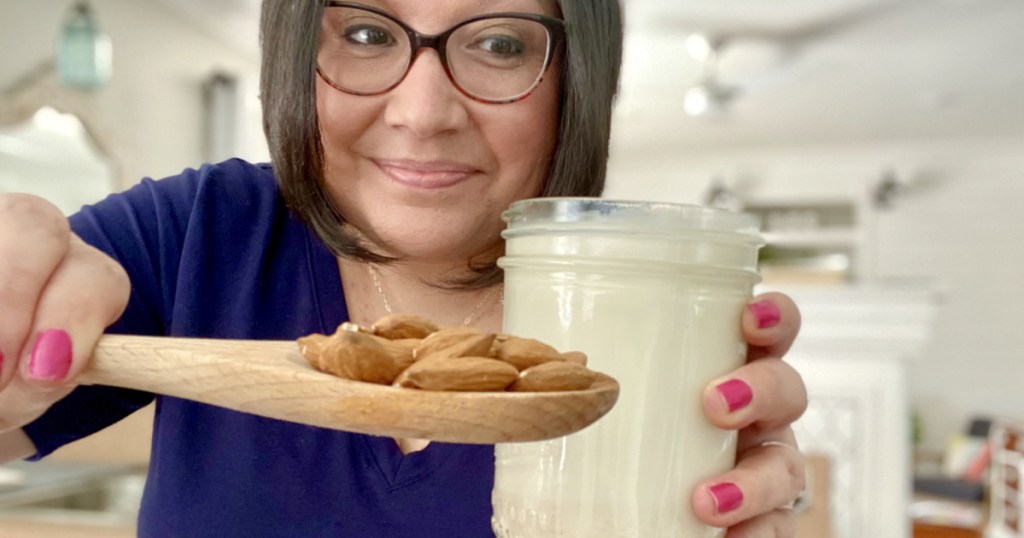 By learning how to make almond milk from a full cup of natural raw almonds, you'll be able to harness more of the good stuff! Almonds have lots of vitamin E and have lots of great antioxidant benefits. You'll be able to sweeten as desired using your favorite keto sweetener too!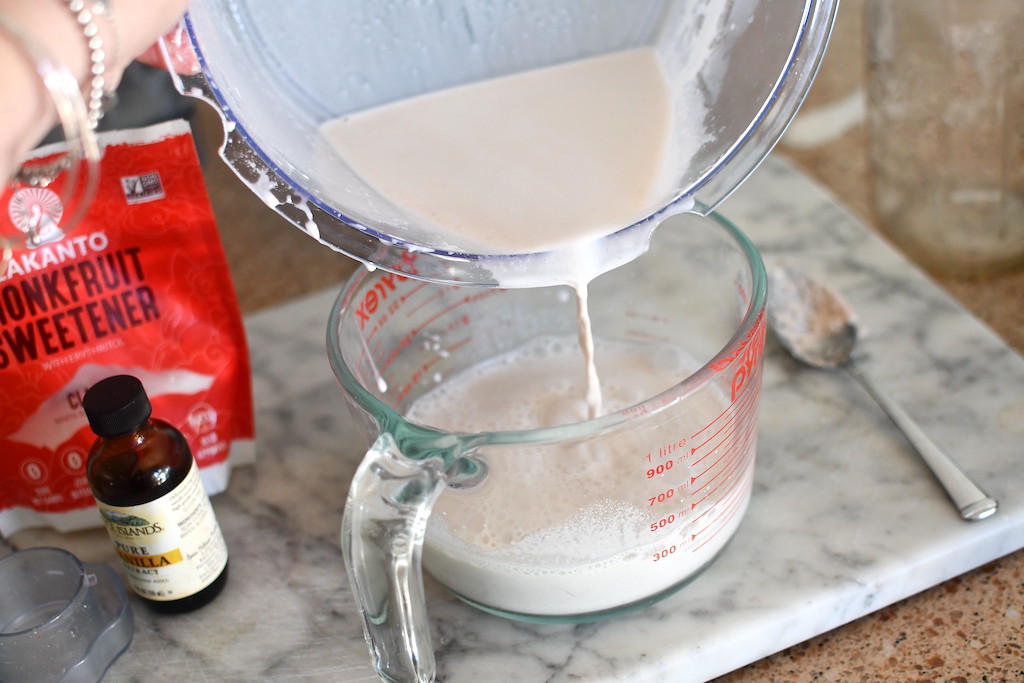 Soaking, blending, and straining the pulp are the three steps involved to make homemade almond milk!
In this process, you'll start by soaking almonds for at least 8 hours up to 2 days in a bowl of water. Then you'll rinse and blend the soaked almonds with water using a high powered blender or food processor. The final step involves straining the pulp in a cheesecloth or nut milk bag.
I actually used my handy Greek yogurt strainer and it worked perfectly because the strainer is made with a very fine mesh, and it's an easy hands-off mess-free method for straining.
The liquid remaining after straining is your yummy creamy dreamy non-dairy drink- yippee!
Tips for how to make the best homemade almond milk:
Adding more or less water will affect the richness and consistency. If you're looking for more of an almond cream consistency, consider only adding 2 cups of water to the blender. Some recipes call for up to 5 cups of water and I thought 3 was a happy medium with a 2% dairy milk type consistency. You can experiment with different water amounts to fit your taste.
After straining, I sweetened mine just a touch using a little granular monk fruit and vanilla extract. Feel free to use your favorite keto-friendly sweetener. I also added a bit of salt, and you can also consider adding a pinch of ground cinnamon! YUM!
Want chocolate almond milk? Consider adding a couple of teaspoons or so of unsweetened cocoa and sweeten with your fave keto sweetener to taste.
What can I do with the leftover almond pulp? You can consider adding it to an ice cube tray and use it for blending in smoothies for added fat and protein. You may be able to bake the pulp in a thin layer on a sheet pan to make almond keto crackers like these!
How long can homemade keto almond milk keep? Since there are no additives, this drink will last about 3-4 days in the fridge in a jar or container with a lid. You could also freeze it in ice cube trays or a silicone muffin pan and keep it for up to 3 months!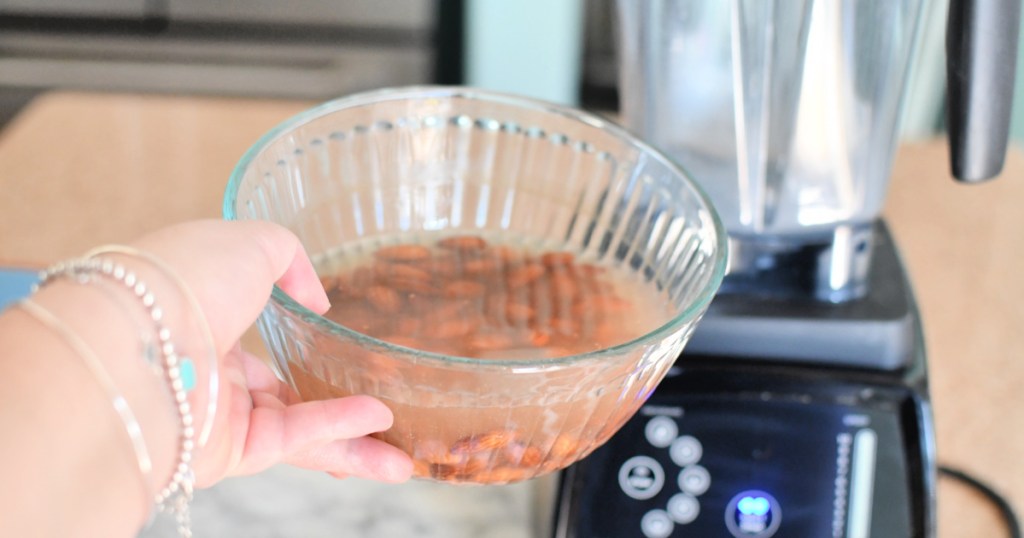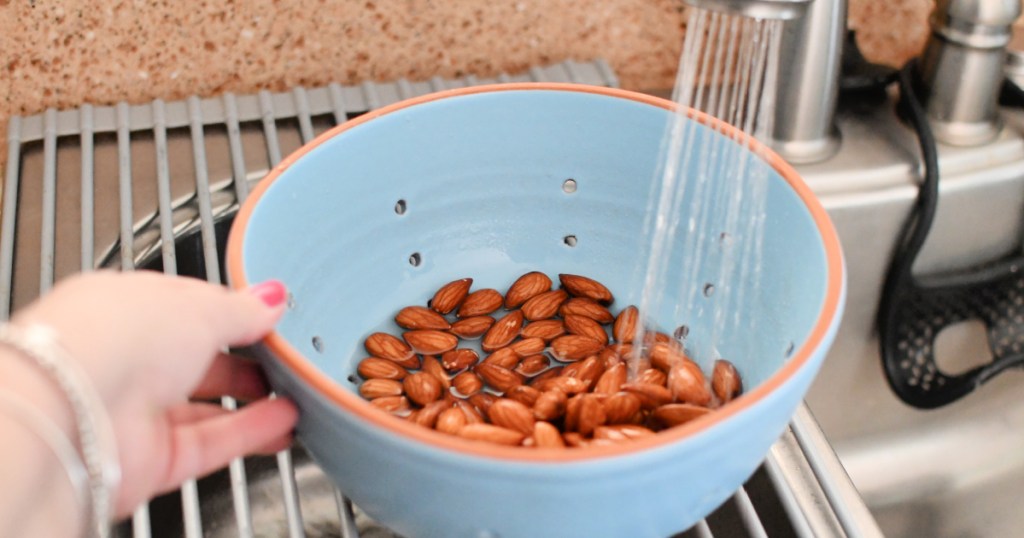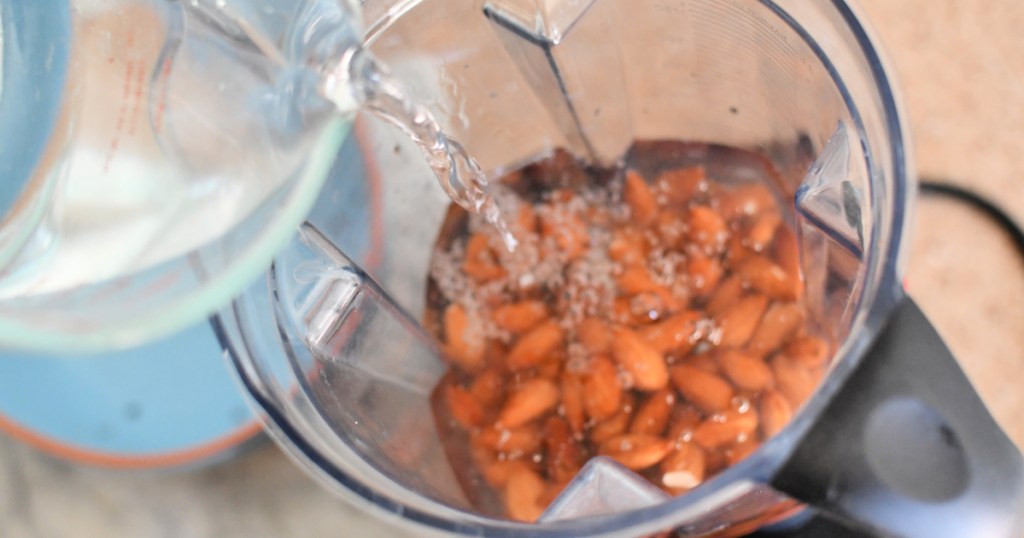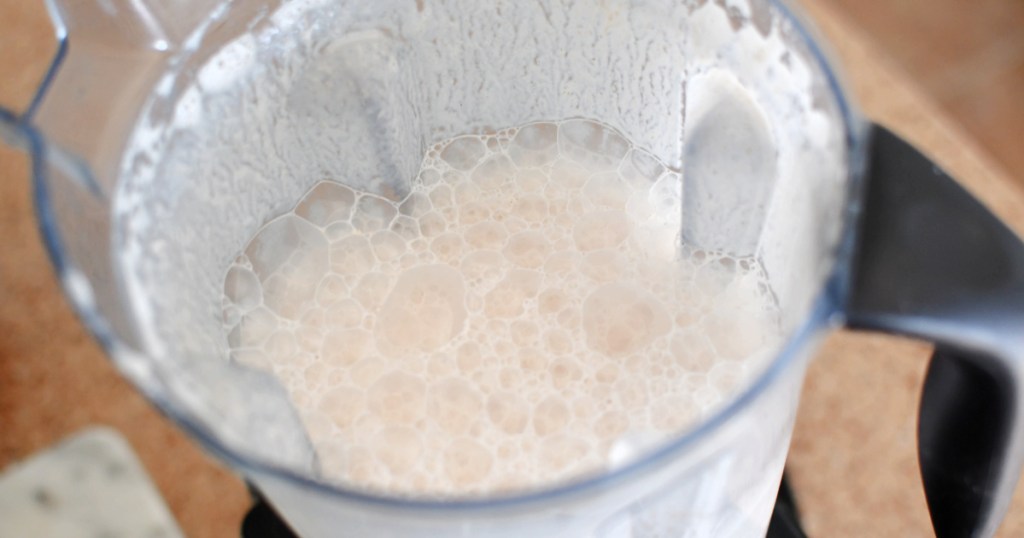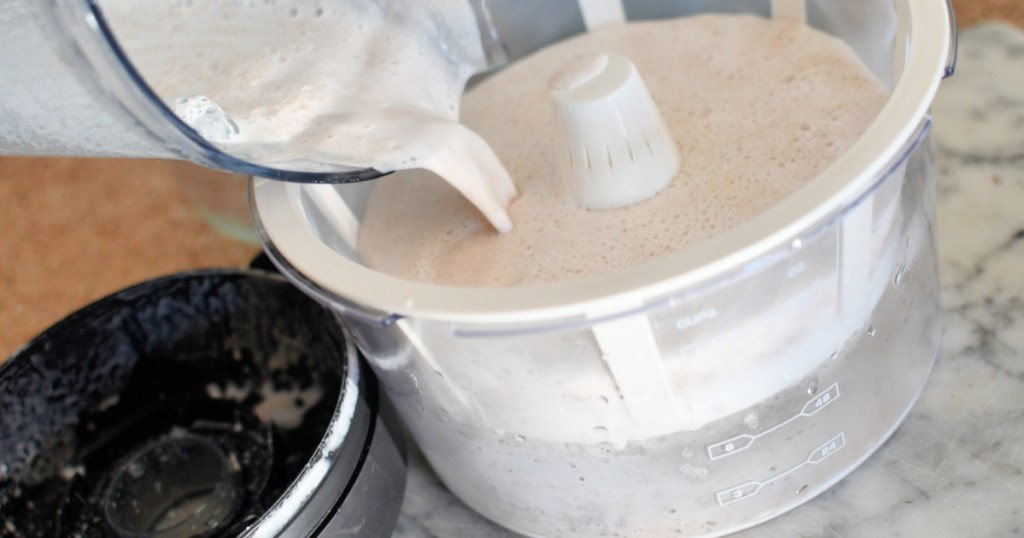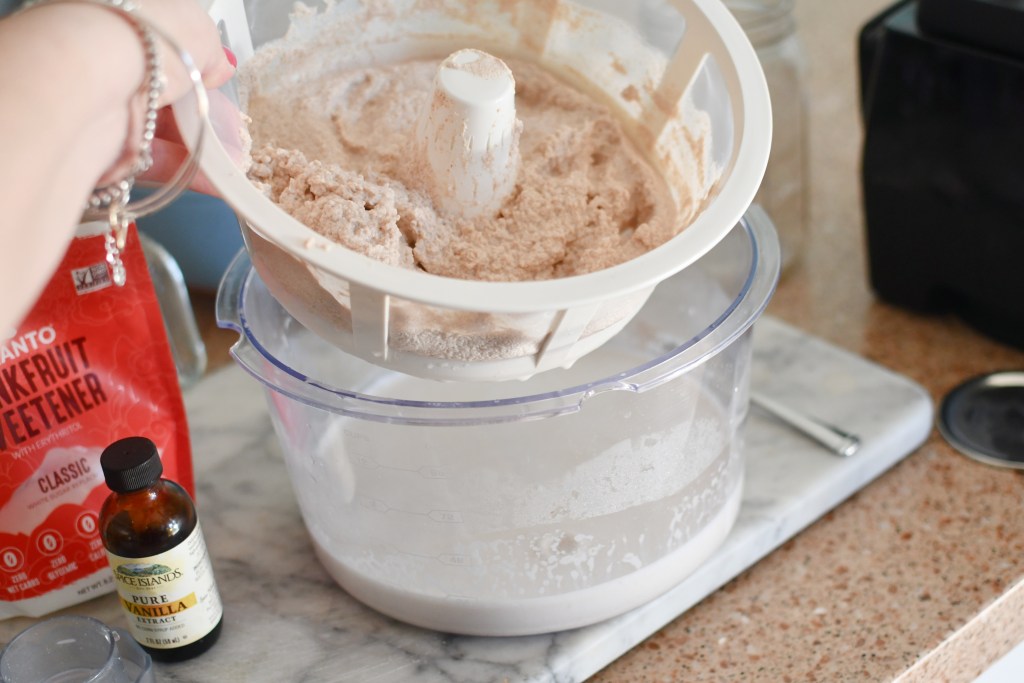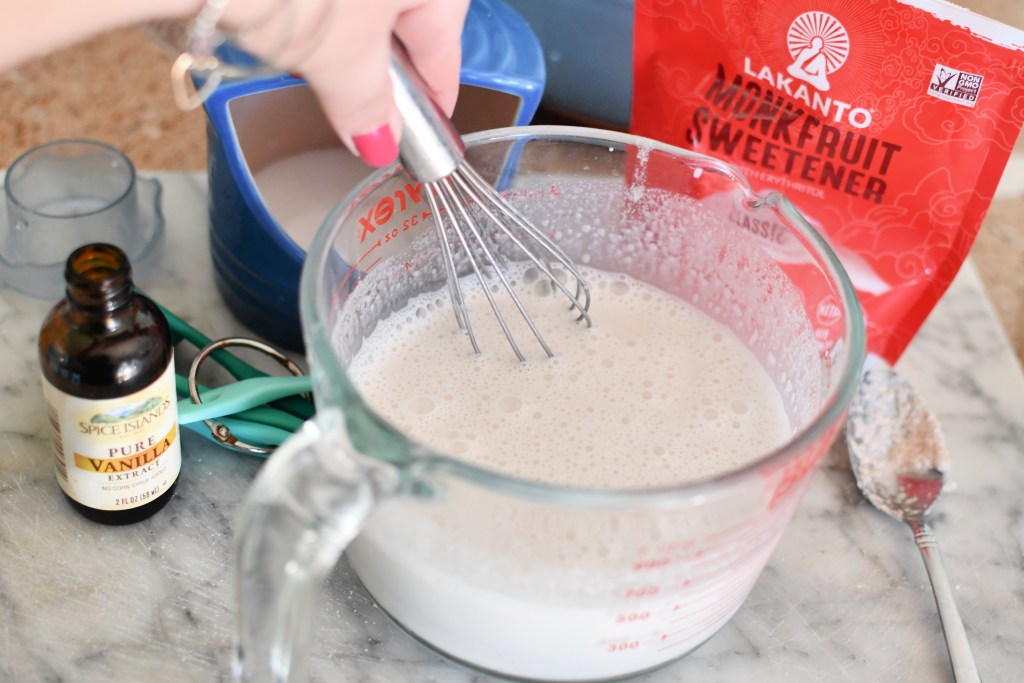 ---
Print
Homemade Keto Almond Milk
yield: 4 SERVINGS
prep time: 15 MINUTES
total time: 15 MINUTES
Creamy, rich almond milk made in the blender! It's easier to make then you'd think and better than store-bought.
Ingredients
3 cups filtered water
pinch of salt
1/4 teaspoon vanilla extract
Directions
1
Add almonds to a large bowl and fill with water, then cover the bowl with a towel. Soak almonds for at least 8 hours up to 2 days on the counter.
2
Use a colander to drain and rinse the almonds. Discard the water from the bowl.
3
Add your soaked almonds and 3 cups of filtered water to the blender. Blend on high for a few minutes until the liquid is smooth and creamy.
4
Pour the almond milk into a fine mesh strainer, cheesecloth, or a nut milk bag that's draped over a bowl to drain all the liquid. I left mine in the strainer for about 5 minutes to drain.
5
Once the almond milk is strained and separated from the pulp, whisk in the sugar substitute, salt, and vanilla extract. You can use more or less of the keto sweetener and salt to taste.
6
Use your finished almond milk immediately as desired or transfer to a jar with a lid and store in the fridge. Shake well each time before using.
Nutrition Information
Yield: About 2 cups, Serving Size: 1/2 cup
Amount Per Serving: 15.3 Calories | 1.2g Fat | 1.2g Total Carbs | 0.0g Fiber | 0.7g Sugar Alcohol | 0.5g Protein | 0.5g Net Carbs
---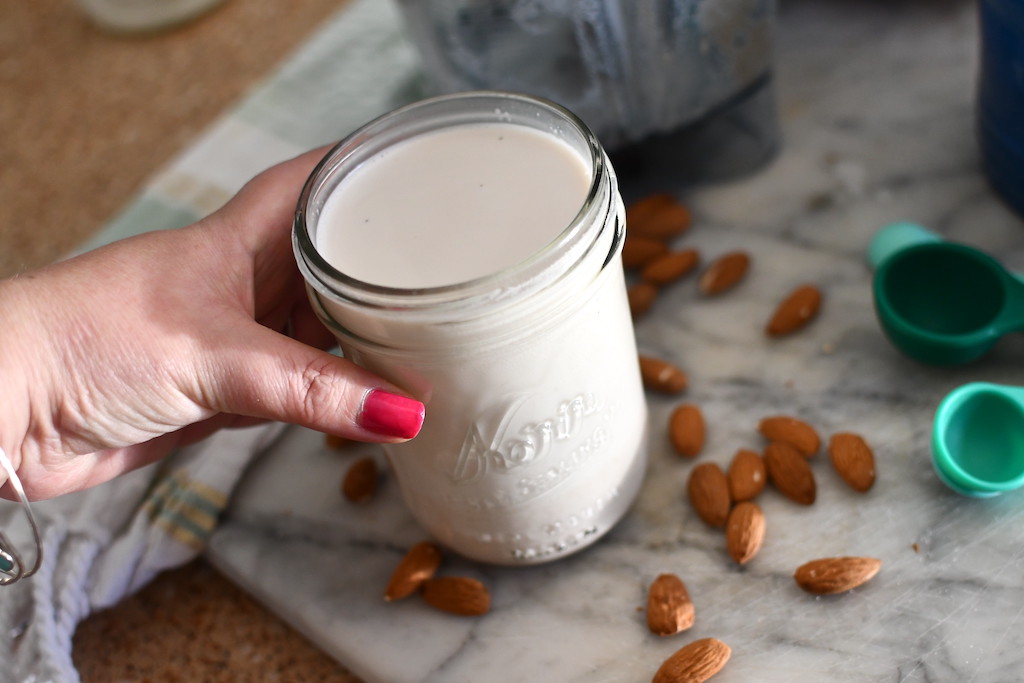 It may seem intimidating but it's WELL WORTH the effort!
I cannot express how much better homemade almond milk tastes than storebought. It's ultra-creamy, perfectly sweetened, and overall a yummy must-try non-dairy experience! I loved that it's not difficult and was so satisfying to make.
When you try this, make sure to come back and let us know your thoughts in the comments. Enjoy!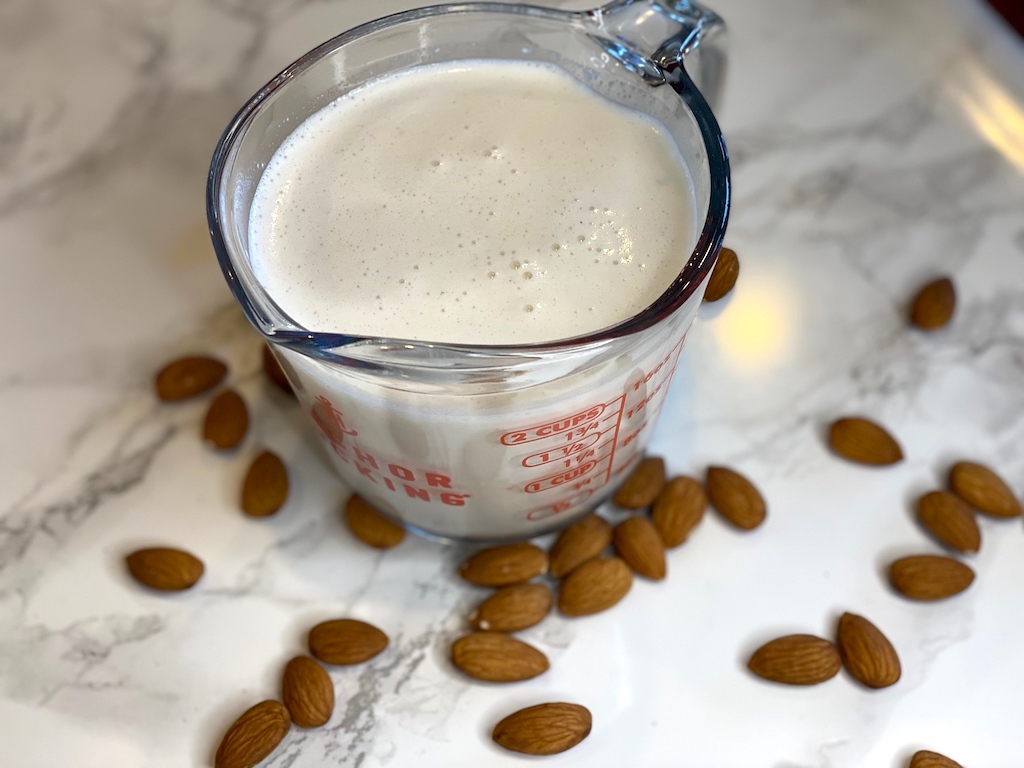 My teammate Taylor made this recipe and check out her thoughts:
"This turned out so yummy and was so much more flavorful than storebought almond milk! The monk fruit and vanilla gave it the perfect touch of sweetness and it was so creamy! I could even taste the almond flavor when I poured some steamed milk into my morning coffee. I will definitely be making a big batch of this to keep in my fridge!"
---