This 3-Ingredient Keto Ice Cream Recipe is the Easiest Dessert Ever!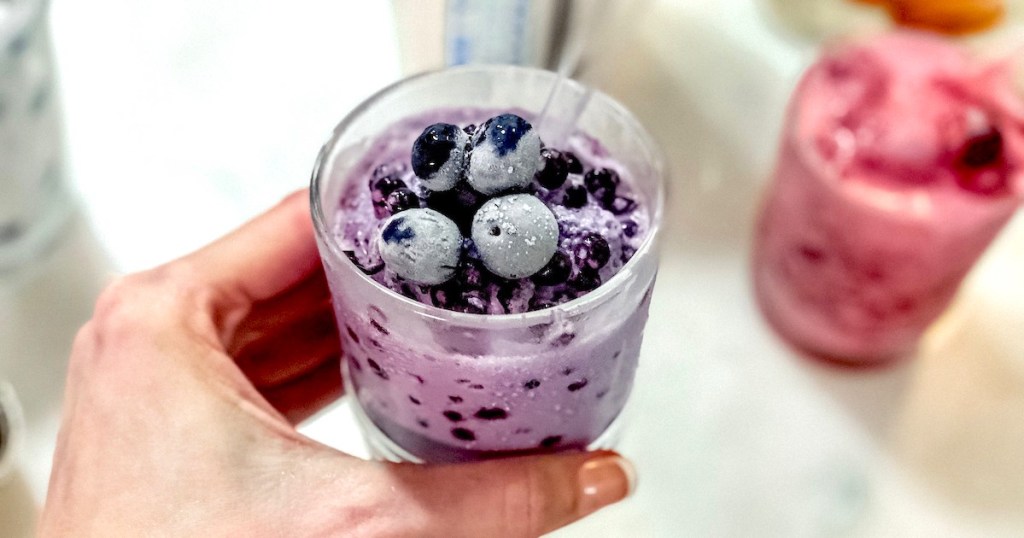 Easy keto dessert for the win!
This keto 3-ingredient berry ice cream can be whipped up in a matter of minutes with components you may already have on hand! So if you're needing a last-minute refreshing and sweet keto dessert to satisfy your sweet tooth, you're going to love this quick and easy keto ice cream idea.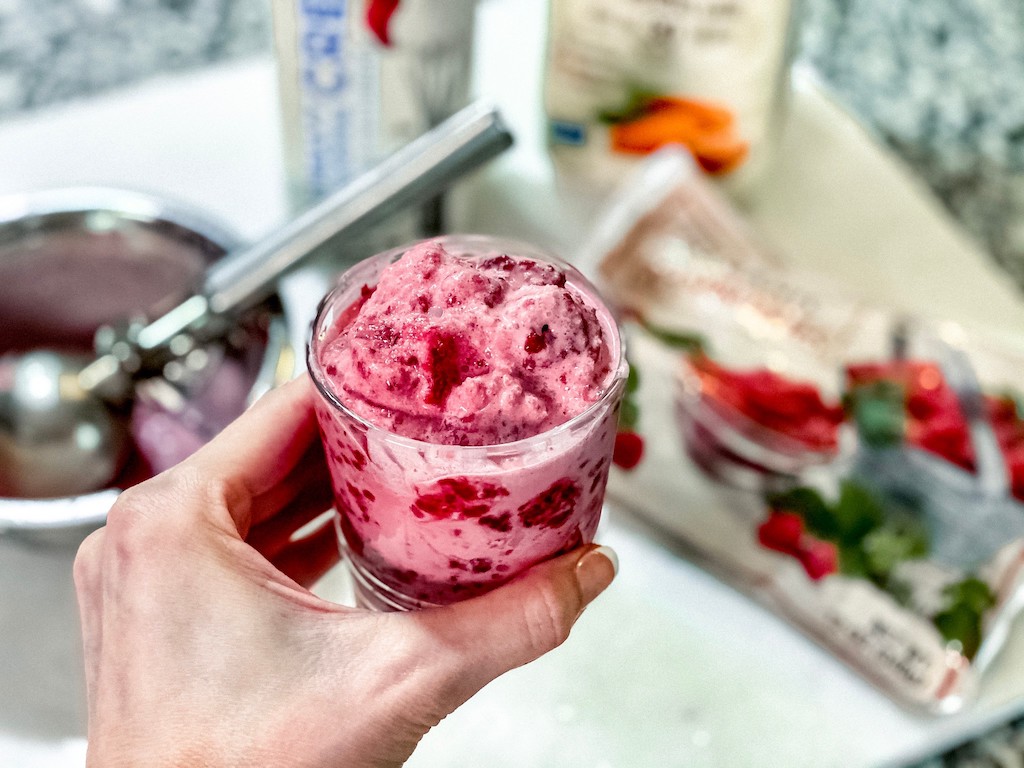 Recently, we saw this delicious ice cream idea over on the @traderjoeslist Instagram page where she used some frozen blueberries to whip up the sweet dessert. And the best part, only 3 simple ingredients were required, so we knew we had to give this refreshing summer treat a try, and of course, make it keto! 🙌
---
Are you a visual learner? This 3-ingredient keto ice cream recipe is SO easy to make that we even created a YouTube video:
---
Here are a few recipe tips to keep in mind when making this 3-ingredient keto ice cream:

Store-bought frozen berries are perfect for this recipe, however, when berries are in season, you could also pick some delicious fresh berries and freeze them prior to making this recipe.
I had delicious results with unsweetened almond milk mixed with heavy cream. However, if you want a smoother consistency, use all heavy cream instead. For a less heavy and rich ice cream, go with all almond milk.
You can try this recipe with many different frozen berries that mash up easily. I tried it with blueberries and raspberries, but strawberries and blackberries could be another option.
I found I needed to add less almond milk/heavy cream with the raspberries. You may want to start with a little less than the recipe below calls for when testing out different berry varieties.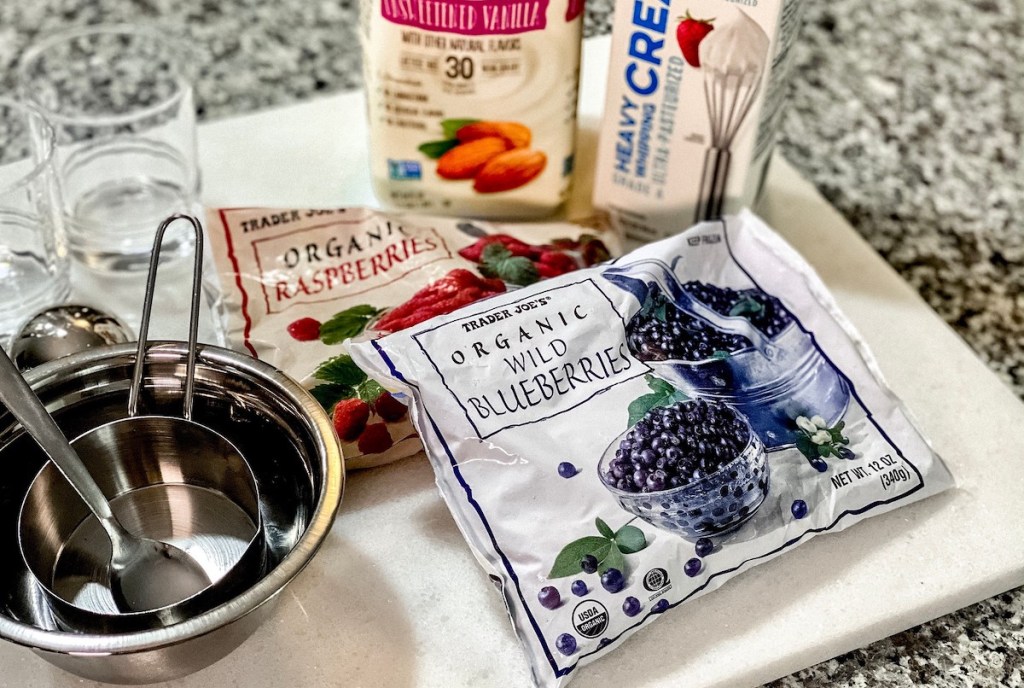 Making the recipe is incredibly simple. All you need are your favorite frozen berries, milk of your choice, and a little time to mix it together!
We tried this recipe out with blueberries and raspberries and loved the results with almond milk, although, you can get an even creamier consistency with some heavy cream. SO YUMMY!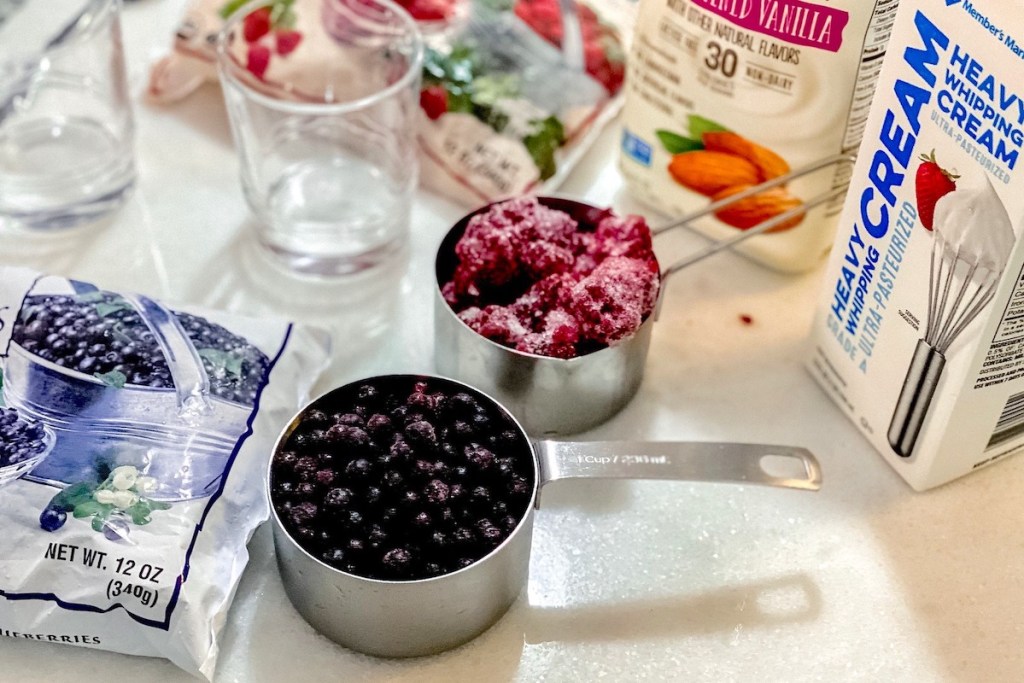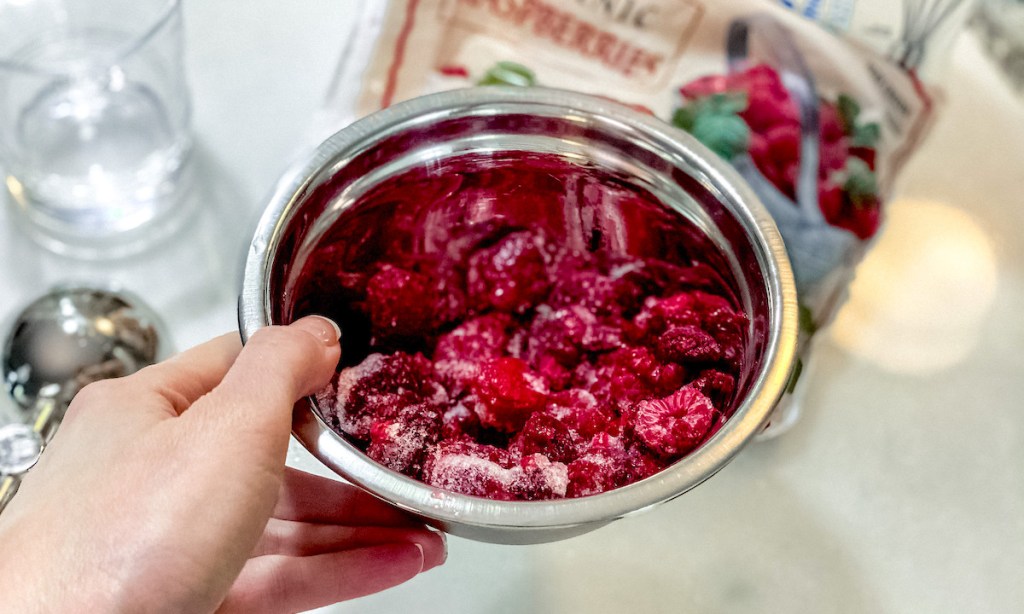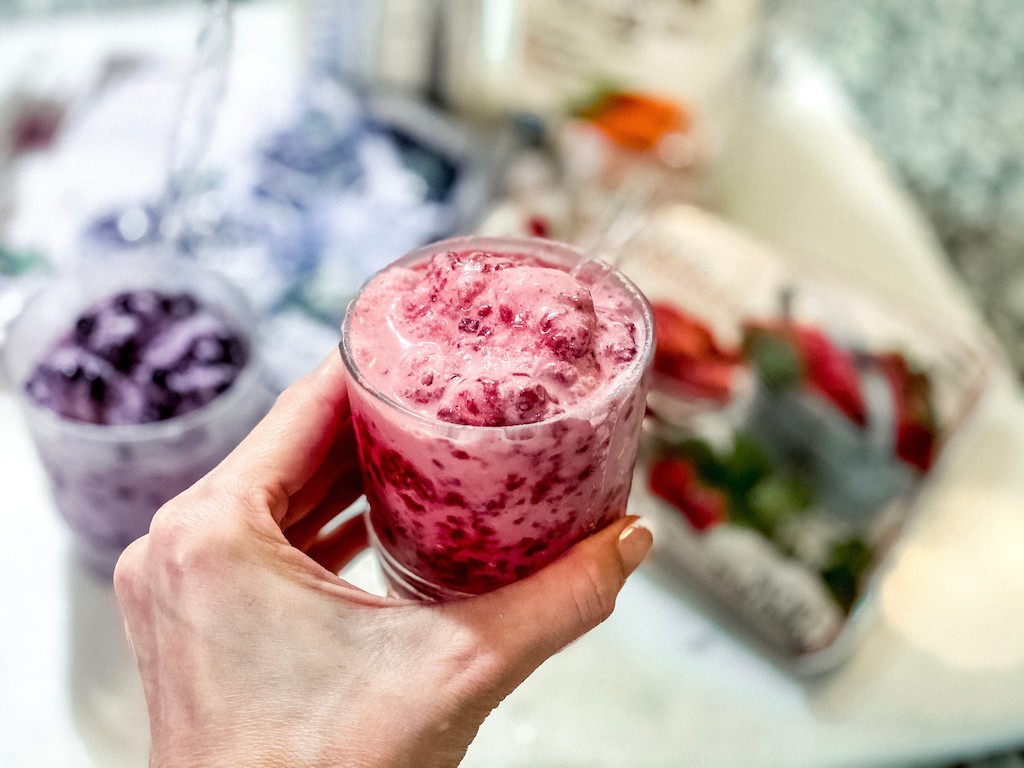 ---
Print
Keto Berry Ice Cream
yield: 2 SERVINGS
prep time: 3 MINUTES
total time: 3 MINUTES
A delicious & creamy fruity treat that requires only 3 simple ingredients.
Ingredients
1 cup frozen berries (blueberry or raspberry works best)
1/4 cup unsweetened vanilla almond milk
1/4 cup heavy cream
1 tsp or more keto sweetener (optional)
Directions
1
Add frozen blueberries or raspberries (or any other frozen berries of choice) into a bowl or a large cup.
2
Pour in the almond milk, heavy cream, and keto sweetener (if desired) and stir. Let sit for one minute.
3
Stir again until you get an ice cream consistency. Divide into two cups and enjoy!
Additional Notes
---
NUTRITIONAL INFORMATION
---
Raspberry Ice Cream
Yield: 2, Serving Size: 1/2 cup
Amount Per Serving: Calories: 139, Total Carbohydrates: 9g, Fiber: 5g, Net Carbohydrates: 4g, Total Fat: 11g, Protein: 1g
---
Blueberry Ice Cream
Yield: 2, Serving Size: 1/2 cup
Amount Per Serving: Calories: 139, Total Carbohydrates: 9g, Fiber: 2g, Net Carbohydrates: 7g, Total Fat: 11g, Protein: 1g
---
Yum! 3 ingredient keto berry ice cream is a must-try this summer!
Whether you're beating the summer heat or you just need a sweet tooth fix, this easy and quick keto dessert idea will curb anyone's appetite. Plus, it's even kid-approved which is always a win! 🙌
---