Keto Whipped Dalgona Coffee (Must-Try Viral Coffee Drink!)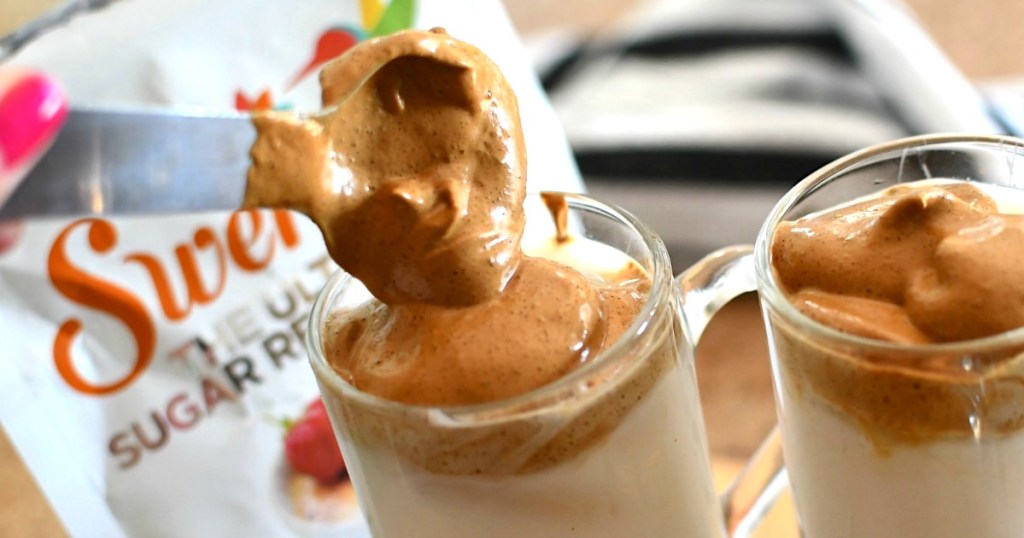 Don't miss out on the latest whipped coffee crazy because it's easy to make keto!
Just in case you haven't heard of Dalgona coffee, it's a rich coffee drink of South Korean and Indian origins that's made by whipping equal amounts of instant coffee, sugar, and hot water. Most recently Dalgona coffee has become a viral sensation online thanks to TikTok and everyone staying home making coffee drinks.
I wrote about this popular coffee drink on our sister site, Hip2Save, as my now older kids enjoy making it with decaf instant coffee as a fun activity to do while staying at home.
Great news – it's actually very simple to make Dalgona coffee keto-friendly!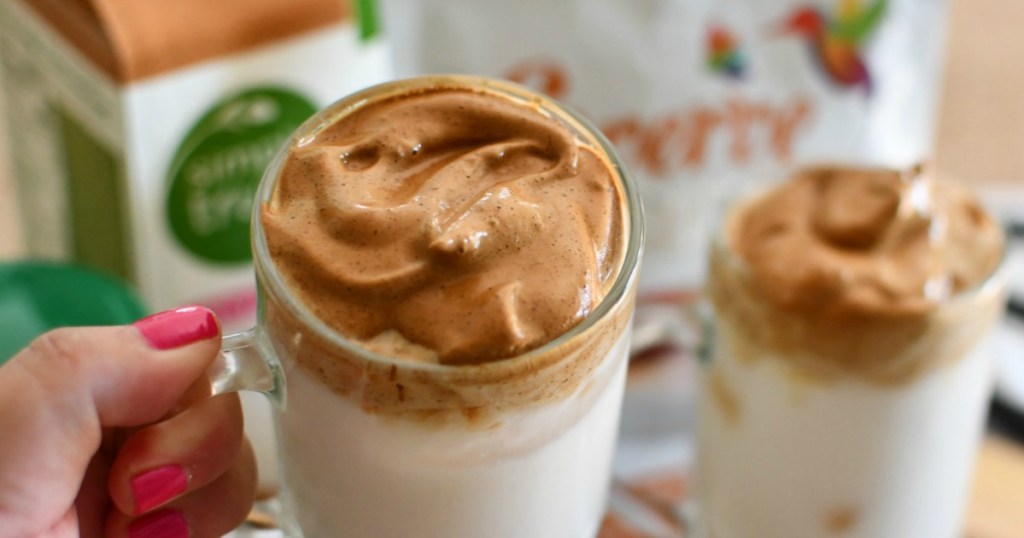 With a couple of keto ingredient swaps, you'll be on your way to whipping up some keto Dalgona coffee, too! The result is a super creamy and rich iced coffee drink you'll be able to enjoy at home that tastes just like it came from a coffee shop.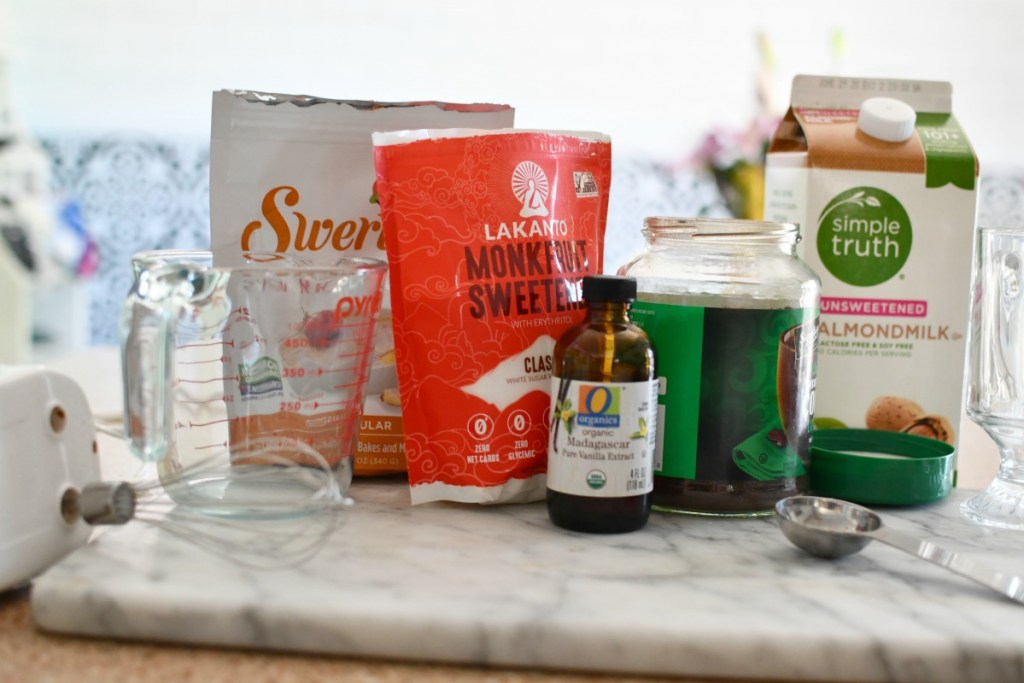 Dalgona coffee traditionally uses granulated sugar. As a helpful keto swap, I suggest using a keto-friendly granulated sugar substitute. I tried making this easy whipped coffee using Swerve granular and Lakanto monk fruit sweetener. Both work wonderfully and tasted equally as great!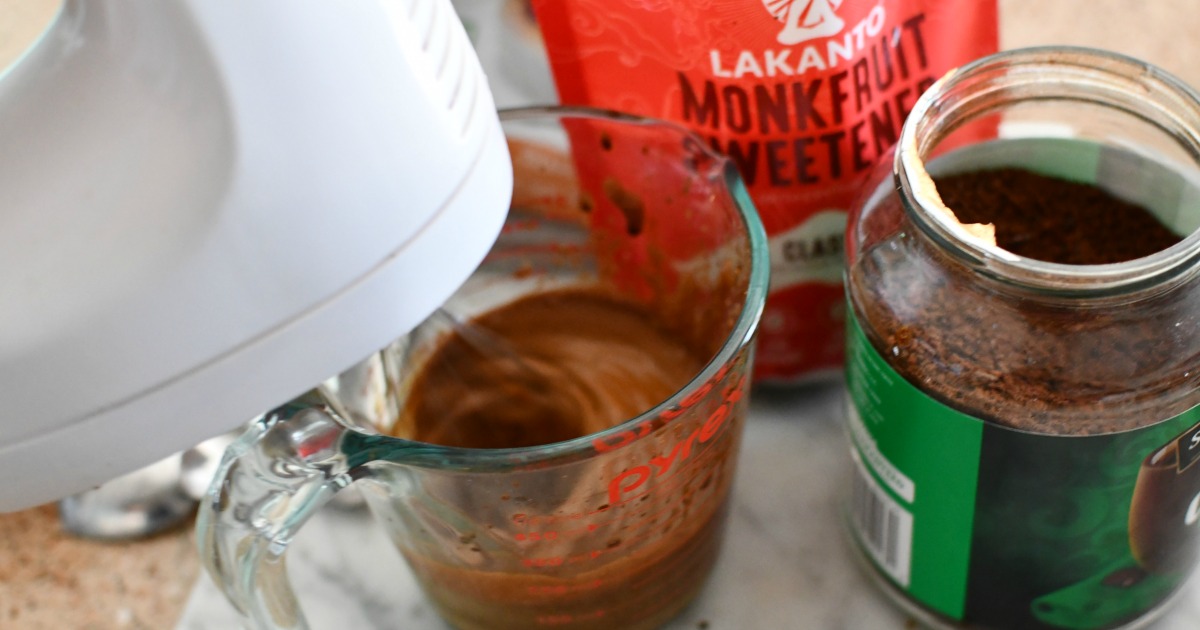 Recipe Tips for Making the Best Keto Whipped Dalgona Coffee:
You can make this idea using a coffee frother, but to really get the whipped look, I recommend using an electric hand mixer with the whisk attachment. You'll get those beautiful whipped peaks!
Pick a keto-friendly milk to pair with the whipped topping. I enjoy unsweetened almond milk, and personally loved the results when paired with this keto Dalgona coffee. Some other options could be using unsweetened coconut milk or heavy cream. You could also use half heavy cream and half water to make it less thick.
This makes for a very strong coffee drink. I personally like to use only half of the whipped coffee mixture and make two drinks out of it, so it's less strong. This will obviously be a personal preference.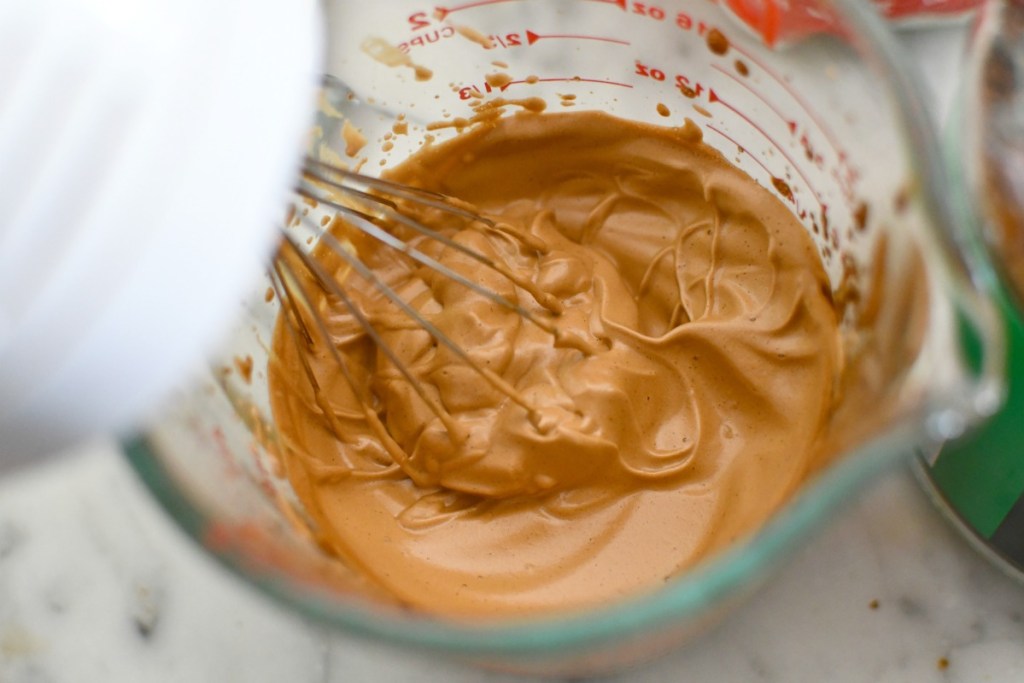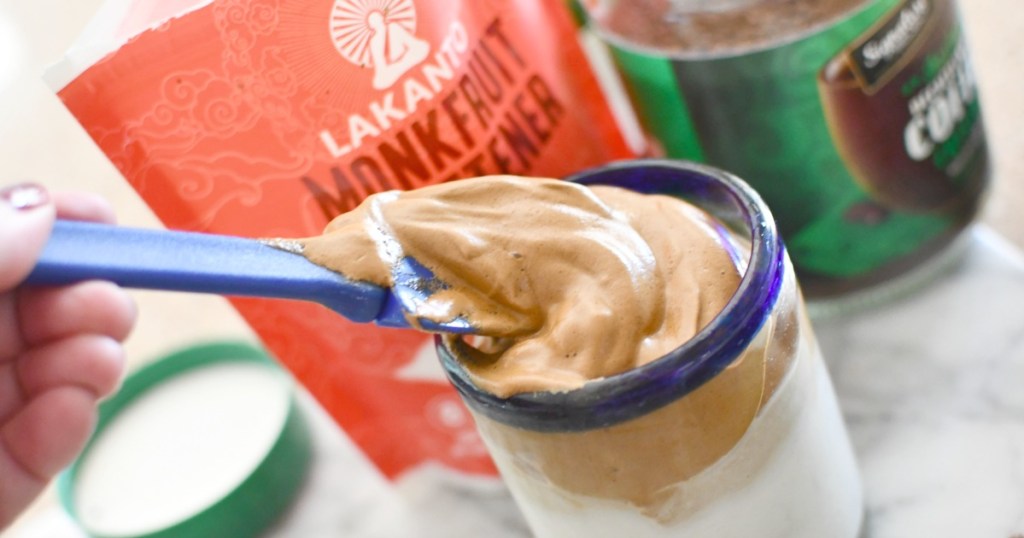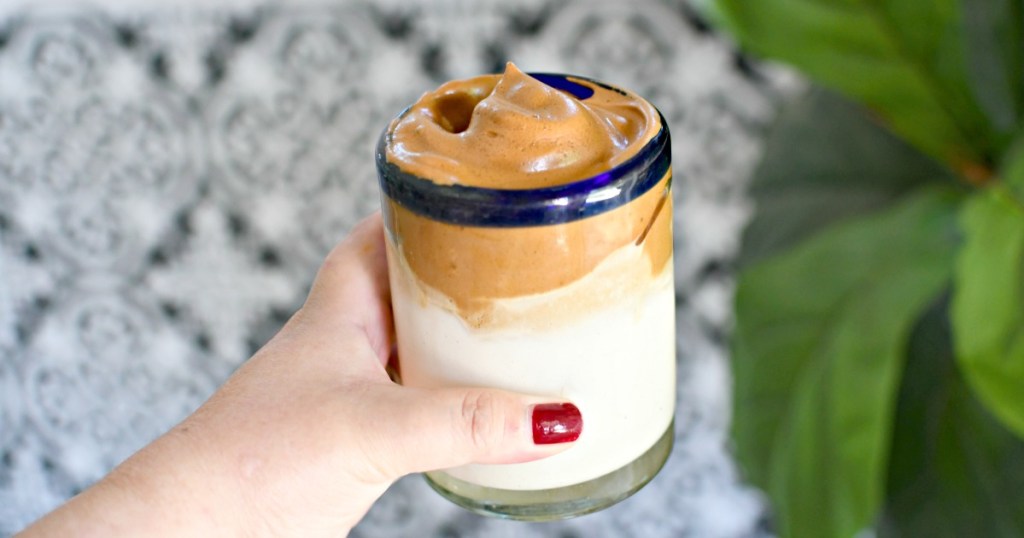 ---
Print
Keto Whipped Coffee (Dalgona Coffee)
yield: 1 SERVINGS
prep time: 5 MINUTES
total time: 5 MINUTES
Instant coffee gets whipped with a keto-friendly sugar substitute and hot water, then poured over iced almond milk as a delicious creamy drink!
Ingredients
2 tablespoons instant coffee
2 tablespoons hot water
1/4 teaspoon vanilla extract (optional, yet yummy)
1 cup unsweetened almond milk or choice of keto-friendly milk
Directions
1
Combine instant coffee, sugar substitute, hot water, and vanilla in a small bowl. Use a mixer with a whisk attachment to whip the mixture for a minute or two until it becomes thickened and light in color.
2
Pour ice and almond milk into a cup, and top with the whipped coffee mixture. Mix it in with a spoon, and enjoy!
Additional Notes
I based nutritional values on using both Swerve granular and Simple Truth brand unsweetened almond milk.
---
Also, don't be alarmed by the high total carb count. Erythritol (the main ingredient in Swerve) does not affect blood sugar in the same way that regular carbs do, so we've subtracted them from the total carb count. You'll see that the net carbs are much lower once you remove the sugar alcohols.
Nutrition Information
Yield: 1 cup plus whipped coffee, Serving Size: 1 cup
Amount Per Serving: 34 Calories | 3g Fat | 26g Total Carbs | 1g Fiber | 24g Sugar Alcohol | 1g Protein | 1g Net Carbs
---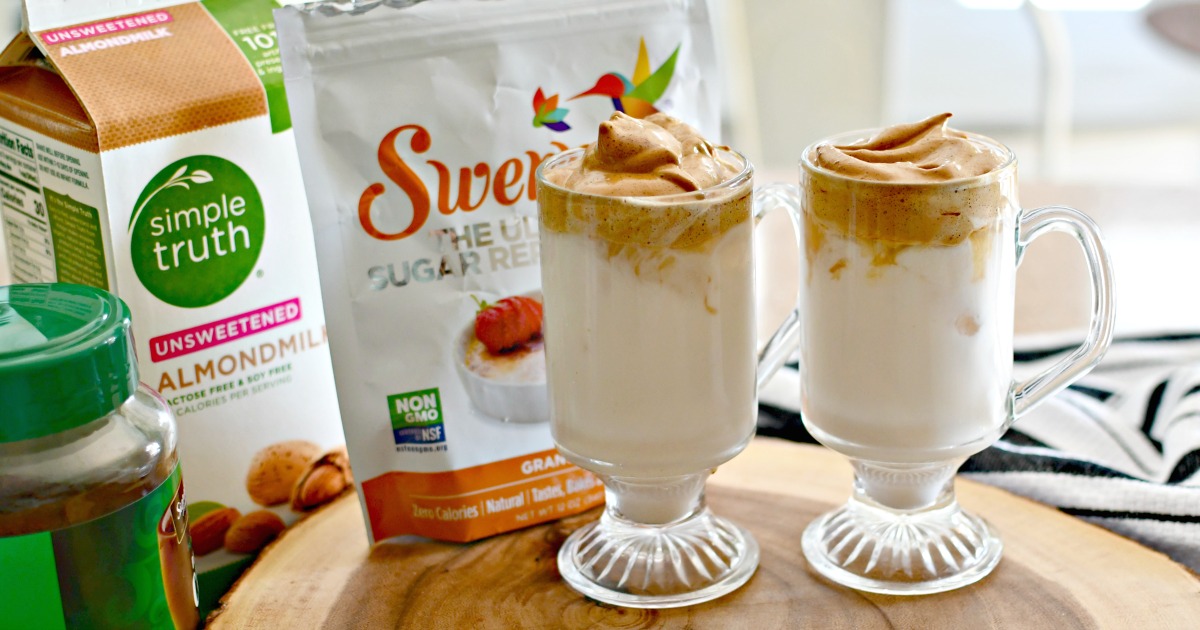 Yum! I loved how this whipped keto Dalgona coffee turned out!
It has this wonderful frothy coffee texture once mixed together with the almond milk, and the taste is strong yet sweet at the same time. I love that it's such an easy and delicious drink to make at home!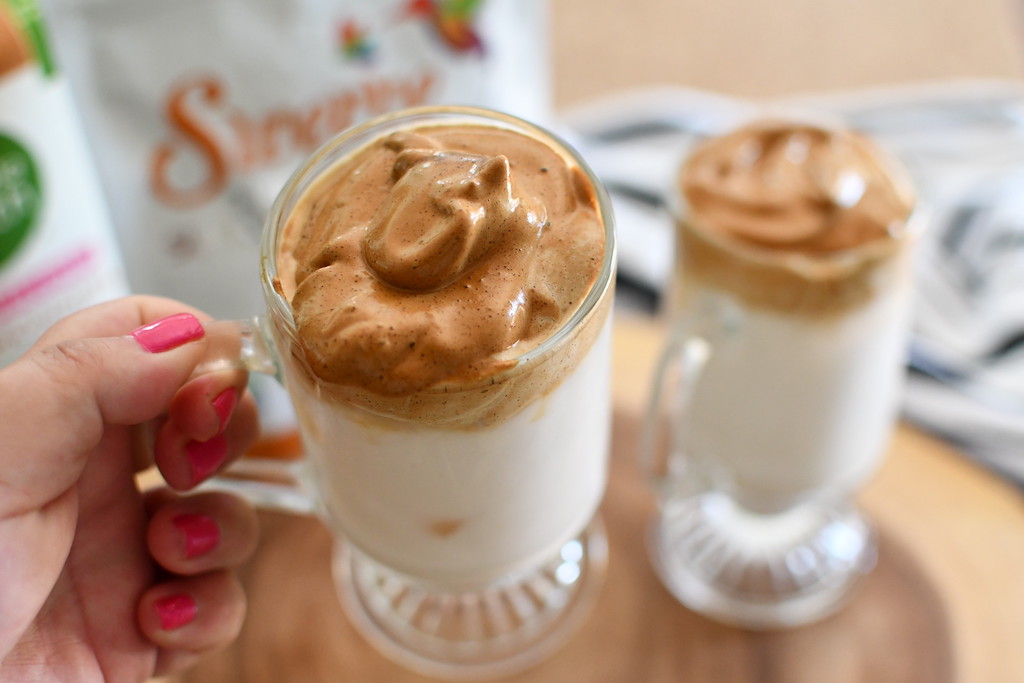 If you love iced coffee, try this out and let us know what you think. Cheers!
---
Here's how to make a keto frappuccino just like the Starbuck's version!