Here's How to Cook the Best Spaghetti Squash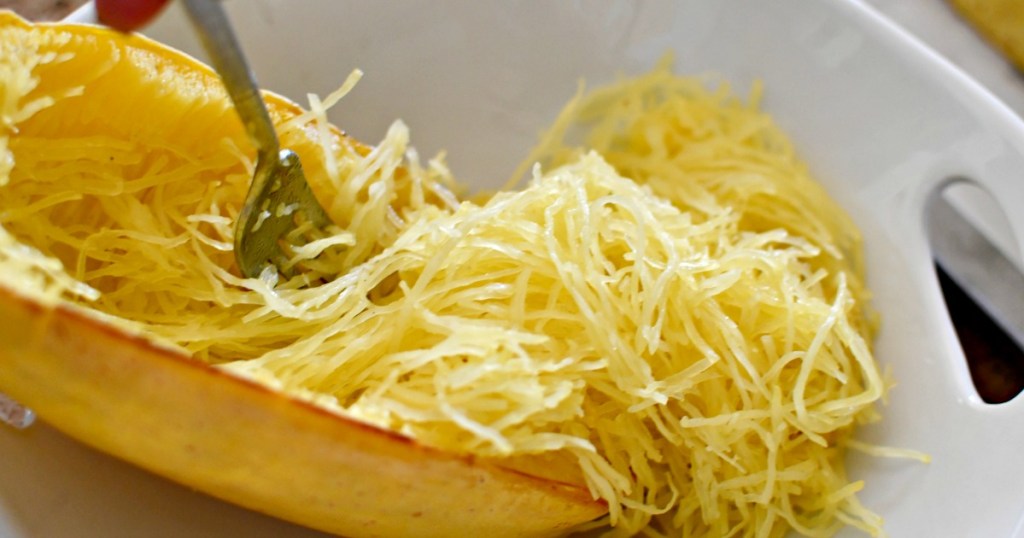 Looking for tips on preparing spaghetti squash?
This unique veggie, well it's technically a fruit, is one of my very favorite keto-friendly foods! Don't be intimidated by this squash's size and shape, because it's EASY to cook and is a great sub when you're craving high-carb pasta! After it's baked, spaghetti squash becomes tender and you end up with these yummy strands that look a little similar to spaghetti.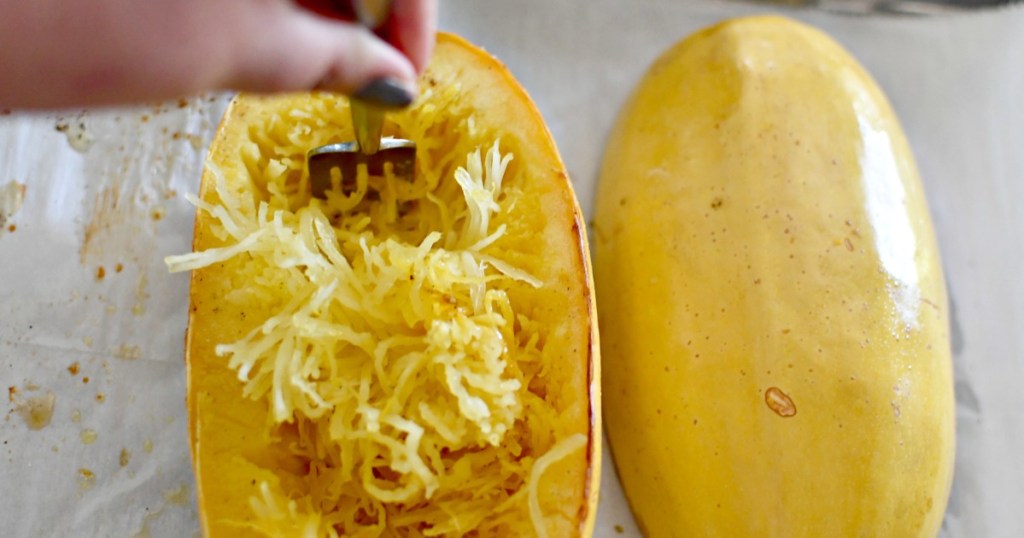 Today I'm sharing how to make the BEST spaghetti squash, and yep – it's so SIMPLE to do in the oven that you'll want to start making it all the time!
Once roasted, the taste and texture is insanely delicious with just a little butter, or dressed up with parmesan cheese like in this cheesy twice-baked spaghetti squash recipe I LOVE. Or sprinkle with Collin's fave cheese – Pecorino Romano!
Why spaghetti squash?
It's a great tasting winter squash that has some healthy benefits such as lots of fiber, vitamin C, and beta-carotene. Spaghetti squash is super satisfying and can be an excellent stand-in for pasta in low carb and keto recipes and pairs well with so many types of flavors and sauces. You can even make a comforting Italian sausage spaghetti squash casserole!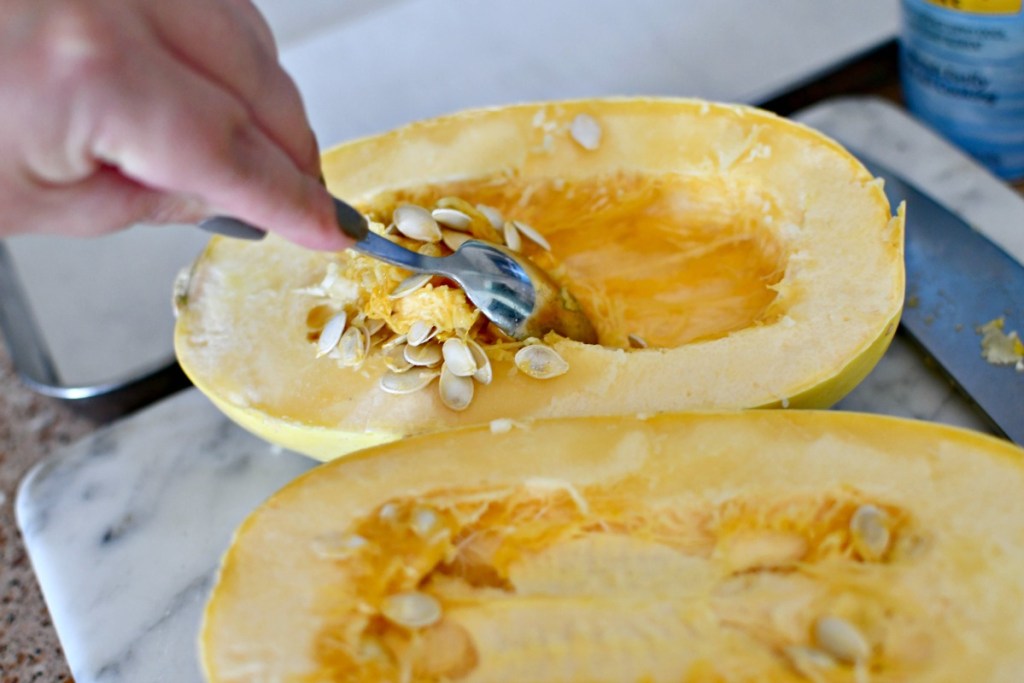 Hip Tips:
Don't forget to scoop out the seeds in the middle first. I find that a serrated grapefruit spoon easily scoops out the seeds quickly.
Use good quality extra virgin olive oil! Make sure to coat the squash before roasting with olive oil because it will give it the BEST golden texture and taste.
Place spaghetti squash halves on a baking sheet facing down. This will help the moisture move out and the edges will caramelize for mouth-watering texture.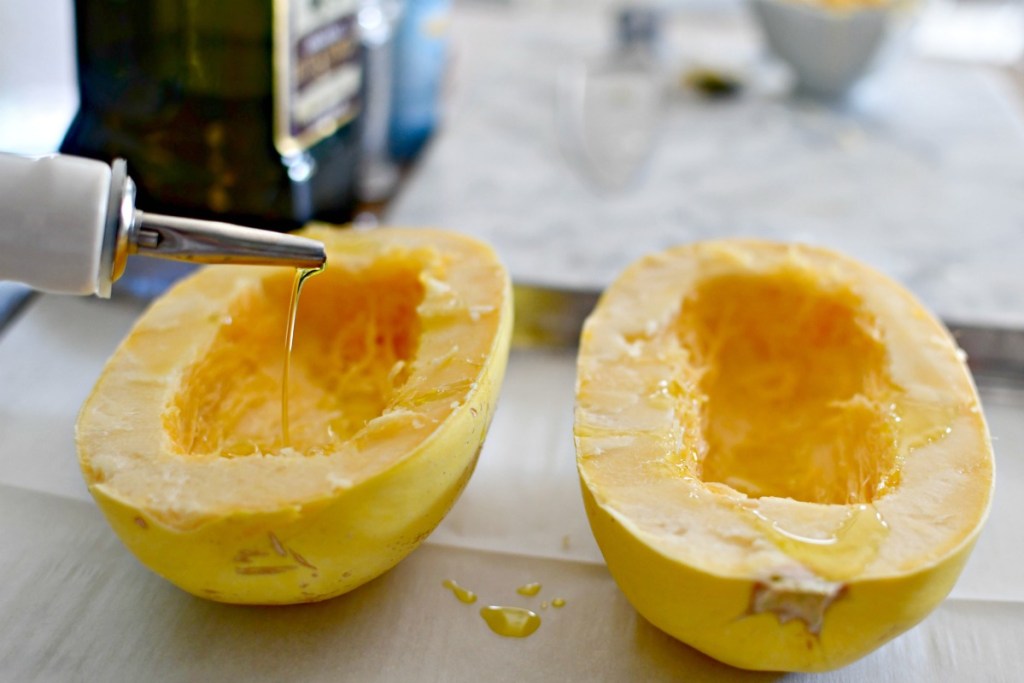 ---
Print
Roasted Spaghetti Squash in the Oven
yield: 6 SERVINGS
prep time: 10 MINUTES
cook time: 35 MINUTES
total time: 45 MINUTES
Here's how to cut and bake a spaghetti squash that'll yield lots of tender strands of heaven!
Ingredients
1 spaghetti squash (about 2 lbs.)
1 tablespoon olive oil
1/8 teaspoon of salt
pinch of ground black pepper
Directions
1
Preheat the oven to 400 degrees. Line a baking sheet with parchment paper for easy clean up.
2
Slice the spaghetti squash in half lengthwise. Scoop out the seeds in the middle.
3
Coat the inside of both halves with olive oil, salt & pepper. Place the halves, facing down, onto the baking sheet pan.
4
Bake in the oven for about 35-45 minutes until golden brown and fork-tender. If the strands release easily from the skin, it's ready!
5
Shred it! You'll be able to use a fork and scrape the strands from the inside. Fluff and serve with butter or parmesan cheese as desired.
Nutrition Information
Yield: 6 servings, Serving Size: about 3/4 cup
Amount Per Serving: 61 Calories | 3g Fat | 9g Total Carbs | 2g Fiber | 1g Protein | 7g Net Carbs
---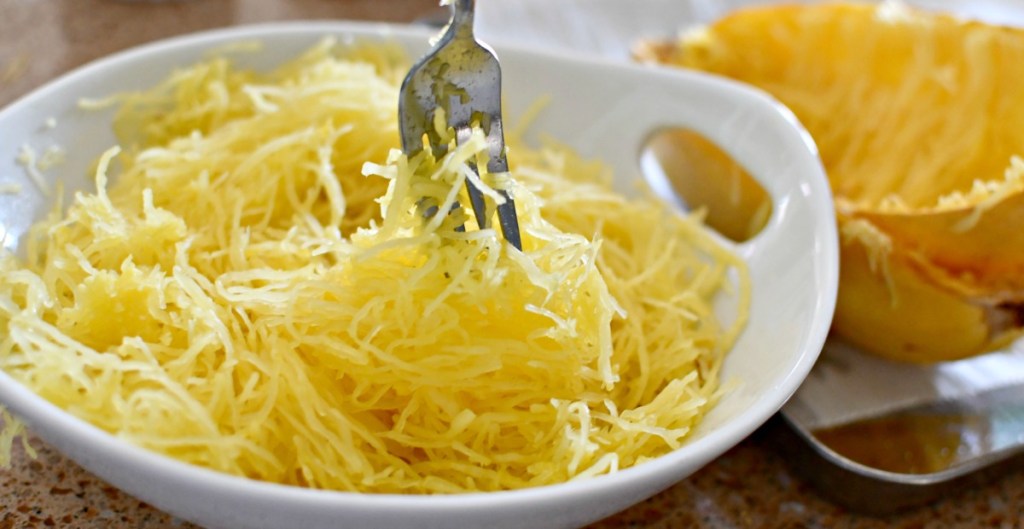 Roasting spaghetti squash in the oven WINS!
I've personally tried cooking spaghetti squash using microwave instructions and in the instant pot, and those methods didn't replicate the same crave-able flavor from roasting and caramelization using olive oil. To me, it's worth taking the time to bake it!
I like mixing in a little butter and grated parmesan cheese on my spaghetti squash- SO DARN GOOD!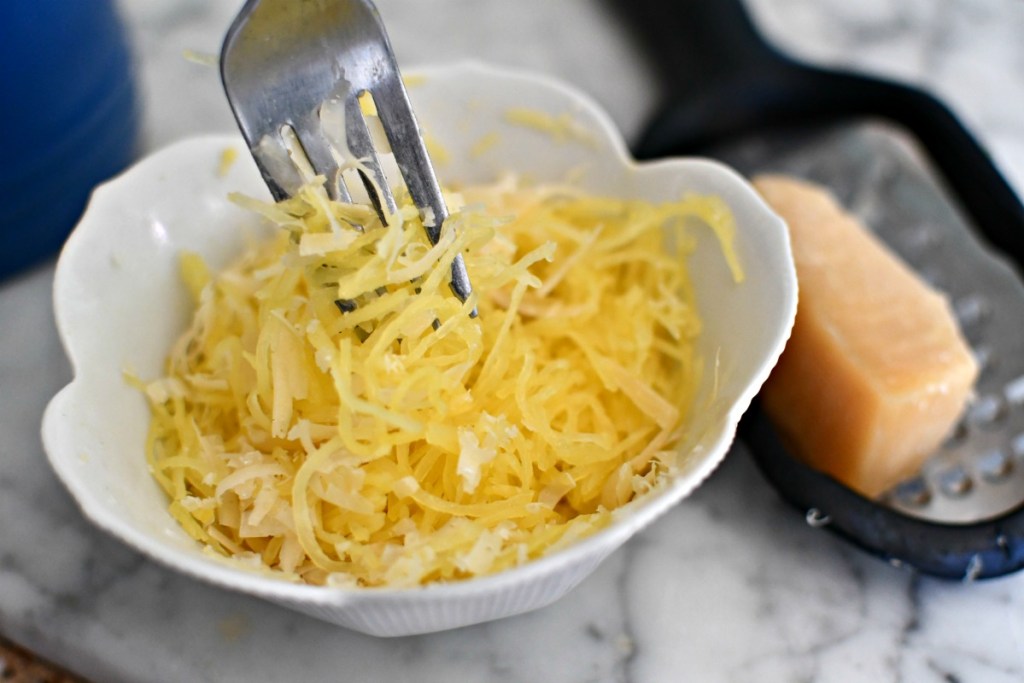 If you're already a spaghetti squash fan, what's your favorite way to enjoy it?
---
Make some incredible keto meatballs and sauce to go on top of your spaghetti squash!