Keto Stuffed Lasagna Bell Pepper Boats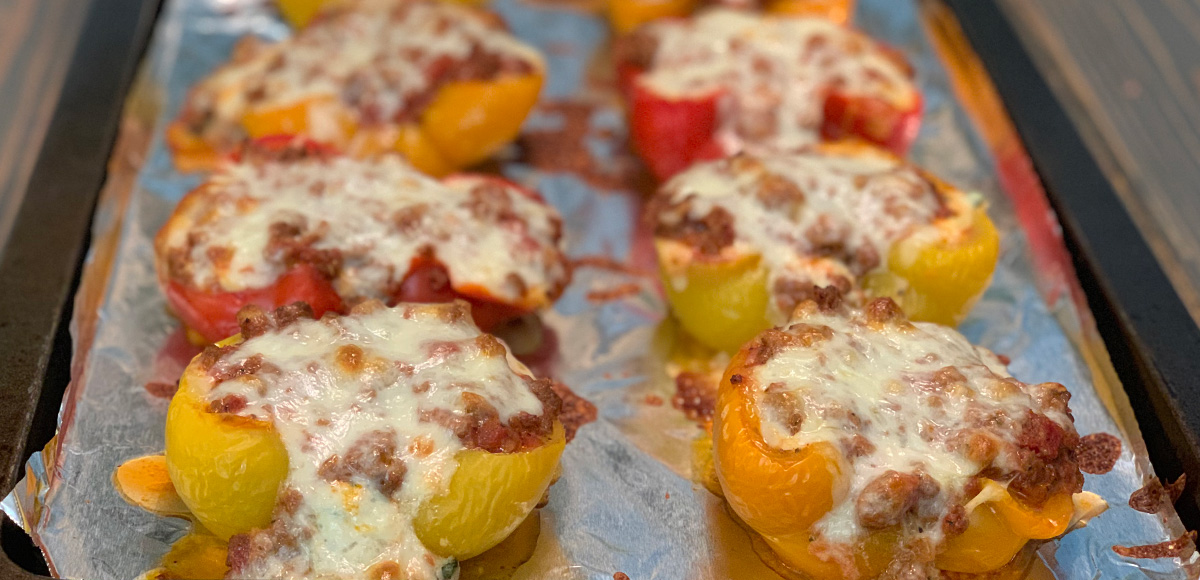 Keto lasagna pepper boats that are so satisfying, you'll never miss the noodles!
If you're looking for a dinner idea all will love, this is it! Three different kinds of cheese mingled with a hearty meat sauce make these stuffed low-carb keto lasagna bell pepper boats a heavenly combination. And the sweetness of the pepper balances the depth of the flavors within.
Parboiling the peppers beforehand really helps to soften the pepper, making it easy to cut into, and expose all those luscious layers.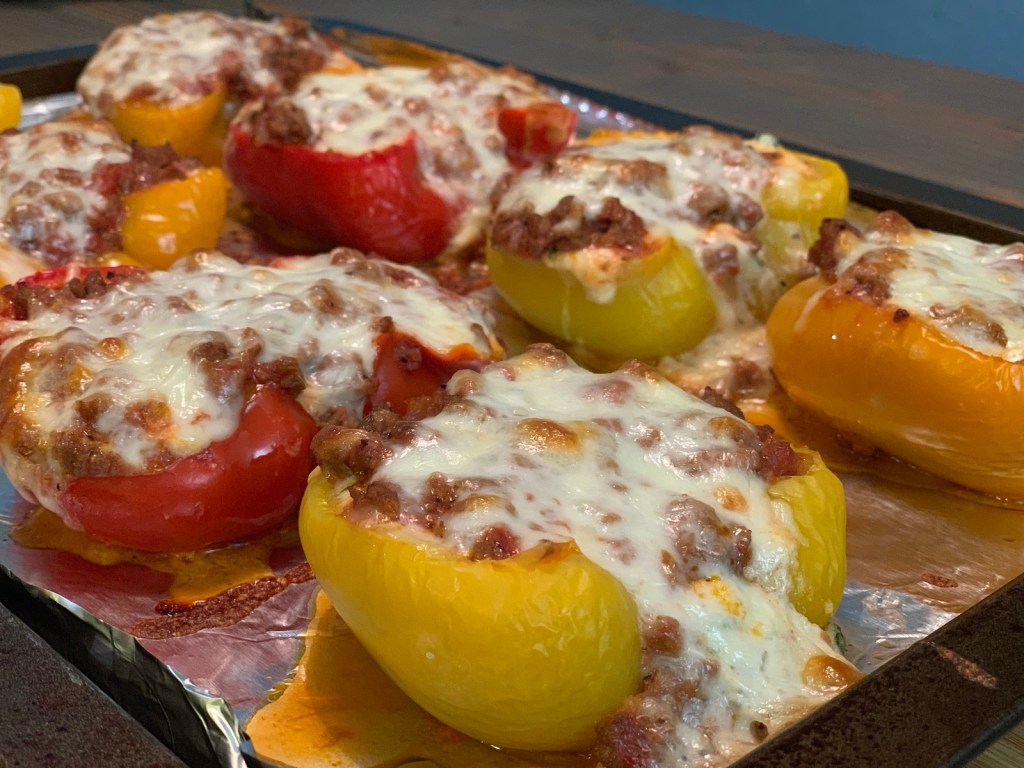 Dress up dinner time with these pretty keto stuffed peppers.
Vibrant, multi-colored stuffed peppers are quite lovely, which makes these low-carb lasagna pepper boats a great option if you're entertaining. It's very easy to double the recipe. For my family of five, I double up because we love the leftovers. My husband eats these peppers cold, straight out of the fridge!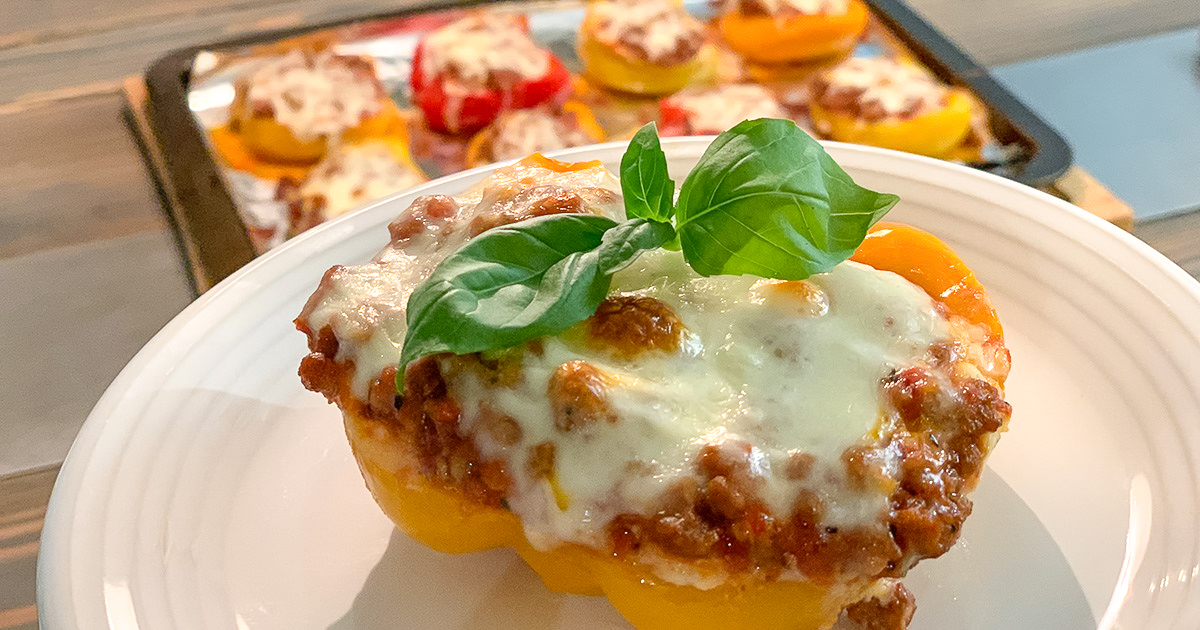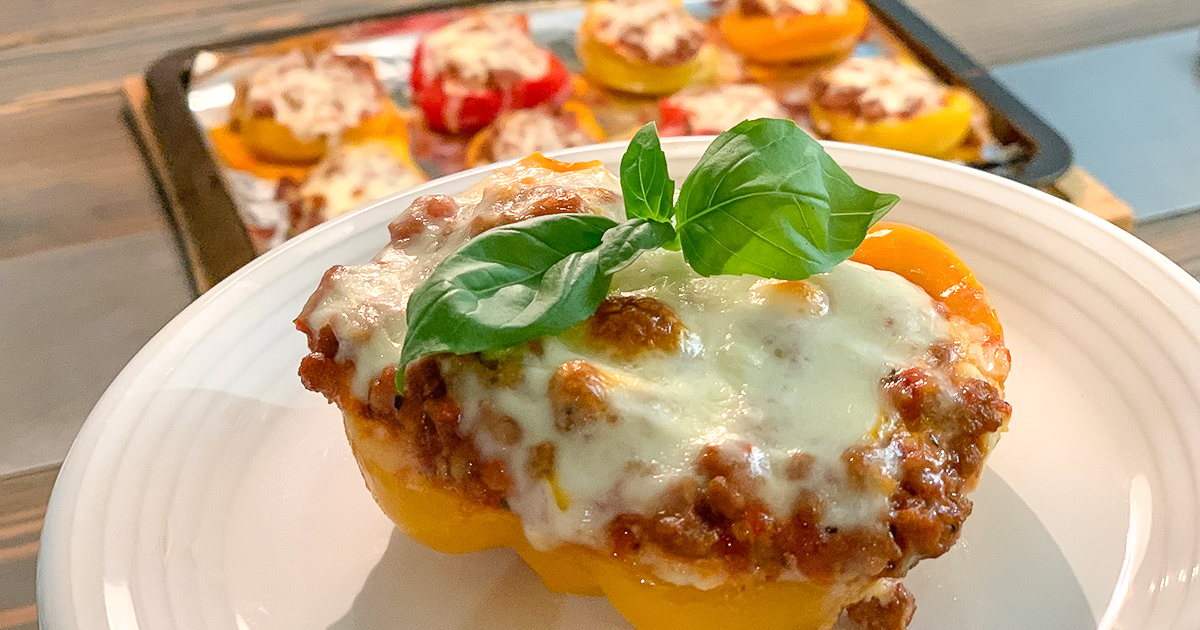 Hips tips for making low-carb Stuffed Lasagna Bell Pepper Boats :
1.) To stabilize a wobbly, sideways sitting pepper: Before cooking, cut a small flat piece off the bottom portion of the pepper so it sits nice and even. Be careful not to cut all the way through the pepper or you risk your filling oozing out of the bottom (and that would be a bummer).
2.) For easy stem removal, try a pepper corer!
---
Print
Keto Stuffed Lasagna Bell Pepper Boats
yield: 8 SERVINGS
prep time: 30 MINUTES
cook time: 45 MINUTES
total time: 1 HOUR 15 MINUTES
All the flavors of lasagna packed into a pepper low-carb style!
Ingredients
4 bell peppers of various colors
1/2 cup yellow onion, finely chopped
3-4 cloves garlic, minced
1 tablespoon olive oil
1/2 pound ground beef (I use 85/15)
1/2 pound ground Italian sausage (with no added sugar)
15 oz can crushed tomatoes in puree
1 teaspoon Italian seasoning
1/2 teaspoon salt (plus a pinch or two)
1/2 teaspoon black pepper
1 egg
1 cup whole milk ricotta cheese
1/2 cup fresh basil, finely chopped (more for garnish if desired)
1 cup Parmesan cheese, grated
1 cup mozzarella cheese, grated
Directions
1
Cover a large, lipped cookie pan with a sheet of aluminum foil. Set aside.
2
Slice bell peppers in half lengthwise. Carefully remove ribs and seeds. Place the peppers cut side up in a large pot. Fill the pot with water so that the peppers are fully submerged. Cover and place over high heat until water begins to boil. Reduce heat to medium-low and allow peppers to hard simmer for five minutes, then drain. Be sure no excess water remains in each pepper. Lightly salt the inside of peppers and set aside on prepared pan to cool.
3
Heat olive oil in a large pot over medium-high heat. Add onion and garlic, cook for 5 minutes or until soft.
4
Add the ground beef, Italian sausage, Italian seasoning, salt, and pepper. Brown the beef until fully cooked.
5
To the beef/sausage mixture, add the crushed tomatoes. Partially cover (to help with splatters), lower heat, and allow to simmer for 15 minutes. Then remove from heat.
6
Preheat the oven to 375-degrees.
7
In a medium bowl, add ricotta, parmesan, egg, and basil. Mix together until fully combined.
8
Assemble each pepper as follows: 1) Add a spoonful of meat sauce to the bottom of the pepper. 2) Top with a scoop of the ricotta cheese mixture. Spread it enough that it fully covers the first layer of sauce. 3) Add another spoonful of sauce. Pile it on, it's totally okay if it's higher than the side of the pepper. 4) Top the pepper with a helping of mozzarella cheese.
9
Bake in preheated oven for 20 - 25 minutes or until mozzarella cheese is beginning to brown on top.
10
Allow to cool for 10 minutes before serving.
Nutrition Information
Yield: 8 servings, Serving Size: 1 pepper boat
Amount Per Serving: 341 Calories | 23g Fat | 10g Total Carbs | 2g Fiber | 22g Protein | 8g Net Carbs
---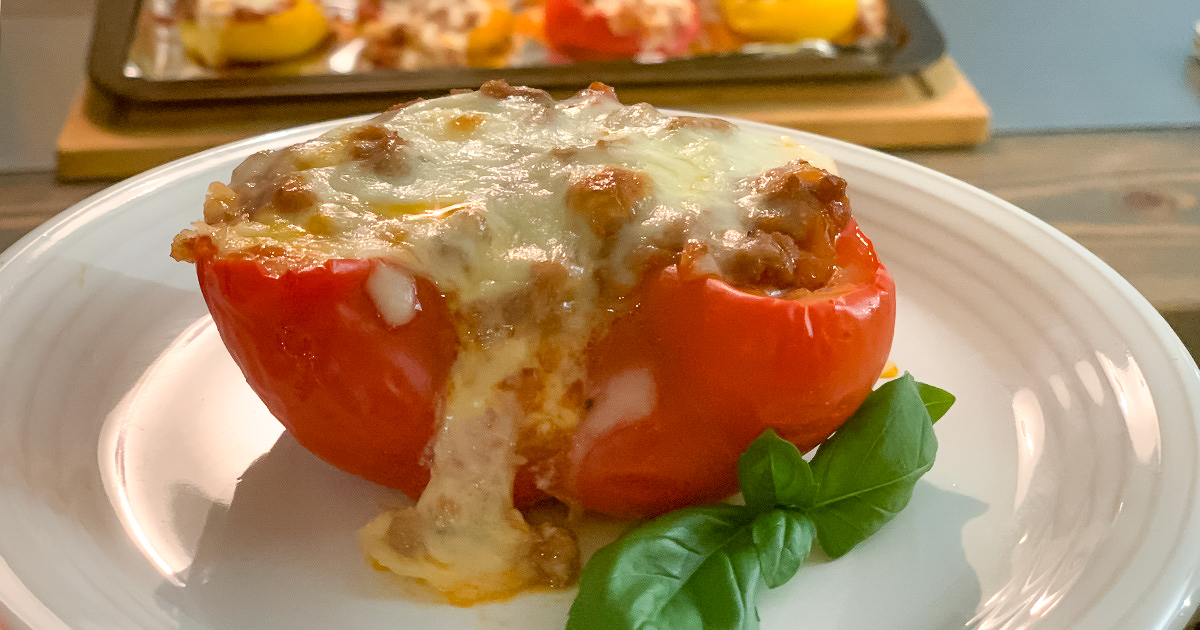 If you're in the mood for an Italian inspired meal—This is IT!
Try these keto lasagna pepper boats with a side of pesto zoodles or a leafy green salad. Spice it up a bit with a sprinkle of crushed red pepper!
---
Up Next: Make this Fat Head Pizza Crust Recipe – It's a keto game changer!