I Can't Fry Anything Now Without Using These Whisps Cheese Crumbs…
Whisps cheese crumbs are my new go-to "bread crumbs"!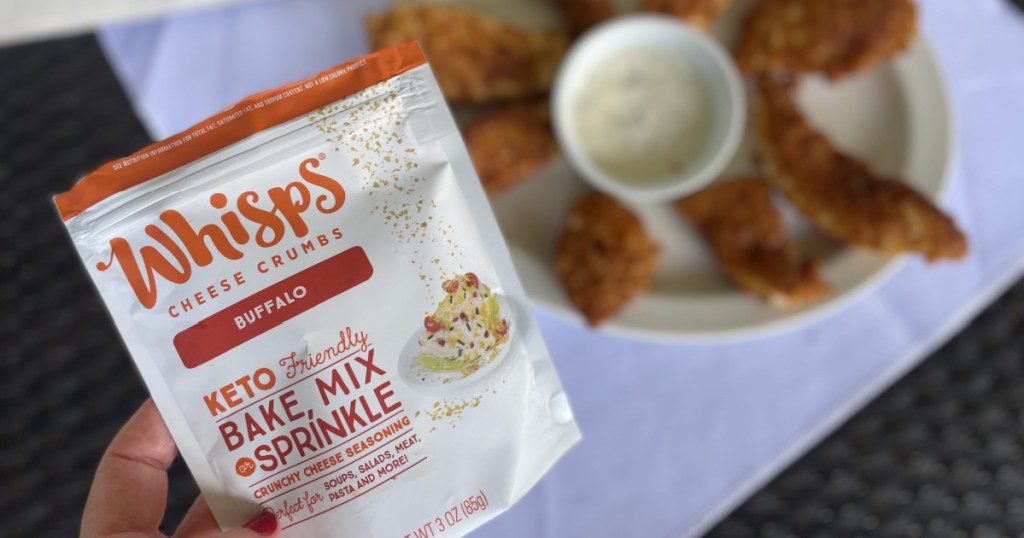 Missing bread crumbs?
Here at Hip2Keto we often use pork rinds for a ton of "breading" recipes. We've even used crushed-up Quest chips! However, I just may have found something even better.
Introducing NEW Whisps Cheese Crumbs! You'll be thanking me once you give them a try…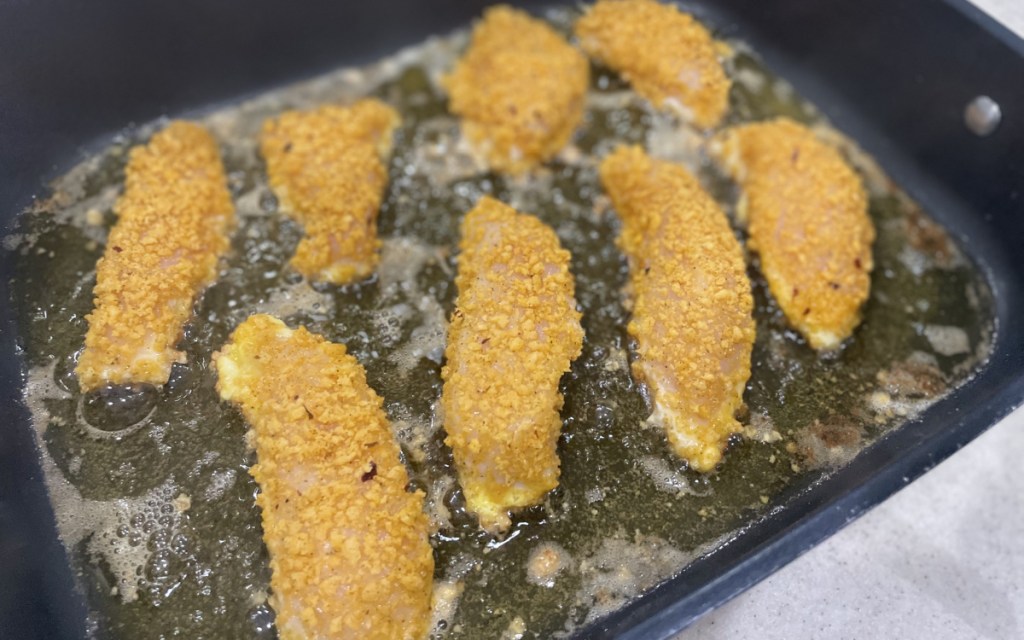 I'm open to trying anything to make my chicken tenders extra crispy. As you know, we love Whisps Cheese Crisps, so I had high expectations for these cheese crumbs. Currently, there are two flavors, Buffalo and Italian Herb. I love that they're flavored because that means less work for me when it comes to seasoning my tenders! 😍
You can try both flavors with this pack of 2 on Amazon!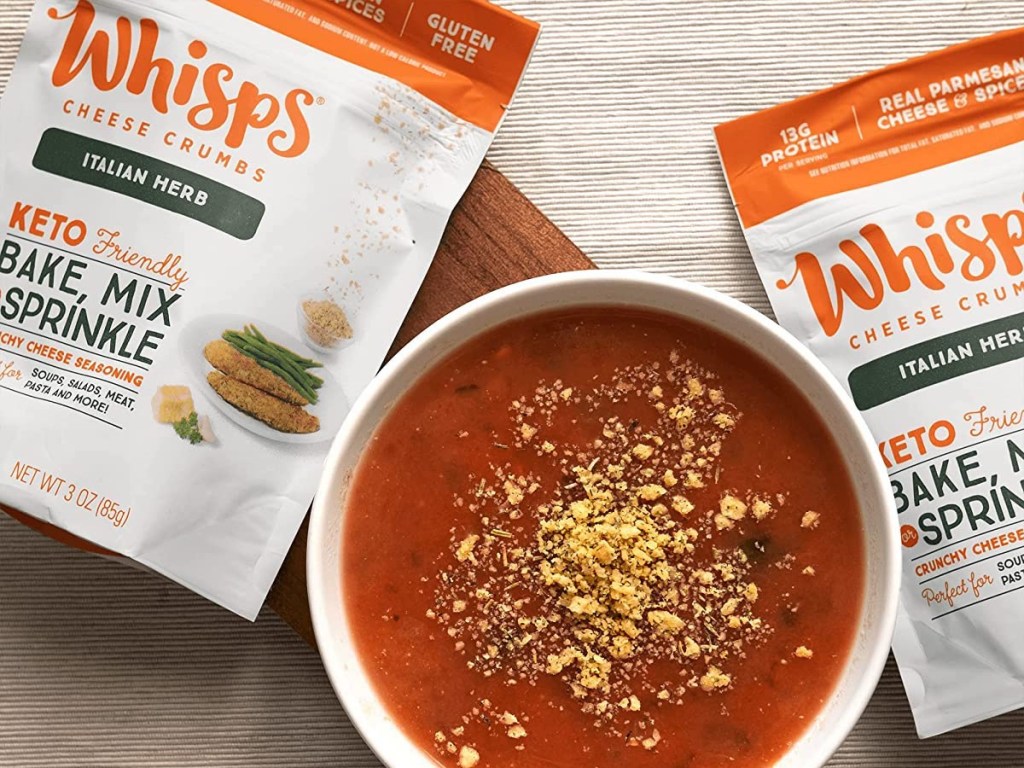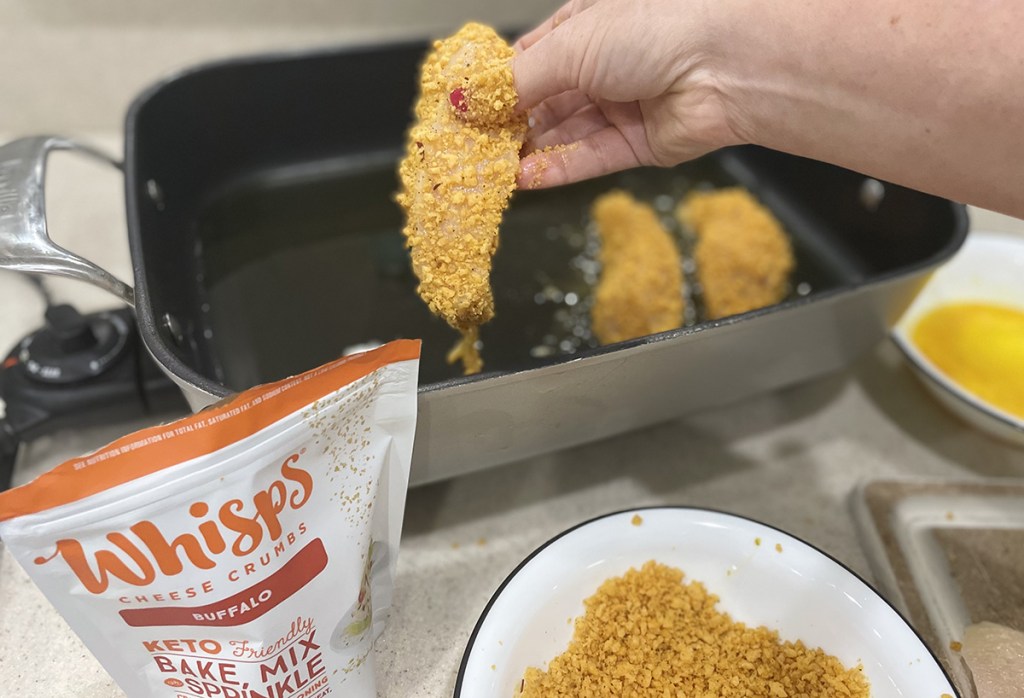 Made from real cheese and a combination of spices, each flavor of Whisps Cheese Crumbs is gluten-free, keto-friendly, and delicious! Both have 13g of protein and are perfect for meat, soups, salads, and more. Just because you're keto doesn't mean you have to miss out on the crunchy things in life! 😋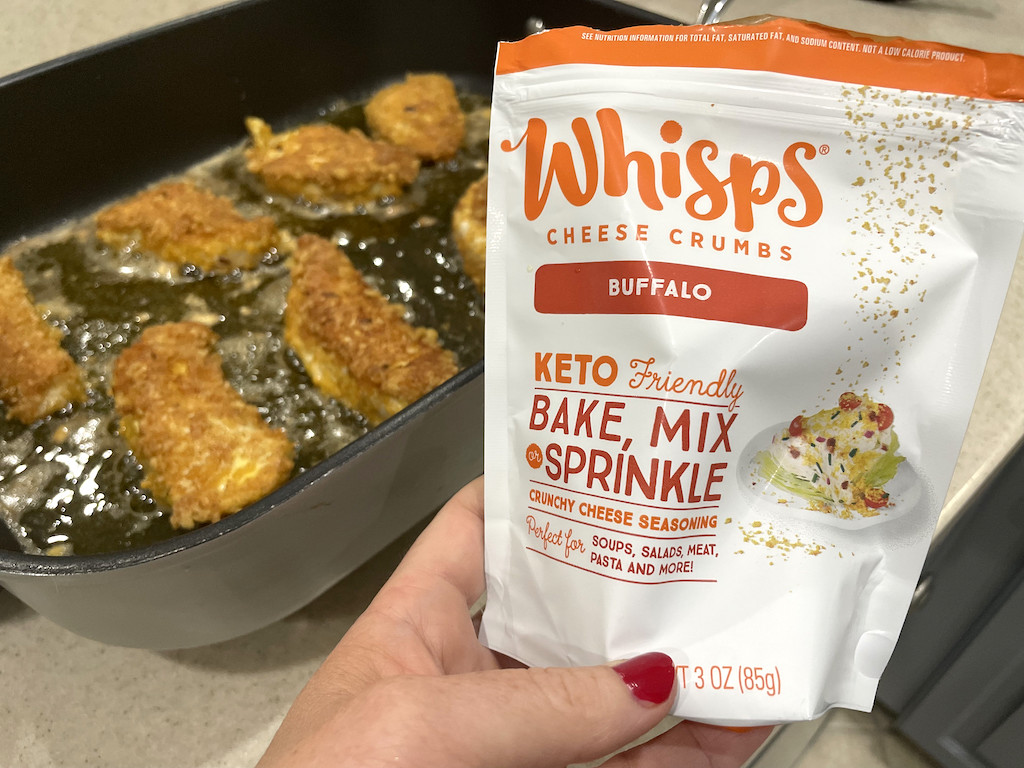 I used the Buffalo cheese crumbs on some chicken tenders, which I first coated with some egg wash. I absolutely love chicken tenders, so I was so excited to get my hands on these! The cheese crumbs seemed to coat the chicken easily with no problems, and I knew they were going to fry beautifully.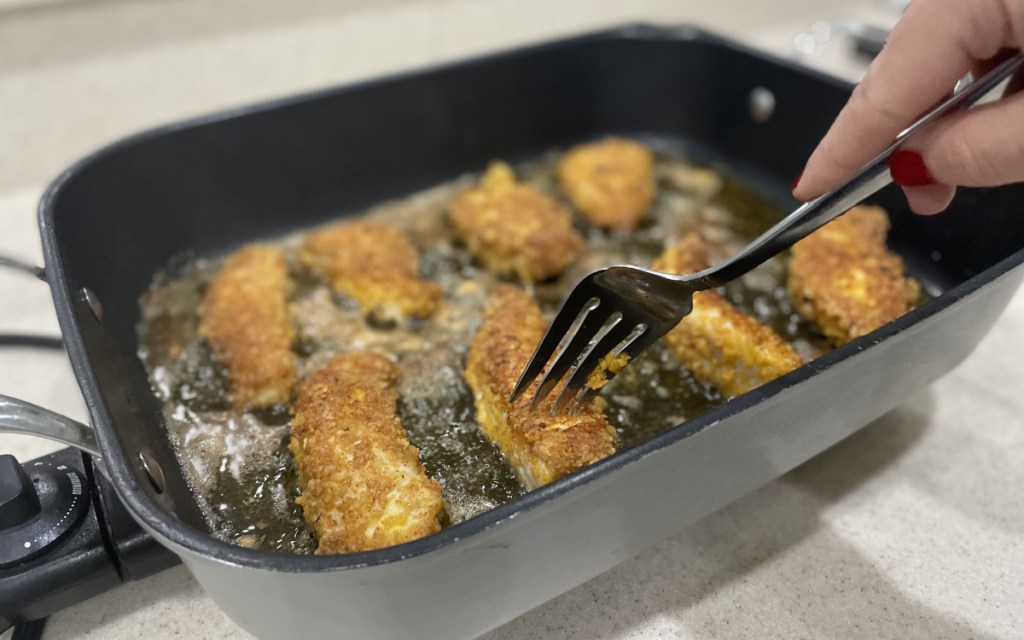 The Buffalo cheese crumbs contain that tangy and spicy flavor you're looking for. Made with a blend of paprika, Cayenne pepper flakes, and other spices, it's going to remind you of your favorite game-day recipe.
The Italian Herb flavor is inspired by all your favorite Italian dishes. Blended with parmesan, buttermilk, and other yummy flavors, this will be your new secret ingredient to amplify any of your dishes!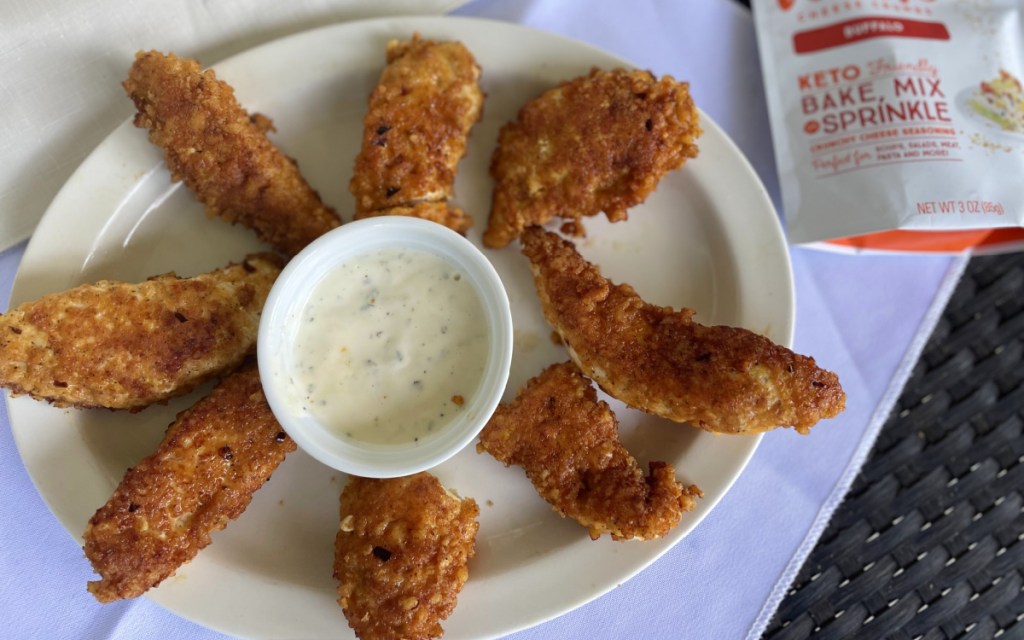 Did I mention how easy they fry?
I was worried that these cheese crumbs wouldn't stick, but I had no problem cooking with them. They fried quickly and evenly! Since my tenders were small, the chicken only took a few minutes to cook on each side. I really was blown away at how yummy they looked and similar to any regular fried chicken tenders I ate pre-keto.
Dare I say these tasted better than regular chicken tenders that use bread crumbs?! These weren't overly spicy, but they were packed with a ton of flavor. Add in your favorite condiment, mine being keto ranch, and you have yourself just about the tastiest, crispiest chicken tenders ever!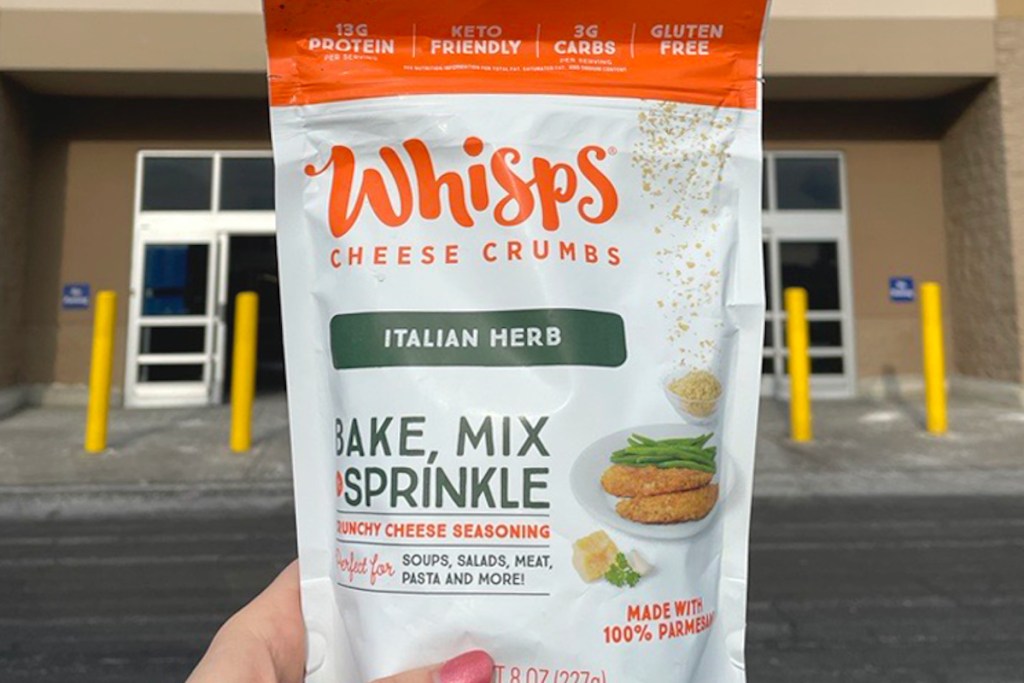 Italian Herb Cheese Crumbs Nutrition
Serving Size: 1/3 cup (30g) | 150 Calories | 10g Fat | 3g Total Carbs | 0g Fiber | 1g Sugar | 13g Protein | 3g Net Carb
Ingredients: Parmesan Cheese (Pasteurized Part-Skim Milk, Cheese Cultures, Salt, Enzymes), Buttermilk, Salt, Spices, Onion Powder, Parsley, Maltodextrin, Yeast Extract, Natural Flavors, Olive Oil, Garlic Powder, Whey Solids, Lactic Acid, Inverted Sugar.

Buffalo Cheese Crumbs Nutrition
Serving Size: 1/3 cup (30g) | 150 Calories | 10g Fat | 2g Total Carbs | 0g Fiber | 0g Sugar | 13g Protein | 2g Net Carb
Ingredients: Parmesan Cheese (Pasteurized Part-Skim Milk, Cheese Cultures, Salt, Enzymes), Salt, Yeast Extract, Maltodextrin, Spices, Cayenne Pepper Sauce (Aged Red Pepper, Vinegar, Salt, Garlic) Onion Powder, Garlic Powder, Whey, Natural Flavors, Dried Parsley, Citric Acid, Paprika Extract.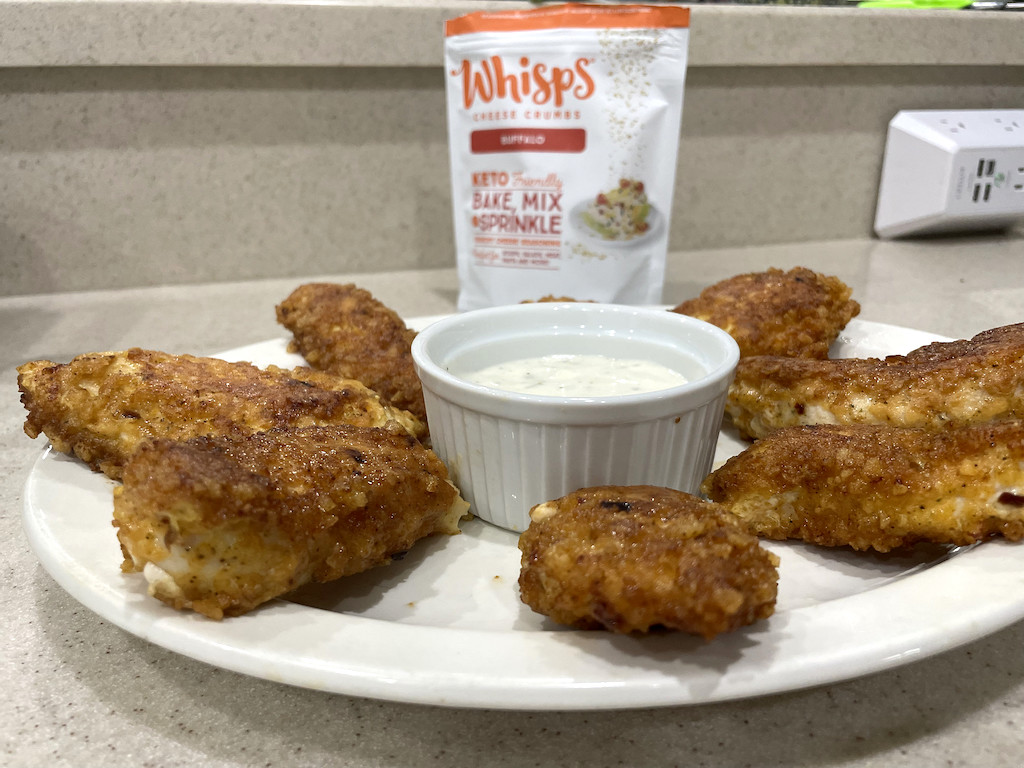 This one's going to be a winner with the whole family!
I can't help but feel super proud of these. GO ME! 😆Of course, I have to give credit where it's due, and that's to Whisps cheese crumbs! 🤩 I love pork rinds as much as the next keto gal, but I don't think I'll use anything else except Whisps to fry from now on.
I'm hoping they release even more flavors of these cheese crumbs because they're super convenient and delicious. Let us know if you've tried these yet. I promise they're worth it!
---
Try using these Whisp cheese crumbs to make a Taco Bell Naked Chicken Chalupa!