We Made the Taco Bell Naked Chicken Chalupa Totally Keto-Friendly!
Our Keto Naked Chicken Chalupa Taco Bell copycat recipe does not disappoint!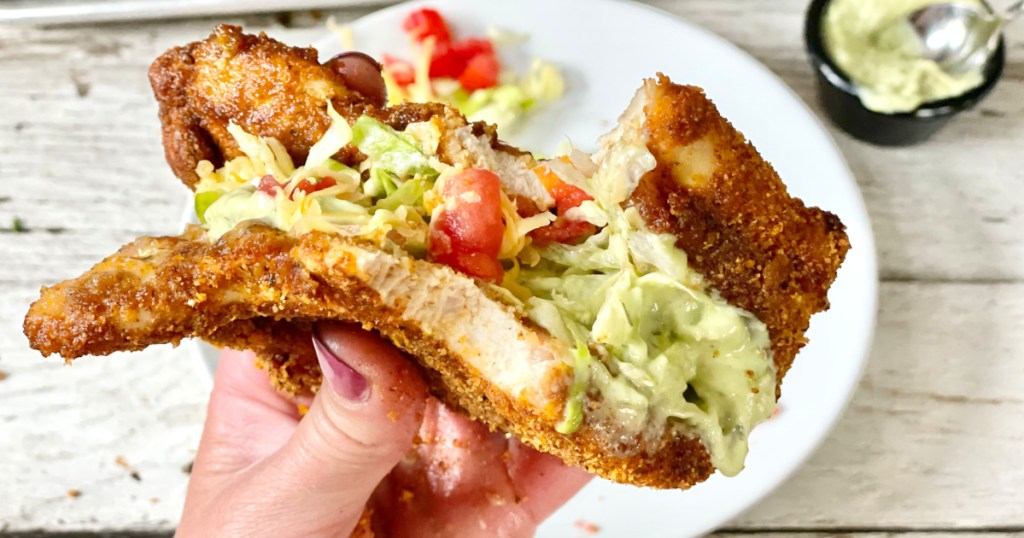 I need to start by being honest… when I first started crafting this keto Naked Chicken Chalupa recipe, I wasn't exactly sure how this would turn out. I don't eat fast food very often but my husband loves Taco Bell with a passion. It's nostalgic really, because it was his first high school job.
So I thought I try to make a keto version of their Naked Chicken Chalupa to appease my husband's Taco Bell addiction, and it turned out amazing AND husband approved!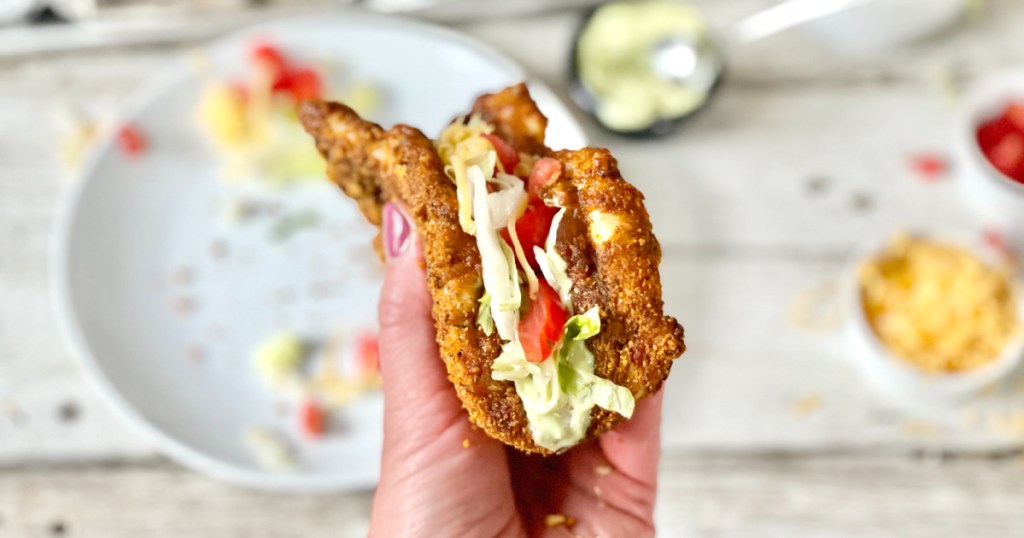 This might be my new favorite way to eat chicken!
Taco Bell's Naked Chicken Chalupa uses a breaded and fried chicken patty as the taco shell. I didn't want to go through the process of grinding up raw chicken to make molded chicken patties, so instead, I pounded chicken breasts very thin (about a 1/4 inch), and breaded them with ground pork rinds. I then baked them over a mold made of aluminum foil to form them into a taco shell shape.
The pounded chicken breasts didn't turn out perfectly round but pretty close, and they surprisingly did hold the curve of the shell after being baked, so I was able to stuff them with lettuce, tomatoes, shredded cheddar, and avocado ranch sauce! Yum!
Tips for making the perfect keto recipe for Taco Bell's Naked Chicken Chalupa:
If you want this to have more of a kick, double the cayenne pepper!
---
…and FYI, this is kind of messy, so make sure you have lots of napkins ready! 😄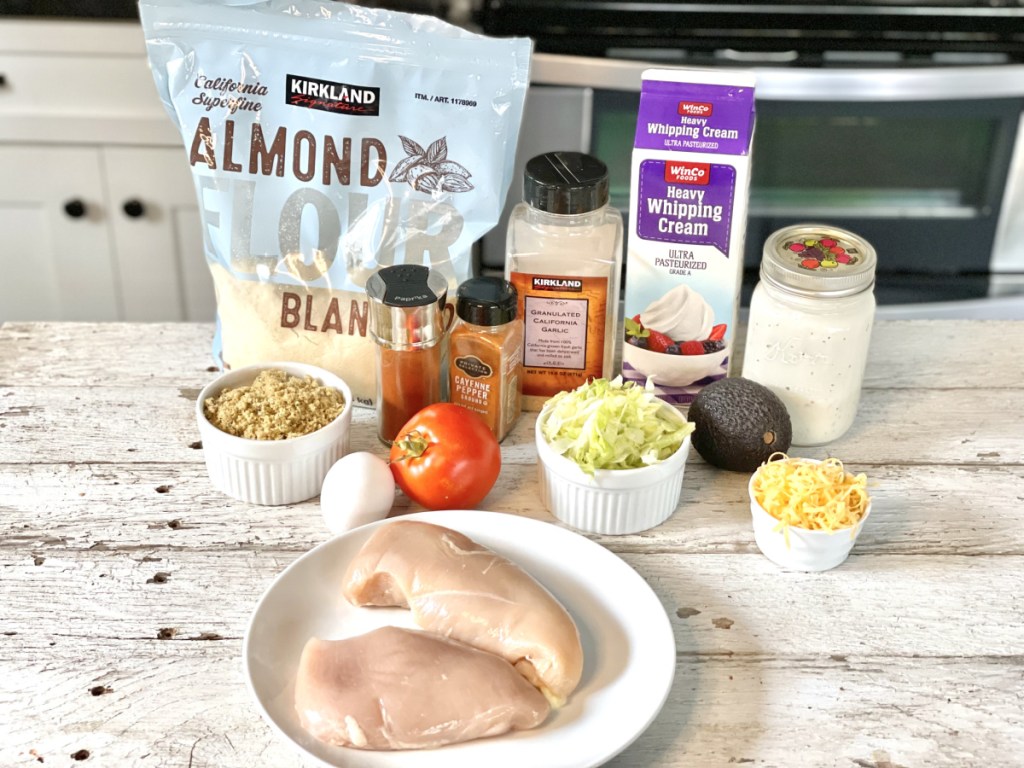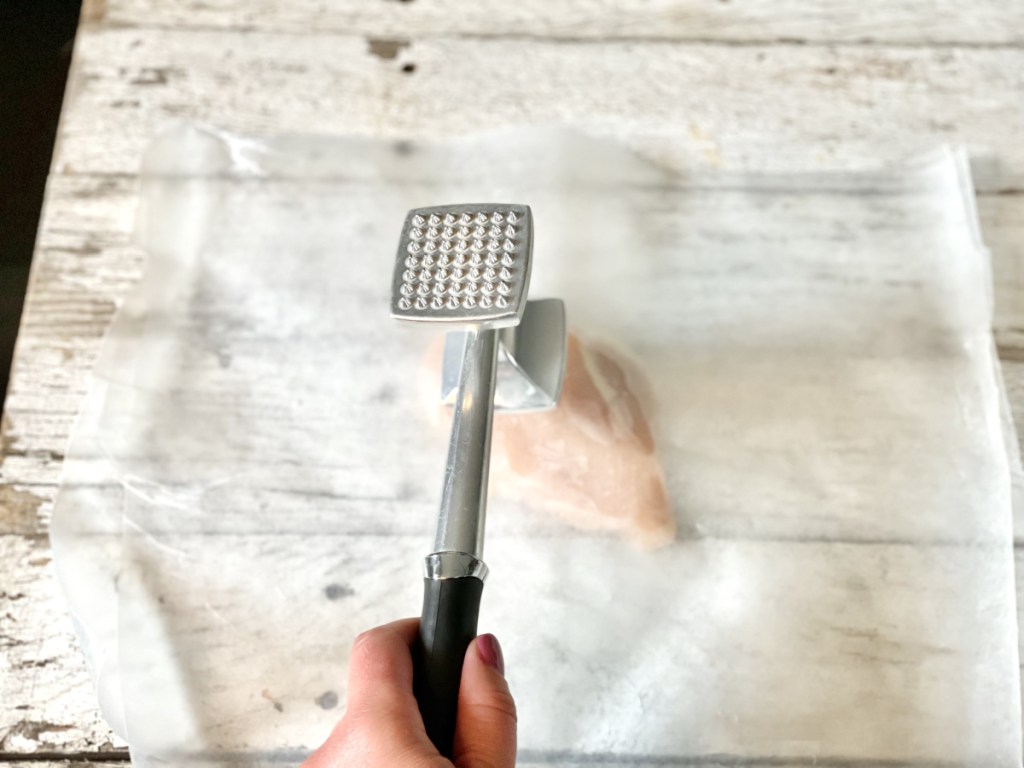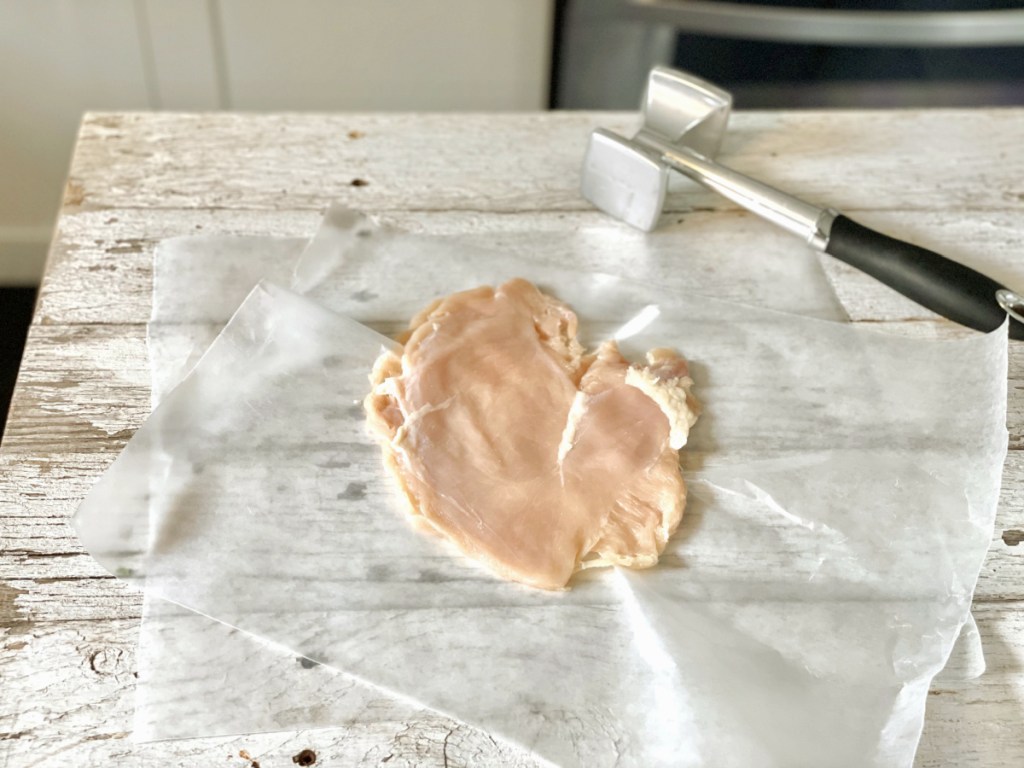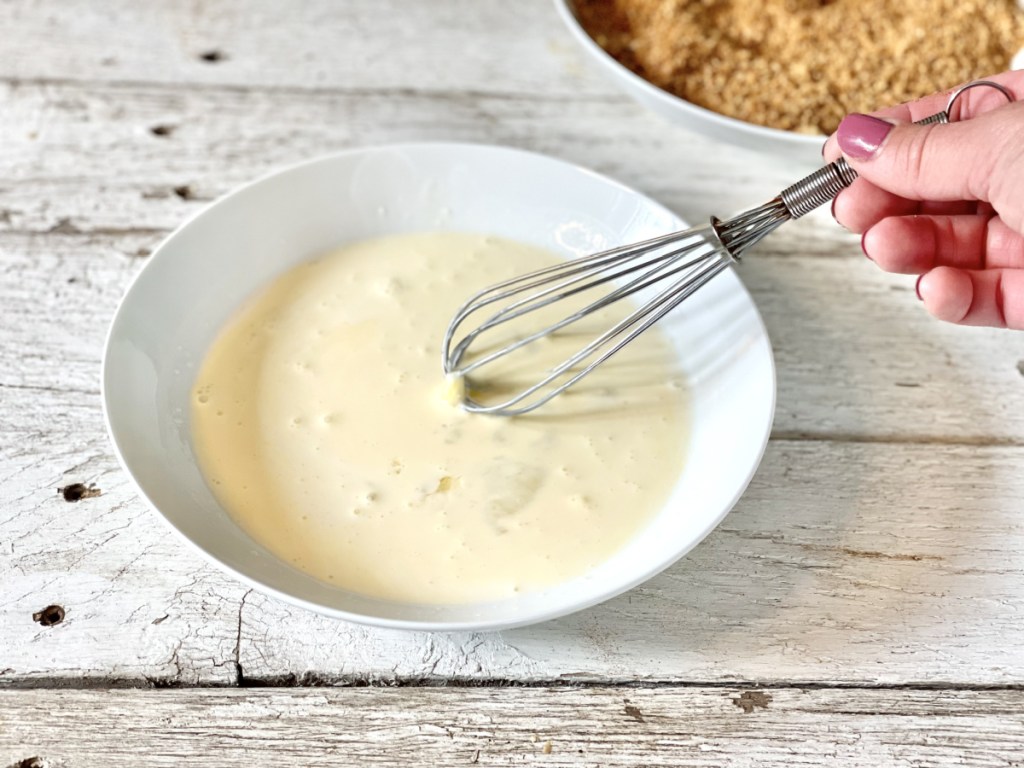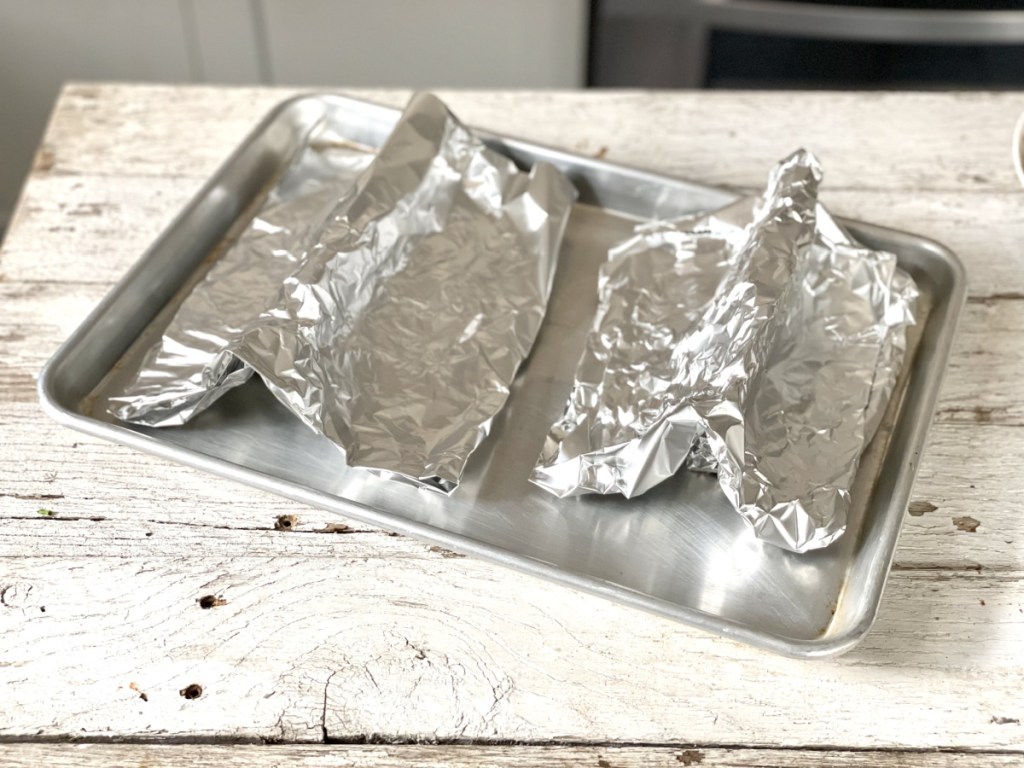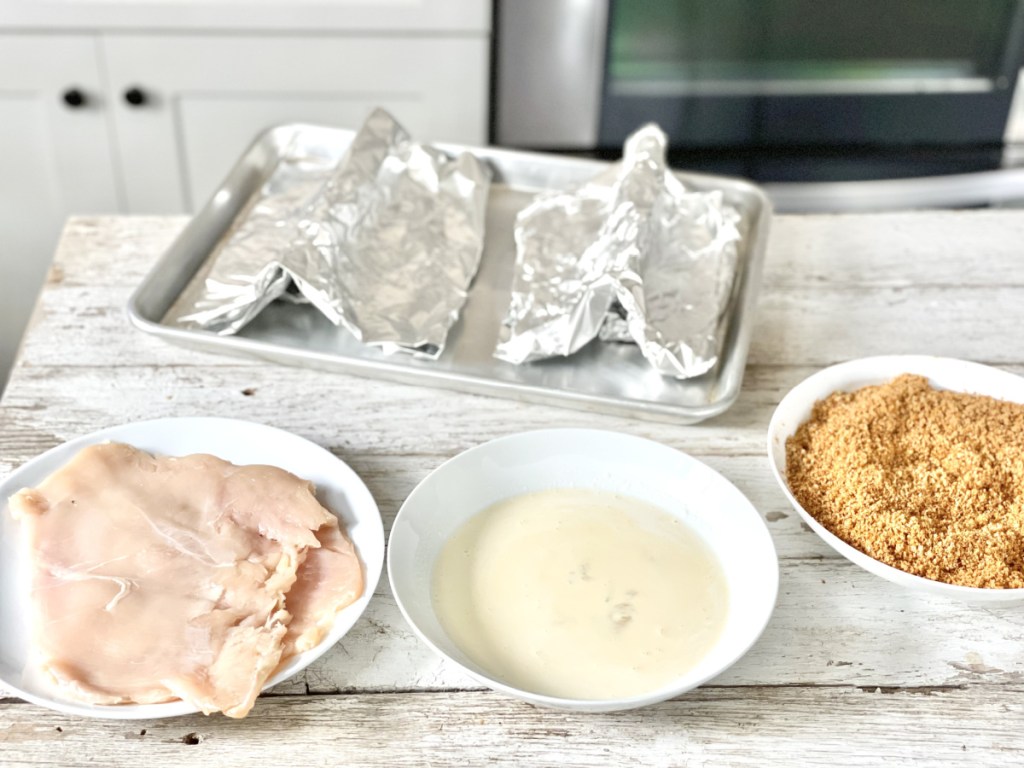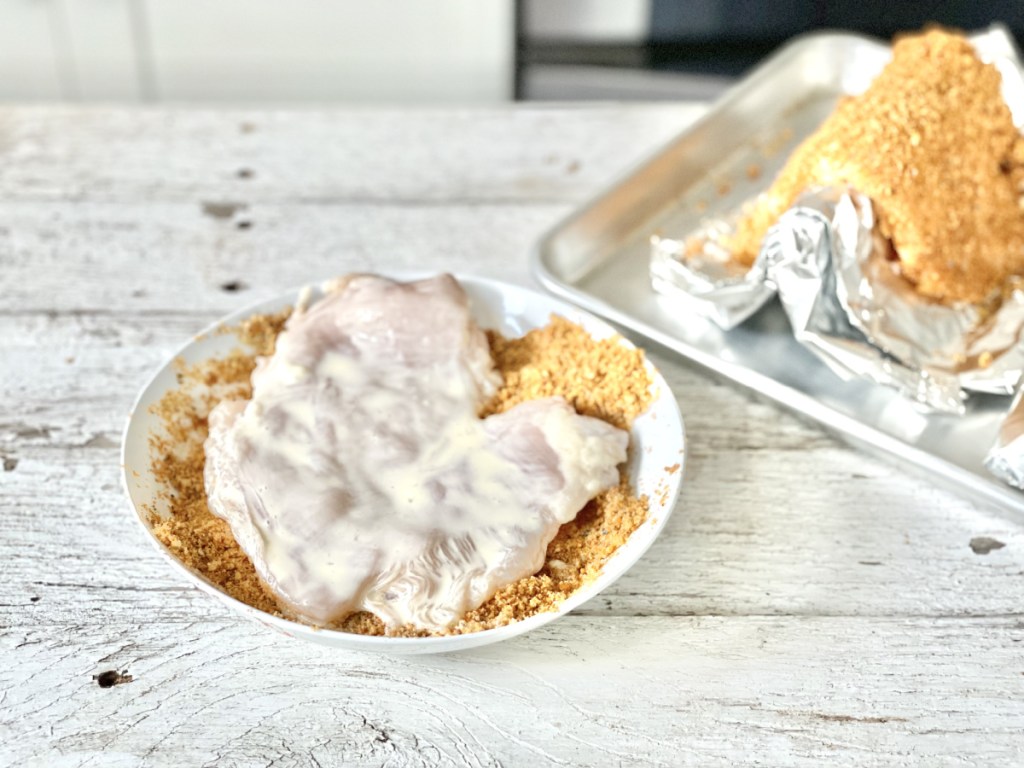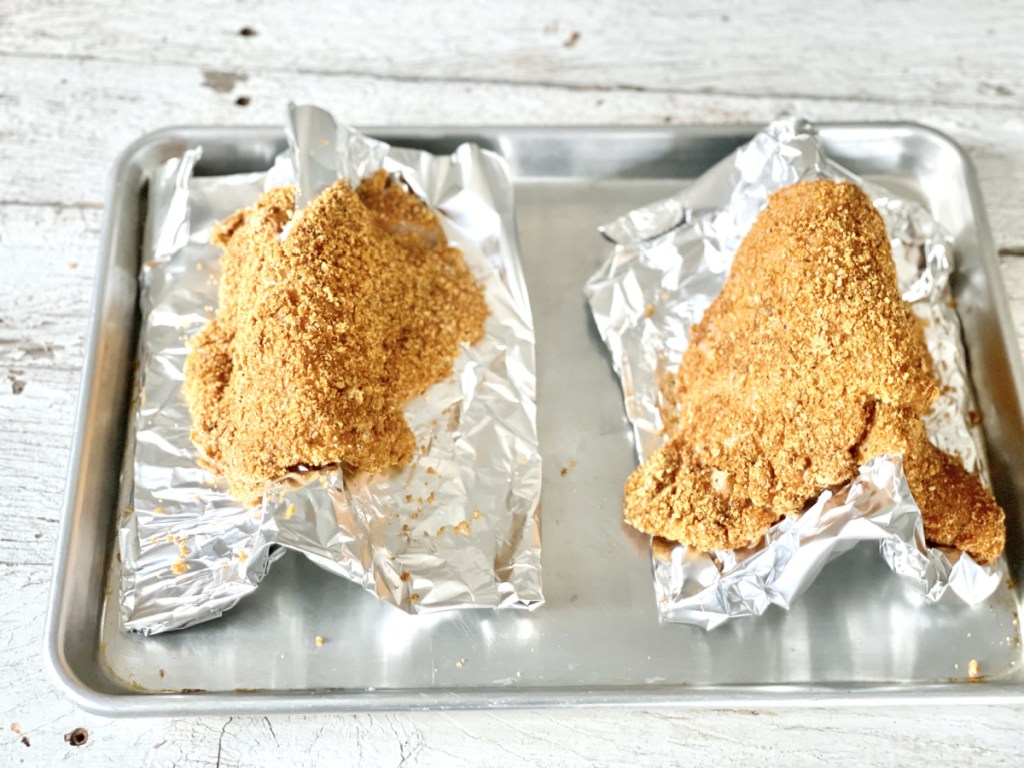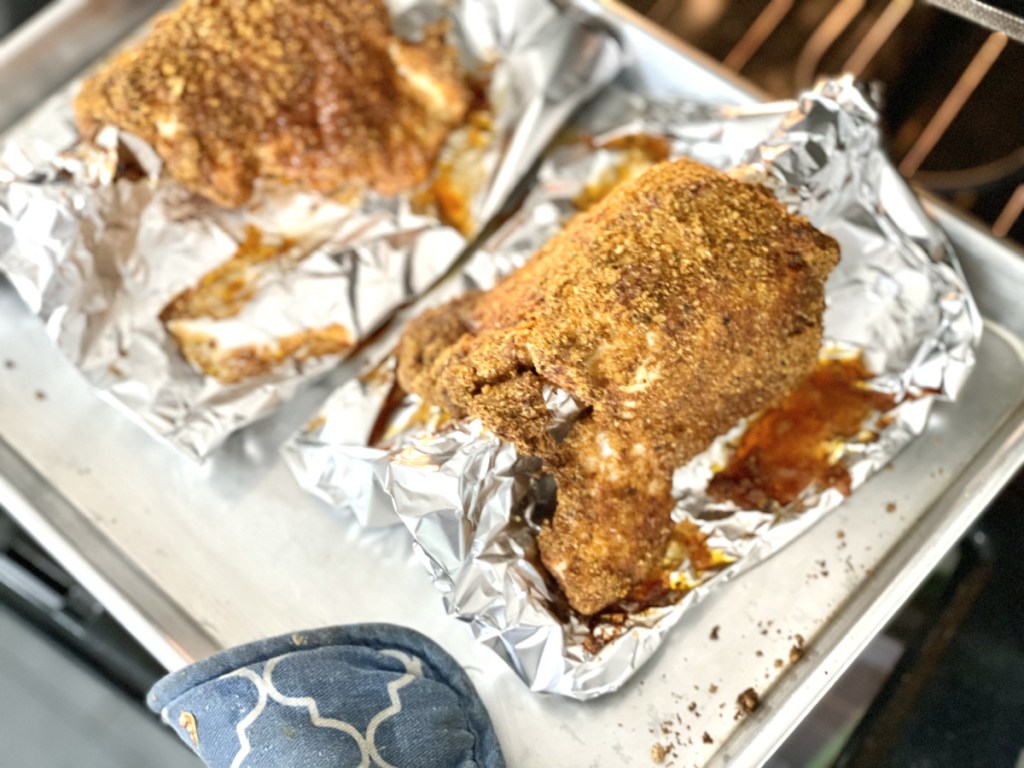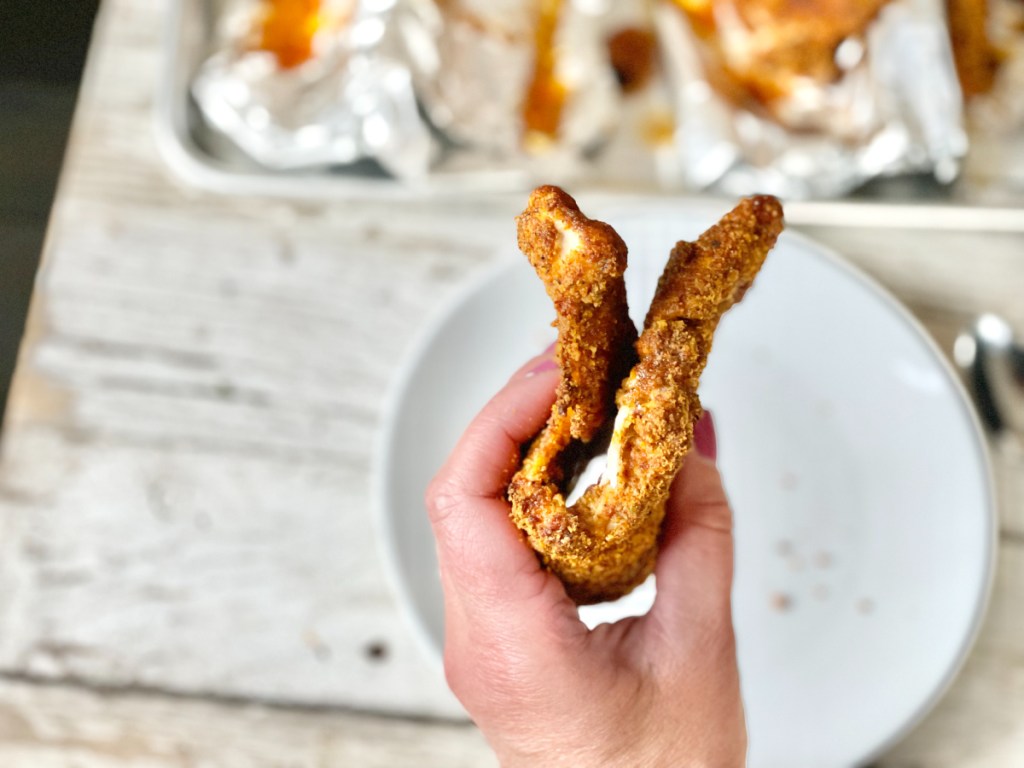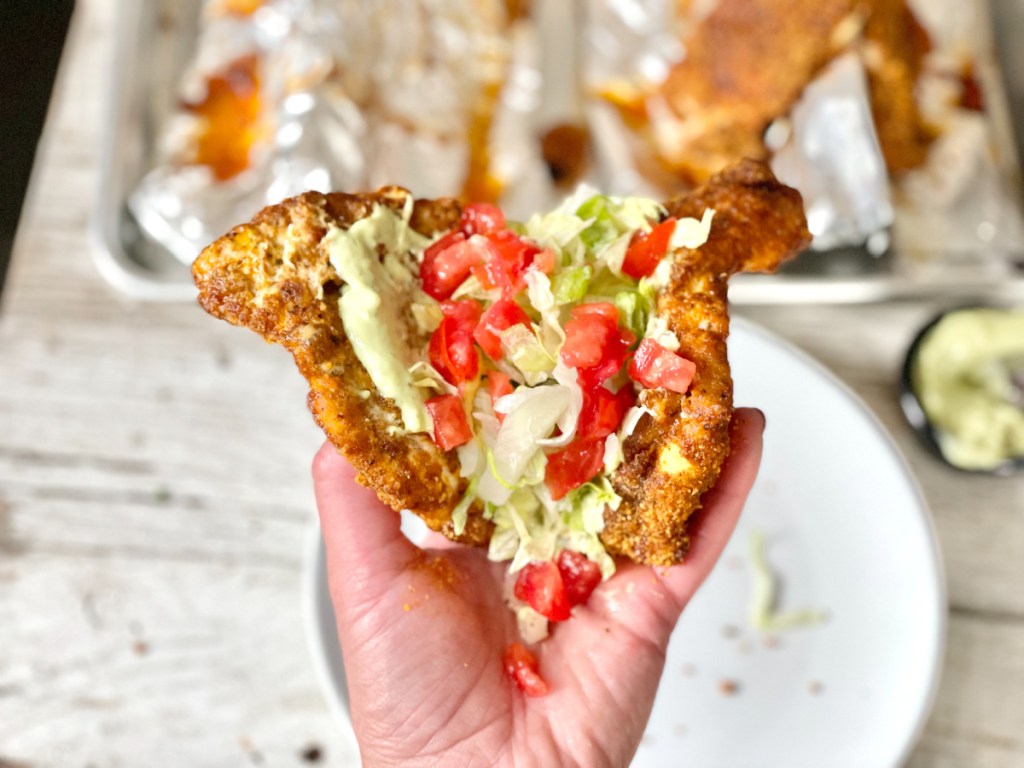 ---
Print
Keto Naked Chicken Chalupa
yield: 4 SERVINGS
prep time: 15 MINUTES
cook time: 30 MINUTES
total time: 45 MINUTES
Pounded chicken breasts breaded with ground pork rinds and stuffed with lettuce, tomatoes, cheese, and avocado ranch.
Ingredients
4 chicken breasts
1 egg, beaten
1/4 cup heavy whipping cream
1 tablespoon garlic powder
1 teaspoon paprika
1 tablespoon chili powder
1/4 teaspoon salt
1/4 teaspoon cayenne powder, optional
1 medium avocado
8 oz. bag shredded lettuce
1 large tomato diced
1/2 cup shredded cheddar cheese
Directions
1
Start by pounding out the chicken by placing a chicken breast between two pieces of wax paper and pounding thin with a meat mallet or rolling pin. Pound to about a 1/4 inch thickness and try to get the chicken breast to form into a circle (6- to 7-inch diameter) the best you can. Repeat with the remaining chicken breasts.
2
In a shallow dish, prepare the egg wash by mixing the egg and heavy whipping cream together.
3
In a separate bowl, mix together the ground pork rinds with almond flour, garlic powder, paprika, chili powder, salt, and cayenne pepper (if you're wanting some heat to your seasoning).
4
Preheat oven to 400 degrees, and make aluminum foil molds to form the chicken into taco shells. Take a large piece of aluminum foil and fold it into a long triangular shape that you can lay the chicken on top of. Take another piece of aluminum foil and roll it into a cylinder shape to go under the triangle to help hold its form. Make 4 molds, and place the aluminum foil molds on a large baking sheet. You might need two baking sheets for 4 molds, depending on the size of your sheets.
5
Dredge the chicken breasts in the egg-wash mixture and then the ground pork rinds seasoning, coating both sides. Lay the chicken breasts over top of the aluminum foil molds so that they will bake into the shape of a "taco shell".
6
Bake the chicken breasts for 25 to 30 minutes.
7
While the chicken is baking, make the Avocado Ranch sauce by blending the ranch dressing and avocado in a food processor or blender. Puree until smooth and well combined.
8
Once the chicken taco shells are done baking, remove them from the oven and let cool for 5 to 10 minutes, until cool enough to handle.
9
To assemble, spread 2 tablespoons of the avocado ranch sauce on the chicken taco shell, then a 1/4 cup of shredded lettuce, 1 to 2 tablespoons of diced tomatoes, and top with 2 tablespoons of shredded cheddar cheese. Enjoy!
Nutrition Information
Yield: 4 servings, Serving Size: 1 keto naked chicken chalupa
Amount Per Serving: 564 Calories | 36.4g Fat | 5.3g Total Carbs | 2.4g Fiber | 1.8g Sugar | 57.9g Protein | 2.9g Net Carbs
---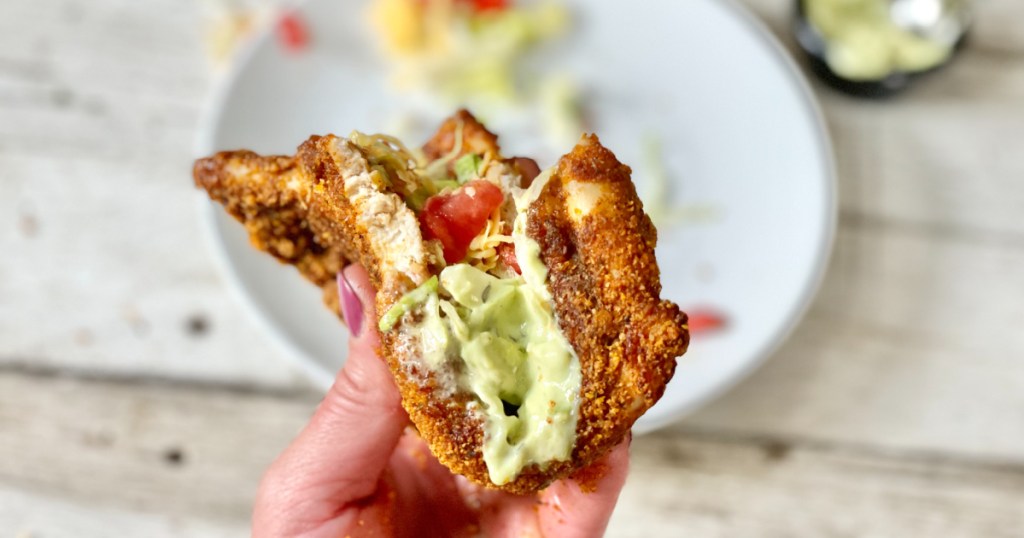 It's totally worth it!
I know what you're thinking…this copycat naked chicken chalupa recipe looks like a lot of work! But it's really not that hard to make. Pounding out the chicken and breading it does take a bit of effort but think of pounding out the chicken as a stress reliever. After you bread the chicken, you bake it, prepare the toppings while it bakes, assemble, and then dinner is ready!
Let us know if you make this recipe and what you think!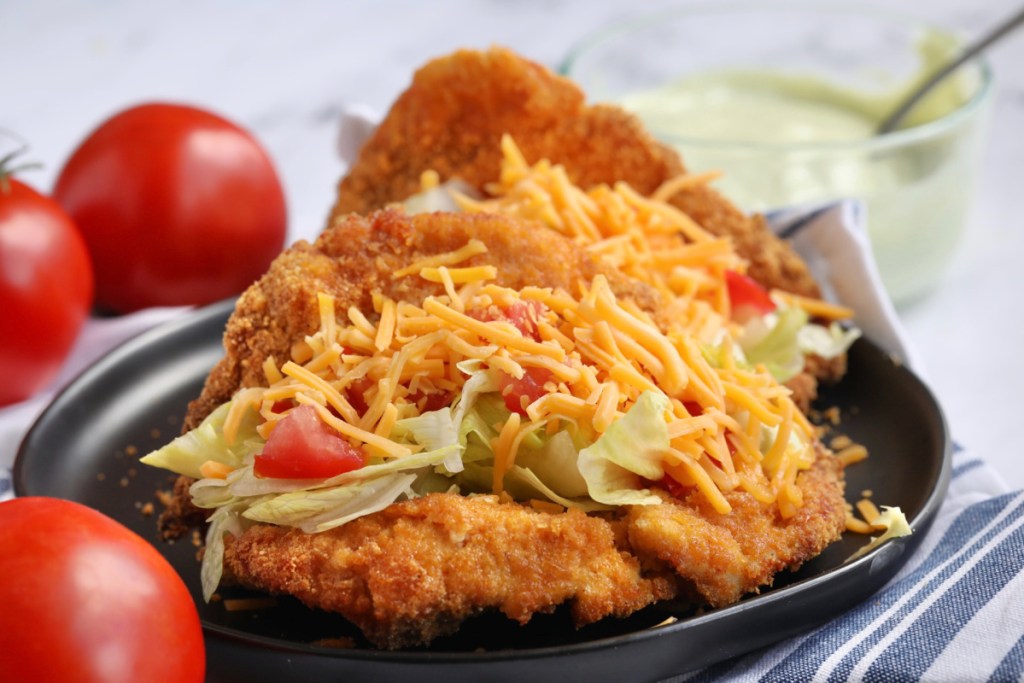 My Hip sidekick Jenna tested out this recipe and here's what she had to say:
"I love ordering the Chalupa at Taco Bell, I have since it came out when I was young. I always felt like the bread was not the healthiest part. I LOVE the idea of using actual chicken as the "bread" of the chalupa. And oh my goodness, this is so flavorful and filling! Also, I want to try this sauce on everything!"
---
Check out this recipe for homemade keto taco seasoning!