These Crunchy Keto Chicken Tenders are Kid-Approved!

Raise your hand if your kids love chicken tenders!
These crunchy keto chicken tenders are going to be a winner in your home – even with picky eaters! This deliciously CRUNCHY chicken tenders recipe uses an unexpected zero carb main ingredient for breading – PORK RINDS!?
Yes, I know… pork rinds might seem odd, but let me tell you – these have an excellent flavor and texture!
Just dip chicken tenders in the egg wash, coat them in the breading, and bake for a yummy, kid-approved meal idea! You could definitely season however you'd like, and you can even fry them on the stove if desired. YUM!
Note: I used a mix of both the spicy and regular variety of pork rinds for extra flavor, and they were not too spicy for the kids.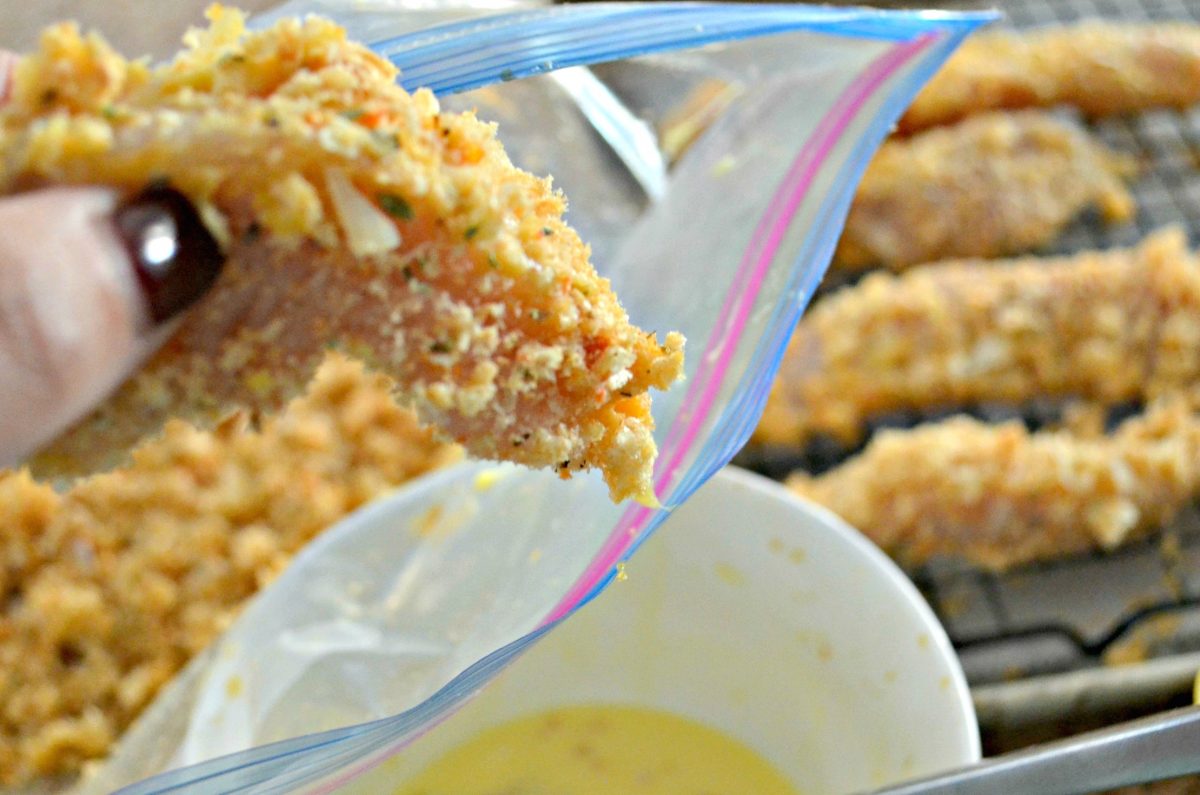 ---
Print
Crunchy Keto Chicken Tenders
yield: 4 SERVINGS
prep time: 15 MINUTES
cook time: 25 MINUTES
total time: 40 MINUTES
These easy, crispy chicken tenders taste great AND are kid-approved!
Ingredients
1.5 pounds raw chicken tenders
3 cups pork rinds
1/3 cup Parmesan cheese grated
1 teaspoon garlic powder
1 teaspoon onion powder
1 teaspoon oregano
2 eggs
1 tablespoon heavy cream
salt & pepper
cooking spray of choice
Directions
1
Preheat oven to 350 degrees F.
2
In a gallon-sized Ziploc bag, crush pork rinds into crumbs using a rolling pin.
3
Add Parmesan cheese and spices to bag. Shake well.
4
In a small bowl, beat eggs, and mix in cream.
5
Sprinkle salt & pepper over both sides of chicken tenders.
6
Dip each tender into egg mixture, then coat with crumbs. Place onto a parchment paper lined baking sheet with a cooling rack on top. (Use cooking spray on the cooling rack first.)
7
After all tenders are on the baking sheet, spray the top of tenders with a little cooking spray for extra crispness.
8
Place in the oven and bake at 350 degrees for about 25 minutes until cooked through.
Nutritional Information
Yield: 4 servings, Serving Size: Approx. 3 chicken tenders (1/4 of the batch)
Amount Per Serving: Calories: 411, Total Carbohydrates: 2g, Fiber: 0g, Net Carbohydrates: 2g, Total Fat: 18g, Protein: 58g
---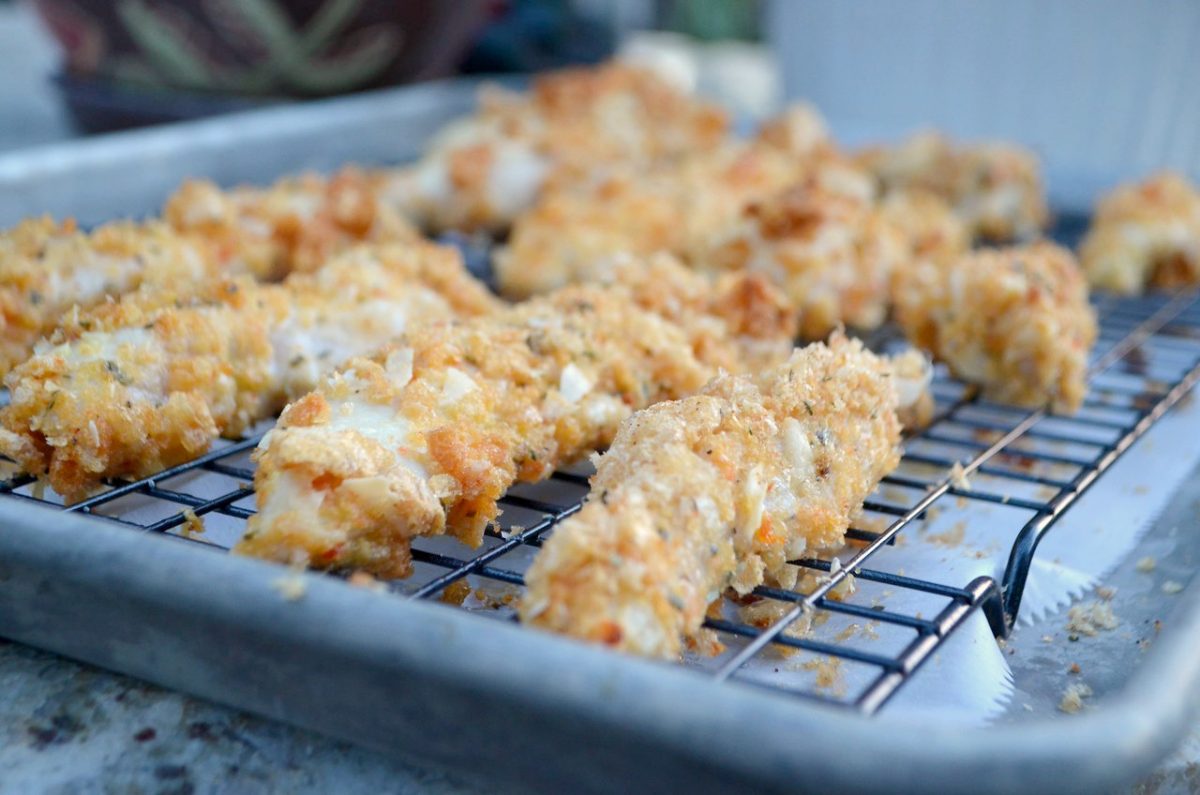 Oh my goodness… SO GOOOD!
These chicken tenders were gone in minutes, and no one even asked what the breading was! I like that they are super easy to make with so few ingredients.
If pork rinds aren't your thing, consider using almond flour instead, like in these Grain-Free Almond Flour Chicken Tenders. They are similar, but they don't have that same crispy texture.
Hip Tips:
When baking crispy chicken tenders, I always stack a cooling rack on top of a baking sheet lined with parchment paper or foil for easy cleanup. This will help air circulate underneath for crispier results.
Skip the oven altogether and cook em' in an air fryer! I love the air fryer method because the tenders are juicy on the inside and wonderfully crispy on the outside. Here's how:

Preheat your air fryer to 375 degrees. Prepare tenders as instructed for the oven method.
Coat the air fryer basket generously with cooking oil spray of choice, and place chicken tenders in the basket leaving a bit of space in between. Lightly coat each tender with additional cooking spray.
Fry for 10-15 minutes, flipping once midway through cooking.
Repeat with remaining chicken tenders. ENJOY!
---