Winner! Winner! Crispy Keto Chicken Tenders For Dinner…
Oh so crispy and delicious!
If your family loves chicken as much as we do, then this keto chicken tenders recipe is sure to be a new dinner favorite. Better yet, I guarantee these tenders will win over even the pickiest eaters in your household as well!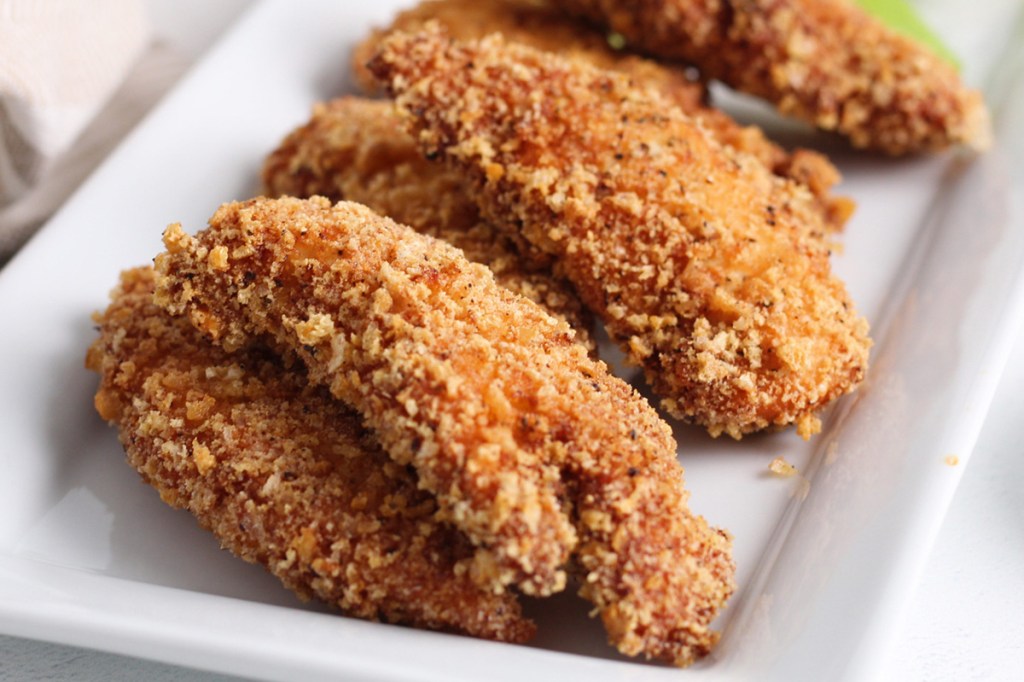 Crunchalicious!
This keto chicken tenders recipe has been added to my family's top five all-time low carb favorites, it's that good! They bring the crunch that I've been missing thanks to the crushed pork rinds "breading", plus, it's easy to throw together even on a busy weeknight. I really love that you can't taste the pork rind flavor in this recipe. In fact, I bet you most won't even know that the "breading" is pork rinds.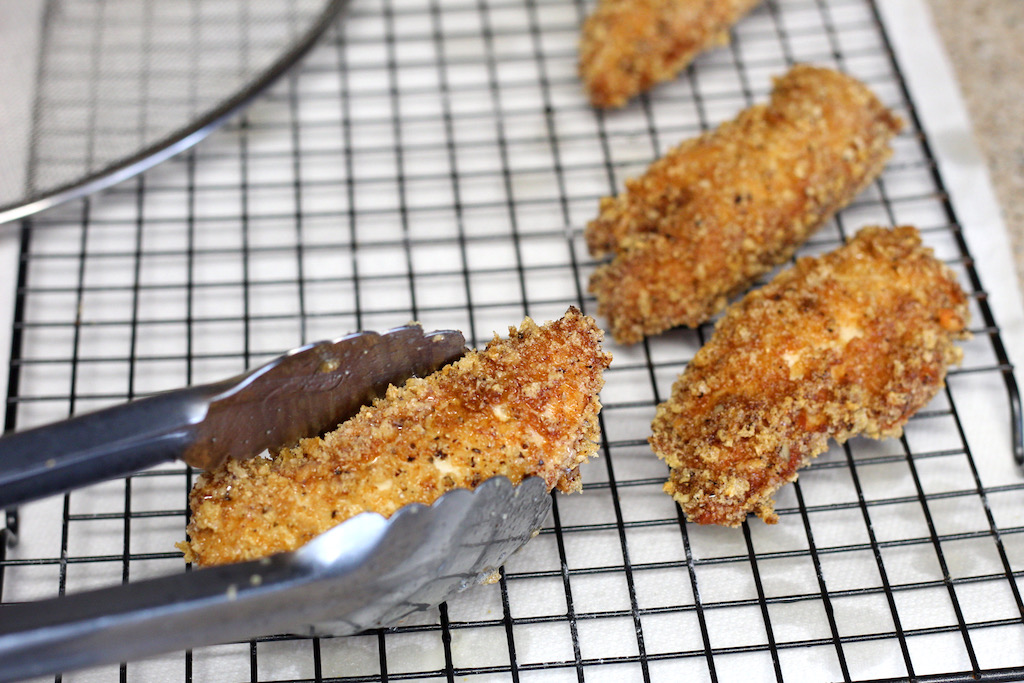 Hip tips for making the best crispy keto chicken tenders:
Don't want to fry your tenders? You can easily bake in the oven at 400 degrees for 20 minutes OR in the air fryer at 360 degrees for about 10 minutes.
Don't over-salt your chicken strips since the main breading is pork rinds.
Don't overcrowd the chicken in the pan, and make sure you have plenty of space between the pieces. This way the chicken strips will cook evenly.
Want an extra kick of flavor? Add a little hot sauce to the mixture to spice it up, but if you like it on the milder side then feel free to leave it out.
Don't feel like crushing up pork rinds? You can use pork rind crumbs instead! I've even seen them at Costco recently, it seems like everyone is using them these days.
Want to add some protein to a boring salad? Make a batch of these to chop up and throw into your salad!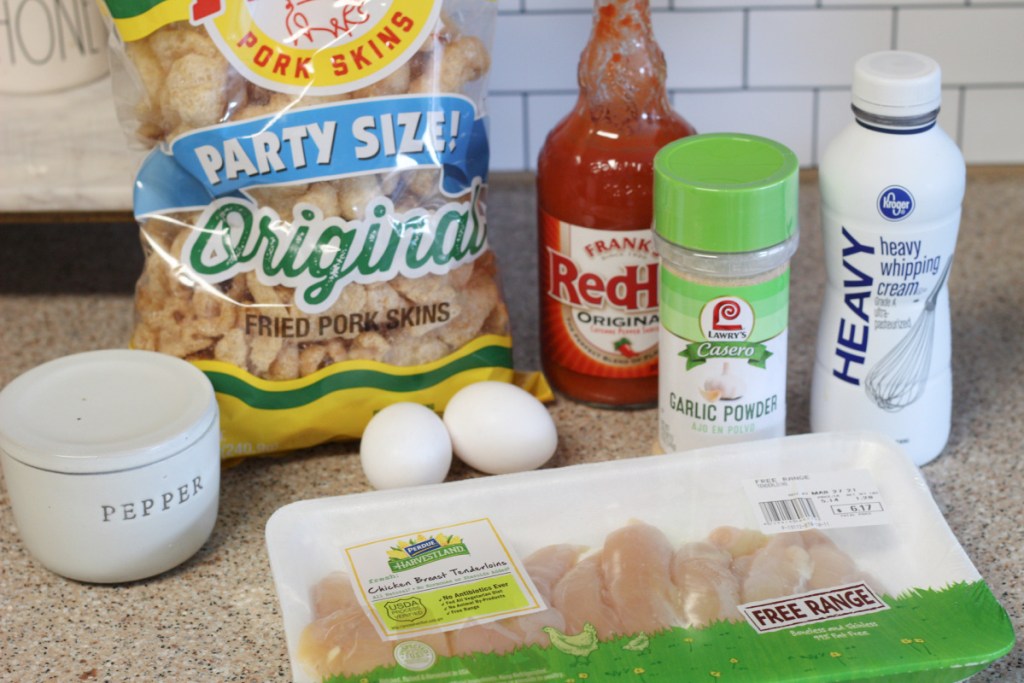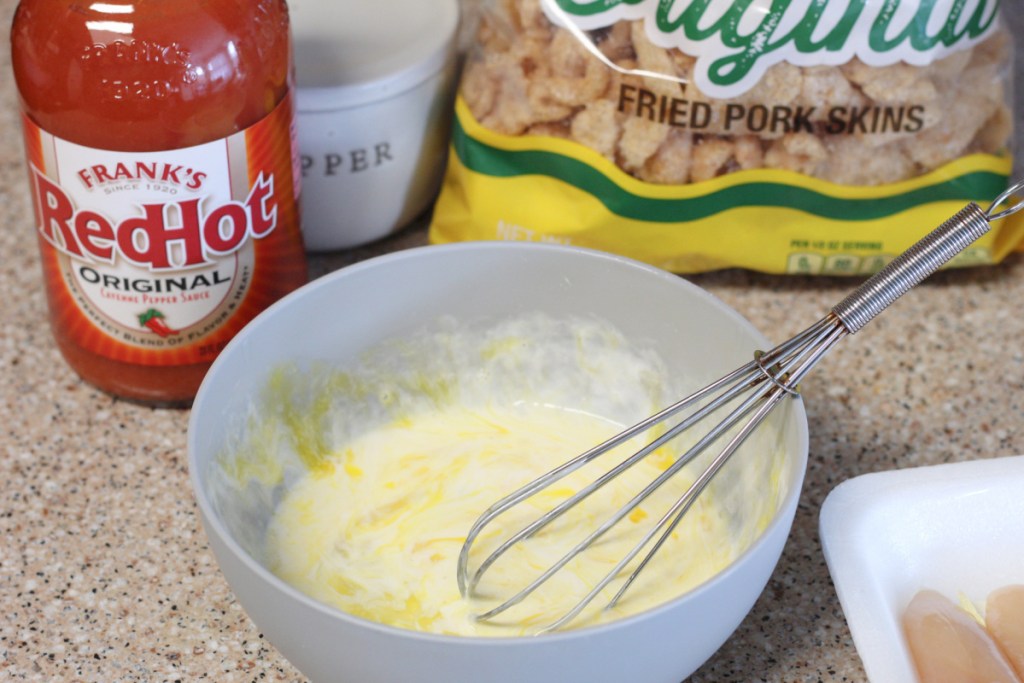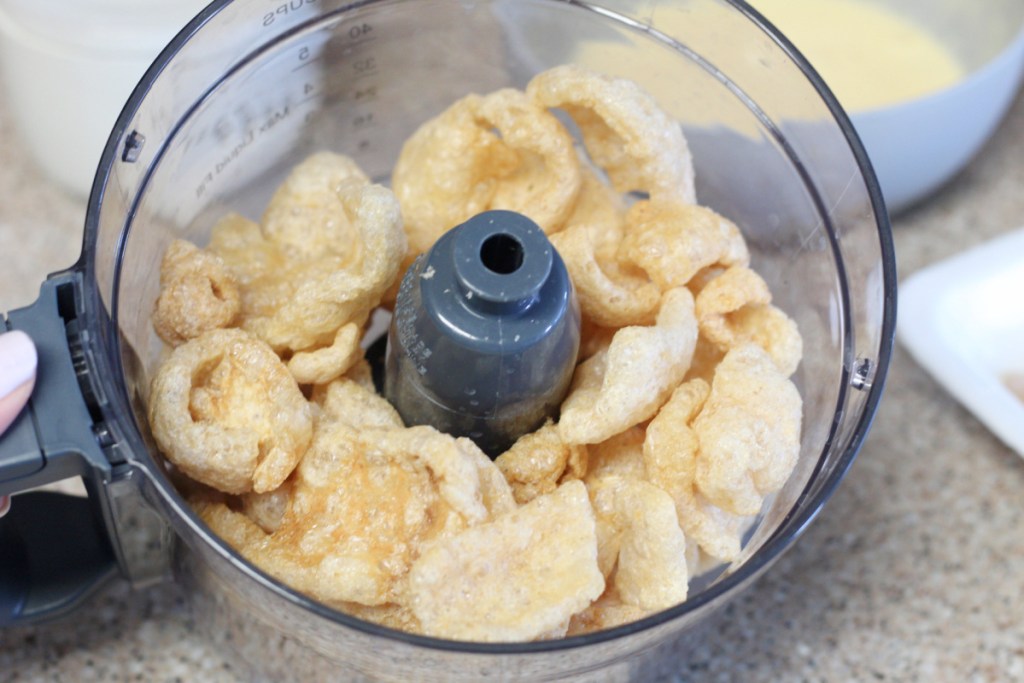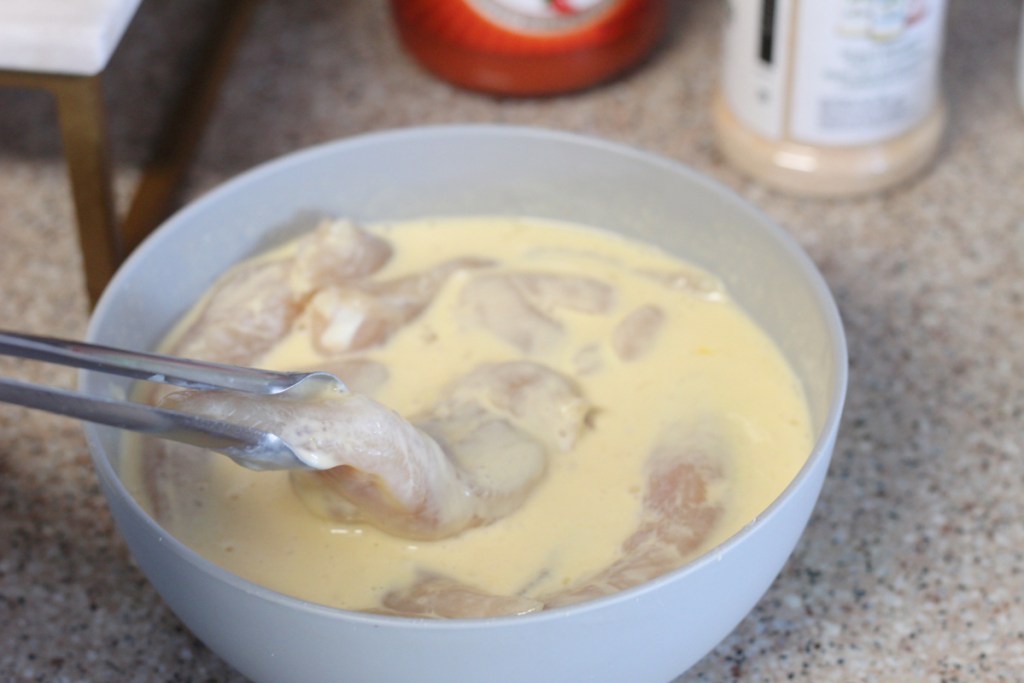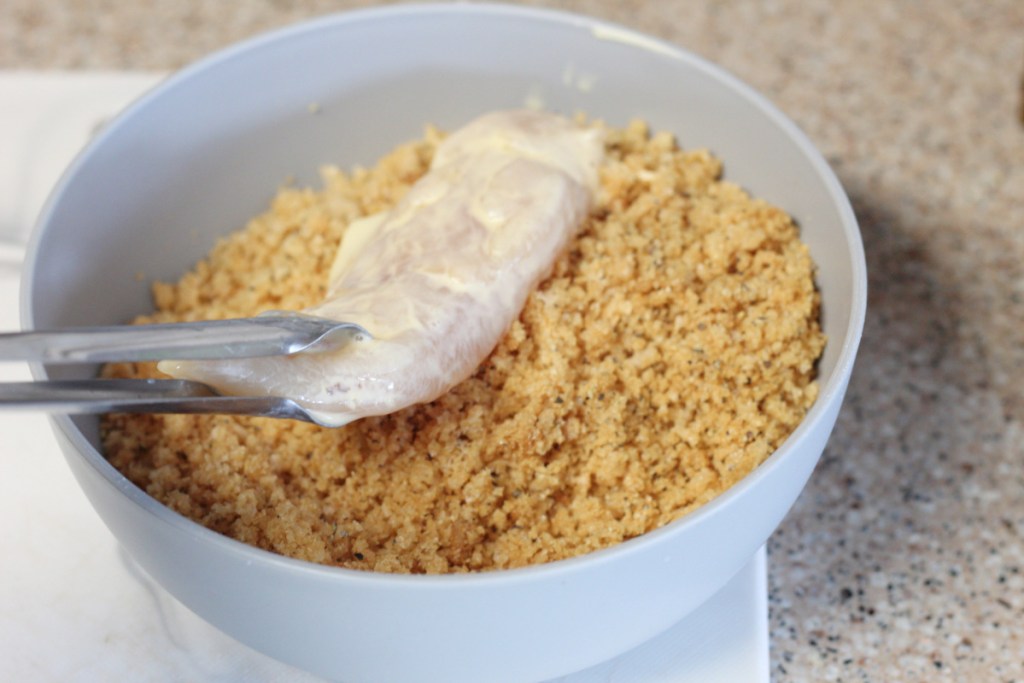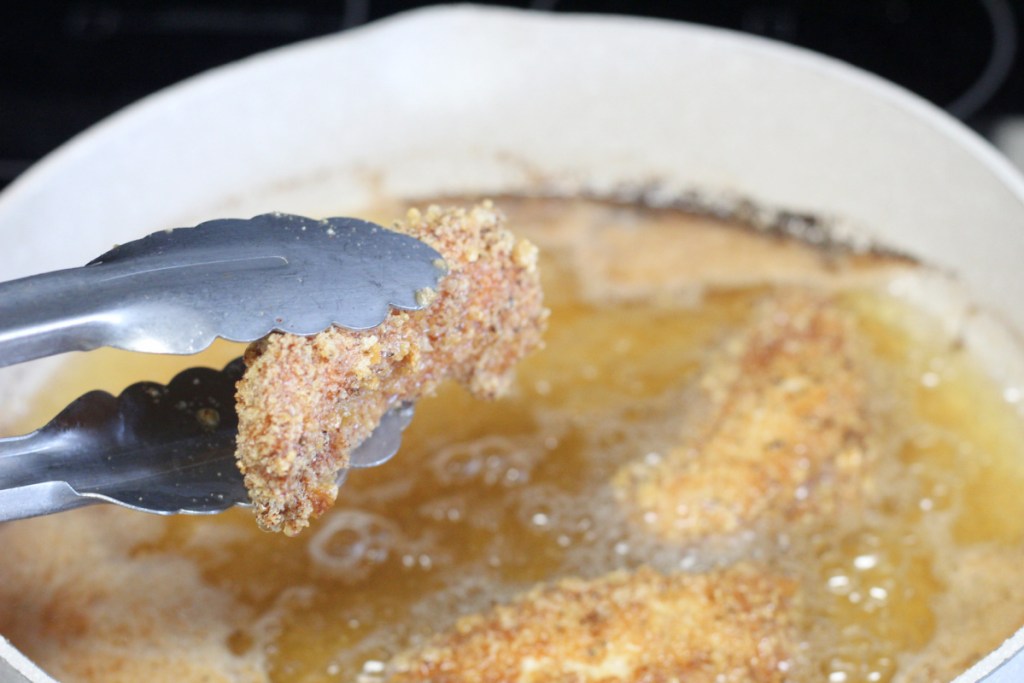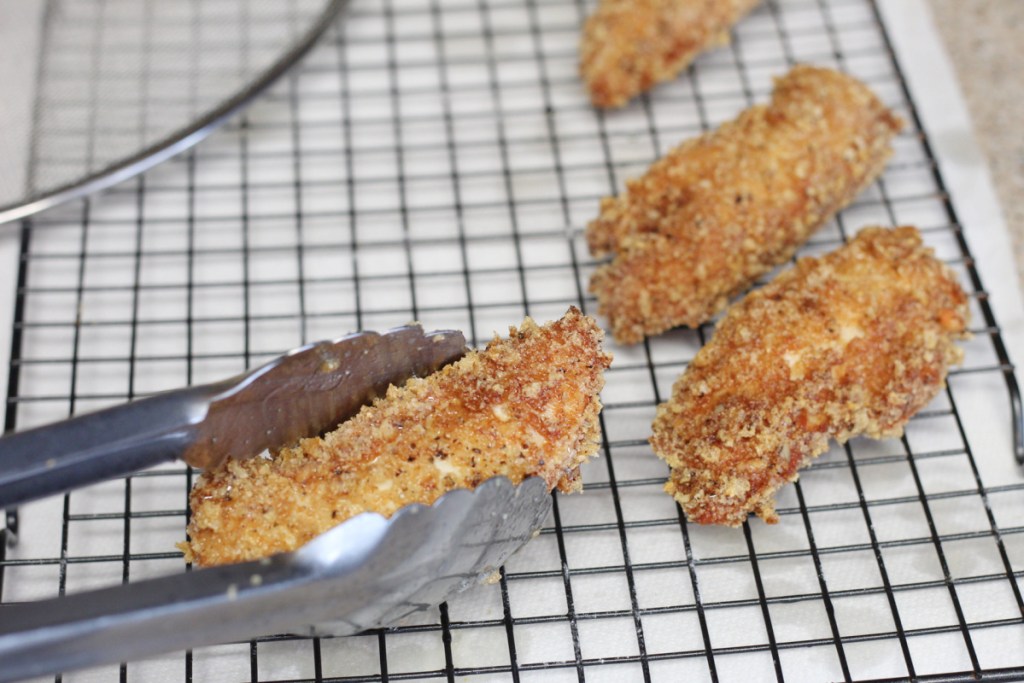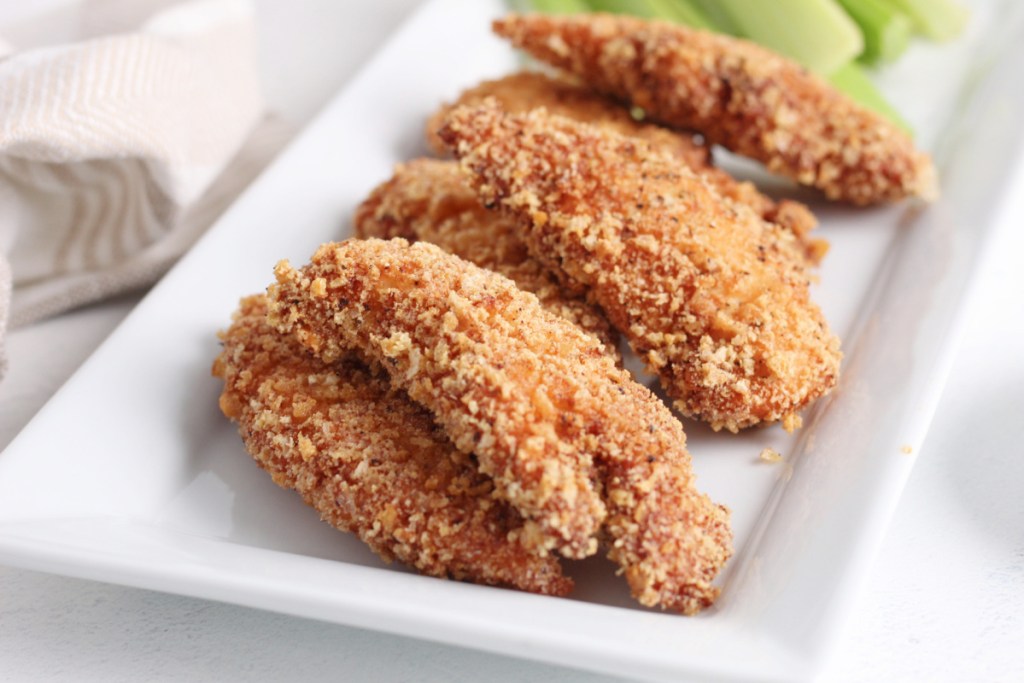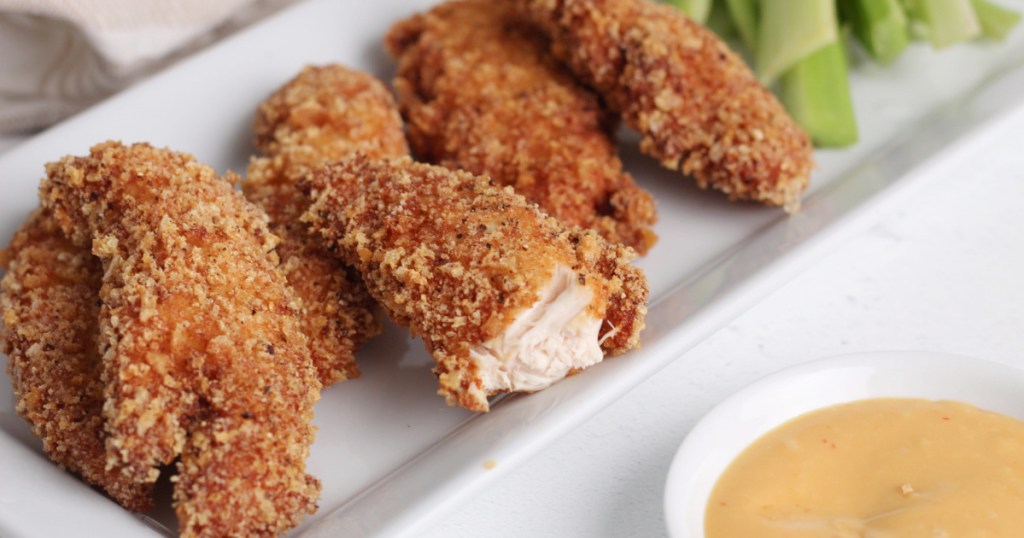 ---
Print
Crunchy Keto Chicken Tenders
yield: 4 SERVINGS
prep time: 10 MINUTES
cook time: 4 MINUTES
total time: 14 MINUTES
These tenders are breaded with pork rind crumbs to deliver a totally crispy crunch! They're sure to be a new family favorite!
Ingredients
12 chicken tenders, approx 2 1/4 lbs. of chicken
2 large eggs
1/4 cup heavy whipping cream
1 tablespoon garlic powder
2 teaspoons black pepper
1 teaspoon salt
salt & pepper
Directions
1
In a medium-size bowl, whisk together eggs, heavy cream, and hot sauce.
2
In a separate bowl, add crushed pork rinds or pork rind crumbs, garlic powder, black pepper, salt, and mix.
3
Dip chicken tenders in egg wash then coat in pork rinds mixture. Repeat until all chicken tenders have been coated.
4
Add keto-friendly oil (coconut or avocado) to a large skillet. Over medium heat, let the oil heat up until it reaches 350 degrees. You can attach a candy or deep-fry thermometer to make sure your oil does not go above the 350 smoke mark. Once it has reached 350 degrees and has stayed steady at that temperature for about 5 minutes, the chicken is ready to fry.
5
Carefully add chicken tenders to hot oil. Fry chicken tenders on each side for 2 minutes.
6
Remove chicken tenders from oil and let sit for 5 minutes before serving.
Nutrition Information
Yield: 12, Serving Size: Approx. 3 chicken tenders
Amount Per Serving: 838 Calories | 45.7g Fat | 3.3g Total Carbs | 0g Fiber | 0.3g Sugar | 0.1g Sugar Alcohol | 102.3g Protein | 3.3g Net Carbs
---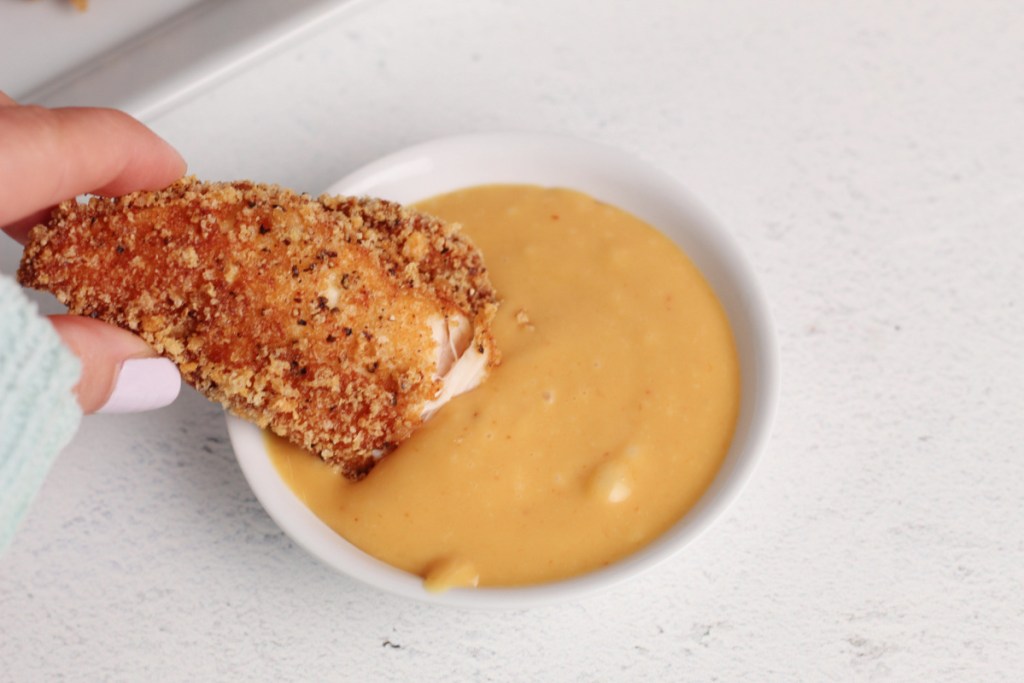 Kid tested, mom-approved!
My boys really love it when I make these keto chicken tenders. It's so easy to ditch all of the carby breading when it's replaced with seasonings that make these chicken strips really stand out. I know fried chicken can seem a bit intimidating, but using chicken tenders not only lessens the stress of frying chicken but also speeds up the process.
Make a batch for your family and let me know what ya think! 😋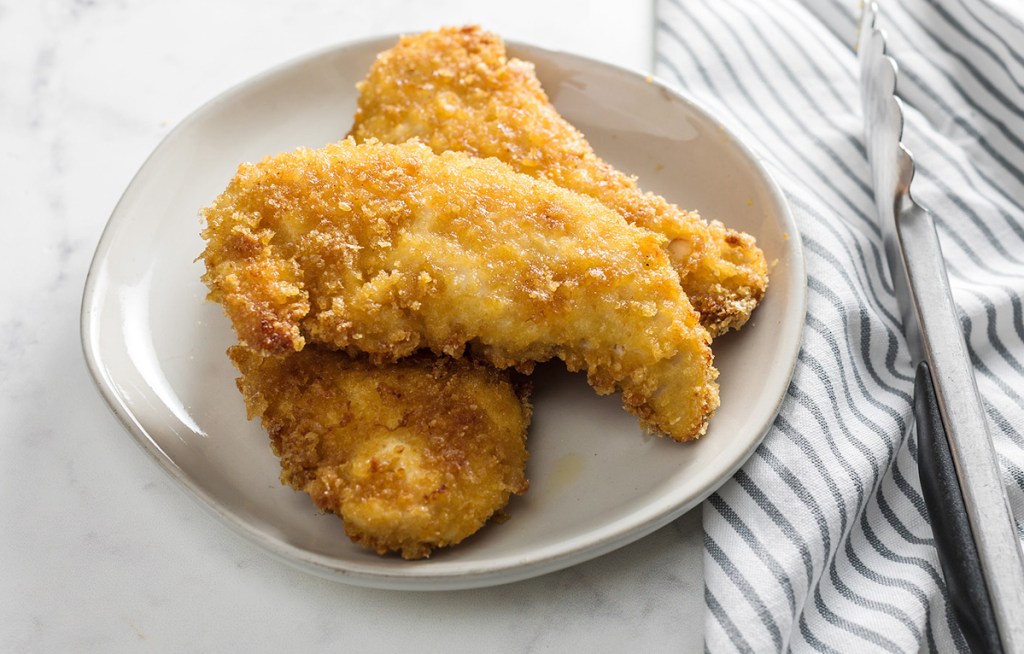 My Hip sidekick Jenna gave this recipe a try and here's what she thought:
"These are FANTASTIC! I love the crispy flavor and that breading is the star of the dish! The best part? They reheat beautifully in the air fryer, and the leftovers for sure didn't go to waste! The kids loved them and so did I! They're even more amazing when dipped in our keto ranch dressing!!"
---