Walmart Sells Keto Peanut Butter Cups… And They're Cheaper Than Quest!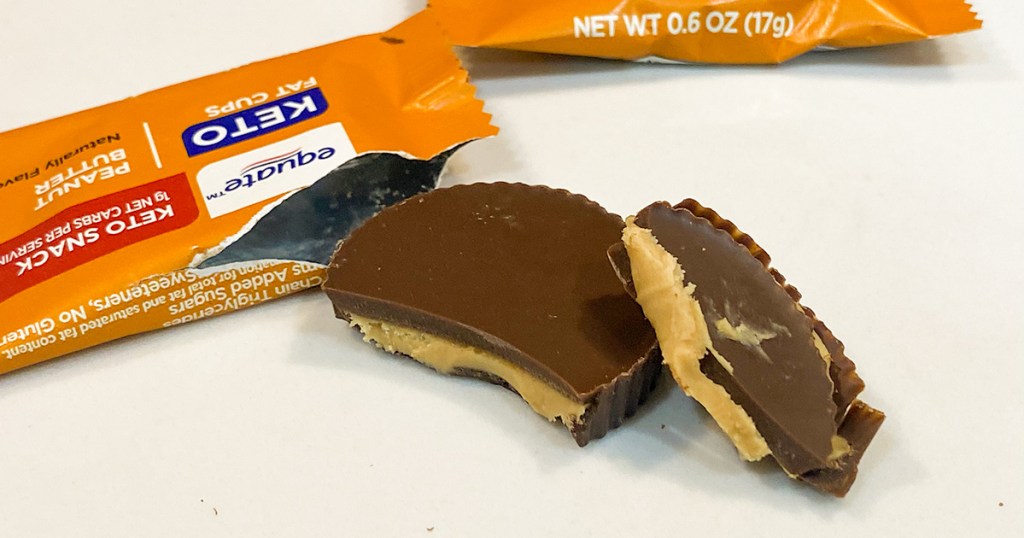 It doesn't get much better than the tried-and-true combo of peanut butter and chocolate, am I right? 😍
You guys may remember the Quest Keto Peanut Butter Cups we've been lovin' here at Hip2Keto, but we have a new (and cheaper!) keto candy competitor in town. We recently found sugar-free keto peanut butter cups from… wait for it…Walmart!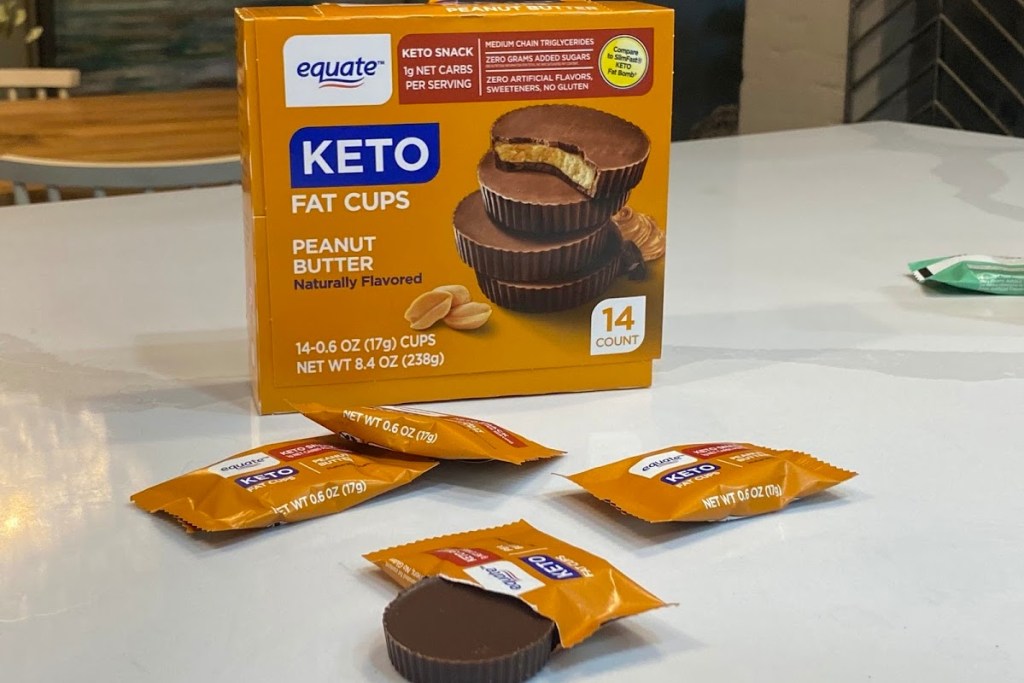 If you feel like treating yourself, these awesome little cups are both delicious and keto-friendly! Each one-piece serving has only 1g net carbs + some fat and fiber to keep you satisfied.
Serving Size: 1 piece of candy
90 Calories | 8g Fat | 7g Total Carbs | 3g Fiber | 1g Sugar | 3g Sugar Alcohol | 2g Protein | 1g Net Carbs
Ingredients: Milk chocolate (cacao butter, erythritol, cacao liquor, dry whole milk, inulin, nonfat dry milk, ammonium phosphatide, vanilla flavor, salt, stevia), medium-chain triglycerides oil blend (palm oil, coconut oil), peanut butter, inulin, peanut flour, erythritol, milk protein isolate, peanut oil, stevia leaf extract, salt.
Contains: milk, peanuts, coconut, and soy. May contain traces of eggs and wheat.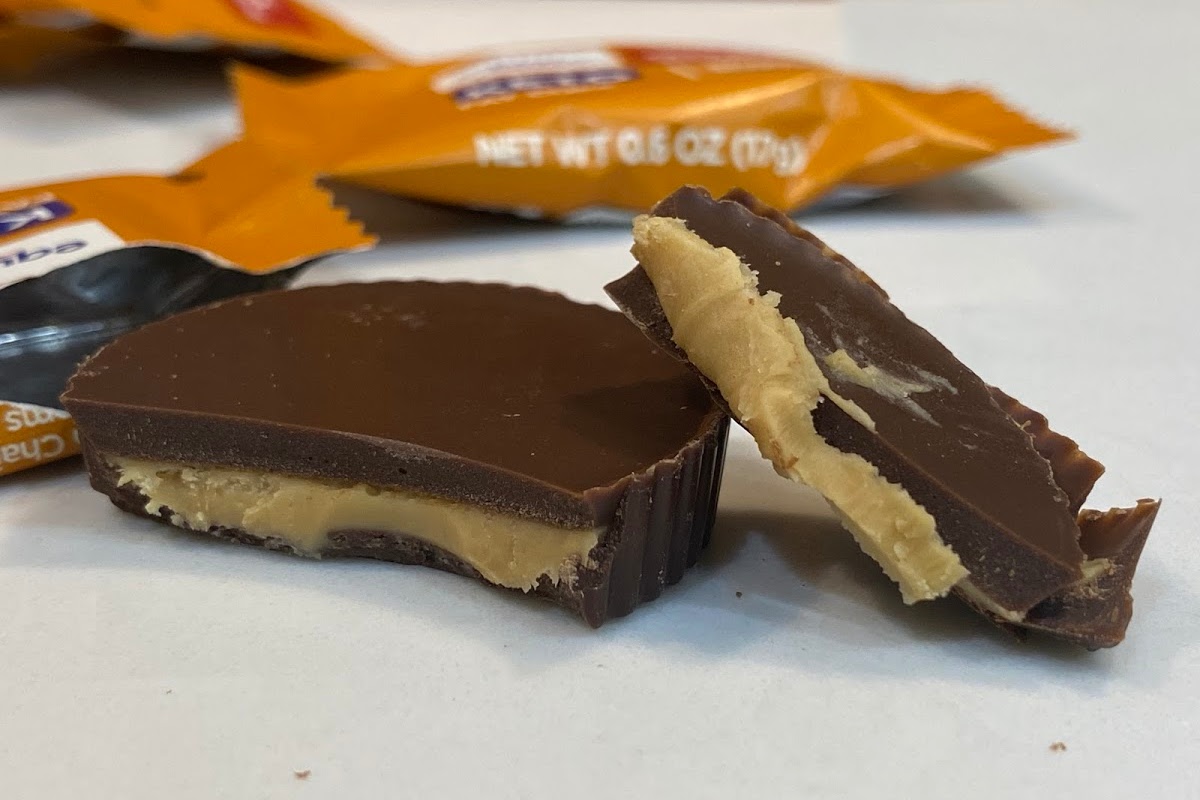 Better yet, each $7.98 box contains 14 servings, meaning each cup costs only $0.57!
At that price, I don't have to feel guilty about eating all 14 servings… right? 😅 While we love the Quest Keto Peanut Butter Cups, they're definitely a slightly pricier keto candy, even though we do often find them on sale.
Overall, Equate sugar-free peanut butter cups win in the cost category, coming in at $0.12 cheaper per candy. That may not seem like a big difference, but when you love peanut butter and chocolate as much as we do… it certainly adds up. 🤣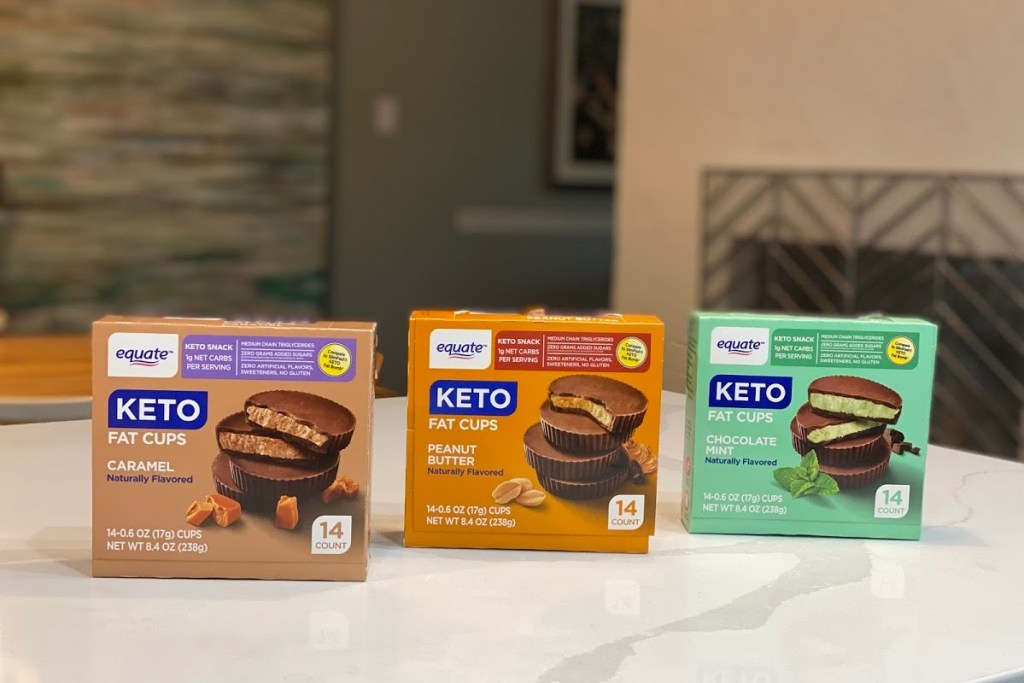 And if peanut butter isn't your fave, there are some equally delicious caramel and mint chocolate alternatives. 👏
Just in case you're still undecided about which of these keto candies is right for you, here's what Stetson had to say about all the different flavors:
"They taste really good, kind of like a light milk chocolate candy bar. All three flavors were great, and oddly enough I enjoyed the caramel the most, even while being a big mint fan. The caramel reminded me of a Milky Way and I didn't want to stop eating it. No weird after taste, and it has a nice crunchy bite to it while still having a soft inside." – Stetson
---

Want to get creative? Here are some fun ways you can use the sugar-free peanut butter cups in other recipes!
These make such a yummy, budget-friendly snack! It's the perfect treat to keep around for those moments you're really craving something on the sweeter side. I know I'll be munching my way through all the flavors and enjoying them as an after-lunch dessert on the regular. 😍
---
Curious about all things keto? Check out more of our favorite low-carb products!