Keto Avocado Chocolate Cookies | Low-Carb, Rich, & Delicious!
Calling all keto Cookie Monsters!
If you have avocados that are about to go bad, don't toss them out! Instead, use them to make these delectable and super easy low-carb cookies.
These keto avocado chocolate cookies are everything!
I know it may sound crazy, but using avocado when making keto cookies (or brownies) makes them taste 10x's better, and you'll never be able to tell they are the secret ingredient!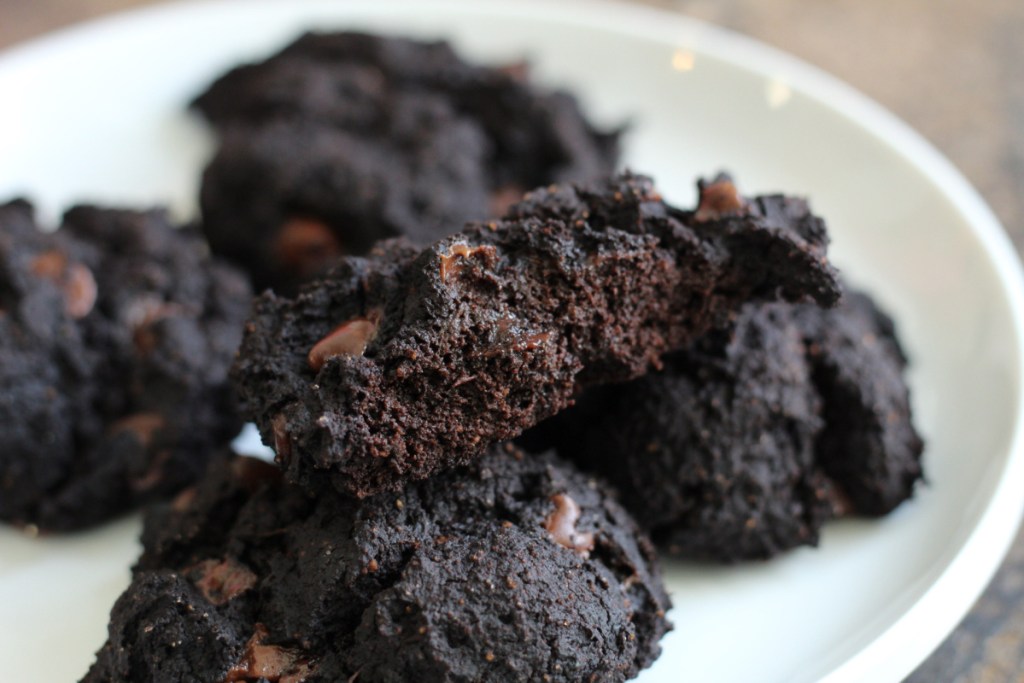 Inspired by a classic!
A while back Collin visited the amazing Miraval Resort in Austin, Texas, and instantly fell in love with their delicious chocolate avocado cookies. These cookies are a signature item from Miraval and the recipe is popular on the internet. In true Hip2Keto fashion, we've adapted their recipe and switched out some of the ingredients to make them oh so keto-friendly.
Don't judge a book by its cover!
Now, I know what you may be thinking, these keto avocado chocolate cookies may not be the prettiest cookies you've ever seem, but oh boy they sure make up for it with their rich, chocolatey taste. One bite and you'll be in chocolate heaven. I dare you to try to eat just one!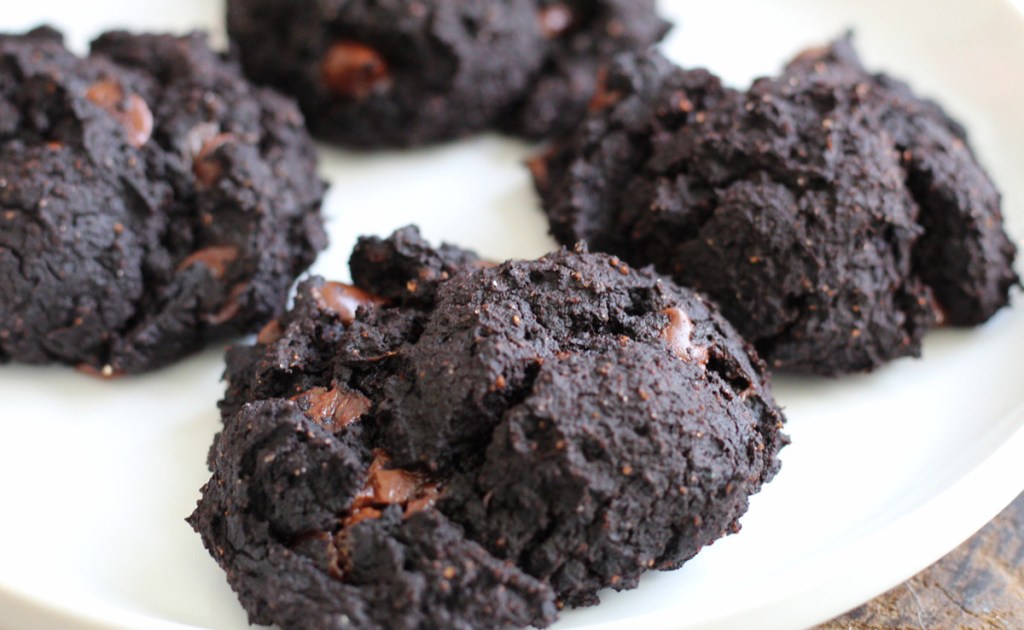 Hip tips for making the best keto avocado chocolate cookies:
Make sure your avocados are very ripe. In fact, it's totally okay if they're even a little brown on the inside.
I only used 1/2 cup of Lakanto golden monk fruit sweetener because I wanted the dark chocolate flavor to come through, however, you can totally use a little bit more if you want a sweeter cookie. Use promo code HIP2KETO at checkout for 15% off.
I threw in 1/2 cup of ChocZero dark chocolate chips to bring in some extra chocolatey sweetness. There's really no such thing as too much chocolate, right? 😋 Use promo code HIP2KETO at checkout for 10% off!
After adding the unsweetened cocoa powder, be sure to stir the mixture with a spoon instead of a mixer! Take it from me, my kitchen was covered in cocoa powder when I used my mixer. Oops! 🤪
Be sure to let these delicious avocado chocolate cookies cool for about 20 minutes before eating so they have a little time to firm up.
Store in an air-tight container on the counter. Avoid putting them in the fridge as they may start to get a little mushy.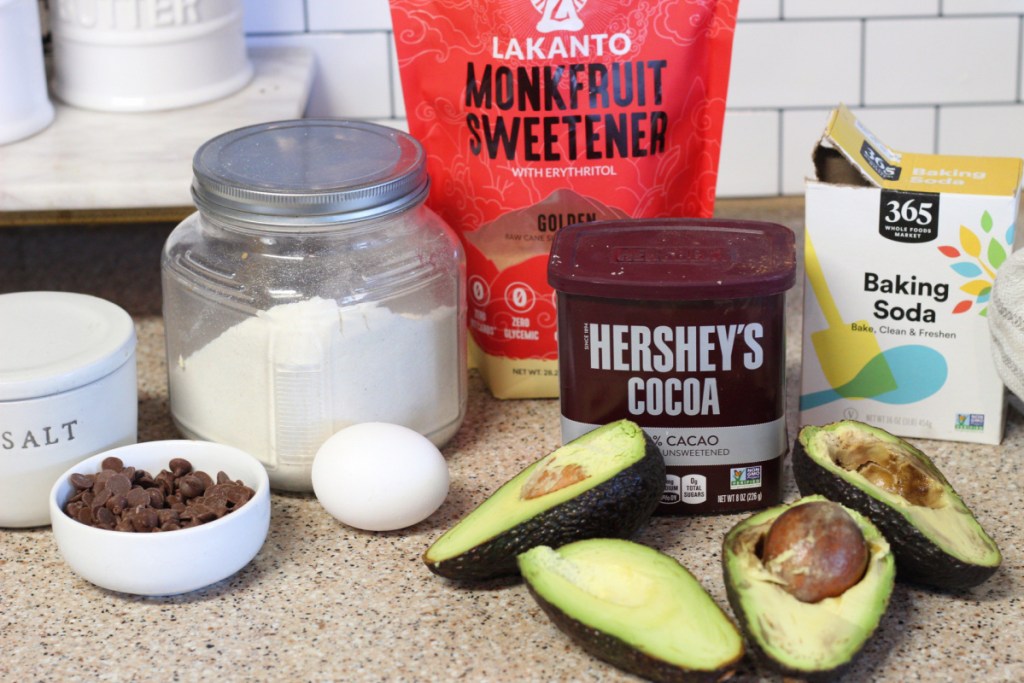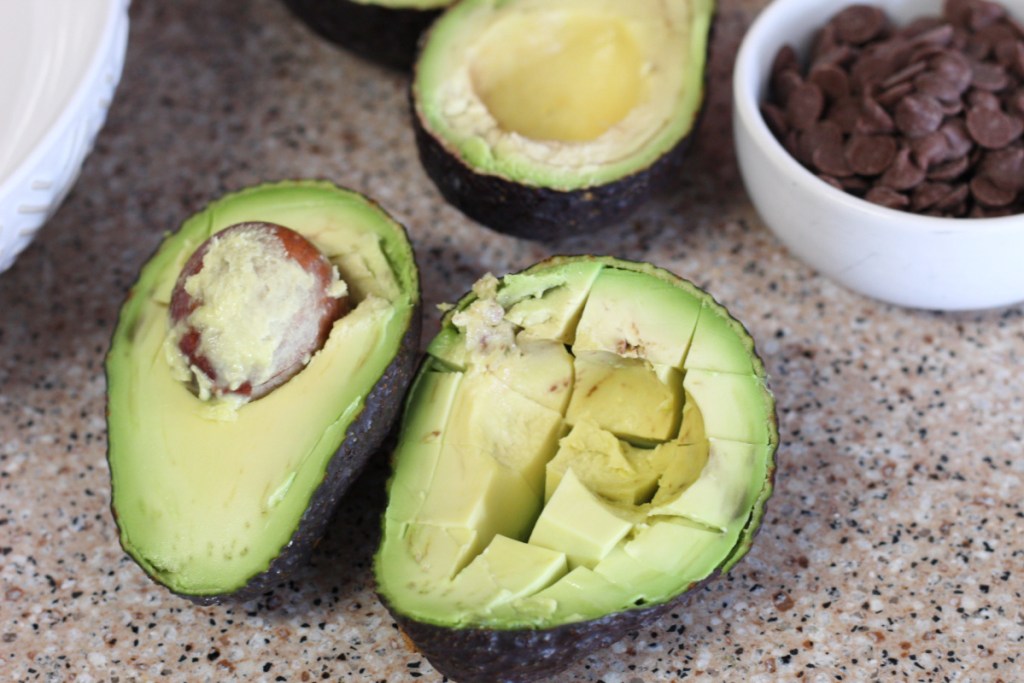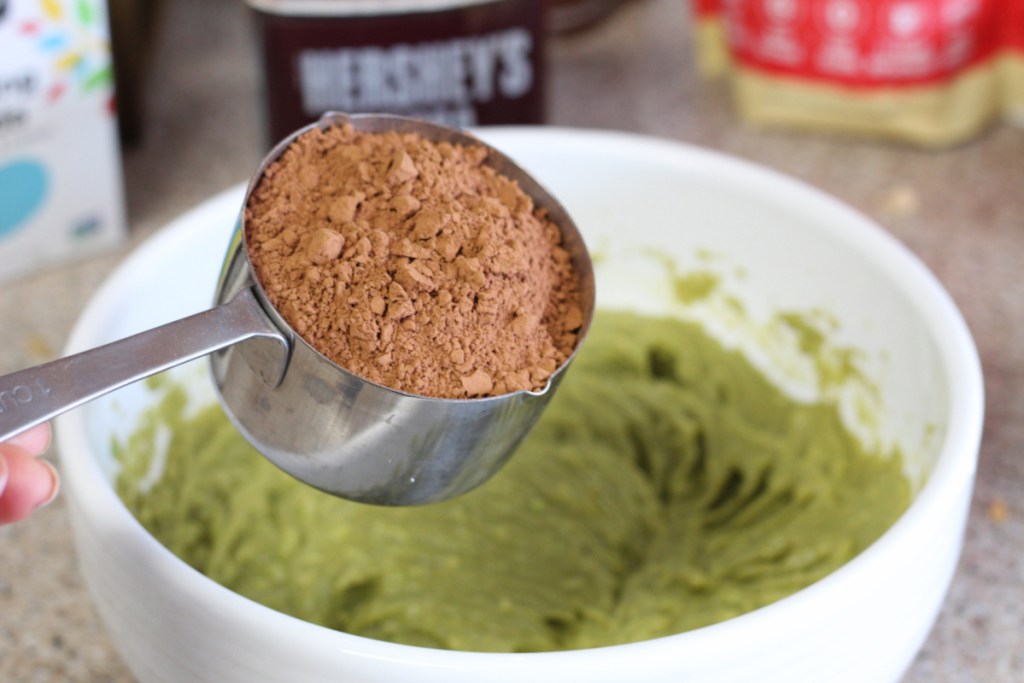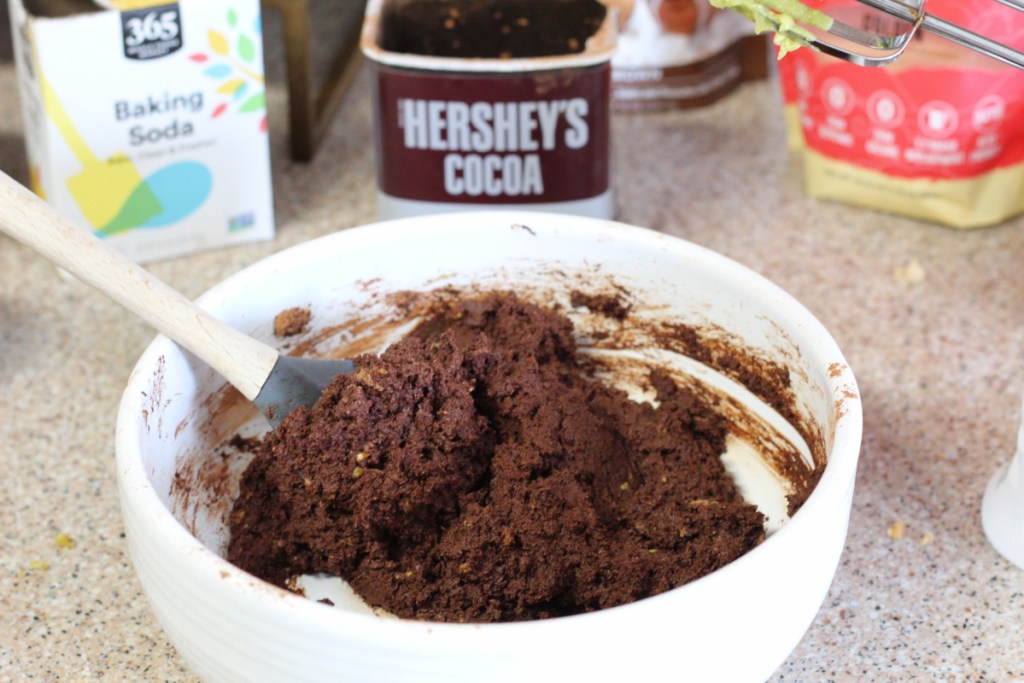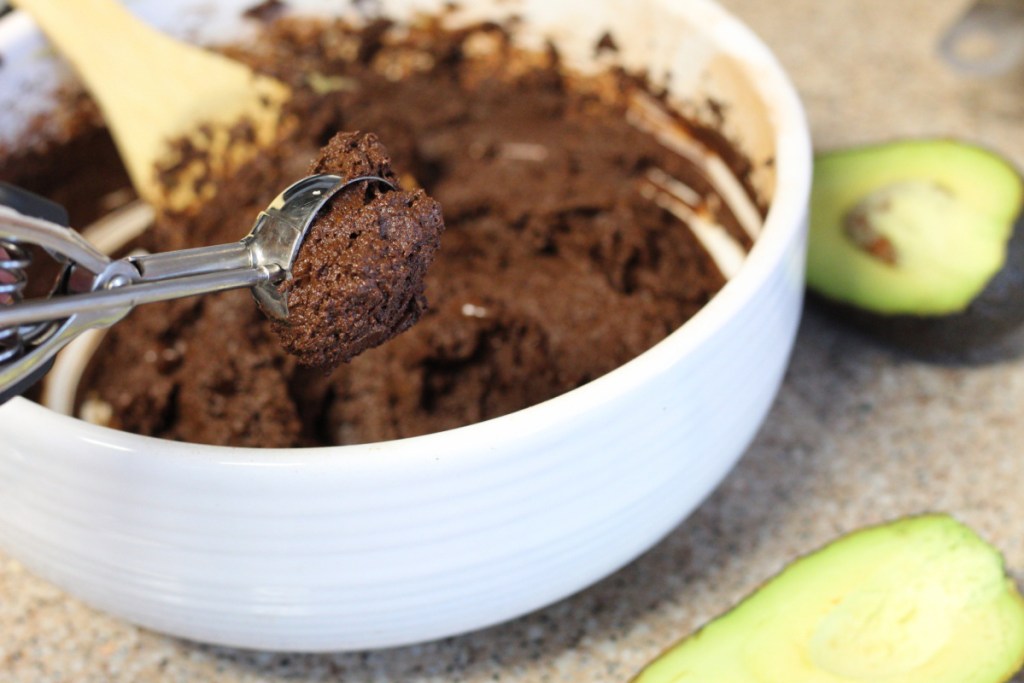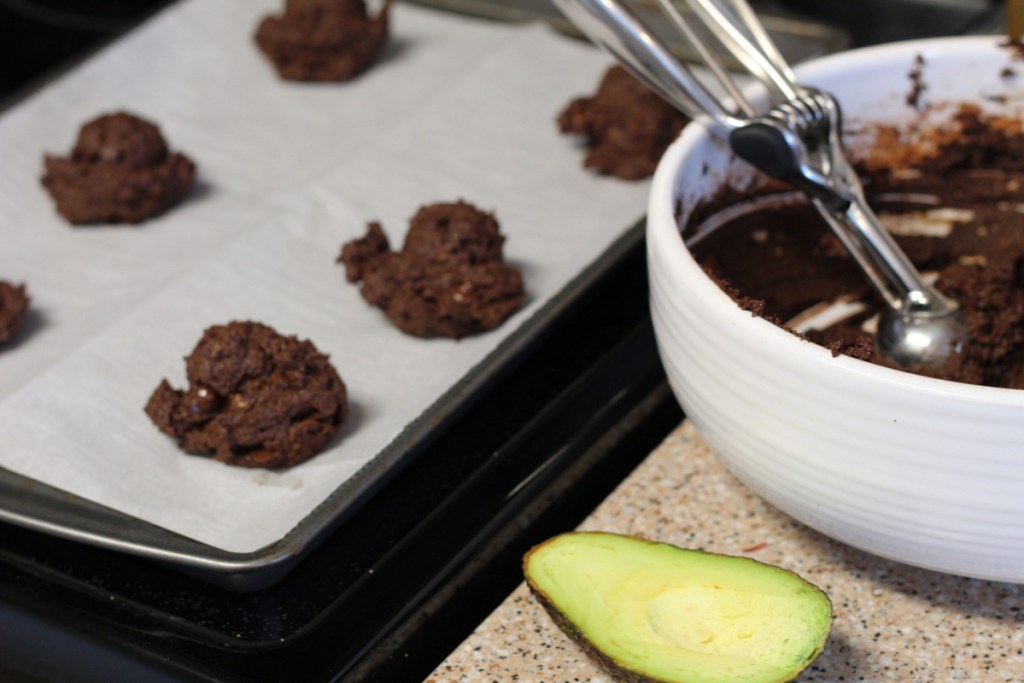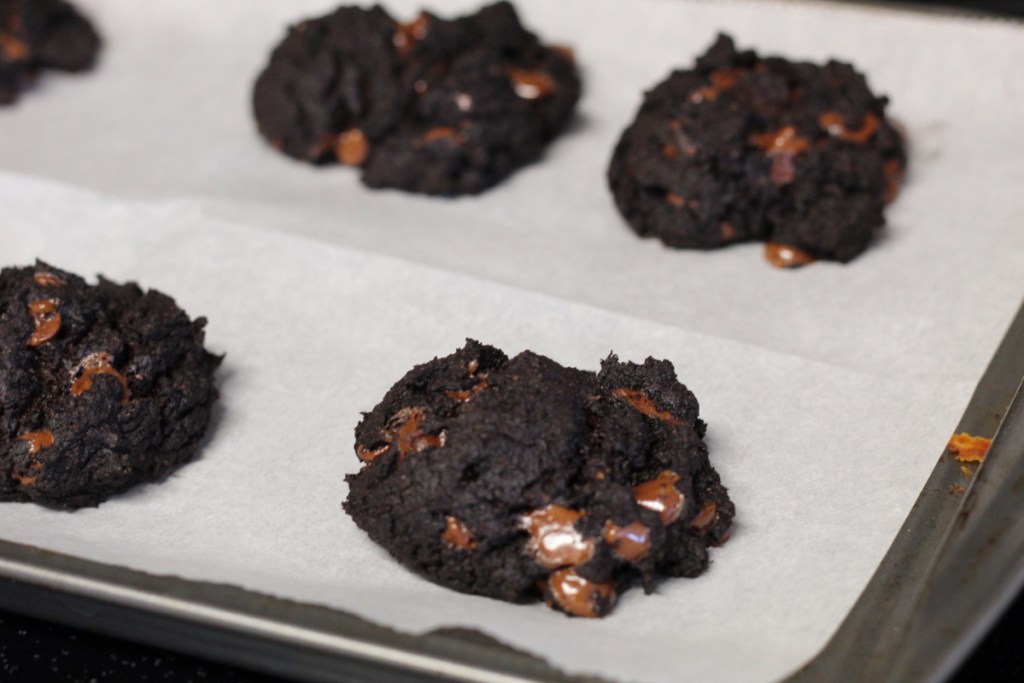 ---
Print
Keto Avocado Chocolate Cookies
yield: 12 SERVINGS
prep time: 10 MINUTES
cook time: 10 MINUTES
total time: 20 MINUTES
Rich cookies made with simple ingredients like avocado, cocoa powder, and keto-friendly monk fruit sweetener.
Ingredients
2 large ripe avocados, peeled and cut into cubes (about 2 cups)
1 egg
1 1/2 teaspoon baking soda
1/4 teaspoon sea salt
Directions
1
Preheat oven to 350 degrees. Line a baking sheet with parchment paper and set aside.
2
In a medium-size mixing bowl, add avocado cubes and keto sweetener. With an electric mixer, mix together avocado and keto sweetener until creamy.
3
Add in egg, unsweetened cocoa powder, coconut flour, baking soda, vanilla, and salt. Mix ingredients with a spoon until you have a thick cookie batter.
4
Stir in chocolate chips.
5
Scoop out about a tablespoon size serving of the cookie batter onto the lined baking sheet. Slightly flatten out cookies by pressing down with the back of a spoon.
6
Bake in the preheated oven for 10-12 minutes.
7
Allow cookies to cool for 10-20 minutes before serving. Enjoy!
Nutrition Information
Yield: 12, Serving Size: 1
Amount Per Serving: 66 Calories | 4.7g Fat | 15.5g Total Carbs | 5.2g Fiber | 0.2g Sugar | 8.0g Sugar Alcohol | 2.0g Protein | 2.2g Net Carbs
---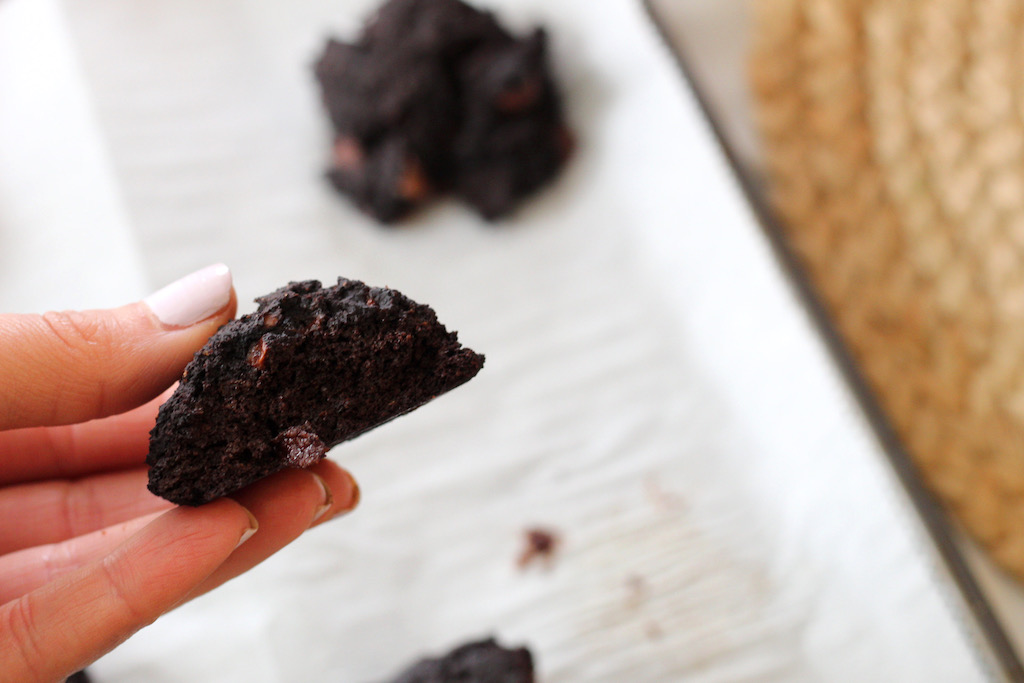 Oh avocado, I think I love you! 🥑
These keto avocado chocolate cookies are rich with chocolatey goodness, and without the guilt of all the added carbs and sugar. Thanks to the avocado, these cookies are next-level yum and add a dosage of some healthy fats!
Make a batch for your kiddos for a delicious after-school snack – my boys sure loved them!
Here's what my teammate Jenna had to say after making these keto chocolate avocado cookies:
"These are definitely a good treat for curbing those sugar cravings. The avocado is such a great ingredient and makes the avocado chocolate cookies taste like a decadent brownie. They aren't over-the-top sweet, which I actually like, and the dark chocolate chips are the star of this recipe!"
---