Keto Umami Meat Sauce is What Your Low-Carb Pasta Dishes Have Been Missing
Make this savory keto meat sauce in your Instant Pot in less than an hour.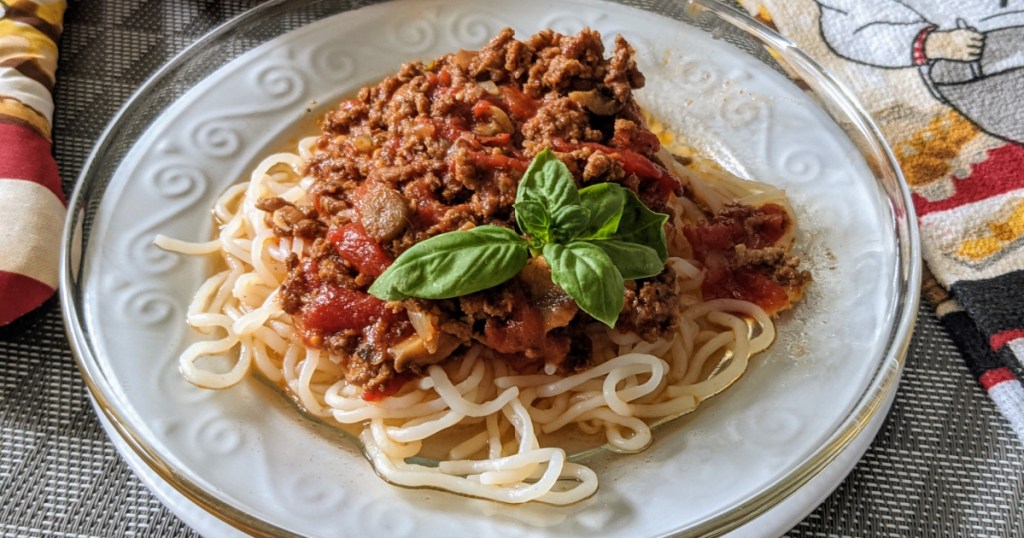 What is umami and what is it doing in my keto meat sauce?

Umami is one of the five basic tastes which include sweet, sour, bitter, and salty. Umami is a Japanese word meaning "essence of deliciousness." It is the deep meaty, savory deliciousness that makes your mouth water just thinking about it, and that's exactly what this keto meat sauce is all about!
This umami bomb of a recipe takes regular meat sauce to a whole new level. You won't believe how easy it is to whip up in your Instant Pot in just under one hour! Use it on zoodles, your favorite keto pasta alternative, or even in our egg wrap lasagna.
Hip tips for making the BEST keto umami marinara meat sauce:
If you don't have an Instant Pot, this recipe also works great in a slow cooker. Just follow steps 1 and 2 using a large pan over medium-high heat, and then transfer everything to a slow cooker and continue with step 3. Finally, cover and set the slow cooker on low for 4 hours.
This recipe was made for leftovers and is perfect for make-ahead meal prep. I always like making big batches because it keeps so well and the leftovers are even better. Properly stored, this meat sauce will keep for 4 to 6 months frozen. But if you'd prefer a smaller portion, just divide the recipe by half.
You can use any canned tomatoes you like, but I prefer peeled whole plum tomatoes. Pour them into a large bowl along with the juices and crush them using clean hands or a potato masher. I find this technique gives the best texture for a hardy sauce that is not too smooth or too chunky.
The anchovies are the secret ingredient! The "fishy" taste is cooked down and melted away by the acidity of the tomatoes, leaving behind only a deep umami flavor without any trace of fish. If you don't want to fuss with opening the oily tin cans, just use the paste (for reference, 1 anchovy fillet = 1/2 teaspoon anchovy paste).
This recipe is packed with so many other umami flavors (i.e. tomatoes, mushrooms, red wine, and balsamic vinegar) so don't worry if you're not a fan of the salty fish. You can substitute the anchovies for capers which will add a similar brininess and zing!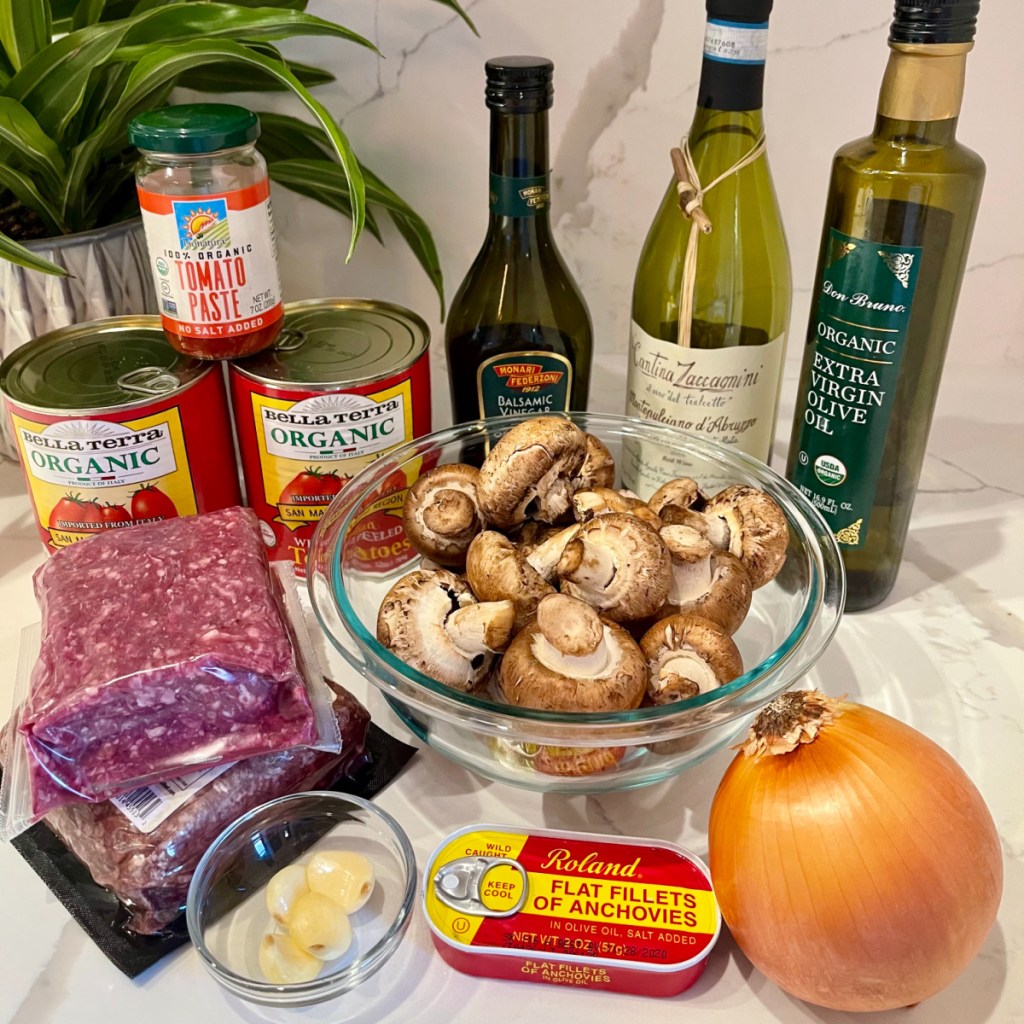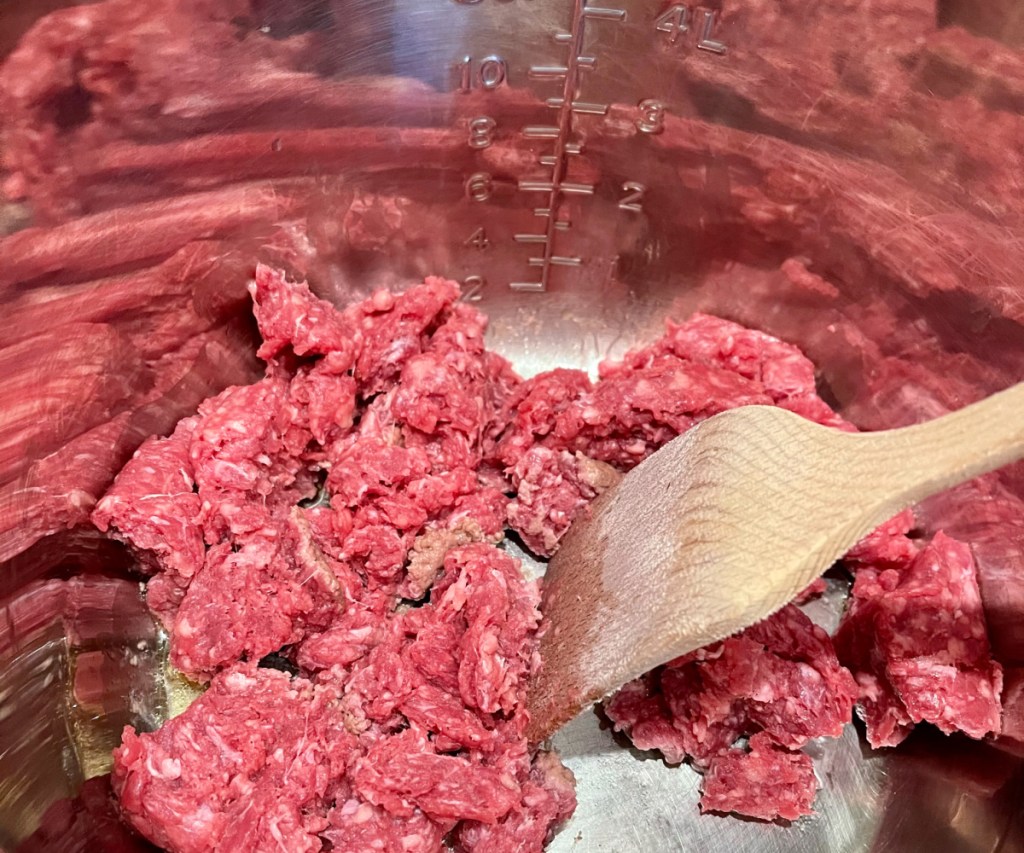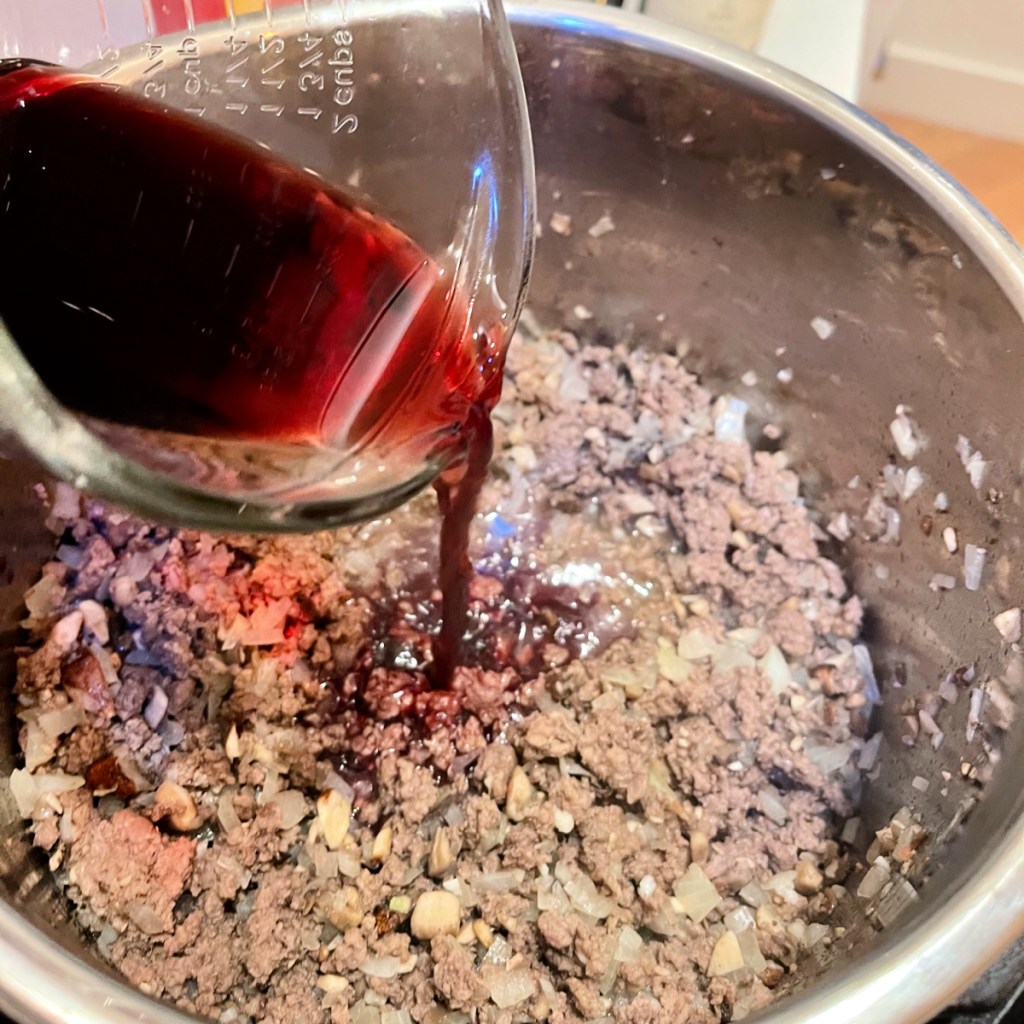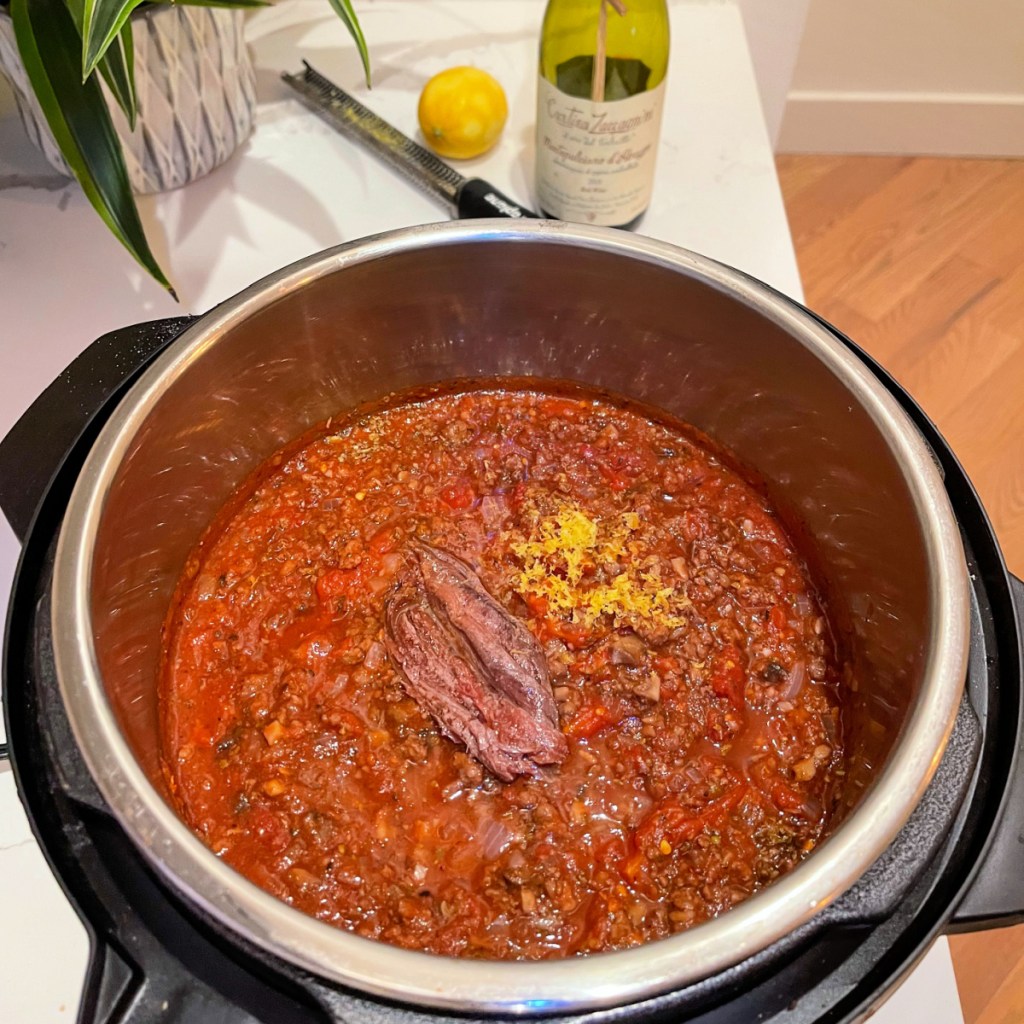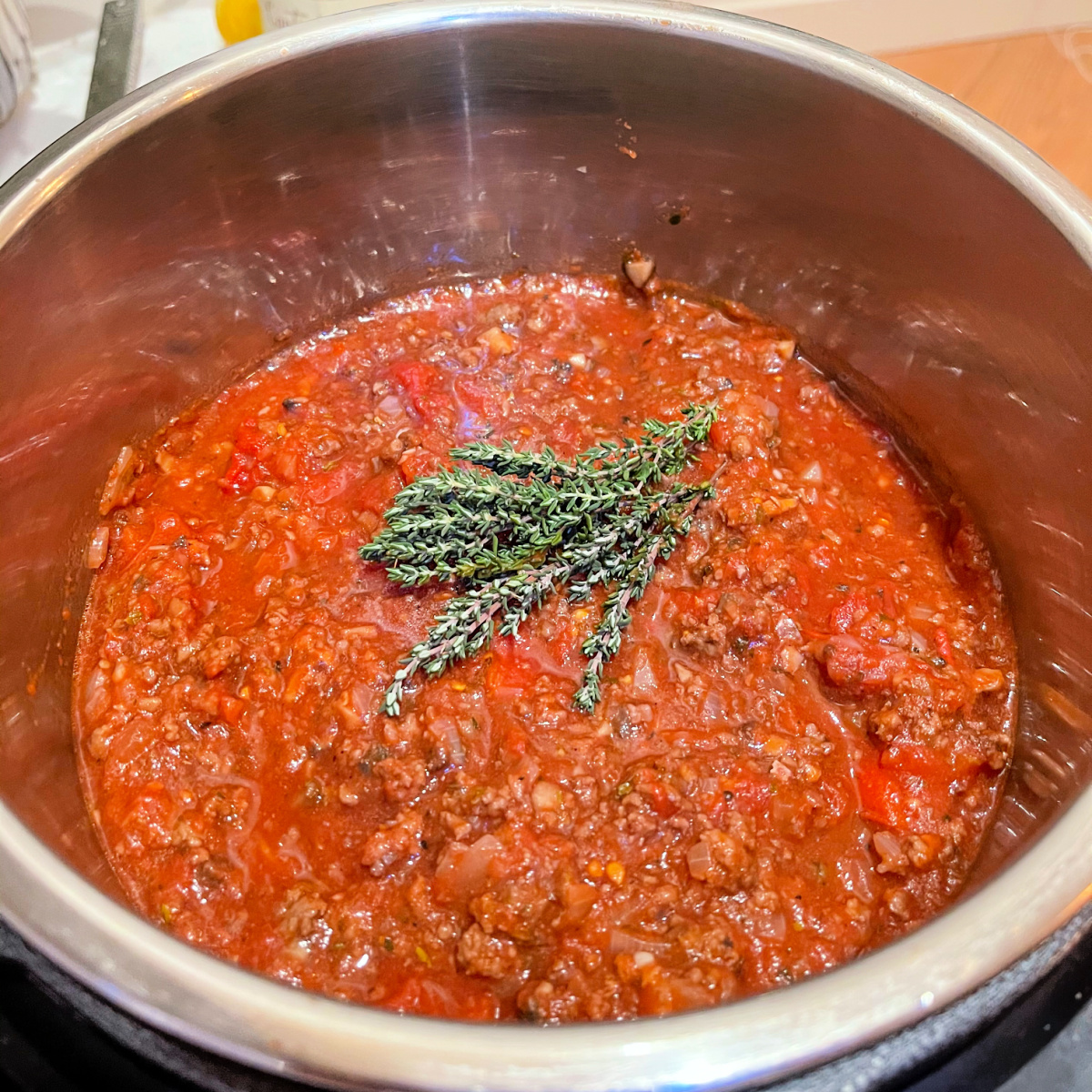 ---
Print
Keto Umami Meat Sauce
yield: 12 SERVINGS
prep time: 15 MINUTES
cook time: 40 MINUTES
total time: 55 MINUTES
Savory red meat sauce made with ground beef, onions, canned tomatoes, mushrooms, garlic, Italian seasonings, and a secret ingredient - anchovies!
Ingredients
2 pounds 85/15 ground beef
2 tablespoons olive oil
1 large yellow onion, finely chopped
6 garlic cloves, pressed or minced
3 cups mushrooms, chopped
1 cup dry red wine (or beef stock)
2- 28 oz. canned peeled plum tomatoes, drained & smashed
3 tablespoons tomato paste
3 tablespoons balsamic vinegar
6 oil-packed anchovy fillets (or 1 ½ tablespoons capers)
1 teaspoon lemon zest
2 teaspoons dried oregano
2 teaspoons dried basil (or handful of chopped fresh basil)
2 teaspoons salt
1 teaspoon ground black pepper
1/2 teaspoon red pepper flakes (optional for spice)
8 fresh thyme sprigs
½ teaspoon black truffle oil (optional)
Directions
1
Heat the olive oil in your Instant Pot using the "Sauté" function. Once it is set to "HOT," add the ground beef and break it up with a wooden spoon. After about 5 minutes, the beef will release moisture. Using a small ladle remove the excess juices and continue cooking the beef until fully browned.
2
Add the chopped onions and garlic to the beef and cook for 1 minute until fragrant, then add the chopped mushrooms and mix in well. Pour in the wine and simmer for about a minute or until the alcohol has burned off, scraping up any browned bits on the bottom of the pot.
3
Add the rest of the ingredients to the Instant Pot, making sure everything is mixed in evenly. Turn off the "Sauté" function by pushing CANCEL, then lock on the lid. Select MANUAL for 30 minutes and turn the valve to "Sealing".
4
After the cooking time is up, let the Instant Pot naturally release for 10 minutes then quick release by turning the valve. Finish off your meat sauce with a healthy drizzle of black truffle oil if using or substitute for olive oil.
5
Serve the umami meat sauce on your favorite keto "pasta" or use it as the base for a keto lasagna. Then save the rest for leftovers because it'll be even better the next day! Enjoy!
Nutrition Information
Yield: 12, Serving Size: 1 cup
Amount Per Serving: 267 Calories | 13.8g Fat | 9.7g Total Carbs | 2g Fiber | 6.7g Sugar | 23.4g Protein | 7.6g Net Carbs
---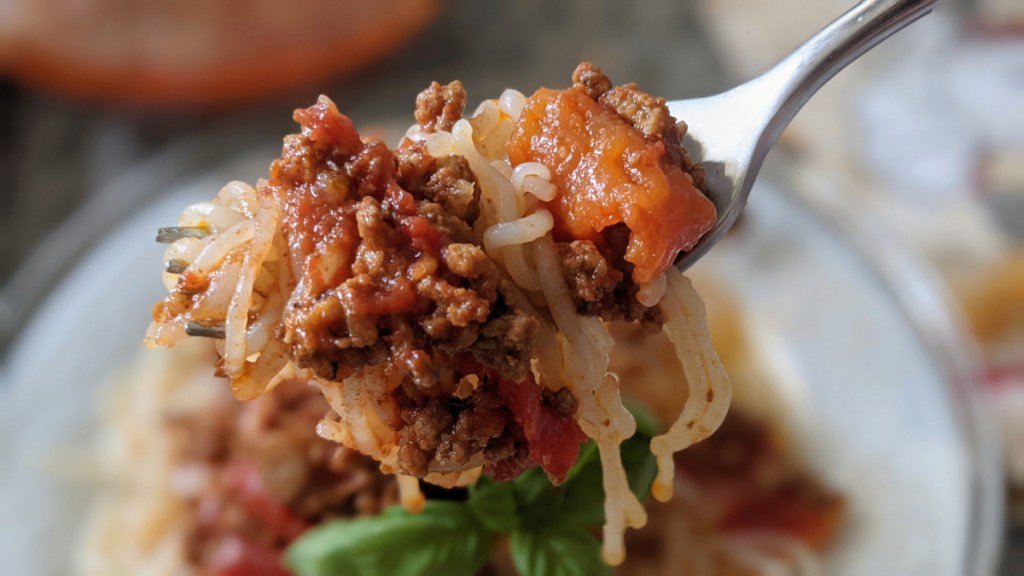 Take a chance on uma-ME!
Intrigued by this recipe but a little intimated by the anchovies? You're not alone! The first few times I made this recipe for friends and family, I didn't mention my sneaky, salty sidekick. But after I knew everyone was hooked on my umami meat sauce, I let the anchovy out of the bag! 🐟
They were so surprised that there was no fishiness to the meat sauce! And I assured them they've probably eaten their fair share of anchovies in their favorite caesar salad or olive tapenade. So, if you want to transform your cooking and add more savory mouthwatering umami flavor, give this small fish another chance. I promise you won't be disappointed.
---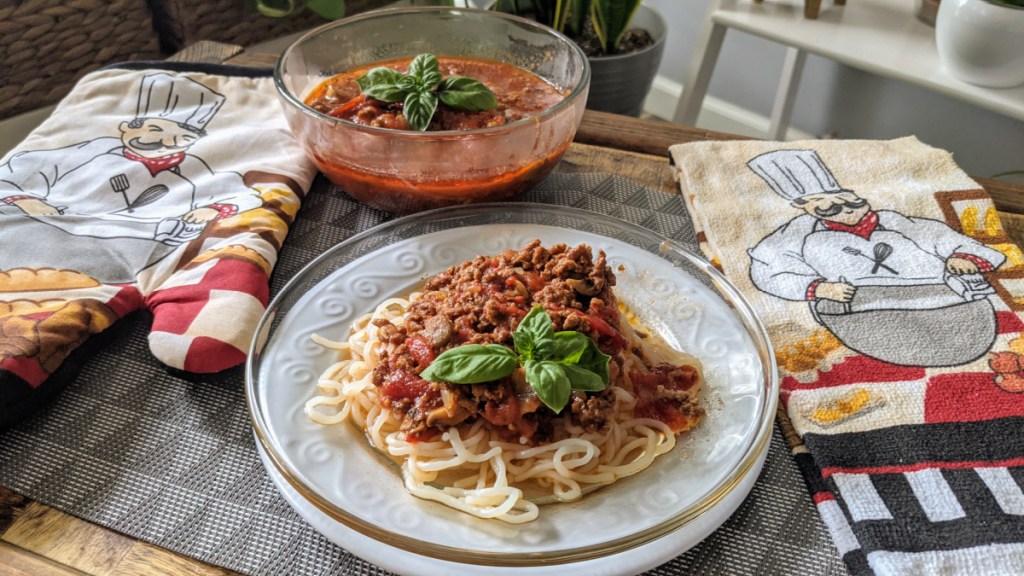 My Hip sidekick Jen made this recipe and here's what she had to say:
"I love that I could cook this in an Instant Pot from start to finish! EASY PEASY! The sauce is beautiful with the mushrooms, onions, tomatoes, beef, & spices. I served mine with pasta zero noodles. This is one sure to impress your friends. You do not taste the anchovies at all and it helps enhance the flavors.

This sauce makes a lot and is really versatile! This can be used for 3 big meals in my family of 4 adults. I can make spaghetti one night, chicken parm the second night, and freeze the rest for a 3rd meal later. My family really liked this meaty sauce and we will be making it again!"
---
Keep the low carb Italian train going with our Keto Cauliflower Parm!