Keto Cauliflower Parm is a Unique Spin on the Italian Classic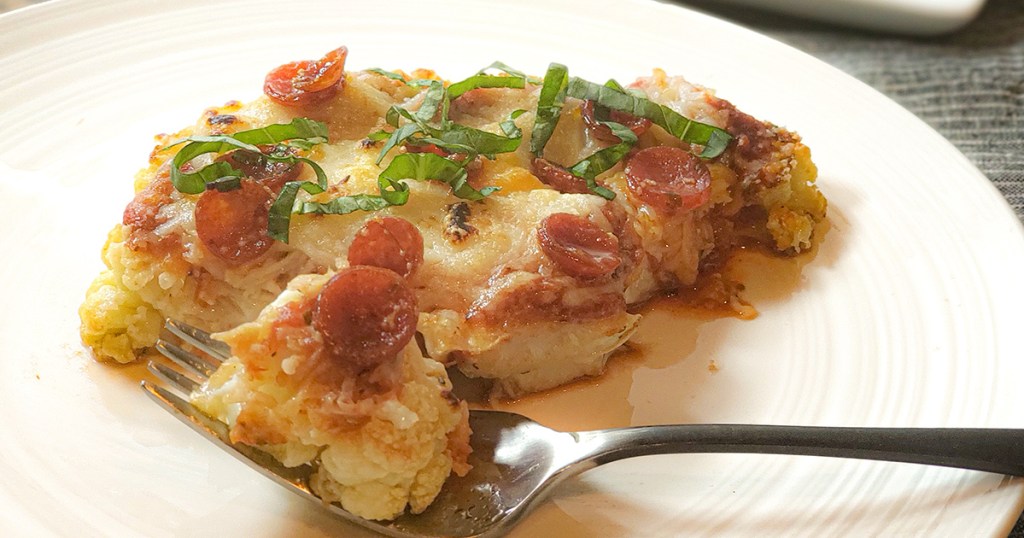 Love chicken parm? You gotta try this!

Today I'm talking about a keto-friendly cauliflower parm recipe that's a fresh take on an Italian classic. If you add mini pepperoni, it's almost like pizza on a slice of cauliflower! This recipe is sure to be an instant family favorite, even with the non-keto eaters in your house.
Introducing keto cauliflower parm!
This easy prep dinner uses ingredients you may already have on hand!

If you've never experimented with cauliflower steaks (or planks as they're sometimes called), now's the time! Olive oil, garlic powder, a few herbs, keto pasta sauce, and cheese turn the humble cauliflower into a yummy entree. Throw in some pepperoni and you have a savory keto cauliflower parm that will have you thinking you're dining on a hearty slice of pizza!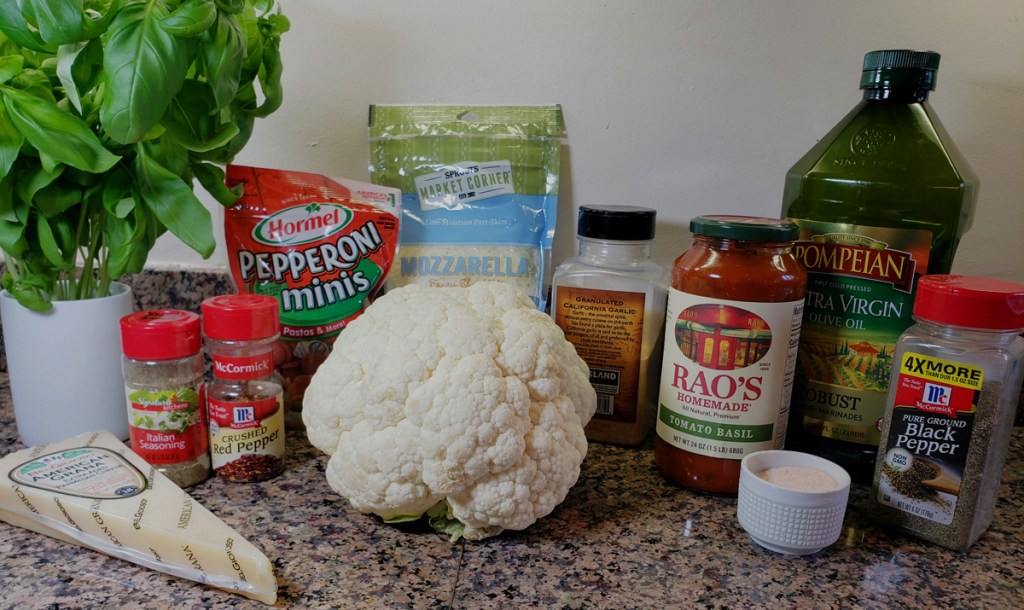 Tips for making the best keto cauliflower parm:
Select a large, firm cauliflower that's at least 6-inches in diameter to get the best size for your cauliflower steaks.
One of my Hip Sidekicks discovered another Speciality Select Premium Marinara at ALDI that's a real bargain at only $2.49! Here's her description: "It's smooth, not too acidic, and has the perfect texture resembling a creamy tomato bisque. YUM!" You can also check out her full product review.
Feel free to swap out garlic powder for minced garlic if you're looking for a fresher garlic taste. Start with 1/2 teaspoon and add more by the 1/2 teaspoon depending on how much you like.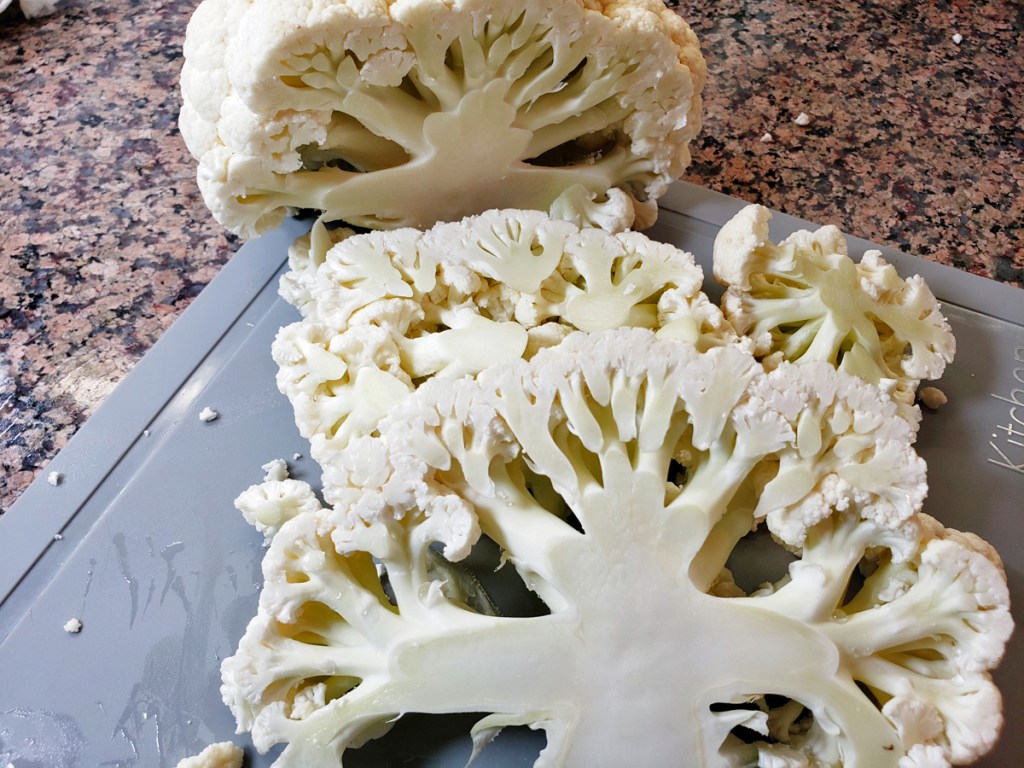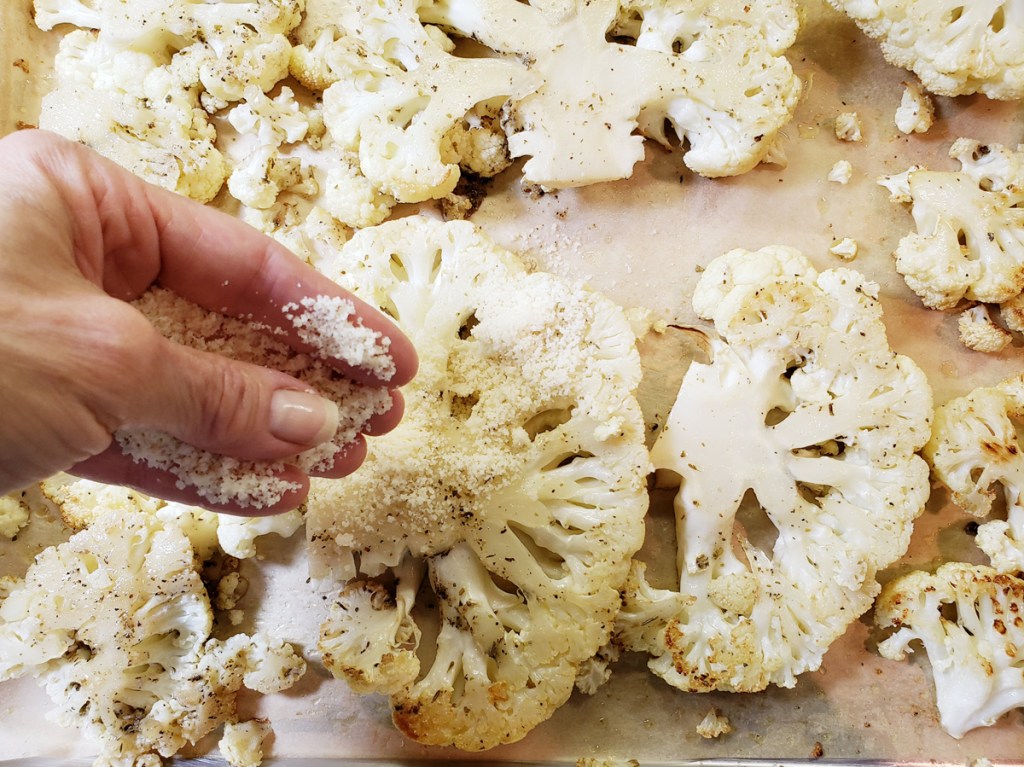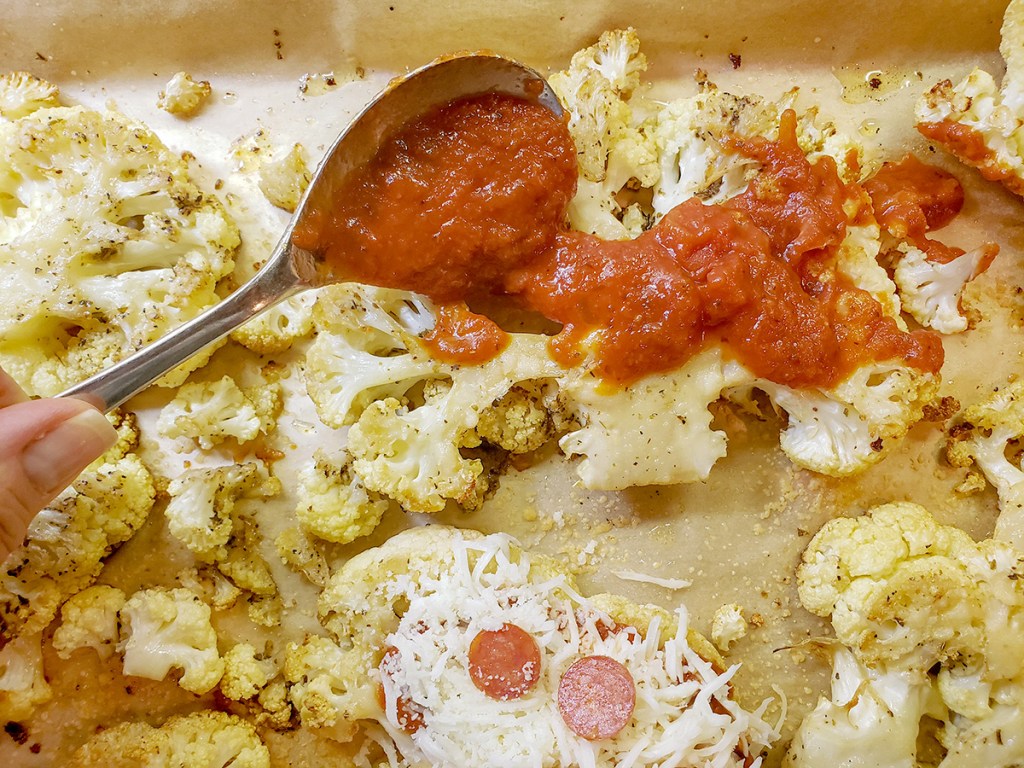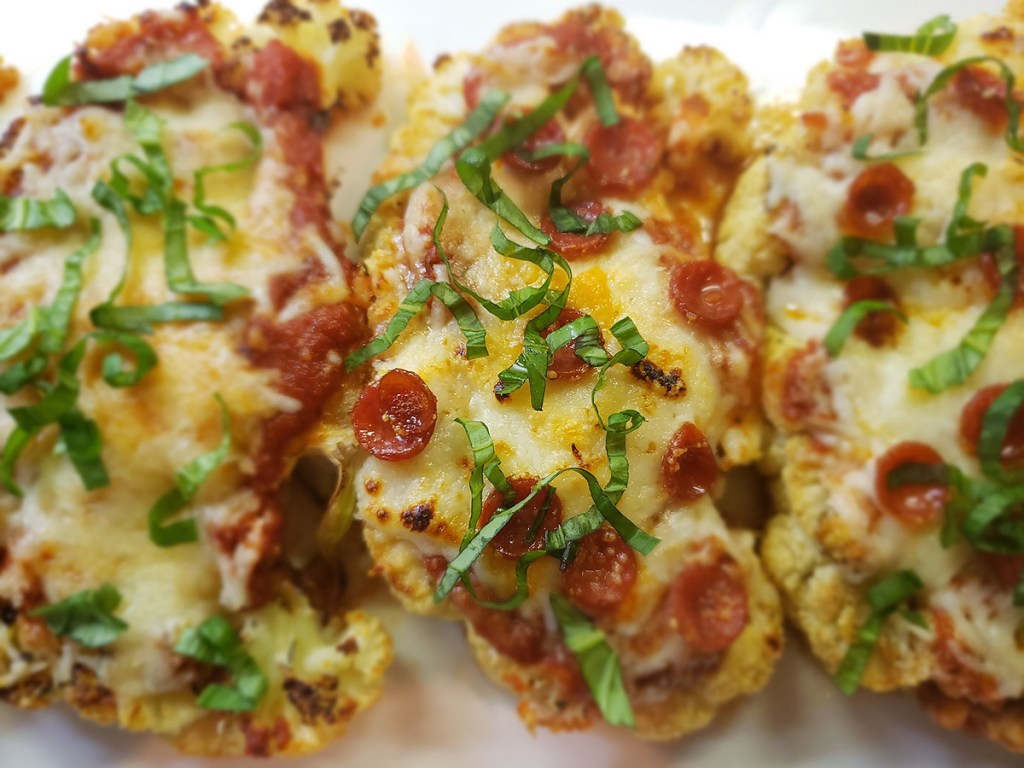 ---
Print
Keto Cauliflower Parmesan
yield: 4 SERVINGS
prep time: 20 MINUTES
cook time: 45 MINUTES
total time: 1 HOUR 5 MINUTES
Turn cauliflower steaks into a low carb and vegetarian version of the Italian classic with minimal prep.
Ingredients
1 large cauliflower, about 6-inches diameter
6 tablespoons olive oil
1 teaspoon Italian seasoning
1/2 teaspoon garlic powder
1/2 teaspoon salt
1/4 teaspoon black pepper
1/2 cup Parmesan cheese, grated, divided
1 cup mozzarella cheese, shredded
1/4 cup fresh basil, cut into ribbons or torn into small pieces
crushed red pepper flakes, optional
Directions
1
Preheat the oven to 425 degrees and place the rack in the lower third of the oven. Line a sheet pan with parchment paper.
2
Wash the cauliflower, cut away any leaves on the bottom, and cut off the base of the cauliflower so it sits upright on a cutting board with the floret side up, but don't cut out the core.
The goal is to keep the cauliflower head intact so that you can slice through the entire head for "steaks." If you have trouble removing the leaves without cutting the core, you can remove the leaves after you have your cauliflower steaks sliced.
3
Use a large sharp chef's knife and slice the cauliflower into 1-inch thick steaks. You should have four steaks as well as some smaller florets that fall off. Place the steaks on the prepared sheet pan along with any loose florets, cut side down.
4
In a small bowl, combine olive oil, Italian seasoning, garlic powder, salt, and pepper. Brush both sides of the steaks and the loose florets with the olive oil mixture. If you have any extra oil mixture, keep it until you turn the cauliflower.
5
Bake for 20-30 minutes based on the thickness of the cauliflower. Remove from oven, gently flip each steak and the smaller pieces. If you have any of the olive oil mixture left, brush it on the cauliflower.
6
Sprinkle half the parmesan cheese on the cauliflower, return to the oven, and roast for another 15 to 20 minutes. The steaks should be tender when inserting a fork, and the cheese will turn golden and the edges of the cauliflower will be browned and caramelized.
7
Remove the pan from the oven and set the oven to broil. Spoon the marinara evenly over the cauliflower "steaks", sprinkle with mozzarella, and the remaining parmesan. If you are using pepperoni, place the pieces on top of the cheese.
8
Broil for 2 to 4 minutes until the cheese is bubbly and golden. Remove from the oven, add the basil, and optionally serve with crushed red pepper flakes. Serve and enjoy!
Nutrition Information
Yield: 4, Serving Size: 1 cauliflower parm
Amount Per Serving: 463 Calories | 39.4g Fat | 11.2g Total Carbs | 3.6g Fiber | 5.1g Sugar | 0g Sugar Alcohol | 17.4g Protein | 7.5g Net Carbs
---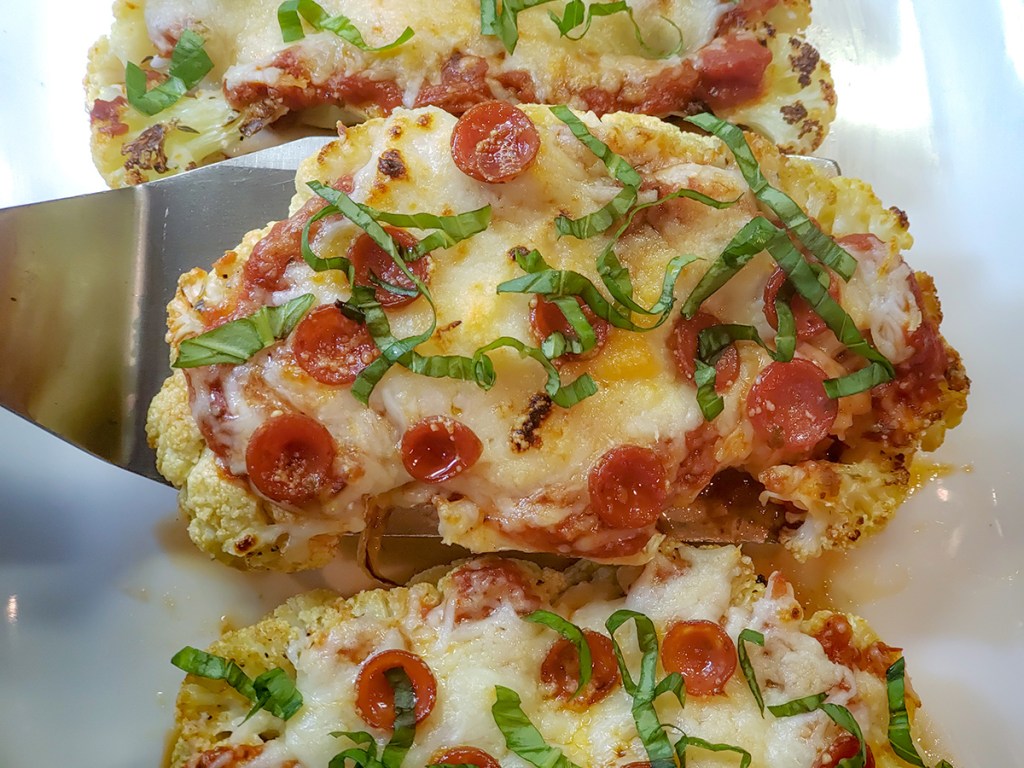 Easy peasy & super cheesy! You're going to love this keto version of an Italian classic.
I made this keto cauliflower parm for dinner last week and everyone gave it a thumbs-up! I added a little crushed red pepper and black pepper to my slice to give it an extra kick – try it if you like a little more heat.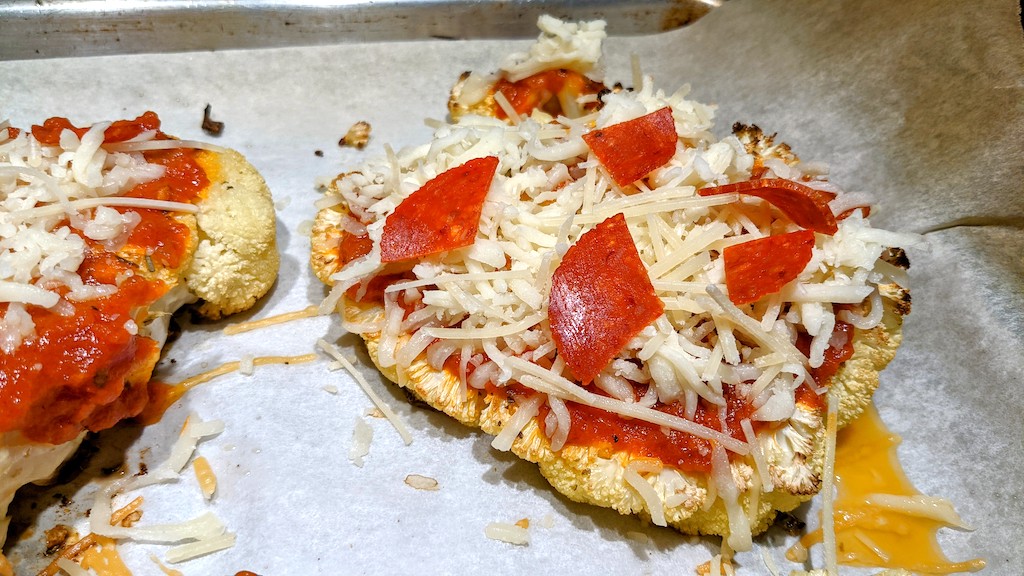 My Hip sidekick Jen gave this keto cauliflower parm recipe a try and here's what she thought:
"This was great and a winner with my family! It's very flavorful and not heavy so it would be perfect as a late lunch or early dinner. The soft texture and toppings reminded me of pizza, but better. I loved that this was different from lots of other keto recipes I've tried, and it really added some much-needed variety to our meals. The basil on top was awesome – so don't skimp on the basil! This is definitely a new family favorite for us!"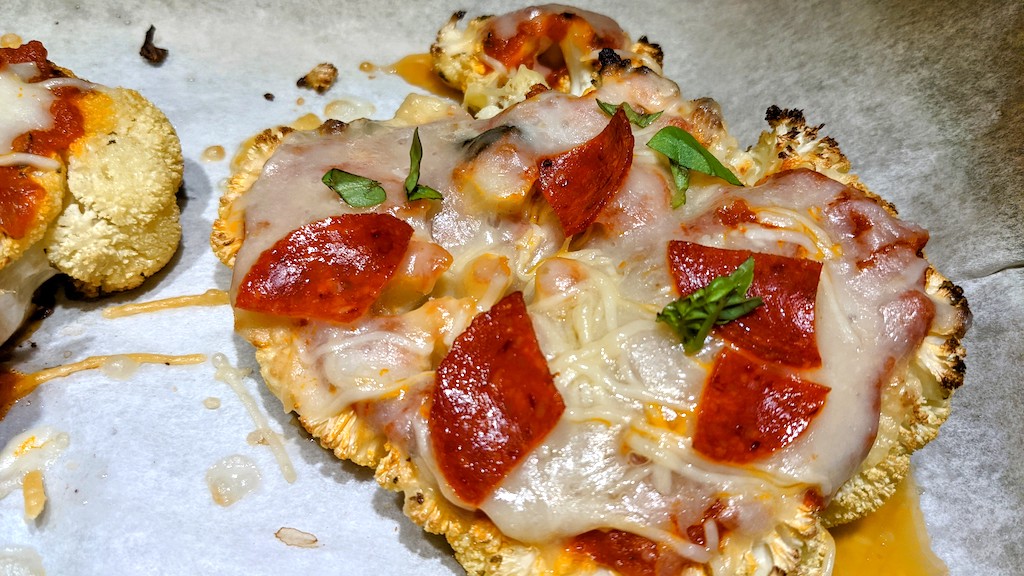 ---
Love keto twists on Italian classics? Check out our keto Italian casserole and keto Italian stuffed peppers!