Best Keto Air Fryer Mozzarella Sticks (+ No-Fail Cooking Tips & How-To Video)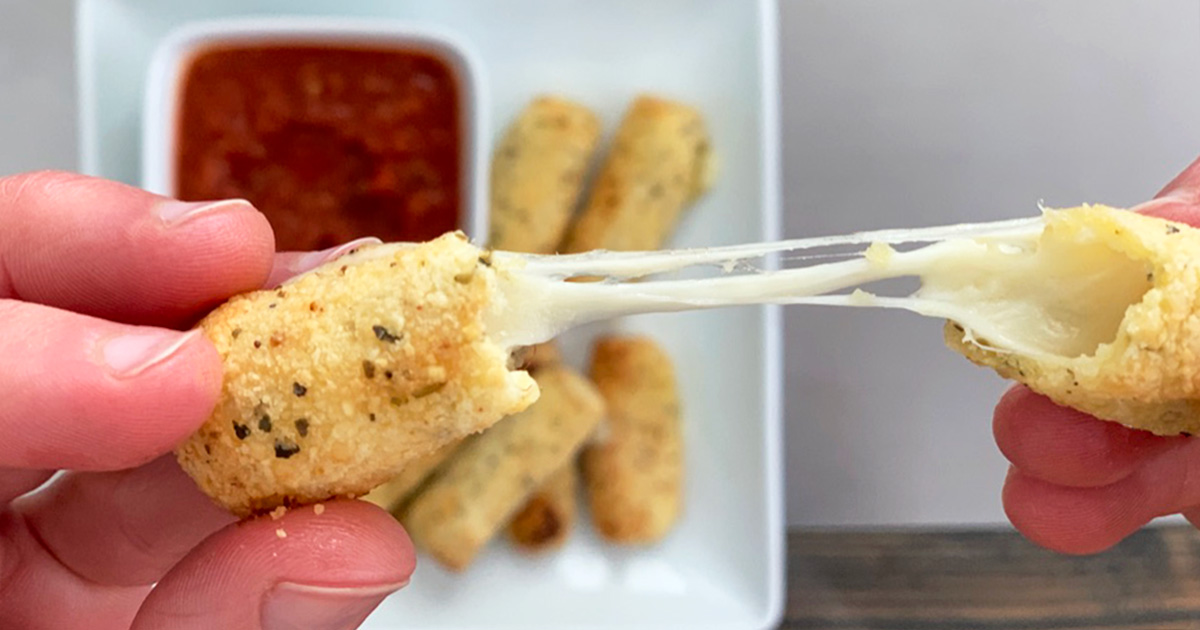 The only thing better than cheese is fried cheese.
There's nothing quite like crunchy, savory breading stuffed with gooey, melted cheese. This is definitely a family favorite keto appetizer. Serve up a hot platter of these keto fried mozzarella sticks and score some serious points! Add a couple of tasty dipping sauces like no-sugar-added marinara and ranch dressing—you'll be everybody's BFF after the first bite.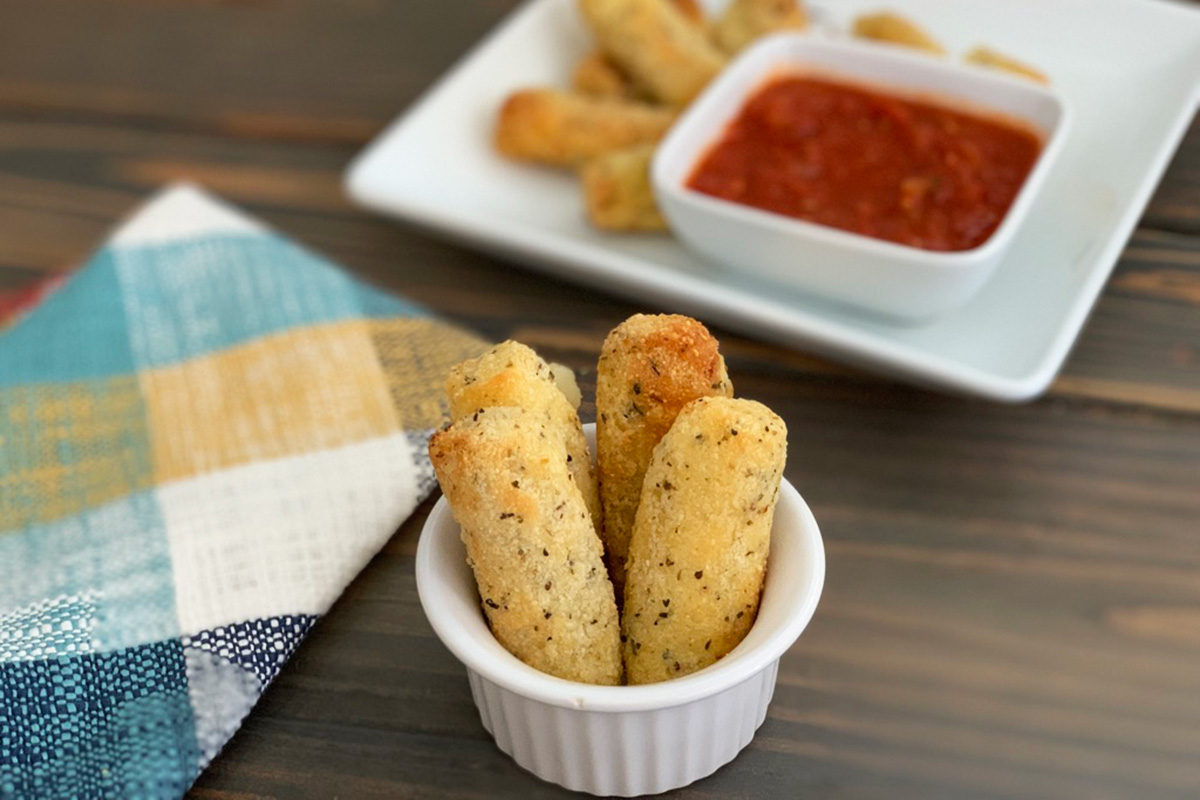 Through trial and error, I discovered the best tips & tricks…
I tested different methods, a variety of string cheese brands, and breading flavors to come up with a gold star recipe for keto air fryer mozzarella sticks. I worked hard to take aggravating guesswork out of the equation so that you can avoid the frustrations and gooey messes that I experienced during my initial test runs.
If you follow my instructions and tips, you'll be on your way to making the BEST EVER keto-friendly fried mozzarella sticks!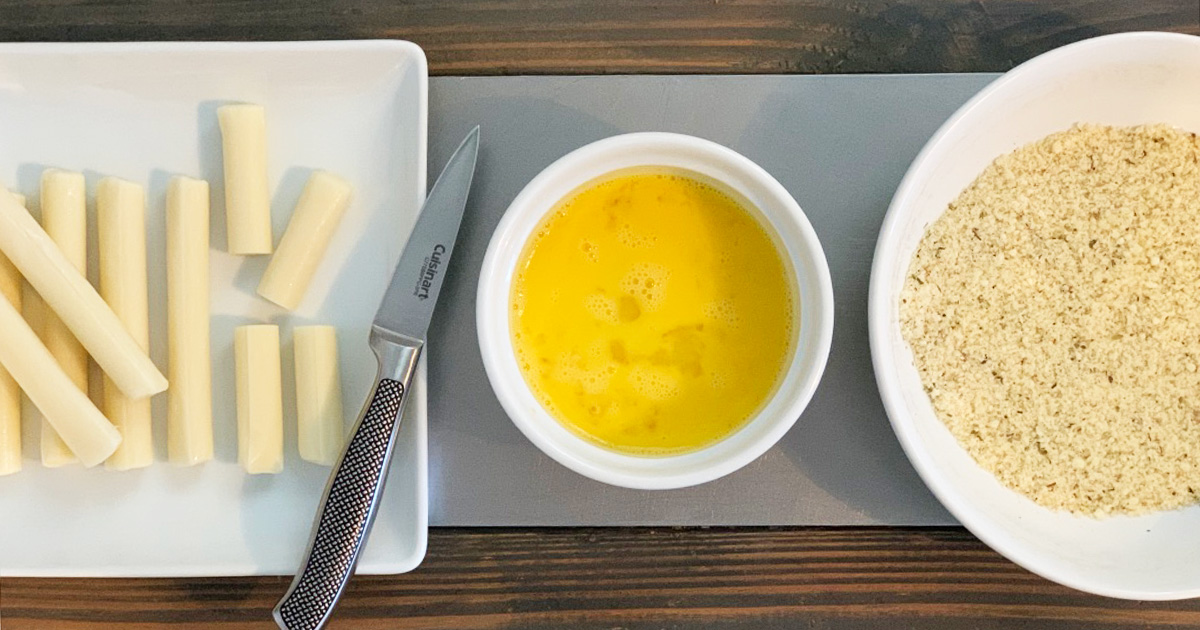 Hip Recipe Tips:
FOLLOW ALL OF THE RECIPE INSTRUCTIONS. I'm a recipe skimmer/skipper, so I totally relate to those of you that like to wing it when following a recipe. However, this is one that truly requires adhering to each step as listed in the instructions below.
IMPORTANT!! Not all cheese is created equal. Please, please, please make sure that you ONLY use low moisture,

part-skim

mozzarella string cheese. Be sure that the ingredient list says low moisture, part-skim mozzarella. If you don't follow this rule, you will likely end up with an oozy, gooey mess. (Some successful brands that I tested are Lucerne, Kraft, and Frigo Cheese Heads. However, I did NOT have success with the Galbani brand.)
You MUST FREEZE your (already breaded) cheese sticks for a minimum of 1 hour prior to cooking.
Don't skip the double dunk!
Be sure to grease your air fryer basket (or grease your tin foil if you line your basket as noted below). This will help to keep your mozzarella sticks from sticking as they cook.
Use finely grated parmesan cheese, not shredded. (Yup, I'm talking about the stuff that looks more like a powder than shreds). My supermarket has 5-6 oz. containers of it in the specialty cheese section. I use Boar's Head brand.
Serve your cheese sticks immediately after frying. Like all cheese, the mozzarella will re-harden as it cools. And we're definitely going for hot, crunchy, and gooey! YUM!
---
---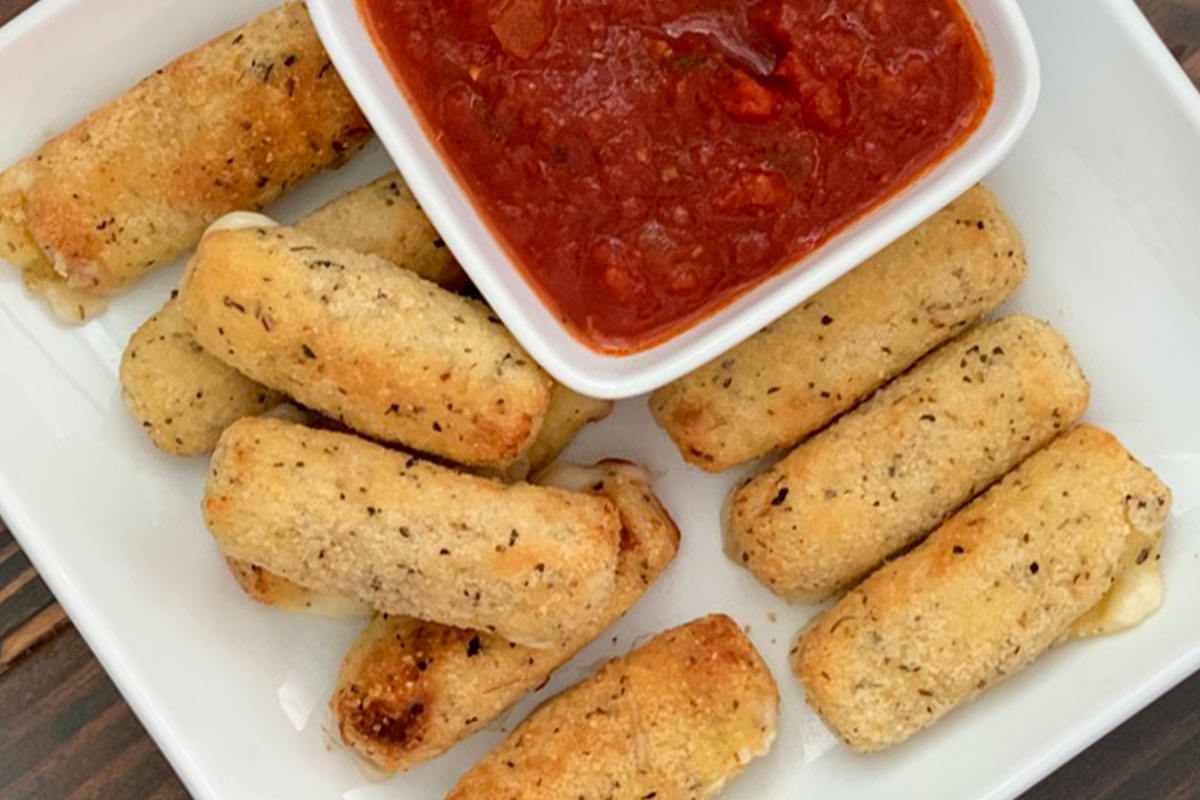 ---
Print
Keto Air Fryer Mozzarella Sticks
yield: 4 SERVINGS
prep time: 15 MINUTES
cook time: 8 MINUTES
total time: 23 MINUTES
An air fryer recipe that makes amazingly crunchy, ooey-gooey fried mozzarella sticks! ---> PLEASE NOTE that this recipe requires freezing for an hour or more.
Ingredients
6 mozzarella string cheese sticks (MUST be low moisture, part skim)
1-2 large eggs, beaten
1/2 cup finely grated parmesan cheese
1 teaspoon Italian seasoning
1/2 teaspoon garlic powder
1/4 teaspoon sea salt
Directions
1
If needed, prep your air fryer basket insert with a tin foil liner. (This typically applies to mesh style liners. Detailed instructions are available in this post.)
2
Unwrap the cheese sticks and cut in half to create two shorter sticks from each. Set aside.
3
Beat your egg/eggs in a small to medium bowl. You can start with one egg and add another later if needed.
4
In a medium dish (large enough to make it easy to coat your cheese sticks) blend together the parmesan cheese, almond flour, Italian seasoning, garlic powder, and sea salt.
5
Create a dipping station starting with your (previously cut) cheese sticks, followed by the egg wash, then the "breading" mix, and finally a small pan or dish covered with a sheet of parchment paper.
6
One by one, dip each cheese stick in the egg wash followed by rolling the cheese stick in the "breading" mix. I use a method to help adhere the "breading" to the cheese by rolling between my palms which helps to press and secure the almond flour/parmesan coating onto the cheese stick. Repeat these steps a second time before placing the fully coated cheese stick on the parchment paper. To summarize, be sure that each cheese stick gets two egg washes and two rolls in the almond flour/parmesan breading.
7
Once all the cheese sticks have been dipped and rolled, check each one to make sure that no cheese is showing through. Re-roll any that need extra "breading". If the cheese stick isn't fully coated, there is a greater risk that cheese will ooze out during cooking. You should have very little of the almond flour/parmesan mixture left by the time you are done with the coating process. Feel free to use it up by re-rolling any that look like they need a little extra lovin'.
8
Place the pan/dish with cheese sticks in the freezer on a level surface for no less than 1 hour. This helps to keep the cheese from melting too quickly in the high heat of the air fryer giving the outer coating time to get crispy.
9
Once frozen through, remove the cheese sticks from the freezer. With cooking spray, grease your air fryer basket and/or tin foil liner AS WELL AS each cheese stick. (I spray the top side then roll them over and spray the other side.)
10
Place cheese sticks in an air fryer. (If you have a smaller air fryer, you may want to separate into two batches as the mozzarella sticks puff a bit while cooking.) Cook at 375 degrees (or 380 if your Air Fryer doesn't have 5 degree increments) for 7-10 minutes depending on your air fryer.
I set my Philips TurboStar to 375 degrees and cook them for about 8 minutes. After 5 minutes in the air fryer, I suggest checking them every minute or so moving forward. If you see the cheese start to ooze out, then it's time to pull them.
11
Serve immediately to ensure that your fried mozzarella sticks remain crispy, melty, and gooey. I like to accompany mine with no-sugar-added marinara and ranch dressing. Enjoy!
Additional Notes
Store leftovers in the refrigerator. Reheat in air fryer for about 5 minutes. Leftovers crisp up beautifully! Yay!
Nutrition Information
Yield: 4 servings, Serving Size: 3 fried mozzarella sticks
Amount Per Serving: 246 Calories | 18g Fat | 3g Total Carbs | 1g Fiber | 19g Protein | 2g Net Carbs
---

Make a tin foil air fryer basket wrap to avoid sticking.
Some air fryers have a flat smooth basket (with holes) while others have a meshlike construction. Certain foods like to stick to the mesh baskets as they cook… fried mozzarella sticks being one of them. To avoid sticking, I wrap my mesh basket insert with perforated tin foil, and it helps TREMENDOUSLY with sticking. (I have a Philips Air Fryer Viva TurboStar.)
Here's how it's done:
Cut a piece of tin foil slightly larger than your basket insert. Center the tin foil over the top side of the mesh insert.
Fold the tin foil around the edges. Firmly press along the edges to secure the tin foil to the insert.
If needed, trim any access foil from the backside of the insert.
IMPORTANT—Use a toothpick to perforate the tin foil every 1/4″ to 1/2″ to ensure proper airflow through your tin foil liner. More holes are better than less.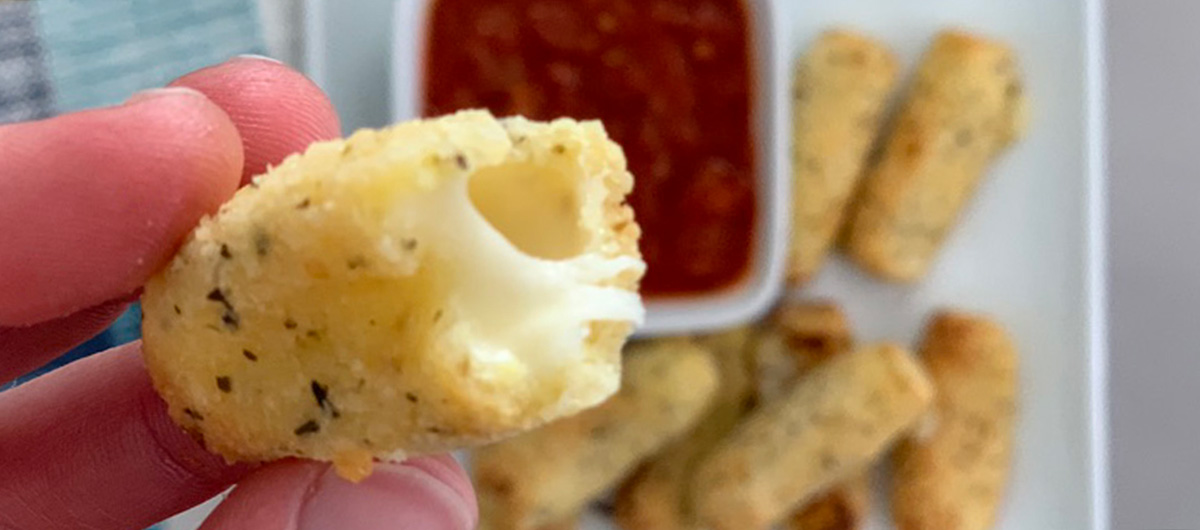 Now, not to get too cheesy on ya… but I really, truly hope that you LOVE this recipe as much as I do!
Cheers to a whole lot of happy snacking!!
---
Are you cheese obsessed? These Easy Cheese Crisps are must-try!