Missing Popcorn? Get Your Fix With THESE Salted Butter Pork Rinds!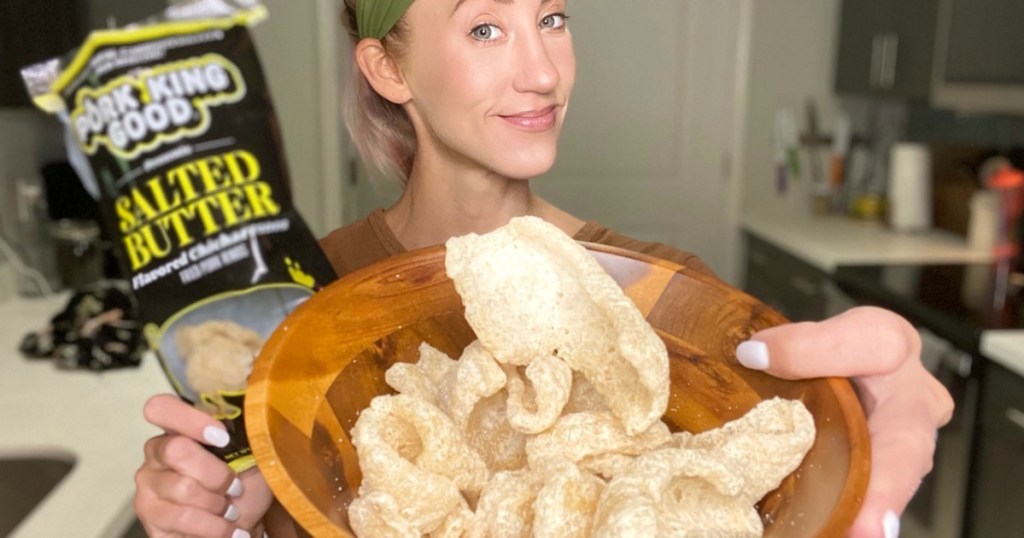 Pork King Good pork rinds are the holy grail of keto snacks. 🙌
If you've been missing popcorn while living the keto lifestyle, you're in for a real treat with Pork King Good Salted Butter Pork Rinds. I'm not kidding when I say these might taste better than the real deal.
They're full of flavor but NOT full of carbs, which makes them the perfect keto munchy!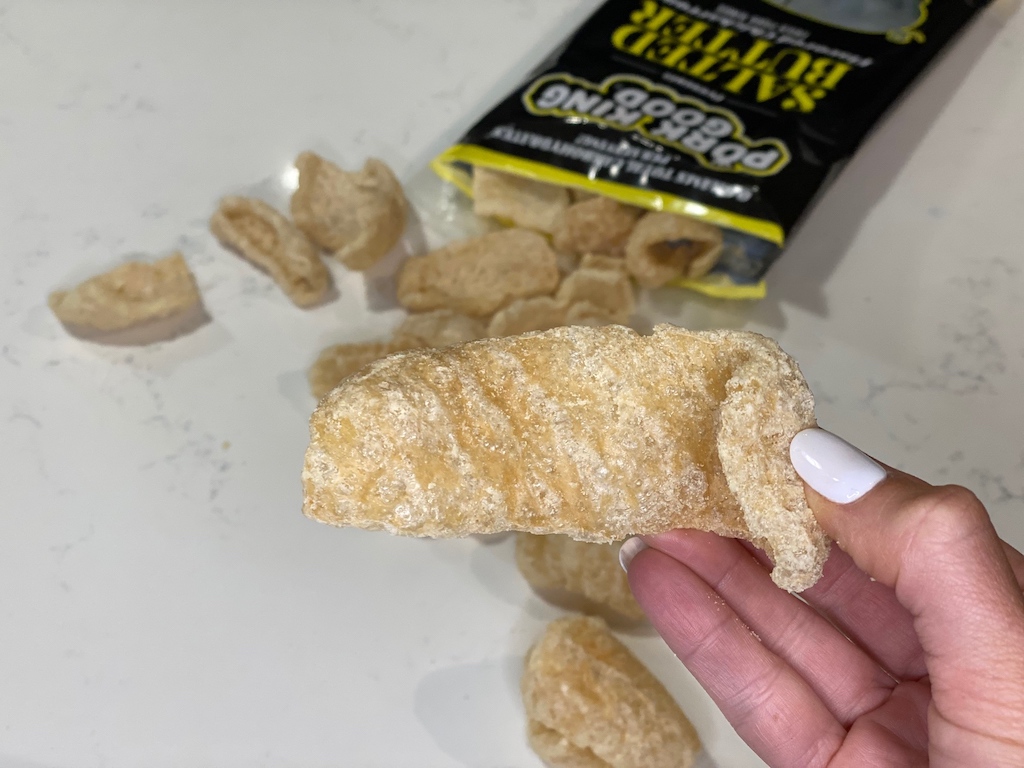 There are a plethora of different pork rinds on the market these days, but there's nothing quite like the melt-in-your-mouth flavors of Pork King Good.
Keto, carnivore, and paleo dieters have been calling it their new favorite brand and the best substitute for the carby foods they miss most (Doritos, popcorn, potato chips).
"Do not eat these pork rinds because if you do, you will never want any other brand of pork rind again! I eat a lot of pork rinds, but these are the best I have ever tasted. Perfectly crunchy, but they also melt in your mouth." – Amazon reviewer
---
These make the best keto-friendly popcorn substitute!
These Salted Butter Pork Rinds are shockingly reminiscent of beloved and buttery popcorn, which will probably make you do a double-take on the nutrition information — but don't worry, they're keto-approved.
These artisan chicharrones are the perfect late-night movie snack and it's unbelievably easy to devour a whole bag in just one sitting (I speak from experience). They're rich, crispy, salty, and bursting with flavor in every bite… Move over popcorn!
"I love these pork rinds – they are so light and crispy and flavorful. The salted butter flavor reminds me of popcorn. Even my boyfriend, who is not a fan of pork rinds, enjoyed these!" – Amazon reviewer
---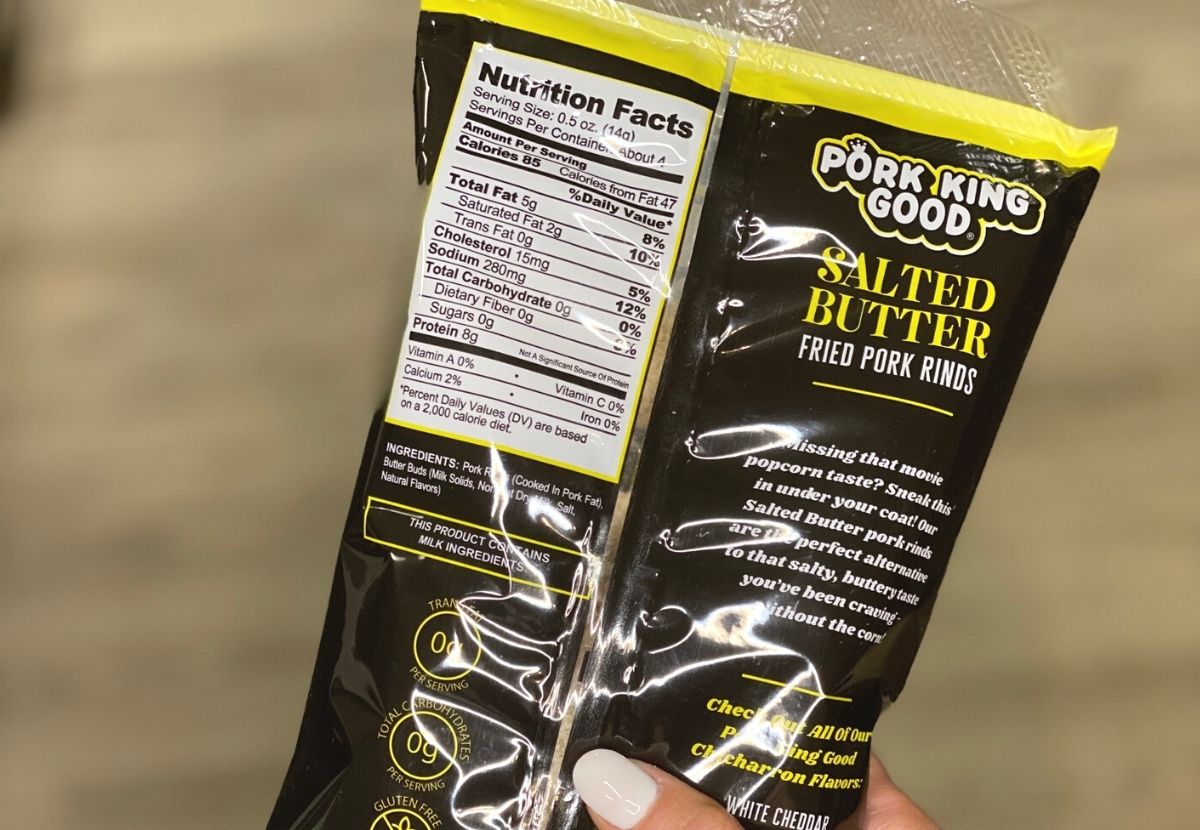 Serving Size: 1 Bag | 340 calories | Fat: 20g | Total Carbs: 0g | Protein: 32g | Fiber: 0g | Sugars: 0g | Net Carbs 0g
I'm telling you, they're almost too good to be true with zero net carbs and loads of protein. Not all pork rinds are crafted with quality ingredients and these ones are not only gluten-free, but they're also free of MSG and cooked in their own pork fat.
They also come in a variety of different flavors like Dill Pickle and Himalayan Pink Salt & Vinegar, which is rumored to be absolutely delicious!
The seasoning on these pork rinds is unlike any other flavor and I can't get enough of them! My husband doesn't eat keto and he even said they were crazy good. Coming from a popcorn fanatic, that's saying a lot!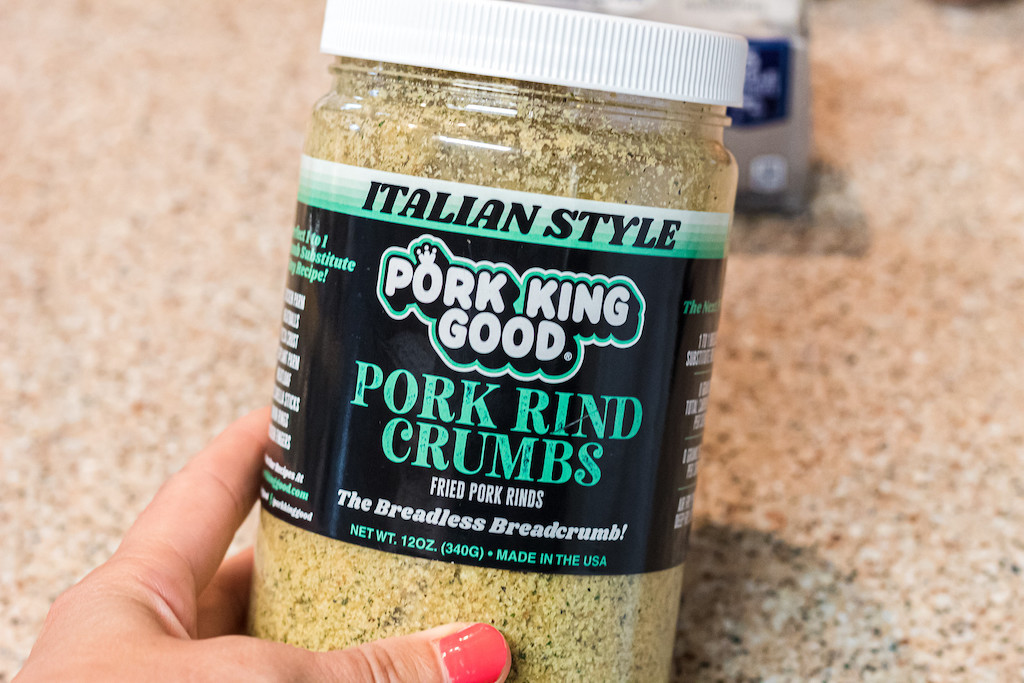 Pork King Good also makes pork rind bread crumbs for cooking and baking. They make the perfect keto pizza crust, just ask my Hip sidekick, Ashley!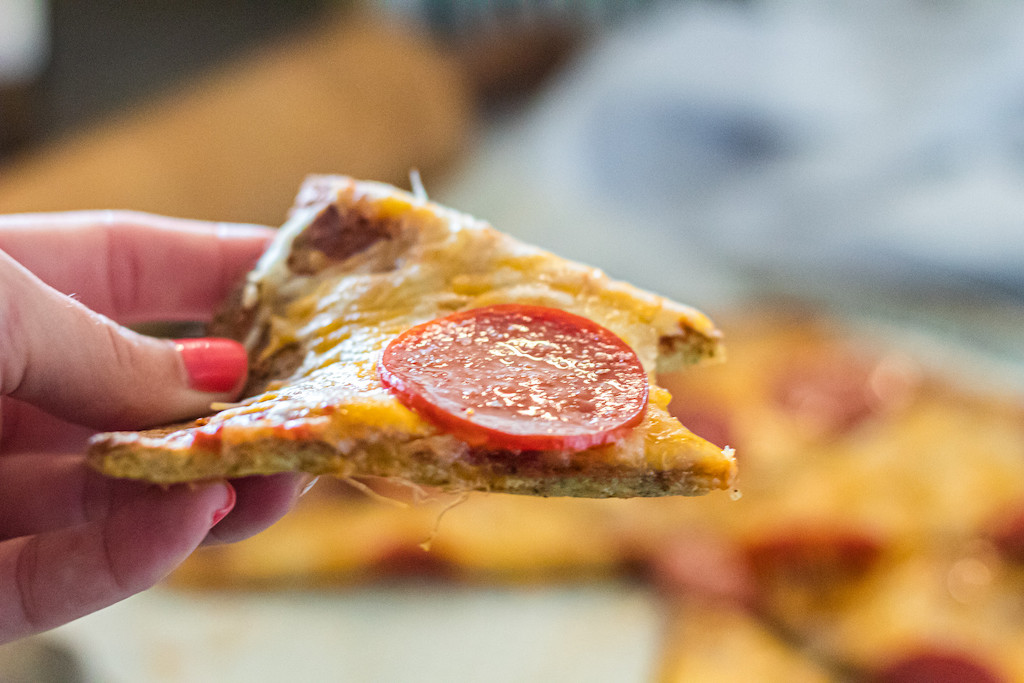 "These pork crumbs from Pork King Good are so amazing!!! I purchased the Italian style seasoning to make a Pizza crust and OH MY! I was so happy to find flavored pork rind crumbs so I didn't have to add all the extras—they did it for me. Two thumbs up and I have already ordered more.."
And don't worry, that pork rind pizza crust recipe will be coming soon! 😉
---
The woman-owned company is just one more reason to love these savory pork rinds.
I love a small business with personality and Pork King Good is on a passionate mission to deliver memorable low-carb snacks that stand out amongst the rest.
They're owned and operated by a woman who has maintained a 100 lb. weight loss through the keto lifestyle, and has a knack for creating the perfect low-carb snack. 😋
---
Here's what a couple more pork rind lovers thought about Pork King Good keto snacks:
"Delicious! And not just for snacking since these are seasoned so wonderfully I have used them as "crust" for fish, salads, etc. I'm trying the keto diet and wondered how I was going to replace my popcorn and other crunchy snacks and this is IT! They are extremely savory thus, I can control my portions and satiating so I can make smart choices for my main meals!"

---

"I've been trying to do the Keto diet, but have been frustrated by the lack of good tasting snacks. I don't like the taste of unflavored pork rinds and I'm tired of meat and cheese or peanut butter. Along comes these heavenly treats from Pork King. WOW – total game changer! So far I've tried the dill pickle flavor and the salt and vinegar. Honestly they taste as good as top quality potato chips. I'm in heaven."

What are you waiting for!?
Head over to Amazon to get yourself some of these tantalizing treats for only $13.99 for a 4-pack. And don't say I didn't warn you, they are addicting!
---
Want more keto snacks? Check out some of our favorite keto finds!