Pepperoni Bites w/ Boursin Cheese | Easy Keto Snack Recipe
Looking for an easy, cheesy snack? Spread Boursin cheese on pepperoni and bake the pepperoni bites until crispy. Yum!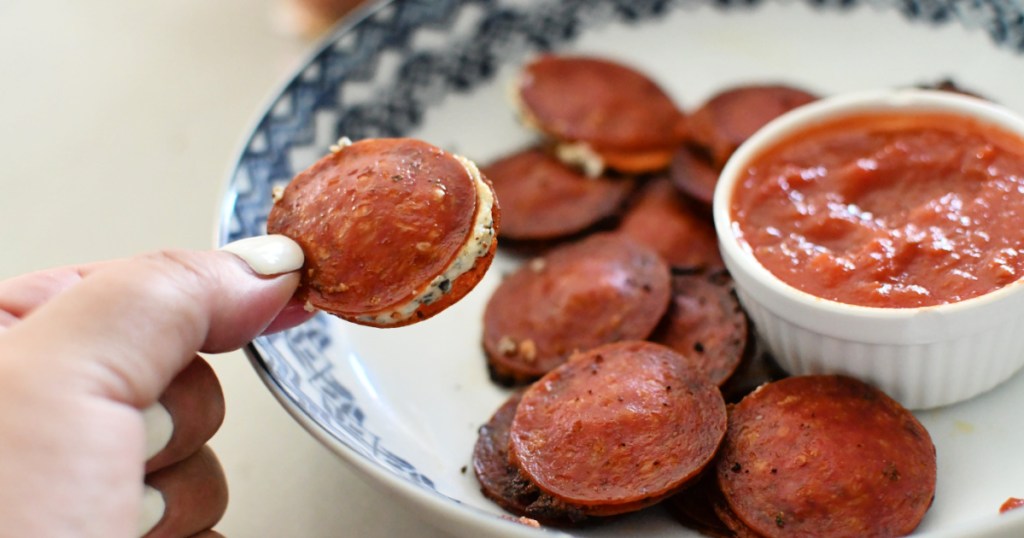 2-ingredient keto snacks are the best for mid-day hunger pains.
My favorite recipes are the ones that are low effort and at the same time super tasty! Keto snacks are super important because they can keep you on track with your nutritional goals instead of grabbing high-carb foods when becoming "hangry".
Today we are keeping things simple with a delicious pepperoni bites snack idea that features pepperoni and flavorful Boursin cheese. You simply spread this glorious cheese in between two pieces of pepperoni and bake them in the oven on a sheet pan. It's truly that easy!
The result is a pepperoni bites snack with a crispy texture on the outside and melty cheese inside. You can eat them as is or try dipping them in marinara sauce as a fun snack or appetizer.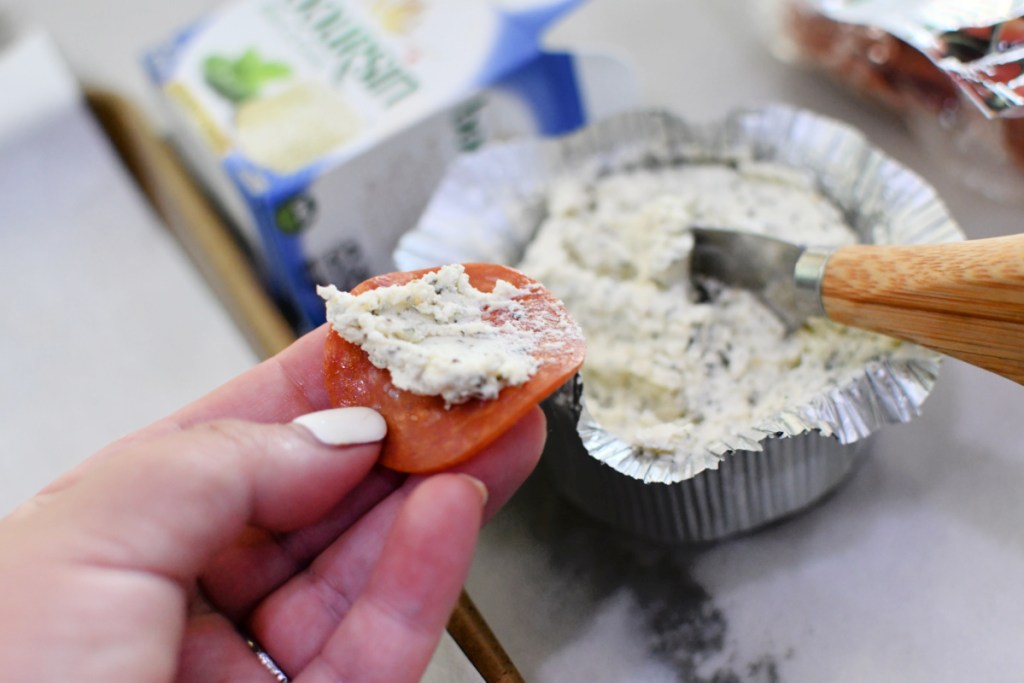 Boursin is a soft creamy Gournay cheese available in a variety of flavors. The texture is somewhat similar to cream cheese, and the various herbs added give it a nice elevated flavor. You can use it in keto cooking to make easy cream sauces. Try adding some to your next egg omelet as the character Sydney does in "The Bear" TV show on Hulu. Yum!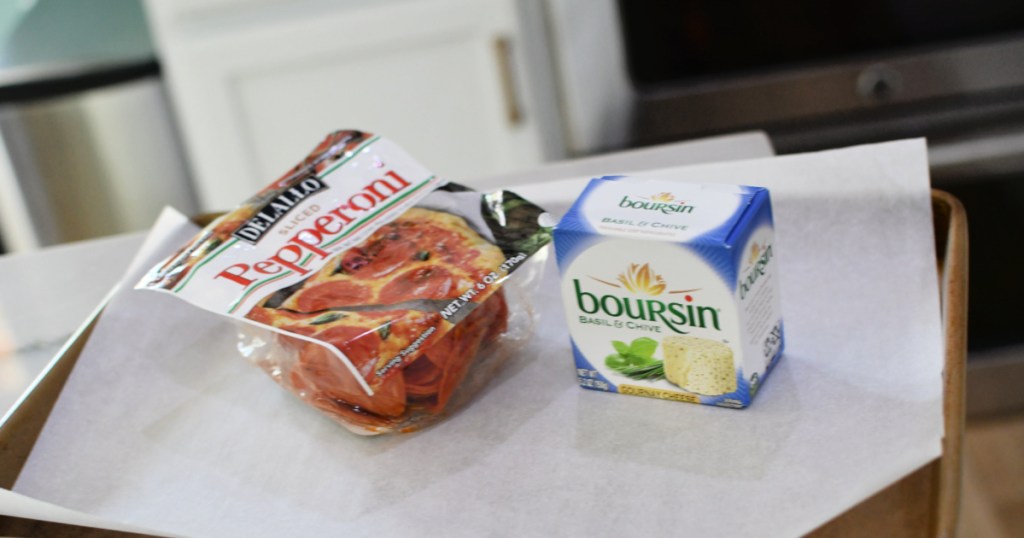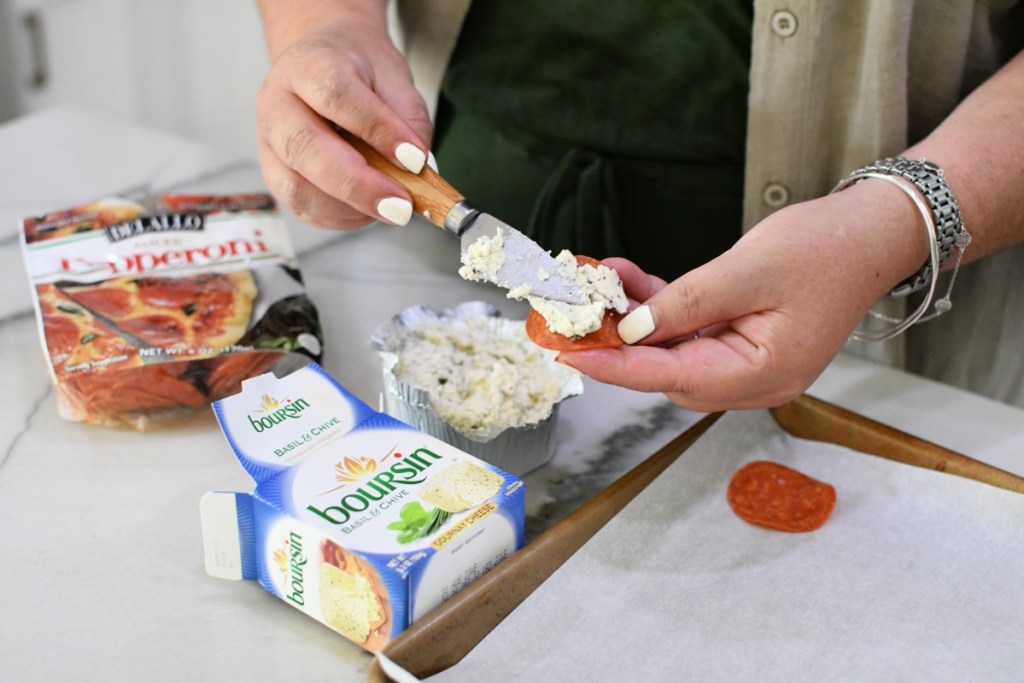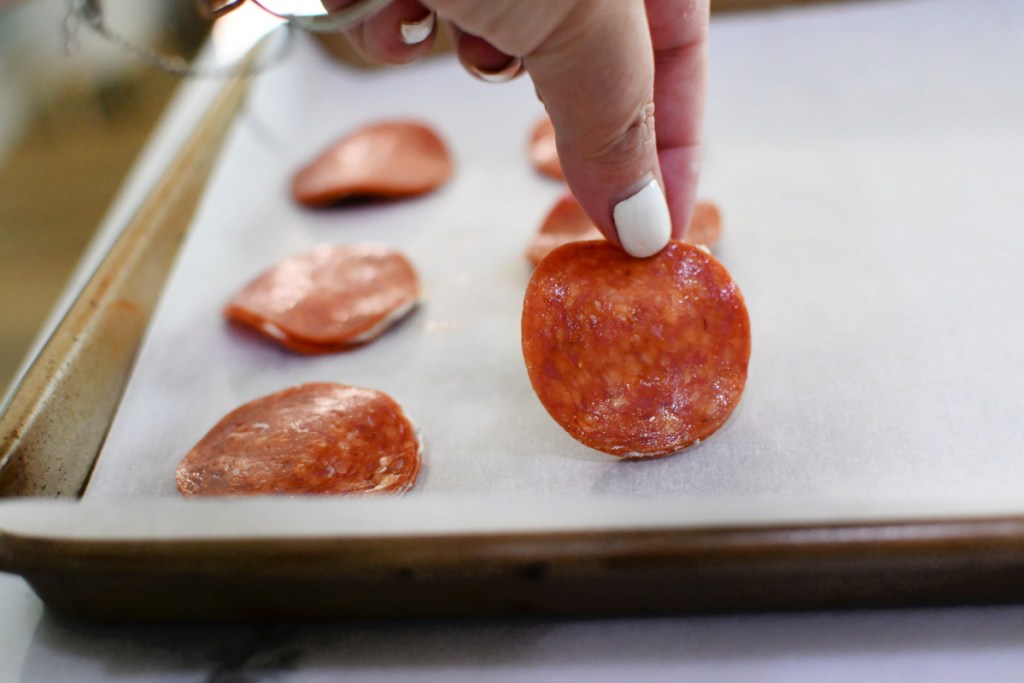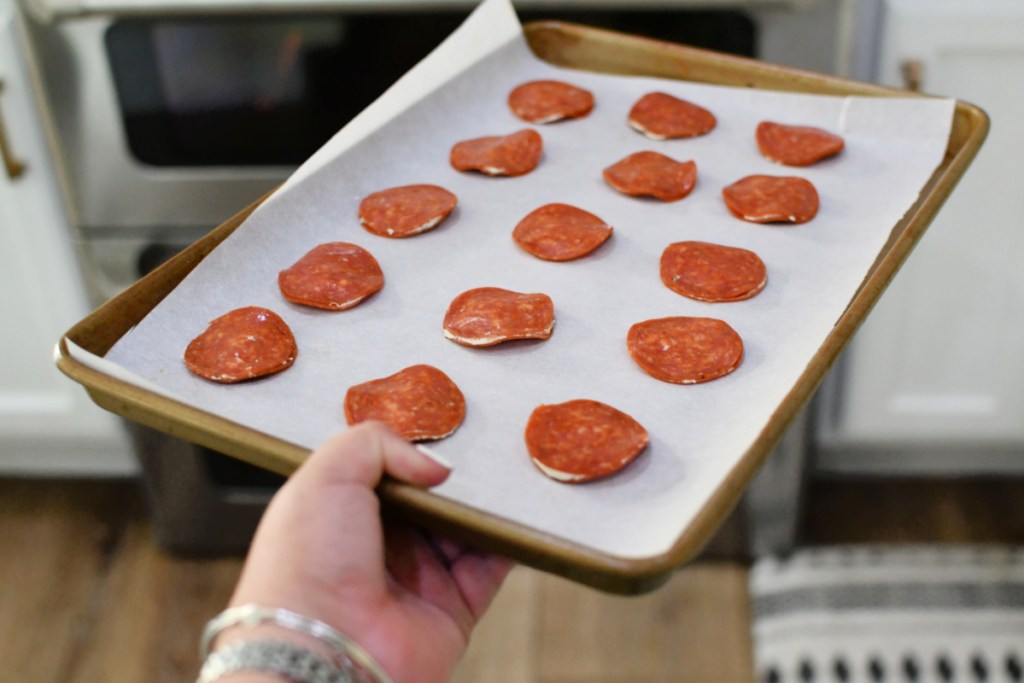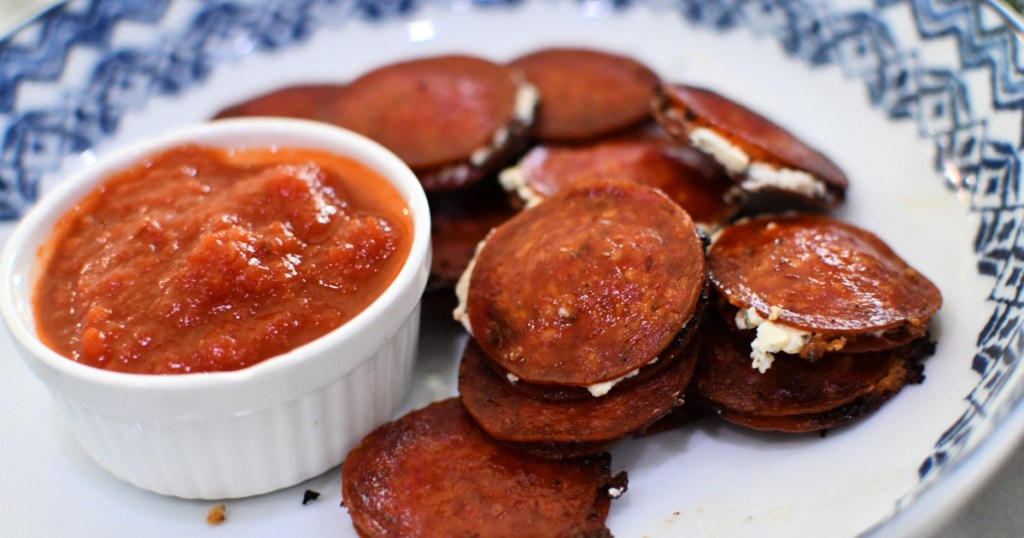 ---
yield: 3 SERVINGS
prep time: 10 MINUTES
cook time: 10 MINUTES
total time: 20 MINUTES
Crispy baked pepperoni with herb-flavored Boursin cheese inside.
Directions
1
Preheat the oven to 400 degrees. Line a sheet pan with parchment paper.
2
Smear the Boursin cheese (about 1/2 teaspoon) in between two slices of pepperoni.
3
Bake in the oven for 10-15 minutes until crispy. Blot the grease with a paper towel. Serve with marinara if desired. Enjoy!
Nutrition Information
Yield: 15 pepperoni bites, Serving Size: 5
Amount Per Serving: 154 Calories | 14.6g Fat | 0.7g Total Carbs | 0g Fiber | 0g Sugar | 4.7g Protein | 0.7g Net Carbs
---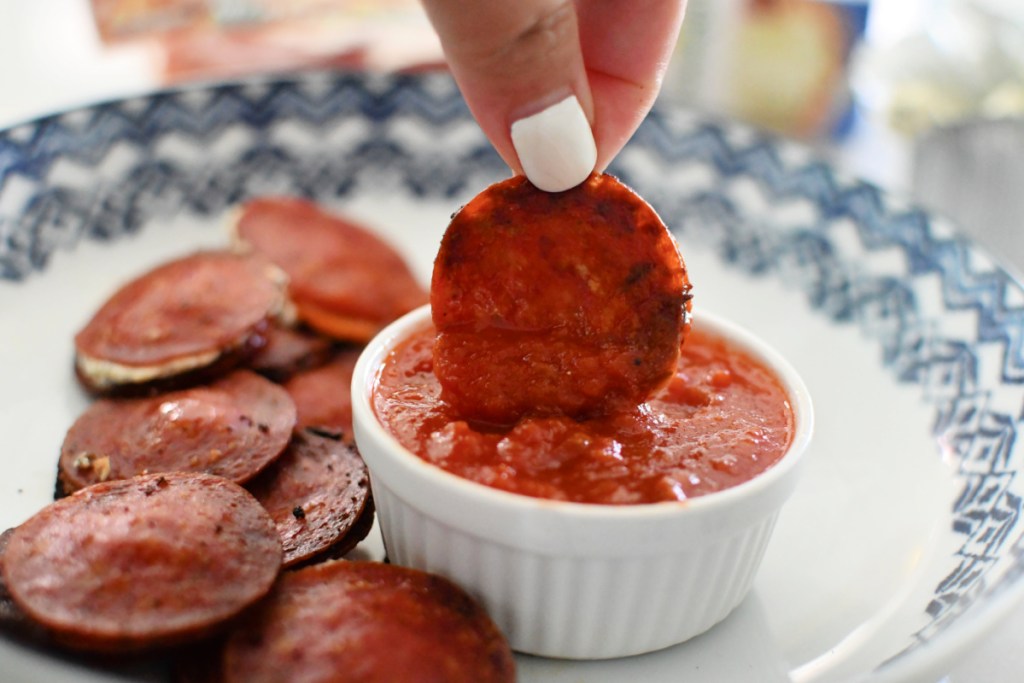 Tips for making these baked pepperoni bites:
Can I use cream cheese instead of Boursin? Yes! If you want to use cream cheese instead that would be completely tasty as well! In fact, we first spotted these on Instagram from KetoSnackz, and he uses cream cheese and Everything Bagel seasoning.
These tend to get greasy in the oven after baking, so I just easily blotted them with a paper towel.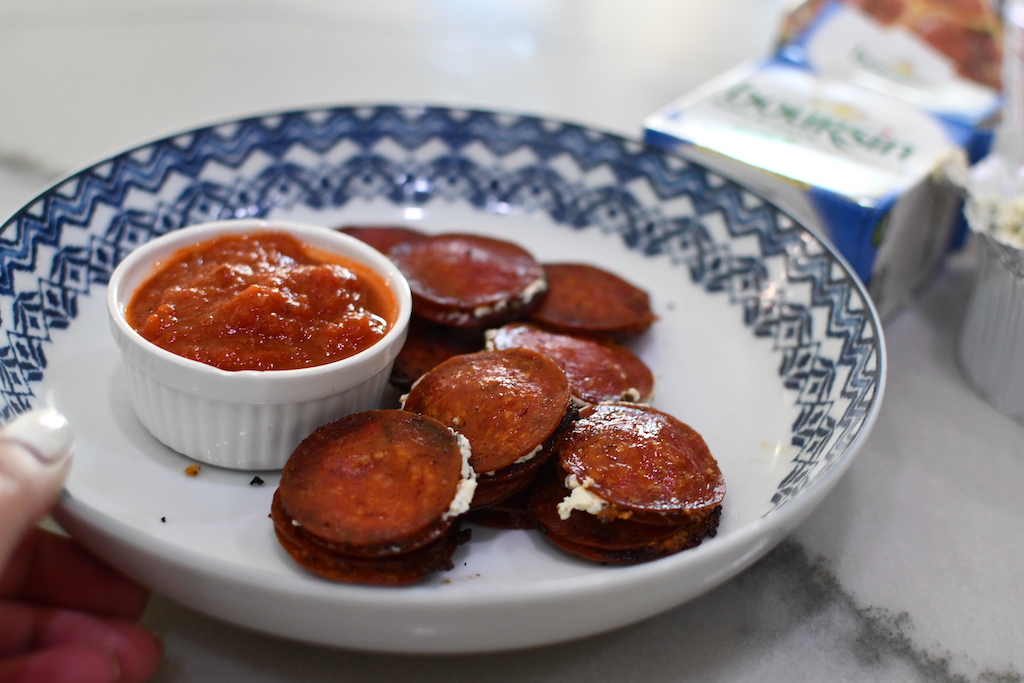 I love this easy pepperoni and cheese snack!
Ideas like these that aren't complicated recipes are my favorite. Plus, I love the taste and texture of these! With the marinara sauce, you get the satisfying taste of pizza. My kids actually were into them too!
---
Want more easy keto snacks to try at home?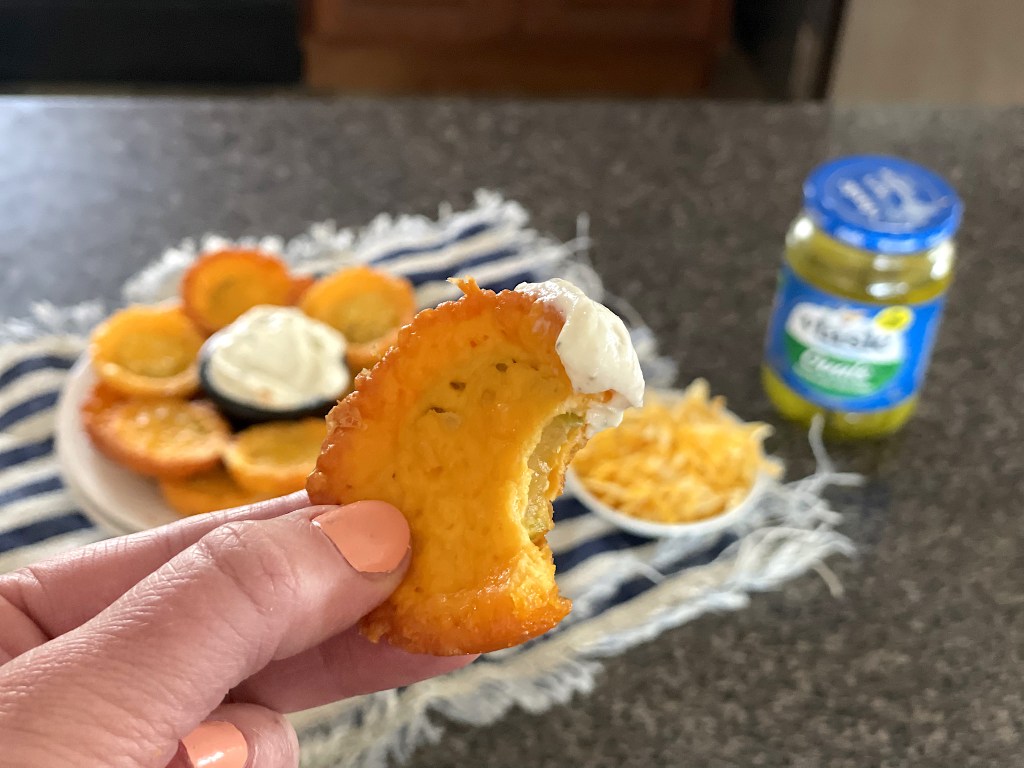 Check out these delicious options:
---