Easy Keto Parmesan Crusted Chicken – So Flavorful!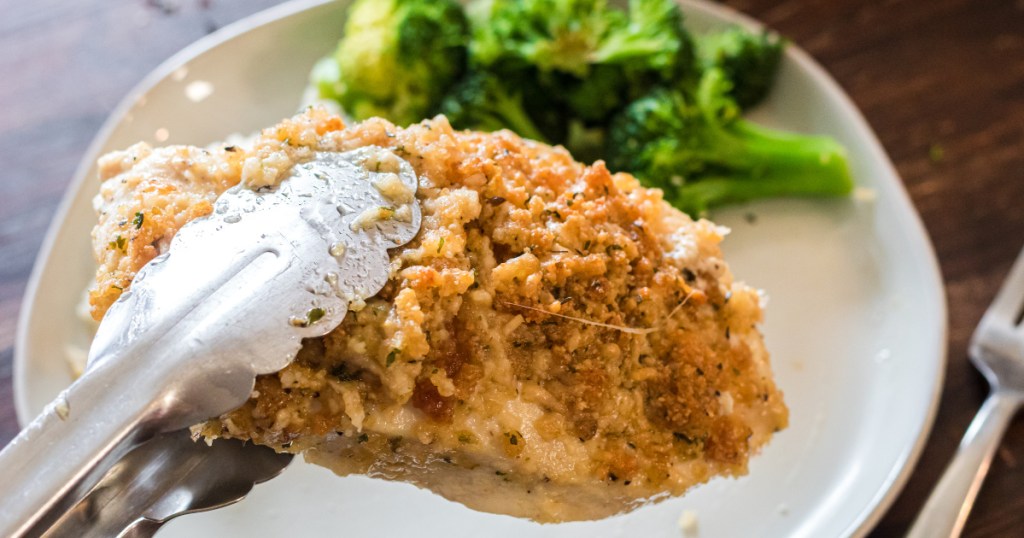 Flavorful chicken with a kick!
If you're looking for a dinner idea that will please the entire family, then I've got just the recipe for you! Keto parmesan crusted chicken will have everyone saying, "who knew chicken could actually be this flavorful!"
It's packed with savory seasonings from the easy marinade and has a nice crunchy coating using our homemade keto bread crumbs as a base for the topping. It's a home run dinner, all while keeping things low carb.
Watch my video below to see just how easy this keto chicken is to make –
---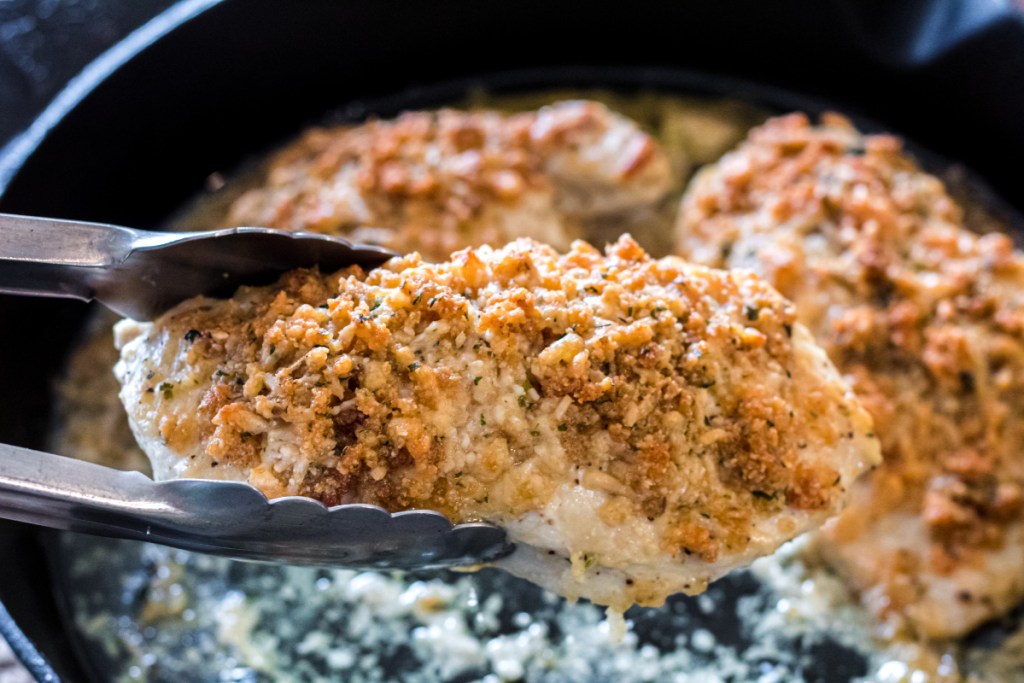 This is hands down one of my favorite keto dinner ideas I have created to date. If you really want to ramp up the flavor, you can throw the chicken in the fridge and marinate it overnight, then cook it for dinner when you are ready to eat.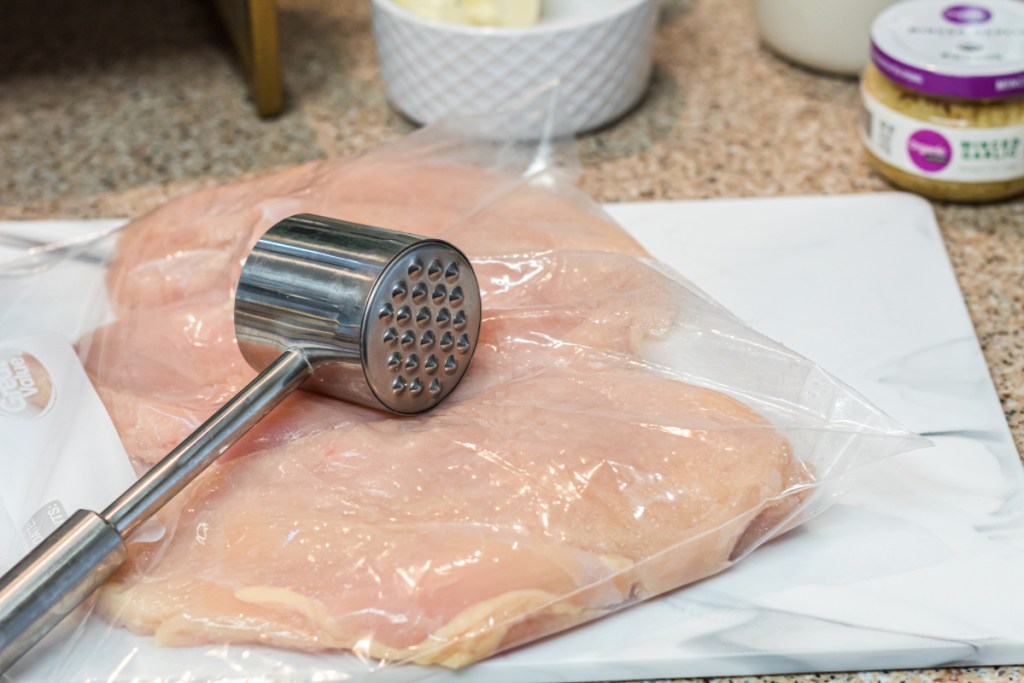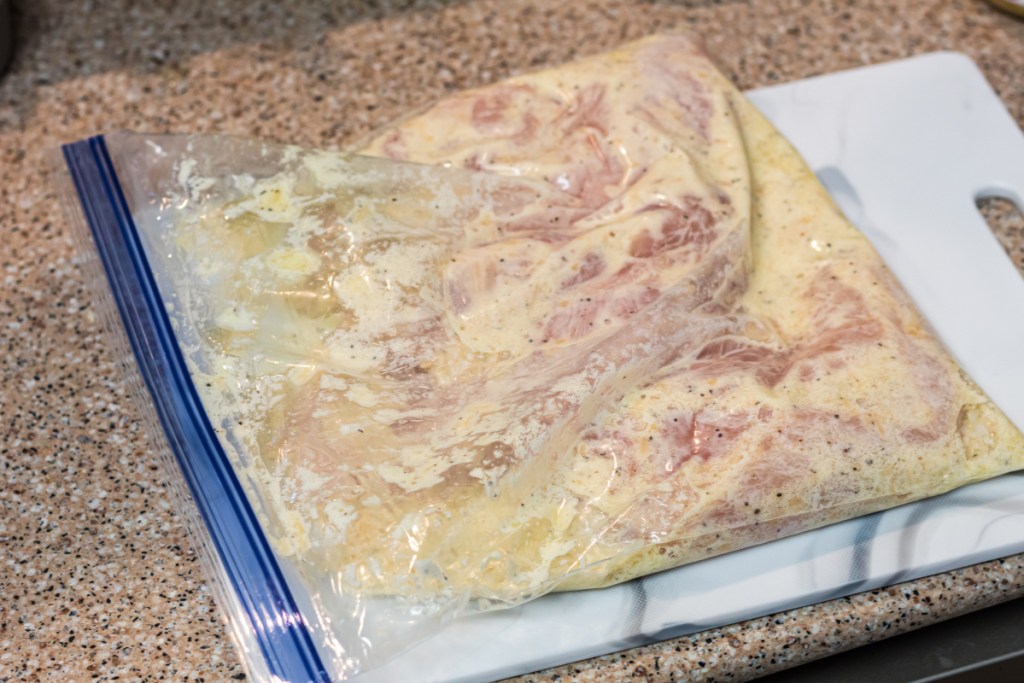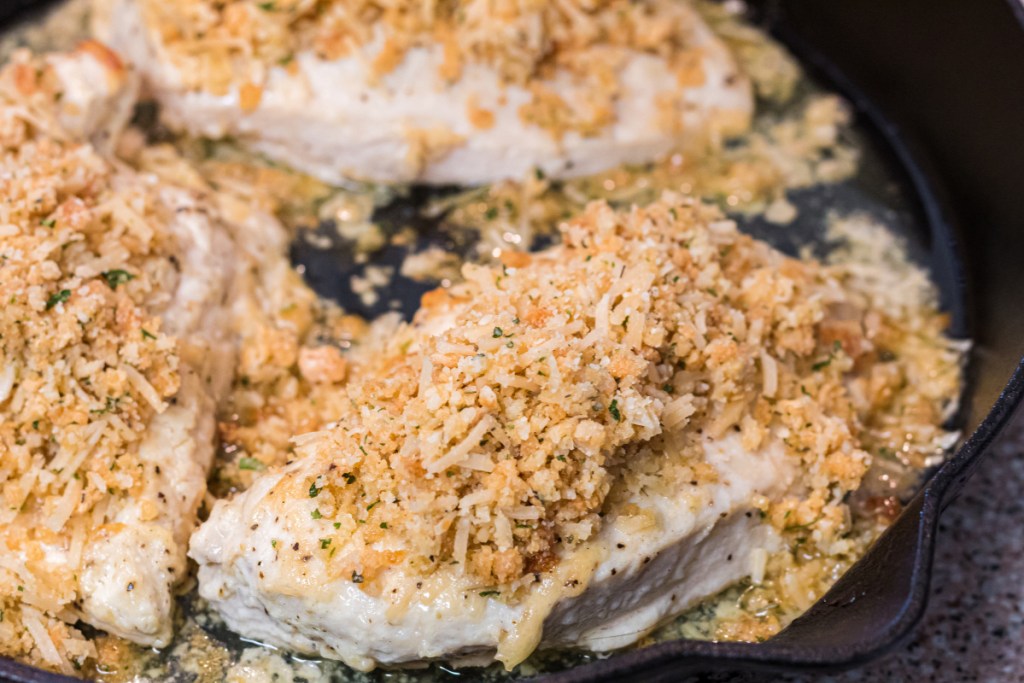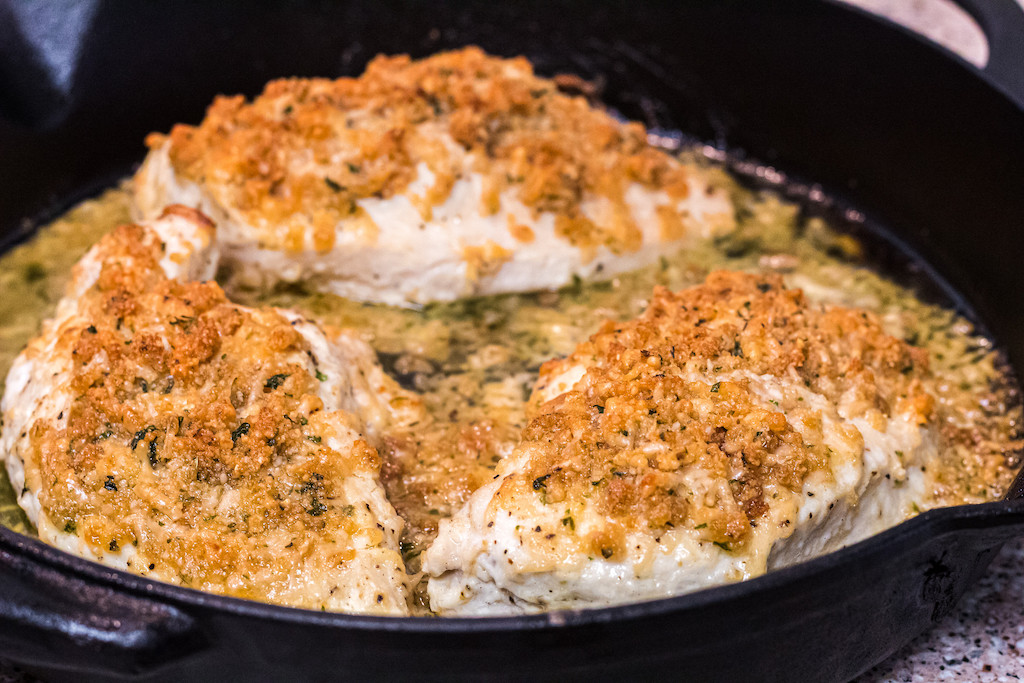 ---
Print
Keto Parmesan Crusted Chicken
yield: 3 SERVINGS
prep time: 40 MINUTES
cook time: 25 MINUTES
total time: 1 HOUR 5 MINUTES
Pounded chicken fillets with a savory marinade and crunchy coating for the most flavorful chicken ever!
Ingredients
Chicken:
3 medium size chicken breasts
Marinade:
1/2 cup olive oil
1 tablespoon garlic
1/4 cup shedded parmesan cheese
1 teaspoon salt
1 teaspoon pepper
Topping:
2 tablespoons butter, melted
1/2 cup shredded parmesan cheese
Directions
1
In a bowl, add all marinade ingredients, and whisk together.
2
Place chicken breasts in a Ziploc bag and use a meat mallet or rolling pin to tenderize the chicken breasts. To avoid piercing the bag, use the smooth side of the meat mallet. After pounding the meat, pour the marinade into the bag and let marinate for at least 30 minutes.
3
Preheat oven to 425 degrees.
4
After at least 30 minutes, remove chicken from marinade and place in an oiled cast-iron skillet and bake in the preheated oven for 15 minutes.
5
While the chicken is baking, in a small bowl, mix together keto bread crumbs, melted butter, and parmesan cheese. After 15 minutes of baking, pull out cast-iron pan and top the chicken with keto bread crumb topping. Bake for an additional 5 minutes.
Nutrition Information
Yield: 3, Serving Size: 1
Amount Per Serving: 714 Calories | 63g Fat | 4g Total Carbs | 0 Fiber | 0 Sugar Alcohol | 33g Protein | 4g Net Carbs
---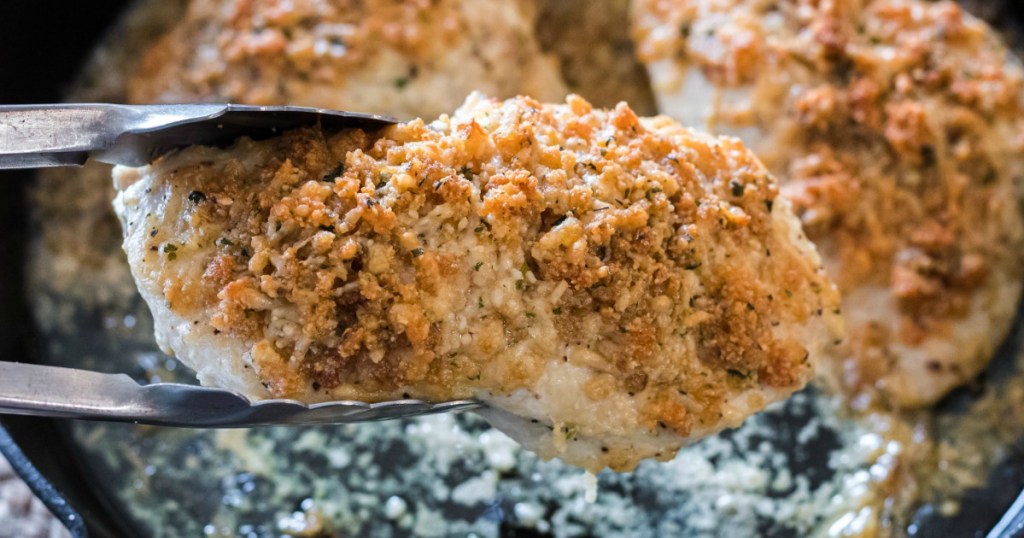 Keep these tips in mind when making this flavorful keto parmesan crusted chicken:
Want to really keep it squeaky clean keto? Make your own keto mayo so you know exactly what's in it without having to sift through label ingredients.
Did you know if you pound chicken breasts you will get more tender meat? You can simply use a meat mallet or even a rolling pin. Just be sure that you don't over pound the chicken because it will break down the fibers that hold the chicken together.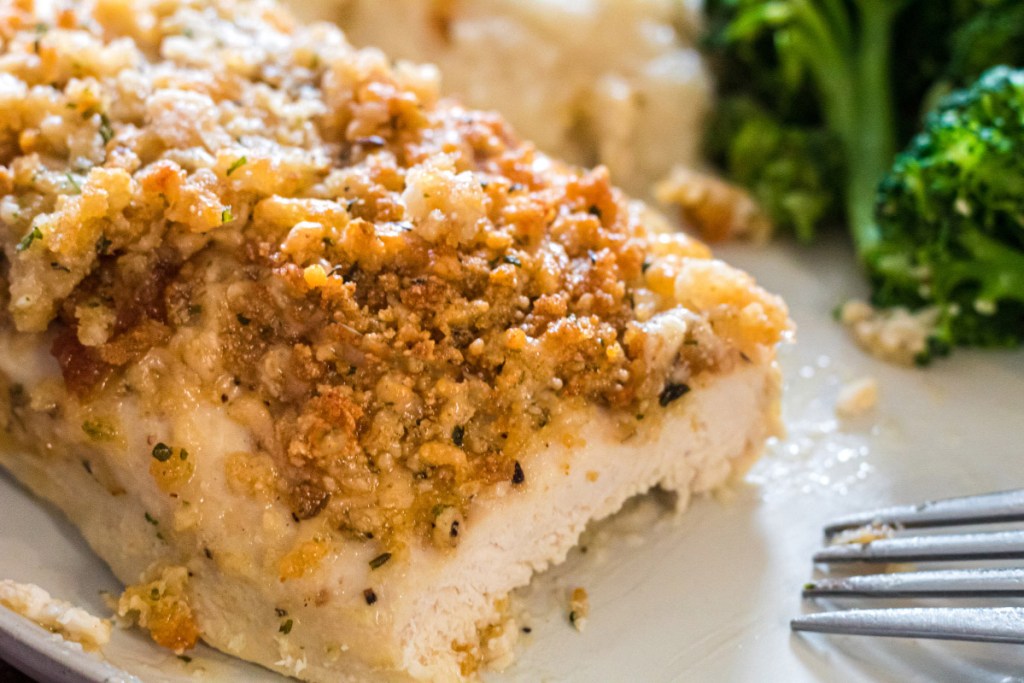 Serve this yummy chicken dish with a side of broccoli, mashed cauliflower "potatoes", or a delicious serving of cheesy baked spaghetti squash!
---
Stay on the flavor train with Everything Bagel Chicken Tenders!