Cheesy Keto Twice-Baked Spaghetti Squash
Love spaghetti squash?
You've gotta try baking it with two types of cheese, garlic, butter, and fresh herbs. It's seriously the BEST way I've ever served spaghetti squash!
I know it's a popular keto-friendly veggie, so this method of baking the squash, then scooping out all the strands, adding all the cheese and herbs, then putting it back to bake longer is so AWESOME – and now I'm a huge fan.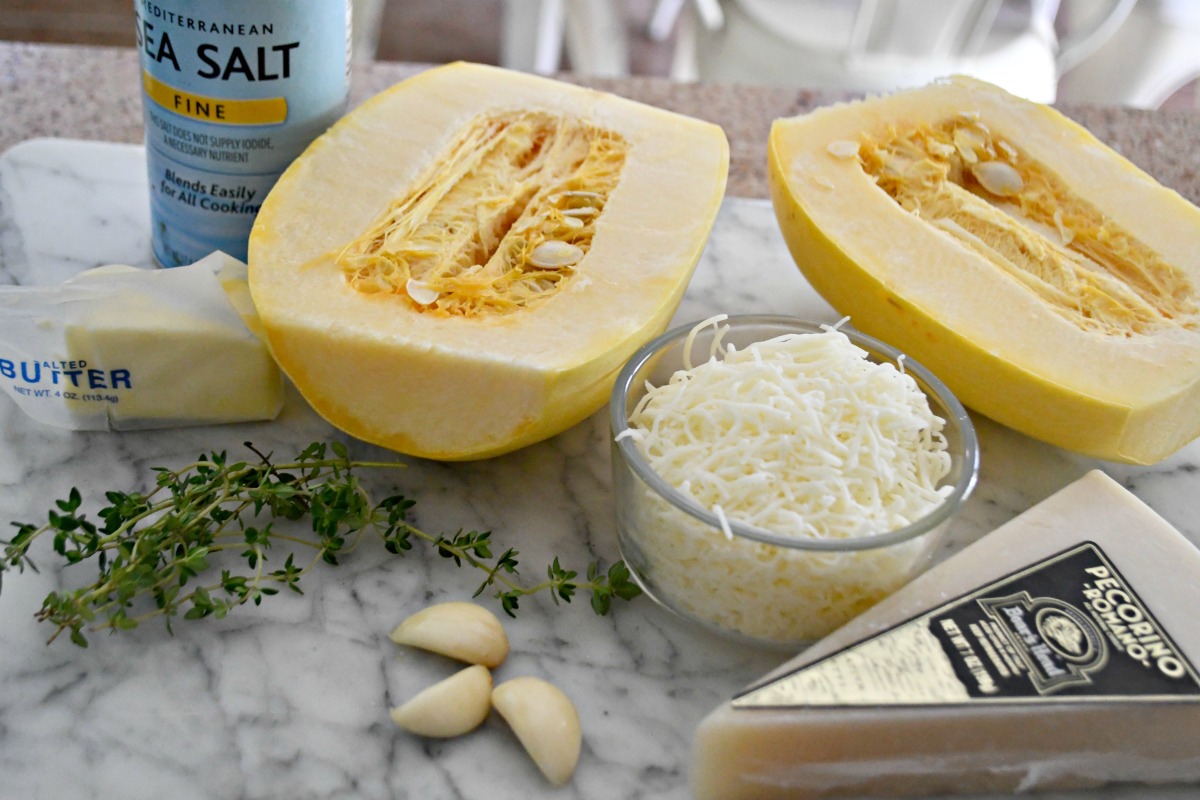 Cheese makes everything better!
Collin got me hooked on Pecorino Romano, as it's her favorite cheese, and it's so delicious freshly grated. Feel free to substitute with Parmesan cheese. Fresh garlic, thyme, and butter throw this squash over-the-top delish! It gives it such a savory flavor that I prefer (compared to the sweeter taste of plain spaghetti squash).
Spaghetti squash is EASY to bake.
Don't let the size and longer bake time discourage you. You'll cut the squash in half lengthwise, and scoop out all the seeds and pulp. (I used a serrated grapefruit spoon for ease.) Then it goes in the oven for about 45 minutes, so the inside becomes soft enough to pull tender strands from. You'll know that the squash is ready because the shell will be soft to the touch.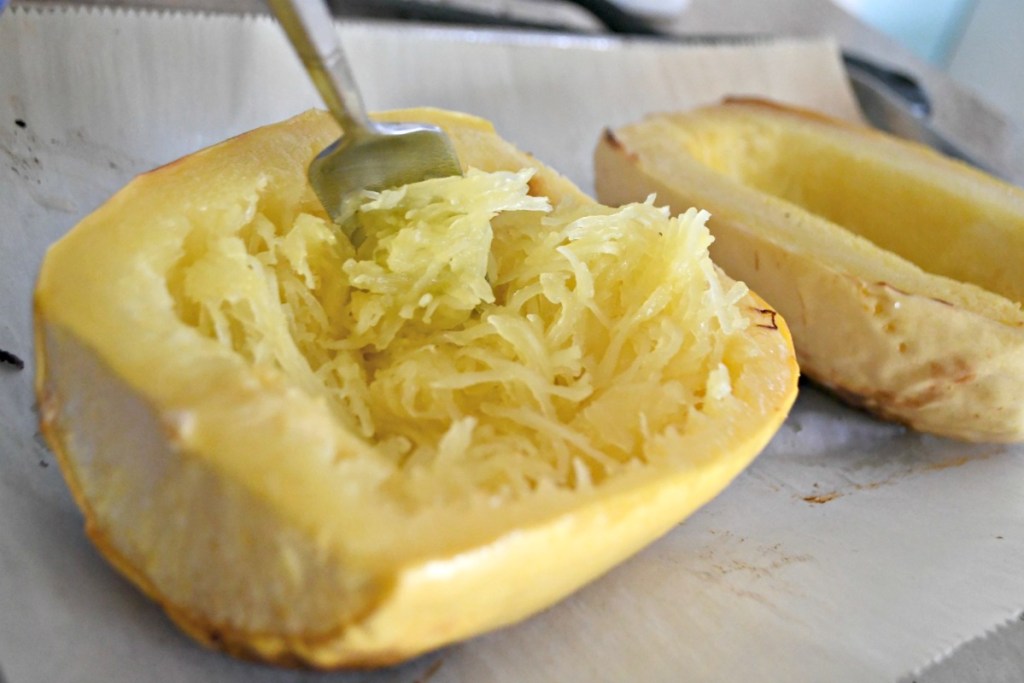 Scoop out the strands into a mixing bowl, add all the goodies to it, then place it back into the shells of the squash topped with more cheese. That goes back into the oven, the cheese gets bubbly and melted, and it will taste like spaghetti squash HEAVEN!
Hip Tip: Want to up the protein? Throw in some cooked shredded chicken if desired.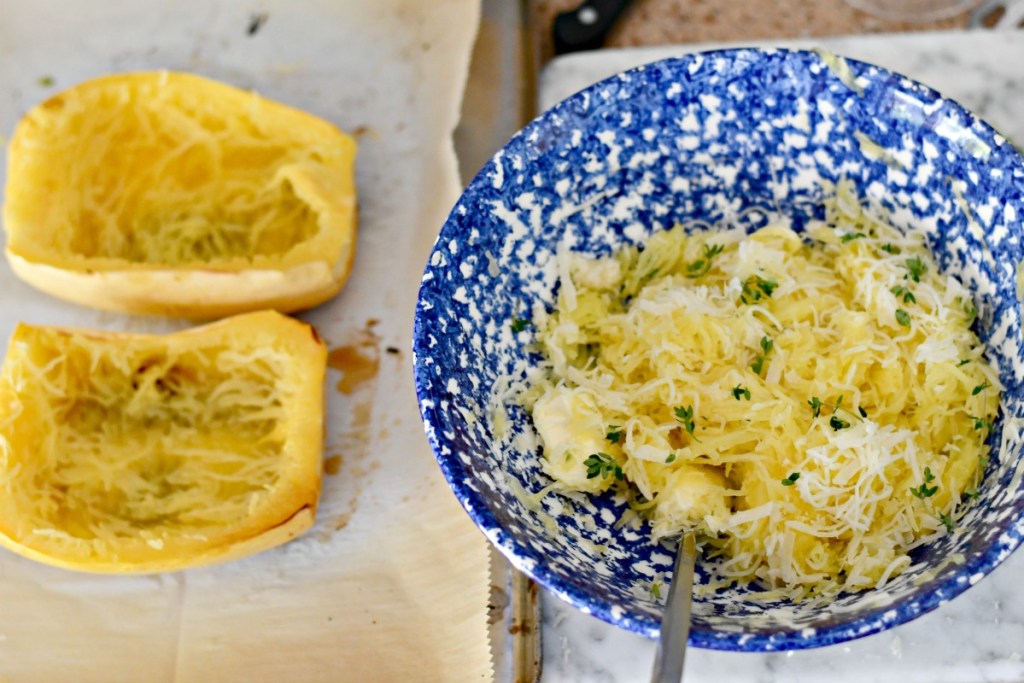 ---
Print
Cheesy Keto Twice-Baked Spaghetti Squash
yield: 6 SERVINGS
prep time: 15 MINUTES
cook time: 55 MINUTES
total time: 1 HOUR 10 MINUTES
Baked spaghetti squash gets two types of cheese, garlic, and fresh thyme for an incredible keto side dish.
Ingredients
2-pound spaghetti squash
1 tablespoon olive oil
3/4 cup pecorino romano cheese, shredded (or parmesan)
1 cup mozzarella cheese, shredded
1/2 teaspoon salt
1/4 teaspoon pepper
1 teaspoon onion powder
1 tablespoon butter
2 teaspoons fresh thyme leaves
3 cloves garlic, minced
Directions
1
Preheat oven to 400 degrees. Use a fork to poke a few holes around the spaghetti squash. Place in the microwave for a minute to soften a bit.
2
On a cutting board, cut the end of squash off, then cut in half lengthwise. Scoop the seeds and pulp out using a spoon, and coat the inside with olive oil.
3
Place the squash on a baking sheet with the insides facing down. Bake in in the oven for about 45 minutes or until soft.
4
Let cool for a bit, and then use a fork to remove all the strands of spaghetti squash into a mixing bowl. Combine both cheeses into a small dish, and add HALF the cheese mixture to the bowl with squash. Also add salt, pepper, onion powder, butter, minced garlic, and fresh thyme, and stir all to combine.
5
Place the spaghetti squash mixture back into the skins on a baking sheet pan. Top with the remaining half of the cheese. Place back in the oven and broil for 5-6 minutes until the cheese is melted and slightly browned. Enjoy warm.
Nutrition Information
Yield: 6 servings, Serving Size: about 1/2 cup
Amount Per Serving: 173 Calories | 12g Fat | 10g Total Carbs | 2g Fiber | 8g Net Carbs
---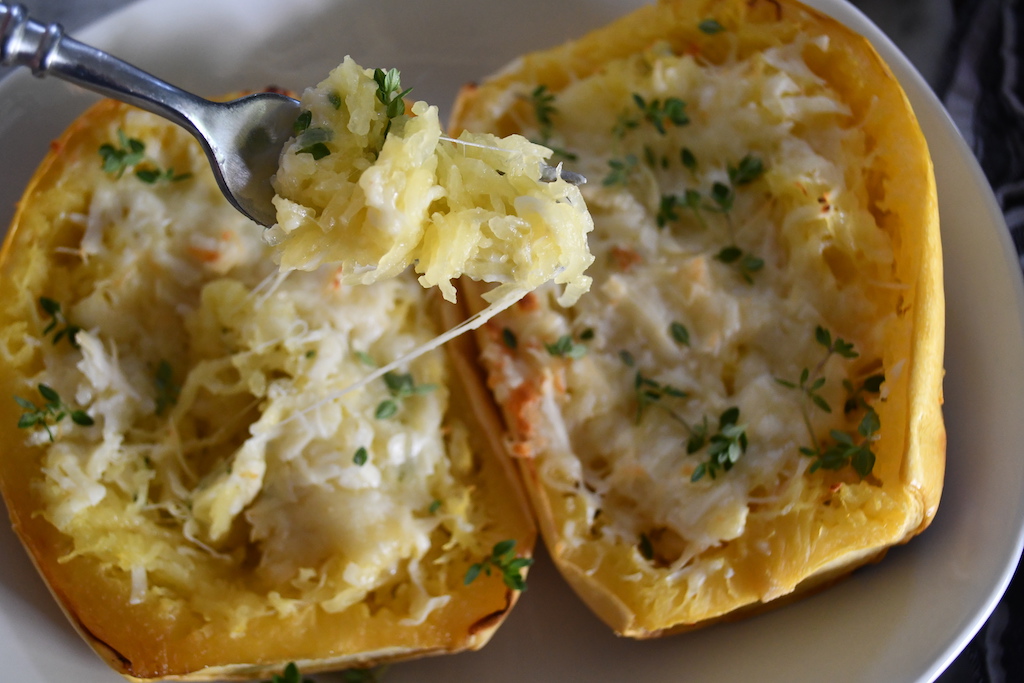 OMG, I could eat this cheesy spaghetti squash every day.
Every bite is bursting with yummy flavor, and the texture is not watery at all or plain. The fresh thyme adds so much flavor. I just think this is such an exciting dish to try especially if you're looking to branch out a little with keto-friendly veggie side dishes. YUM!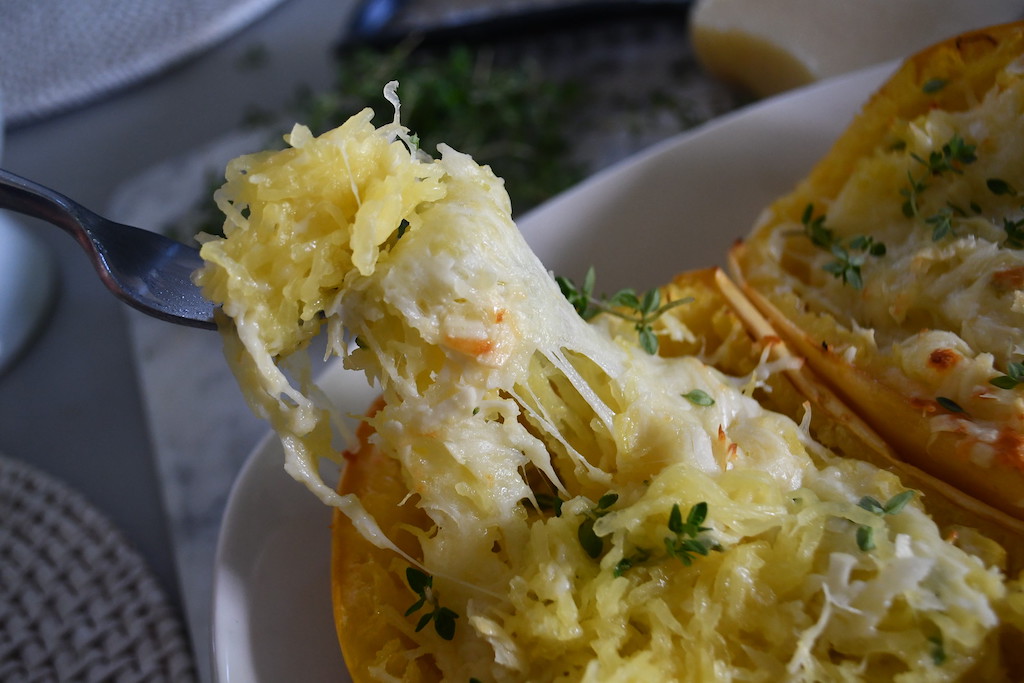 ---
Try this Italian-inspired Sausage & Spaghetti Squash Casserole!