Who Needs Potatoes When You Can Make Crispy Daikon Radish Bites!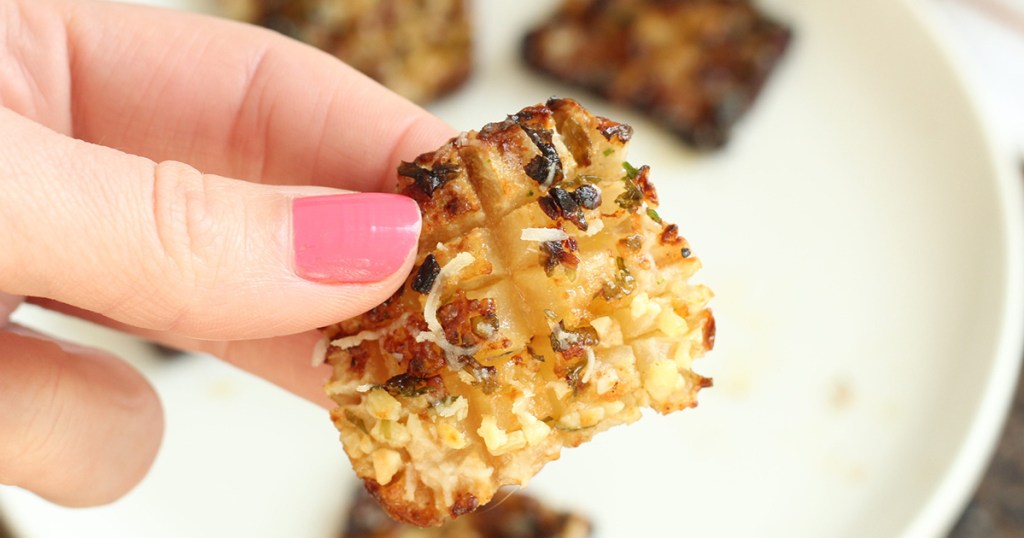 These crispy "potato" bites definitely hit the spot!
If you're looking for the perfect keto snack, appetizer, or side dish with a crispy exterior and a soft interior, then I've got exactly what your taste buds have been craving! But, don't worry, we didn't harm any potatoes in the making of this potato-like recipe. 😆
This recipe actually uses daikon radishes, which are a fraction of the carbs in those starchy potatoes.
Introducing crispy low carb "potato" bites!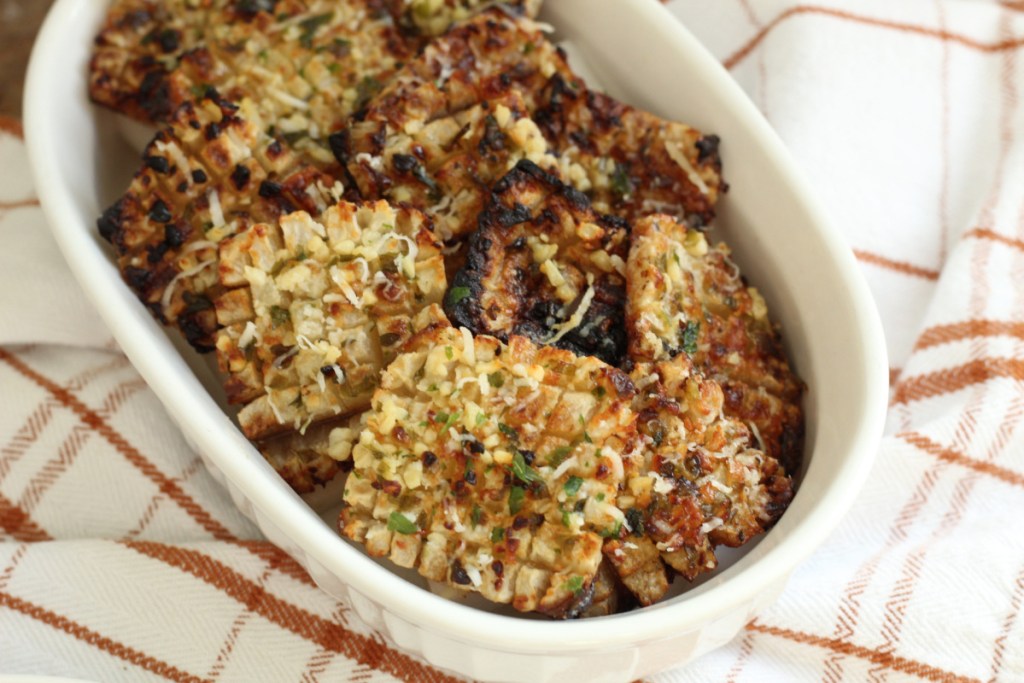 Buncha crunch!
Have you ever had a Hasselback potato or zucchini? These crispy low-carb "potato" bites are very similar to a Hasselback but just smaller bite-size pieces. You'll surely enjoy the crispiness of the "potato", and the melted garlic butter drizzled all over and then topped with freshly grated parmesan cheese truly takes this dish to another level.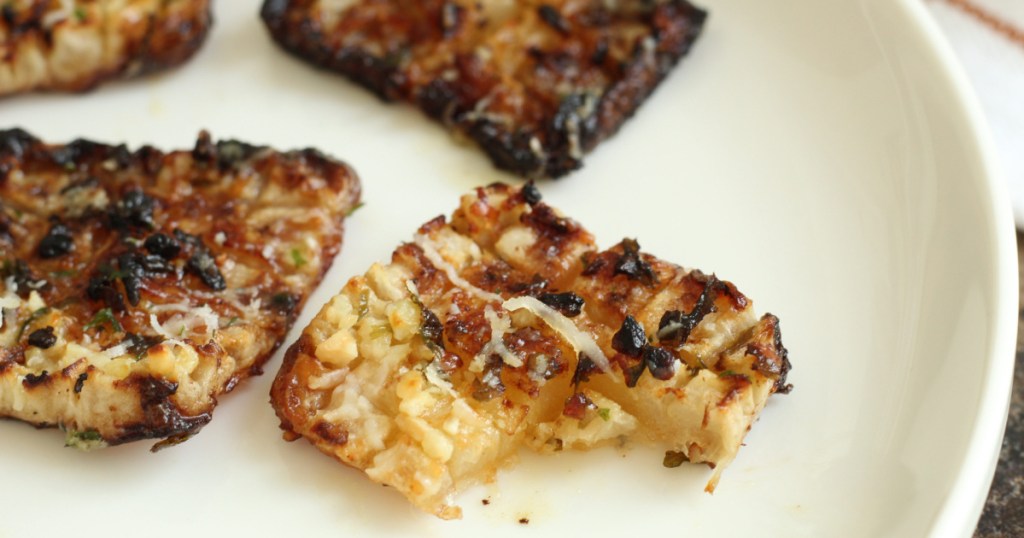 Why radishes?
Radishes have really surprised me lately at just how versatile they are when creating keto-friendly recipes. I typically think of radishes as something that is typically served on a veggie tray, but I've discovered that radishes (especially daikon) are truly one of the most versatile vegetables out there.
I've used them when making low-carb noodles, breakfast "potatoes", and now these crispy low carb "potato" bites. Who would have thought a bitter, peppery, zesty vegetable could be so settled in taste when cooked?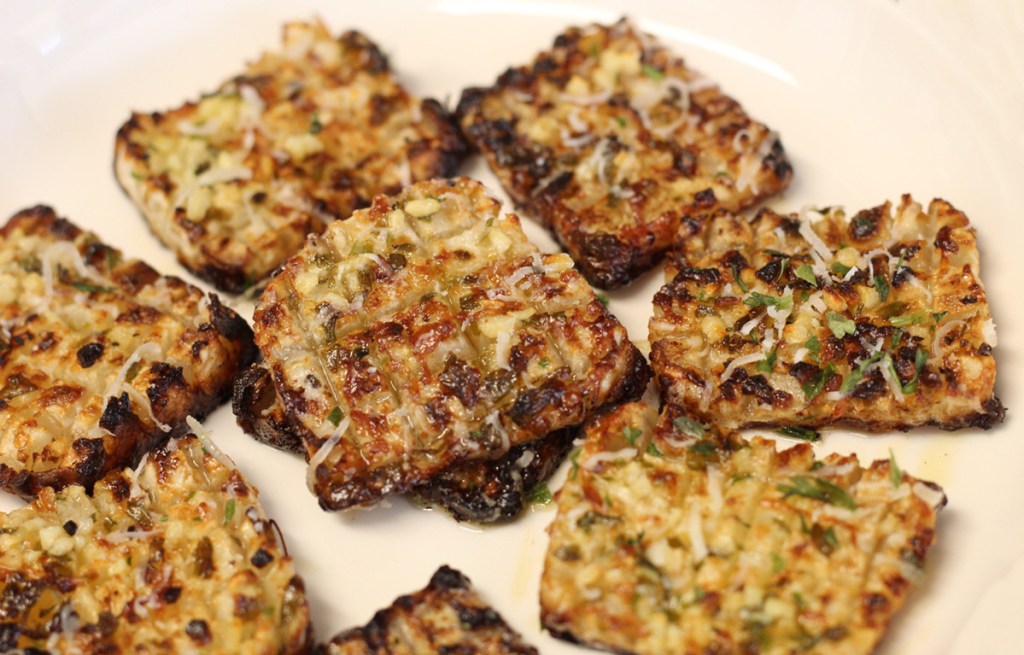 Hip tips for making the best low carb "potato bites":
Daikon radishes can be found in the produce section at most grocery stores, Whole Foods, or even your local farmer's market. I suggest getting a larger size radish.
Place your cut radish in between two chopsticks, skewers, or straws. You want to make sure when you are slicing the radish you don't cut all the way through. You just want to start the slice so all the melted garlic butter gets down in the radish, and so it will crisp up nicely.
I like to keep my melted butter mixture pretty simple by adding minced garlic, parsley, and parmesan cheese. You could totally add in some red pepper chili flakes or rosemary if you want even more flavor.
When daikon radishes are baking in the oven keep an eye on them after the 20-minute mark. Depending on how thin you have cut them will affect the cooking time.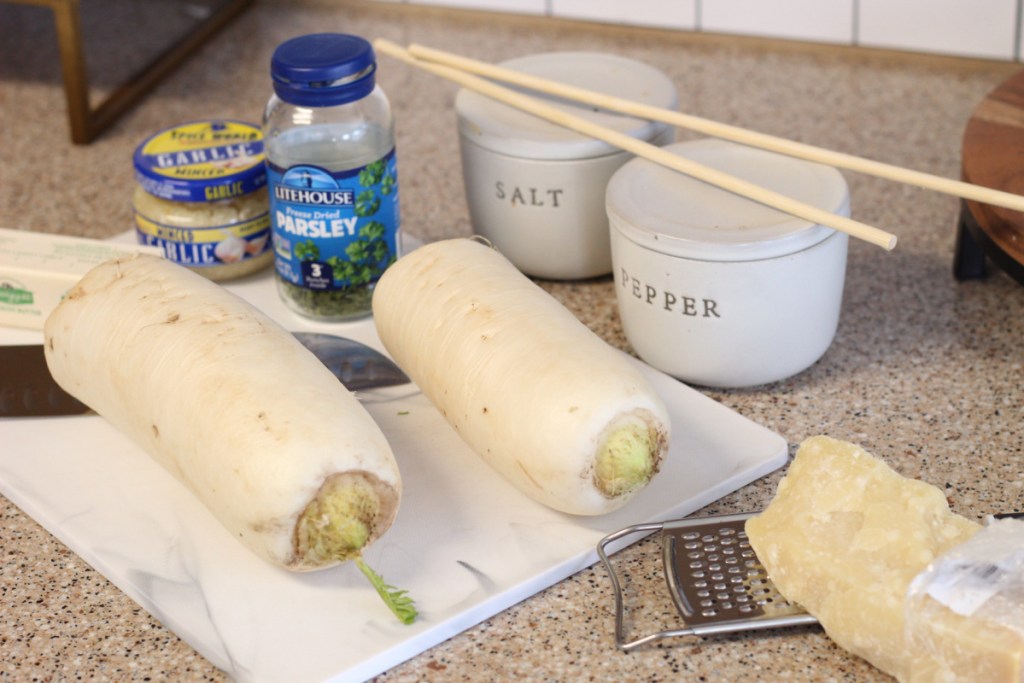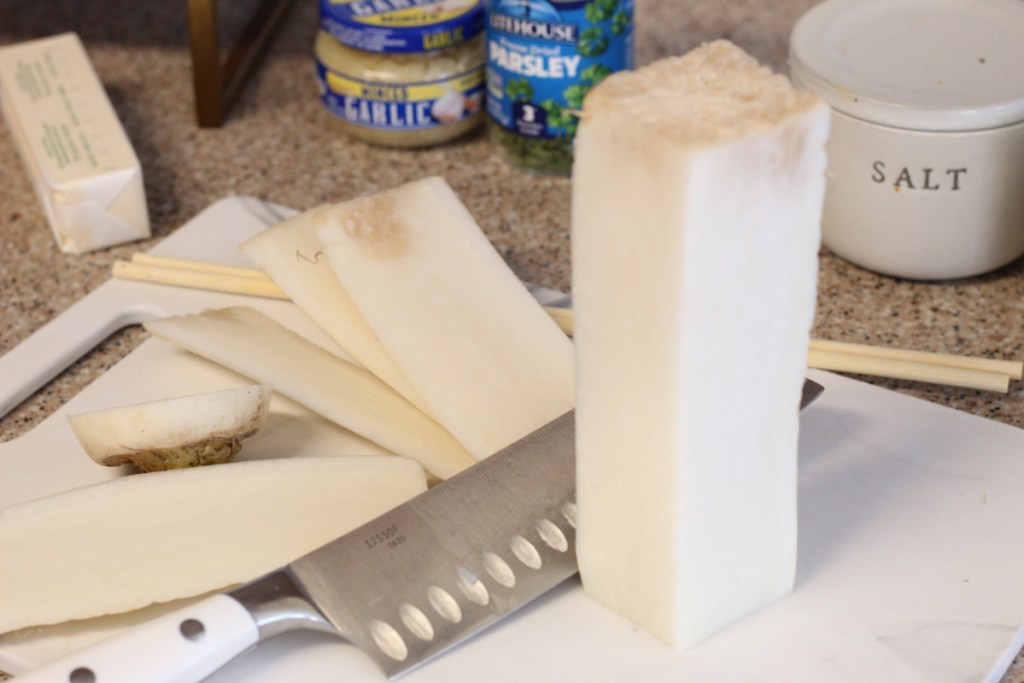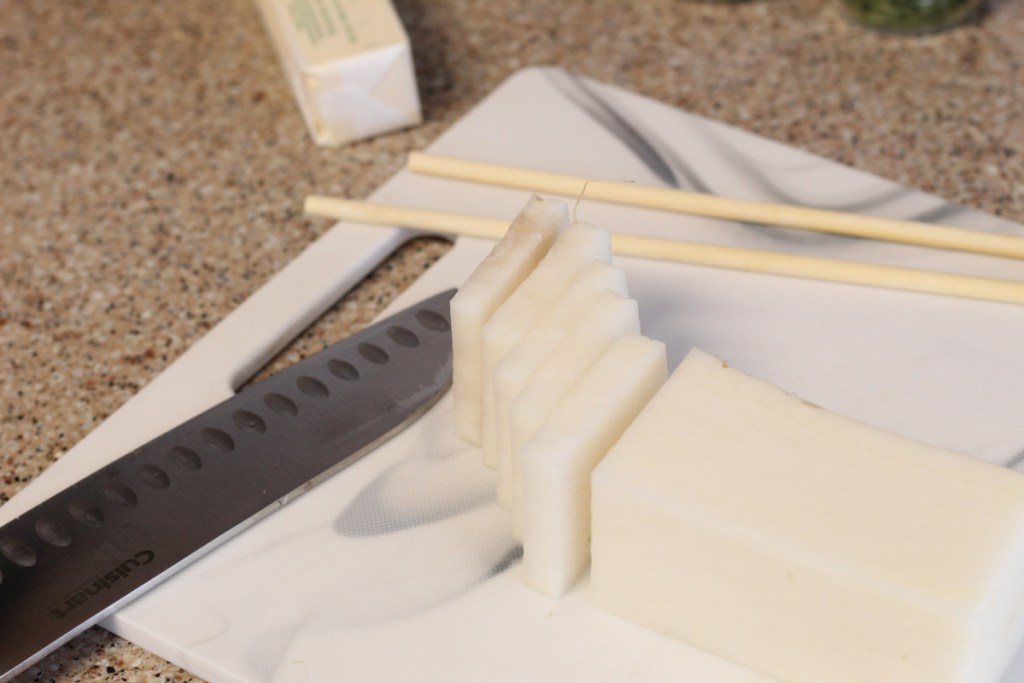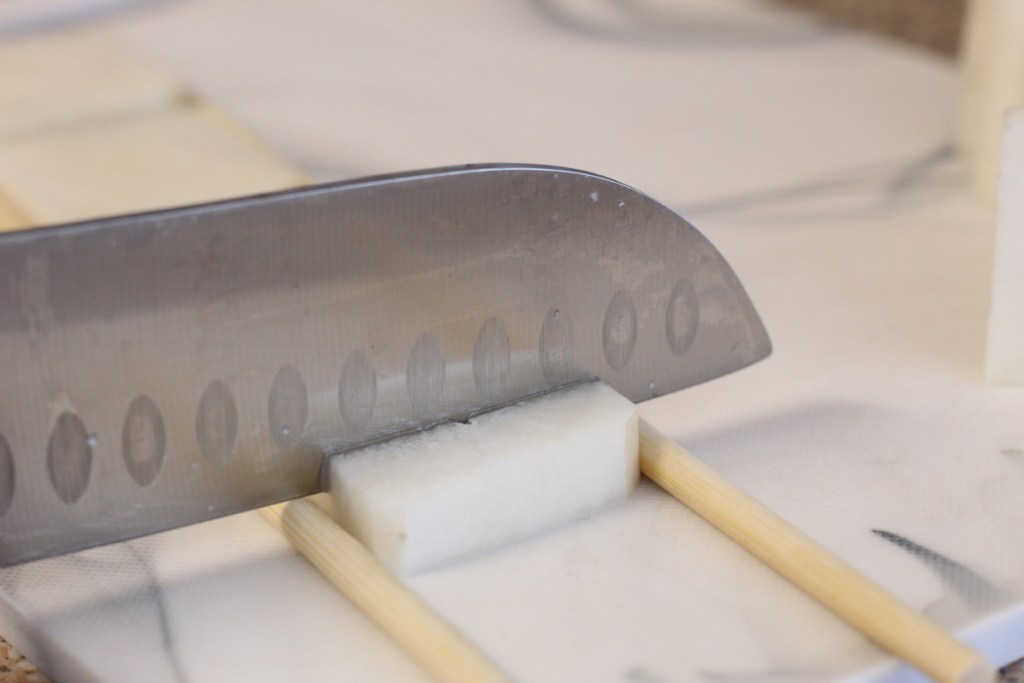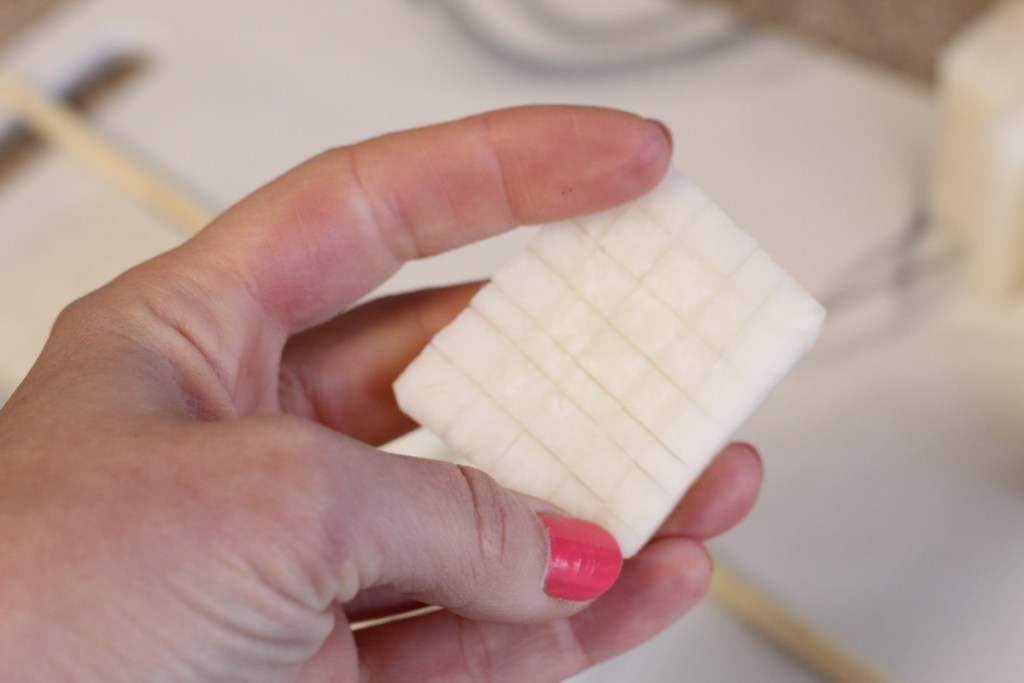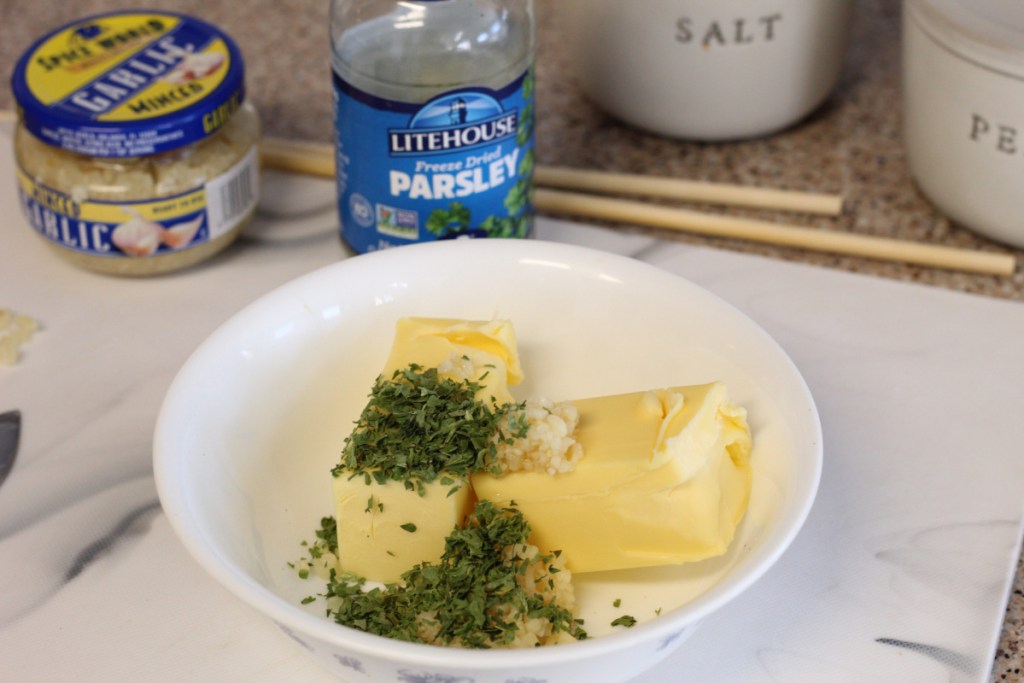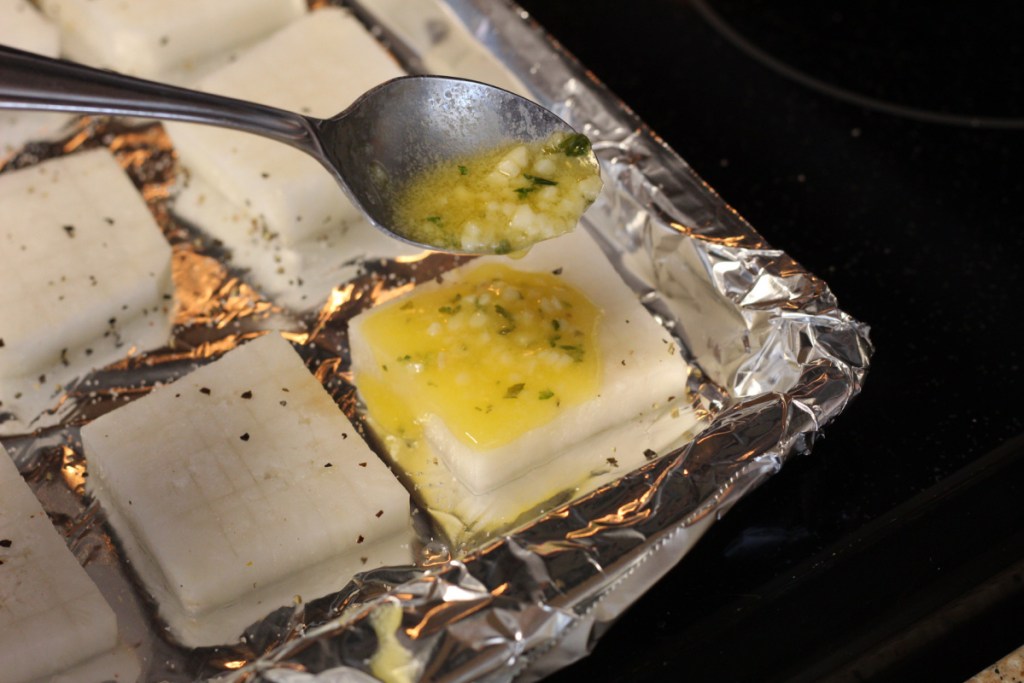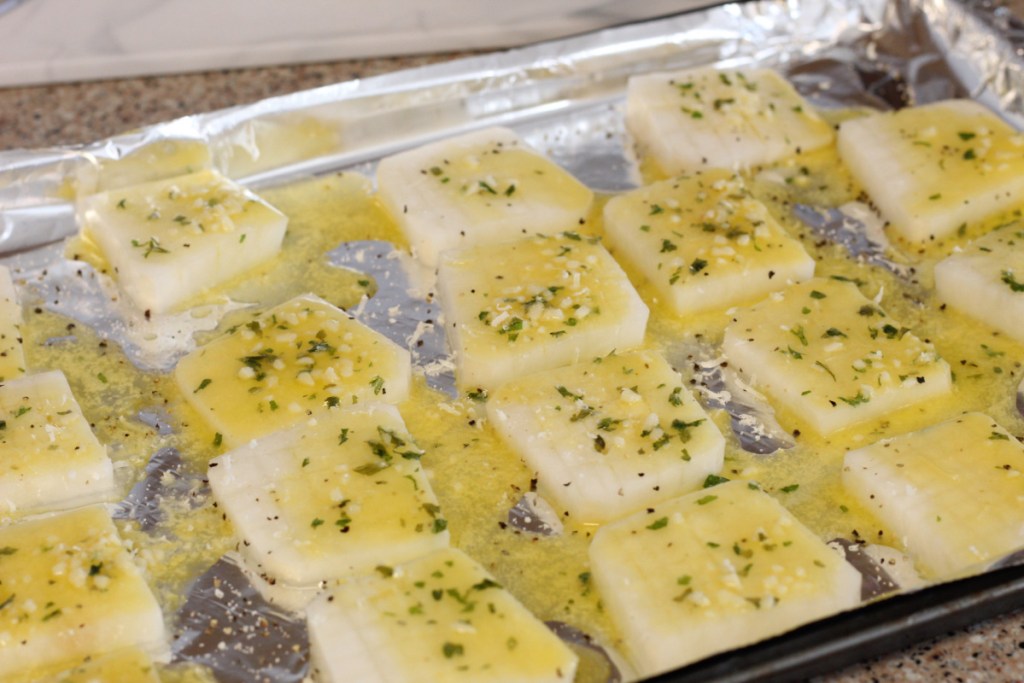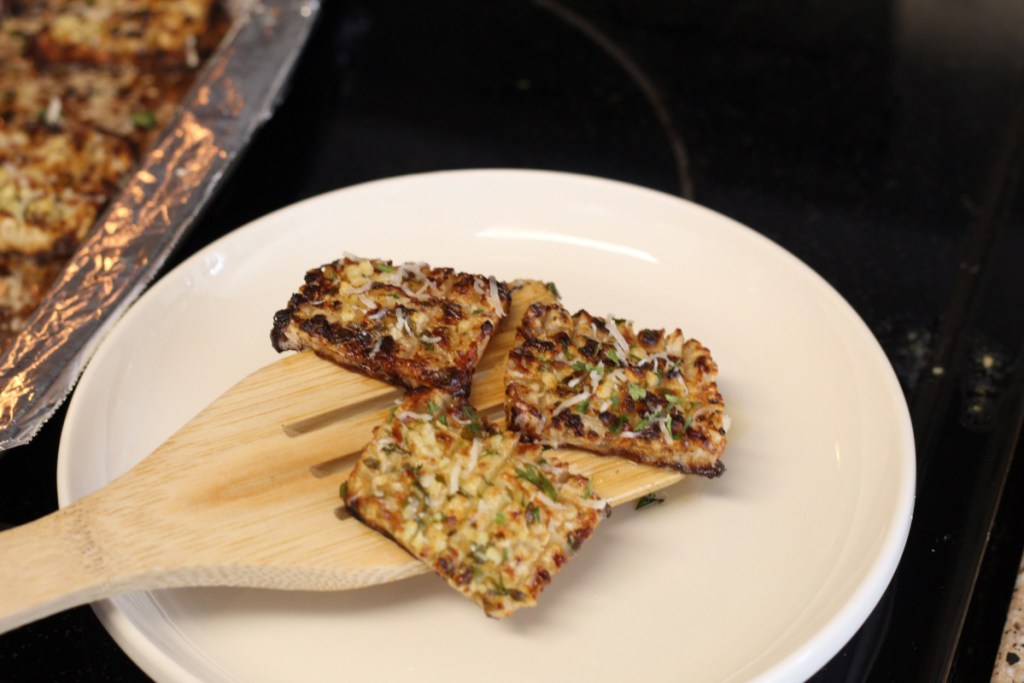 ---
Print
Low Carb "Potato" Bites
yield: 8 SERVINGS
prep time: 15 MINUTES
cook time: 25 MINUTES
total time: 40 MINUTES
These low carb "potato" bites are made with daikon radishes topped with a buttery garlic sauce, and give you the crispy crunch you've been missing.
Ingredients
2 pounds Daikon radishes
1/2 teaspoon salt
1/2 teaspoon pepper
1 stick or 8 tablespoons butter
1 tablespoon garlic, minced
1 tablespoon parsley, dried or fresh
2 tablespoons parmesan cheese, freshly grated
Directions
1
Preheat the oven to 425 degrees. Line a baking sheet with foil and set it aside.
2
With a sharp knife, cut off each side of the daikon radish. When you're done, it will look like a cube of butter. Slice the radish into 1/4"-1/2" thick slices. Grab two chopsticks, skewers, or straws, and place them on each side of the sliced radish. This will help prevent cutting all the way through them.
3
Slice radishes about 1/8" until you have reached the end. Turn to do the opposite side and slice. This will look like a square grid.
4
Repeat the process with the remaining radish slices. Place grid radishes in a bowl with cold water for 10 minutes.
5
Remove radishes from water and pat dry. Place radishes on the lined sheet pan grid side up. Sprinkle radishes with salt and pepper.
6
In a small bowl, add butter, garlic, and parsley. Put in the microwave for a few seconds until the butter has melted.
7
Brush or drizzle melted butter over the radishes. Sprinkle with 1 tablespoon of grated parmesan cheese.
8
Bake in the oven for around 25 minutes (possibly less). Start to keep an eye on the radishes around the 18-minute mark so they do not burn. If you are finding the tops are not browning, you can broil for 2 minutes to crisp the tops, though this is completely optional and may vary by oven.
9
Remove from oven and top the radish bites with remaining grated parmesan cheese. Enjoy!
Nutrition Information
Yield: 24, Serving Size: 3
Amount Per Serving: 129.3 Calories | 11.7g Fat | 4.9g Total Carbs | 1.9g Fiber | 2.9g Sugar | 0g Sugar Alcohol | 1.5g Protein | 3.0g Net Carbs
---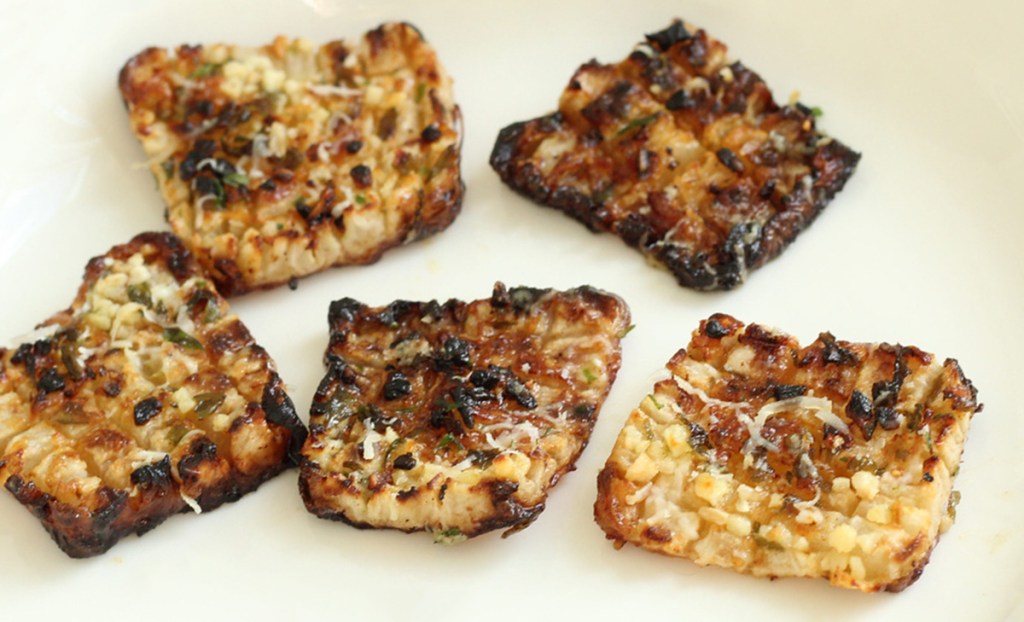 Dig in and get your crunch on!
These crispy low-carb "potato" bites were such a hit at my house! I like to throw on a little extra parmesan cheese on top after I've pulled them out of the oven – I mean, is there ever such a thing as too much cheese? 😋 🧀
Make a batch and let me know what ya think!
My team member Jen gave this recipe a test for me, and here's what she had to say:
"Wait until you smell these low carb 'potato' bites cooking – my kitchen smelled amazing! These bites have the perfect texture of a cooked potato, plus the garlic, butter, and parsley give them an amazing flavor. You would never know it's a radish because the taste and texture are totally changed during the cooking process. Dip them in ranch and it's just like eating French fries with ranch – so yummy! These would make a perfect keto appetizer!"
---