Keto Bacon-Wrapped Lil' Smokies with Tangy BBQ Sauce
This little savory, salty, and sweet appetizer is a guaranteed crowd pleaser!
Keto bacon wrapped smokies are a great party food! If you've got an upcoming movie night, outdoor party, or even no special occasion at all, there's no reason not to make these succulent treats! They are so simple to put together and you only need a few ingredients! So what are you waiting for?
Let's jump into how to make keto bacon wrapped smokies!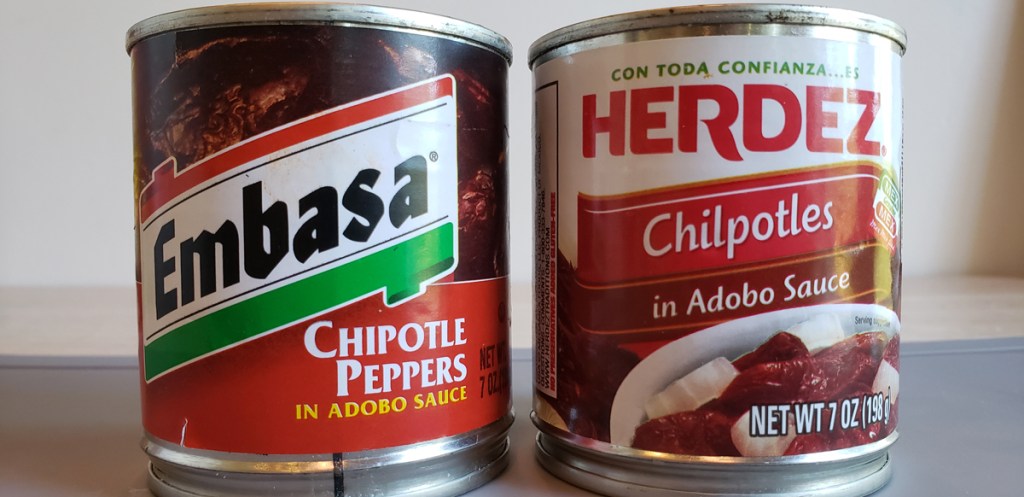 This keto recipe uses chipotle peppers in adobo sauce for sweet heat! 🔥
You can find chipotle peppers in adobo sauce at most supermarkets in the Hispanic section, sold in small 6- to 7-ounce cans. Chipotle peppers are jalapeño peppers that are harvested later than the green jalapeños you see in the produce section. They remain on the vine until they are red in color, then they are smoked, dried, and rehydrated in a tomato sauce. Note that there is a minimal amount of sugar added to canned chipotle peppers in adobo sauce.
When using chipotle peppers, use caution as they are hot! Start with less, stir it into the sauce, and taste; you can always add more little by little.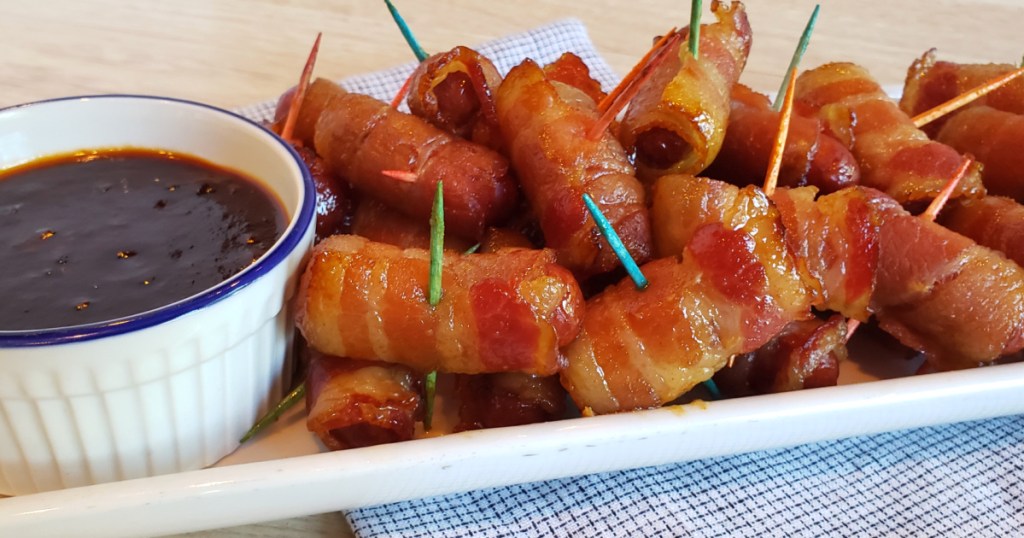 Tips for Making the Best Keto Bacon Wrapped Smokies:
Hillshire Farms makes a variety of Lit'l Smokies in beef, pork and chicken, turkey, and cheddar (pork and chicken). Lit'l Smokies are packaged in 12- to 14-ounce packages. Either option works well in this recipe!
Regular cut bacon works best. Don't use the thick-cut; it's too hard to wrap the smokies.
Make sure you have toothpicks handy to secure the bacon around the smokies.
If you remove the seeds from the chipotle, it greatly reduces the heat. Use a fork and scrape the seeds from the pepper. I removed the seeds from 2 1/2 chipotles each time I've made this recipe.
This BBQ sauce is also fabulous on chicken, pork, or beef, especially if you're grilling.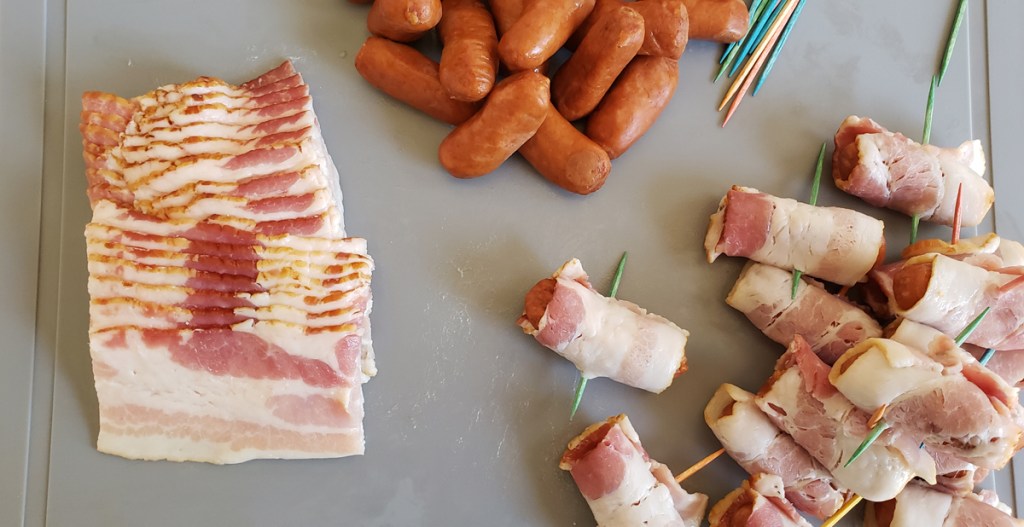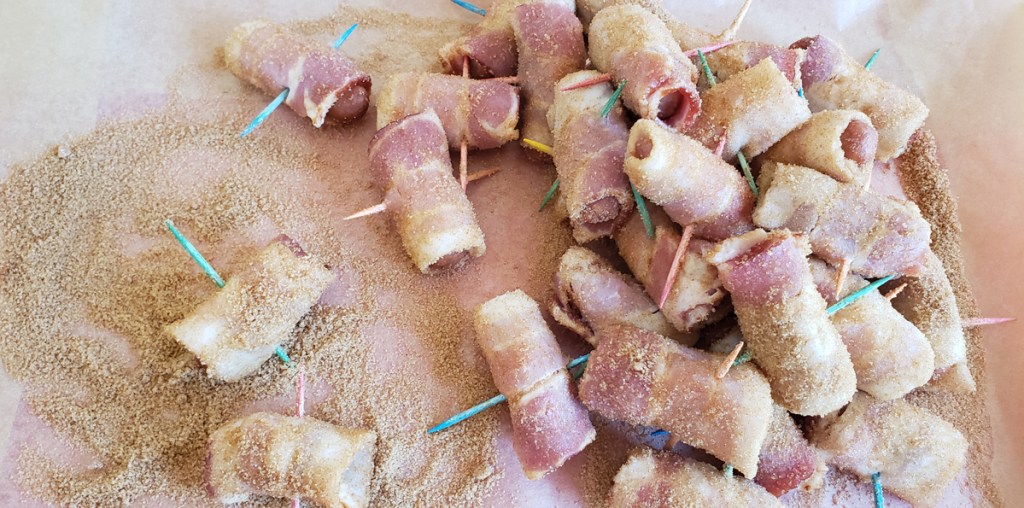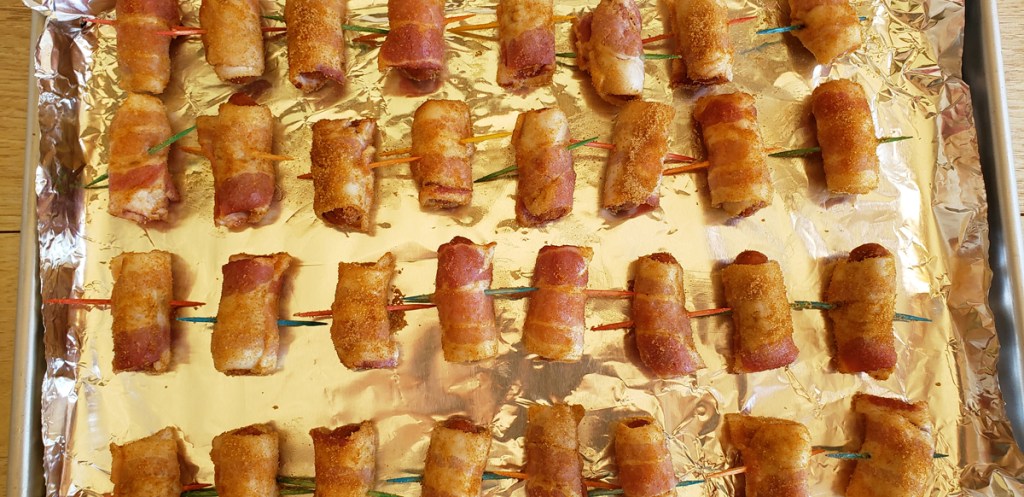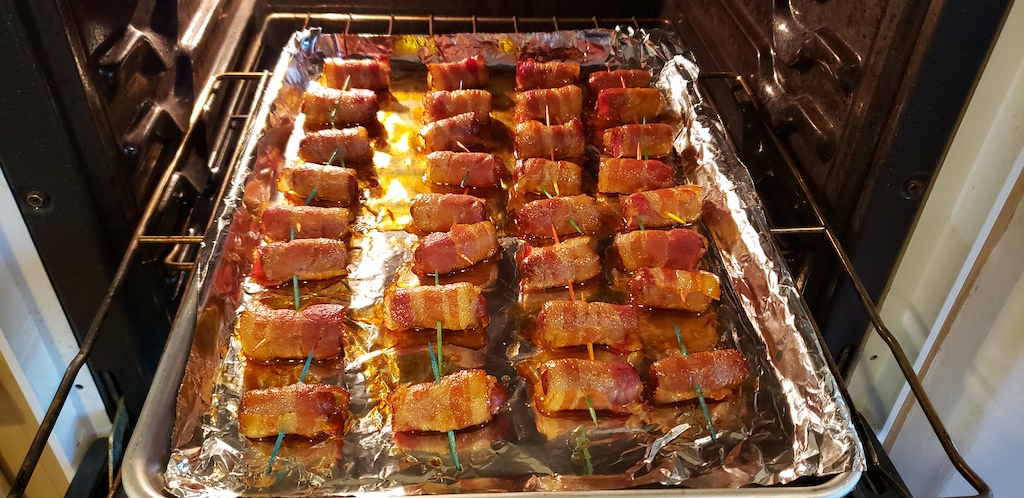 ---
Print
Keto Bacon-Wrapped Smokies with BBQ Sauce
yield: 8 SERVINGS
prep time: 20 MINUTES
cook time: 30 MINUTES
total time: 50 MINUTES
Savory Lil' Smokies sausages are wrapped with bacon, dusted with keto brown sweetener, and dipped in a tangy BBQ sauce for a delectable keto appetizer!
Ingredients
Bacon Wrapped Lil' Smokies:
1 pound bacon (you may use less than a pound depending on the number of smokies)
1/4 teaspoon cayenne pepper
Keto Chipotle BBQ Sauce:
2 tablespoons avocado oil
2 tablespoons minced garlic
1/4 teaspoon cayenne pepper
1/4 cup balsamic vinegar
Directions
1
To make the bacon-wrapped smokies:
Preheat oven to 350 degrees F.
2
Line a large rimmed baking sheet with aluminum foil (it makes clean up so much easier).
3
Cut the bacon into thirds and wrap each smokie in bacon. Secure with a toothpick.
4
Combine the brown sugar sweetener with the cayenne pepper, place in a flat shallow dish, and coat the bacon-wrapped smokies all over.
5
Place smokies on the prepared baking sheet and bake for about 15 minutes. Turn and bake for another 15 minutes until the bacon is crispy. If you want the bacon crispier, you can pop them under the broiler for a few minutes, but they can burn very quickly, so keep your eye on them.
While the lil' smokies are cooking, you can make the BBQ sauce.
6
To make the BBQ sauce:
In a saucepan over medium heat, combine oil and minced garlic. Sauté for 2 to 3 minutes or until golden.
7
Remove from heat and let cool for a few minutes before adding ketchup, brown sugar sweetener, balsamic vinegar, soy sauce or tamari, and espresso. Whisk together.
8
Return to heat and simmer on low for about 5 minutes.
9
While the sauce is beginning to simmer, remove 1 chipotle pepper from can. To reduce the heat, remove seeds by scraping out with a fork, and add one pepper and 1 tablespoon adobo sauce to saucepan and continue to simmer on low for about 2 minutes. Taste, and if desired, add more peppers. Simmer for 2 more minutes and taste. Continue in this manner, always testing after each addition. Simmer on low for another 10 minutes allowing the flavors to meld.
10
Serve the BBQ sauce alongside the bacon-wrapped lil' smokies. Enjoy!
Additional Notes
Two tablespoons (1/8 cup) is a serving of BBQ Sauce. You can store any remaining sauce in a sealed container in the refrigerator for about 2 weeks.

Nutrition Information
Yield: 8, Serving Size: about 4
Amount Per Serving: 384.4 Calories | 26.2g Fat | 21.7g Total Carbs | .1g Fiber | 2.6g Sugar | 16g Sugar Alcohol | 28.3g Protein | 5.6g Net Carbs
---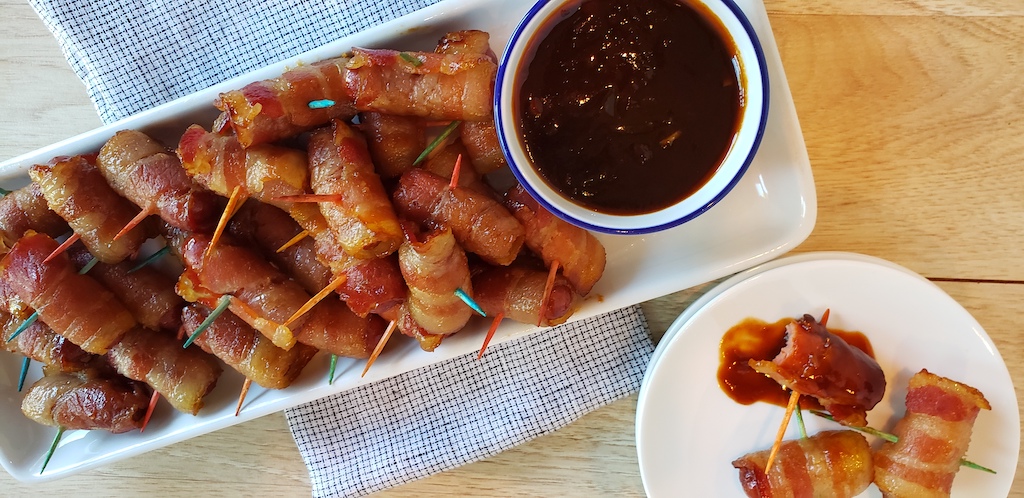 If you take these to a party, they'll instantly disappear! Everyone loves these juicy little morsels!
If you're planning a party, here are several fabulous keto appetizers that everyone will love: keto Mexican queso dip, low-carb hummus (cauliflower stands in for chickpeas), and keto apricot glazed party meatballs. Let's celebrate!
---
My Hip sidekick Jenna made this recipe and here's what she thought!
"I can't choose which I love more, the bacon-wrapped smokies or the BBQ sauce. The flavor on these is absolutely awesome! My mom makes little smokies in the Crock-Pot every Christmas Eve for an appetizer, and I will be sending her this recipe since I am so obsessed with these. I highly recommend the tip to broil a bit at the end. It gives the bacon a little more crispiness. That, with the flavors from the sauce, is just WOW!"
---
Make this Cauliflower Dill Pickle Salad to go with your smokies!