Keto "Snickers" Pie with Creamy No-Bake Filling
With the magic of ChocZero's new Rhea Bars, this keto Snickers pie is pure decadence.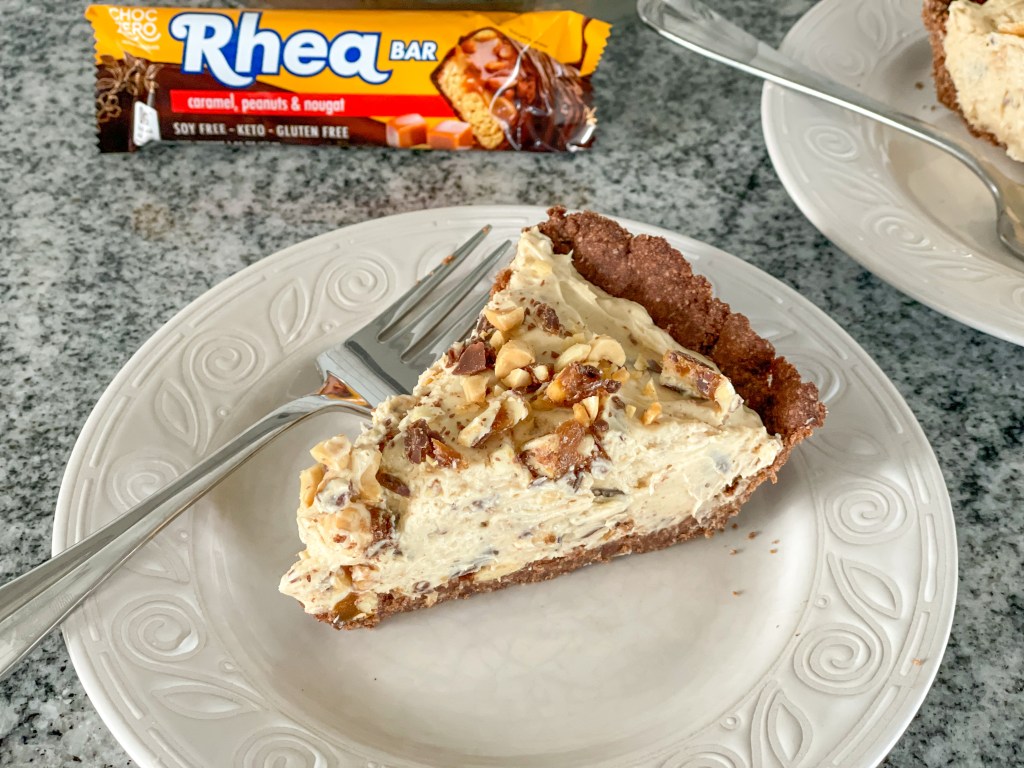 Snickers Pie is the ultimate indulgent dessert… and this one is keto!
A crunchy crust with a silky filling topping with chopped-up keto candy bar pieces is a tantalizing treat anyone (even non-keto eaters) drool over. Our keto Snickers pie is everything you dream a dessert to be, and then some!
You know we love ChocZero over here at Hip2Keto, but they have seriously stepped up the game with their new Rhea Bars. They're like a keto version of a Snickers bar. I have to admit, the box comes with six bars and I immediately ate one when they arrived. So that's why this recipe uses five bars instead of six – I couldn't resist snacking on one!
When you head to ChocZero's website, I suggest buying two boxes of Rhea Bars. One to make this no-bake keto Snickers pie and one box to enjoy as you'd like. Or you might just want to make this pie twice using 10 bars and leaving two bars for yourself! I should also mention these have already sold out twice, so it's highly recommended to stock up while they're available.
Save 10% off your ChocZero order with our coupon code HIP2KETO at checkout!
How to make this no-bake keto Snickers pie:
This pie is super easy to make, promise! You probably have all the ingredients in your keto kitchen except ChocZero's Rhea Bars. You make the crust and bake it in the oven first. While it's baking, you make the filling, fill the crust, and then let it chill. That's it! You'll need a mixer. I do recommend an electric mixer otherwise you'll be getting in a good arm workout. 😂
On a side note, ChocZero named their Rhea Bars after their CGO (Chief Growth Officer). She's been with ChocZero since 2017.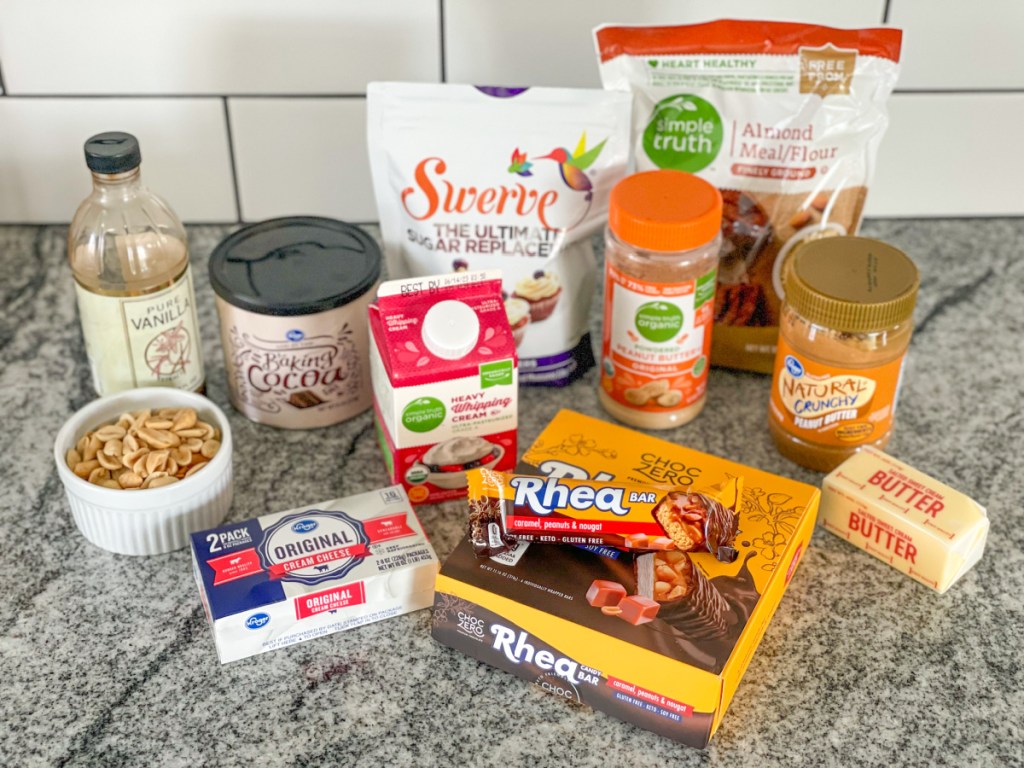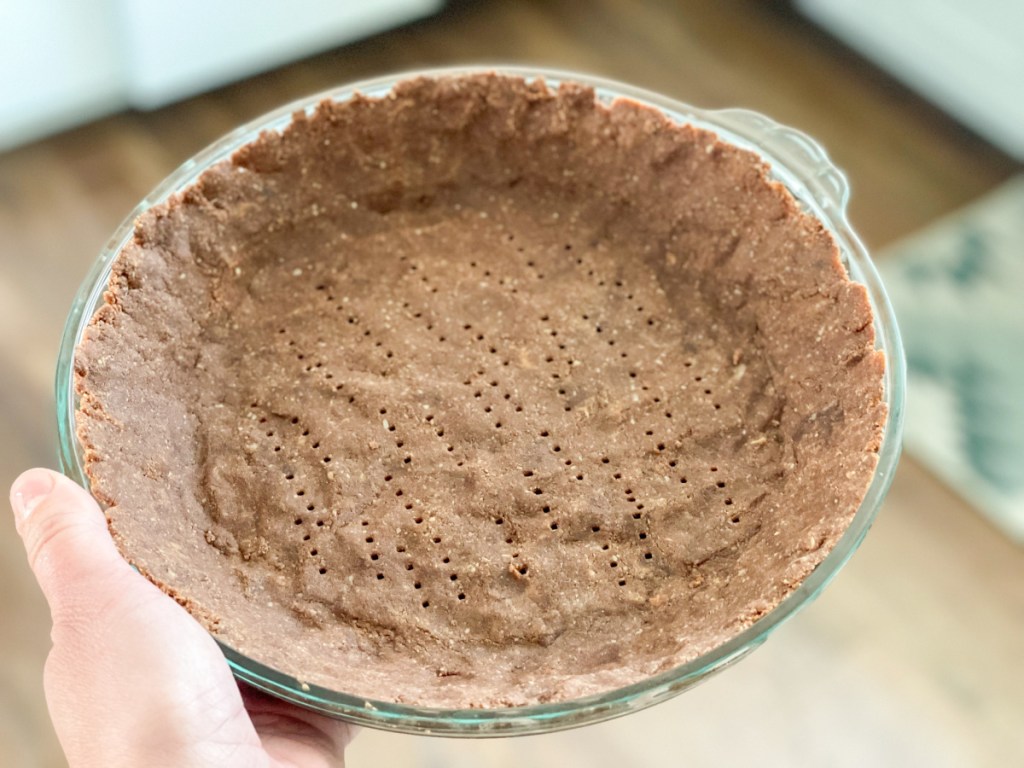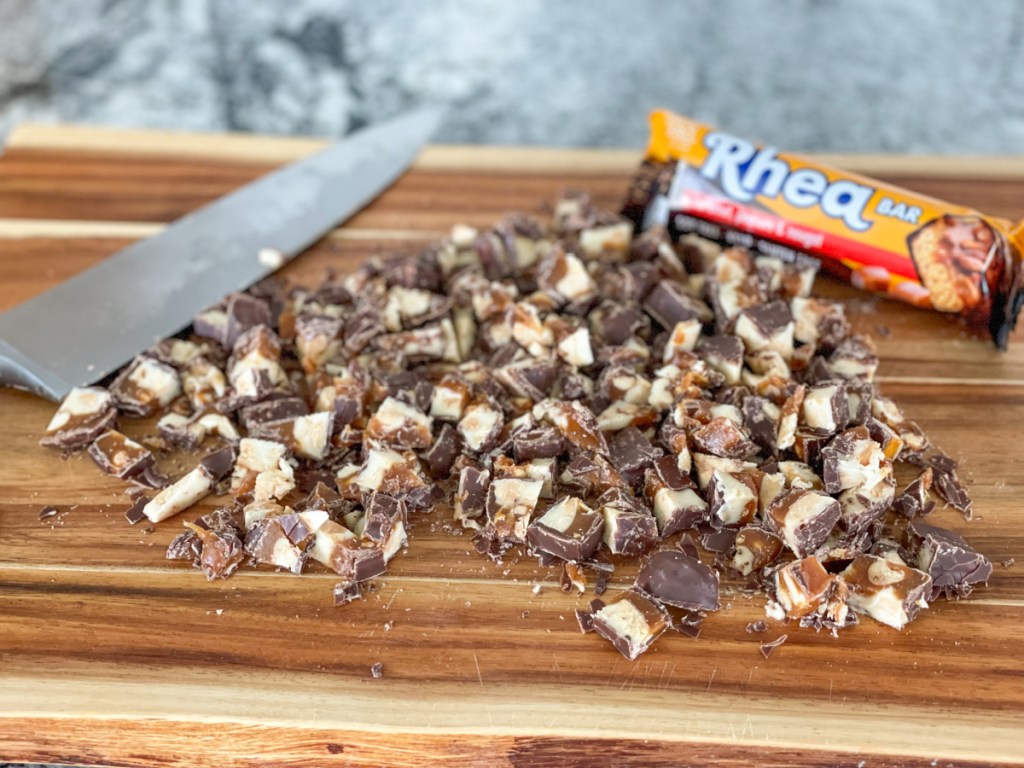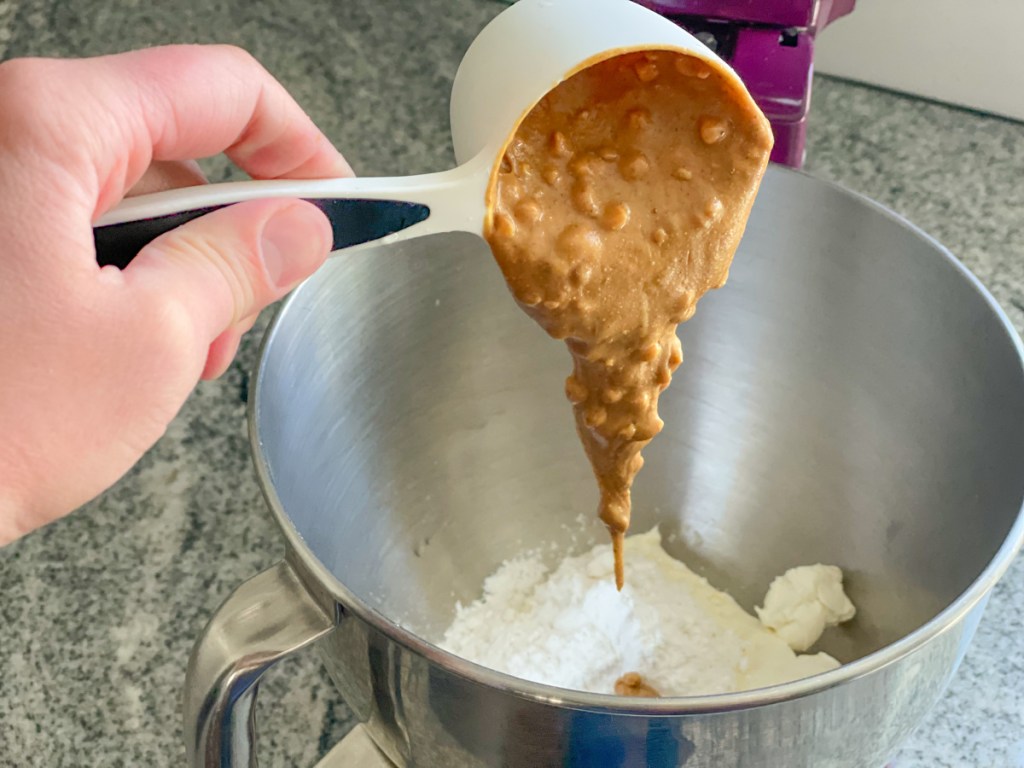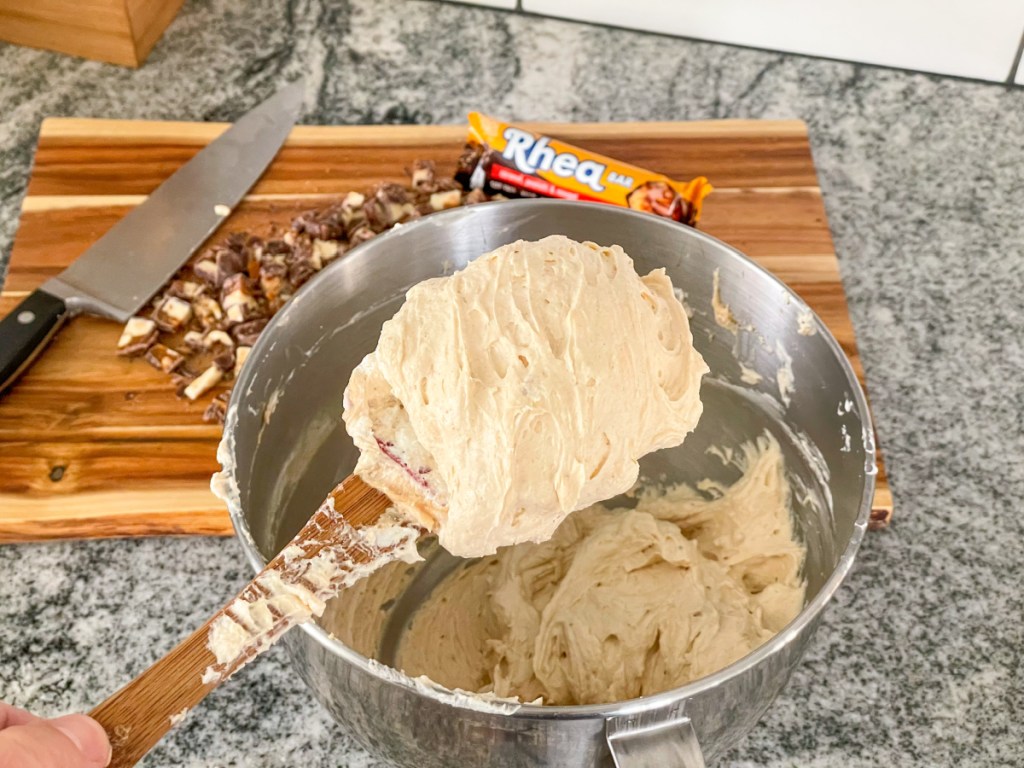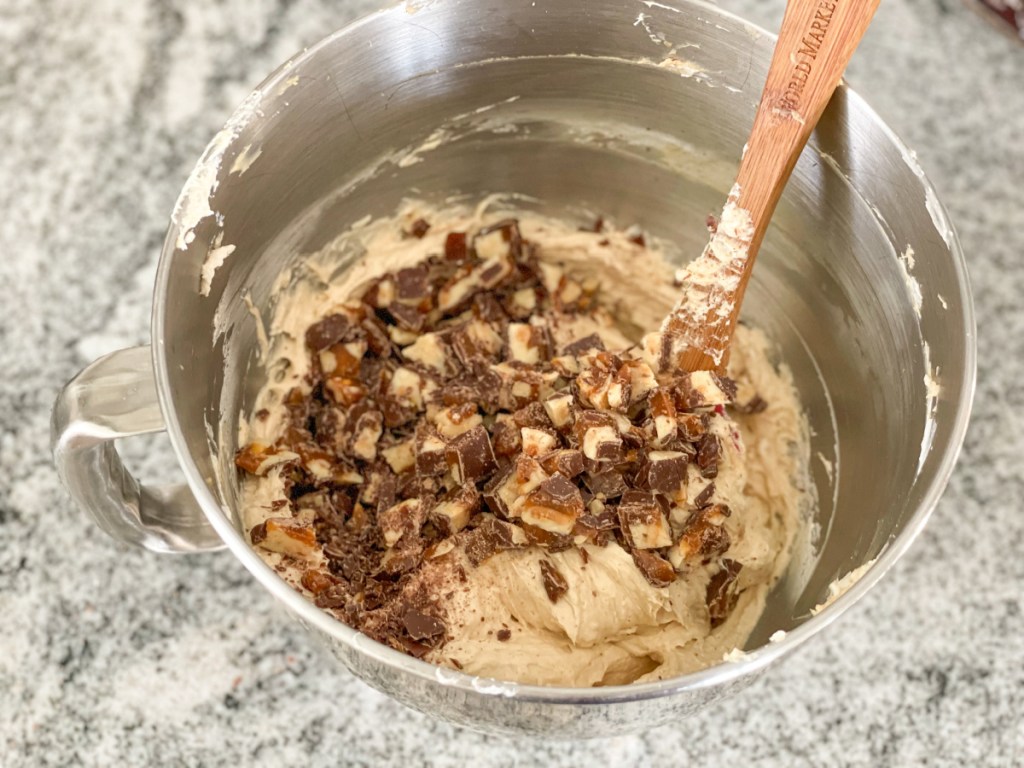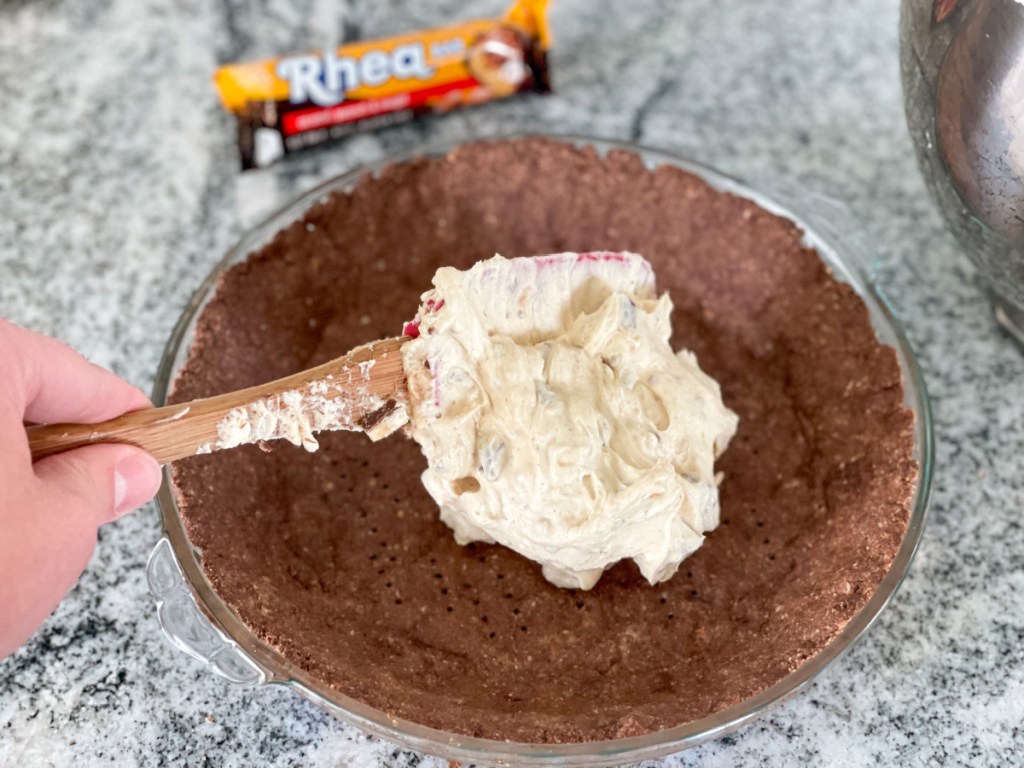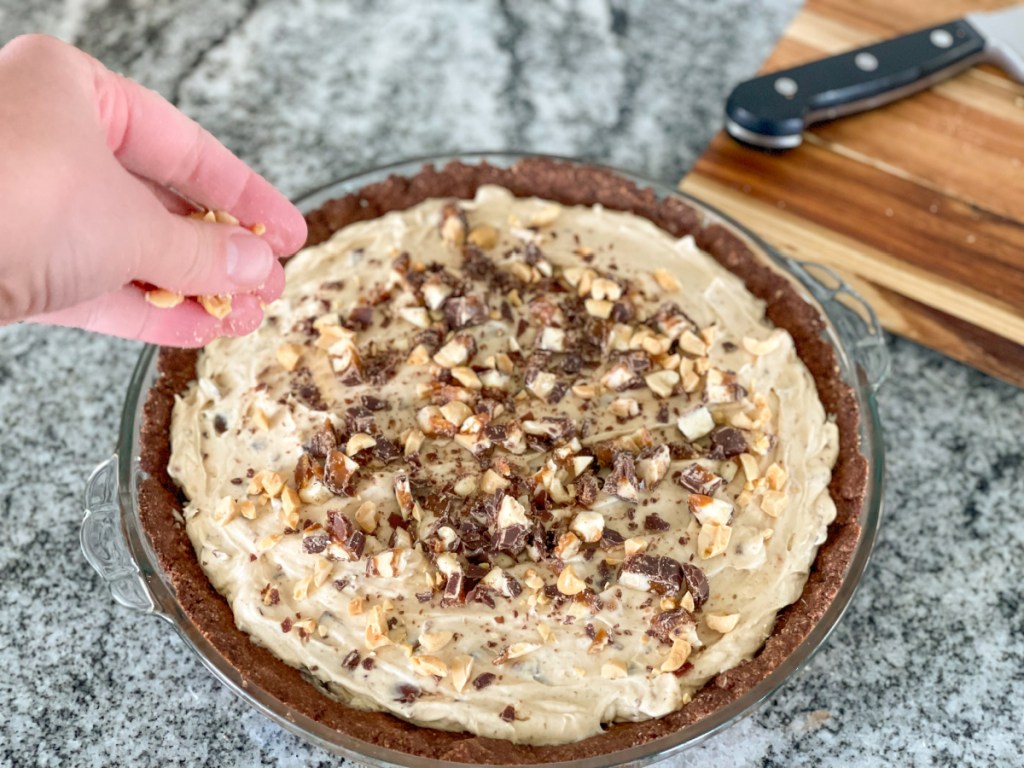 ---
yield: 12 SERVINGS
prep time: 20 MINUTES
cook time: 15 MINUTES
total time: 35 MINUTES
A decadent pie made with a chocolate peanut butter almond crust with a no-bake cream cheese peanut butter and Rhea Bar filling!
Ingredients
Crust:
1/3 cup salted butter, melted
Filling:
1 cup heavy whipping cream
2 teaspoons vanillia
8 oz full-fat cream cheese, room temperature/softened
1/2 cup crunchy natural peanut butter
Directions
1
To make the crust:
Preheat oven to 350 degrees. In a medium bowl, mix together almond flour, melted butter, keto confectioners sweetener, cocoa powder, and powdered peanut butter. Mix until well combined and then transfer to a pie dish. Press the mixture into the bottom and sides of the pie dish. Bake for 15 minutes until slightly browned. Set aside to cool.
2
To make the filling:
Start by making the whipped cream. Pour the heavy whipping cream into a mixing bowl. Add the vanilla and whip on high until stiff peaks form, about 3 to 5 minutes. Place the whipped cream in the fridge to keep it chilled until ready to use it.
3
In a separate bowl, using an electric mixer, beat softened cream cheese, peanut butter, and keto confectioners sweetener together until well combined.
4
Next, slowly add in the whipped cream. Mix on low speed until combined. Then fold in four chopped Rhea Bar pieces. Transfer the filling to the cooled pie crust and top with the remaining Rhea Bar pieces and chopped peanuts.
5
Place the pie in the fridge and let it chill for at least three hours or overnight. When ready to serve, slice it into eight pieces and enjoy!
Nutrition Information
Yield: 12 servings, Serving Size: 1 slice
Amount Per Serving: 411 Calories | 36.1g Fat | 15.4g Total Carbs | 3.2g Fiber | 2.4g Sugar | 6g Sugar Alcohol | 10.3g Protein | 6.2g Net Carbs
---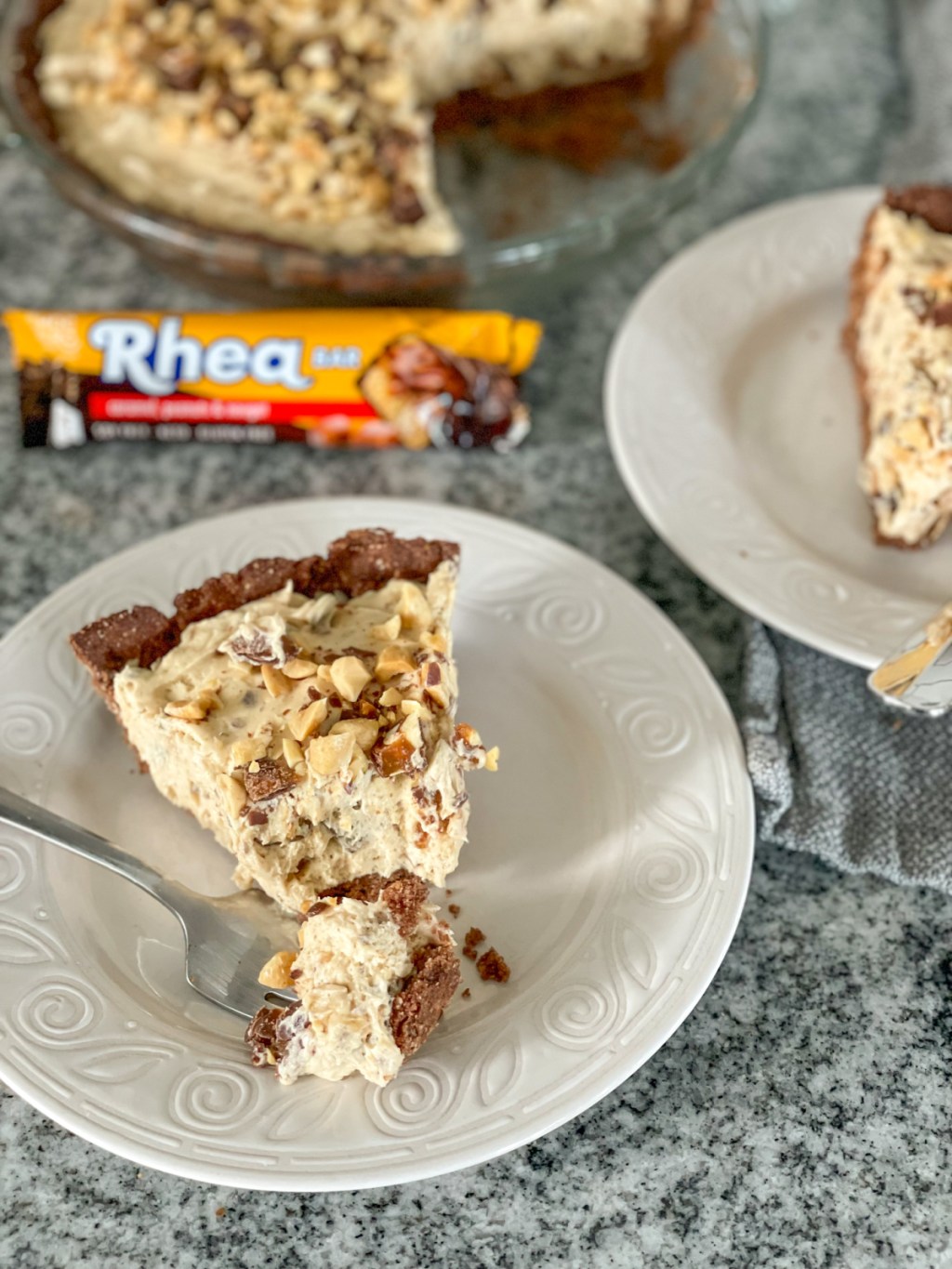 Tips for making the best keto Snickers pie:
You can make the pie filling while the crust bakes. So while I'd technically deem this as a no-bake pie, the crust does need to cook for about 15 minutes. But that's it, no more cooking after that!
This pie is very similar to our keto peanut butter pie with just a few tweaks. I added cocoa powder and powdered peanut butter to the almond flour crust, reduced the amount of peanut butter in the pie filling and then of course there's the addition of ChocZero's Rhea Bars.
This pie does need to chill for at least three hours before you serve it, so keep that in mind with your planning.
Room-temperature cream cheese is much easier to blend than cold cream cheese so be sure to set this out on the counter before you get to making this recipe.
Don't forget to order a box of ChocZero's Rhea Bars. Use our exclusive coupon code HIP2KETO to save 10% off your order.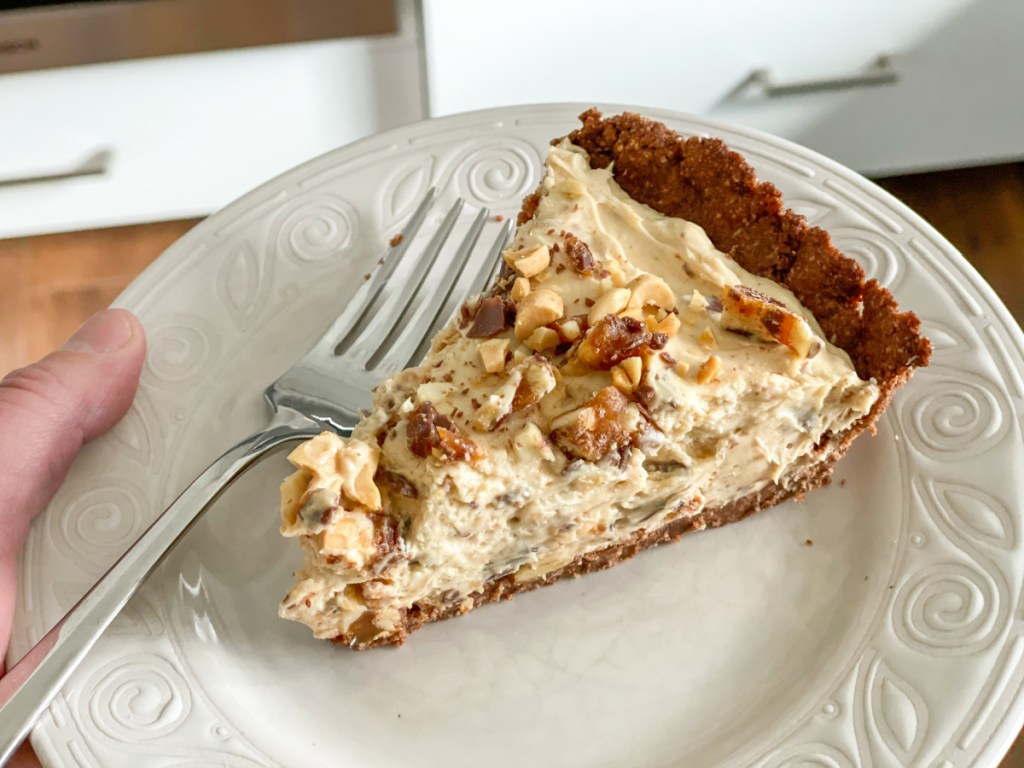 Are Snickers keto?
A traditional Snickers bar is not keto, unfortunately. The average-size Snickers bar that you see in the grocery aisle checkout line contains 250 calories, 12 grams of fat, 4 grams of protein, 32 grams of total carbs, 1 gram of fiber, 28 grams of sugar, and 31 grams of net carbs.
All that sugar makes Snickers bars not appropriate for the keto diet.
On the other hand, ChocZero's Rhea Candy Bar has 190 calories, 12 grams of fat, 4 grams of protein, 32 grams of total carbs, 28 grams of fiber, 3 grams of sugar, and 4 grams of net carbs. ChocZero for the WIN!
Here's what my Hip sidekick, Rachel, had to say about this keto Snickers pie:
"OMG! That's what I said when I took my first bite of this Snickers pie! It is so decadent, not too sweet, and the integrated pieces of ChocZero's Rhea Bar take this pie to the next level. It's giving all the Snickers vibes!"
---
Looking for more chocolately keto desserts? Check out our popular Wendy's Keto Frosty!