Looking for an Easy Roast? Try This Keto Pork Tenderloin Recipe!
Looking for a good roast? Here's a delicious keto pork tenderloin recipe!
Need an easy and quick keto dinner idea?
Consider roasting a pork tenderloin for a comforting yet easy meal! This is my go-to dinner if I'm craving a meat and veggie type meal that will also please my picky family. Luckily, this cut of meat is especially easy to make. It'll make your house smell so good, turns out beautiful every time, and is a nice change of pace from chicken or beef.
I love how browning the pork tenderloin in a skillet gives it a great flavor, and you can spoon the pan drippings over the tenderloin before serving for a mouthwatering juicy piece of pork. Yum!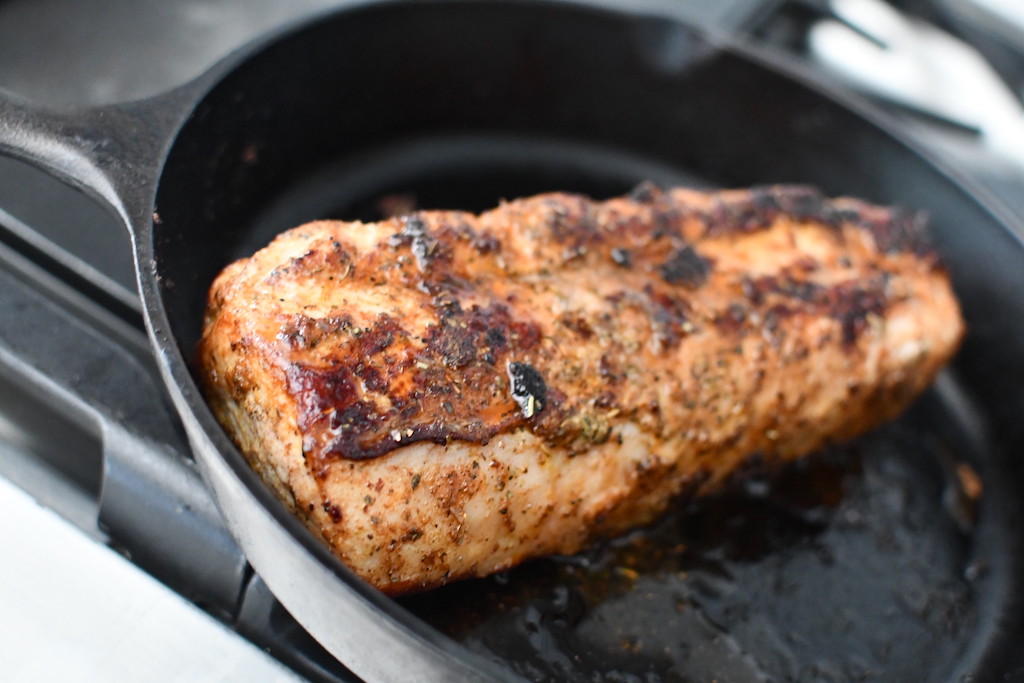 Hip recipe tips for this keto pork tenderloin:
I love using my cast iron skillet to first brown the pork tenderloin before baking because it creates a nice crust. However, you can use another oven-safe skillet if you don't have a cast iron.
This idea can be adapted to however you'd like to season it. Around 2-3 teaspoons are ideal for a 1.5-pound pork tenderloin, so feel free to come up with your own blends of favorite seasonings.
Cooking times may vary a bit according to your oven, which is why having a meat thermometer definitely comes in handy. According to pork.org, getting the pork tenderloin to at least 145 degrees for medium-rare, and 160 for medium-well is what you'll be looking for. I cooked mine to about 155 and thought it was perfect.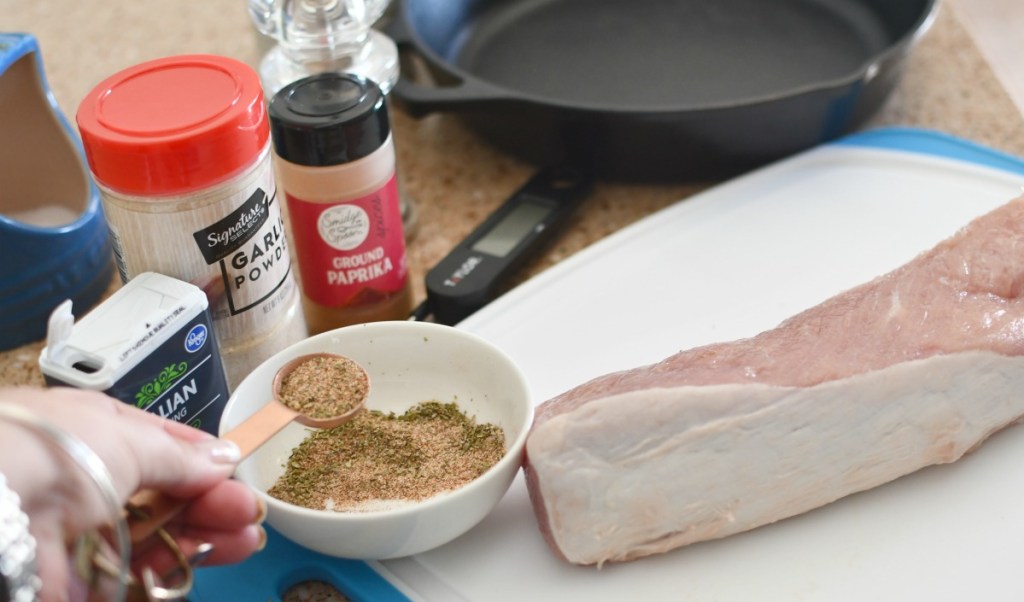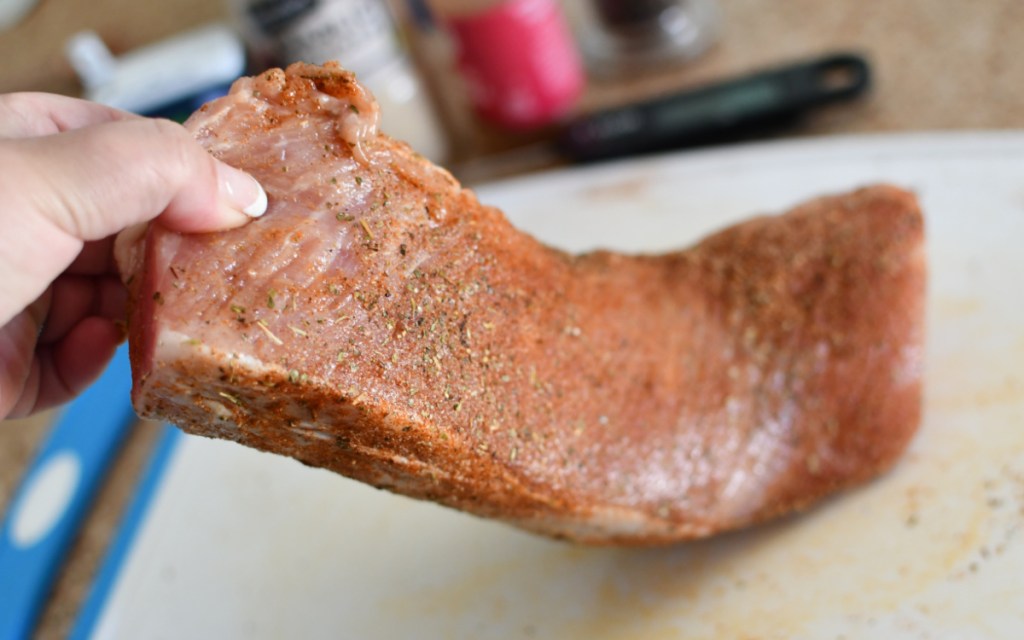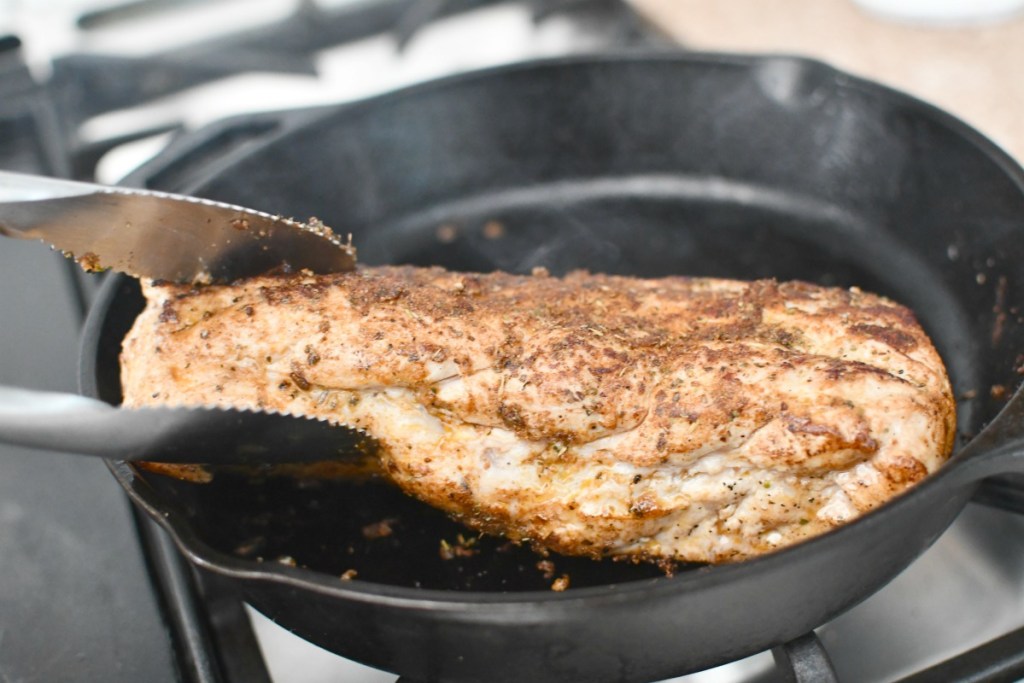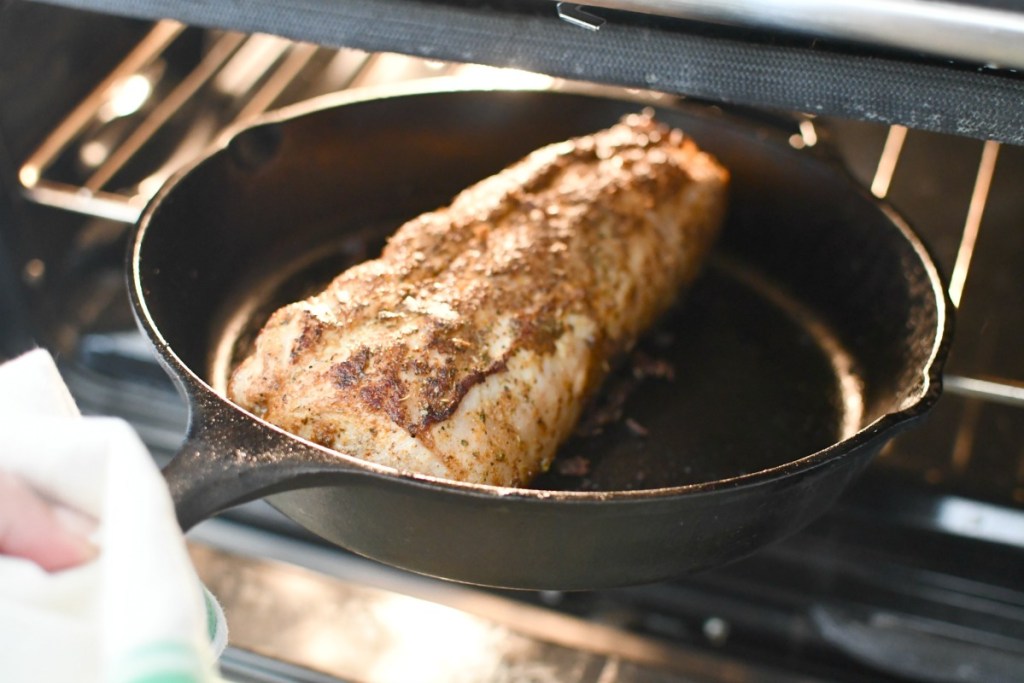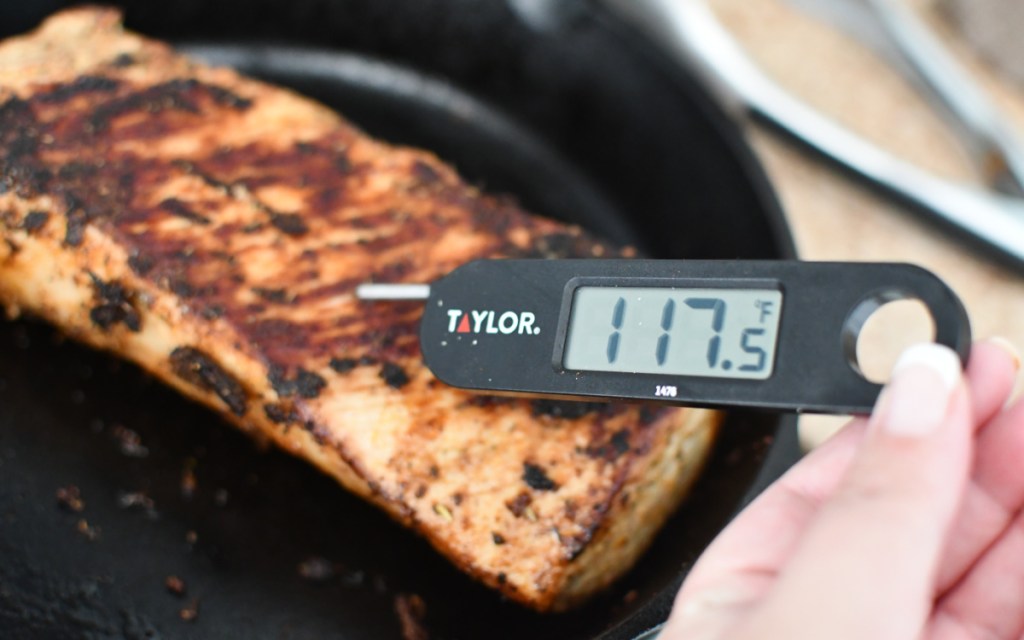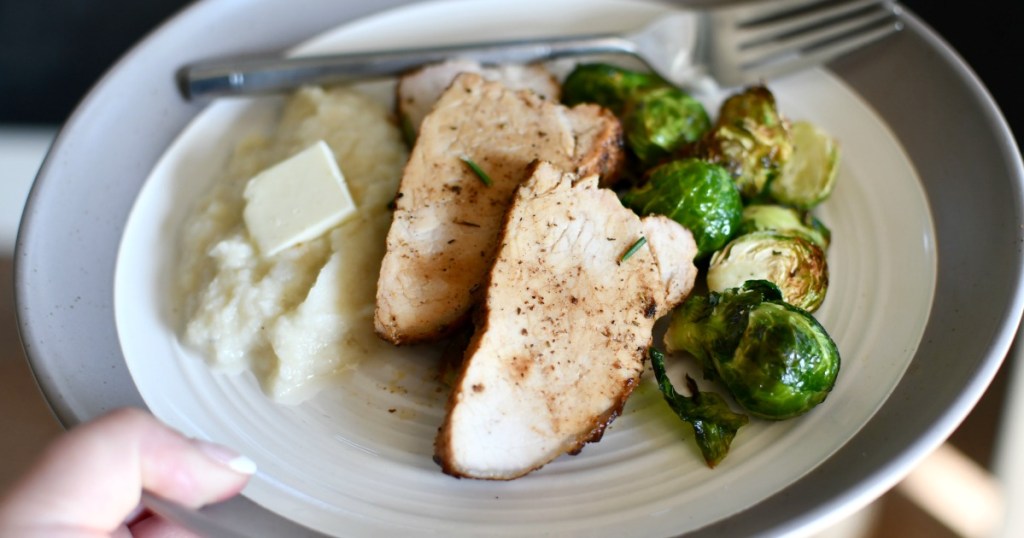 ---
Print
Roasted Keto Pork Tenderloin
yield: 6 SERVINGS
prep time: 15 MINUTES
cook time: 25 MINUTES
total time: 40 MINUTES
Here's a great way to make a tender juicy pork tenderloin, seasoned to perfection!
Ingredients
1 and 1/2 pounds pork tenderloin
1 teaspoon garlic powder
3/4 teaspoon Italian seasoning
1/2 teaspoon paprika
1/2 teaspoon salt
1/4 teaspoon pepper
2 teaspoons olive oil
Directions
1
Preheat the oven to 400 degrees.
2
In a small bowl, mix all the seasonings together. Pat the pork tenderloin dry using a paper towel. Cover the pork will the seasoning blend and rub it all over so it's evenly covered.
3
Heat the olive oil in a cast-iron skillet on med/high heat. Transfer the pork to the skillet, and brown each side using kitchen tongs to switch to each side, about 10 minutes total.
4
Place the skillet with pork in the oven for about 20-25 minutes. Halfway through cook time, turn the meat over. Use a thermometer inserted in the middle to ensure pork tenderloin is cooked to at least 145 degrees for medium-rare, and 160 for medium-well.
5
Let pork rest 5-10 minutes before cutting and serving. Spoon dripping from the pan over the pork.
Nutrition Information
Yield: 6 servings, Serving Size: 4 ounces
Amount Per Serving: 152 Calories | 5.4g Fat | 0.9g Total Carbs | 0.4g Fiber | 0.1g Sugar | 23.6g Protein | 0.6g Net Carbs
---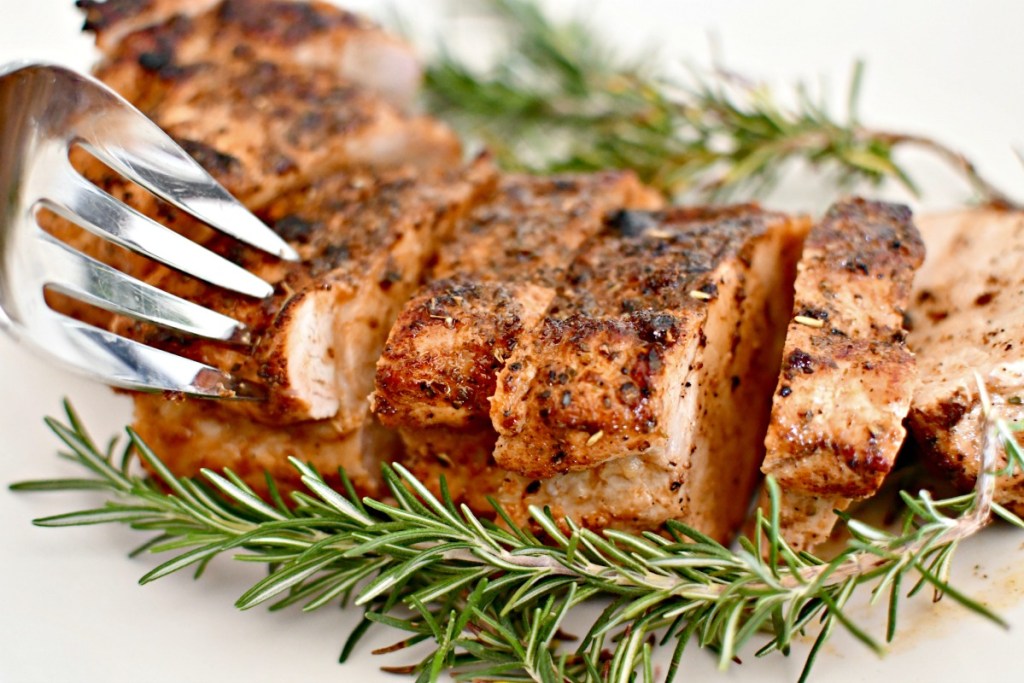 With just 2 net carbs per serving, there's room for side dishes!
Serve up your pork tenderloin with any keto-friendly roasted veggies of your choice! I prepared Brussels sprouts using the air fryer, and also warmed up some frozen mashed cauliflower from the grocery store, because they're so convenient! You could also make cauliflower mashed potatoes from scratch if time allows.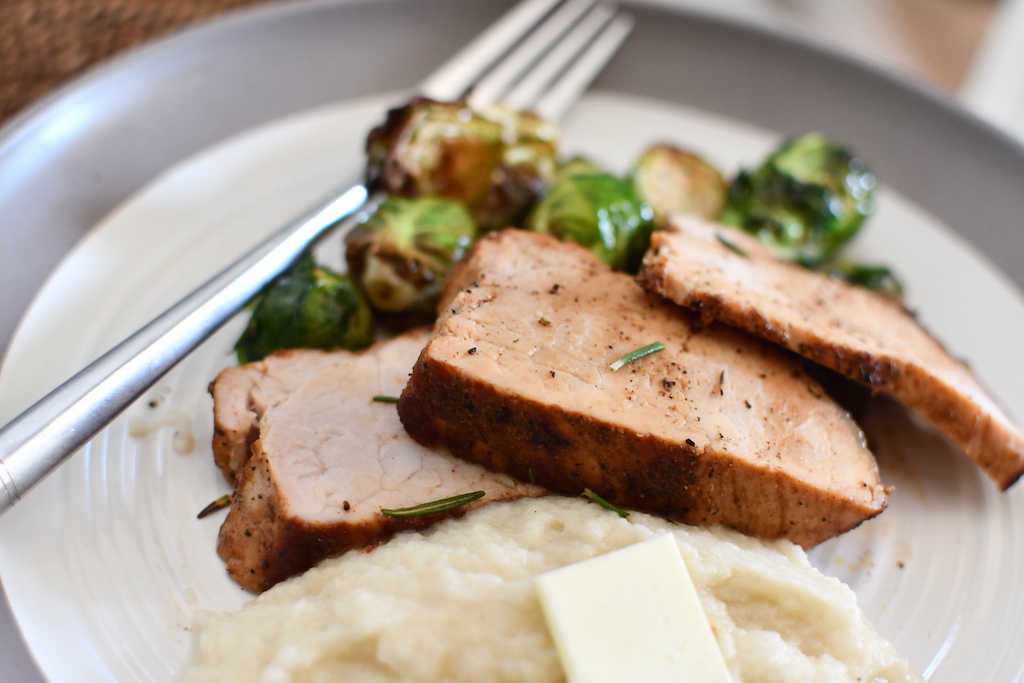 If you have leftovers, they warm up beautifully the next day, too!
---