Keto Peanut Butter Burger — Don't Knock It Until You've Tried It!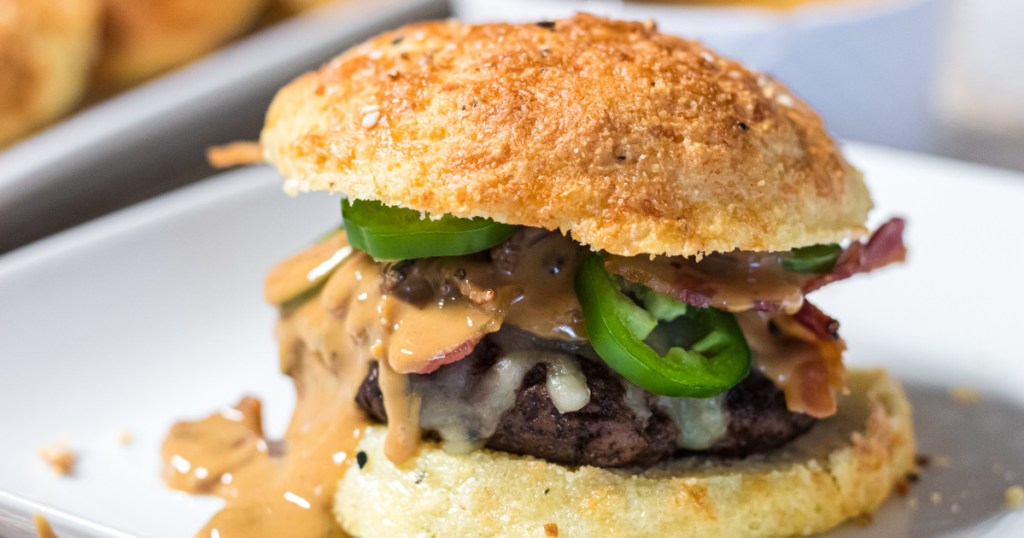 Summer is here, and it's time to grill some keto burgers!
Love bacon, burgers, and peanut butter? You're gonna want to head outside and fire up that grill to make these delicious keto peanut butter bacon burgers. Who knew combining peanut butter with a juicy burger could be so delicious?
This unique spin on a traditional cheeseburger will be the hit of your next cookout!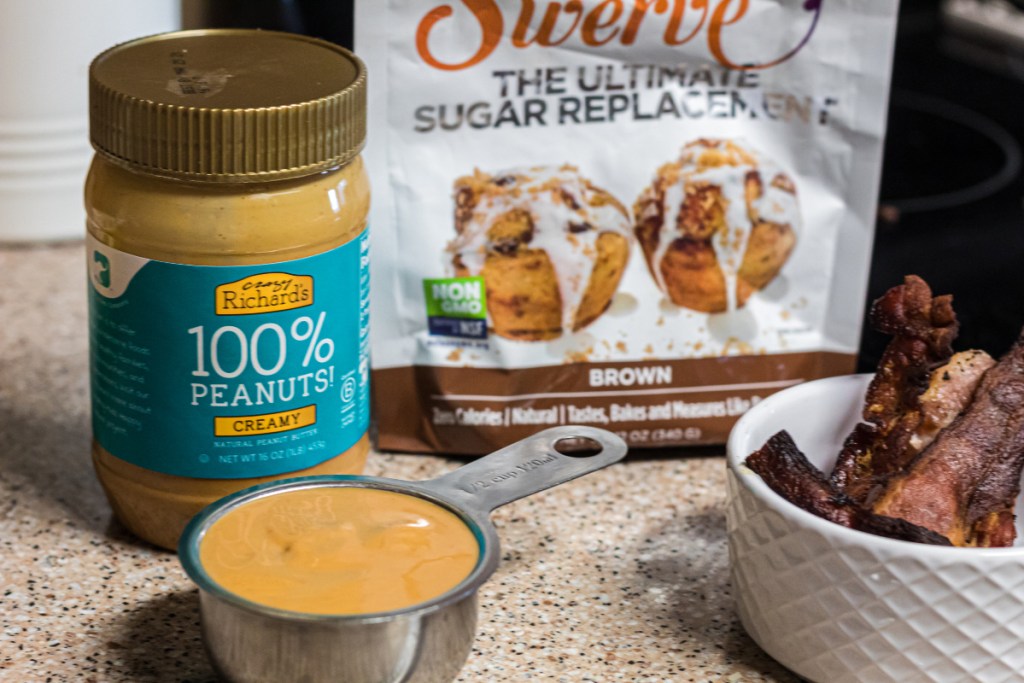 The secret is in the peanut butter sauce!
I know adding peanut butter to a burger may sound a little strange, but sometimes a savory burger just needs a little something sweet to balance it out… this is the perfect sauce for that! The peanut butter sauce takes this burger to the next level, and even more so when it's paired with bacon! 🤤
Watch my video below to see how easy it is to make this delicious and addicting keto peanut butter burger –
If you can't see the video, click here to watch it.
---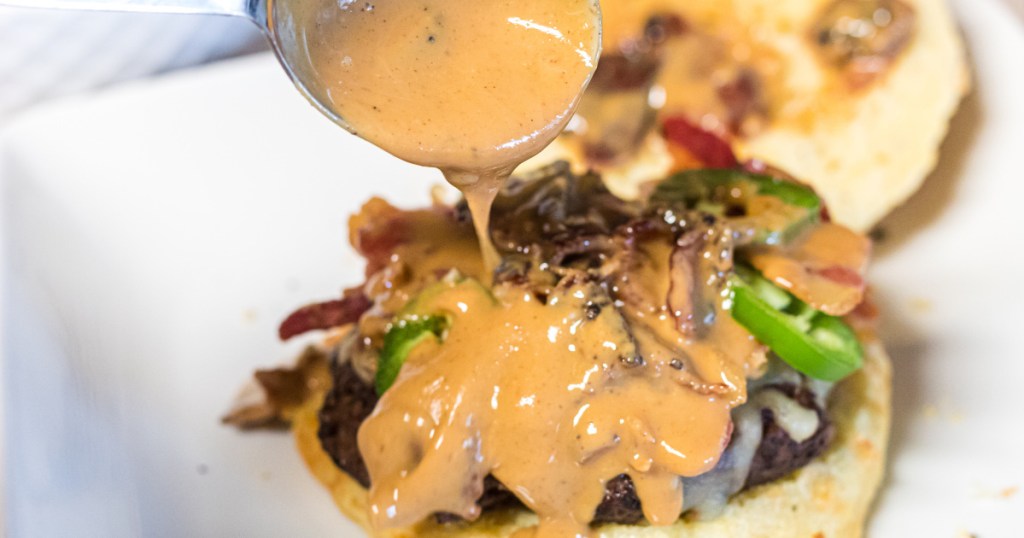 Recipe tips for making the ultimate keto peanut butter burger:
Make sure to use the right amount of fat content in your ground beef. Try avoiding anything leaner than 90% as you want that fat in your burger. The perfect combo is 80% lean to 20% fat.
If you have a Blackstone Griddle (Collin loves hers and I own one and love it, too!), you may have already made smash burgers. 😋 If you're not familiar with this easy method, you simply keep your ground beef rolled up into a ball and then press down on the griddle creating that perfect thin burger.
If you have a gas or charcoal grill, you'll want to make sure you make a thumbprint in the middle of the burger. This helps the burger from puffing up in the center and shrinking the sides.
Only flip your burger once — no need to keep turning back and forth! You'll lose out on the juices and that's where all the flavor is.
I'm serving my keto peanut butter burgers with homemade keto buns, but you could totally serve yours bunless, lettuce-wrapped, or any other low-carb way you please.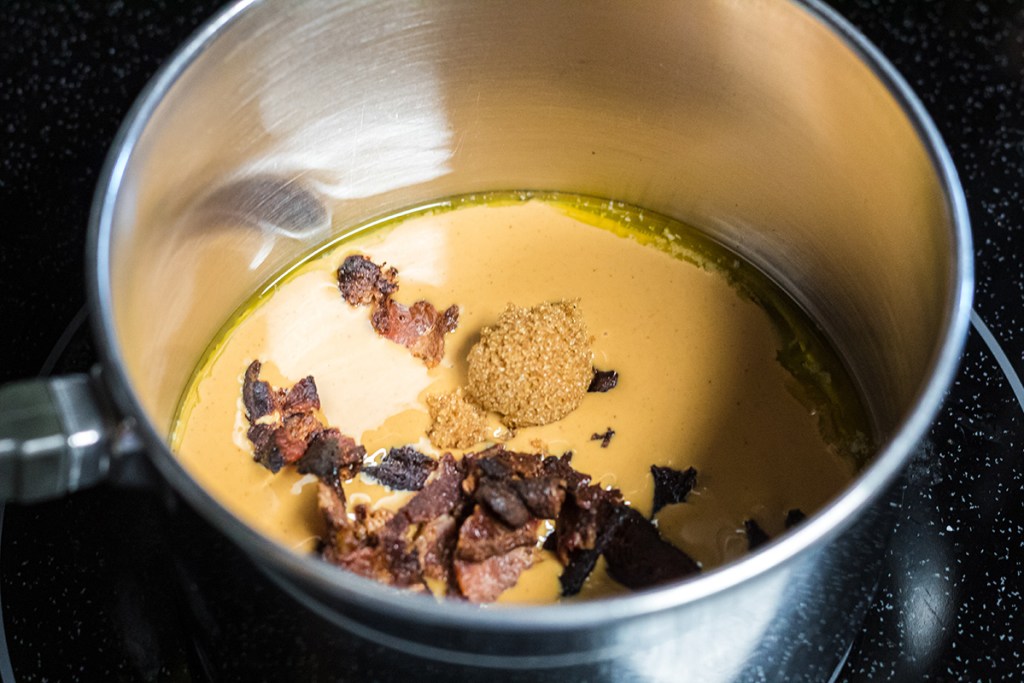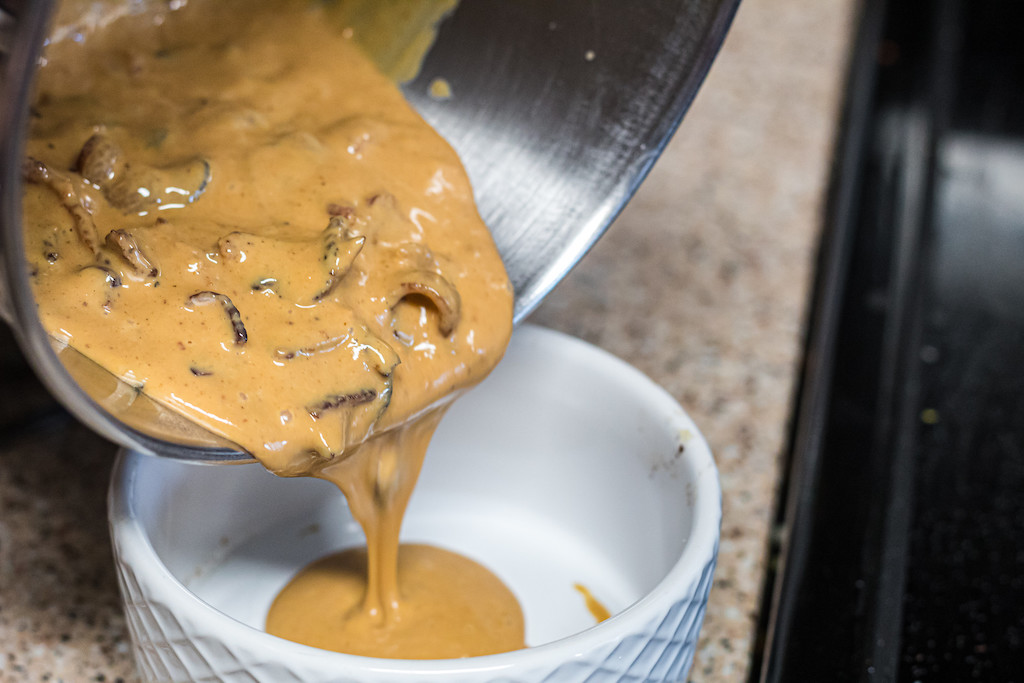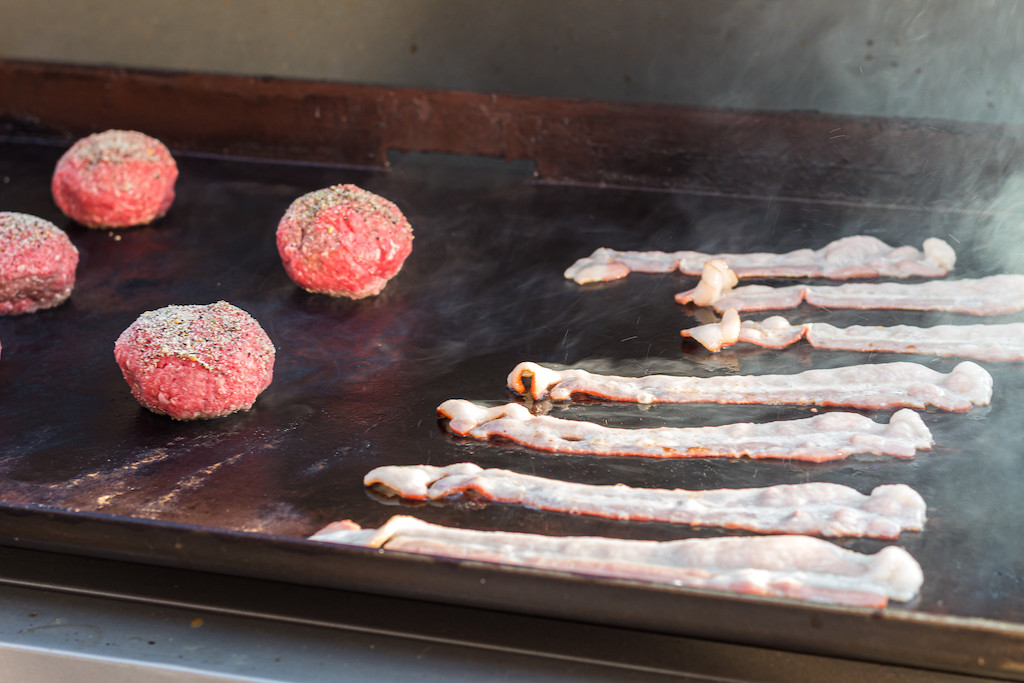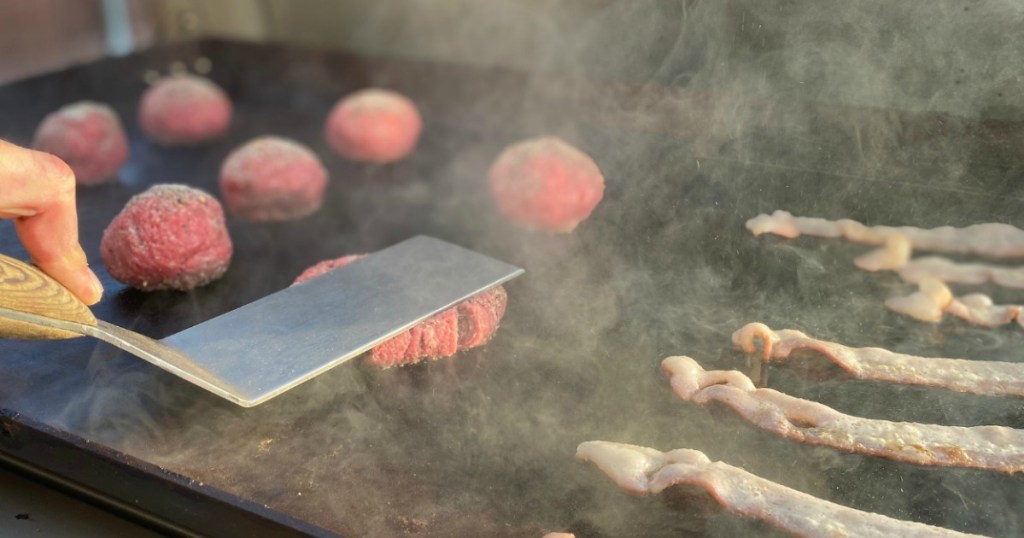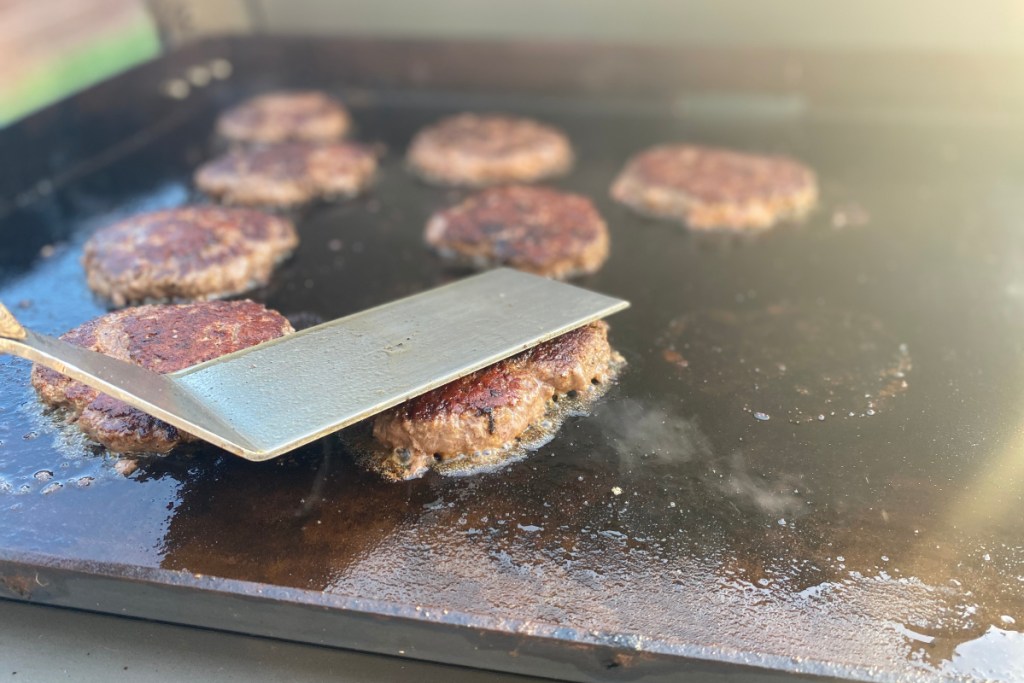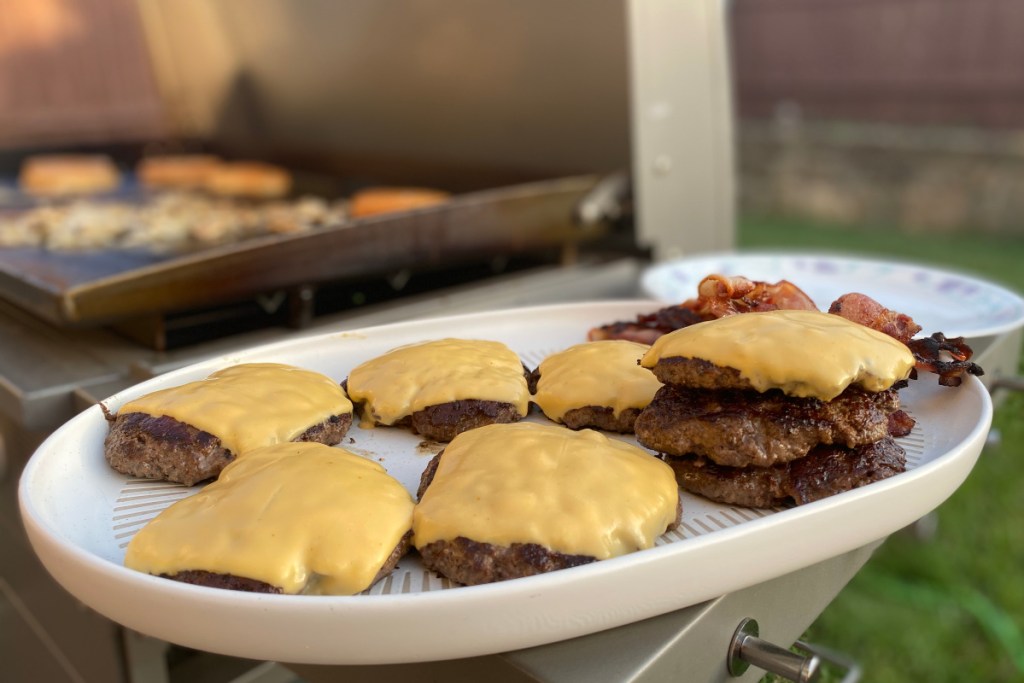 ---
Print
Keto Peanut Butter Bacon Burger
yield: 4 SERVINGS
prep time: 10 MINUTES
cook time: 15 MINUTES
total time: 25 MINUTES
A sweet and savory twist on the classic cheeseburger using a rich peanut butter sauce.
Ingredients
Peanut butter sauce:
1/4 cup crumbled bacon bits
1 tablespoon butter
Hamburger patties:
2 lbs. 80/20 ground beef
pinch of salt
pinch of pepper
pinch of garlic powder
Additional burger toppings (optional):
sliced jalapeños
grilled onions
bacon strips
Directions
1
For the peanut butter sauce:
In a small saucepan, add in all the peanut butter sauce ingredients and stir over low-medium heat. Cook until the sauce is melted together, about 3-4 minutes, and set aside.
2
For the burgers:
Divide ground beef into 4 equal parts. Create a hamburger patty about 4" round and 1" thick. Season with salt, pepper, and garlic powder on each side of the 1/2 pound hamburger patties. Cook hamburger patties as you prefer.
I grilled my burgers to medium doneness. To achieve just the right amount of pink for medium, grill for about 4 minutes per side.
3
For the burger assembly:
Plate your burgers on keto buns or lettuce wraps and drizzle the peanut butter sauce over the top. Finish off your burger with your favorite toppings and enjoy!
Additional Notes
Please note that the nutritional information listed is for the burger only and does not include the keto bun.
Nutrition Information
Yield: 4 burgers, Serving Size: 1 burger with sauce
Amount Per Serving: 716 Calories | 55g Fat | 7g Total Carbs | 3g Fiber | 2g Sugar Alcohol | 52g Protein | 2g Net Carbs
---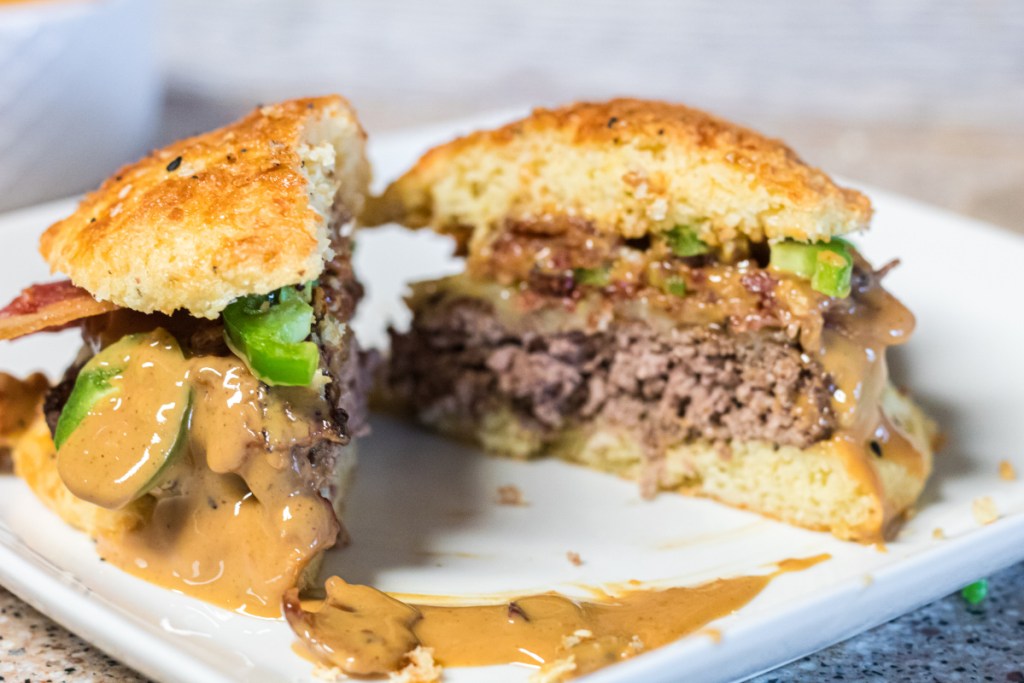 Serve this peanut butter burger any way you want!
You can eat this juicy burger bunless, wrapped in lettuce, or on one of our homemade keto buns, which are super easy to make. I made a little extra peanut butter sauce to keep in the fridge so I could add it to leftover burgers. 🙌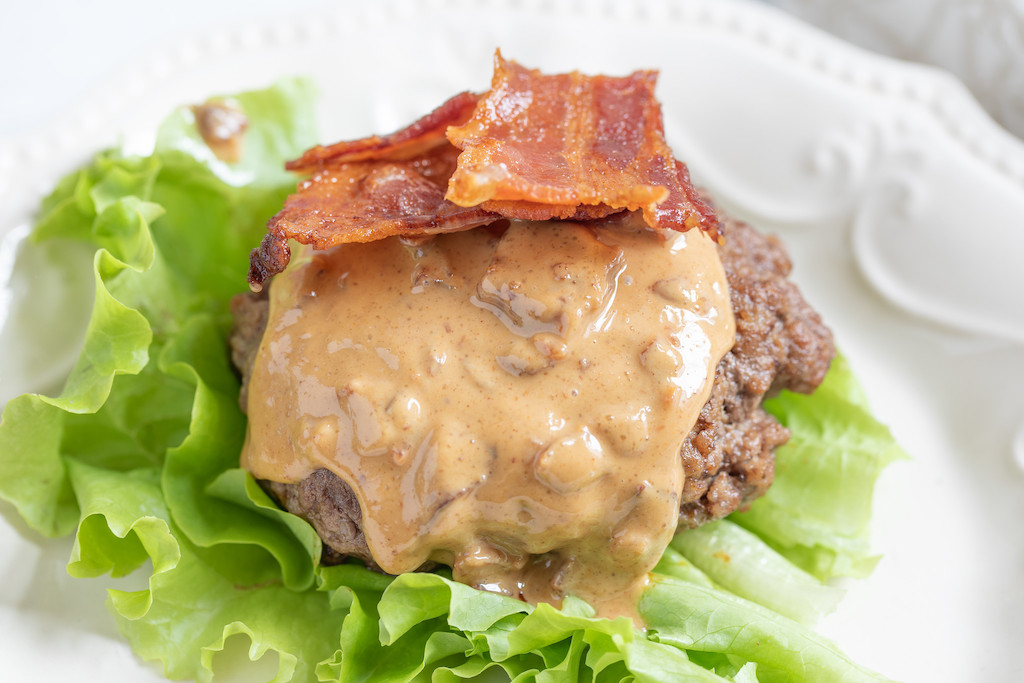 Consider making delicious keto fries and pair them with this burger for the perfect cookout meal.
---