Keto Chocolate Chip Cookies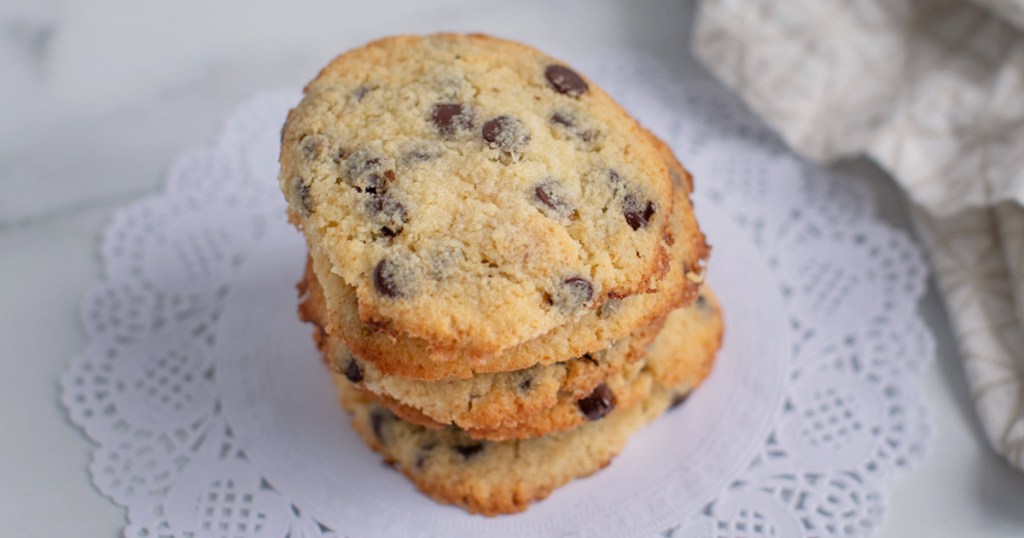 Love chocolate chip cookies? 🍪

Enjoy these keto chocolate chip cookies guilt-free! This easy recipe results in DELICIOUS, super soft chocolate chip cookies! Cure your cookie cravings with chewy cookies that taste and have that full-sugar cookie texture.
For more keto cookie recipes, bookmark this page.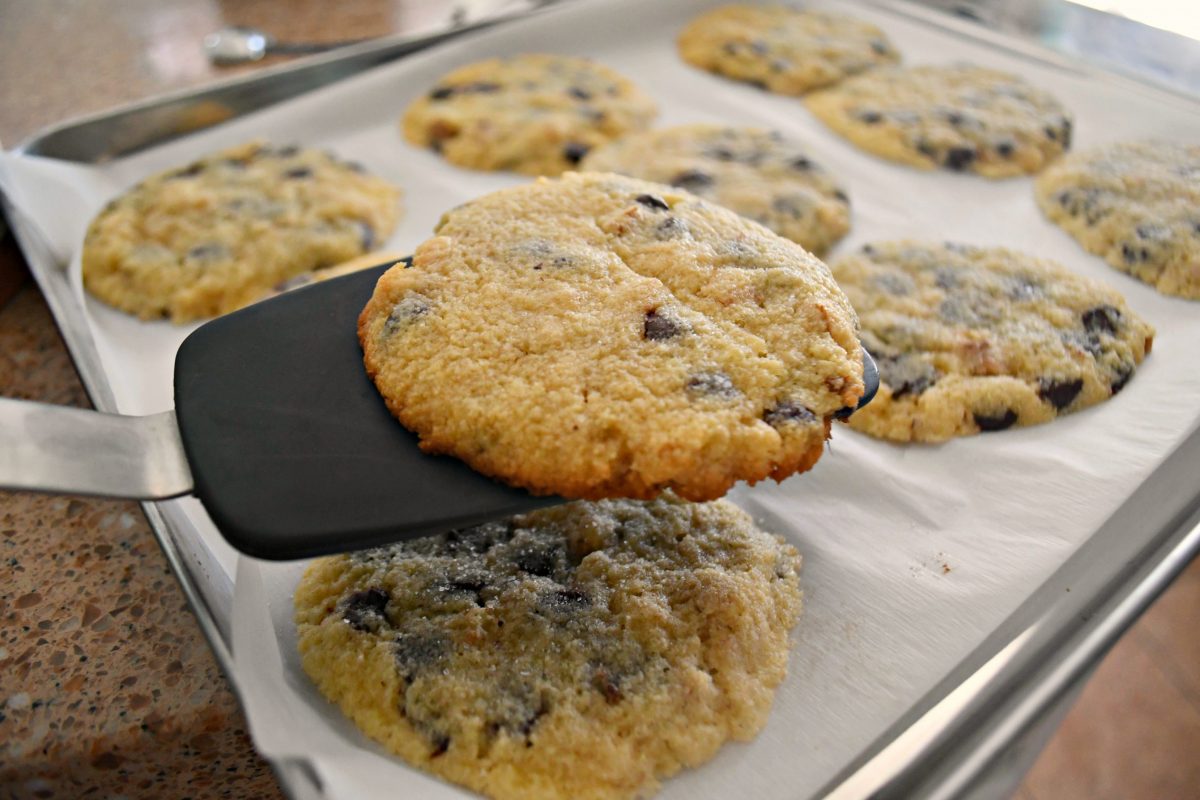 ---
Print
Keto Chocolate Chip Cookies
yield: 12 SERVINGS
prep time: 15 MINUTES
cook time: 12 MINUTES
total time: 27 MINUTES
Soft & gooey chocolate chip cookies that are easy to make and taste amazing!
Ingredients
1/2 cup butter, softened
3/4 cup Swerve granular
1 teaspoon vanilla extract
1 large egg
1 and 1/2 cups almond flour, super fine
1/2 teaspoon baking powder
1/4 teaspoon salt
1/2 teaspoon xanthan gum
3/4 cup no sugar added chocolate chips
1/4 cup walnuts, optional
kosher salt for topping, optional
Directions
1
Pre-heat oven to 350 degrees. Prepare a baking sheet by covering it with parchment paper.
2
Using a hand mixer, beat together softened butter and Swerve granular until creamy. Then mix in the egg and vanilla extract.
3
In a separate bowl, mix the almond flour, baking powder, xanthan gum, and salt.
4
Mix wet and dry ingredients together in one bowl using a spoon until a dough forms. Mix in chocolate chips and walnuts (optional).
5
Divide dough into 12 balls and flatten each one a little using the back of a spatula, as the dough won't spread much unless flattened a bit.
6
Bake for 12-13 minutes or until slightly browned and cooked through.
7
Let the cookies cool on the baking sheet for about 5 minutes and then transfer to a cooling rack. Sprinkle the top with a little salt if desired.
Nutritional Information
Yield: 12 cookies (or 24 small cookies), Serving Size: 1 cookie (or 2 if smaller size)
Amount Per Serving: Calories: 207, Total Carbohydrates: 20g, Fiber: 5g, Sugar Alcohols: 12g, Net Carbohydrates: 3g, Total Fat: 20g, Protein: 5g
---
Don't be alarmed by the high total carb count!
Fiber and erythritol (the main ingredient in Swerve) do not affect blood sugar in the same way that regular carbs do, so we subtracted them from the total carb count. You'll see that the net carbs are much lower once you remove the sugar alcohols and fiber from these cookies.
---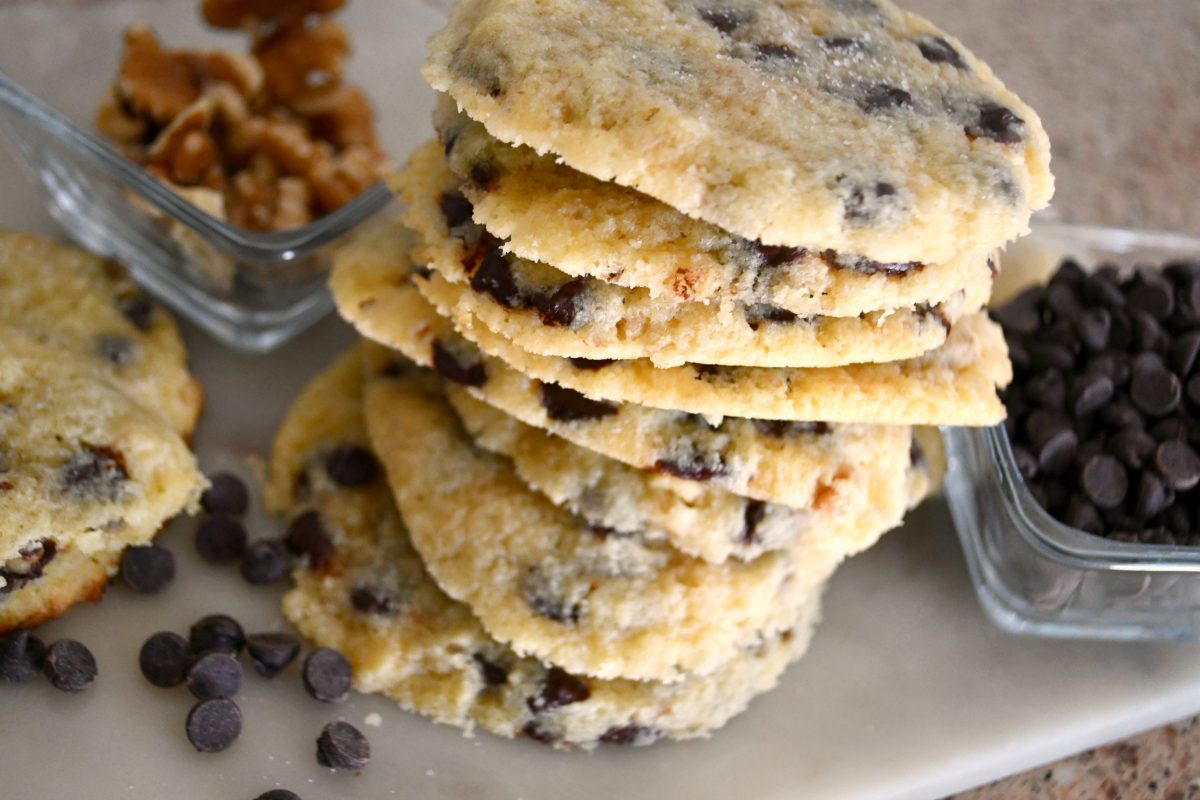 Sometimes in life, we all just need a little chocolate fix!
This recipe is WINNING! What a yummy dessert. There's nothing better than biting into a warm gooey keto chocolate chip cookie, and these certainly are amazing. Anything that's easy and delicious gets a thumbs up from me!
---
Bake these simple 3-ingredient low-carb peanut butter cookies next!