It's Officially Here… The BEST Classic Keto Chocolate Chip Cookies Recipe
Enjoy these super soft and gooey keto chocolate chip cookies guilt-free!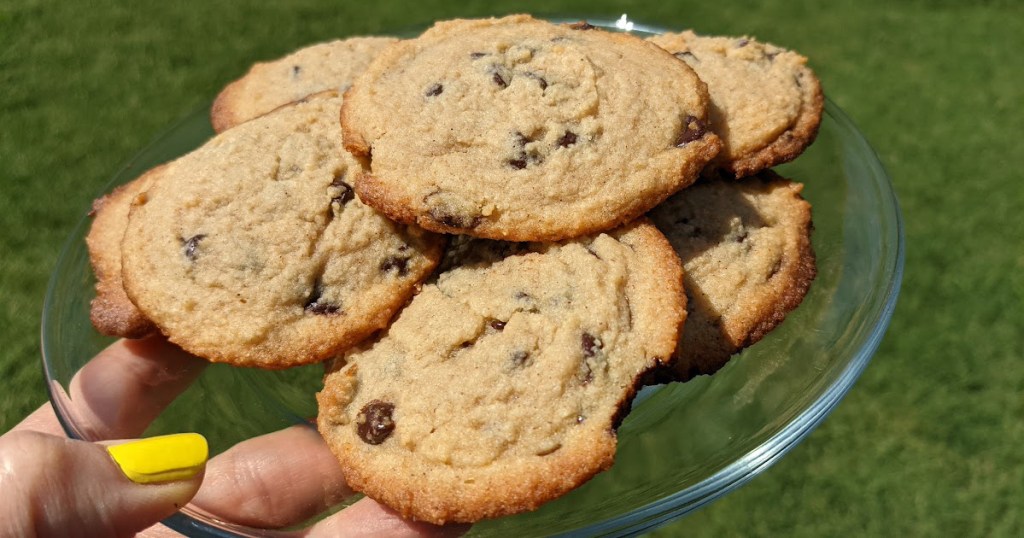 Love chocolate chip cookies? 🍪

Enjoy these keto chocolate chip cookies guilt-free! This easy recipe results in DELICIOUS, super soft chocolate chip cookies! Cure your cookie cravings with chewy cookies that taste and have that full-sugar cookie texture.
For more keto cookie recipes, bookmark this page.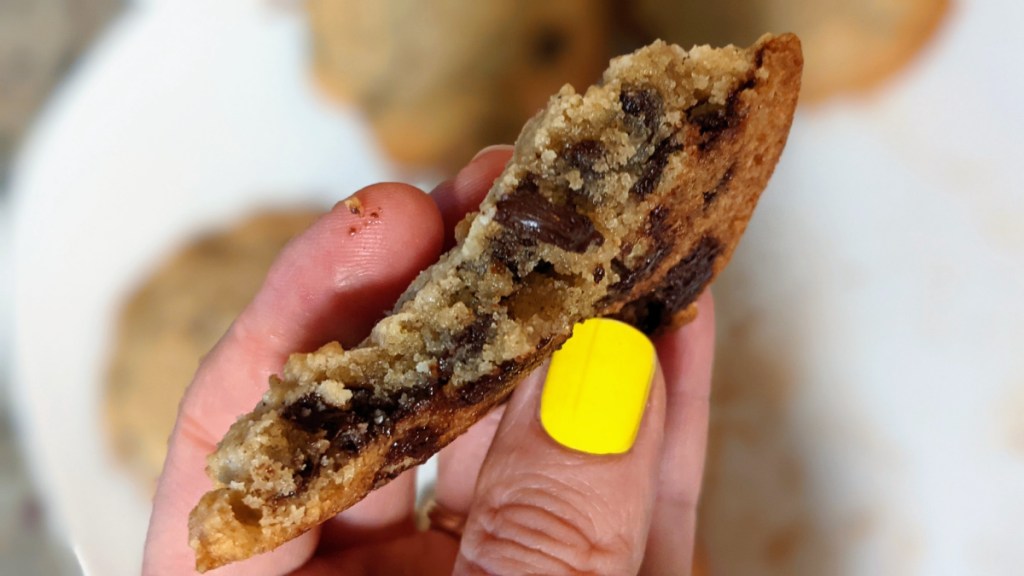 Tips for making the absolute best keto chocolate chip cookies: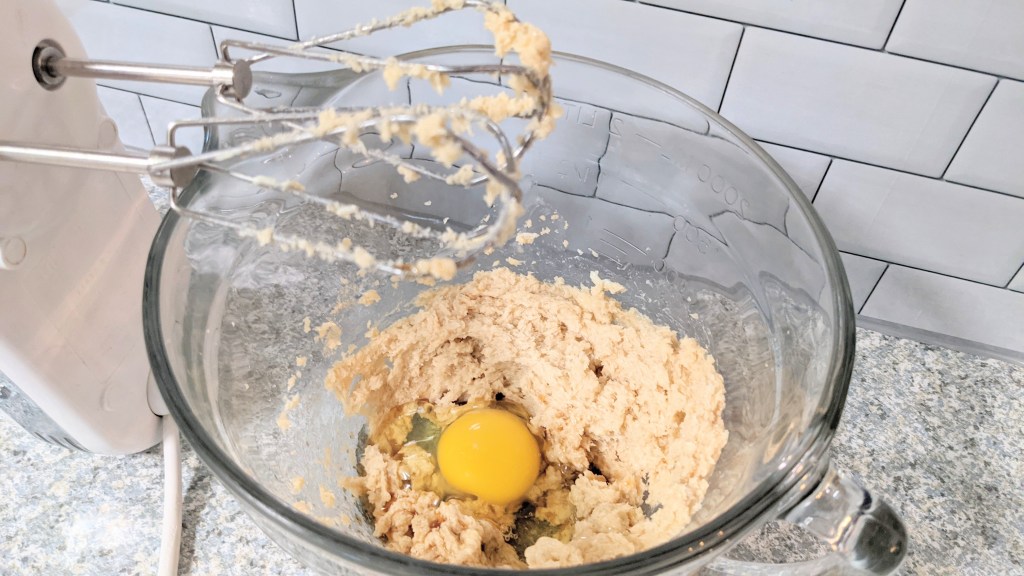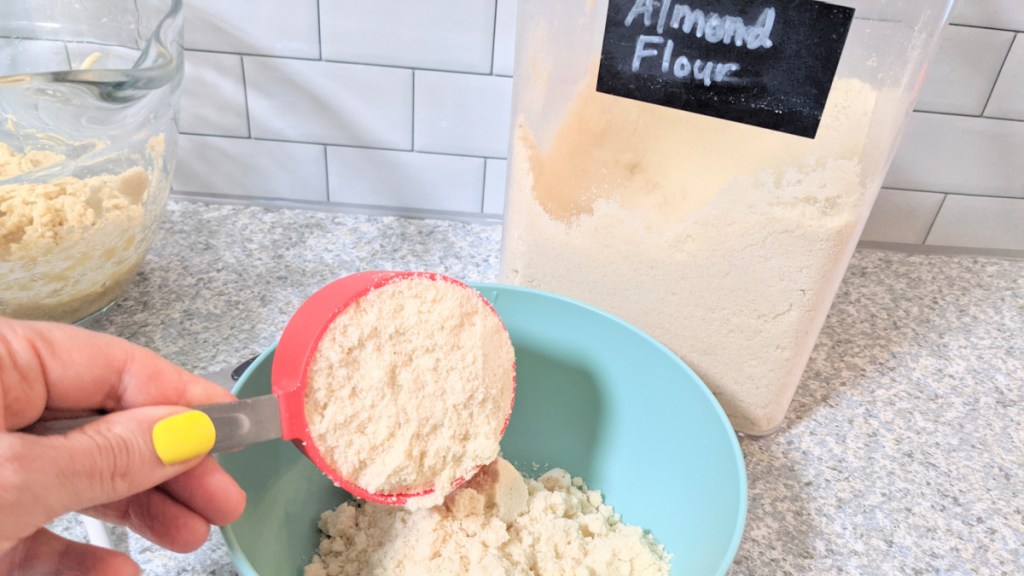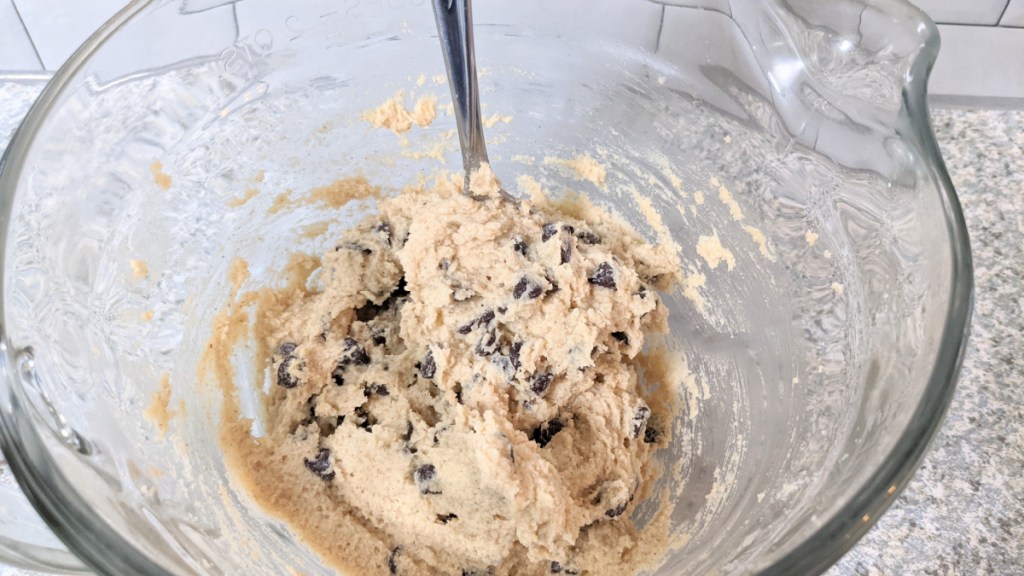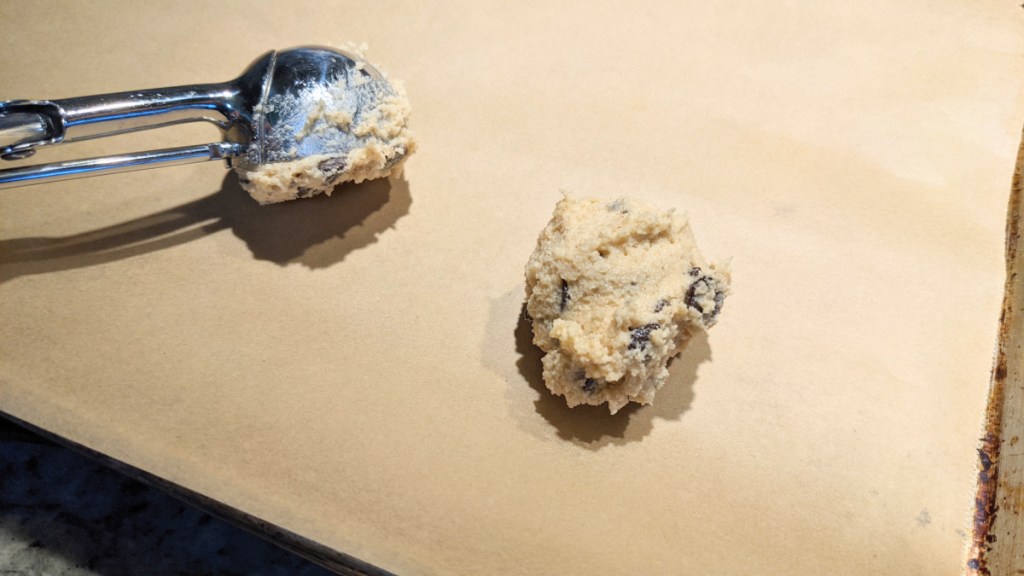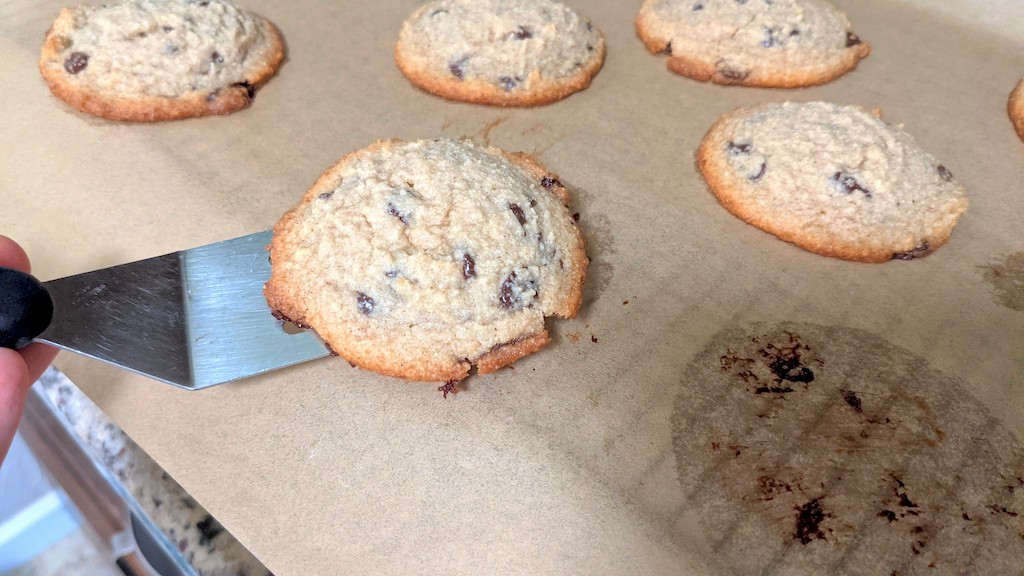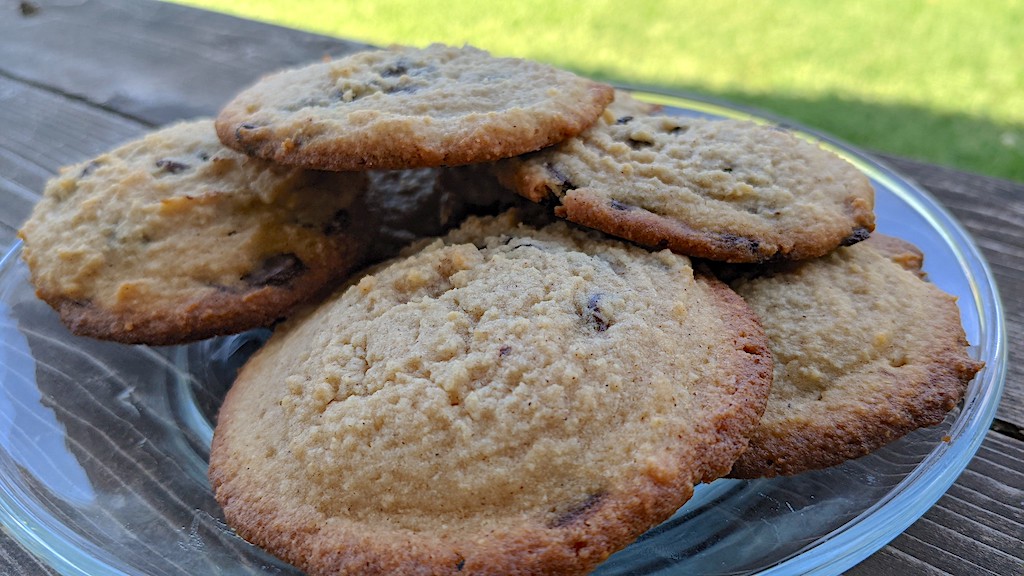 ---
Print
Keto Chocolate Chip Cookies
yield: 14 SERVINGS
prep time: 15 MINUTES
cook time: 11 MINUTES
total time: 26 MINUTES
Soft & gooey chocolate chip cookies that are easy to make and taste amazing!
Ingredients
1/2 cup butter, softened
1/4 teaspoon lemon juice
1 large egg
1 teaspoon baking powder
1/4 teaspoon salt
1/2 teaspoon cinnamon
1/4 cup walnuts, optional
kosher salt for topping, optional
Directions
1
Preheat oven to 350 degrees. Prepare a baking sheet with parchment paper.
2
Using a hand mixer or stand mixer, beat together softened butter and brown keto sweetener until creamy. Then mix in the egg, vanilla extract, and lemon juice.
3
In a separate bowl, mix the almond flour, coconut flour, baking powder, gelatin, cinnamon, and salt.
4
Add the dry ingredients to the wet ingredients in the mixing bowl and mix until a dough forms. Add in chocolate chips and walnuts (optional).
5
Scoop dough balls, approximately 3 tablespoons each, onto the prepared baking sheet. You should get 14. The dough will be a little sticky.
6
Bake for 11 to 12 minutes, until slightly browned around the edges. The color may still look light in the center.
7
Let the cookies cool on the baking sheet for about 4 minutes and then transfer to a cooling rack. They will be soft so you can move the cookies on the entire parchment paper to the cooling rack if that's easier. Sprinkle the top with a little salt if desired.
8
Let cool for 10 minutes. The cookies will firm up as they cool. Enjoy!
Nutrition Information
Yield: 14 large cookies, Serving Size: 1 cookie
Amount Per Serving: 196 Calories | 18.5g Fat | 23.5g Total Carbs | 6.4g Fiber | 0.8g Sugar | 15g Sugar Alcohol | 3.5g Protein | 2g Net Carbs
---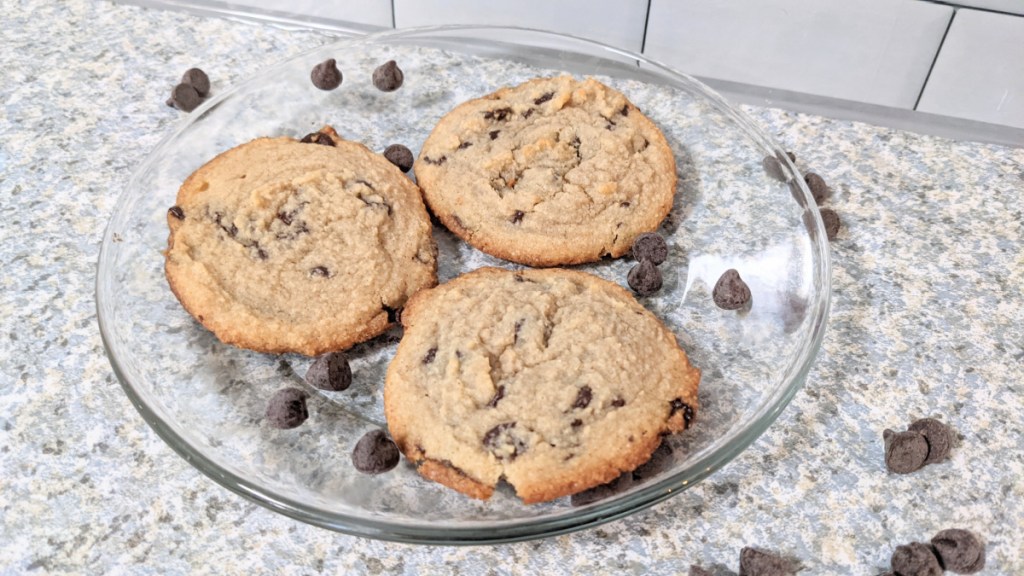 Sometimes in life, we all just need a little chocolate fix!
This recipe is WINNING! What a yummy keto dessert idea. There's nothing better than biting into a warm gooey keto chocolate chip cookie, and these certainly are amazing. Anything that's easy and delicious gets a thumbs up from me!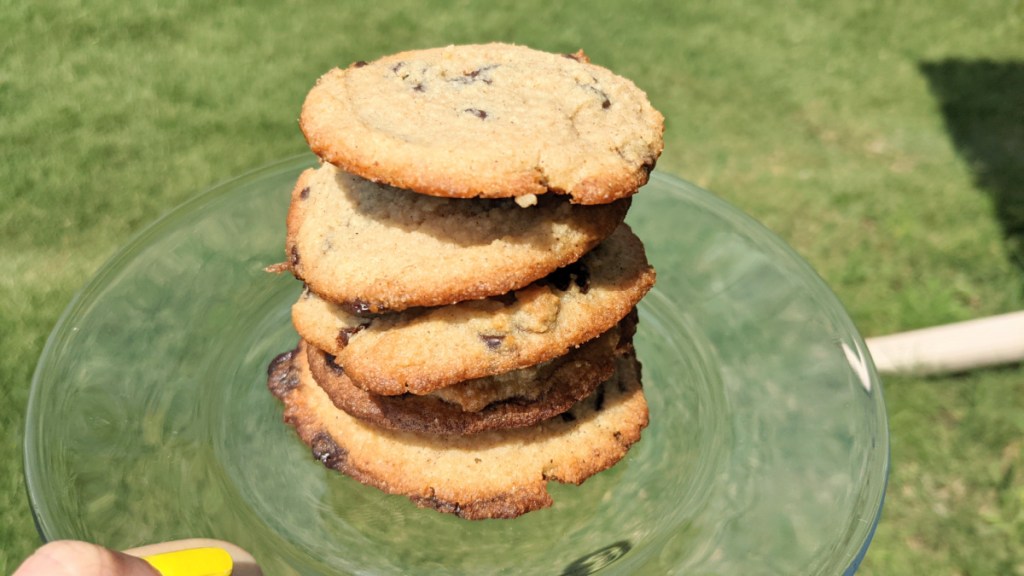 My Hip sidekick Jen made these cookies and here's what she had to say:
"Wow! Talk about an awesome chocolate chip cookie! These keto cookies are the closest thing to a non-keto chocolate chip cookie I have ever tasted. The texture is spot on and the melted chocolate chips are wonderful. My family didn't know that these were keto! These are soft, chewy, gooey, and easy to make. I give this five stars and a huge thumbs up!"
---
Bake these simple 3-ingredient low-carb peanut butter cookies next!