Our Classic Keto Meatloaf Recipe Beats The One You Grew Up Eating!
This keto meatloaf recipe will transport you back to your childhood!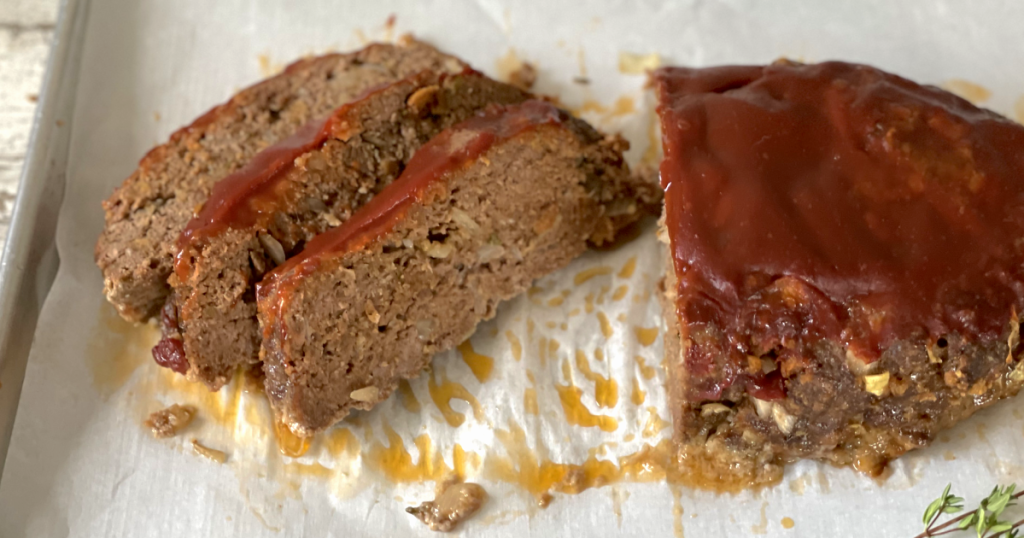 Better than your mom's meatloaf!
Our keto meatloaf recipe will transport you back to your childhood, but we think it might just be better than the one you had as a kid!
To make the classic meatloaf recipe keto, I used ground pork rinds in place of bread crumbs and no-sugar-added ketchup with keto brown sweetener for the glaze. I also used 80/20 grass-fed ground beef and seasoned it with garlic, salt, pepper, and fresh thyme. The flavor is amazing!
To be honest, I hated meatloaf as a kid and I did not like my mom's recipe (sorry, Mom!). As I remember it, she made meatloaf with very lean ground beef, oatmeal instead of bread crumbs, a lot of onions, no seasonings, and melted cheddar cheese on top instead of ketchup. It ended up dry and flavorless. To be fair, at the time, salt was evil and no one used it.
It wasn't until I was an adult and had a meatloaf sandwich at a popular, local restaurant, that I realized I'd been missing out on good meatloaf all my life. I never realized how good meatloaf actually is, and now, making it myself, I can keto-fy it and make my own tasty version.
I paired my meatloaf with keto-friendly green bean casserole that I've been dying to make as well. If you're already drooling over it, you can find that keto green bean casserole recipe here!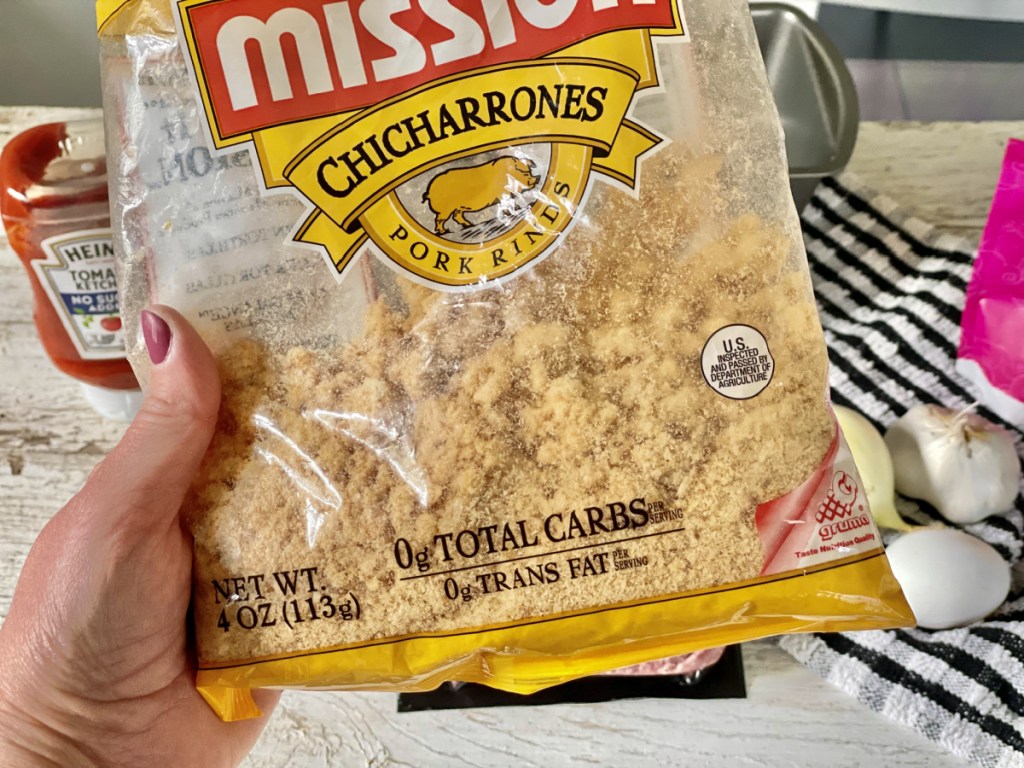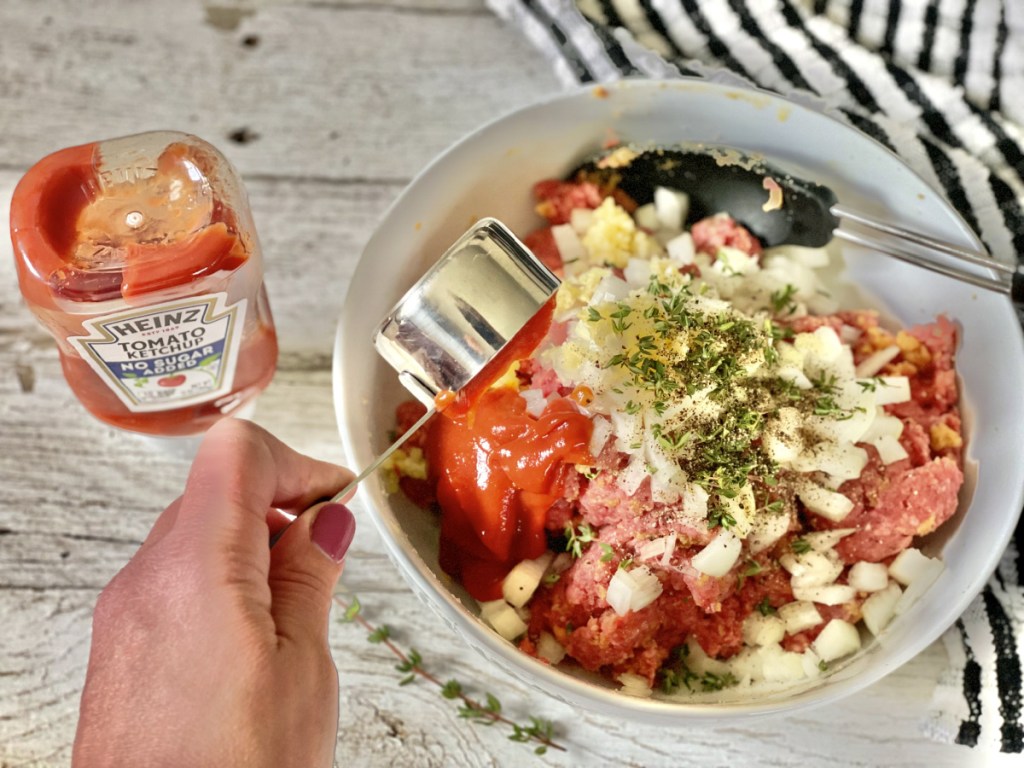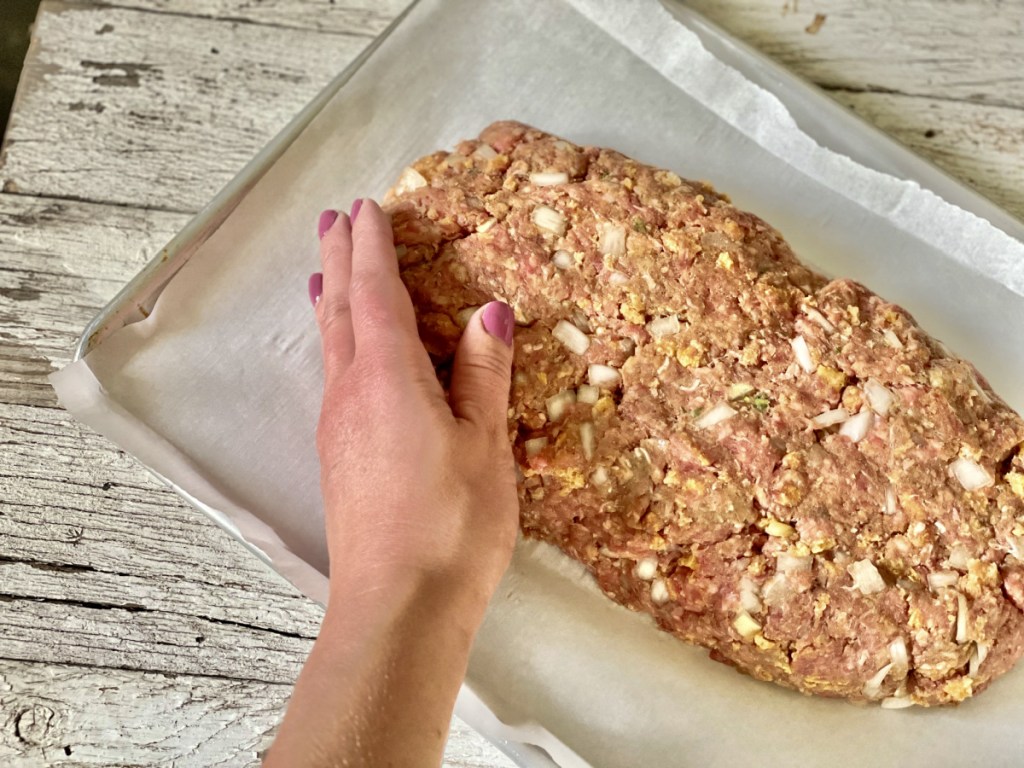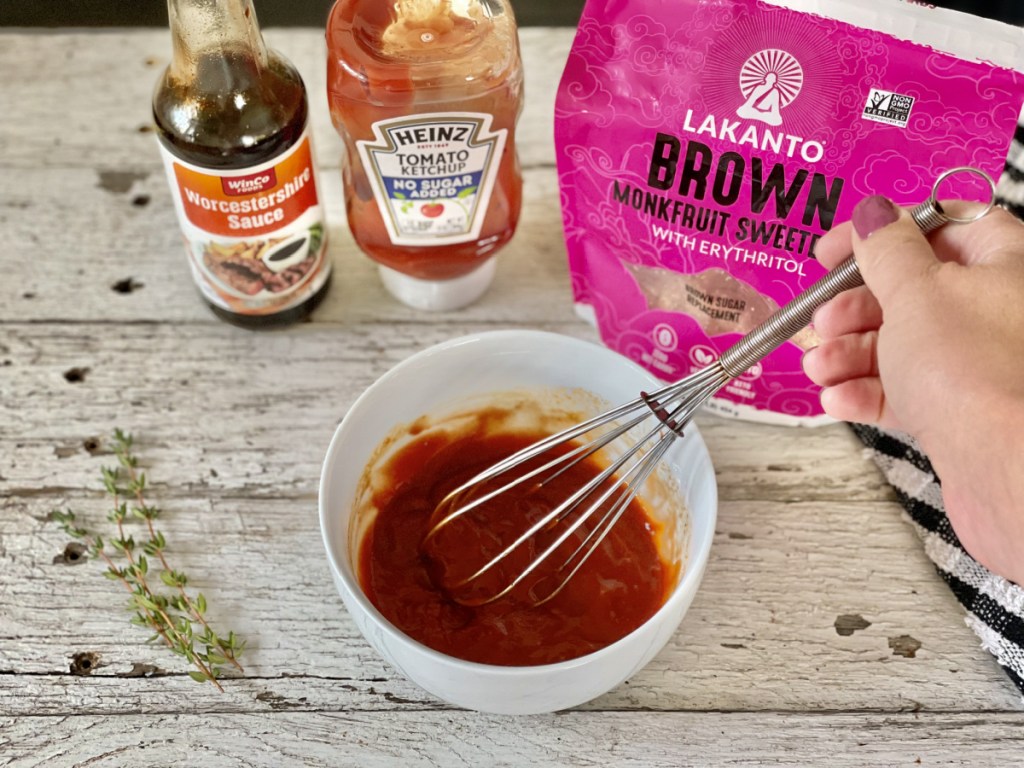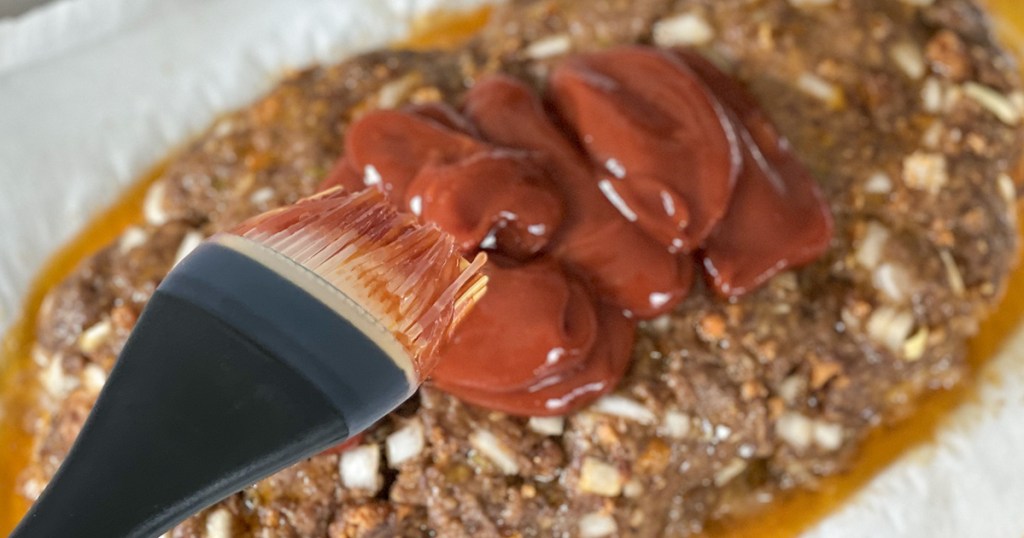 ---
yield: 8 SERVINGS
prep time: 20 MINUTES
cook time: 60 MINUTES
total time: 1 HOUR 20 MINUTES
This keto meatloaf is made with pork rind crumbs and seasoned with fresh thyme and garlic, then topped with a no-sugar added glaze.
Ingredients
2 pounds 80/20 ground beef
1 egg
2 tablespoons fresh thyme, stems removed
1 small onion, minced
4 garlic cloves, minced
1/2 teaspoon salt
1/2 teaspoon pepper
3/4 cup no-sugar-added ketchup, divided
1 tablespoon Worcestershire sauce
Directions
1
Preheat the oven to 350 degrees. Line a baking sheet with parchment paper.
2
Smash the pork rinds by hand or place them in a food processor to make crumbs (or buy pork rind crumbs).
3
Place the ground beef in a large bowl. Add the pork rind crumbs, egg, thyme, onion, garlic, salt, pepper, and 1/4 cup of the no-sugar-added ketchup to the ground beef and mix until well combined. Note that it might be easier to use your hands to mix.
4
Place the ground beef mixture on the prepared baking sheet and form it into an oval loaf shape with your hands. It should be approximately 5 inches wide, 9 inches long, and about 2 inches high.
5
Bake for 30 minutes. While the meatloaf is baking, make the glaze by whisking together 1/2 cup low-carb ketchup, Worcestershire sauce, and keto brown sweetener.
6
After baking for 30 minutes, remove the meatloaf from the oven and brush on the glaze to cover the entire top of the meatloaf.
7
Return the meatloaf to the oven and bake for another 30 minutes.
8
Once done, remove from the oven and let the meatloaf rest for 5 to 10 minutes before slicing. Slice into 1-inch thick pieces. You can spoon the drippings onto the slices if desired. Enjoy!
Nutrition Information
Yield: 8 servings, Serving Size: 4 oz. slice
Amount Per Serving: 397 Calories | 27.6g Fat | 6.7g Total Carbs | 0.5g Fiber | 2g Sugar | 3g Sugar Alcohol | 29.1g Protein | 3.2g Net Carbs
---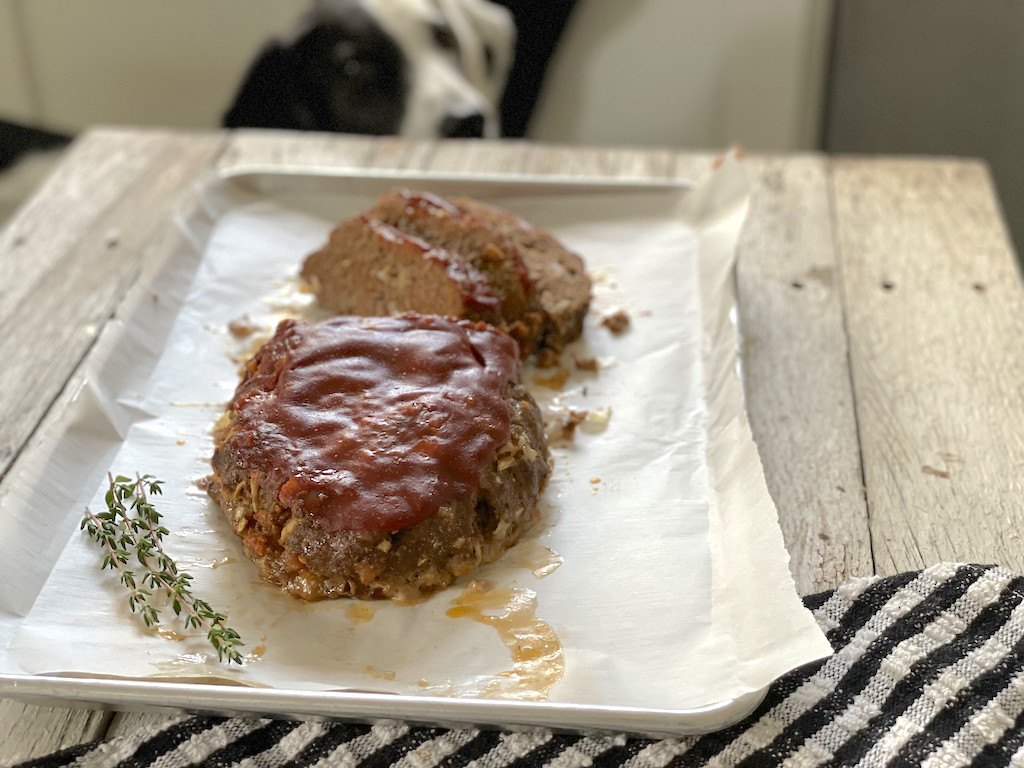 Tips for making the best classic keto meatloaf:
A 4 oz. bag of pork rinds makes just the right amount of crumbs. I actually crushed them by hand inside the bag by cutting a small slit in the top of the bag to let the air out. That made it easier to smash up the pork rinds. I ended up with about 1 3/4 cups of packed pork rind crumbs. You can also buy pre-ground pork rinds if preferred. We love the ones from Pork King Good!
Save the drippings and spoon them on top of the slices of meatloaf to add extra deliciousness. YUM!
This meatloaf makes for great leftovers. It reheats and freezes well. Keep it in the fridge for five days or freeze up to three months. I recommend making a meatloaf sandwich with keto buns or keto bread when eating leftovers.
If you or your family aren't big onion fans, try shredding or very finely dicing the onion to help hide it in the meatloaf. You could also sauté the onion in butter before adding it to the meatloaf mixture.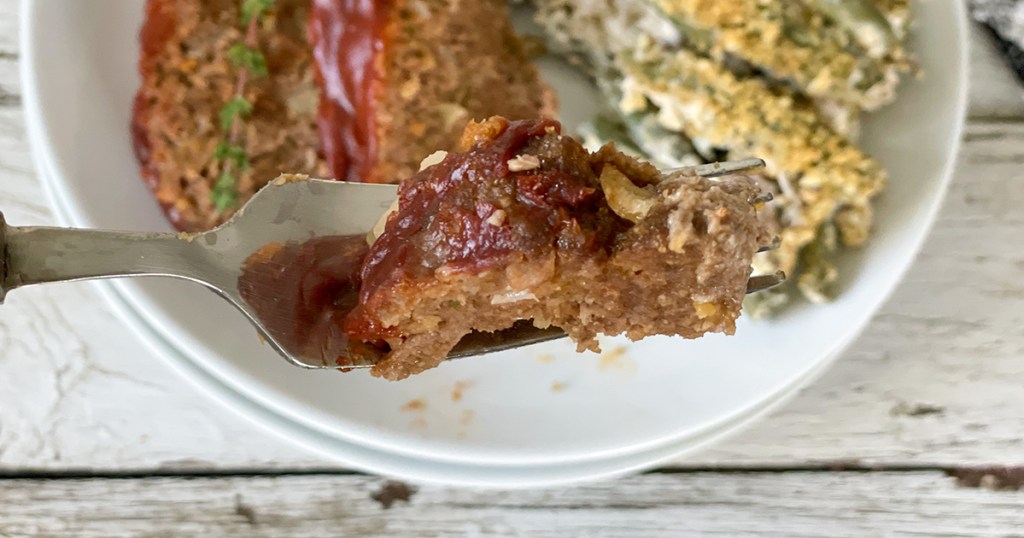 Some people feel nostalgic for meatloaf and I totally understand why! It's still a staple weeknight dinner for many people. So next time that meatloaf craving hits, try making this classic keto meatloaf recipe. I bet your family will love it!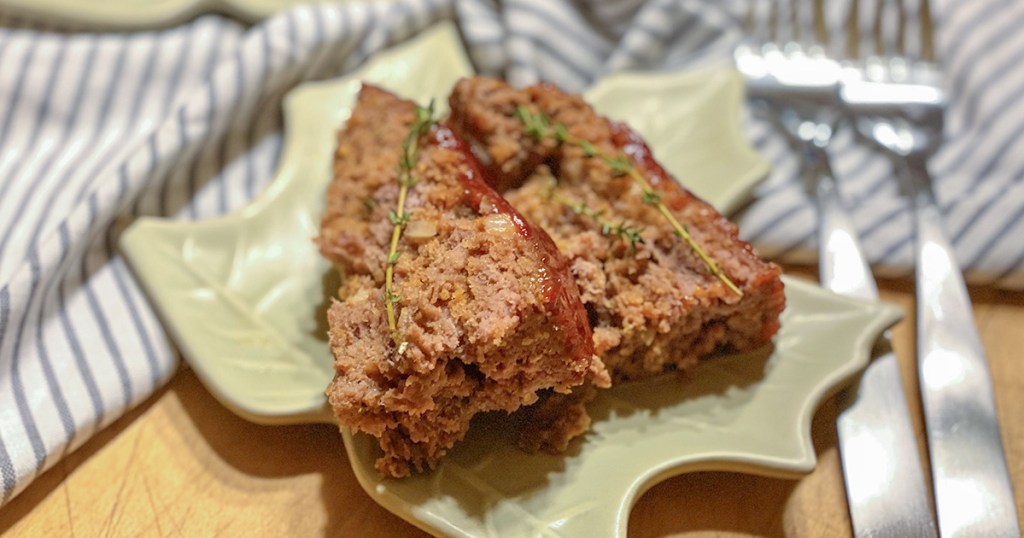 Here's what my Hip sidekick Jenna had to say about this keto meatloaf recipe:
"This is so full of flavor and the perfect homemade meal! I have to admit, I'm guilty of adding a ridiculous amount of brown sugar when I make meatloaf for my family. Probably a cup of sugar, which seems like a lot for a loaf of meat. I LOVE this recipe! It is the perfect classic meatloaf, no sugar needed, so I feel better about giving this to my family."
---
Looking for a twist on the classic? Check out this recipe for our Bacon-Wrapped Meatloaf!