Here's How to Roll Up This Keto BLT Sushi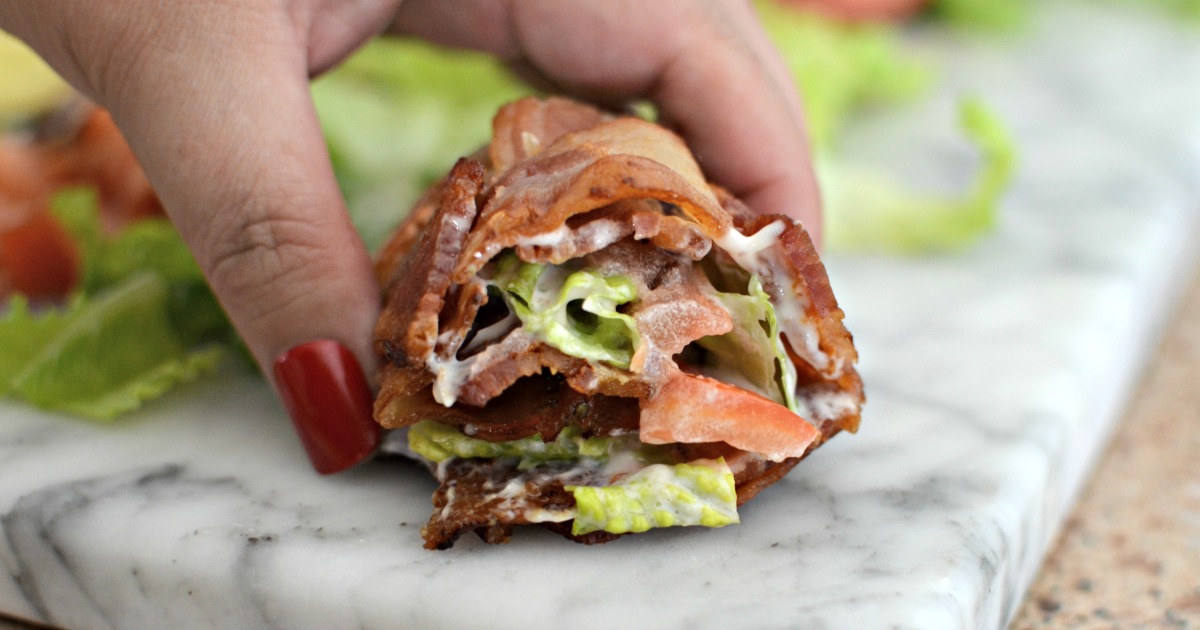 These keto bacon, lettuce, tomato, and avocado bites are so yummy!
Much like peanut butter and jelly, the flavors of bacon, lettuce, and tomato seem to work together perfectly. In this delicious sushi take on the classic BLT, we've added avocado and removed the bread for a delicious keto and low-carb snack and appetizer idea!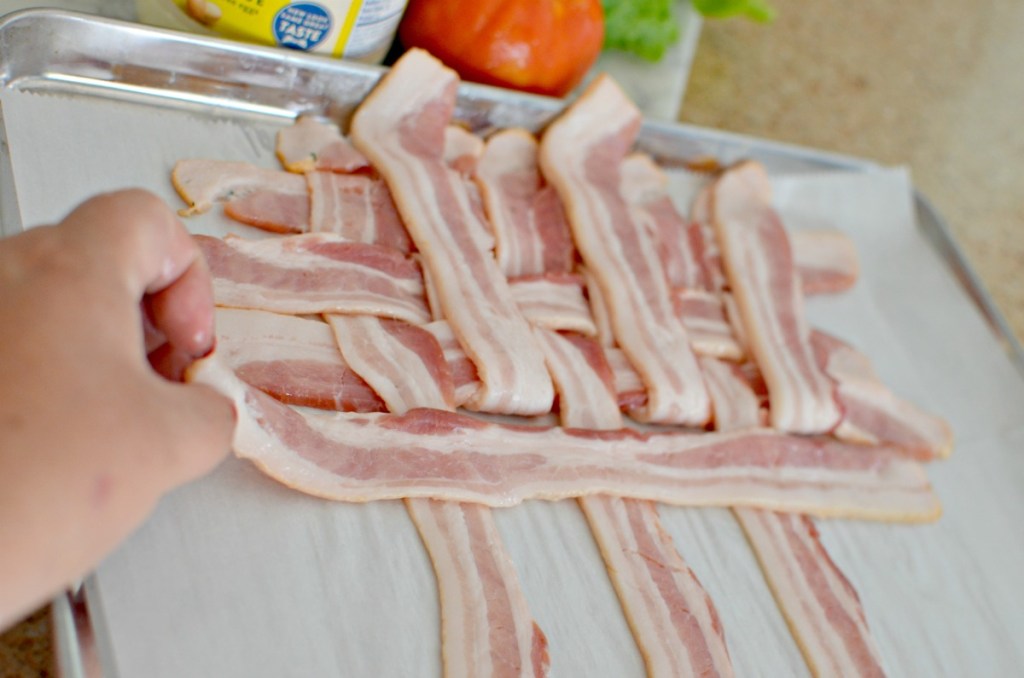 The key to this recipe is a basket-weave strategy when making your bacon, which creates a solid base for the remaining ingredients. Roll it up, slice it, and you're on your way to BLT-A nirvana!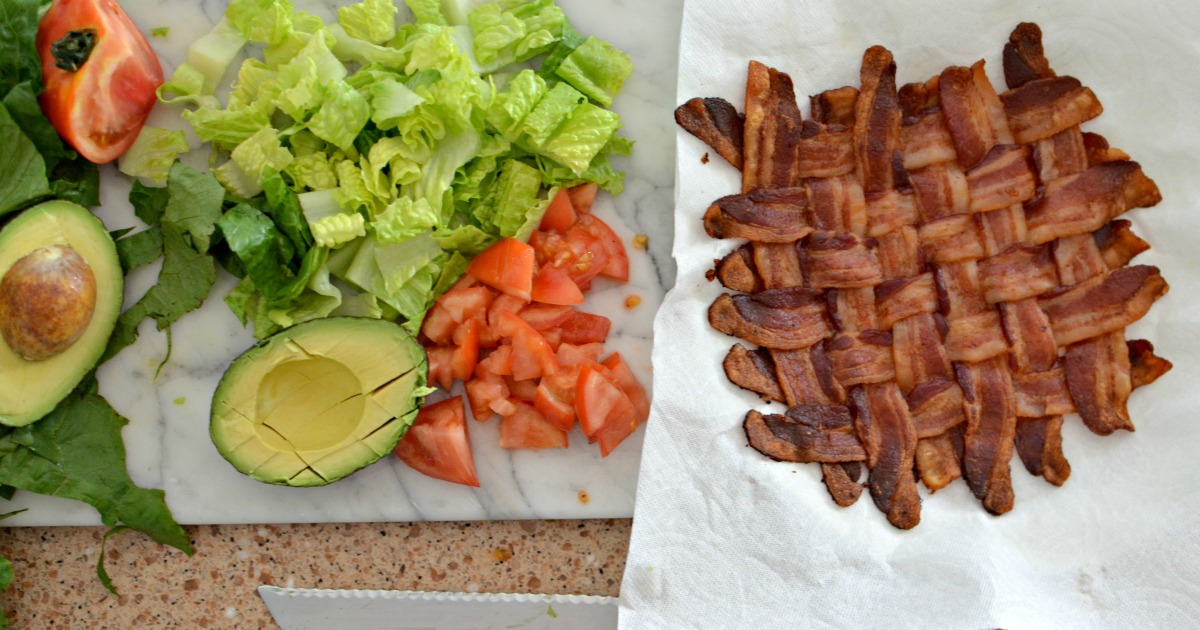 Hip Tips:
If you like your bacon super crispy, the roll-up may not work. The bacon in this recipe can't get overly crispy or you won't be able to roll it up — crispy bacon will break during the rolling phase. Therefore, make sure you remove the bacon from the oven just before it gets too crisp.


---

Cut the tomatoes just before using. To ensure that your tomatoes have the right amount of juiciness, cut them while the bacon is cooking and not too long beforehand.


---

Serving a smaller group? You can cut this recipe in half if you're serving a smaller group since the addition of mayonnaise and avocado mean that it won't reheat well.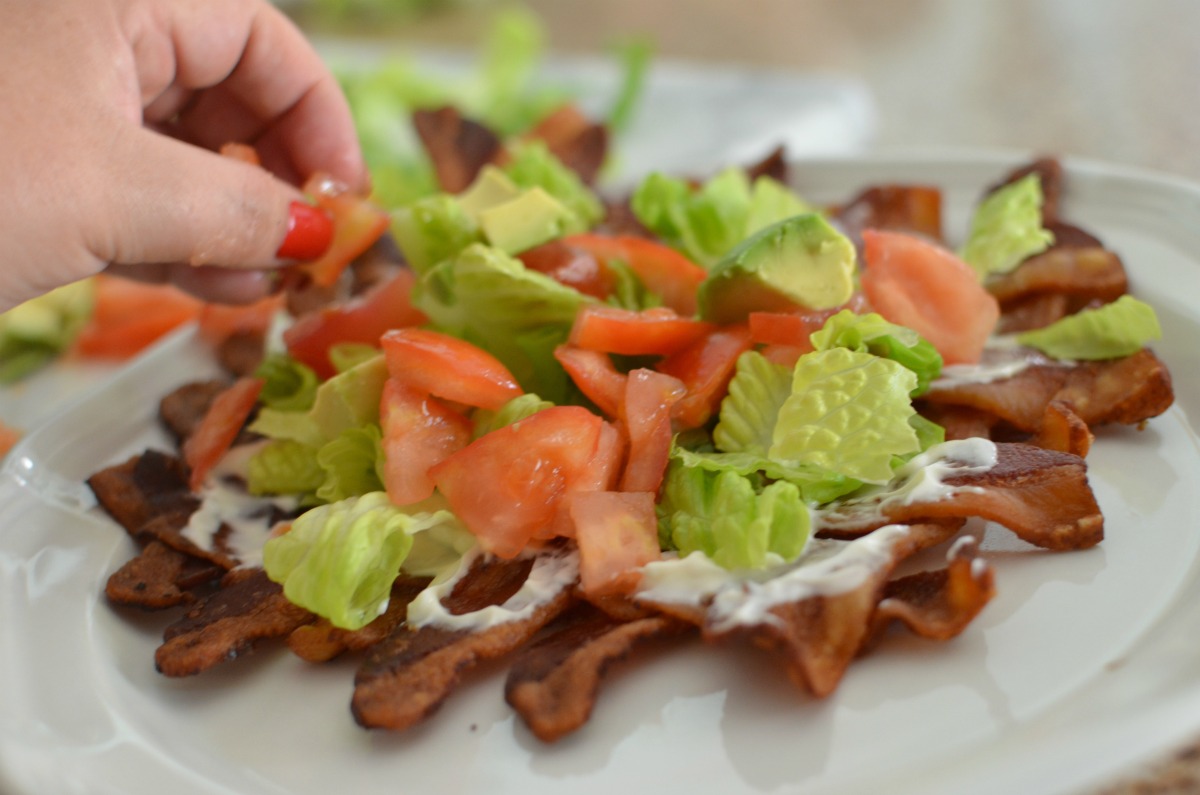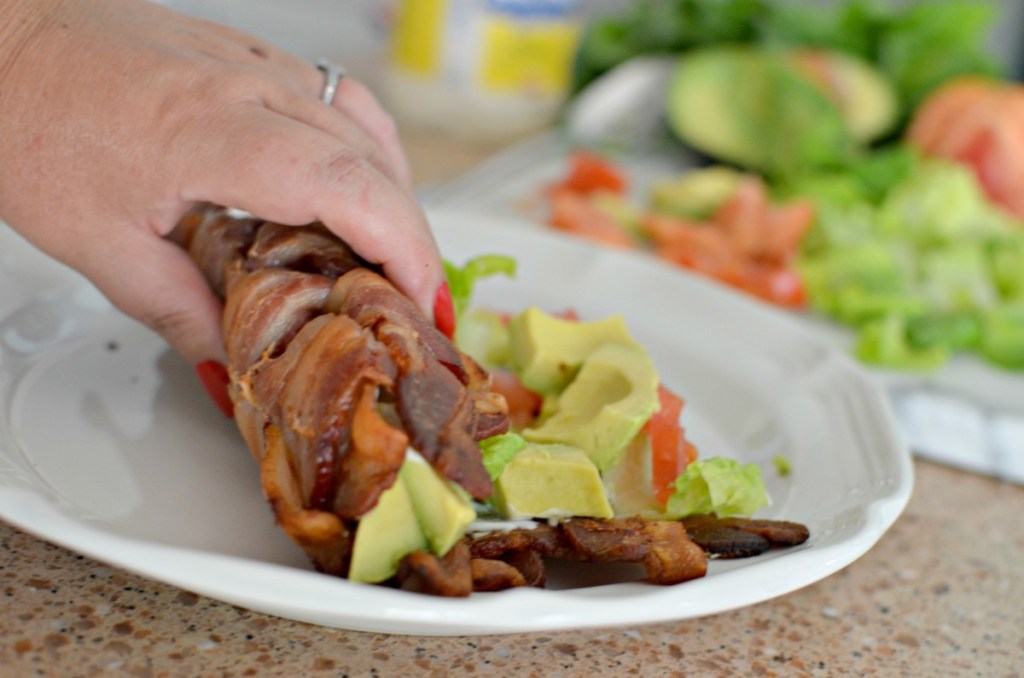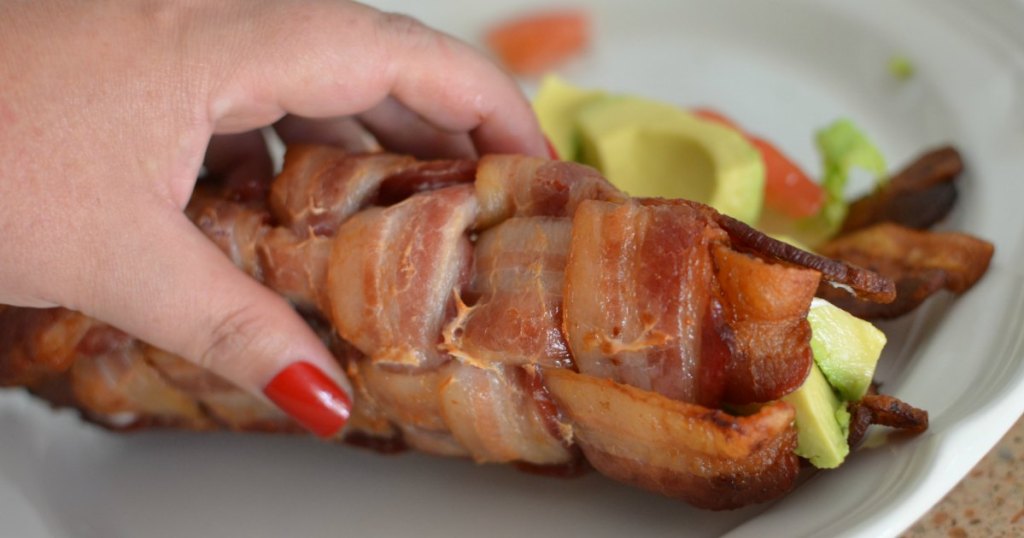 ---
yield: 6 SERVINGS
prep time: 10 MINUTES
cook time: 25 MINUTES
total time: 35 MINUTES
Remember how well the BLT flavors go together? Have them again with this keto twist, logging just 2.1 net carbs per serving!
Ingredients
12 pieces of bacon
2 tomatoes, chopped
½ a head of romaine lettuce, chopped
1 avocado, chopped
¼ cup mayonnaise
Directions
1
Preheat the oven to 425 degrees.
2
Arrange your bacon into a "basket weave" formation on your broiling pan, as shown. Cook in preheated oven for 25-30 minutes.
3
Allow bacon to cool and drain slightly on the broiling pan for about 5 minutes. Dab the bacon with a paper towel to remove any grease.
4
Spread mayonnaise over the bacon base.
5
Sprinkle the bacon with lettuce, tomatoes and avocado.
6
Starting at the far end of the bacon square, roll up the bacon tightly so the ingredients within it stay inside.
7
When you've created a rolled-up cylinder, cut it into six servings.
Additional Notes
We used thick-cut bacon in this recipe, but thin-sliced bacon rolls up just as beautifully. However, you may need to cut the cook time down by three to five minutes for thinner bacon, so it doesn't get too crispy.
Nutrition Information
Yield: 6, Serving Size: 1
Amount Per Serving: 277 Calories | 45 Fat | 5.6 Total Carbs | 3.5 Fiber | 8.2 Protein | 2.1 Net Carbs
---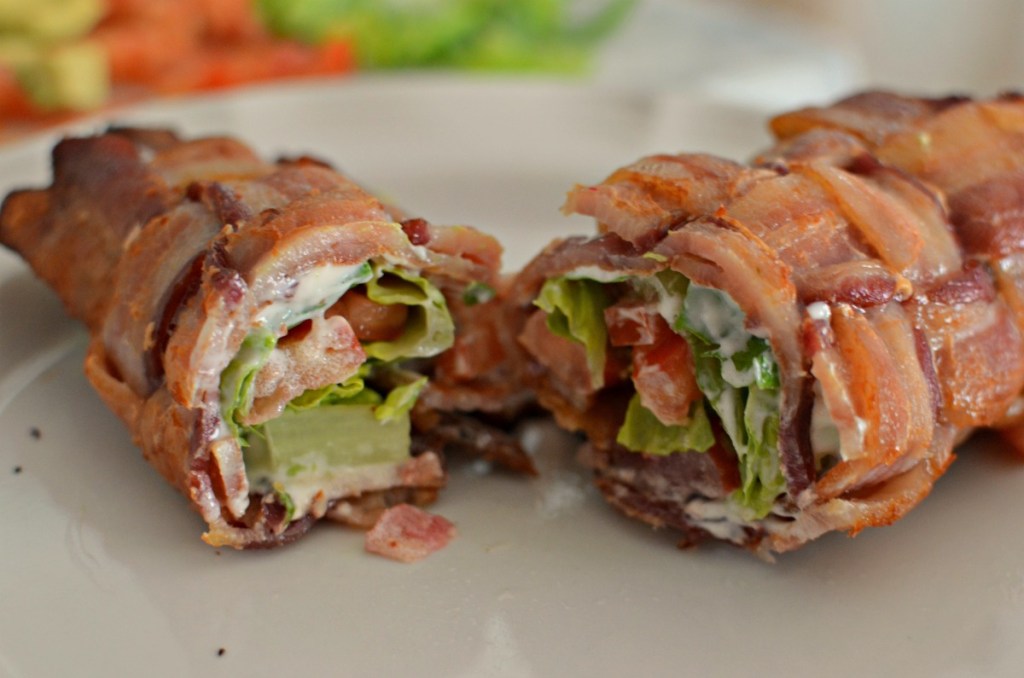 These finger foods won't last long!
These roll-ups are so tasty you'll want to make more! If you decide to double the recipe, just ensure that your basket-woven bacon base is big enough for all the ingredients!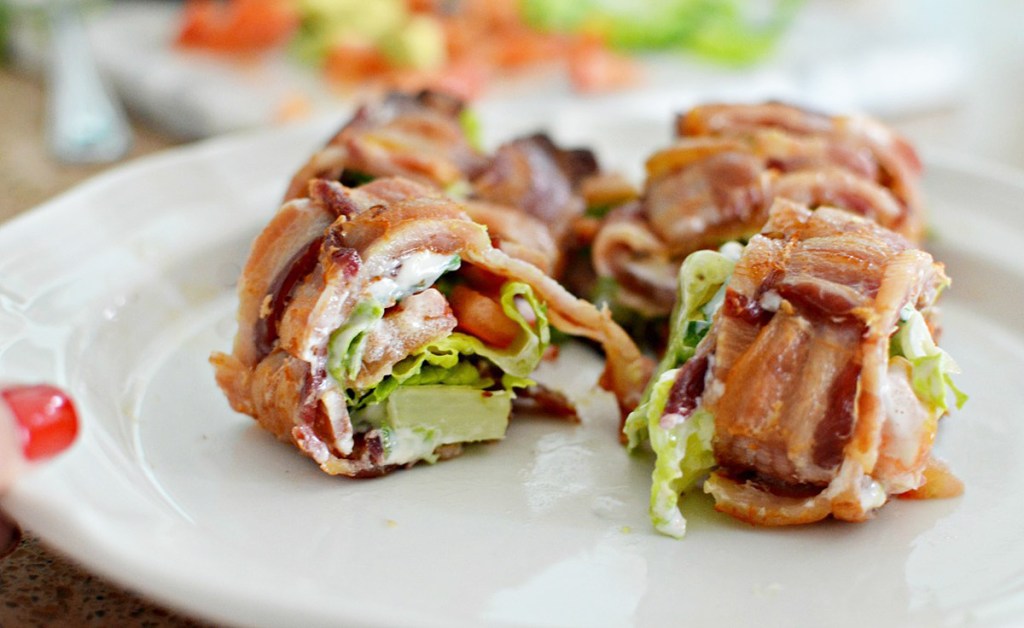 ---