Chicken Bacon and Avocado Sandwich on a Keto Roll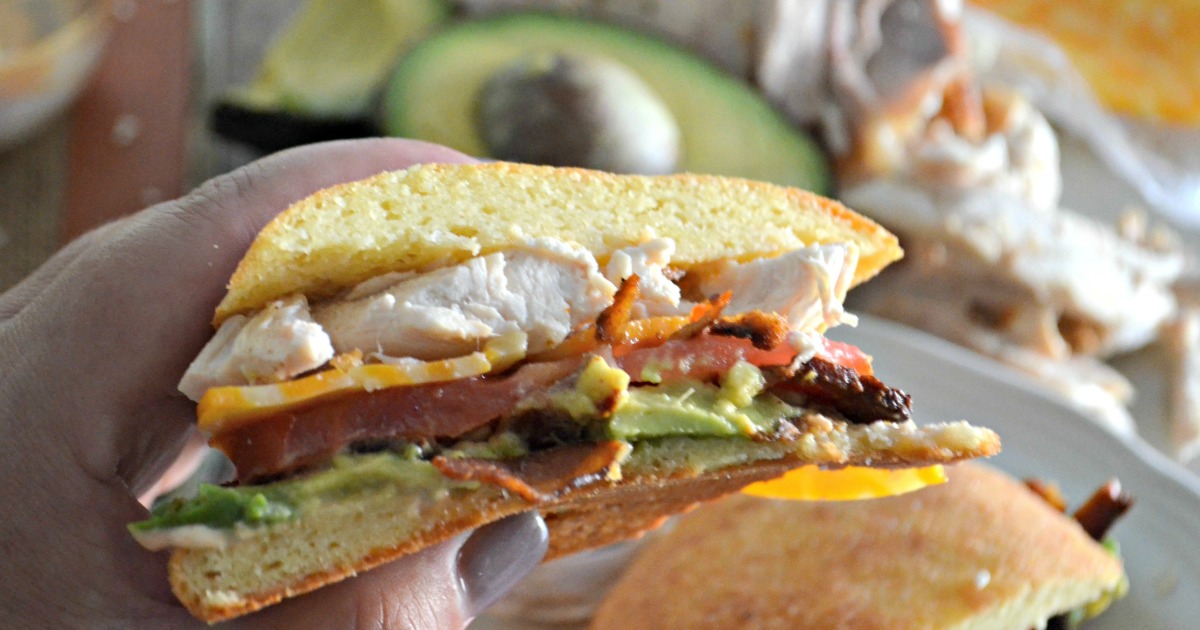 Think you can't have delicious sandwiches while eating Keto?
Think again! Try making this mouthwatering chicken, bacon, and avocado salad sandwich on a keto roll slathered with spicy sriracha mayo! The result is a hearty and delicious sandwich that'll be sure to satisfy any bread craving! I made my rolls, then set up a station of shredded rotisserie chicken and all the fixings for everyone to build their own sandwich.
I love that this is such a simple idea and the sandwich reminds me of a yummy, upgraded BLT.
Homemade keto rolls ROCK!
I made these sandwiches with the perfect keto-friendly rolls that are actually featured in THIS post for Homemade Keto Bagels. Start by making a batch of the dough, but instead of making bagel shapes, flatten six balls of dough on a baking sheet. Once baked, slice in half to make sandwiches. So good! I bet these would make great hamburger buns, too.
While the bread recipe makes enough for six sandwiches, this recipe (and its macros) are for one sandwich.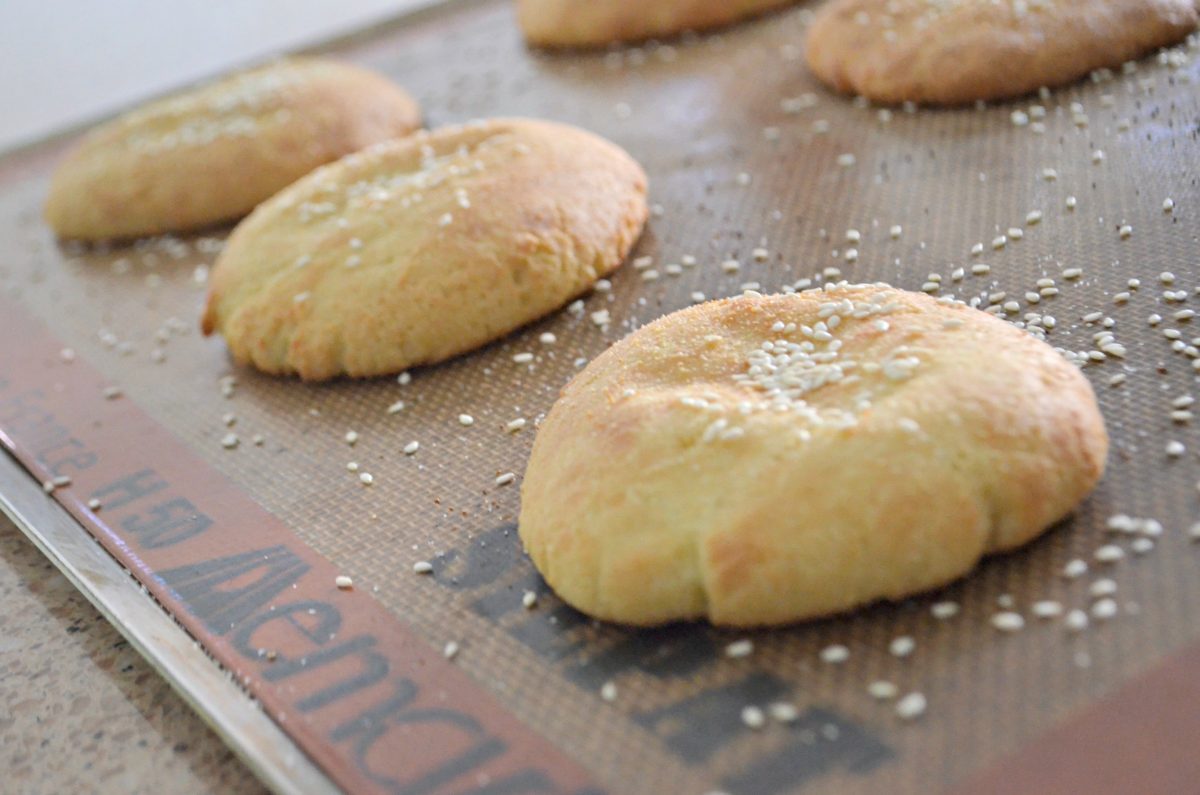 ---
Print
Chicken Bacon and Avocado Salad Sandwich on a Keto Roll
yield: 1 SERVINGS
prep time: 15 MINUTES
cook time: 20 MINUTES
total time: 35 MINUTES
Layer avocado slices with chicken and bacon for a delicious sandwich served on a keto roll.
Ingredients
For the Rolls:
1 1/2 cups super-fine almond flour
1 teaspoon baking powder
2 1/2 cups mozzarella cheese, shredded
2 oz. cream cheese
2 large eggs, beaten
sesame and poppy seeds for topping, as needed
For the Sandwiches:
1 homemade keto roll
1 teaspoon mayonnaise
1 dash sriracha sauce
3 oz. chicken cooked, and shredded
1 slice bacon, cooked
1 slice cheddar cheese
2 avocado slices
Directions
1
For the Rolls: Preheat oven to 400 degrees Fahrenheit.
2
Mix almond flour and baking powder in a bowl.
3
In a separate bowl, melt Mozzarella cheese and cream cheese together in the microwave for 2 minutes. Stop at the one minute mark, stir cheeses, and return for another minute in microwave.
4
Stir together beaten eggs, cheeses, and flour mixture into a dough. (I used my stand mixer to do this, but you can also mix by hand. The more you mix, the less sticky the dough becomes.)
5
Cut dough ball into 6 sections. Roll each into a ball, and place on a parchment lined baking sheet or silicone lined baking sheet. Flatten with palm of hand a little to spread out.
6
Press poppy seeds and sesame seeds on top of rolls as desired.
7
Bake for 12-14 minutes at 400 degrees until golden brown.
8
For the Sandwiches: Cut rolls in half lengthwise. Mix together a teaspoon of mayo with a dash of Sriracha sauce and spread onto roll.
9
Build sandwich by adding avocado, chicken, bacon, cheese, and tomato.
10
Place back in oven for a few minutes if you'd like to melt the cheese. (Mine was melted enough on warm rolls from the oven, yum!)
Additional Notes
---
KETO ROLLS - NUTRITIONAL INFORMATION
Yield: 6 rolls, Serving Size: 1 roll
Amount Per Serving: Calories: 359, Total Carbohydrates: 8g, Fiber: 4g, Net Carbohydrates: 4g, Total Fat: 29g, Protein: 19g
Nutrition Information
Yield: 1 serving, Serving Size: 1 sandwich
Amount Per Serving: 664 Calories | 51g Fat | 12g Total Carbs | 6g Fiber | 45g Protein | 6g Net Carbs
---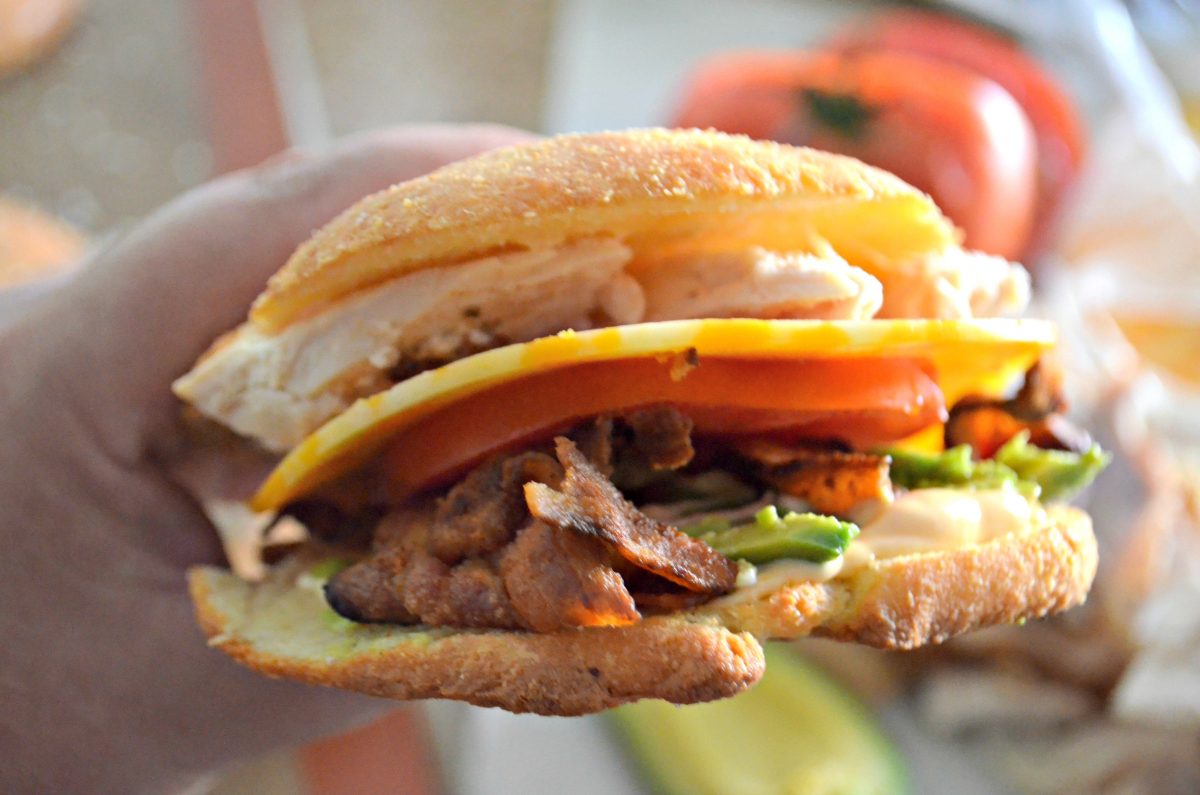 Now here's a crowd-pleasing sandwich!
Crispy bacon with the avocado and that yummy bread tastes fantastic! I loved the spicy mayo, too. Really everything about this idea is enjoyable, and I'll be making these keto sandwiches again for sure!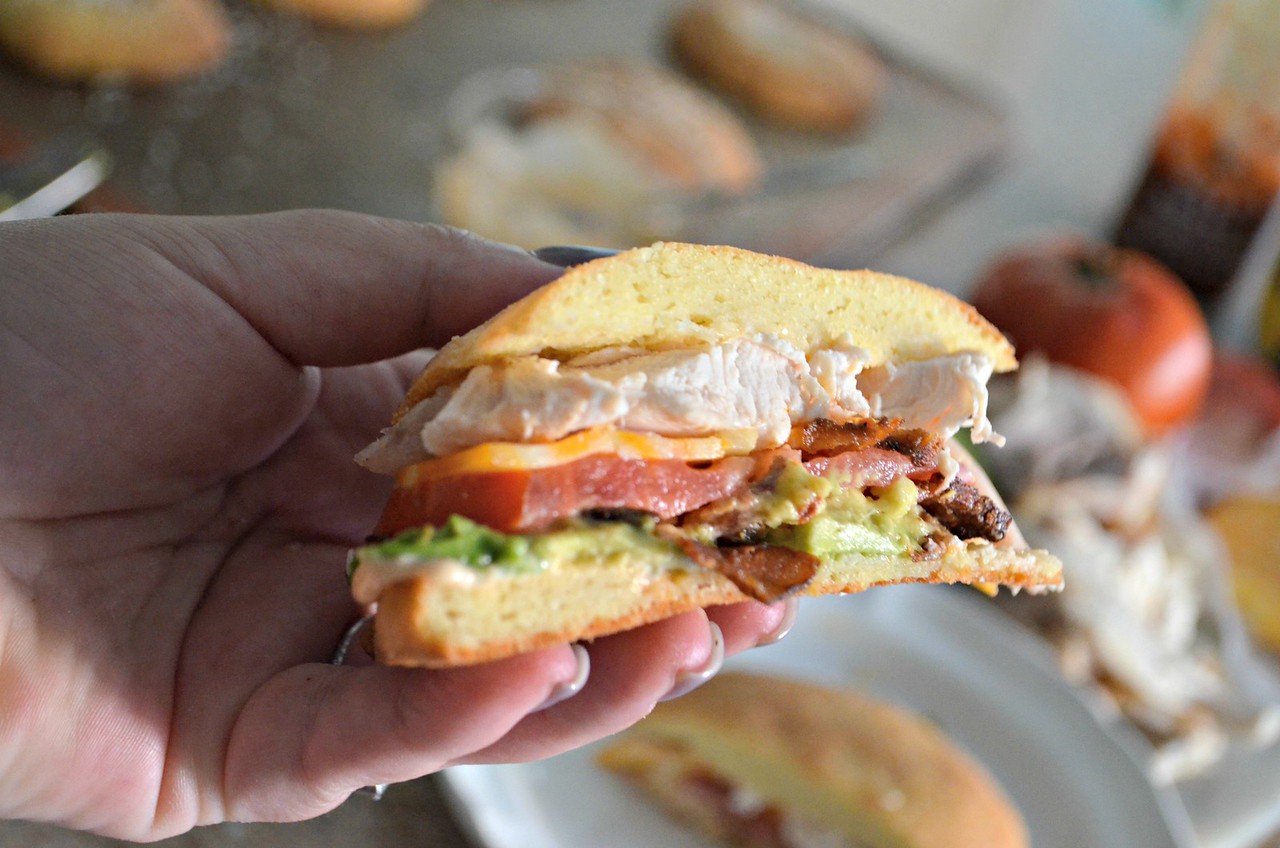 ---