Keto BBQ Chicken Bacon Weave Pizza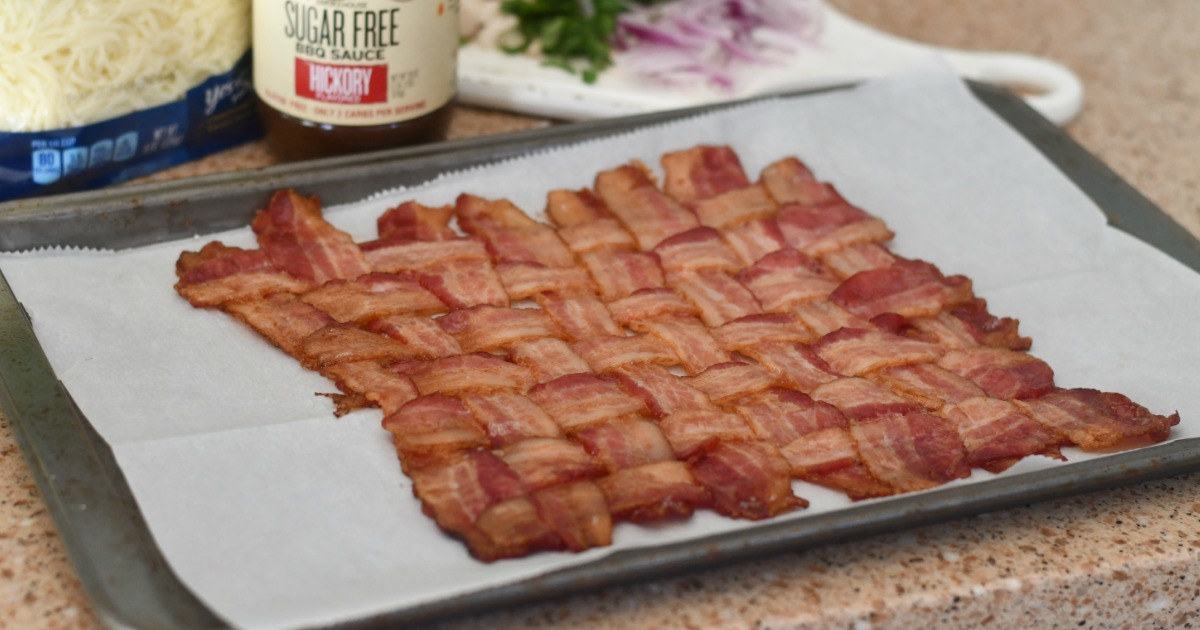 Love bacon and pizza?
Make a bacon weave crust that works perfectly for a keto-friendly pizza night! It pairs perfectly with this BBQ chicken pizza recipe! It's an easy way to make and drool-worthy meal idea that's satisfying and unique for the entire family. It's also a great change of pace from cauliflower crust or Fat Head crust.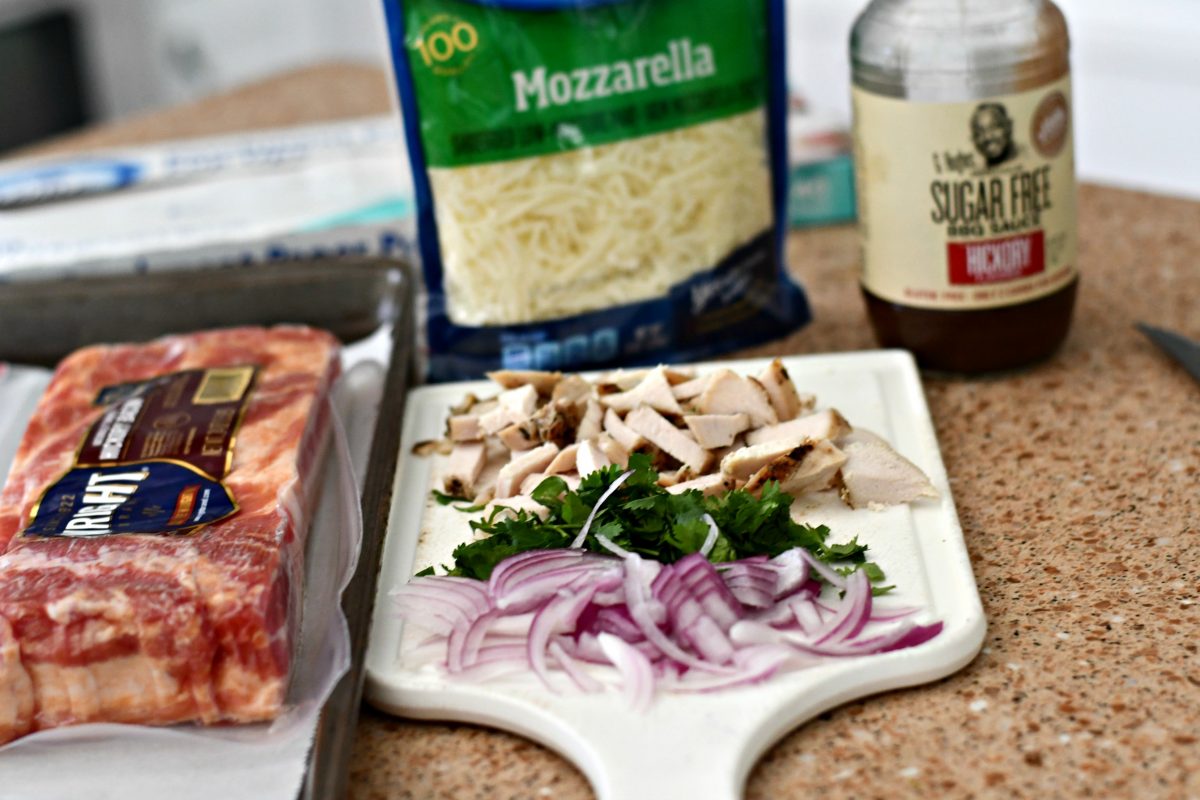 BBQ chicken pizza is YUM!
You can top your bacon crust with essentially any sort of keto toppings, including tomato-based pizza sauces, pepperoni, you name it. For mine, I made a flavorful BBQ chicken pizza with some leftover grilled chicken. It turned out AWESOME with the bacon crust. Make sure to use a sugar-free BBQ sauce, like this G Hughes Smokehouse brand.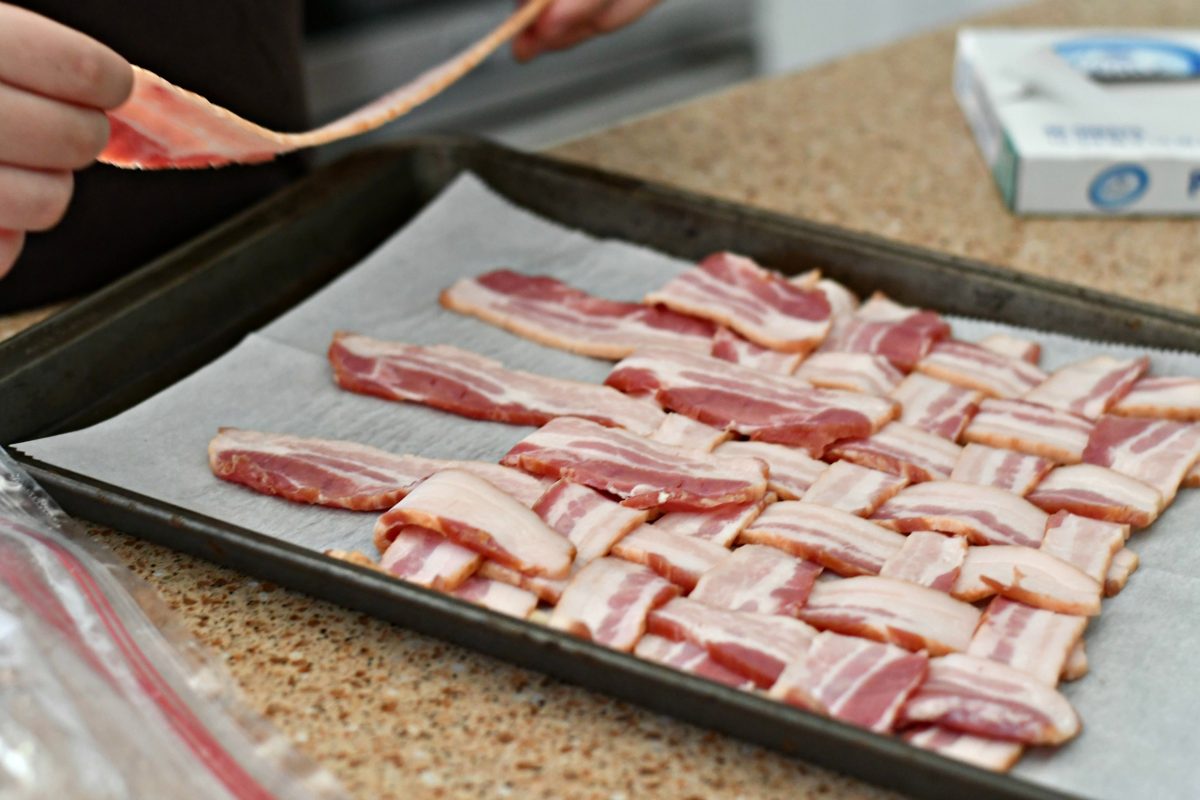 Just be sure to bake your pizza crust first!
Don't worry, making a woven crust is NOT difficult. Just make sure to use a rimmed baking sheet covered with parchment paper. Use a thicker cut bacon for best results if possible, and make sure to cook the bacon nice and crisp!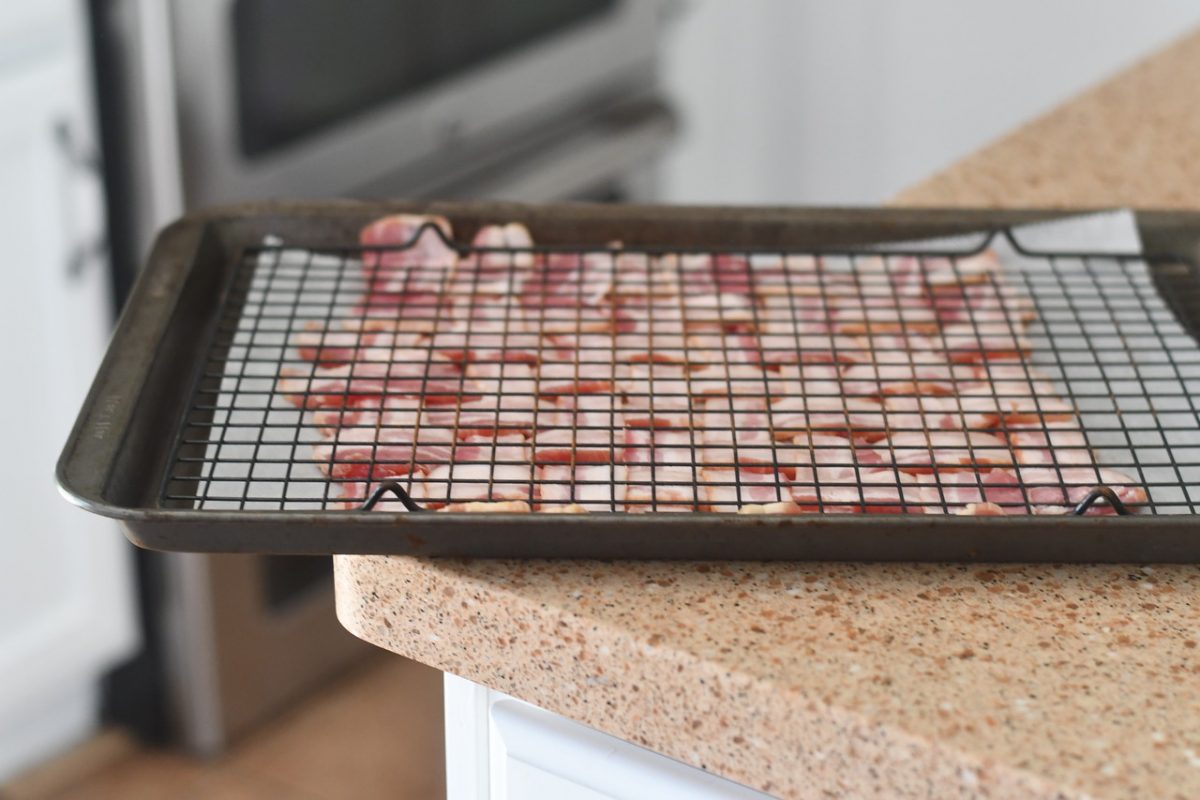 Also, another tip is to stack an upside-down cooling rack on top so your bacon weave will cook flat. Here's a short video on how to weave the bacon.
---
Print
Keto BBQ Chicken Bacon Weave Pizza
Bacon gets woven and baked into a crispy crust, perfect for a keto pizza!
Ingredients
14 slices bacon, thick cut
1/3 cup sugar-free bbq sauce
1 cup shredded mozzarella cheese
1/2 cup cooked chicken, chopped
1/4 cup red onion, thinly sliced
2 tablespoons cilantro, chopped
Directions
1
Pre-heat oven to 400 degrees. Prepare a rimmed baking sheet with parchment paper.
2
Create a woven crust using slices of bacon on the baking sheet. It's easiest to first line up 7 pieces of bacon in a row, then fold back every other slice of bacon, and then lay a piece facing the opposite direction. Fold pieces back down, and continue with the remaining slices of bacon.
3
Place a cooling rack on top of the bacon, upside down, to hold down flat when baking. Bake for about 25-30 minutes until bacon is browned and cooked through.
4
Remove from oven. Spread BBQ sauce on top of the pizza and top with shredded cheese, chicken, onion, and cilantro.
5
Bake for another 10 minutes or so until the cheese melts. Serve warm.
Nutrition Information
Yield: 2, Serving Size: 1/2 pizza
Amount Per Serving: 927 Calories | 88g Fat | 8g Total Carbs | 0g Fiber | 30g Protein | 8g Net Carbs
---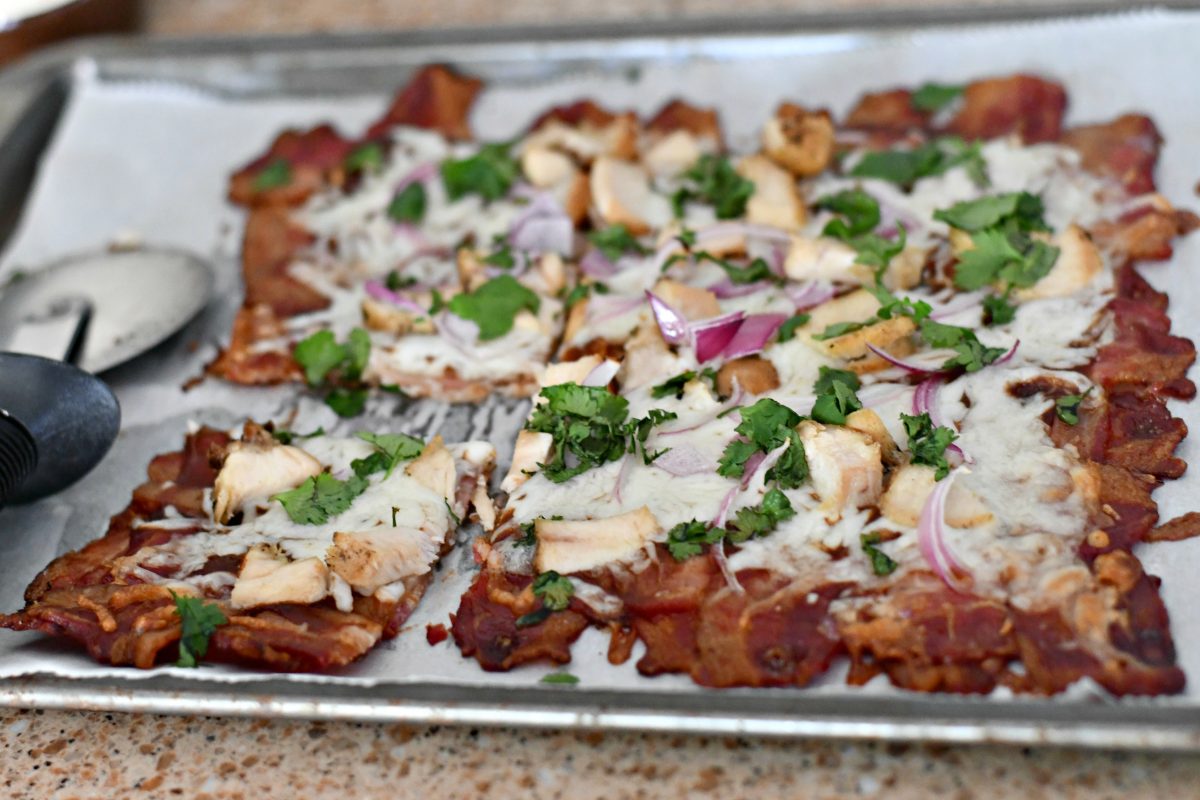 This bacon-crusted pizza is unbe-weave-able!
It's rich and filling, but it's also super delicious! There's nothing better than crispy yummy bacon, and it pairs so well with the sweet taste of BBQ sauce and chicken. What a genius keto crust idea that is easy to make!
This is, for sure, a must-try meal I hope you'll LOVE.
---