How to Make Keto Honey Mustard Sauce
This keto honey mustard dipping sauce is so simple to make and delicious on anything!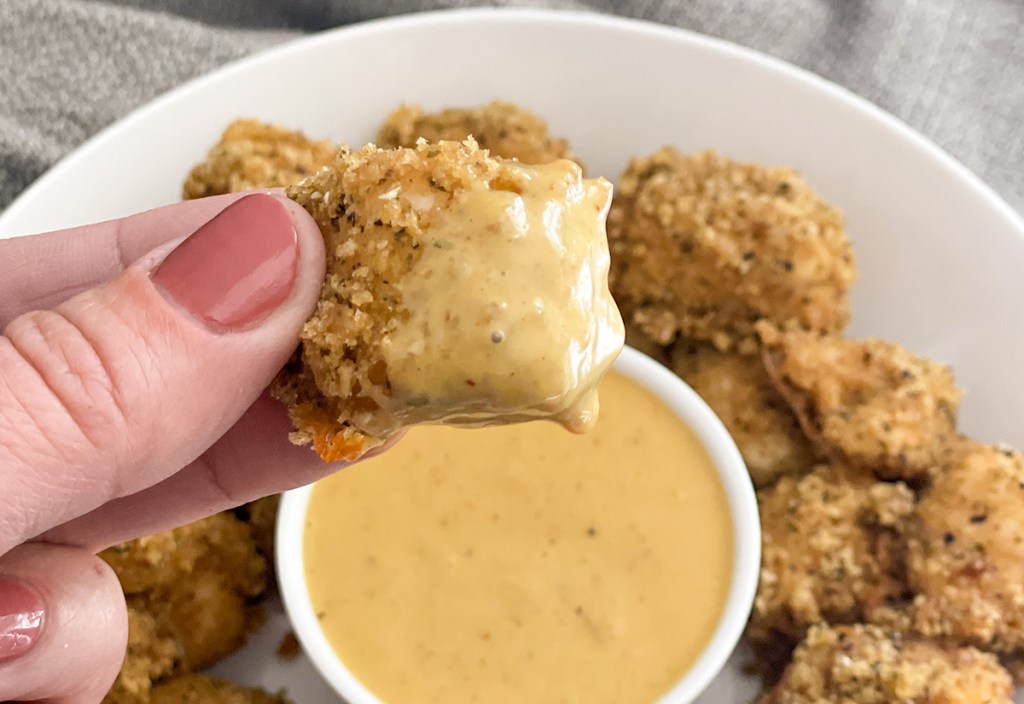 The right condiments and sauces can make or break a dish. This sweet and tangy keto condiment recipe pairs wonderfully with everything — I'm not joking! I used it as a dipping sauce for fresh keto veggies, roasted Brussels sprouts, and keto chicken nuggets. OMG, yum! I might have been licking the spoon.
It's been a hot minute since I've had honey mustard. I didn't realize how much I'd missed it!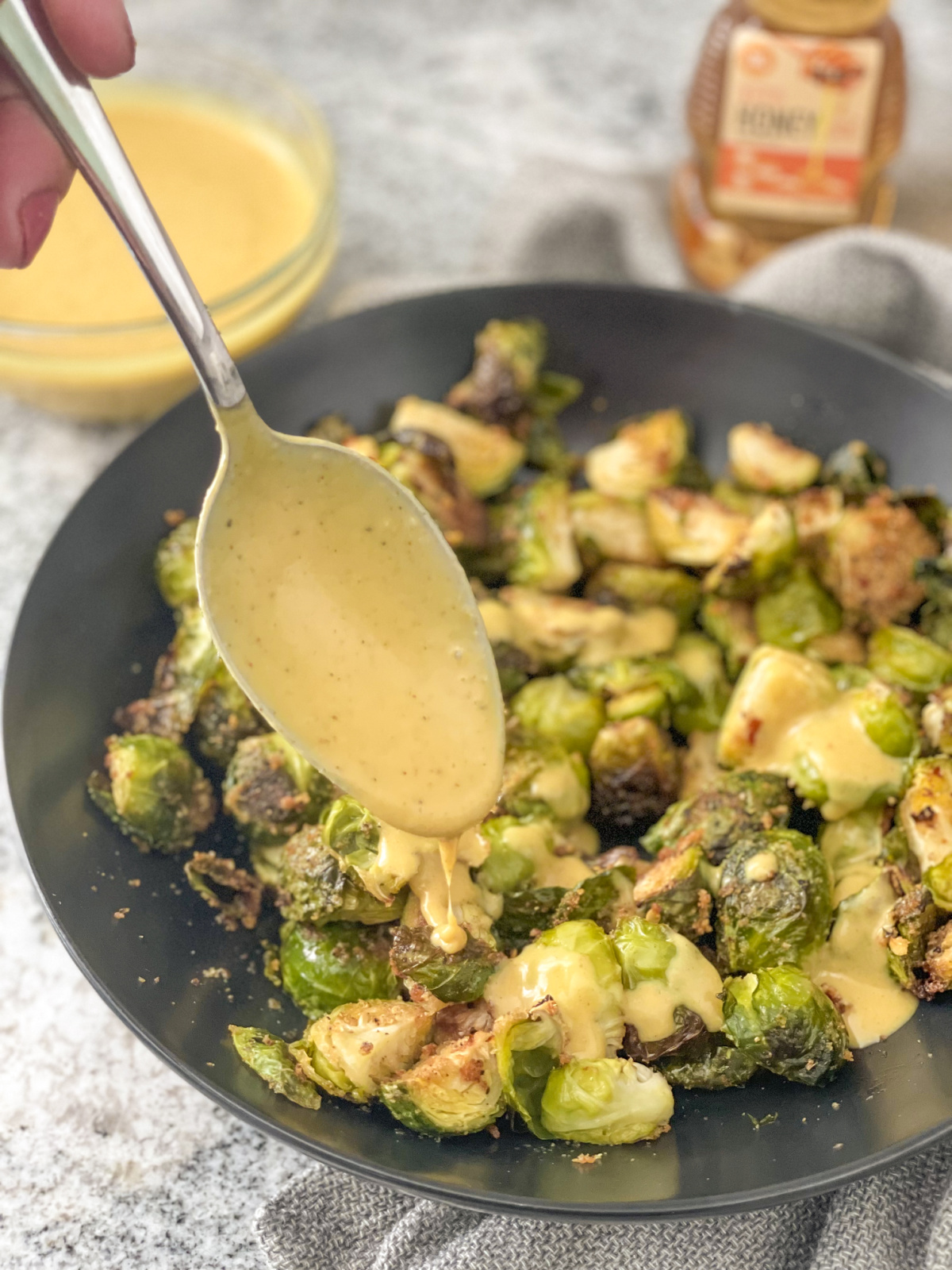 Is honey mustard keto?
Regular honey mustard is not keto. If fact, if you buy honey mustard at the store, it likely doesn't even have any honey in it and is made with sugar and/or corn syrup — no, thank you! But even when you make regular homemade honey mustard made with real honey, it will have carbs in it from the honey, about 6 grams of carbs per serving.
This recipe for keto honey mustard sauce uses ChocZero's Keto Honey so it keeps the carbs low (it's also vegan, too)! It only has 1 gram of net carbs per serving. 🙌
Check out why we're loving this keto honey and how to save 10% off your order using our exclusive coupon code HIP2KETO.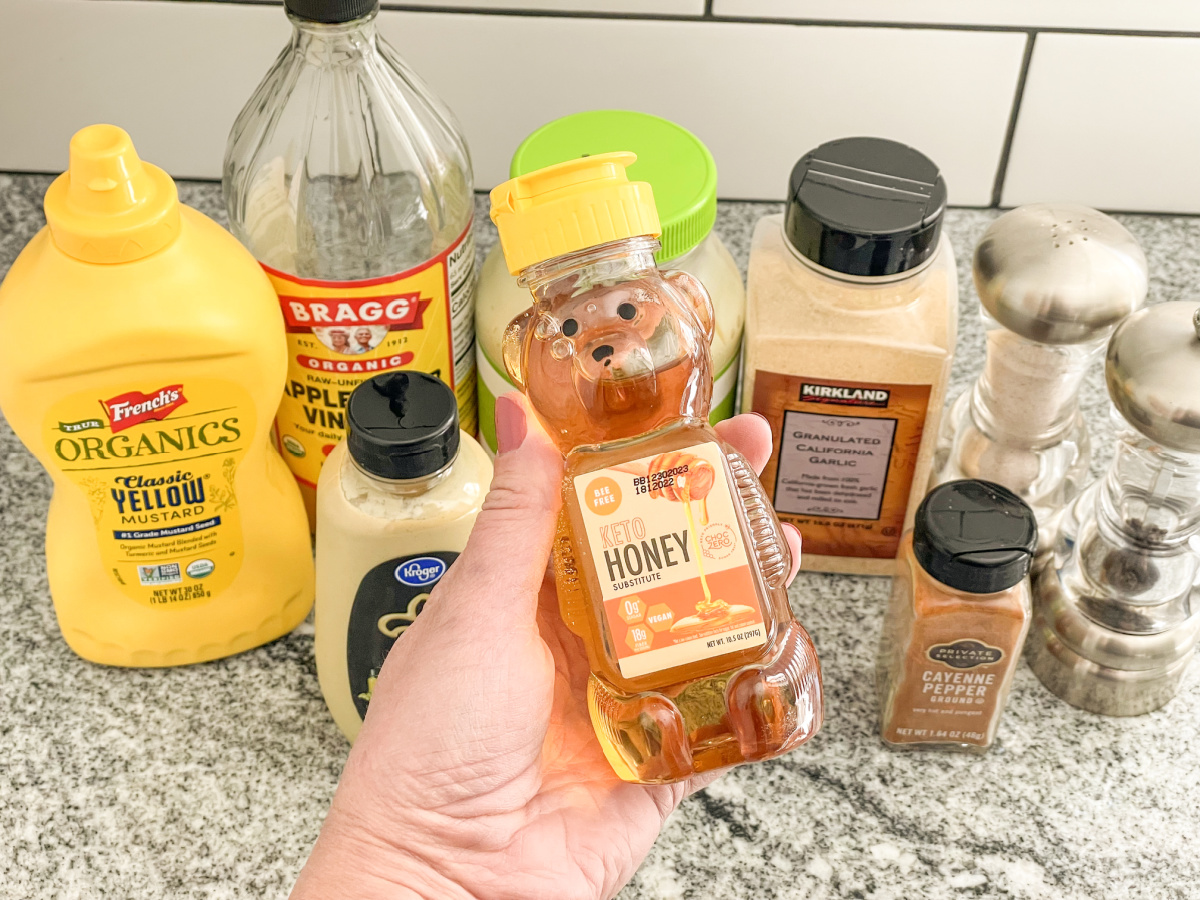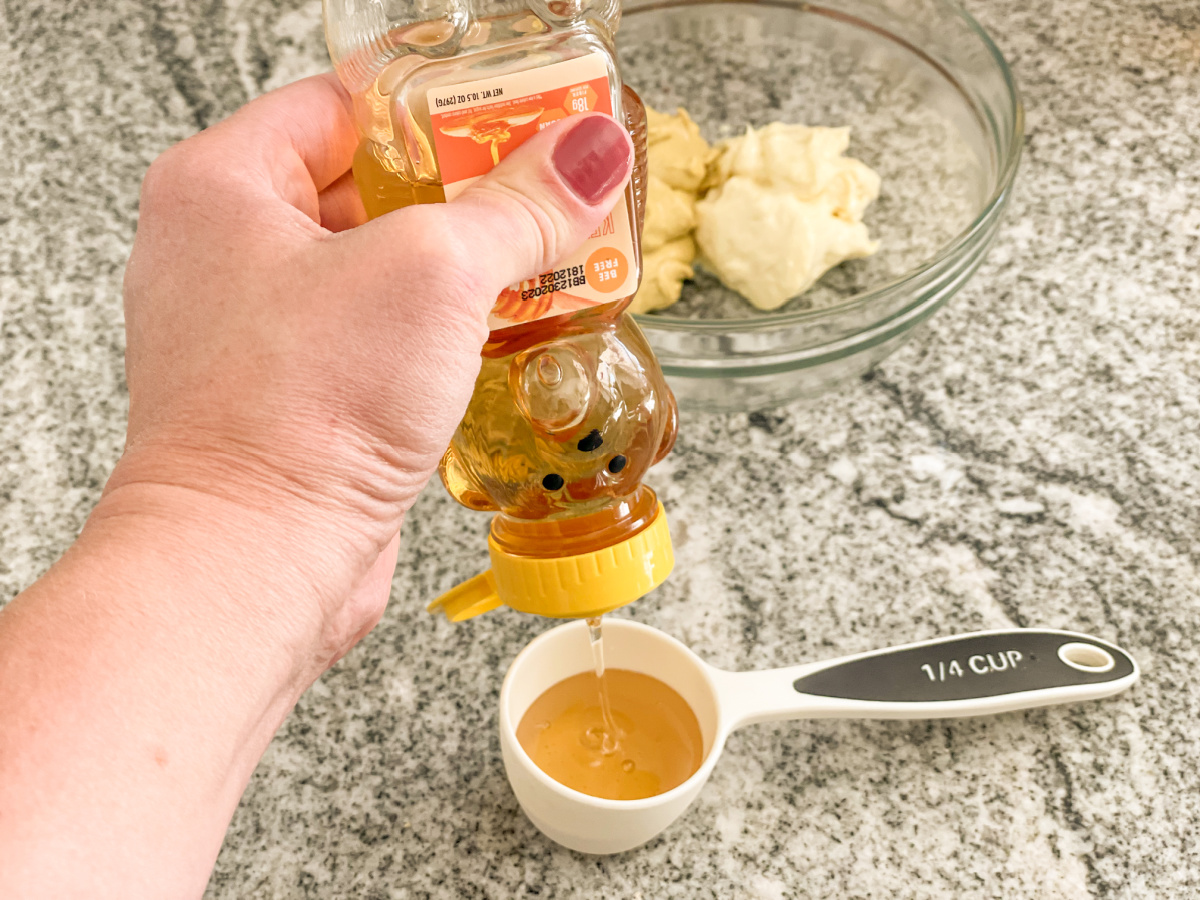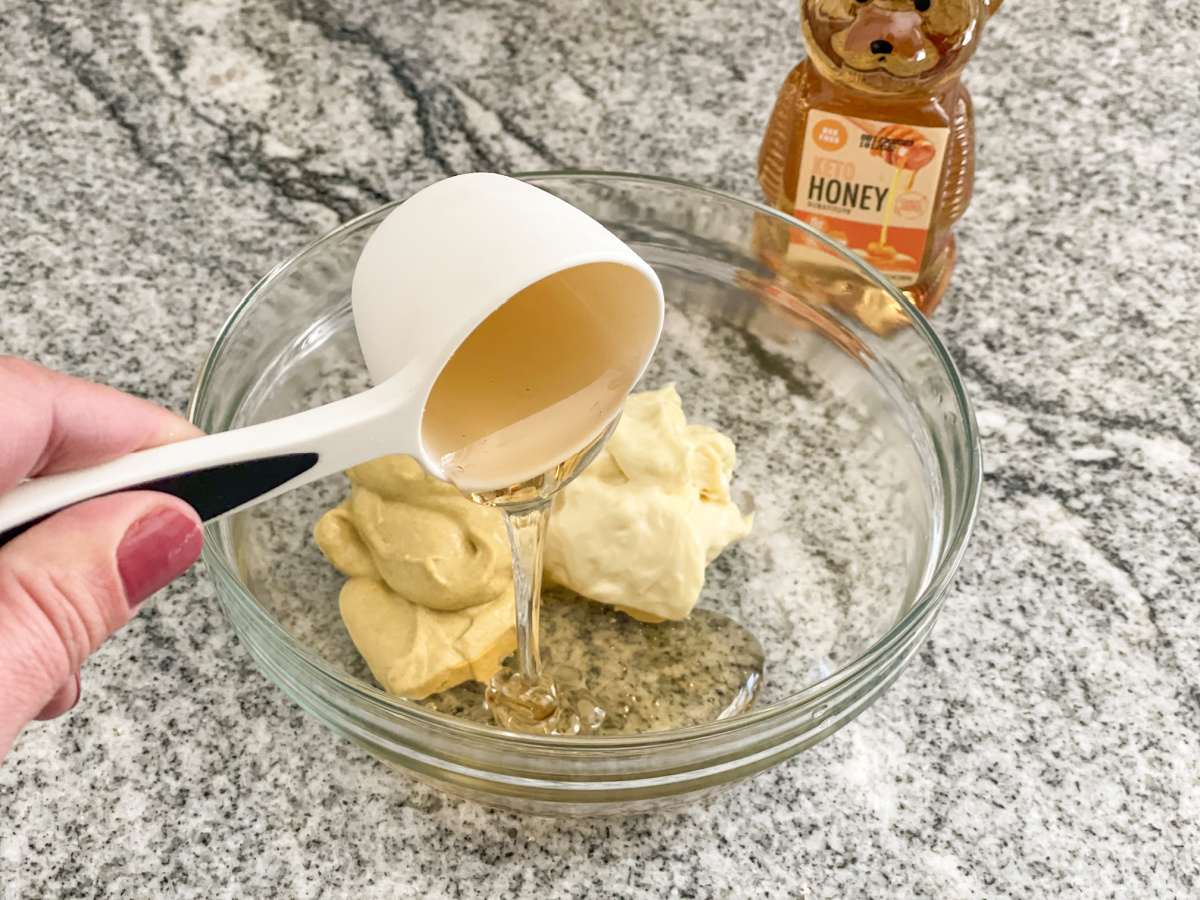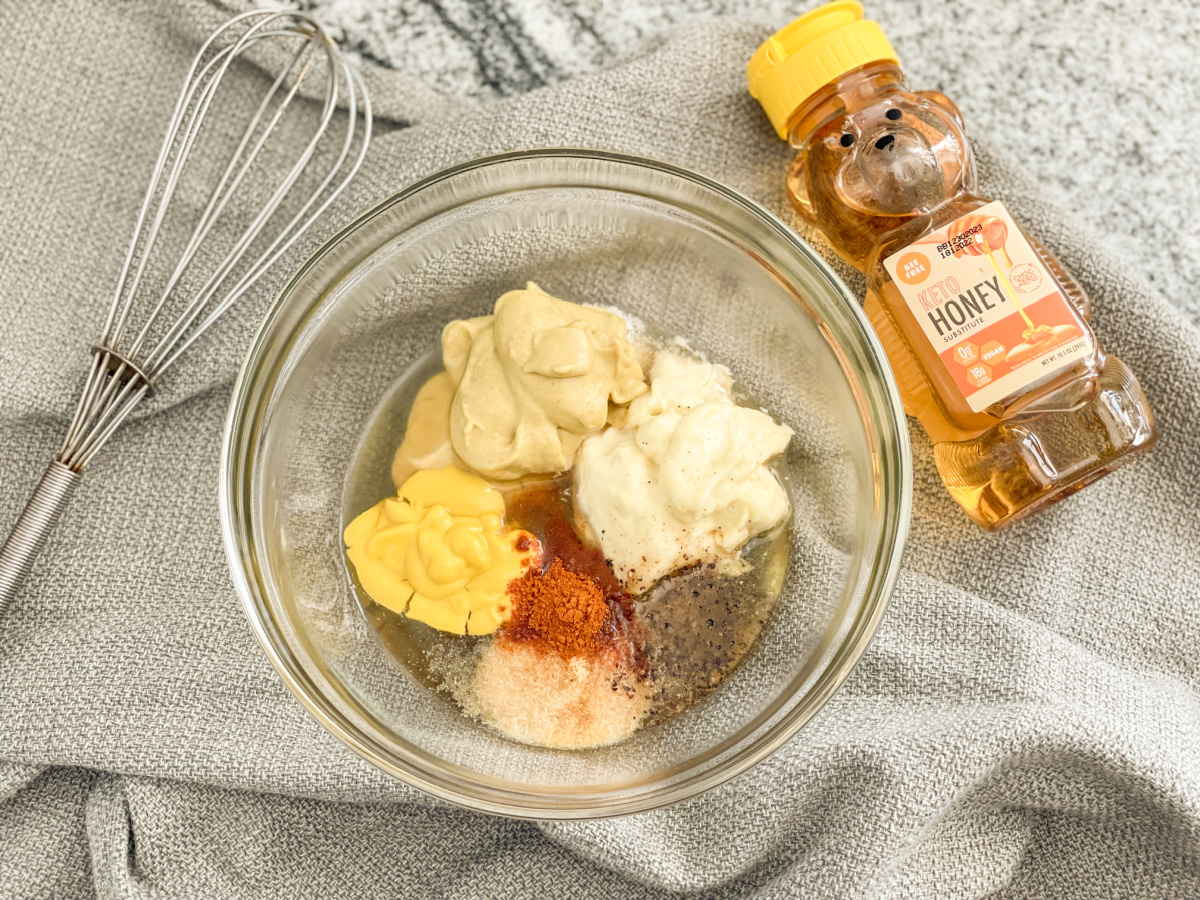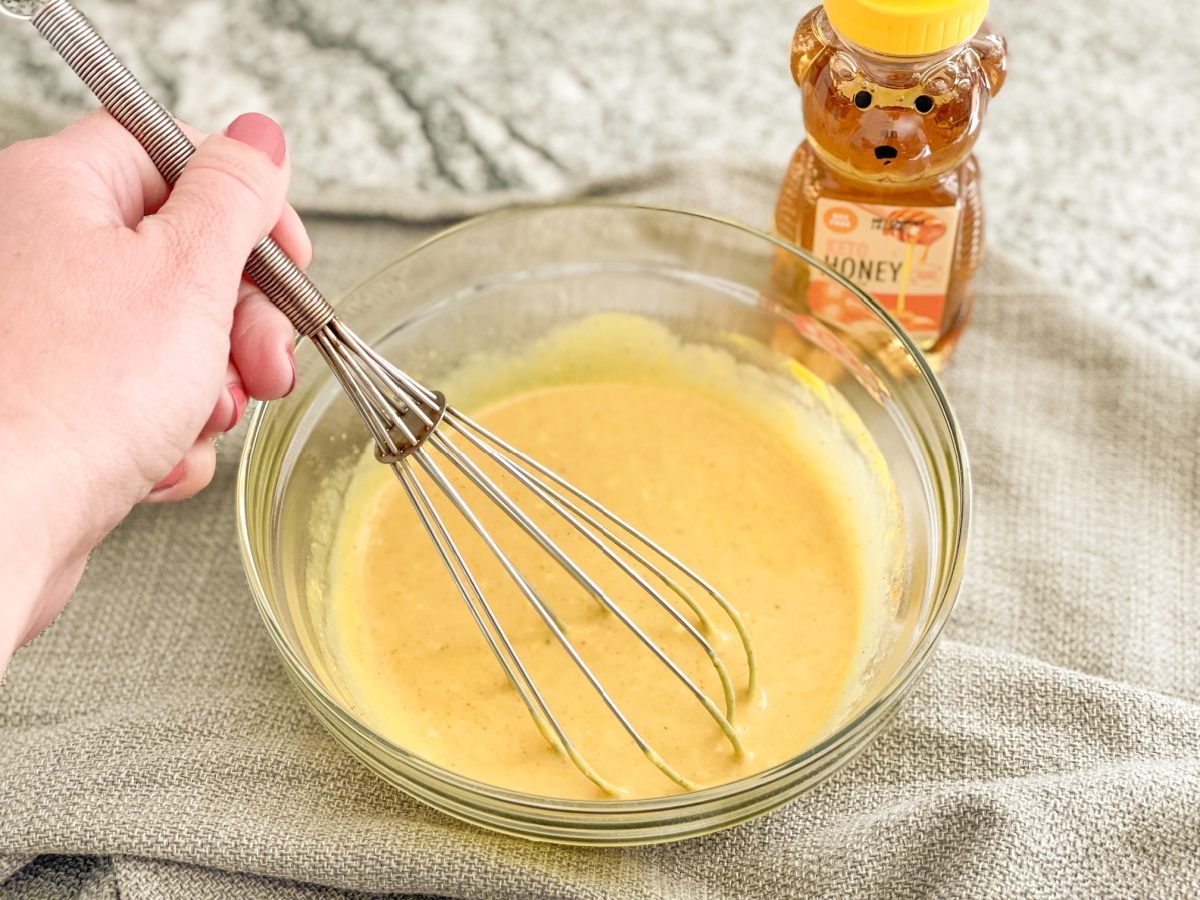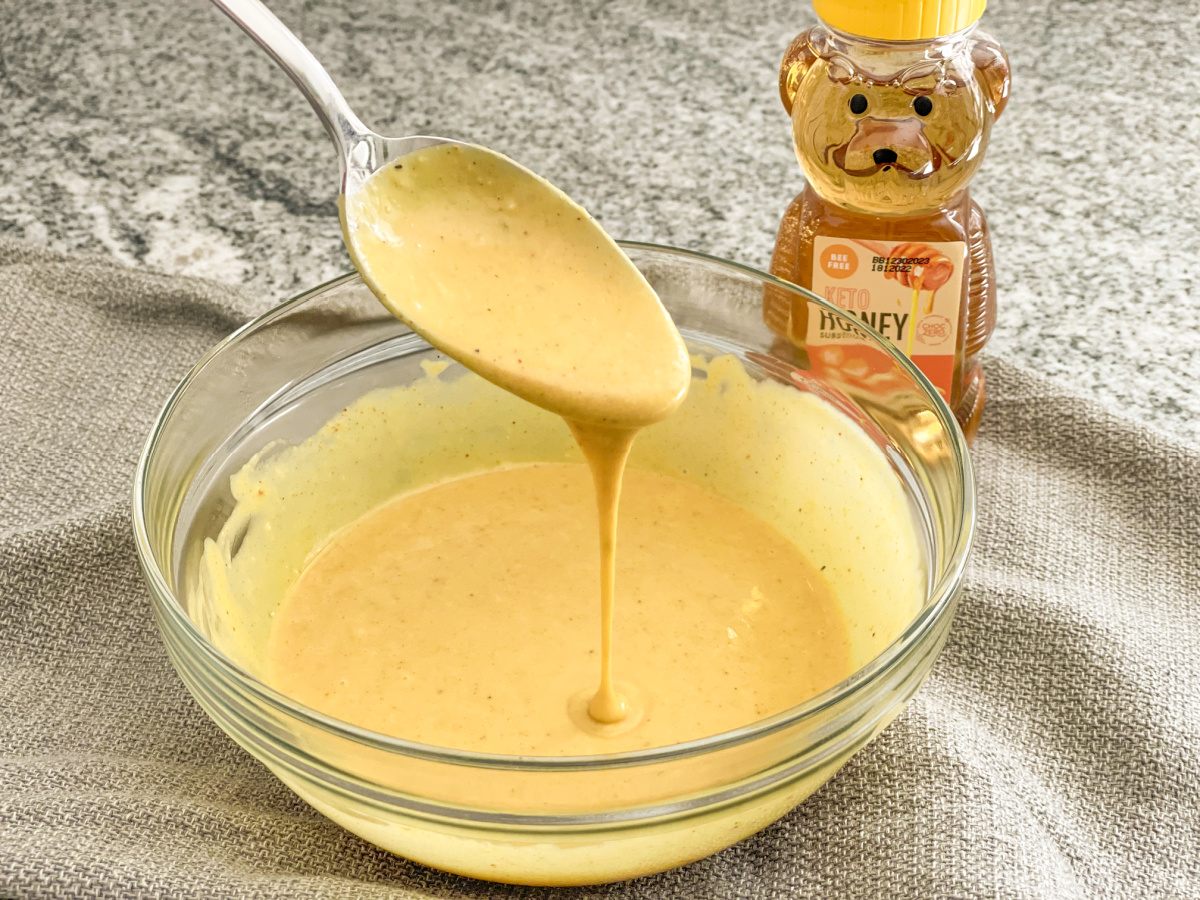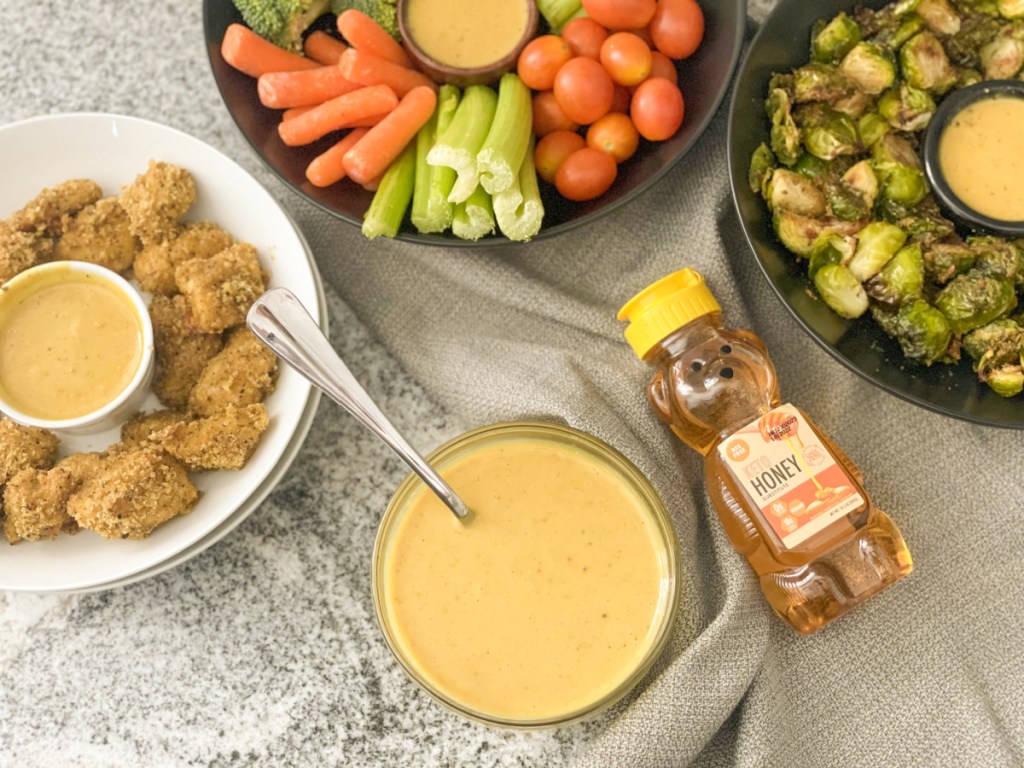 ---
Print
Keto Honey Mustard Sauce
yield: 6 SERVINGS
prep time: 5 MINUTES
total time: 5 MINUTES
The perfect tangy and sweet sauce that you'll want to use on everything!
Ingredients
1/4 cup mayonnaise
1 tablespoon yellow mustard
1 tablespoon apple cider vinegar
1 teaspoon garlic powder
1/2 teaspoon salt
1/4 teaspoon pepper
1/4 teaspoon cayenne pepper (optional)
Directions
1
Place all ingredients in a bowl and whisk together until smooth.
2
Let the keto honey mustard sauce sit for about 30 minutes before consuming it to let the flavors meld together. Store in the fridge for up to two weeks. Enjoy!
Nutrition Information
Yield: 6 servings, Serving Size: 2 tablespoons
Amount Per Serving: 107 Calories | 8g Fat | 12.8g Total Carbs | 12g Fiber | 0.6g Protein | 0.7g Net Carbs
---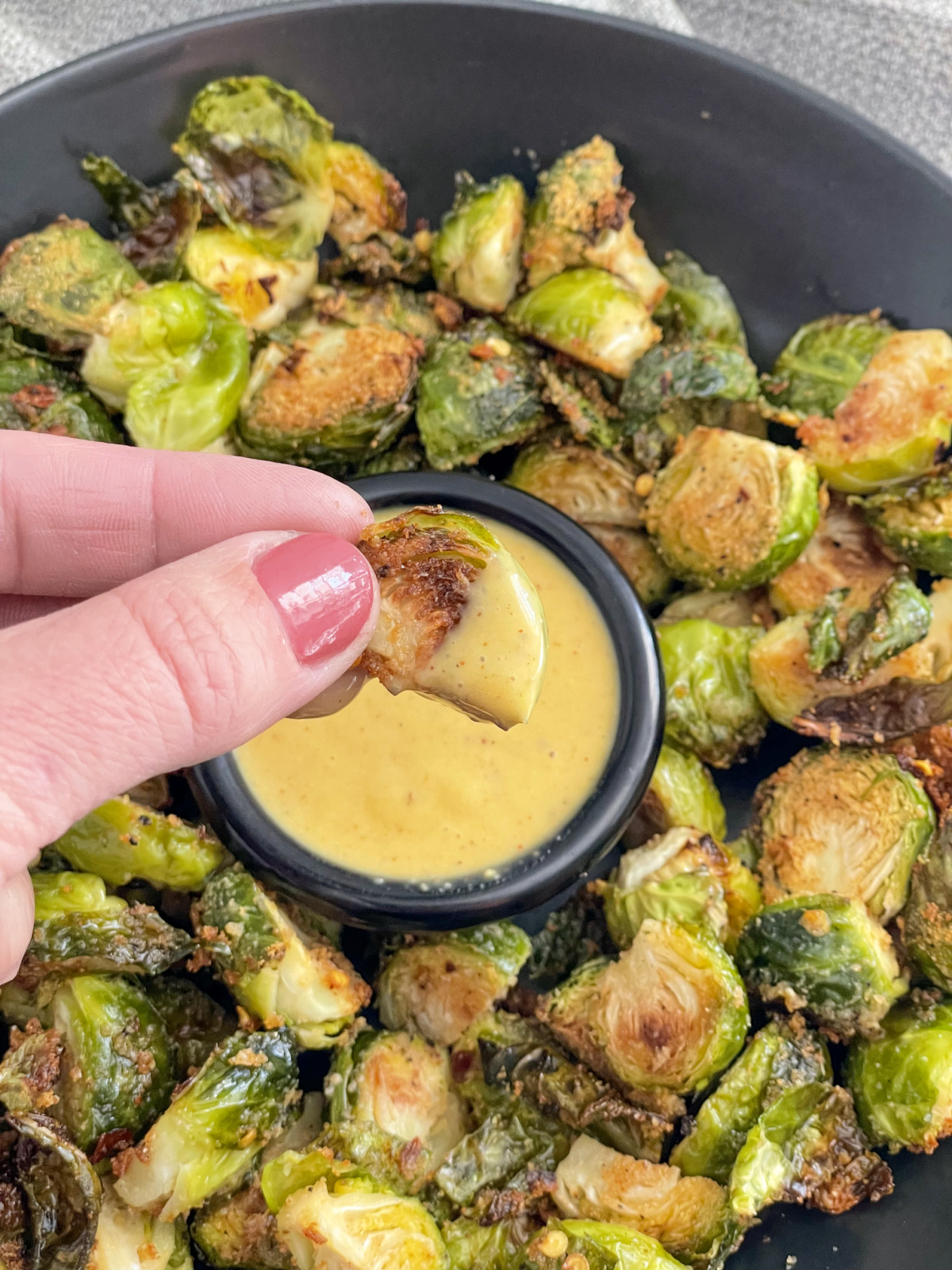 Tips for making the easy homemade keto honey mustard:
The cayenne pepper used in this recipe is optional. It definitely adds a bit of a kick, so if you don't like spice, I'd recommend leaving it out.
Our homemade keto honey mustard dipping sauce will last for up to two weeks when stored in a covered container in the fridge.
If you don't have ChocZero Honey on hand, you can instead use your favorite sugar alternative to sweeten the mustard sauce.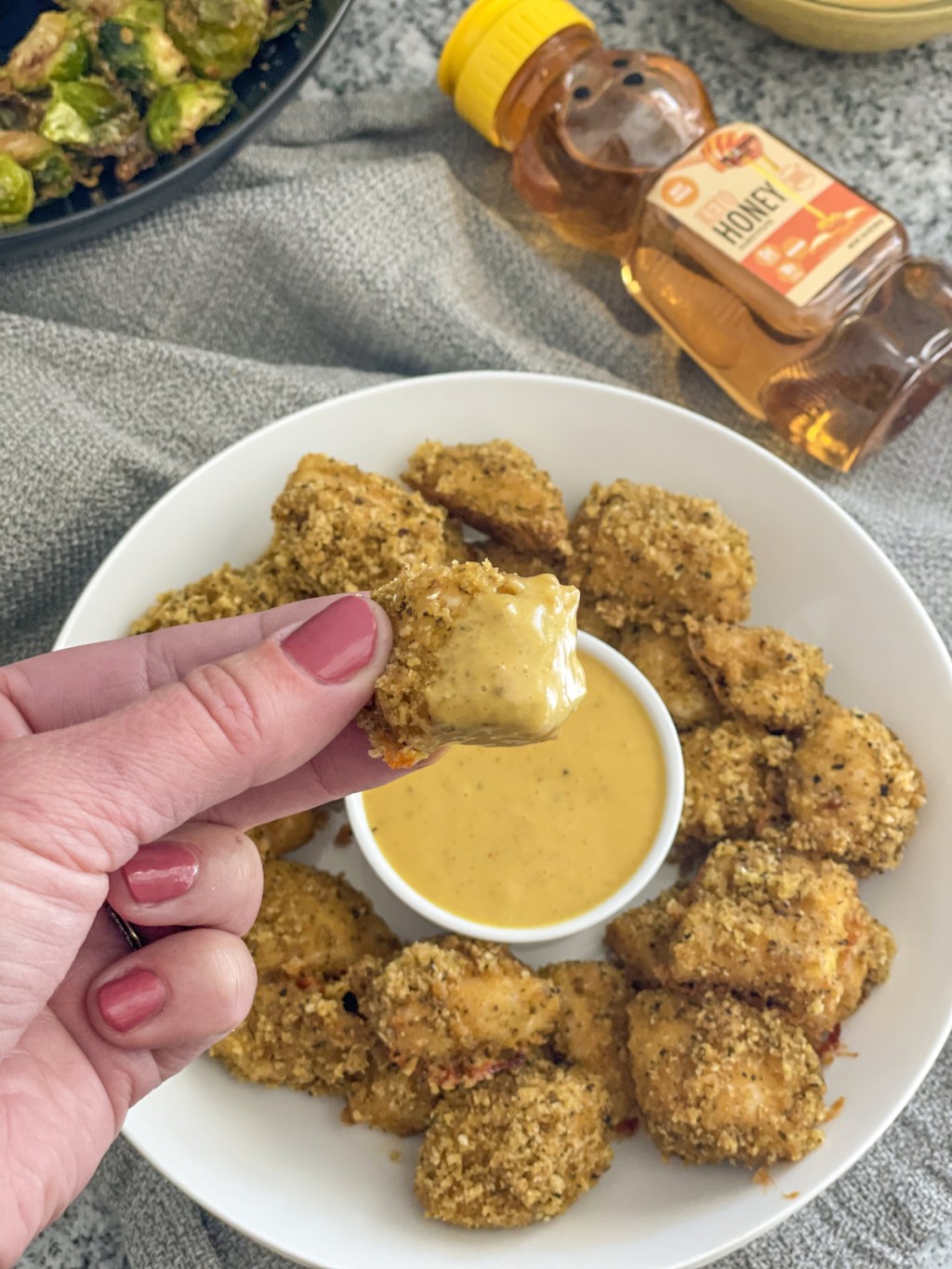 How to use keto honey mustard dipping sauce.
I suggest making a double batch of this sauce so you can use it as a dipping sauce for everything you can think of! Pair this sauce with chicken, salmon, pork chops, steak, or spooned over roasted vegetables. I even drizzled it over an egg scramble. It works great as a salad dressing, too.
You can pretty much use this keto honey mustard sauce on anything and everything!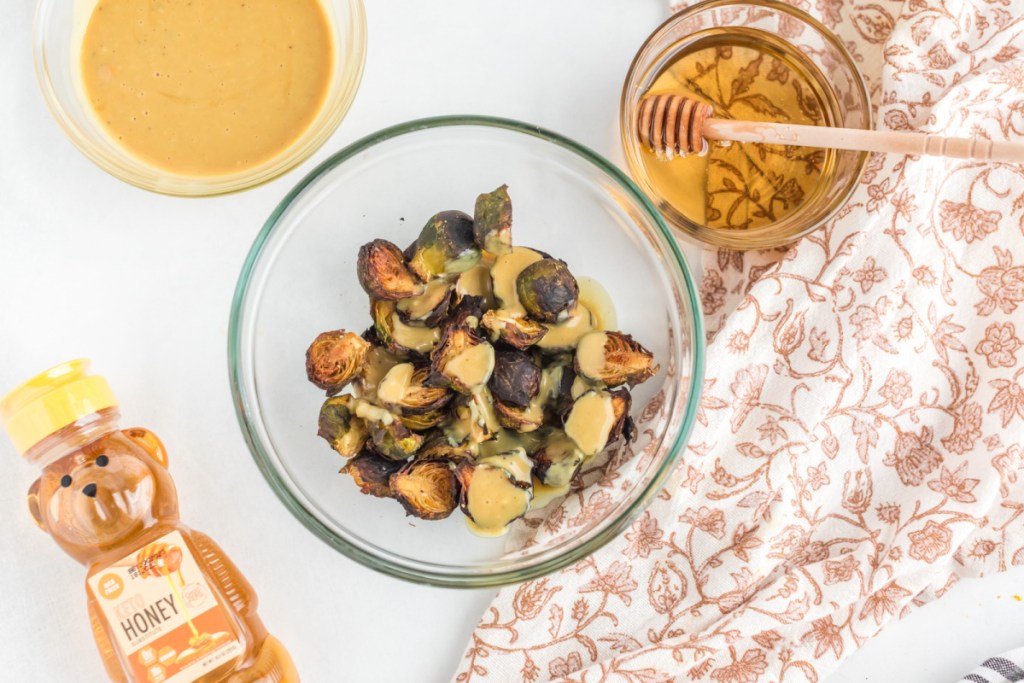 Here's what my Hip sidekick Jenna thought of this recipe:
"This honey mustard turned out so great! I love the flavor, and ChocZero's Honey is the star of this sauce! I roasted some Brussels sprouts and poured them over the top and it is so tasty! It'd be perfect for dipping chicken or you could even add it to your salad. It was so easy to whip up and has the perfect flavor!"
---
Stay on the homemade condiment train with our keto BBQ sauce recipe next!