Crispy Keto Fried Green Tomatoes in the Air Fryer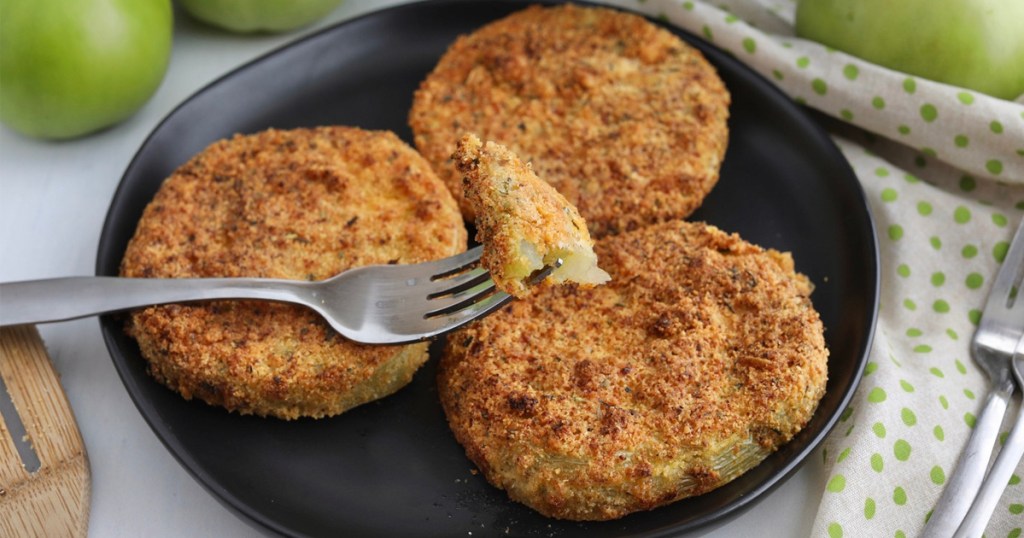 A Southern favorite fried green tomatoes recipe… but gone keto!
There's nothing better than a fresh batch of fried green tomatoes for a refreshing lunchtime dish or an afternoon low-carb snack. I love dipping mine in our homemade keto ranch dressing – I seriously cannot get enough!
Sadly, fried green tomatoes have been off of the keto menu, that is until now. We've taken a classic and ketofied it, making them oh so low carb, while keeping the crisp, fresh taste that you know and love!
Not as southern as you may think!
Fried green tomatoes are typically found in diners and restaurants throughout the south and are often made with very firm, and unripe green tomatoes. You may be surprised to hear that they actually originated in the northeast and midwest. Robert F. Moss, a food historian, and writer in South Carolina told Smithsonian Magazine:
"Fried green tomatoes entered the American culinary scene in the Northeast and Midwest, perhaps with a link to Jewish immigrants, and from there moved onto the menu of the home economics school of cooking teachers who flourished in the United States in the early-to-mid 20th century."
Wow, who knew? 😲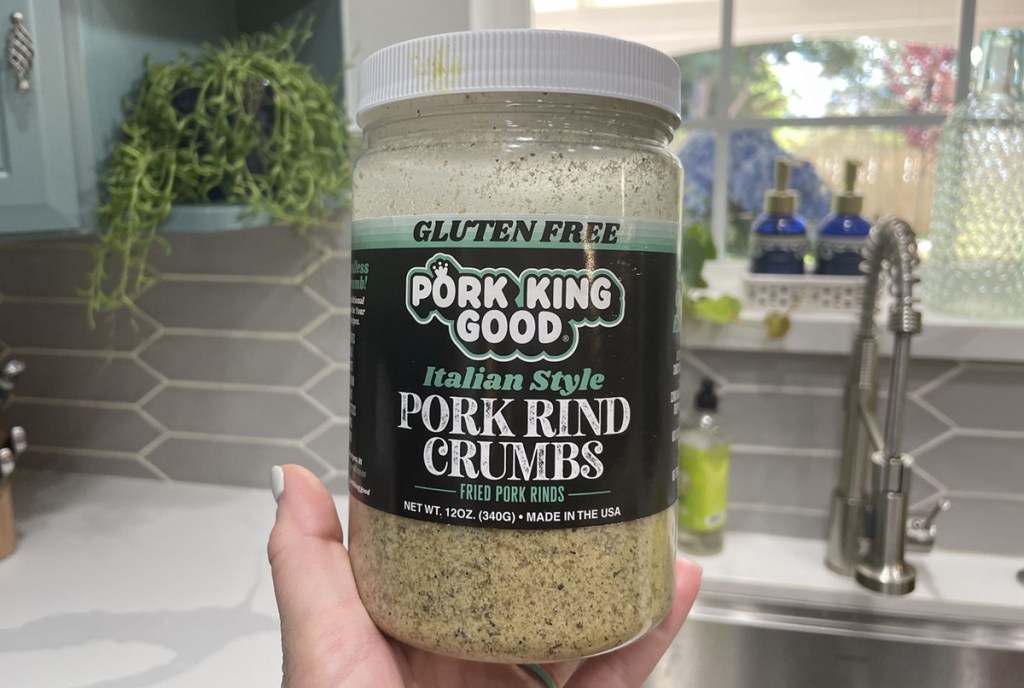 Hip tips for making the best keto fried green tomatoes recipe:
Be sure to use very firm green tomatoes. They hold up better in the cooking process and will result in a super crunchy texture when cooked in the air fryer. I gave this recipe a try with red tomatoes and while they were yummy, they ended up being a little mushy, so green tomatoes for the win!
Feel free to crush up your own pork rinds or if you like to save time, grab a jar of pork rind crumbs! I usually pick up a jar from Costco, or I'll grab my favorite Pork King Pork Rind Crumbs from Amazon.
Spray the tomatoes very well with avocado oil spray. It's important to spray the tomato slices with plenty of oil when they're in the air fryer basket for the best "fried" results.
I do not recommend flipping the tomato slices over after the first part of cooking. The keto breading mixture is delicate, so I suggest just carefully moving them around and respraying with oil.
Want to make clean up a little easier? I LOVE using these Katbite heavy-duty perforated parchment paper squares in my air fryer. These parchment squares start at just under $7 for 120 sheets. *Note – be sure to only use these squares during the cooking process when food is on top of them. Do not use them while preheating your air fryer (if your model requires preheating).
Make a keto-friendly sandwich by using fried green tomatoes as your bun! Simply put your favorite keto-friendly meat, veggies, and condiments on like you would with a traditional sandwich and dig in! I'm thinking these would be great to use as a burger bun, too.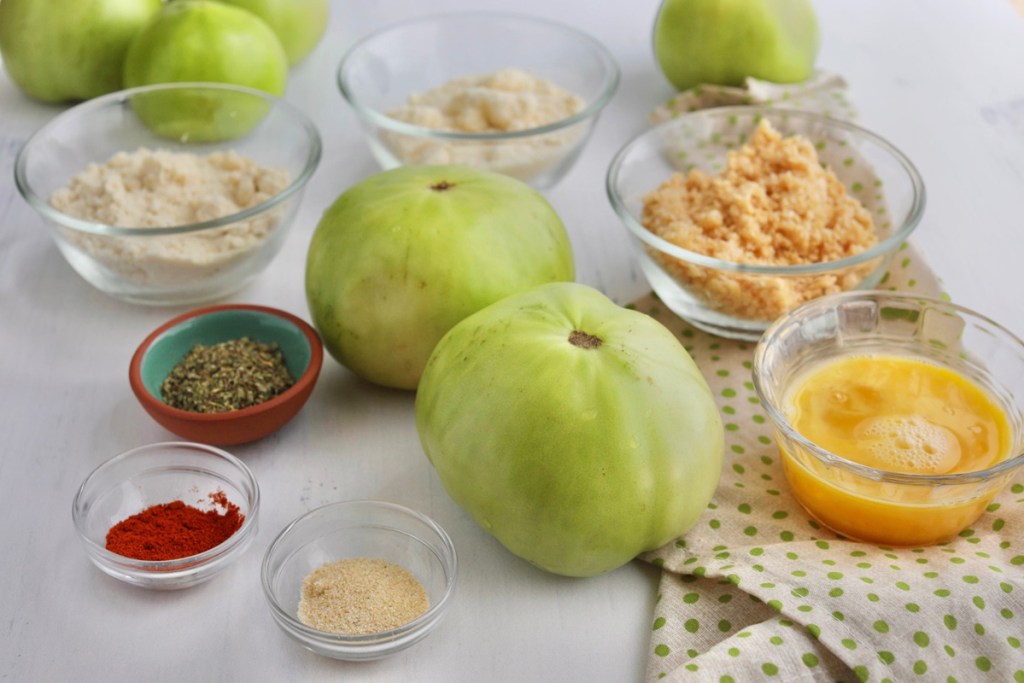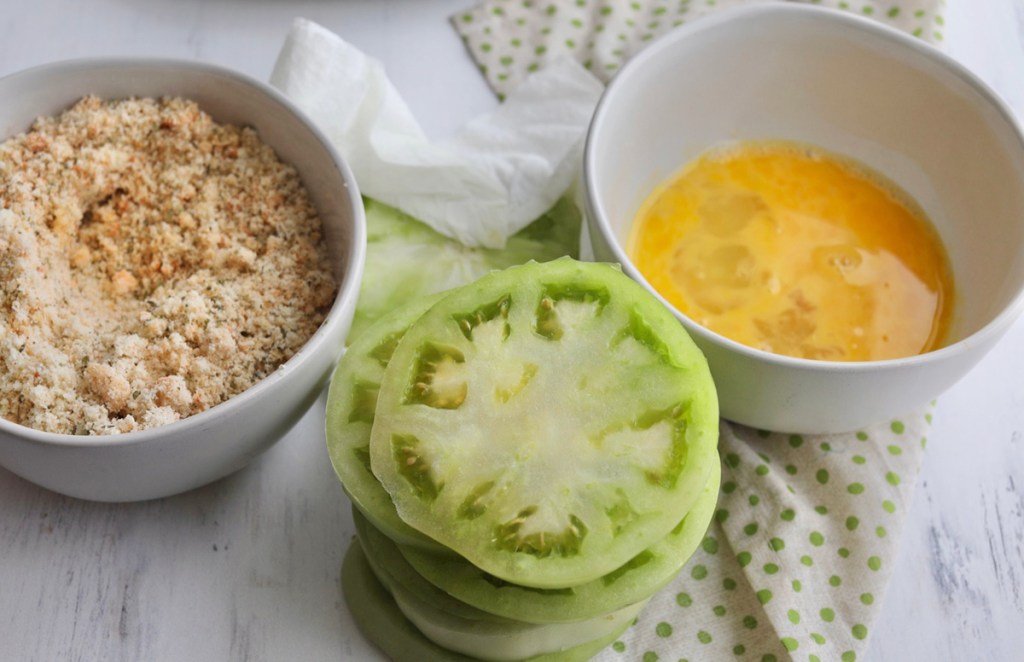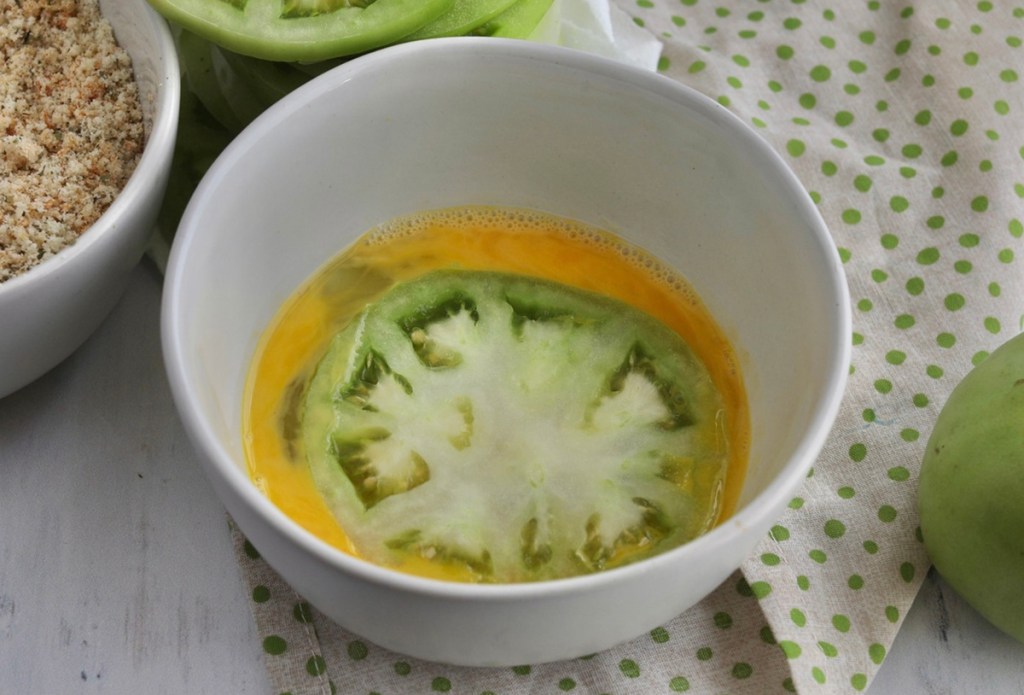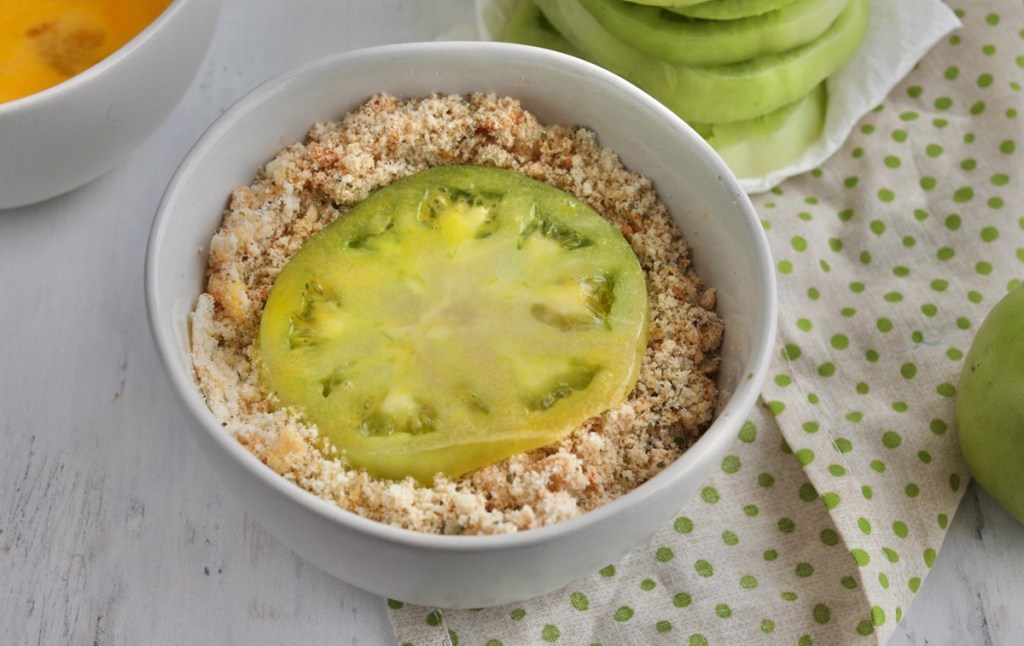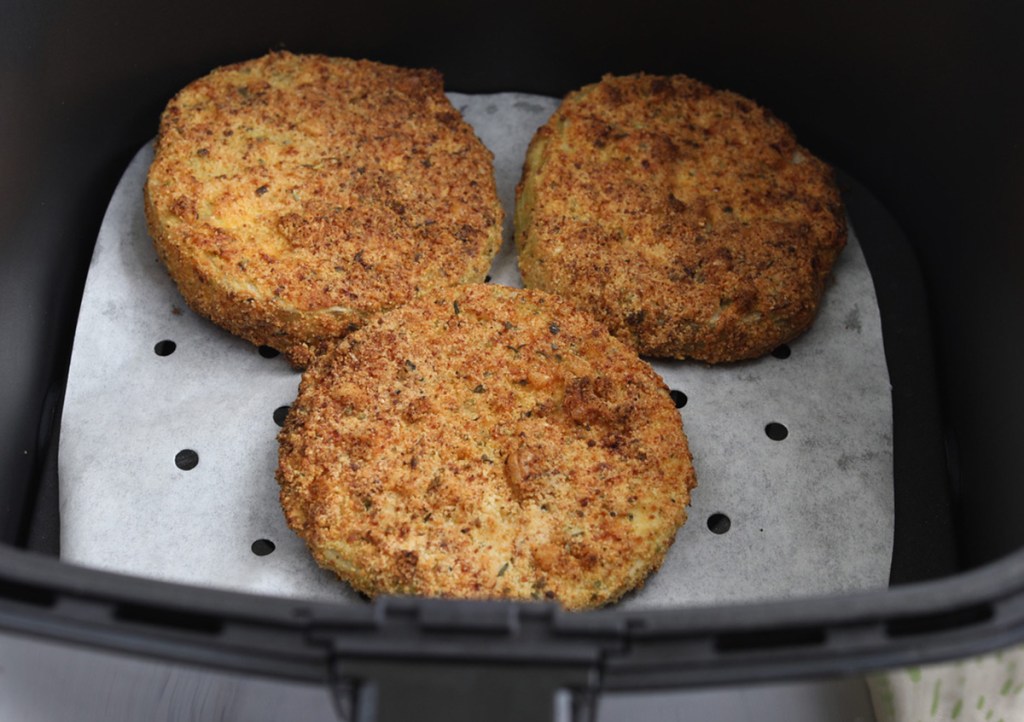 ---
Print
Keto Fried Green Tomatoes
yield: 5 SERVINGS
prep time: 5 MINUTES
cook time: 8 MINUTES
total time: 13 MINUTES
A classic southern recipe gone keto! These low-carb fried green tomatoes are so easy to make in your air fryer and the pork rind crumbs give them the crunch you've been missing.
Ingredients
2 large green tomatoes
1/2 cup Parmesan cheese, grated
1 teaspoon garlic powder
1/8 teaspoon salt
2 teaspoons parsley, dried
1/4 teaspoon oregano, dried
1/2 teaspoon paprika
2 large raw eggs
Directions
1
Cut clean tomatoes into 1/2 inch slices (about 5 slices per tomato) and place them between two layers of paper towels to dry. After drying, lightly season with a couple of shakes of salt & pepper.
2
Beat the eggs together in a shallow bowl big enough for dipping the tomato slices. In a separate larger bowl, mix the almond flour, parmesan cheese, pork rinds, oregano, parsley, garlic, salt, and paprika.
3
Dredge the tomato slices into the beaten egg, then lightly place them into the "breading" mixture and cover both sides, careful not to press down. Shake off any excess and place them on a plate.
4
Spray the air fryer basket and both sides of the tomatoes with plenty of avocado oil spray. Place about four tomato slices in the basket, making sure none of them touch.
5
Air fry the tomatoes at 400 degrees for 8 minutes. Move slices around and spray again with avocado oil and cook for another 4 minutes.
6
Serve with your favorite keto dipping sauce.
Nutrition Information
Yield: 10 slices, Serving Size: 2 slices
Amount Per Serving: 163 calories Calories | 10.6g Fat | 7.2g Total Carbs | 1.6g Fiber | 3.4g Sugar | 0g Sugar Alcohol | 11.6g Protein | 5.4g Net Carbs
---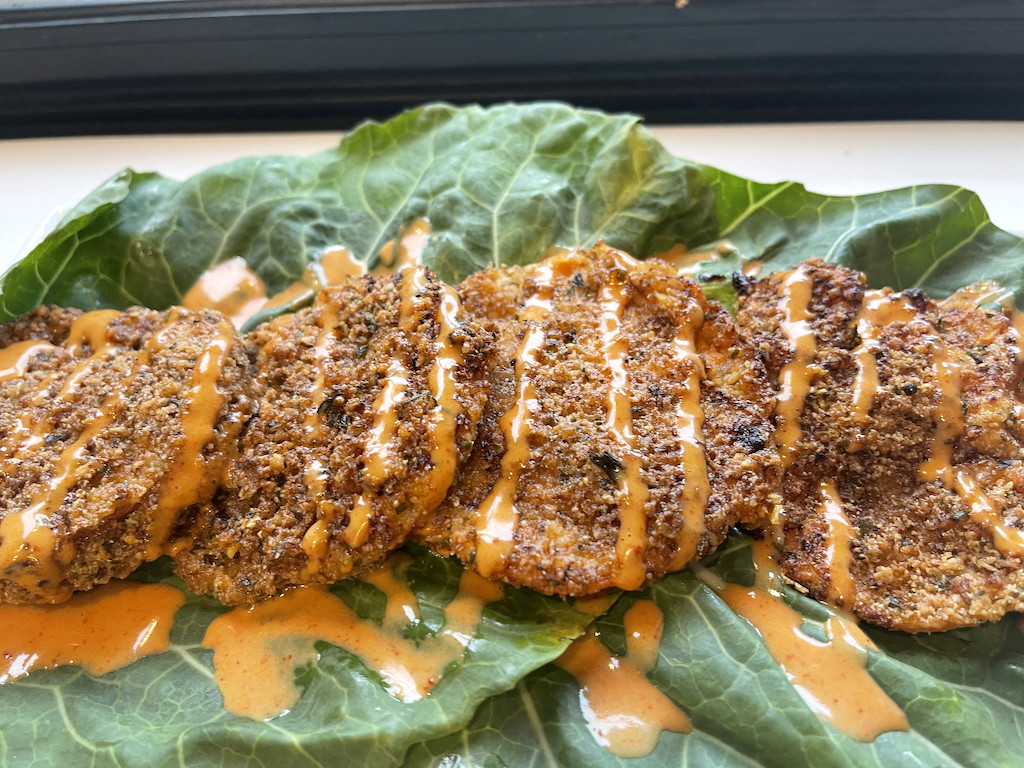 Bet ya can't eat just one!
This fried green tomato recipe will be your new favorite keto appetizer as just one slice wasn't enough for our taste testers!
One of my Hip sidekicks, Jenna, tested this recipe, and here's what she thought:
"Let me just start off by saying these are amazing! And my whole family loved them (me especially), even the two kids that had never tried fried green tomatoes ate these! The flavor is spot-on for the tomatoes I remember having as a kid. I'll definitely add this to our regular air fryer menu."
---
Make yummy keto fried pickles in your air fryer next!