Make Mornings Easy with Our Keto Breakfast Casserole Cooked in the Crockpot!
Who doesn't love an easy Crockpot breakfast?
For a lot of people, mornings can be rough and you don't always have time to cook a full-on breakfast. If that sounds familiar, this keto Crockpot breakfast casserole is for you! You just throw all the ingredients in the Crockpot, turn it on low, and literally go to bed. 😴 You'll wake up to your kitchen smelling like heaven and have a ready-to-eat breakfast!
This keto breakfast recipe also works great for weekend brunches and potlucks. You could even make this Crockpot keto breakfast casserole for dinner.
Crockpots are so convenient and especially nice during the summer when you don't want to turn on your oven and heat up the house.
You won't believe this hearty keto breakfast casserole is keto!
Yep, that's right. We used radishes in place of potatoes to add a bit more gusto to this breakfast recipe. Sometimes you just don't feel like using cauliflower as a potato substitute and radishes work great! 😄
And quite honestly, you can hardly even tell that this recipe has radishes in it! As an added bonus, they do look lovely in the layers of the casserole. Even though we think cooked radishes are delicious, you can "trick" your family into eating more of them by peeling off the red skin and then roast the radishes prior to making this casserole. They'll look just like potatoes!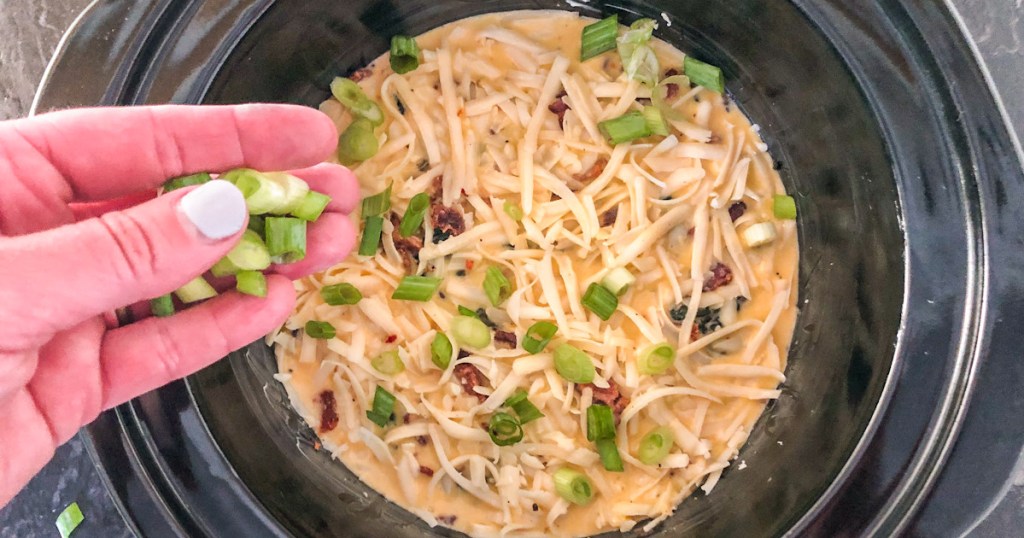 Tips for making the perfect keto Crockpot breakfast casserole:
Make sure you grease your Crockpot or use a Crockpot liner to prevent the casserole from sticking.
You can switch out the bacon for sausage or ham in this keto Crockpot breakfast casserole if you have preferred breakfast meats.
Mix it up with your favorite keto veggies! Or use whatever vegetables are about to expire in your fridge! Depending on what vegetables you add, keep in mind that you may need to sauté them first to reduce the moisture content.
Top the Crockpot breakfast casserole with sour cream, avocado, hot sauce, green onions, or more cheese! 🤤
This casserole will keep in the fridge for up to five days and can be frozen in individual portions for up to three months.
Near the end of the cooktime, monitor the casserole in the Crockpot to avoid burning or overcooking. If on low, try to check it after six hours, and if on high, check it around the two-hour mark. Mine got a little browned with using butter to grease, but I promise it was still so delicious!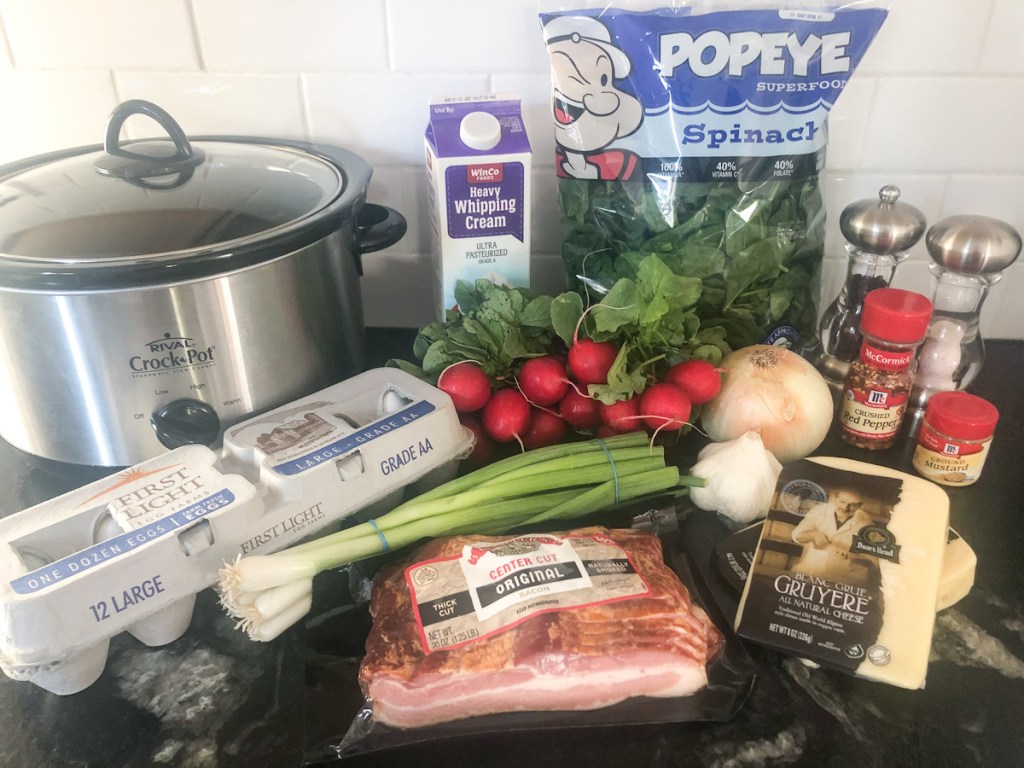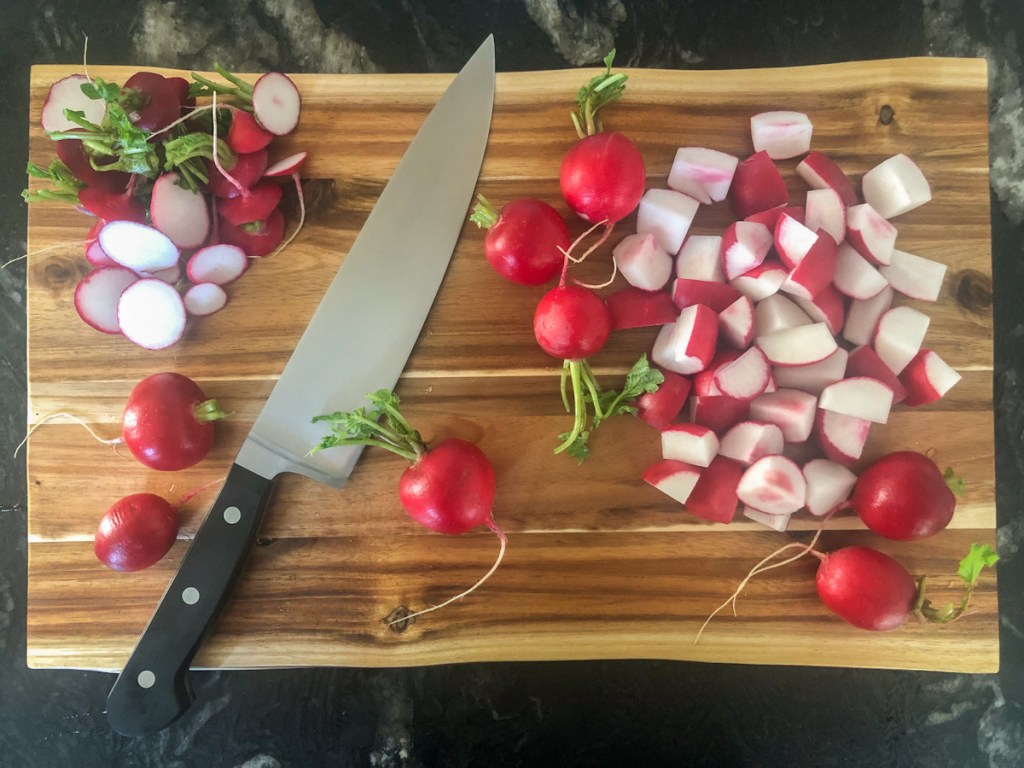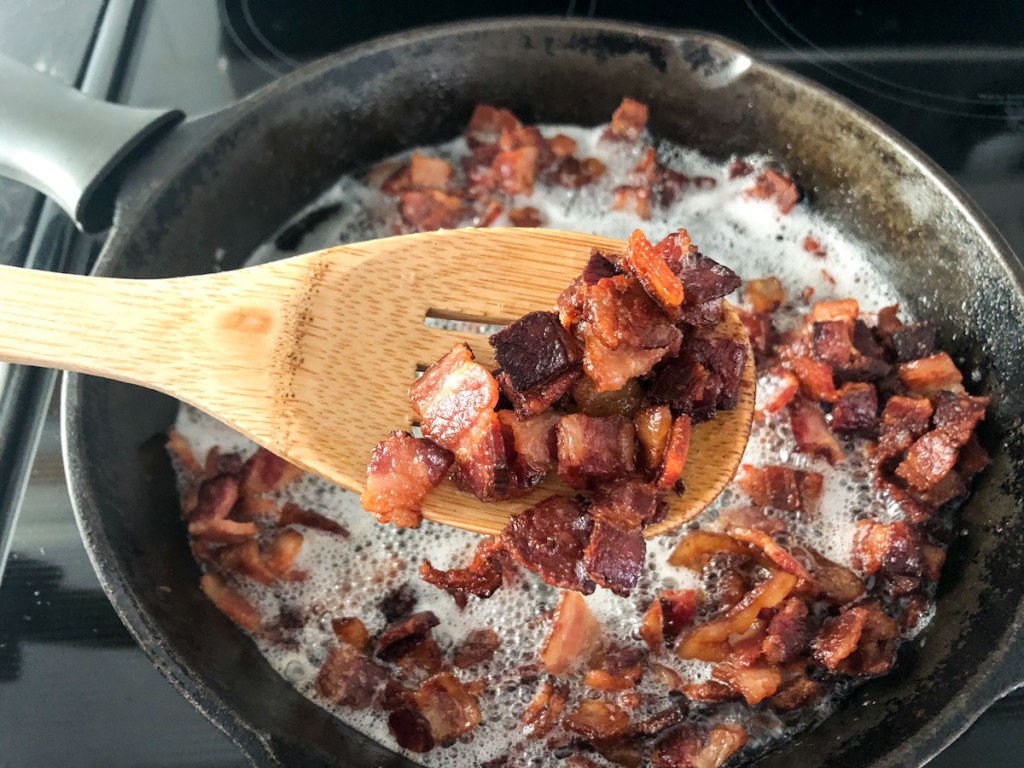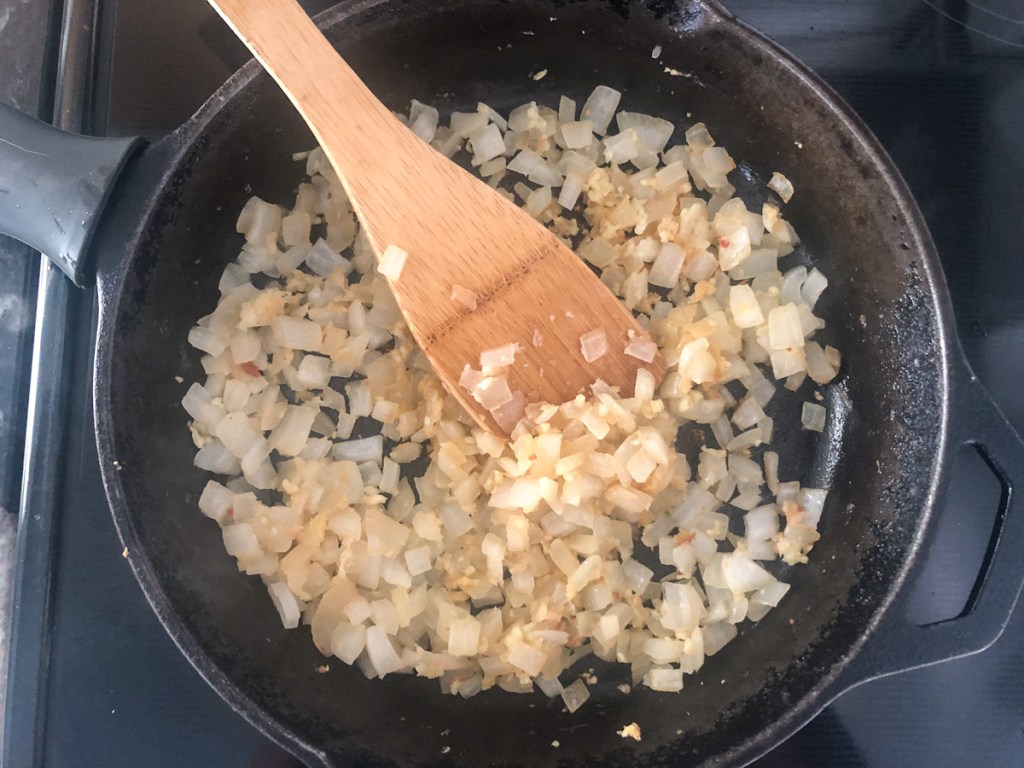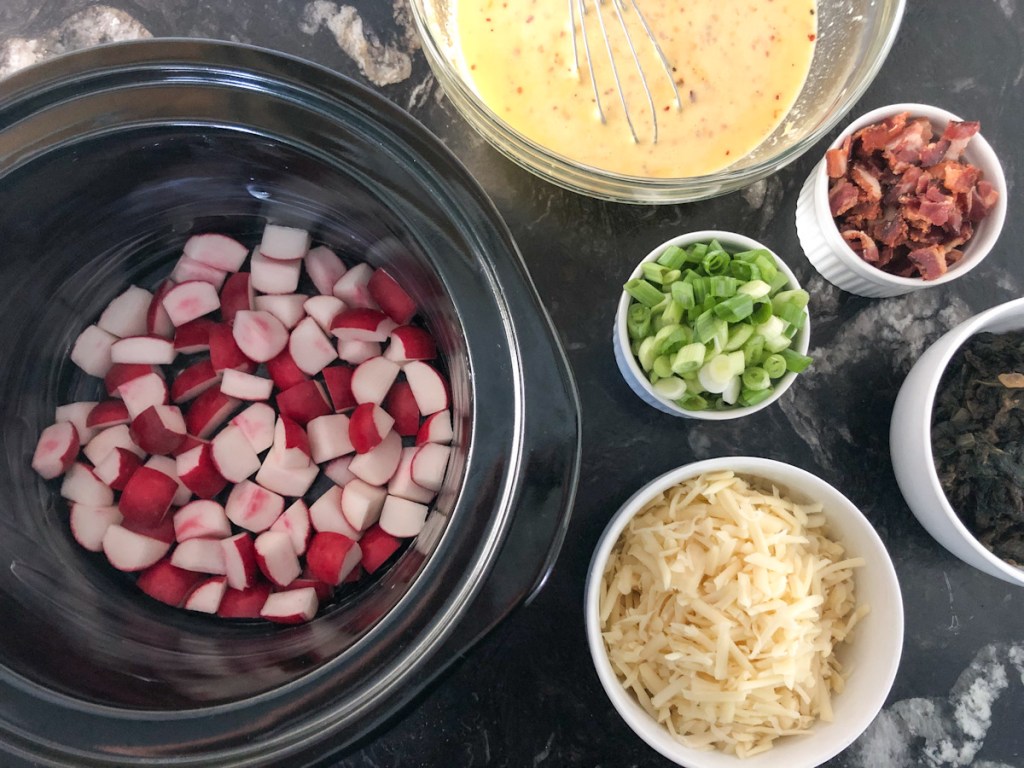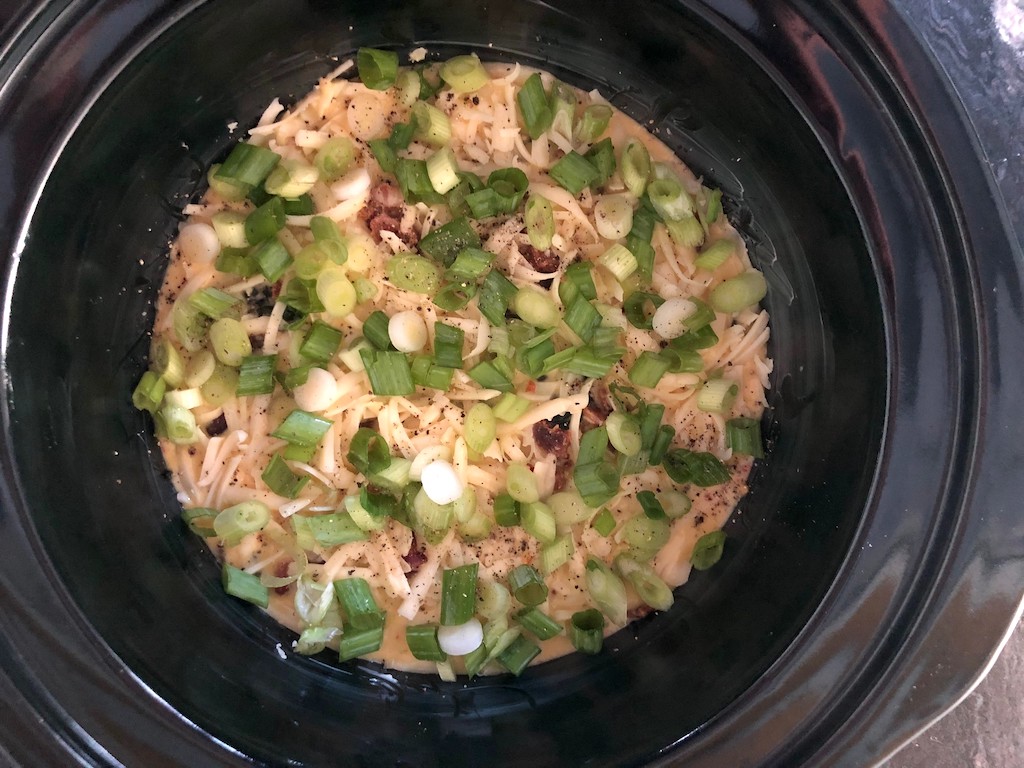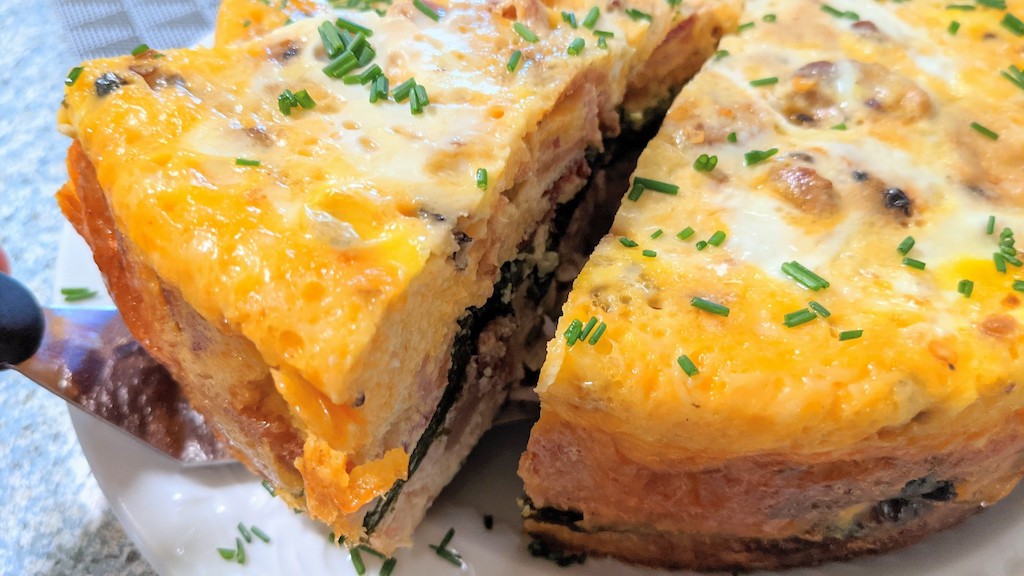 ---
Print
Keto Crockpot Breakfast Casserole
yield: 8 SERVINGS
prep time: 30 MINUTES
cook time: 8 HOURS
total time: 8 HOURS 30 MINUTES
A hearty breakfast consisting of bacon, eggs, radishes, and other low carb add-ins, made overnight in the slow cooker.
Ingredients
1 cup of bacon, chopped (7-8 slices of thick cut bacon)
1 medium onion, chopped
3-4 garlic cloves, minced
1- 10 oz. bag of spinach
2 bunches of radishes, tops and stems removed, cut into quarters
1 dozen eggs
1/2 cup heavy whipping cream
1 teaspoon mustard powder
1 1/2 teaspoon salt
1/2 teaspoon pepper
1/4 teaspoon red pepper flakes, optional
2 cups gruyere cheese, shredded (8 oz.)
1 cup of green onions, chopped, divided
Cooking spray or butter to grease the Crockpot
Directions
1
Cook the chopped bacon in a skillet over medium heat until crispy, about 10 minutes. Transfer bacon to paper towels to drain off some of the grease. Discard most all of the bacon grease from the skillet, leaving just enough to cook the onion, garlic, and spinach.
2
Place the onion and garlic in the same skillet used to cook the bacon. Sauté the onions and garlic over medium heat until soft, about 5 to 8 minutes. Then add in the spinach and cook for another 8 to 10 minutes, until the spinach is wilted and all the moisture is cooked out of it. Remove skillet from heat.
3
Crack eggs into a medium-sized bowl. Whisk in heavy whipping cream, mustard powder, salt, pepper, and red pepper flakes (optional).
4
Grease Crockpot with butter or cooking spray. Place the radishes in the bottom of the Crockpot followed by half the cheese (1 cup), the spinach/onion/garlic mixture, bacon, and then the remaining cheese. Pour the egg mixture over the ingredients in the Crockpot. Top with a 1/2 cup of green onions. Save the remaining green onions as a garnish once the casserole is cooked.
5
Set the Crockpot on low for 7 to 8 hours or on high for 3 to 4 hours. The casserole is done when a knife inserted in the center comes out clean. Check on the casserole to avoid burning or overcooking. You can scoop the casserole right out of the Crockpot or remove the entire casserole from the Crockpot and slice to serve.
6
Garnish with green onions, and feel free to add additional toppings such as sour cream, avocado, hot sauce, or more cheese! Enjoy!
Nutrition Information
Yield: 8 servings, Serving Size: 1 piece
Amount Per Serving: 355 Calories | 25.5g Fat | 5.6g Total Carbs | 1.6g Fiber | 2.6g Sugar | 24.6g Protein | 4g Net Carbs
---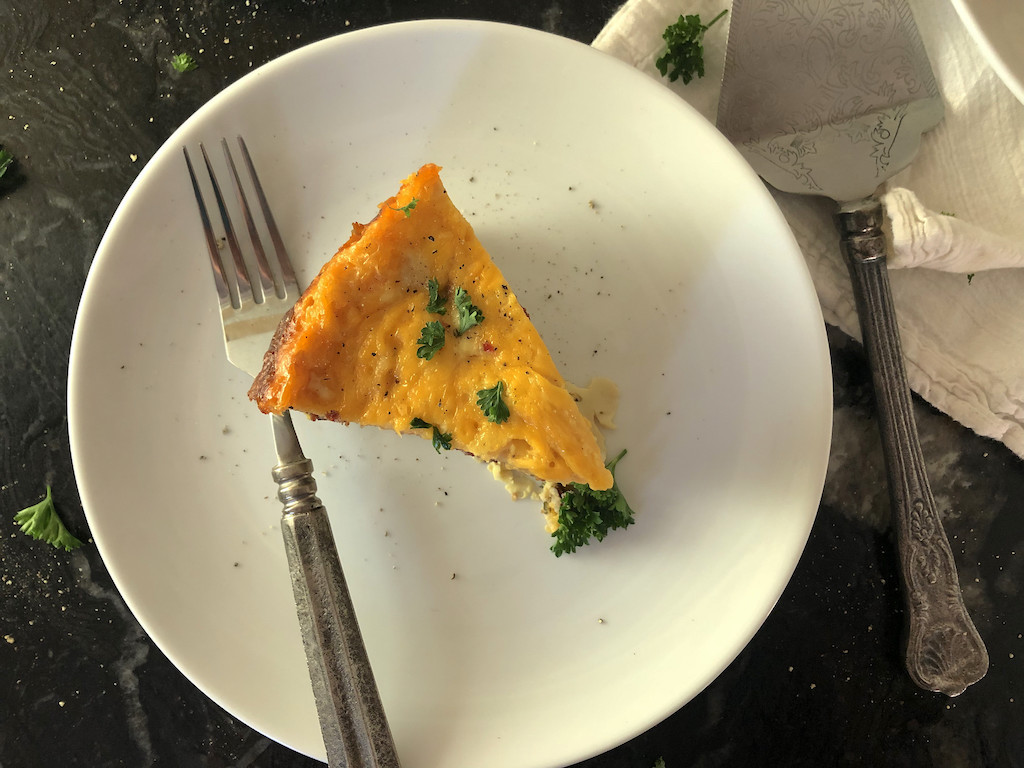 Make this for your weekday breakfasts!
You need this keto Crockpot breakfast casserole in your life! It makes mornings so much easier and helps ensure that you and your family have a good and filling breakfast to start your day!
My Hip sidekick Jen tried out this recipe and here's what she had to say:
"This is fantastic! Don't let the title 'breakfast' fool you. This is a big meal that could work for any time of the day. It's got the perfect blend of flavors and is super easy to make! The gruyere cheese & onion give this recipe an exquisite flavor that the whole family will love!"
---
Want another easy breakfast? Check out these freezer keto breakfast burritos!