Easy Keto Cornbread Like Grandma Used to Make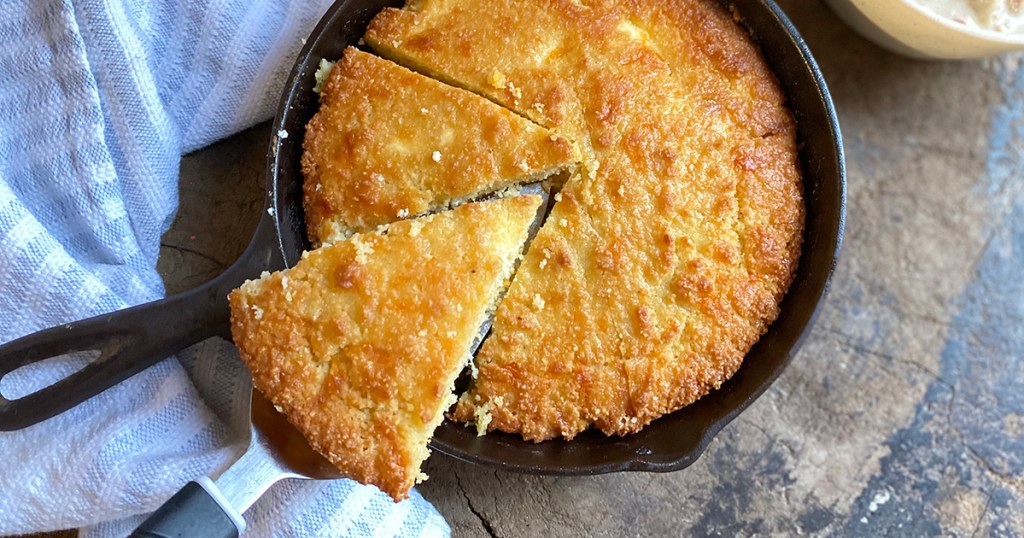 Low carb comfort food goodness!
Lately, I've been making a lot of delicious keto-friendly soups, and while they are amazing on their own I feel like there's something missing. Then it came to me – we need keto cornbread! Imagine how amazing our Wendy's keto copycat chili or our white chicken chili would be with a delicious slice of low carb cornbread!
Introducing keto cornbread!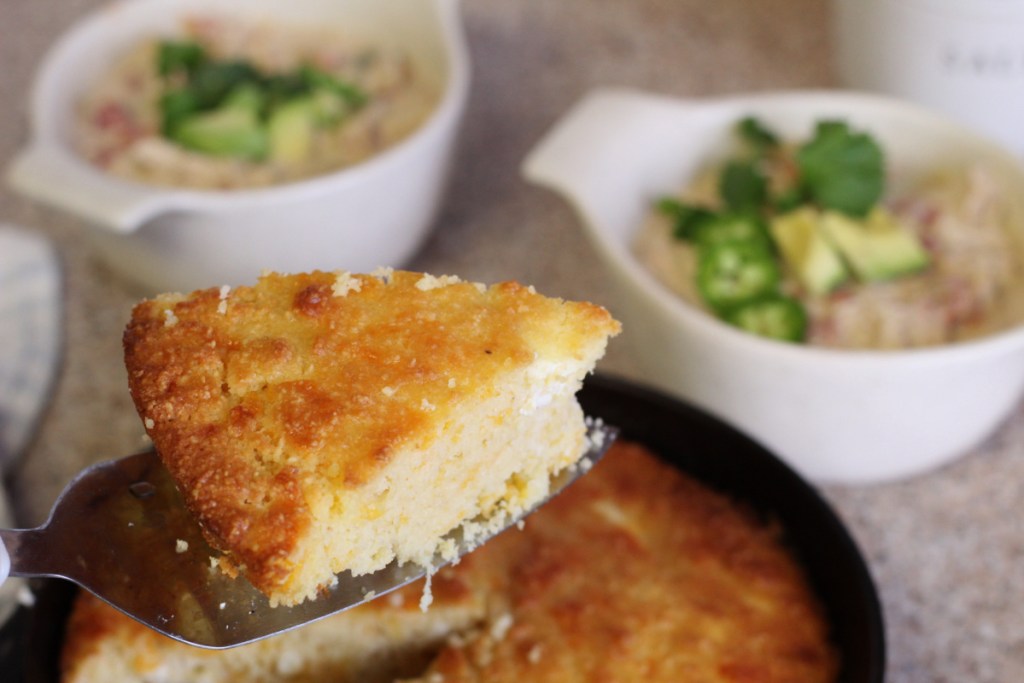 Old school fave gone keto!
Let me tell ya, this tastes pretty close to the traditional cornbread my grandma use to make, it's that darn good! Traditional cornbread is loaded with carbs and would absolutely kick us out of ketosis. Our keto cornbread clocks in at just 2.4g net carbs per slice! Better yet, it takes all of our amazing keto soups to the next level.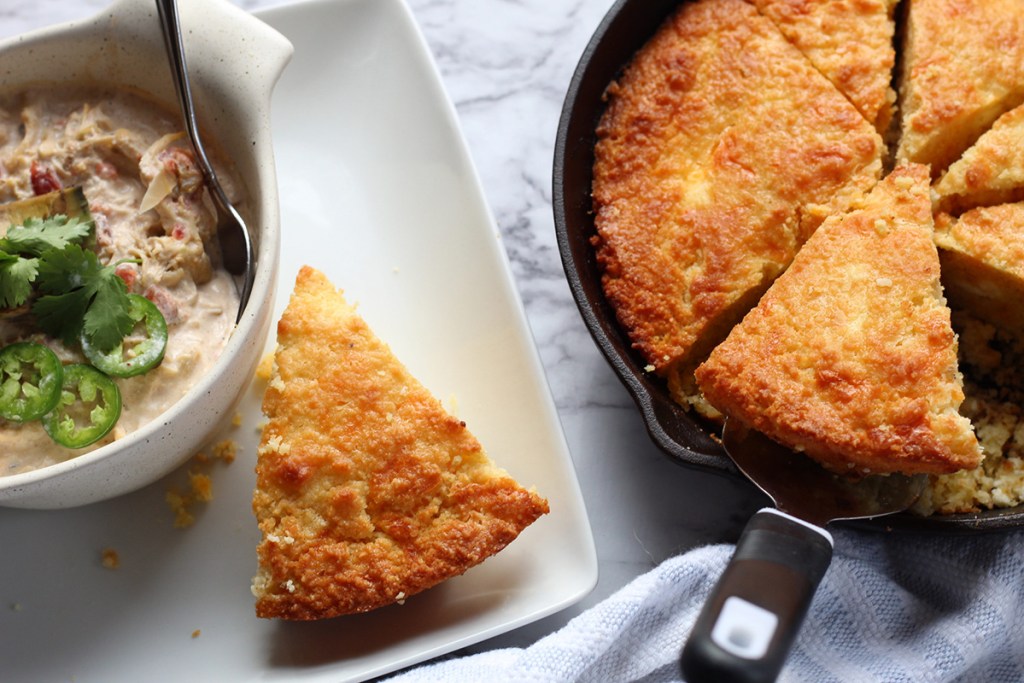 Hip tips for making the best keto cornbread:
I love using my cast iron skillet for cornbread but you can easily add the batter into muffin tins to create individual keto cornbread muffins.
Spice your cornbread up by adding diced jalapeños into the mix! YUMMO!
I like to use shredded white cheddar cheese in the mix, but don't be shy about changing it up. You could try adding pepper jack or even sharp cheddar cheese for even more flavor.
This is so close to the traditional, but if you are really searching for that corn taste, you can add in 1 teaspoon of corn extract to your batter and this will for sure bring all the corn taste you've been missing.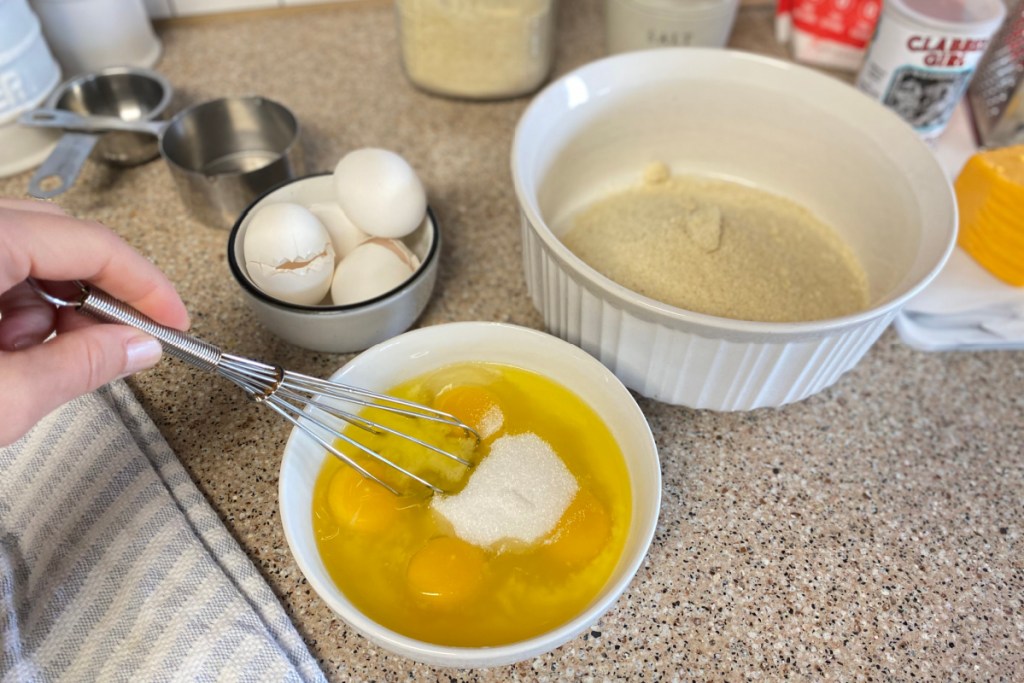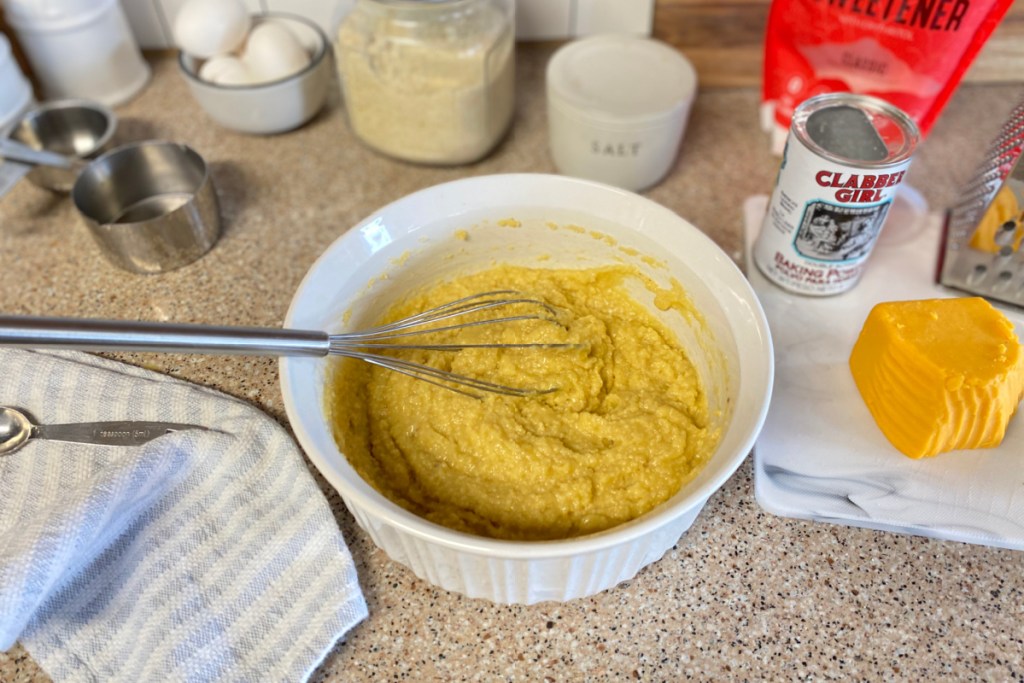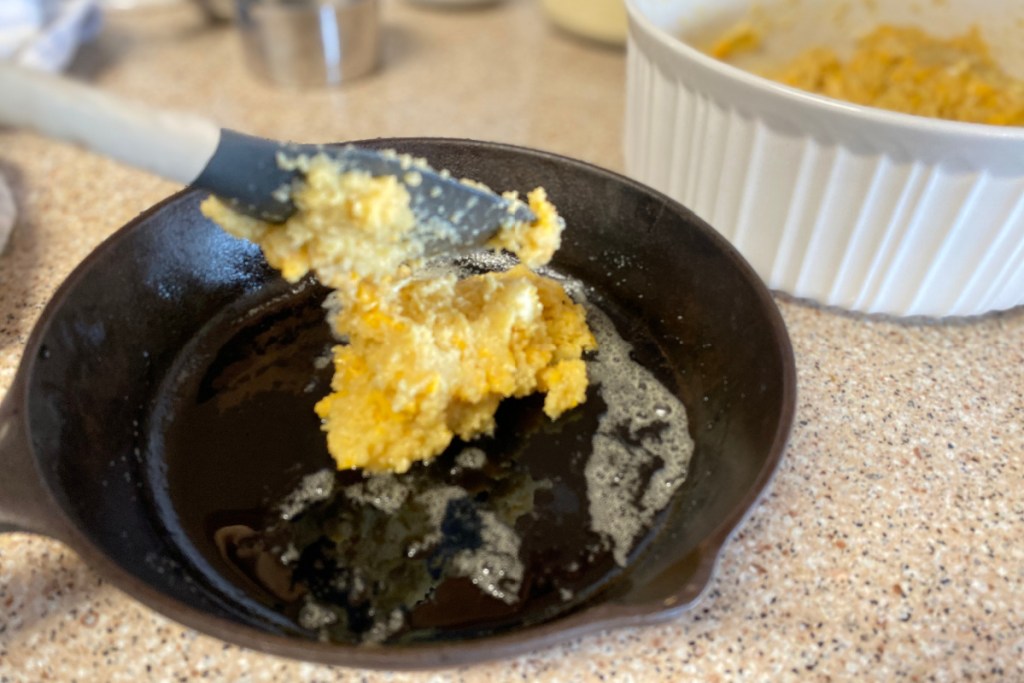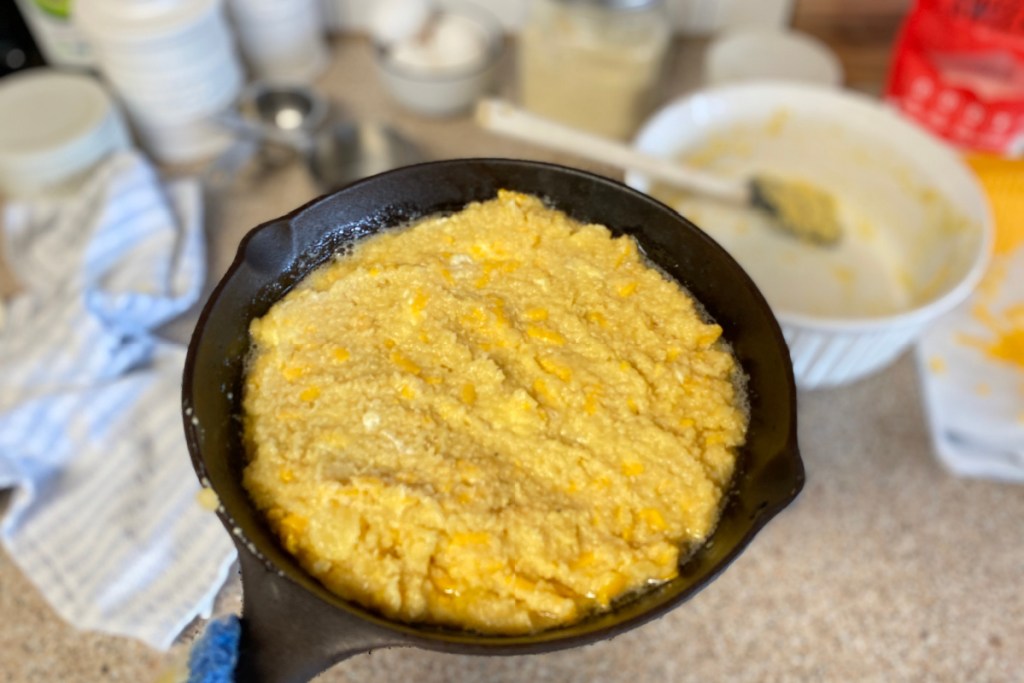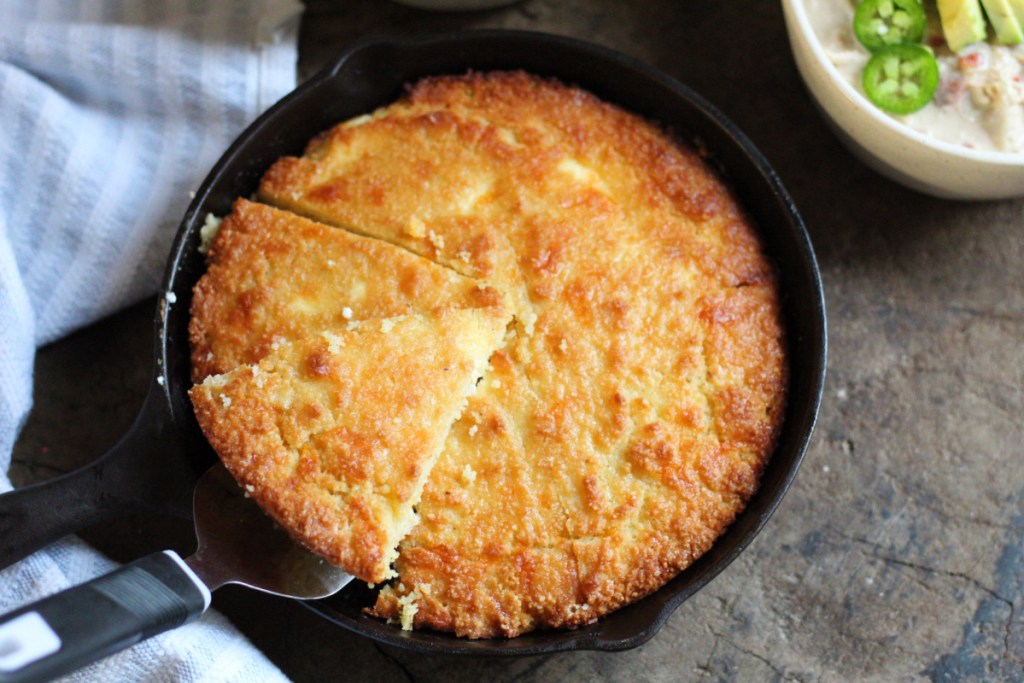 ---
yield: 8 SERVINGS
prep time: 15 MINUTES
cook time: 30 MINUTES
total time: 45 MINUTES
Sweet and savory low carb cornbread with the same great flavor and texture as the old fashioned recipe.
Ingredients
1 teaspoon baking powder
1/2 teaspoon salt
3 eggs, room temperature
4 tablespoons butter, melted
1/2 cup cheddar cheese, shredded
2 oz. cream cheese, room temperature
Directions
1
Add 1 tablespoon of butter to a 9" cast iron skillet and place in the oven. Preheat oven and skillet to 375 degrees.
2
In a medium bowl, mix together almond flour, baking powder, and salt.
3
In a separate bowl, whisk together eggs, melted butter, and keto granular sweetener.
4
Combine both dry ingredients and wet ingredients together. Fold in shredded cheddar cheese and cream cheese.
5
Pour batter into preheated cast iron skillet and bake on the middle rack for about 30 minutes.
6
Remove cornbread from the oven and let sit for 5 minutes before slicing.
7
Serve on its own slathered with butter, or with your favorite keto soup and enjoy!
Nutrition Information
Yield: 8, Serving Size: 1 slice
Amount Per Serving: 264.2 Calories | 23.4 Fat | 7.7g Total Carbs | 2.3g Fiber | 3.1g Sugar Alcohol | 10.1g Protein | 2.4g Net Carbs
---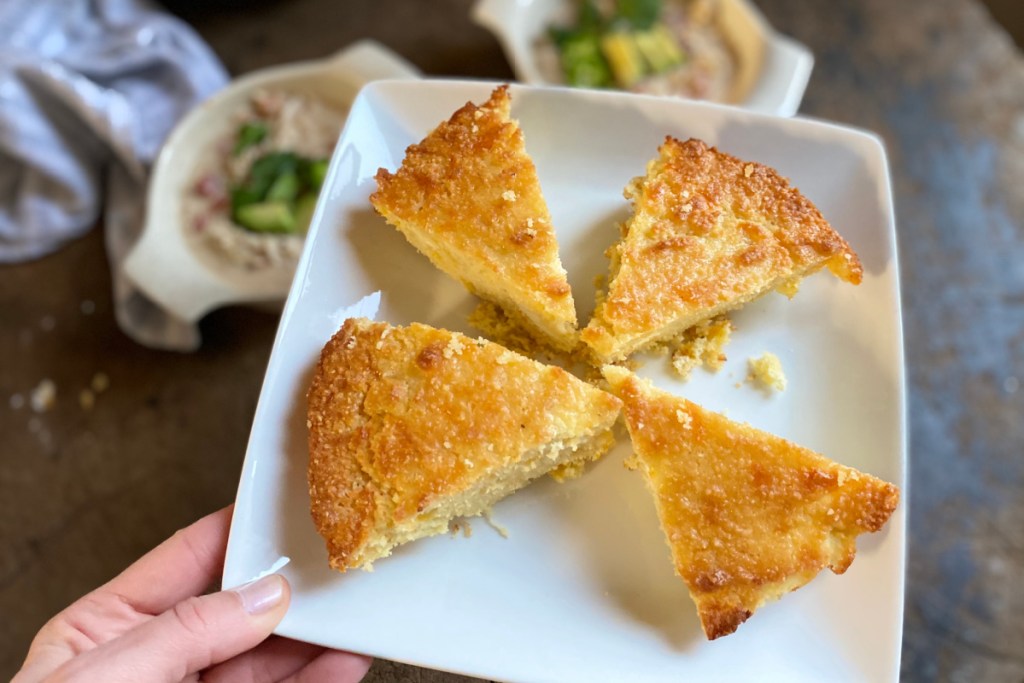 Keto cornbread is even better than the real thing!
Don't get me wrong – I thought I would have to nix all my favorites when moving over to the keto lifestyle but that's not the case! This delicious low carb cornbread is so delightful and satisfying that you won't even miss the traditional kind.
Make a batch and let me know what you think!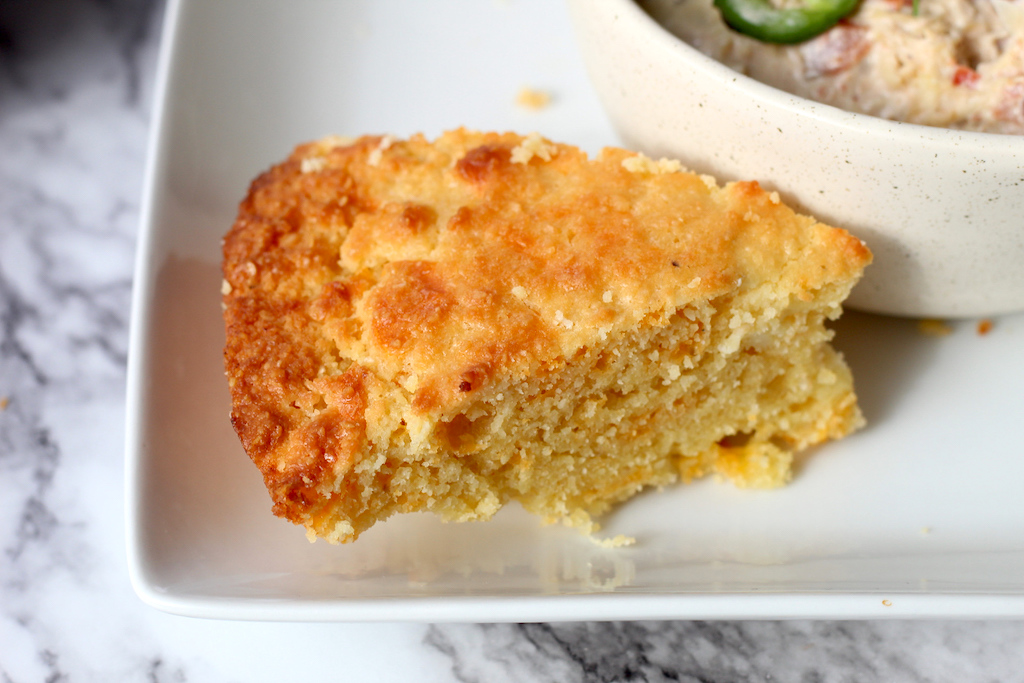 My team member, Jenna, gave this recipe a test for me, and here's what she had to say:
"I really like this recipe and I loved making it in my cast iron skillet! It bakes perfectly and smells amazing and even my picky kiddos enjoyed it. This low carb cornbread gets its slight sweetness from the keto sweetener, and it has the perfect crumbly, yet soft cornbread texture you know and love!"
---