Keto Chicken Alfredo Casserole is Creamy, Cheesy, Low Carb Heaven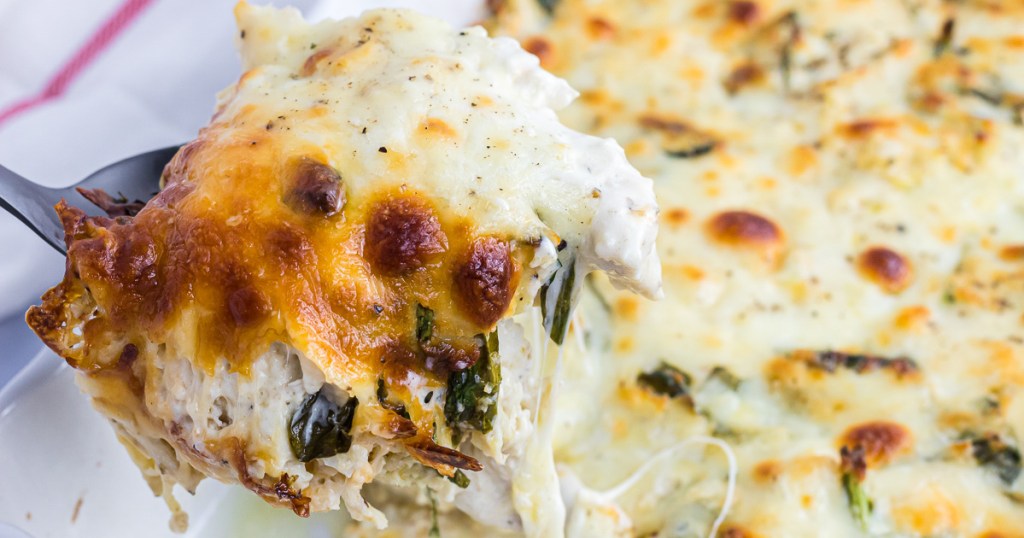 Are keto casseroles a staple in your household, too?

Casseroles can be so simple yet so delicious. Using shredded chicken and Lina's alfredo sauce, this dish is already mouthwatering, but when you add cheese and veggies to the mix… OH MY! This is a great comfort food meal!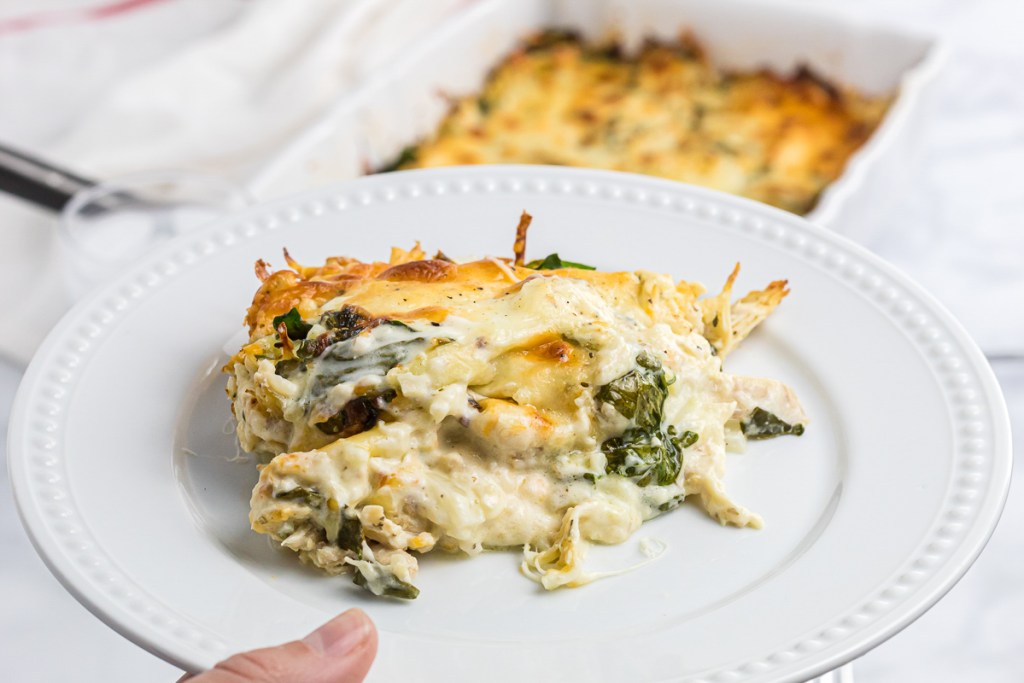 Tips for making the best keto chicken alfredo casserole:
This is an easy casserole to make ahead of time and freeze for a busy weeknight.
Not a fan of spinach? No worries! Just add your favorite vegetable to the dish – for example, broccoli is a great alternative. You could even swap the spinach and throw in some zoodles! Zoodles really do make me forget about pasta, so they would be a great substitution in this casserole. YUMMO! I think next time I might try substituting the spinach for Palmini noodles – that might really be a game-changer!
If you want to speed up the time for this recipe, you can buy pre-shredded chicken or even grab a rotisserie chicken from Sam's or Costco.
I always make a Crock-Pot full of chicken at the beginning of the week and then use it throughout the week to make different dinners. It's definitely a big time saver on busy weeknights! Another option is to boil your chicken like we did when making this amazing casserole.
Did you know that you can use your mixer to shred chicken? It's super easy to do! I just throw the chicken into my KitchenAid mixer with the paddle attachment on, set it to low for about a minute, and mix. Easy peasy, and it's perfectly shredded without having to do it by hand.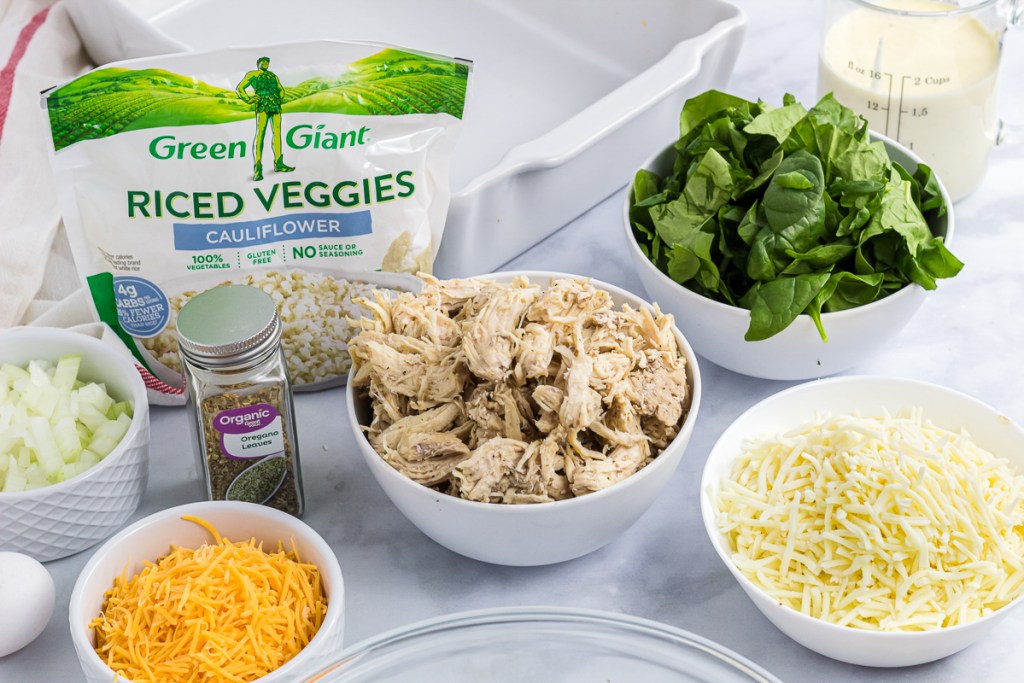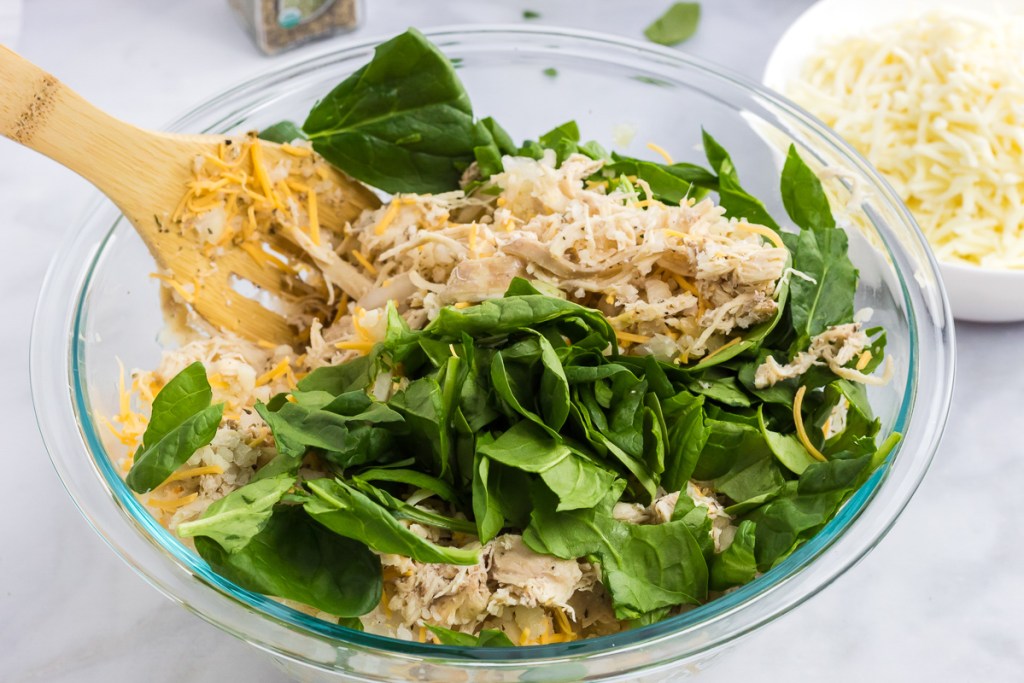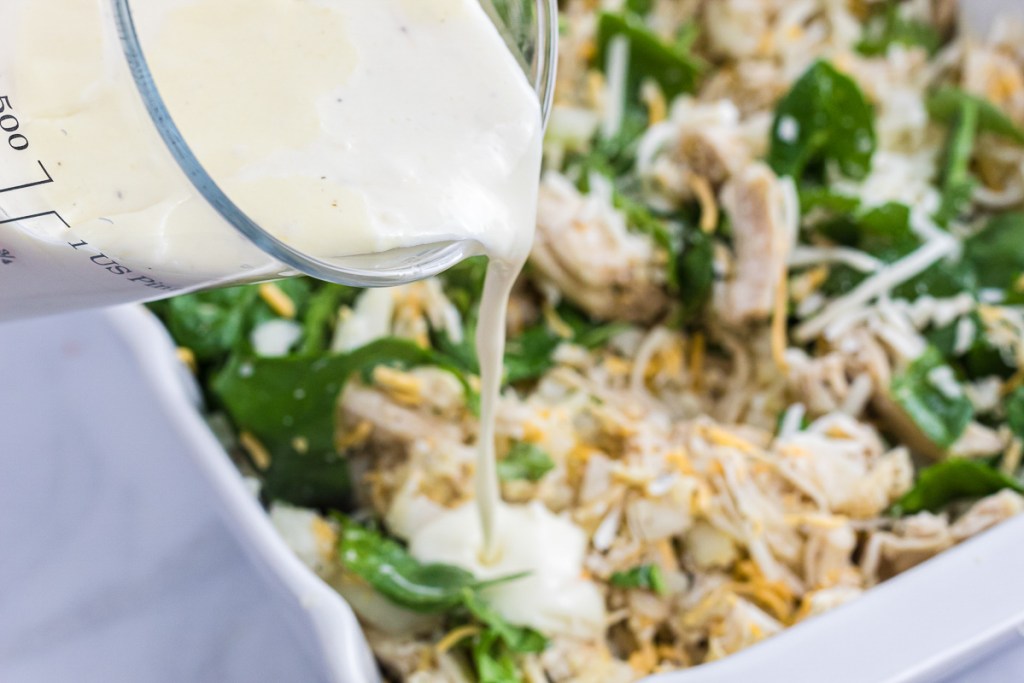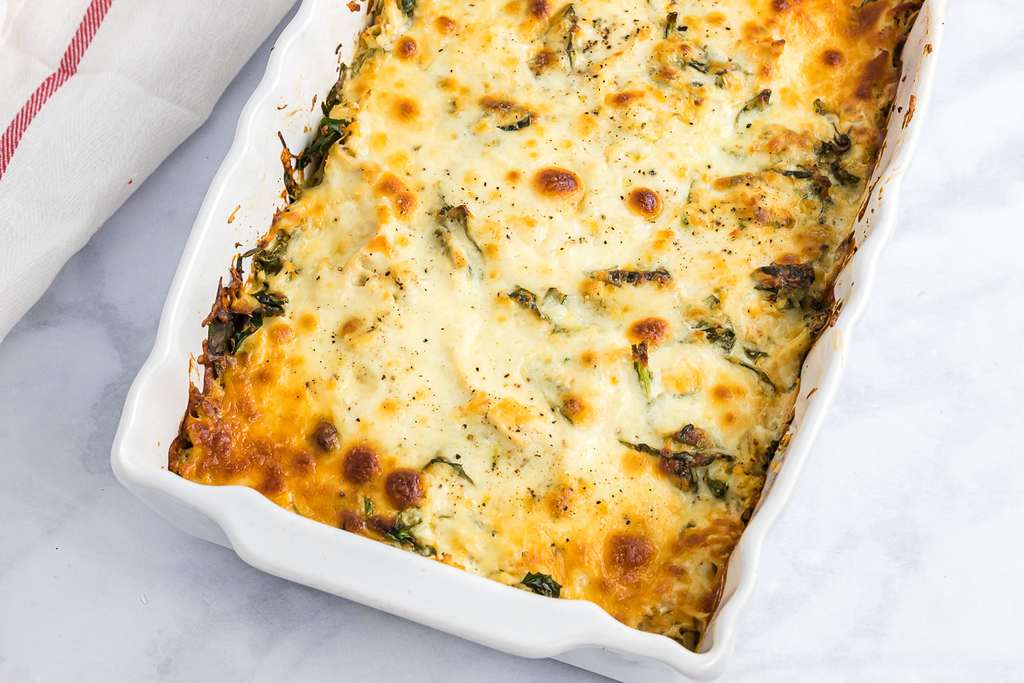 ---
Print
Keto Chicken Alfredo Casserole
yield: 8 SERVINGS
prep time: 15 MINUTES
cook time: 35 MINUTES
total time: 50 MINUTES
Comforting casserole with creamy alfredo sauce, spinach, and hearty chicken. You'd never guess it's low-carb!
Ingredients
3 cups shredded cooked chicken
2 cups spinach
1 bag frozen riced cauliflower
1 teaspoon basil
1/2 cup chopped onion
1 egg
2 cups shredded mozzarella cheese
1 cup shredded cheddar cheese
Alfredo Sauce:
2 tablespoons butter
2 tablespoons cream cheese
1 cup heavy cream
1 cup parmesan cheese
3 garlic cloves
pinch of salt
pinch of pepper
pinch of nutmeg
Directions
1
Pre-heat oven to 350 degrees Fahrenheit and grease a 9"x13" pan with butter or olive oil to prevent sticking.
2
To make our keto-friendly alfredo sauce:
Melt butter and cream cheese in a medium saucepan or skillet on the stove using medium heat.
Add garlic and cook until fragrant, 1-2 minutes.
Add heavy cream and stir in parmesan cheese a little at a time, stirring until incorporated.
Let melt and thicken for 5-7 minutes.
Season with salt, pepper, and nutmeg. Set aside.
3
In a large bowl, mix together shredded cooked chicken, spinach, riced cauliflower, basil, onion, egg, and cheddar cheese.
4
Pour shredded chicken mixture into the greased 9"x13" pan.
5
Pour alfredo sauce over the chicken mixture and top with mozzarella cheese.
6
Bake for 35 minutes, or until cheese is bubbly. Serve and enjoy!
Nutrition Information
Yield: 8, Serving Size: 1
Amount Per Serving: 426 Calories | 29.9g Fat | 6g Total Carbs | 1.2g Fiber | 3g Sugar | 0g Sugar Alcohol | 33g Protein | 4.8g Net Carbs
---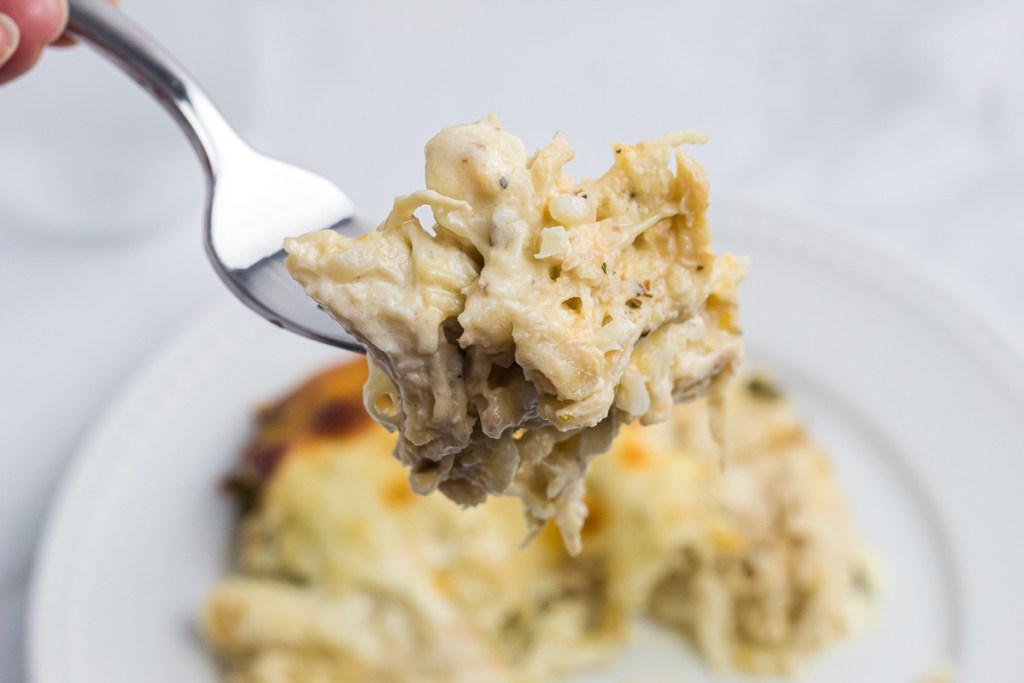 Dinner is served!
This keto chicken alfredo may be my new favorite low-carb casserole. 😋 It's full of rich, creamy goodness from the cheese and the sauce. My husband likes to take some of the leftovers to work the next day for his lunch and it reheats beautifully. I like to throw on a little bit of ground pepper and some parmesan cheese for an extra kick of flavor when having leftovers.
---
Love easy dinners? Try our popular chicken broccoli casserole next!