Warm Up with Keto Chicken Jalapeno Popper Soup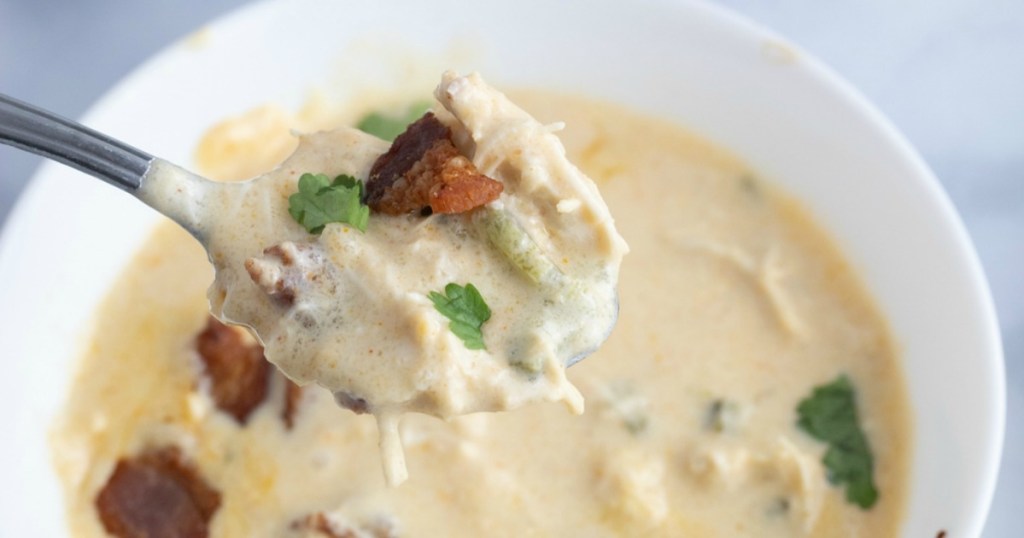 It's time to heat things up a bit!
We love easy keto soups that are packed with flavor and this keto chicken jalapeno popper soup definitely brings a kick! It's balanced out by the creamy, cheesy base that will have you ladling up a second bowl before you know it.
This hearty soup will also keep you full for longer with the addition of protein-rich chicken and bacon. Make up a big batch of this Keto chicken jalapeño popper soup for a delicious cold-weather meal to enjoy all week long!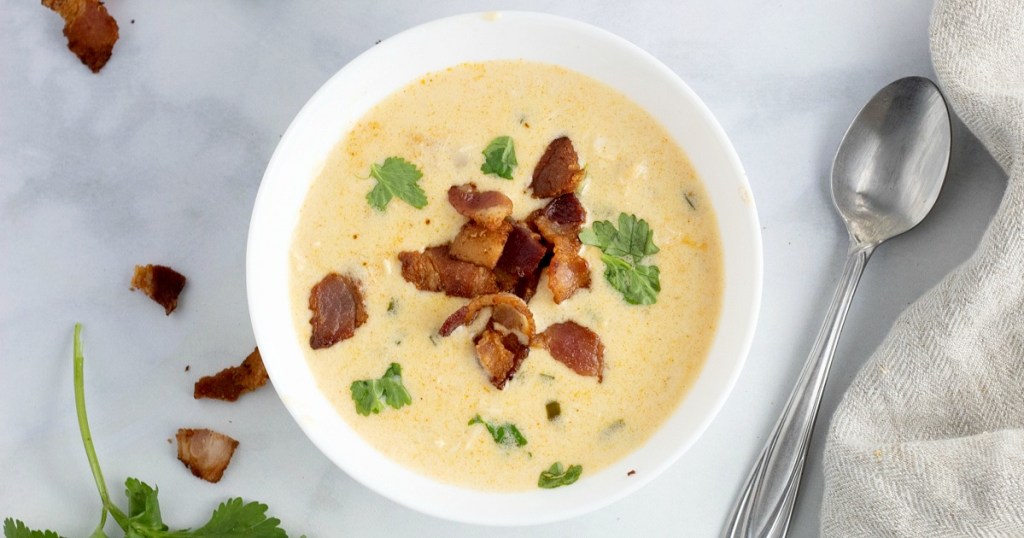 Hip tips for making the best keto chicken jalapeño popper soup: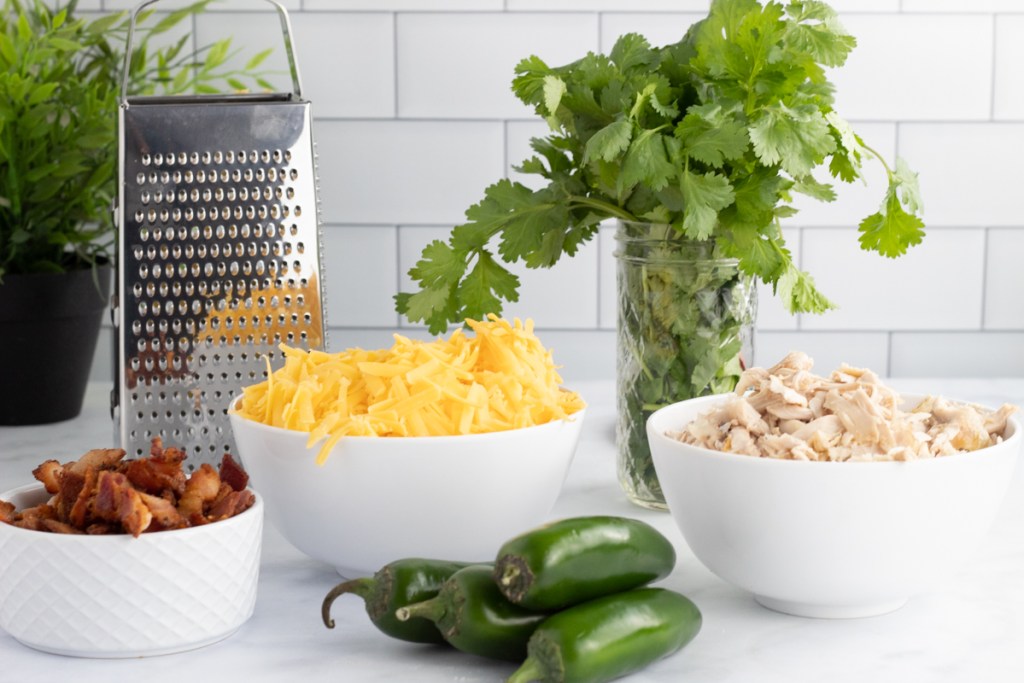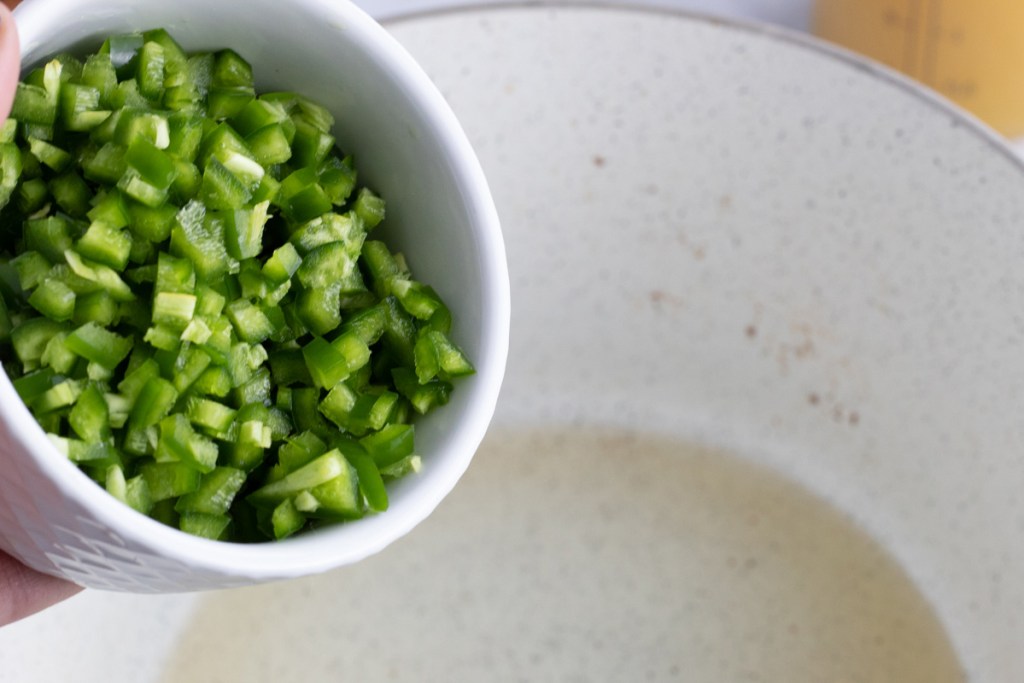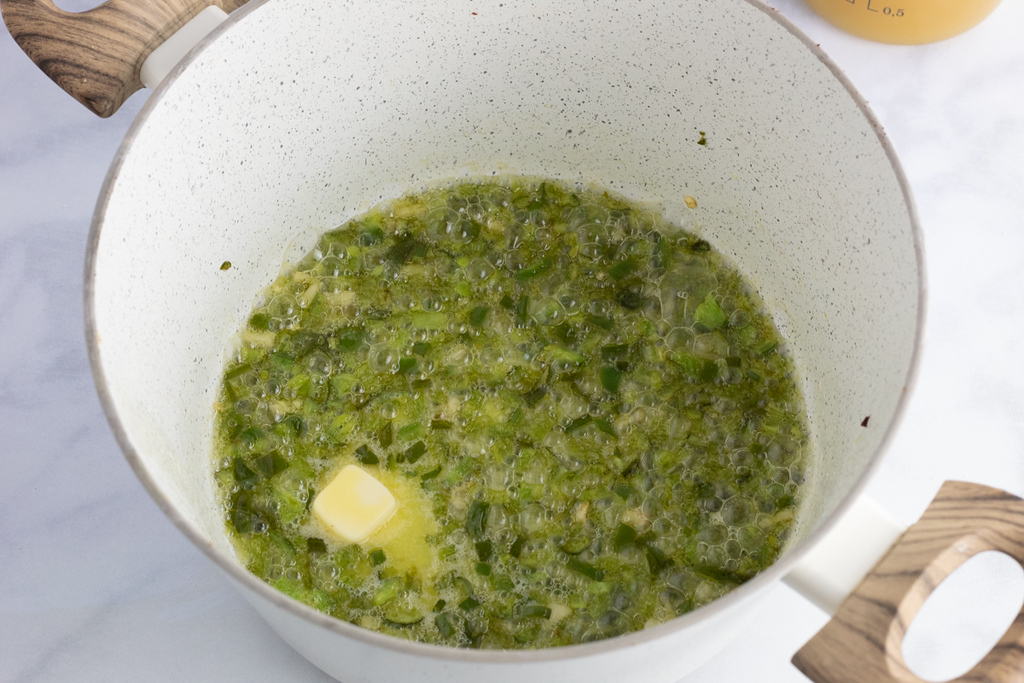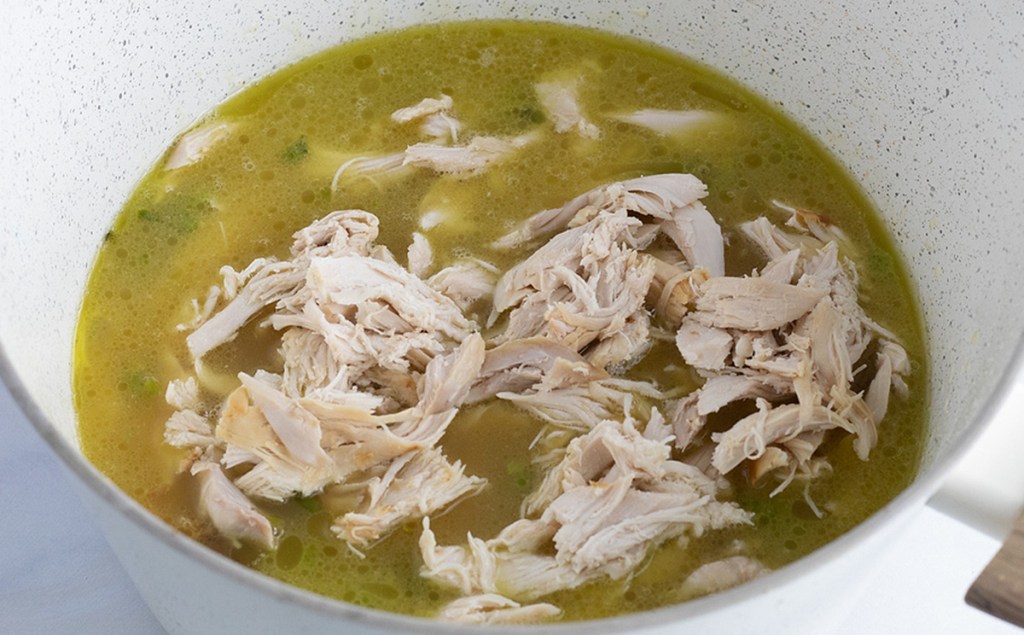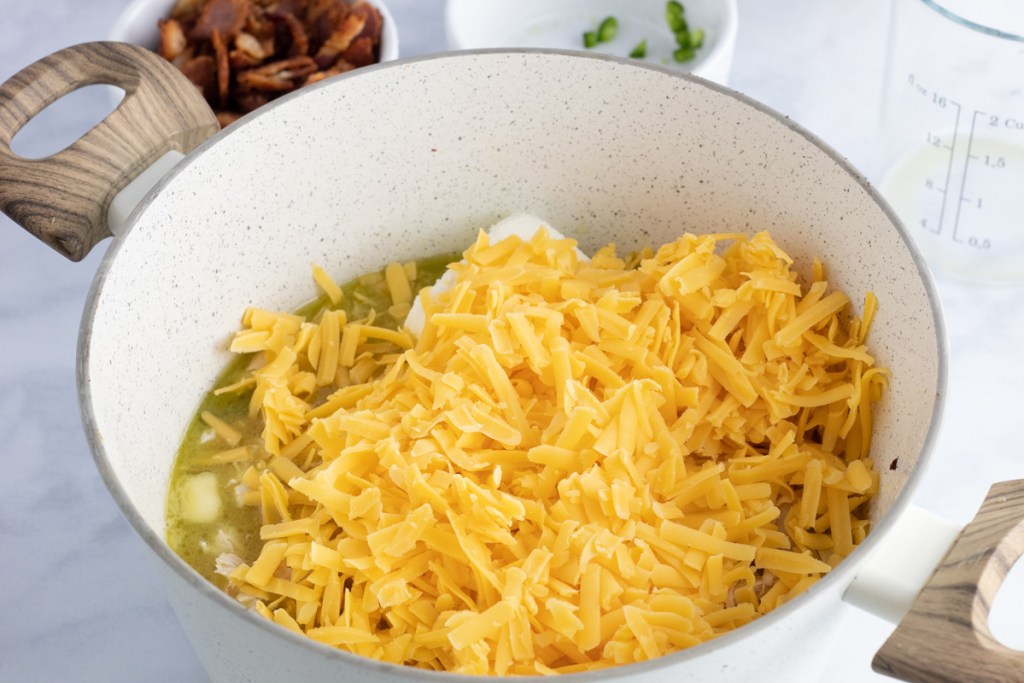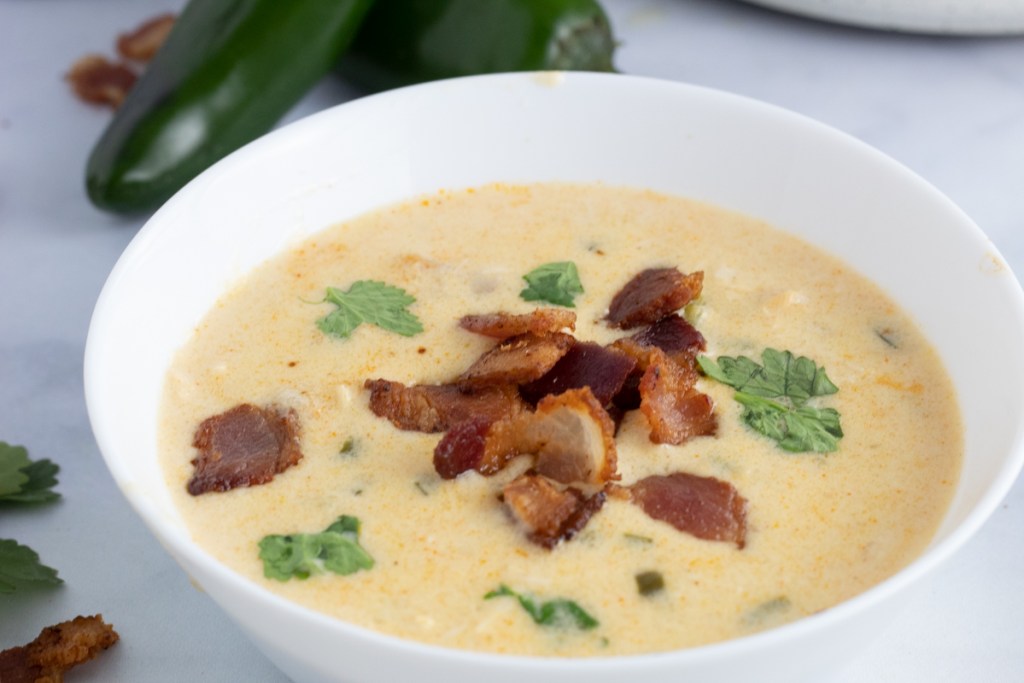 ---
Print
Keto Jalapeno Popper Chicken Soup
yield: 8 SERVINGS
prep time: 15 MINUTES
cook time: 20 MINUTES
total time: 35 MINUTES
Cheese, spicy jalapenos, chicken, & bacon combine to make a rich, creamy keto soup the whole family will love.
Ingredients
2 cups cooked chicken, shredded/diced
8 strips of bacon
3/4 cup - 1 cup (roughly 4-6 large jalapeños), seeded and diced
2 tablespoons butter
1 garlic clove, chopped
4 cups chicken broth
8 oz. cream cheese (room temperature)
1 cup heavy whipping cream
2 cups shredded cheddar cheese
1/2 teaspoon paprika
1/2 teaspoon cumin
1/2 teaspoon salt
1/2 teaspoon pepper
1 tablespoon chopped cilantro
Directions
1
In a large saucepan or dutch oven, cook bacon over medium heat leaving 1/4 cup of bacon grease in the pan after the bacon is cooked. Set bacon aside.
2
Sauté chopped jalapenos in the bacon grease for about 4 minutes. Then add 2 tablespoons of butter and chopped garlic.
3
Bring the saucepan down to low heat. Pour in chicken broth and add cream cheese, whisking until cream cheese has melted. Slowly add in heavy whipping cream and stir occasionally. Add in shredded chicken and stir.
4
Add in shredded cheddar cheese, mixing until completely melted. Lastly add in the paprika, cumin, salt, pepper, and cilantro. Simmer on low heat for 15 minutes.
5
Serve soup topped with bacon crumbles, cilantro, and more cheese if you'd like. Enjoy!
Nutrition Information
Yield: 8 cups, Serving Size: 1 cup
Amount Per Serving: 448 Calories | 37.2g Fat | 4.7g Total Carbs | 0.5g Fiber | 2.4g Sugar | 0g Sugar Alcohol | 24g Protein | 4.2g Net Carbs
---
Easy peasy, and oh so cheesy!
I love a simple soup that is loved by the whole family—my kids and husband all had more than seconds. I really like to throw in a little extra cheese on top of mine, there's really no such thing as too much cheese, right?
Plan to make this the next time you're in a time crunch to get dinner ready during the week, or when you're having relatives over for a get-together.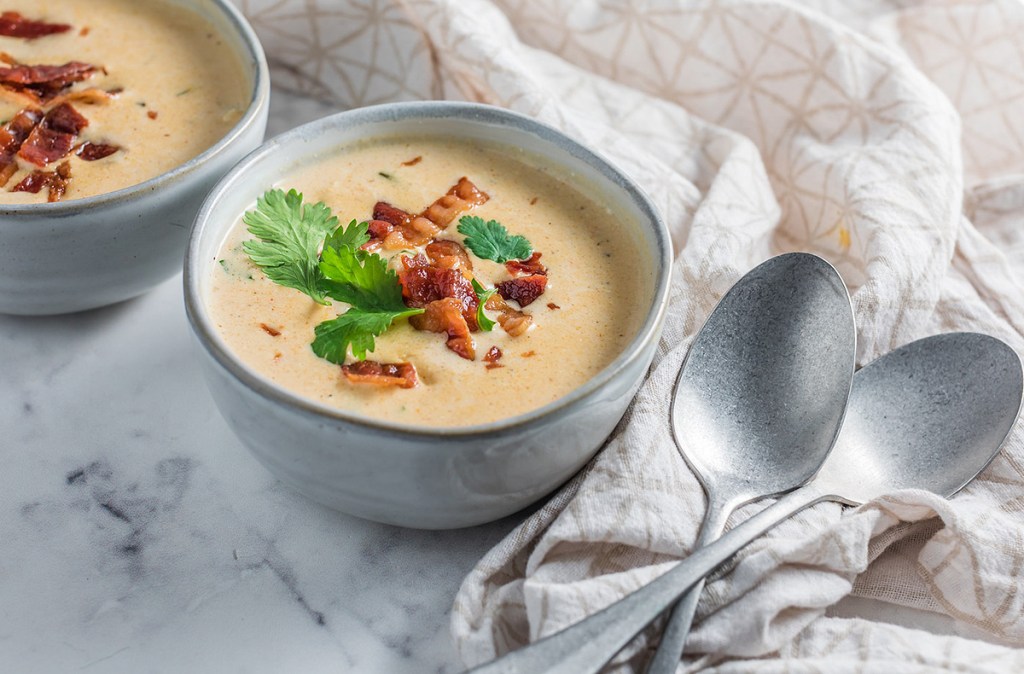 My Hip sidekick Jenna made this recipe and here's what she thought!
"This is officially a family favorite in my home, and every last one of us went back for seconds. We all love a good soup, and this is a REALLY GOOD soup! This made plenty for the whole family and reheats nicely. Make this delicious low carb soup ASAP!"
---
Hungry for more soup? Try out this Keto French Onion Soup next!