Warm Up with Keto Jalapeño Popper Chicken Soup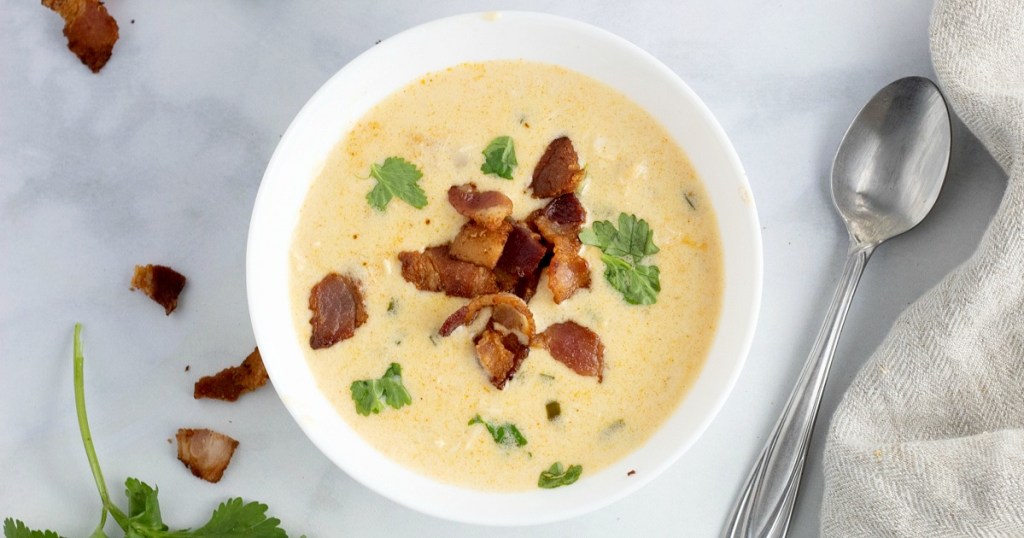 It's time to heat things up a bit!
We love easy keto soups that are packed with flavor and this jalapeño popper soup definitely brings a kick! It's balanced out by the creamy, cheesy base having you ladling up a second bowl before you know it.
This hearty soup will also keep you full for longer with the addition of protein-rich chicken and bacon. Make up a big batch of this delightful soup for a delicious cold-weather meal to enjoy all week long!
Hip Tips:
Using heavy whipping cream and cheeses will thicken up the soup but if you are wanting an even thicker soup, add in 1/2 teaspoon of xantham gum and it will do just the trick.
When cutting jalapeños, I make sure to wear food service gloves to avoid any of the oil soaking into my hands. They can be purchased at Walmart, Amazon, or Dollar Tree.
If you're in a time crunch, use a rotisserie chicken and just dice up the meat. It will save you a lot of time!
Want to make it vegetarian? Use chopped cauliflower in place of chicken chunks for heartiness and crunchy texture.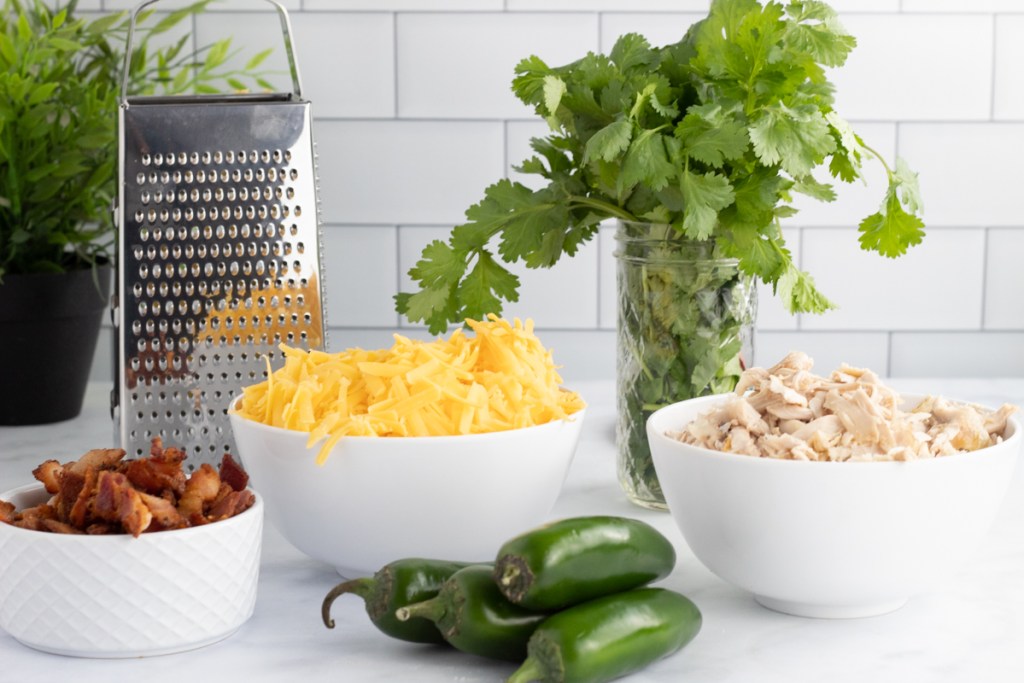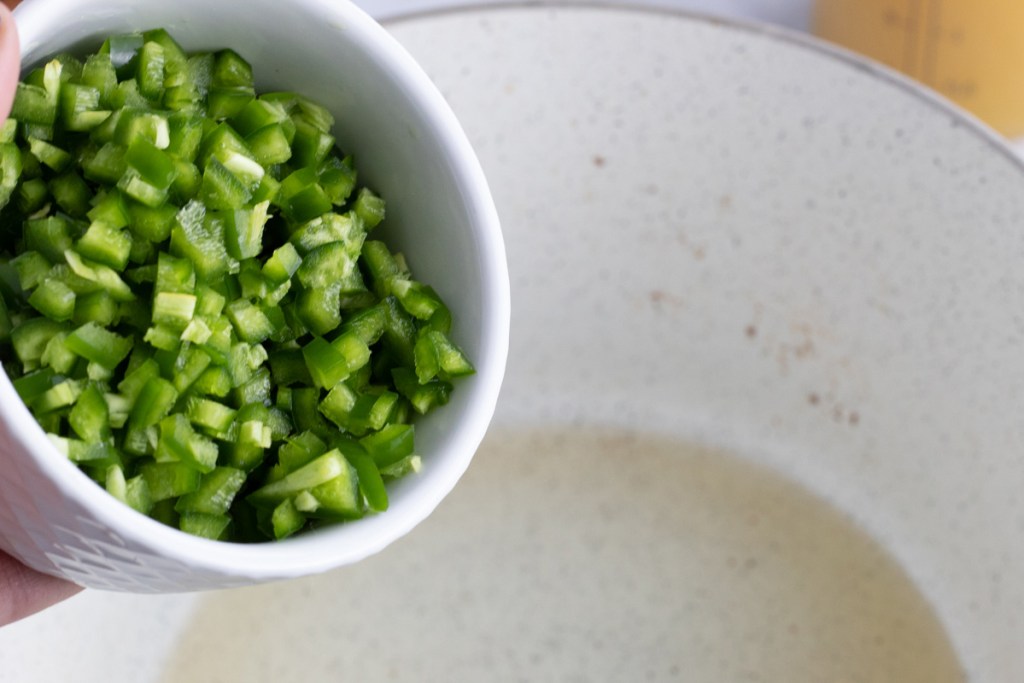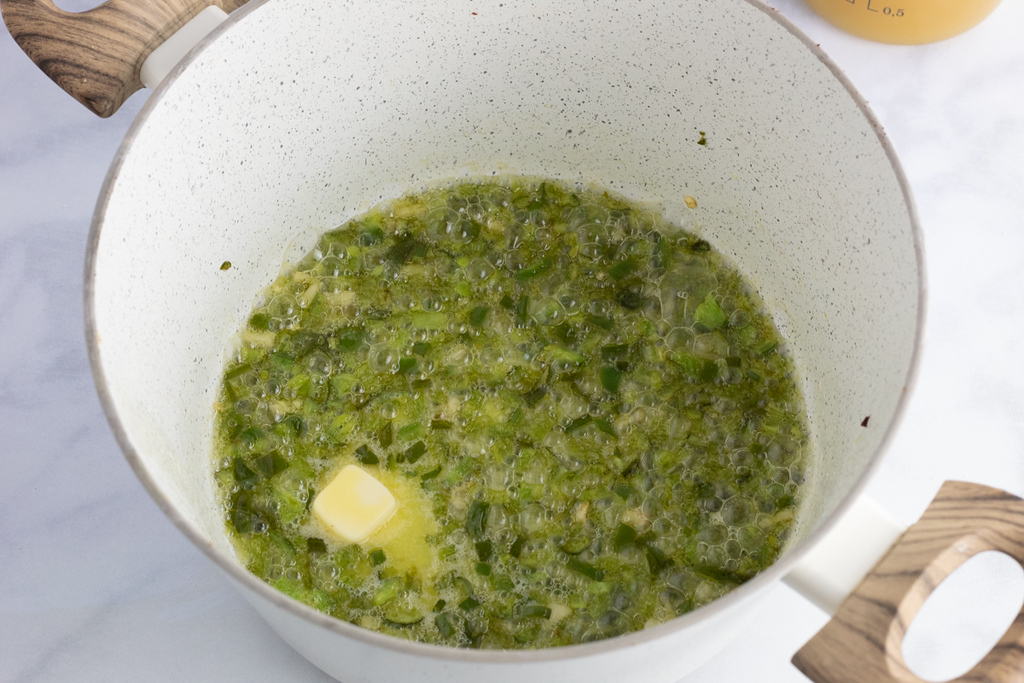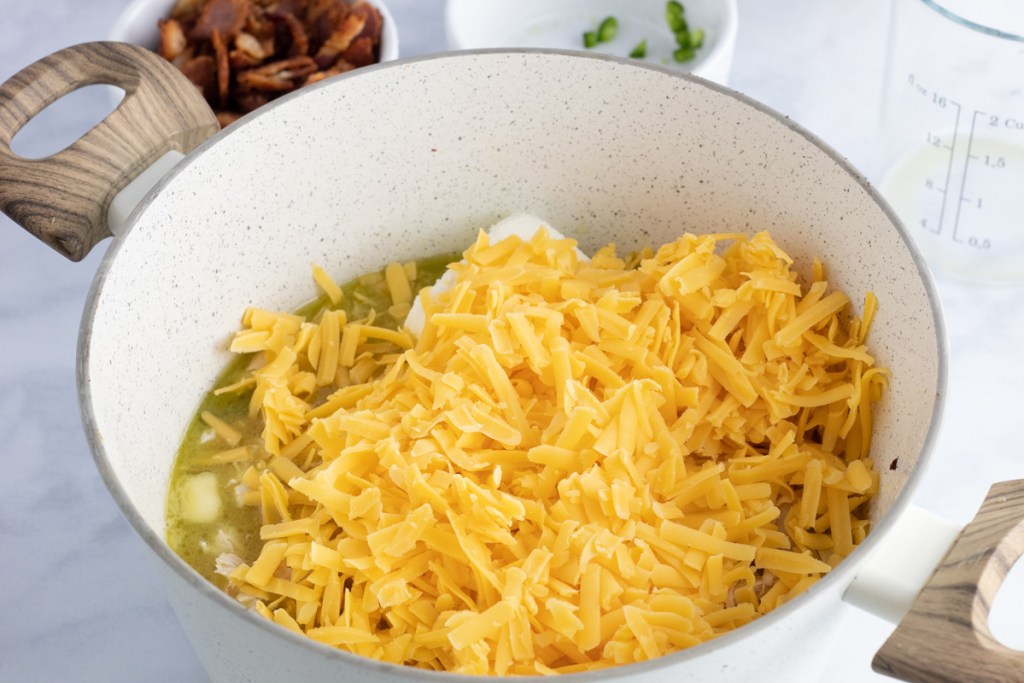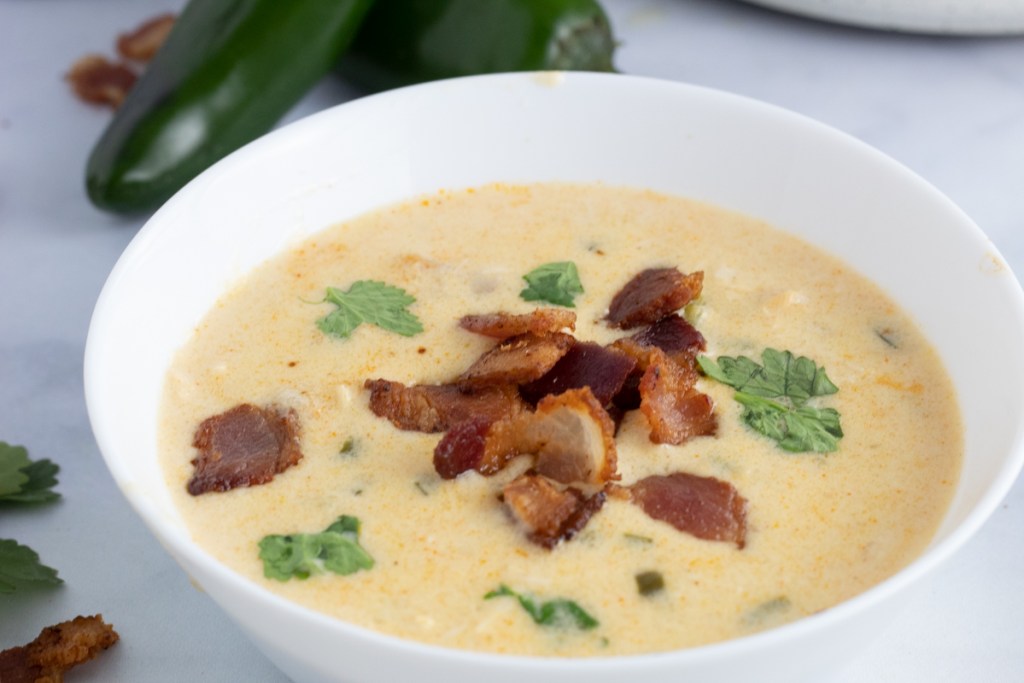 ---
Print
Keto Jalapeño Popper Chicken Soup
yield: 8 SERVINGS
prep time: 15 MINUTES
cook time: 20 MINUTES
total time: 35 MINUTES
Rich and creamy soup with the perfect amount of spicy jalapeño heat!
Ingredients
2 cups cooked chicken, shredded/diced
8 strips of bacon
2 tablespoons butter
1 garlic clove, chopped
3/4 cup -1 cup(roughly 4-6 large jalapeños) , seeded and diced
4 cups chicken broth
6 oz. cream cheese (room temperature)
1 cup heavy whipping cream
2 cups shredded cheddar cheese
1/2 teaspoon paprika
1/2 teaspoon cumin
1/2 teaspoon salt
1/2 teaspoon pepper
1 tablespoon chopped cilantro
Directions
1
In a large saucepan or dutch oven, cook bacon over medium heat leaving 1/4 cup of bacon grease in the pan after the bacon is cooked. Set bacon aside.
2
Add 2 tablespoons of butter, garlic, and chopped jalapeños to the bacon grease and sauté for 4-5 minutes.
3
Bring saucepan down to low heat. Pour in chicken broth, shredded chicken, and cream cheese, whisking until cream cheese has melted. Slowly add in heavy whipping cream and stir occasionally.
4
Add in shredded cheddar cheese, mixing until completely melted. Lastly add in the paprika, cumin, salt, pepper, and cilantro. Simmer on low heat for 15 minutes.
5
Serve soup topped with bacon crumbles and cilantro. Enjoy!
Nutritional Information
Yield: 8 cups, Serving Size: 1 cup
Amount Per Serving: Calories: 389, Total Carbohydrates: 5g, Fiber: 0g, Sugar Alcohols: 0g, Net Carbohydrates: 5g, Total Fat: 26g, Protein: 30g
---
I love a simple soup that is loved by the whole family—my kids and husband all had more than seconds.
Plan to make this next time you're in a time crunch to get dinner ready during the week or when you're hosting a big group for Sunday Game Day.
---
Want more? Try out this Keto French Onion Soup next!